Large DSLR Camera Backpack 16.9*11.8*7.9 inches fits 15.6" Laptop
Free shipping to eligible country
Brand:

K&F Concept

Buy K&F Concept large dslr camera backpack 16.9*11.8*7.9 inches fits 15.6" laptop online, worldwide free shipping and 30 days return guarantee.

KF13.084

SKU:

KF13.084

89.99

https://www.kentfaith.com/KF13.084_large-dslr-camera-backpack-16-9-11-8-7-9-inches-fits-15-6-quot-laptop
Description
* Capacity Upgrade: 11.81 "* 7.07" * 18.50 "(Bag's capacity is about 25L); Holds 2 DSLR Camera + multiple lenses (or flash), and other photography accessories; Dedicated pockets for carrying laptop up to 15.6 ''.
* Quality Material: Splash-proof and tear-resistant nylon material, sturdy and durable. Unique stitching and retention technology ensures the weight bearing areas won't be frayed or ripped; PE board + EPE foam divider,strong and solid, shock relief and decompression.
* Suspend System: The front strap can carry a tripod,help balance the body weight; Left and right shoulder strap,hanging lens tube or flash package,easy to replace and take objects;Left and right side of the bag can put into the kettle and umbrella.
* Easy Travel: Breathable air-mesh straps and ergonomic well-padded back keep you cool and comfortable; Adjustable chest belt keeps the straps tight on you shoulders,reduce weight; Easy mounting onto a draw-bar box by buckling up backwards the straps on both sides.
* Intimate Protection: Super practical backpack rain cover,anti-dirty anti-dust,better protect your camera essentials in the outdoor.
Frequently Bought Together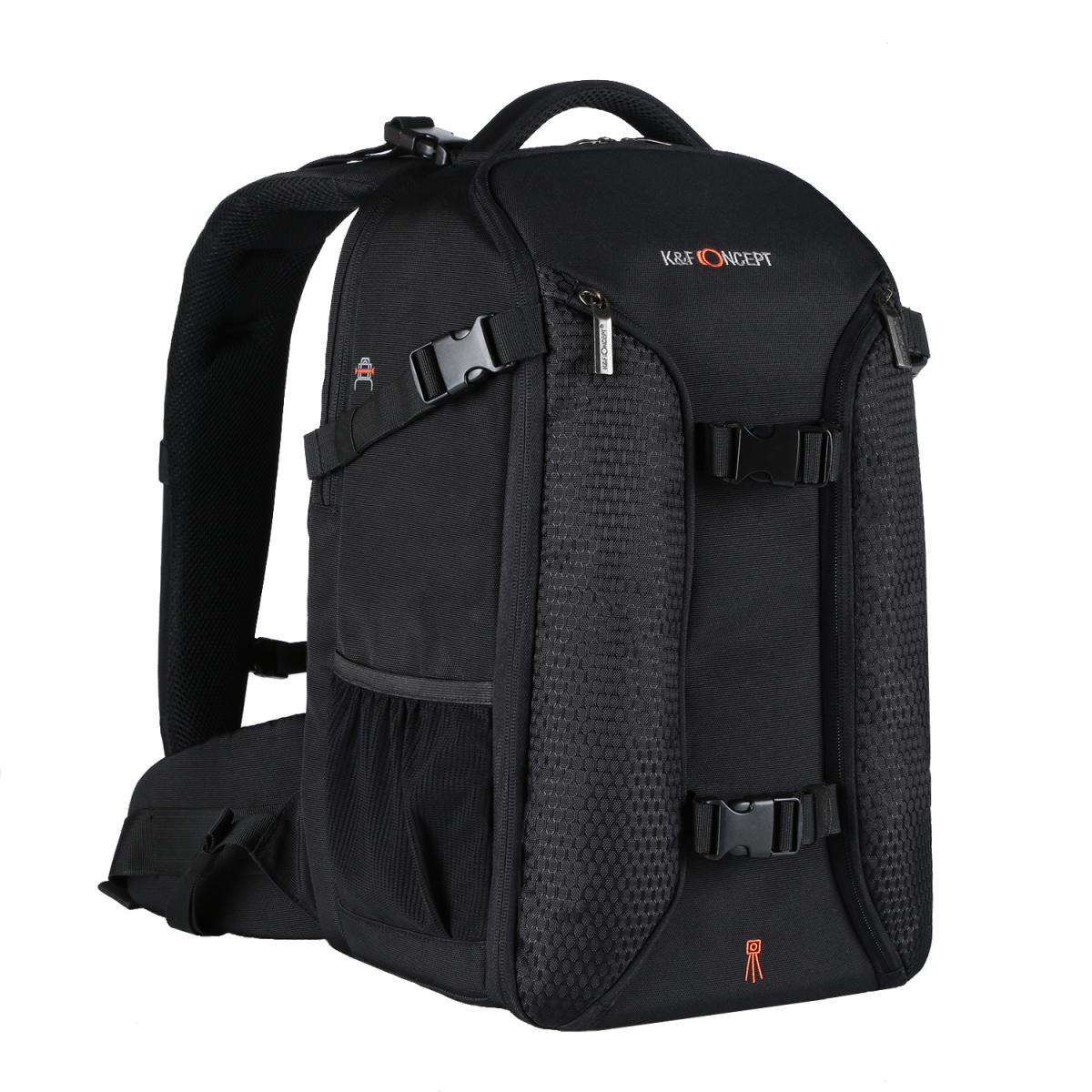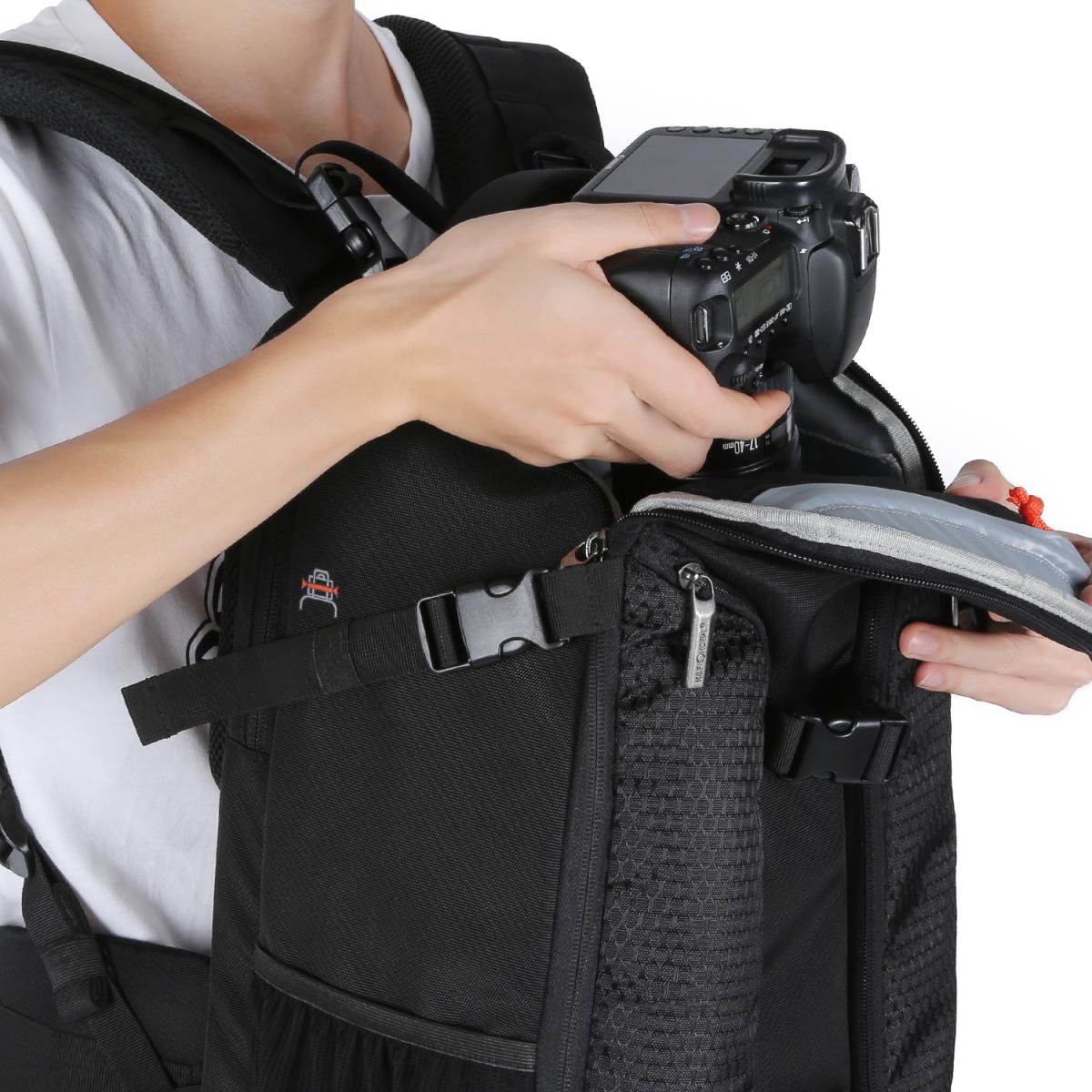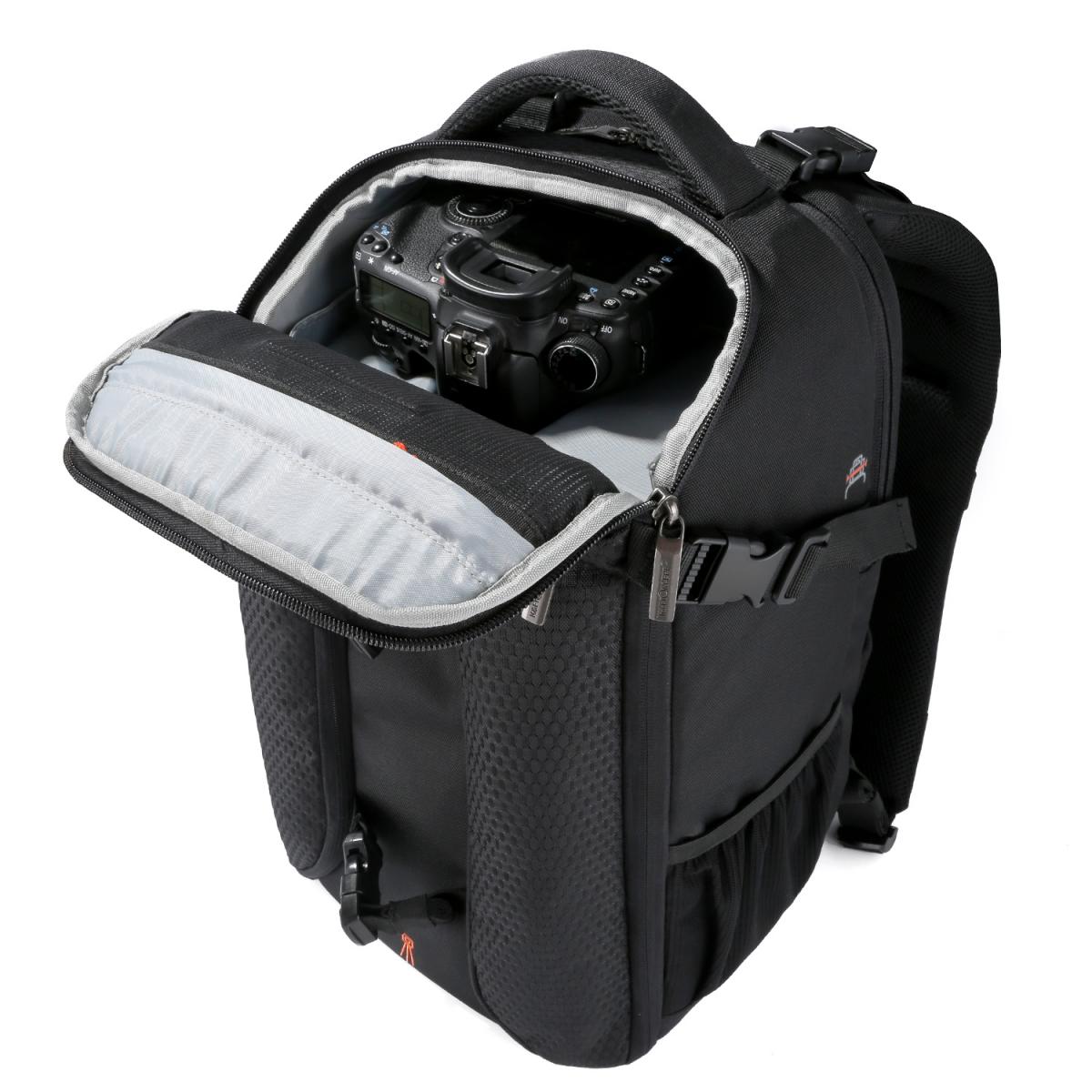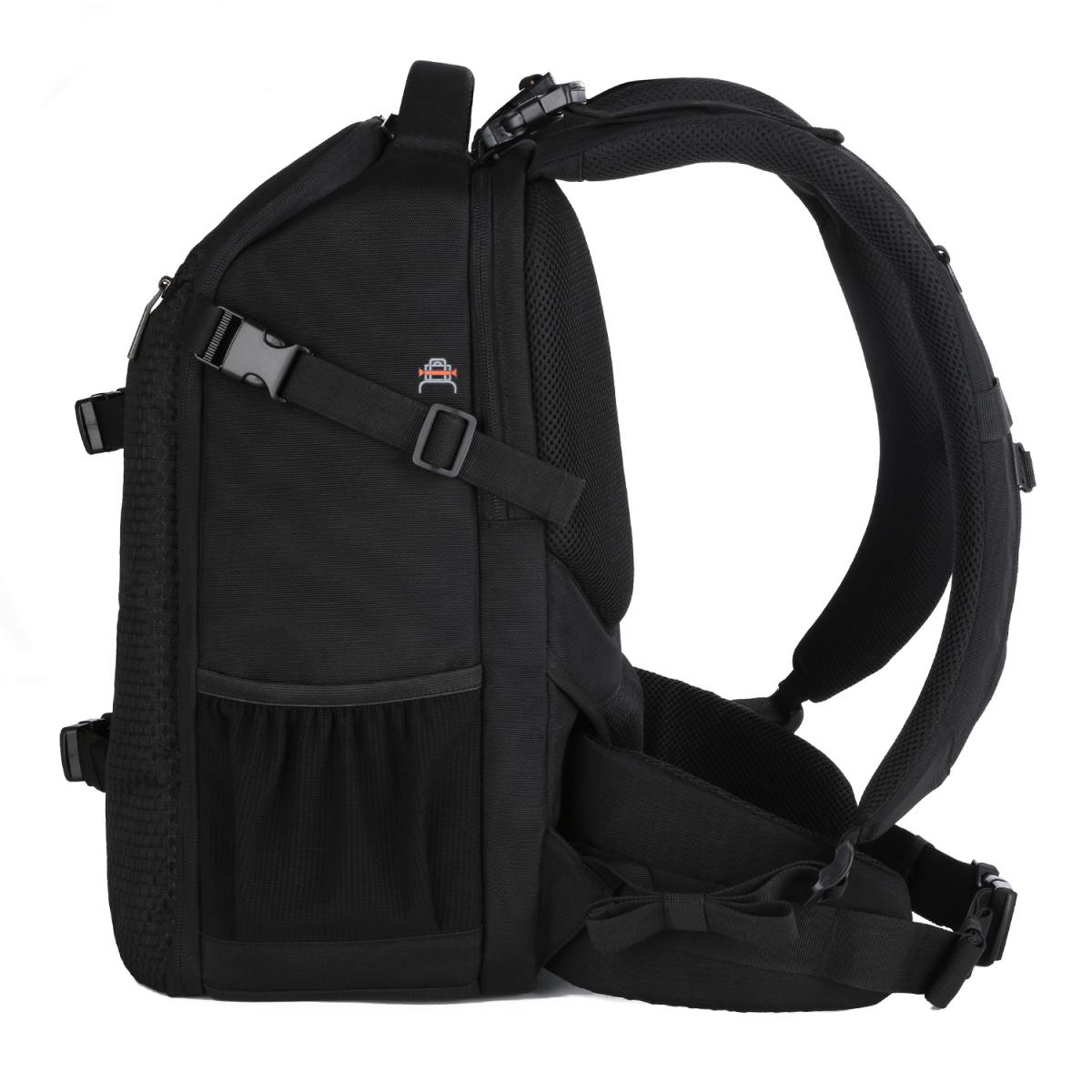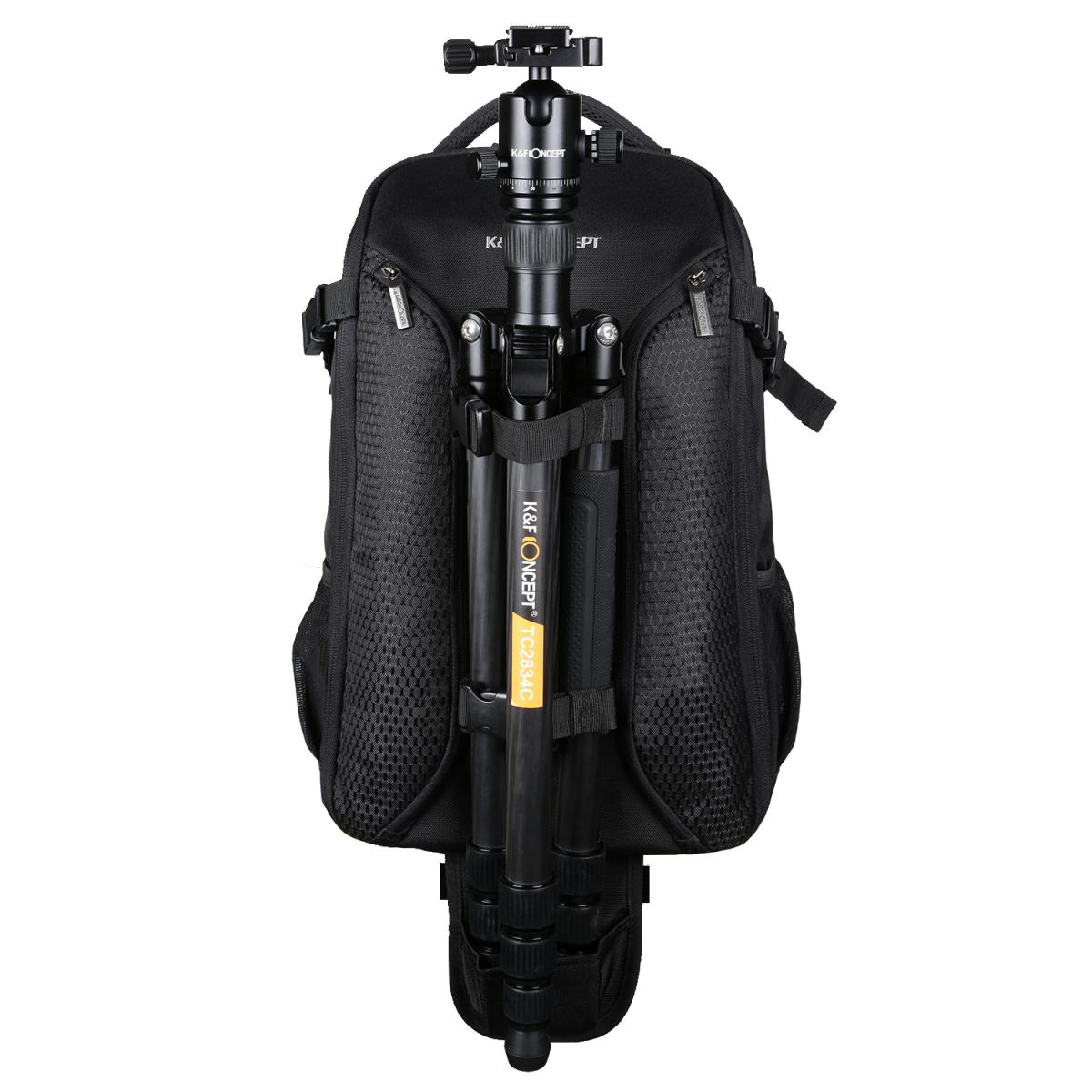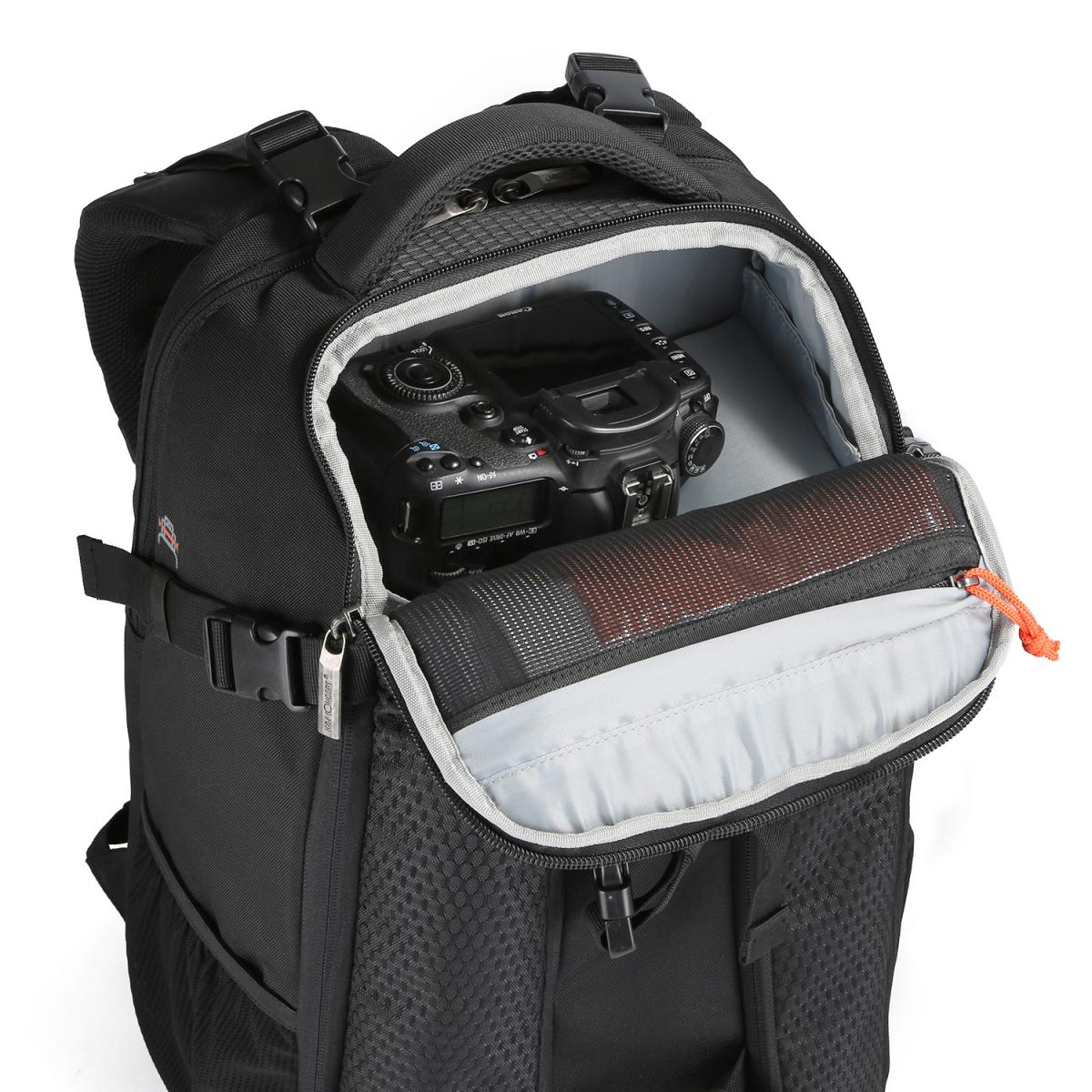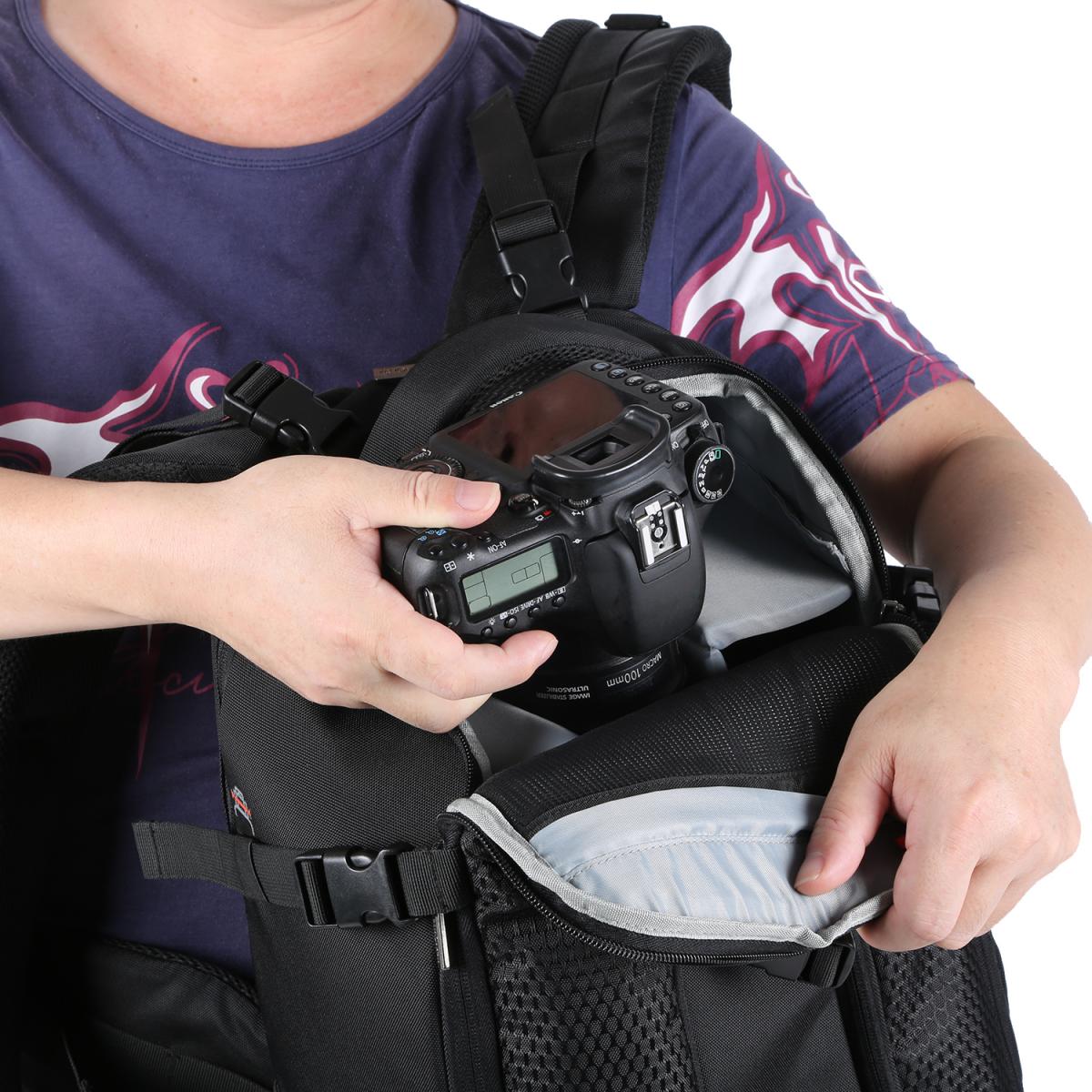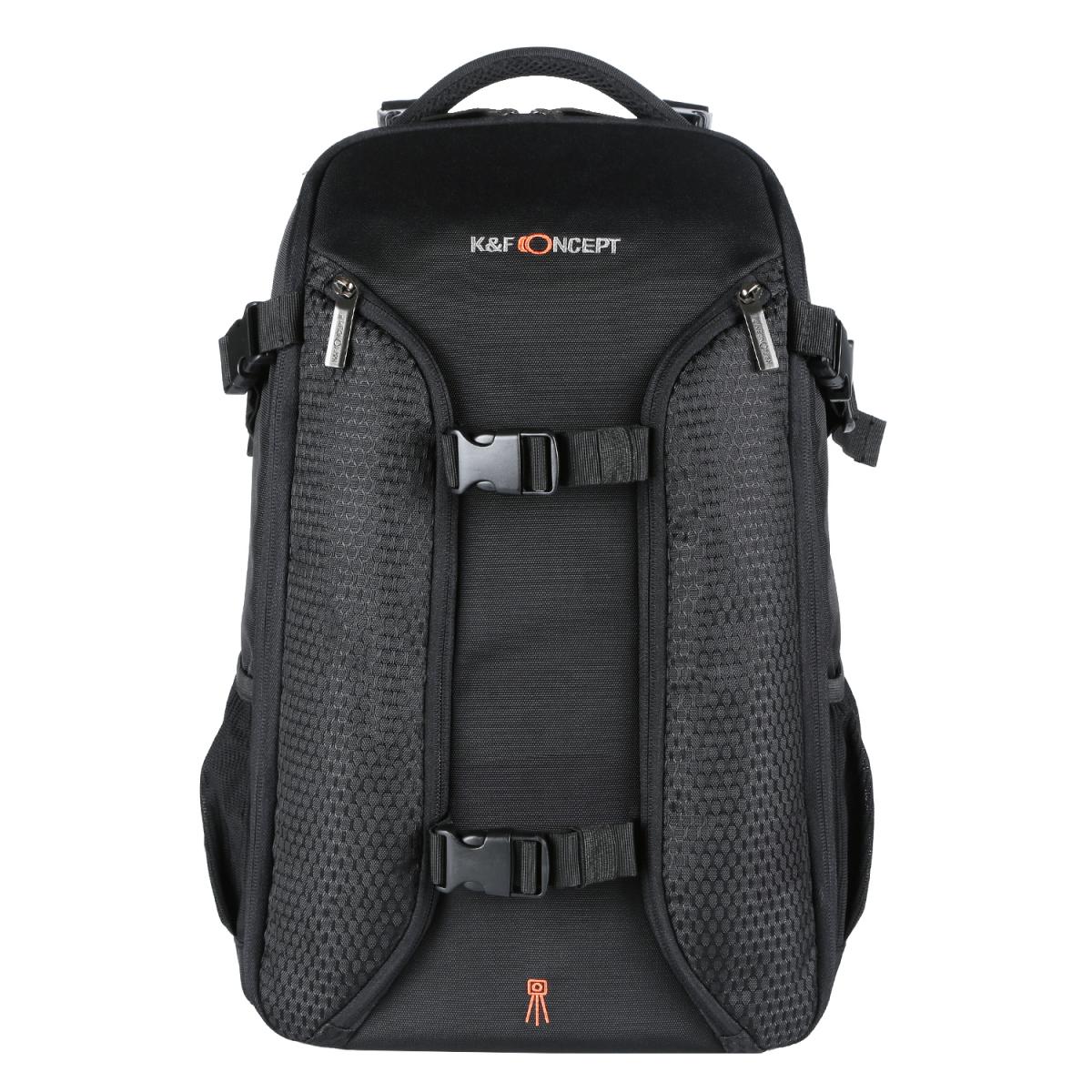 Rating

30 reviews.

78 reviews.

10 reviews.

35 reviews.

1 reviews.

0 reviews.
Price

$169.99

$89.99

$199.99

$89.99

$99.99

$45.99

$129.99

$104.99

$59.99

$47.99

$269.99

$129.99

Model
KF13.084
KF13.044V5
KF13.079
KF13.096
KF13.088
KF13.044V7

Camera Support Strap

Yes
Yes
No
Yes
No
Yes

Camera Compartment

2
2
1
1
1
1

Lens Compartment

8
4
2
2
2
2

Laptop Compartment Screen Size

15 inch
14 inch
No
15 inch
15.6 inch
14 inch

Exterior Dimensions

29*18*46cm
28*15*43cm
30*24*16cm
30*17*45cm
42.5*12*58cm
29*16*43cm

Exterior Material

Nylon
Polyester
Nylon
Nylon
Nylon
Polyester

Type of Closure

Buckle
Buckle
Metal magnetic button
Metal button
Buckle

Rain Cover

No
Yes
Yes
Yes
No
Yes

Maximum Volume

17.4L
14L
11L
18L
30L
16L

Weight

1.99kg
1.05kg
0.913kg
1.2kg
1.1kg
1.1kg

Interior Dimensions

27*15*43cm
26*13*41cm
28*22*14cm
28*15*43cm
40.5*10.5*56.5cm
A durable and good looking bag
I was looking for a camera bag since a long time and came across this model. There were other established branded products but really expensive. Actually a tripod from the same brand gave me confidence to buy this one and give it a try and I must admit I don't regret my decision. Below is why I say this:Pros:1. Build quality - The quality of the bag is sturdy and doesn't look cheap at all. The finish and design is good so really value for money.2. Versatility - There are lot of compartments to keep various camera equipments and accessories in a dedicated section. The main section of the bag can be readjusted based on the kit that you want to carry on a particular day. It can accommodate two cameras and telephoto lens easily with other prime and kit lens.3. Tripod - There are straps and a section to fix the tripod on the front side of the bag. Well this is not a common design or place to put up a tripod, I'd say this is a better position as it allows to keep the weight of the bag balanced on both the shoulders and doesn't make one end heavy.4. Laptop/tablet - A 15inch laptop can easily fit in the padded last section. I tried slotting in a 15 inch Macbook pro and it sits in without any issues.5. Water resistant - This bag doesn't claim to be water resistant and to be honest, I haven't put this into heavy rains but it is sturdy for light drizzle. Good thing is it does come with a bag cover for rains which serves the purpose. (You can't get everything, every time but as far as there is a way out, I don't mind the alternative for the price this comes for)Cons1. I am still trying to figure out what items come under this category. Testing the zip locks and the straps and so far they seem to be working fine. One thing though I'd like to suggest though is that before buying this bag, please estimate what all you are going to put into it. If you own just one camera and a single lens, this may be a little bigger and heavier bag to carry around. Although, if you travel a lot and do night-outs, you can adjust the compartments and make space for your clothes to go instead of the camera accessories.
19/10/2018
Lots of storage room!
It's bigger and bulkier than I expected but it has all the storage I needed for my photography essentials. I have few lenses, external flash, and tripod. They all could fit in this bag plus more. It's made out of good material as well. Definitely a nice camera bag that fits my needs.
21/10/2018
QUALITY
I've had for a while now. Very good backpack. Fills my needs.
02/12/2020
Good quality. Comfortable to wear.
Bought this for a trip to Glacier and Yellowstone. Did many hikes. This backpack was well supported and carries well. Could use a few more zipper pockets, but overall very satisfied. You do have to take it off to access anything in it, but my stuff was pretty well protected. The tripod carry pocket sticks down below the bottom of the pack so it won't stand up or allow you to lean it up against anything and it makes it hard to open and access when the tripod is secured on the back flap. They should move the tripod foot pocket up about 4 or 5 inches or have the tripod secured to a side instead of the back. you can't sit when you are wearing the backpack with a tripod.
29/09/2020
Camera Backpack
this backpack is really good for video-photography + i use also for racing drone ..i like it <3 thanks
09/08/2020
These images belong to K&F Concept end users.
There are no faqs for this product.
K&F Concept DSLR Backpack, Natural Night Filter - Landscape Photography Gear
Bag Compartment
Carrying/Transport Options
Backpack
Camera Support Strap
Yes
Camera Compartment
2
Lens Compartment
8
Laptop Compartment Screen Size
15 inch
Bag Exterior
Exterior Color
Black
Exterior Dimensions
29*18*46cm
Exterior Material
Nylon
Type of Closure
Buckle
Rain Cover
No
Bag Interior
Maximum Volume
17.4L
Weight
1.99kg
Interior Dimensions
27*15*43cm