Camera Lens Filter Set for Mavic Mini 1 / Mini 2 / SE Drone - UV / CPL / ND8 / ND16 / ND32 / ND64 with 2 Set Propellers
Buy 99$-9$, 199$-25$, 299$-39$, 599$-100$
New customer gift package
Free shipping worldwide
Camera Lens Filter Set for Mavic Mini 1 / Mini 2 / SE Drone - UV / CPL / ND8 / ND16 / ND32 / ND64 with 2 Set Propellers

SKU.1905

SKU:

SKU.1905

62.99

https://www.kentfaith.com/SKU.1905_camera-lens-filter-set-for-mavic-mini-1-mini-2-se-drone-uv-cpl-nd8-nd16-nd32-nd64-with-2-set-propellers
Buy 99$-9$, 199$-25$, 299$-39$, 599$-100$
Description
* Import AGC Glass glass The filters use AGC optical glass, and the filter surface has 28 layers of optical coating.
* Nano-coating With 28 layers of anti-reflection coating, which can effectively reduce reflection on the surface of the filter. Mildew-proof water-proof scratch-proof and oil-proof.
* Ultra Lightweight Frame Aviation aluminum alloy frame construction-lightweight design each frame ONLY 0.8g. No affect for the gimbal calibration.
* UV filter protect the lens away from dust and scratches with 99% transmittance, CPL filter helps eliminates non-mettallic surface glare and ND filter enables longer exposures to capture the beauty of time and movement.
Shipping
Free shipping worldwide
Sale
Buy 99$-9$, 199$-25$, 299$-39$, 599$-100$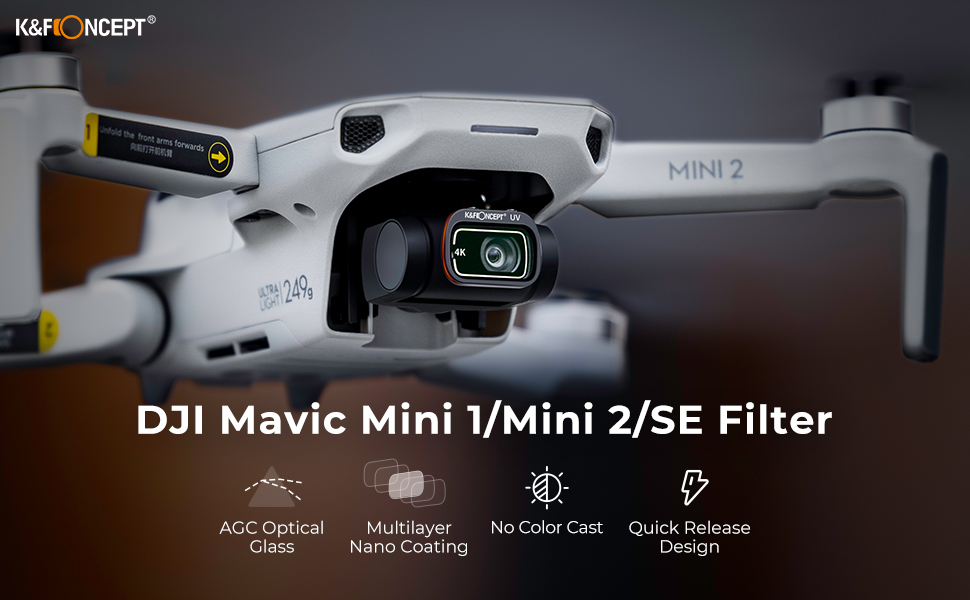 K&F Concept 6-Pack ND/ CPL/ UV Filter Kit for DJI Mini 1 / Mini 2/ SE with 2 Sets of Fan Blades (16 Pcs)
This DJI mini filter kit all made by import optical Japanese AGC glass with 28 multi-layer coatings, waterproof, oil-proof and scratch resistant.
The ND (Neutral Density) filters designed to slow down the camera's shutter speed. It can help to reduce the amount of light into camera sensor, allowing you to capture the desired natural effect in your footages.
The CPL (Polarizing filter) filter can remove the unwanted glare from natural reflective surfaces, while shooting outdoors. It help to capture more clear images and footages in bright sunny daylight conditions.
The UV filter can reduce 99% ultraviolet rays in the light, also protect the lens away from dust and scratches.
ND8 helps to slow down the shutter speed by 3 f-stops.You can use it in the Partly Cloudy dayNo color change.
ND16 helps to slow down the shutter speed by 4 f-stops.You can use it in the Mid day / Mild Sun.No color change.
ND32 helps to slow down the shutter speed by 5 f-stops.You can use it under very Bright Sun day.No color change.
ND64 helps to slow down the shutter speed by 6 f-stops.It can be used at the Extreme Sun day.No color change.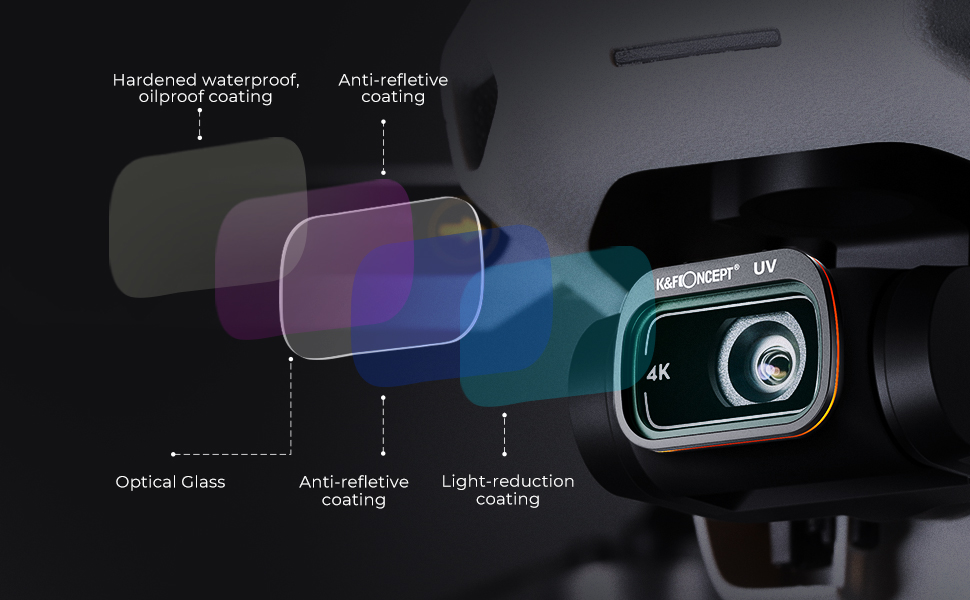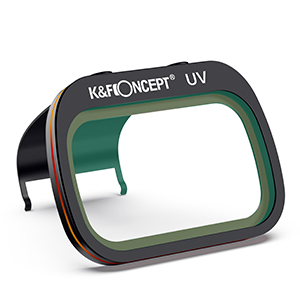 28-Multi-Layer Coatings
Double side multi-layer coatings for reduces reflection came from filter surface.
Nanometer coatings technology ensures the accurate stop and no color shift.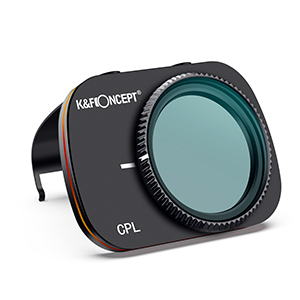 High-Tech Film
Hydrophobic/Scratch resistant /HD films easily for filter cleaning , no any negative effect for images quality.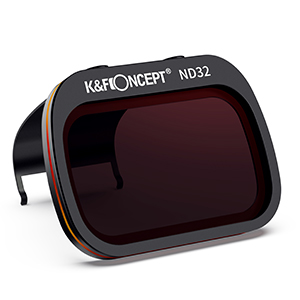 Package Includes
UV/CPL/ND8/ND32/ND64 each one pcs.
2 sets of Mini1, Mini 2 fan blade, total 16 pcs.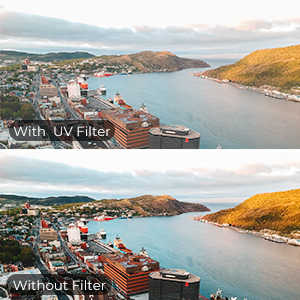 The UV filter has two functions, one is to protect the DJI lens, another is to reduces the uv ray refelctions restore the images true color.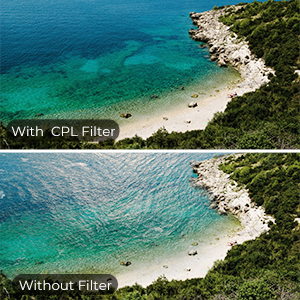 CPL filter can enhance the color and contrast , especially used on white and blue sky shooting, eliminates the glaring came from the water and glass.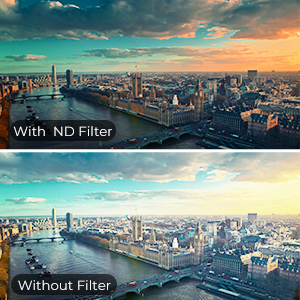 ND filter an extend the exposure time reduces the light of enter in the lens and record the objects movements via slow shutter.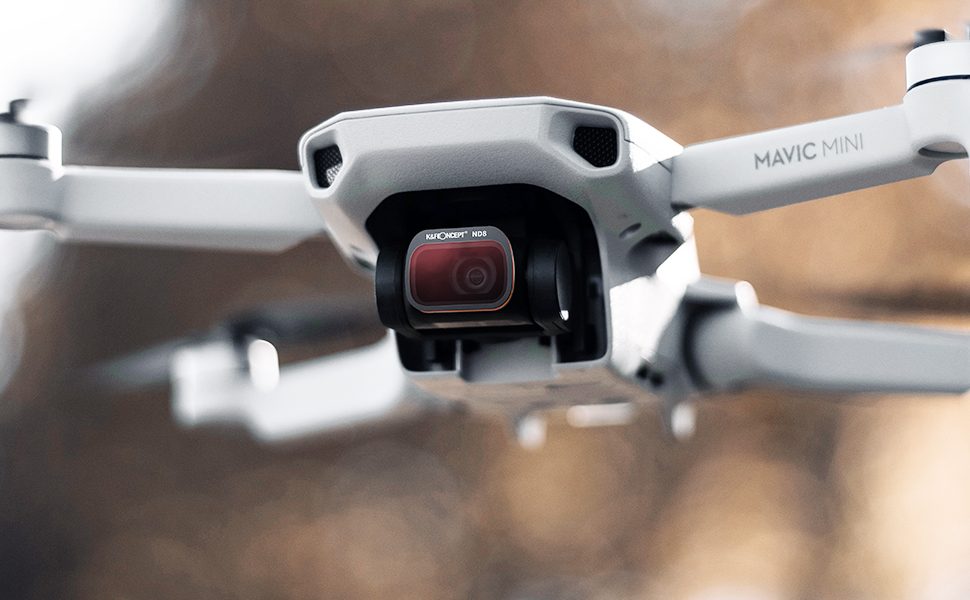 All Reviews
Image

All Star

5 Star

4 Star

3 Star

2 Star

1 Star
Finally it works!
The only filters that don't block the gondola on my Mini 2.
I tried all the other brands (Freexx, Sunnxx and others) and as soon as I put on a filter (drone off) -> Gimbal jammed!
The only solution was to put the drone on but painful (nacelle moves) and very risky for electronics.
With these K&F Impec filters! Drone off I place the filter, switch on and Hallelujah it finally works!

Luckily not that kind of problem on my Mini 3 Pro where the filters clip onto the sensor but so I would surely take the K&F.
17/05/2023
Good Quality
A long time ago I have been using ND K&F Concept filters for my camera with good results. The materials in which they are built are of good quality. Now I needed some filters for the Mini 2 and I decided to buy these because of the experience I had with the camera ones and I can say that I am happy because the results obtained have been satisfactory. They correct the overexposure very well. The polarized one will rehearse it on a next flight and make my comment about it.
16/05/2023
Great quality Filters for your DJI Mini Series Drone
This ND filter set is a must have for your DJI MINI Series Drone. They fit well and are easy to install. The kit comes with 6 filters. All made of metal not cheap plastic. The do not interfere with gimbal operation and allow for beautiful pictures and video. The last three pictures were taken using the ND 32 one facing the sunset one looking just away from the sun and another facing away from the sun all taken in with in 2 hours on the same day!
15/05/2023
They are good
They work great
03/05/2023
These filters a great!
Super filter set I use on my DJI Mini 2 drone. Ultra high quality. Super lightweight too. A great tool kit for the cinematographer in your family. Great price too!
02/05/2023
Great Lenses!
Great to buy
30/04/2023
good Filters
Cinematographic Play Dão. Good filters
29/04/2023
Earnings
Can be applied to the video camera very easily. Excellent lens shielding system. Minimal weight, does not affect the total weight of the mavic mini. Highly recommended.
28/04/2023
Great set of filters for the drone.
Great set of filters, so far we have only tried the anti-UV one and it seems to work very well.
27/04/2023
Great product!
Still getting to know how to use this product but I'm getting there. I wish it came with some kind of instructions on how to use each lens. Tons of YouTube videos on how to use it though. Great product would recommend!
26/04/2023
There are no faqs for this product.