55mm Magnetic Black Mist Filter 1/4 Special Effects Filter HD Multi-layer Coated, Waterproof/Scratch-Resistant/ Anti-Reflection, Nano-X Series
Terms
Terms and Conditions:
Coupons are valid for a limited time only. Kentfaith reserves the right to modify or cancel coupons at any time.
You must purchase the qualifying items added to your Cart when the coupon is in effect for the discount to apply.
If you later modify or cancel the subscription or delivery date for the qualifying item, the discount will not apply.
The coupon applies only to qualifying items displaying the coupon offer.
If you buy more than one item from the same coupon, the maximum discount amount of the coupon will be equal to either the percentage discount off or the face value of the coupon on one eligible item. The coupon may only be used on www.kentfaith.com.
The promotion is limited to one coupon per customer.
If you return any of the items purchased with a coupon, the coupon discount or value may be subtracted from the return credit.
Buy 99$-15$, 199$-30$, 299$-50$, 599$-120$(autumn sale Price)
Free shipping worldwide
K&F Concept magnetic 1/4 Black Mist Filters feature 1 Second Swap & Install, 28 Multi-Layer Coatings, Ultra Slim Frame, Professional Filter for Portrait Photography.

SKU.1818

SKU:

SKU.1818

61.99

https://www.kentfaith.com/SKU.1818_55mm-nano-x-1-4-black-soft-magnetic-suction-filter-high-definition-coated-with-waterproof-scratch-resistant-anti-reflection-green-film-with-magnetic-attachment-ring-and-magnetic-metal-upper-cover
Buy 99$-15$, 199$-30$, 299$-50$, 599$-120$(autumn sale Price)
Description
* 【1 Second Swap & Install】K&F Concept magnetic lens filter could finish installed in less than one second compared with conventional thread filter. Avoided frozen hands in cold weather and never miss any wonderful moment.
* 【28 Multi-Layer Coatings】All filters are made of import AGC High Definition Premium Optical glass, double-side multicoated, no chromatic aberration (color shift) hydrophobic,scratch-resistant, oil proof. Provides you a perfect photography experience, protecting your lens from all around.
* 【Ultra Slim Frame】1.9mm-3.5mm ultra-slim frame ensures no vignetting and dark corner on 16mm wide-angle focal length. CNC non-slip system frame , easy for install and remove. Equipped with aviation-grade aluminum alloy material magnetic lens cover, both magnetic and threaded, can be installed on the lens, two-in-one function
* 【Professional Filter for Portrait Photography】 This black soft 1/4 filter could soften the wrinkles, freckles and pores of facial skin, making it more delicate, plump and gorgeous. The hazy film effect can be better realized, showing dreamily film effect. In order to ensure the ultra-high definition image quality, the double polishing process is adopted to ensure the high definition within 550mm focal length.Reconmending use it in video shooting.
Shipping
Free shipping worldwide
Sale
Buy 99$-15$, 199$-30$, 299$-50$, 599$-120$(autumn sale Price)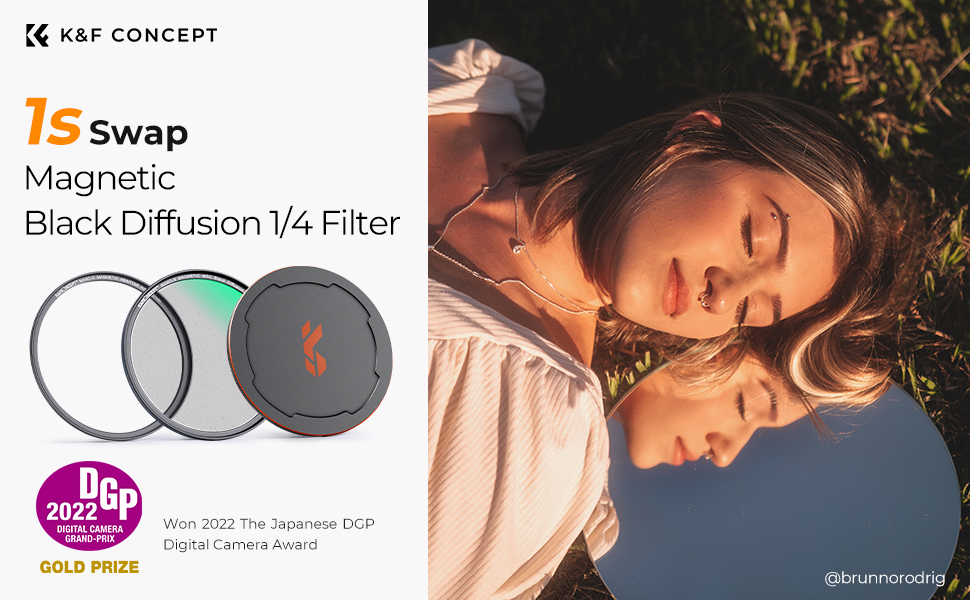 K&F Concept Magnetic Black-mist Lens Filters
Function:
The 1/4 black soft filter can soften the wrinkles, spots, pores, etc. of the human skin, and the more delicate, plump, beautiful and hazy movie effects can be better realized.
---
Features:
1. Magnetic filter ---quick installation and disassembly in 1 second.
2. Top optical glass, the front and back of the lens adopts double-sided multi-layer antireflection coating, which can effectively reduce the surface reflection of the filter and avoid problems such as ghosting.
3. The standard transmittance rate of 1/4 black soft is 84%.
4. Nano-coating. Waterproof, Mold proof, Anti-scratch, Anti-greasy.
5. Magnetic and threaded 2-in-1 filter cap, for your daily use.
6. Magnetic attachment ring also for your other magnetic filters.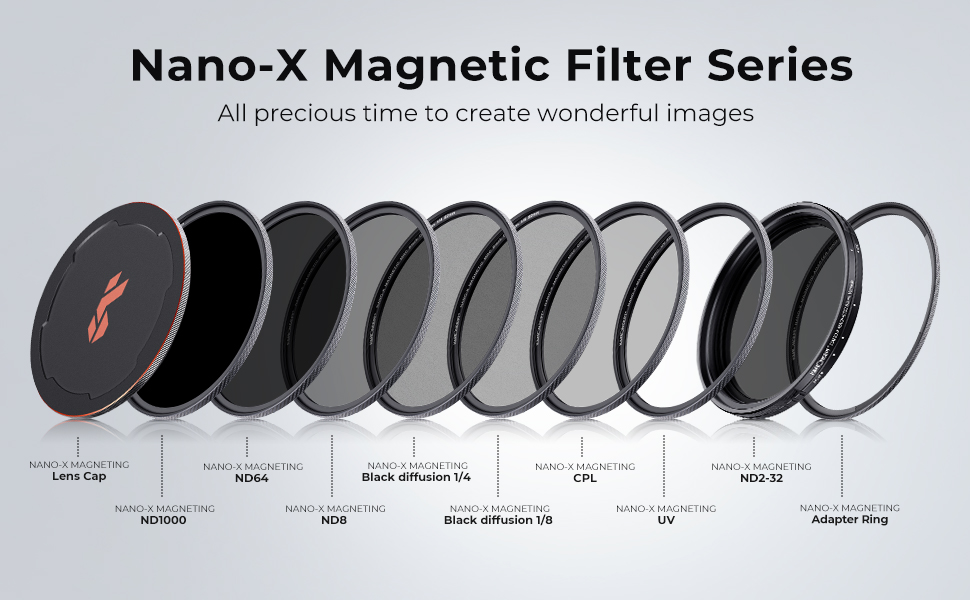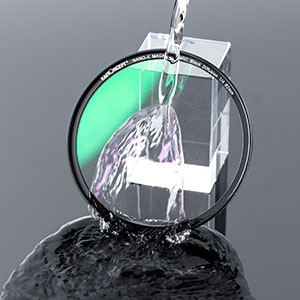 Optical glass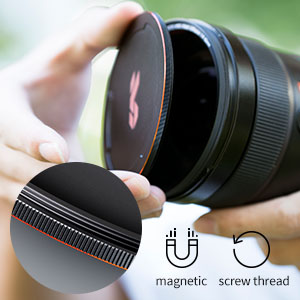 Magnetic alloy cap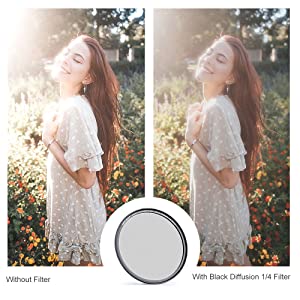 1/4 soft diffusion filter effect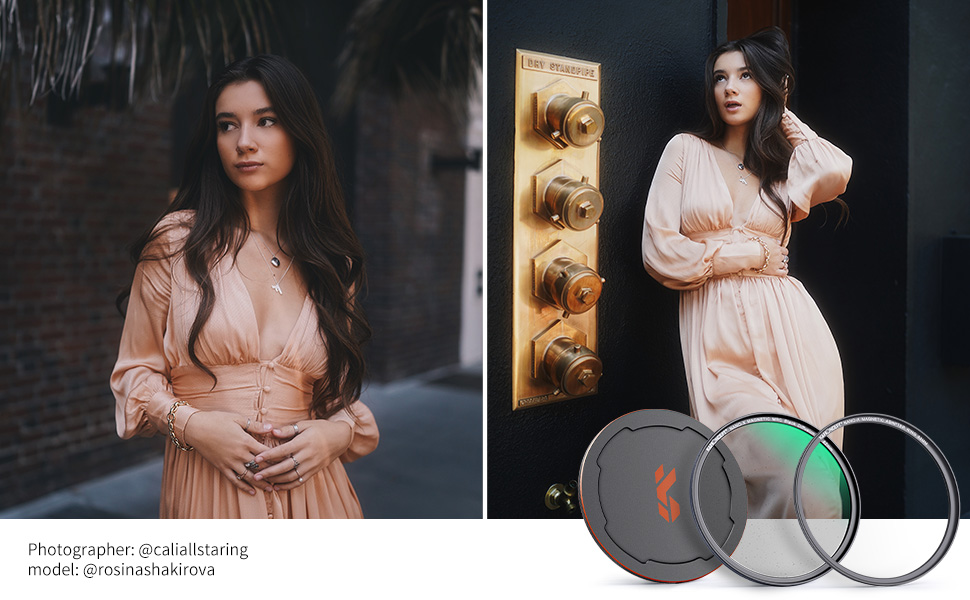 Q: Will the black soft filter have the same dimming effect as CPL?
A: The black effect and soft color will not diminish the light. The black soft fluorescent function is to spread the picture, creating a hazy movie effect, making the dim scene instantly hazy and warm.
---
Q: What is included in the kit?
A: 1pcs magnetic attachment ring, 1pcs magnetic black mist filter, 1pcs magnetic lens cap;
---
Q: Can the lens cap be directly attached to the lens?
A: Yes, the lens cover is threaded, it can be screwed on directly, or it can be magnetically attached by a magnetic attachment ring or filter, which is a two-in-one function;
---
Q: How is the filter installed on the lens?
A: You need to install the magnetic attachment ring first, and attach the filter to the magnetic attachment;
---
Q: Can I install the filter without a magnetic attachment ring?
A: No, you need to install the magnetic adapter first;
---
Q: How to choose a size filter suitable for my lens?
A: Check the diameter of your lens first. The size is usually displayed next to the ø symbol on the front of the lens.

| | | | | | | |
| --- | --- | --- | --- | --- | --- | --- |
| | | | | | | |
| | | | | | | |
| | | | | | | |
| Rating | 56 reviews. | 50 reviews. | 29 reviews. | 35 reviews. | 64 reviews. | 104 reviews. |
| Price | $61.99 | $61.99 | $49.99 | $49.99 | $54.99 | $71.99 |
| Model | SKU.1818 | SKU.1836 | SKU.1738 | SKU.1756 | SKU.1702 | SKU.1621 |
| Series | Nano-X series | Nano-X series | Nano-X series | Nano-X series | Nano-X series | Nano-X series |
| Recommended Scenes | Video Shooting/Landscape Photography | Video Shooting/Landscape Photography | Video Shooting/Landscape Photography | Landscape Photography | Landscape Photography | All Scenes |
| Function | 1 Second Switch/Soft highlight | 1 Second Switch/Soft highlight | 1 Second Switch/Light reduction effect | 1 Second Switch/Light reduction effect | 1 Second Switch/Eliminate stray light/Improve colo | 1 Second Switch/Protect Lens/Enhance Color & C |
| Filter Material | Japanese AGC Glass | Japanese AGC Glass | Japanese AGC Glass | Japanese AGC Glass | Japanese AGC Glass | Japanese AGC Glass |
| Multi-Coating | 28 layers | 28 layers | 28 layers | 28 layers | 28 layers | 28 layers |
| Waterproof | √ | √ | √ | √ | √ | √ |
| Scratch-resistant | √ | √ | √ | √ | √ | √ |
| HD | √ | √ | √ | √ | √ | √ |
| Transmittance | 0.84 | 0.87 | 0.0156 | 0.5 | 0.5 | |
| Size | | | | | 55mm | |
| Antireflection | | | | | √ | |
| Filter Thickness | | | | | 5.5mm | |
| Ring Material | | | | | Aviation aluminum alloy | |
| Reflectivity | | | | | | 0.2% |
All Reviews
Image

All Star

5 Star

4 Star

3 Star

2 Star

1 Star
Better Than Expected
The black piece you see in the photo is a lens cap. The transparent piece, that is under that, serves as a filter of sorts. The cap under that is more of a free pass through attachment designed to stick to either the filter or the lens cap depending on what your goal is.

Basically it's all magnets, so it was really easy to set this up. I just screwed in the base, then the filter snapped on no problem, then the lens cap too snapped on without any issue.

The quality of this set is great. The look of it is awesome too. I shook my camera a bit and the cap did not fall off. Seems to be a great alternative to the locking mechanism that comes with normal caps.

Overall, I'm really happy with this set.
22/05/2023
Great quality for a cinematic looks
This Filter is meant to bloom your highlights and take off the digital look and add a cinematic quality to your footage and it does just that. The magnetic design is a great idea if you had all magnet filters which would make it super easy to swap filters. But if your other filters are ring supported I would not purchase for that option. I am able to mount the camera upside down with no words of the magnets failing me because it is very strong.
I have kept this filter on my camera since I got it months ago so that goes to show you how well this is made and enhances my video production. You can stack this filter but only stack with this filter being last to reduce the chances of making the front element heavier where it magnetizes. I have not compared this to bigger brands but base off of the lower price and quality this provides it's a no-brainer.
I would definitely recommend to beginner's and enthusiast look to get a "cinematic" quality out of their photos and videos.
20/05/2023
Nice effect, not too strong
I haven't used any magnetic mount filters before. It's really nice to have that. I didn't realize how convenient it would be not to have to screw and unscrew filters every time I want to make a change.

The diffusion effect of this lens is easy to notice if you're looking for it, but subtle enough that it doesn't call attention to itself. I was concerned that it might be too much at first, but I like the results. I didn't notice any color cast either. Very nice filter. Does the job well.
05/05/2023
Excellent investment
High quality materials
04/05/2023
High quality filter with excellent magnetic attachment system!
I have the threaded version of this filter from K&F Concept and I have been very happy with the quality of it. I use it regularly to give a subtle softening effect to my images. This new magnetic version is awesome! The magnetic attachment is very strong and it makes it so quick and easy to install or remove the filter and lens cap. Construction quality is excellent; K&F filters are very much in the same league as Tiffen filters. Highly recommended!

I see that K&F has started to produce a range of different filters (ND, polarizers, and diffusion) using this magnetic system and I would definitely be interested in adding more to my collection because it's a terrific system. It would work especially well for the 10-stop ND filter because that's the kind of filter you have to keep screwing on and off (because you can't see through it to focus), so being able to snap it on and off would make it SO much easier to use.
03/05/2023
Great filter
I bought this filter to test it out vs the Tiffen brand pro mist and it did not disappoint. Theres a video on YouTube that compares these two filters side by side and the K&F is definitely a competitor. Price is fair which I liked, it came in a nice container as well. In my opinion dont overpay for the Tiffen.
02/05/2023
Great Hot Swappable Filter
Magnetic Filter Attachment, quick and easy to attach or remove from the camera lens.
THe 1/4 Black Mist filter is fantastic and definitely one of my favorites. The Filter comes with 3 items

1) The Filter Ring that threads on to the lens end
2) The Magnetic filter
3) Magnetic Filter Lens Cap.

Common Question(s):
Can you use the canon lens cap with the Magnetic ring installed (YES)
Can you use the Canon lens cap with the magnetic Filter in place (YES)
Can you use the Lens Cap with the magnetic base without the filter magnetically attached (YES)

Overall, really good quality lens and it is a breeze to install. The Magnetism is strong and the lens cap does not fall off nor does the filter. It has just the right amount of magnetism to keep everything in place.
Very Good Lens and Concept for mounting it to the camera.
02/05/2023
Great value, very convenient, no color cast
I have the K&F magnetic system on all of my lenses, and got several of the matching ND and CPL filters in addition to the black mist one here. They're so convenient, easily stackable and the connection is strong enough that I don't have to fear that one of them could fall off. The black mist effect here is very minor, and only really noticeable with plenty of backlighting. Many cheaper filters often have a color cast, but I haven't noticed that with the K&F ones at all.

The only downside is that on my Sony lenses at least the magnetic caps that are included are really hard to pull off when you have the lens hood on the lens (either forwards or backwards). Some grippy element at the front of the cap would've helped with that. I might 3d print some holder and glue that on there to fix it. Since the caps aren't really the main reason to use a magnetic filter system though I'm still giving 5 stars, they would've been a nice bonus if they worked well but they're not really critical to the product.
01/05/2023
It's cool for the dreamy non clinical digital look.
The "mist" diffusion filter does what it advertises. It's a softer image with "blooming" highlights especially if backlit.
I double stack my filter with a prime lens effect dream filter for an extra dreamy look.
I totally recommend this.
03/04/2023
Really nice addition to my photography kit
I use a Fujifilm X-T3 camera and got this to go with my 55 - 200mm zoom lens. The mounting ring attaches to the lens without issue and I am a big fan of the magnetic attachment for this filter. There are many different brands of diffusion filters out there. I have used Tiffen brand filters in the past and always been happy with them but when I came across the K&F filters I definitely wanted to give them a try.

I have used K&F products in the past and have been particularly happy with their lens adapter system (I used to shoot with Pentax cameras and lenses and their superb lens adapter has allowed me to use my old Pentax lenses with my Fujifilm camera.

This magnetic system does not disappoint. Swapping filters is super easy with the magnetic attachment system. The lens cap for the filter system has been criticized by some but I find it to work very well. It actually reminds me of some of the lens caps from my Pentax system so I felt very comfortable with it.

As for the quality of the diffusion - excellent! I really enjoy the softer look that this diffusion supplies without it bein too heavy-handed.

I was a bit surprised by one thing however. I expected to be able to install this filter system and then still utilize my tulip-shaped lens hood but I cannot do that when this K&F is attached to my lens. To be honest, I wouldn't be surprised if this is really the fault of the Fujifilm system as I have found their lens hoods difficult to attach compared to other camera systems I have used in the past. That said, I intend to get some more K&F brand ND filters to take full advantage of this magnetic attachment system. It's a winner in my book.
02/04/2023
There are no faqs for this product.
How to check your lens size
Filter
Series
Nano-X series
Recommended Scenes
Video Shooting/Landscape Photography
Function
1 Second Switch/Soft highlight
Filter Material
Japanese AGC Glass
Multi-Coating
28 layers
Waterproof
√
Scratch-resistant
√
HD
√
Transmittance
0.84