S11 Wireless Lavalier Microphone for iPhone, Wireless Microphone for iPhone with Portable Charging Case, Auto Sync, iPhone Microphone for Video Recording Podcast/YouTube/Facebook/TikTok/Vlog
Buy 99$-15$, 199$-30$, 299$-50$, 599$-120$(Black Friday Price)
Free shipping worldwide
Brand:

KENTFAITH

Buy KENTFAITH s11 wireless lavalier microphone for iphone, wireless microphone for iphone with portable charging case, auto sync, iphone microphone for video recording podcast/youtube/facebook/tiktok/vlog online, worldwide free shipping and 30 days return guarantee.

KF10.054

SKU:

KF10.054

28.99

https://www.kentfaith.com/KF10.054_s11-wireless-lavalier-microphone-for-iphone-wireless-microphone-for-iphone-with-portable-charging-case-auto-sync-iphone-microphone-for-video-recording-podcast-youtube-facebook-tiktok-vlog
Buy 99$-15$, 199$-30$, 299$-50$, 599$-120$(Black Friday Price)
Description
* 【Plug and play and auto pairing】 Wireless lavalier microphone includes transmitter and receiver, no Bluetooth, app or adapter required, open the box and turn on, auto pairing code, plug and play 1 second connection.
* 【iPhone/iPad Professional Microphone】 Wireless microphone compatible with iOS, for iPhone and iPad series, supports all audio and video applications for Apple system. (Note: This wireless lavalier microphone system is not compatible with Type-C port iPad series).
* 【Long-range transmission】Perfectly designed for interviews, conversations, live broadcasts, talk shows, video blogs, etc. 65FT transmission reflects its powerful and stable connection. Stable 2.4GHZ wireless transmission with strong penetration and low latency of only 15ms, ensuring smooth live sound quality.
* 【Portable charging case】 charging compartment built-in 300mah high-capacity battery, charging case can be filled up to 5 times for your microphone, a charge can be used for 6 hours, LED digital display screen, so you for the remaining power at a glance, wireless charging anytime, anywhere, live worry-free.
* 【Professional-grade clear recording】Wireless lavalier microphone supports up to 80KHz stereo reception and 360° high-sensitivity voice pickup. Microphone with built-in intelligent noise reduction chip to ensure that you can capture perfect sound quality in any environment.
Shipping
Free shipping worldwide
Sale
Buy 99$-15$, 199$-30$, 299$-50$, 599$-120$(Black Friday Price)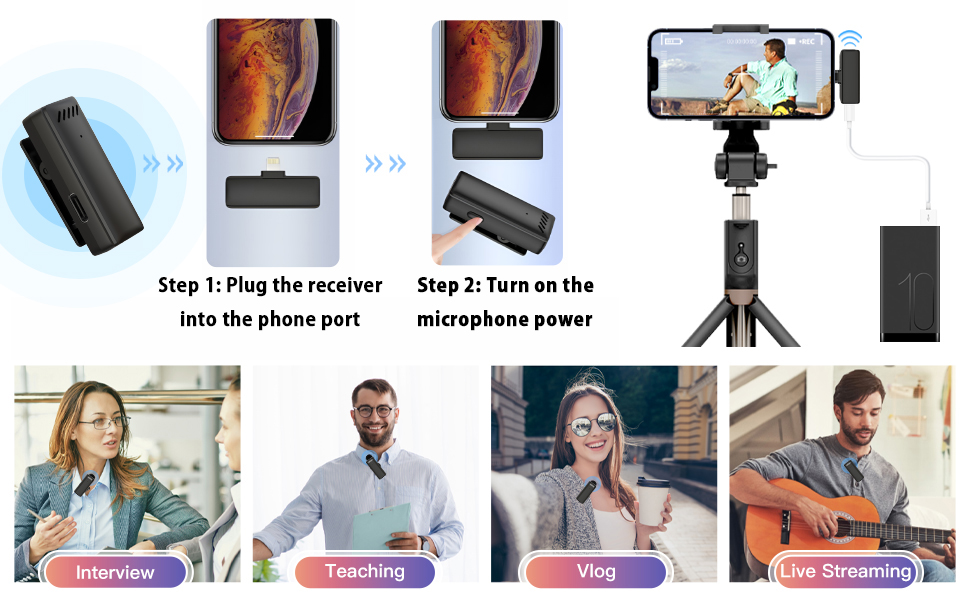 Wireless Lavalier Microphone for iPhone/iPad
No app or Bluetooth, plug and play, compatible with iPhone/iPad port phone. Live stream is supported, e.g. Facebook, Youtube, Instagram, TikTok Live Stream. Used for interviews, lessons, live broadcasts, short videos and other scenarios. This lavalier microphone does not support calls and online chats. The device connected to the receiver cannot output music. (If you want to output music during video recording, please use another device.)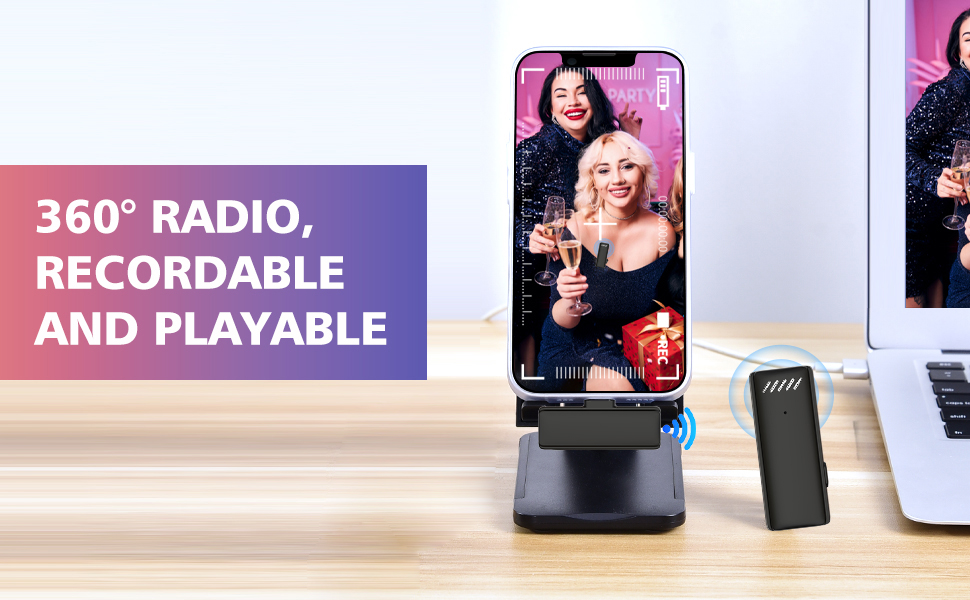 360° radio, live transmission and recording
Use a wireless recording microphone system. Omnidirectional radio. Live or short video recording. Multi-purpose machine.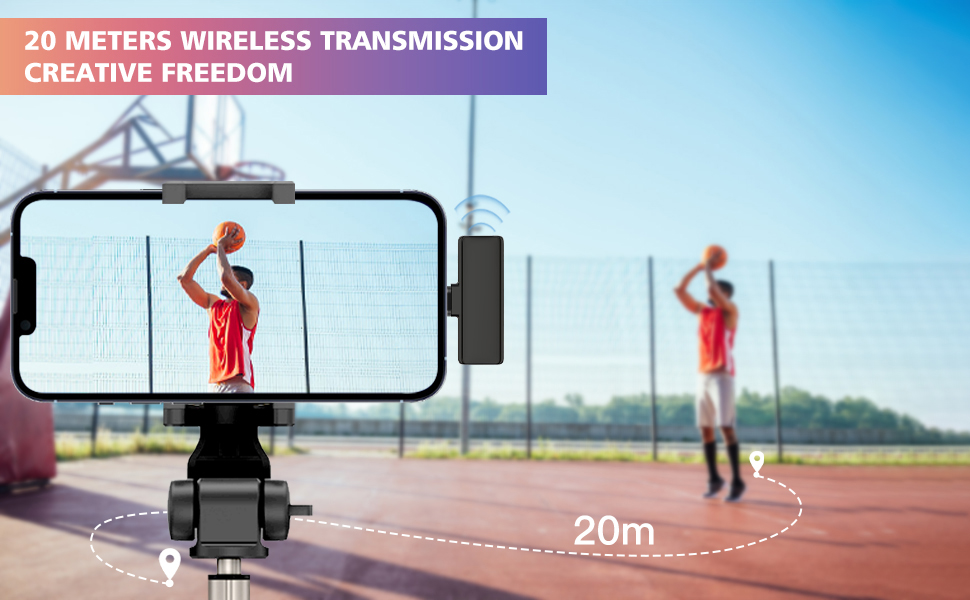 20 meters wireless transmission, creative freedom
Realise an effective wireless transmission range of 20 metres. At the same time, the bi-directional 2.4G transmission is adopted. The signal is stable and has a constant frequency. Make recordings on site for free.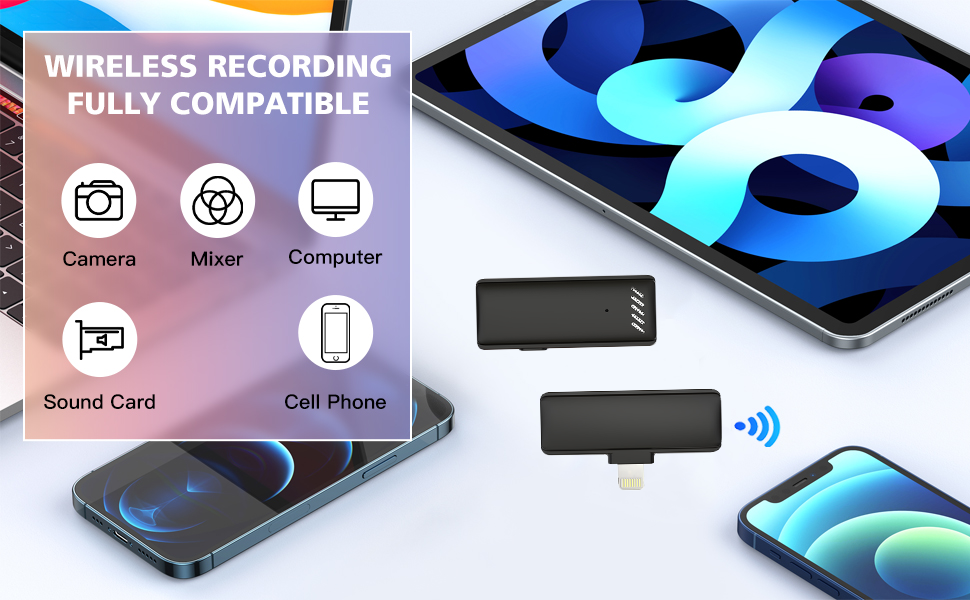 Wireless recording, fully compatible
Can be used in cameras, mobile phones, computers, sound cards and other hardware devices.Support iPhone/iPad series: iPhone 6/7, 7 Plus, 8, 8 Plus, X, XR, XS, XS Max, 11, 11 Pro, 11 Pro Max. 12/12 Pro,13/13 Pro and iPad 2/3/4, iPad Air Series, iPad Pro Series.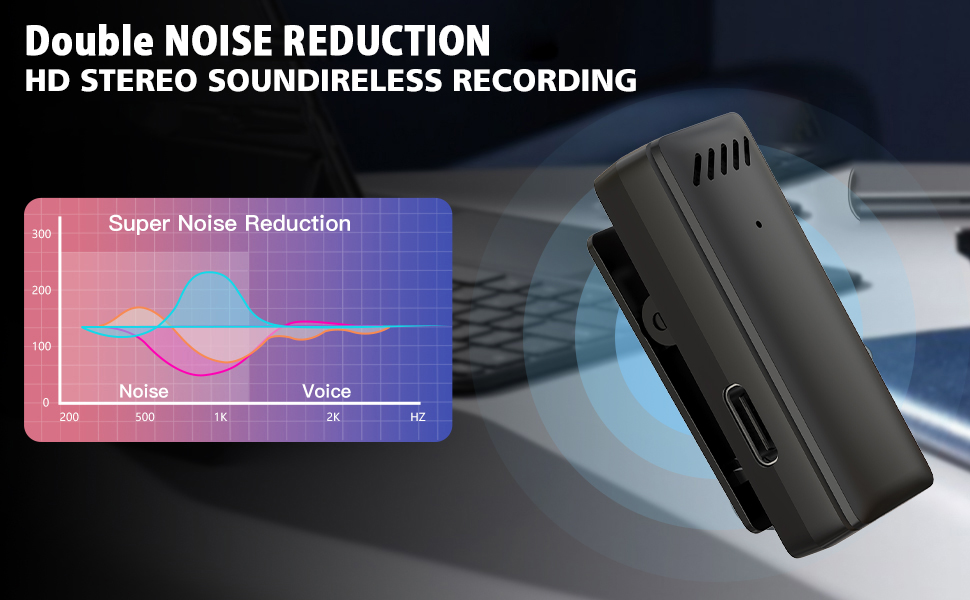 Intelligent noise reduction, high definition stereo sound
Intelligent adjustment of noise reduction to different environments. Use digital recording technology to achieve lossless, high-resolution stereo sound quality.
There are no reviews for this product.
There are no faqs for this product.