82mm Magnetic Black Mist Filter 1/4 Special Effects Filter HD Multi-layer Coated, Waterproof/Scratch-Resistant/ Anti-Reflection, Nano-X Series
Terms
Coupon Terms
Terms and Conditions:
Coupons are valid for a limited time only. Kentfaith reserves the right to modify or cancel coupons at any time.
You must purchase the qualifying items added to your Cart when the coupon is in effect for the discount to apply.
If you later modify or cancel the subscription or delivery date for the qualifying item, the discount will not apply.
The coupon applies only to qualifying items displaying the coupon offer.
If you buy more than one item from the same coupon, the maximum discount amount of the coupon will be equal to either the percentage discount off or the face value of the coupon on one eligible item. The coupon may only be used on www.kentfaith.com.
The promotion is limited to one coupon per customer.
If you return any of the items purchased with a coupon, the coupon discount or value may be subtracted from the return credit.
Buy 99$-9$, 199$-25$, 299$-39$, 599$-100$
Free shipping to eligible country
K&F Concept magnetic 1/4 Black Mist Filters feature 1 Second Swap & Install, 28 Multi-Layer Coatings, Ultra Slim Frame, Professional Filter for Portrait Photography.

SKU.1824

SKU:

SKU.1824

101.99

https://www.kentfaith.com/SKU.1824_82mm-nano-x-1-4-black-soft-magnetic-suction-filter-high-definition-coated-with-waterproof-scratch-resistant-and-anti-reflection-green-film-with-magnetic-attachment-ring-and-magnetic-metal-upper-cover
Buy 99$-9$, 199$-25$, 299$-39$, 599$-100$
Description
* 【1 Second Swap & Install】K&F Concept magnetic lens filter could finish installed in less than one second compared with conventional thread filter. Avoided frozen hands in cold weather and never miss any wonderful moment.
* 【28 Multi-Layer Coatings】All filters are made of import AGC High Definition Premium Optical glass, double-side multicoated, no chromatic aberration (color shift) hydrophobic,scratch-resistant, oil proof. Provides you a perfect photography experience, protecting your lens from all around.
* 【Ultra Slim Frame】1.9mm-3.5mm ultra-slim frame ensures no vignetting and dark corner on 16mm wide-angle focal length. CNC non-slip system frame , easy for install and remove. Equipped with aviation-grade aluminum alloy material magnetic lens cover, both magnetic and threaded, can be installed on the lens, two-in-one function
* 【Professional Filter for Portrait Photography】 This black soft 1/4 filter could soften the wrinkles, freckles and pores of facial skin, making it more delicate, plump and gorgeous. The hazy film effect can be better realized, showing dreamily film effect. In order to ensure the ultra-high definition image quality, the double polishing process is adopted to ensure the high definition within 550mm focal length.Reconmending use it in video shooting.
Shipping
Free shipping to eligible country
Sale
Buy 99$-9$, 199$-25$, 299$-39$, 599$-100$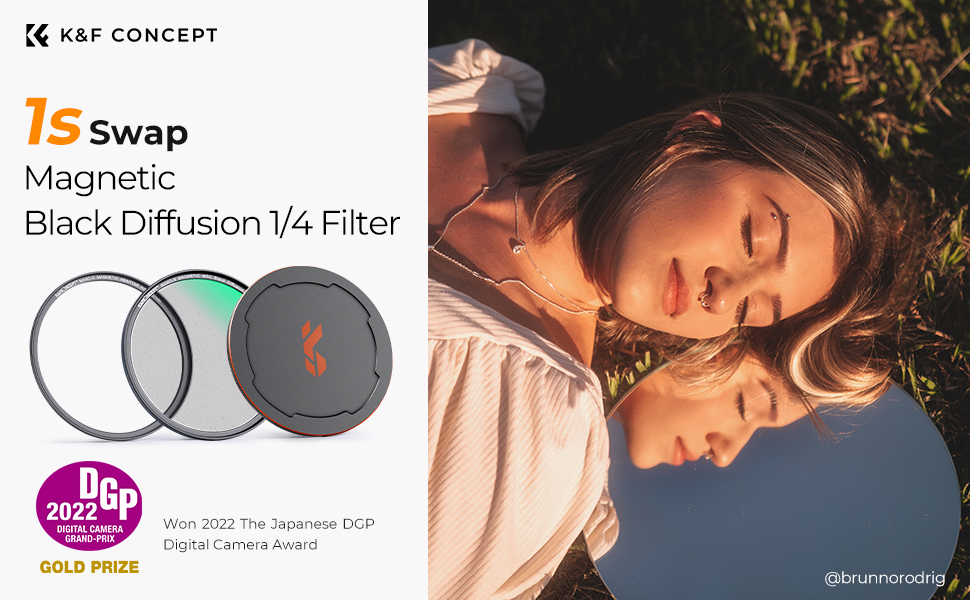 K&F Concept Magnetic Black-mist Lens Filters
Function:
The 1/4 black soft filter can soften the wrinkles, spots, pores, etc. of the human skin, and the more delicate, plump, beautiful and hazy movie effects can be better realized.
---
Features:
1. Magnetic filter ---quick installation and disassembly in 1 second.
2. Top optical glass, the front and back of the lens adopts double-sided multi-layer antireflection coating, which can effectively reduce the surface reflection of the filter and avoid problems such as ghosting.
3. The standard transmittance rate of 1/4 black soft is 84%.
4. Nano-coating. Waterproof, Mold proof, Anti-scratch, Anti-greasy.
5. Magnetic and threaded 2-in-1 filter cap, for your daily use.
6. Magnetic attachment ring also for your other magnetic filters.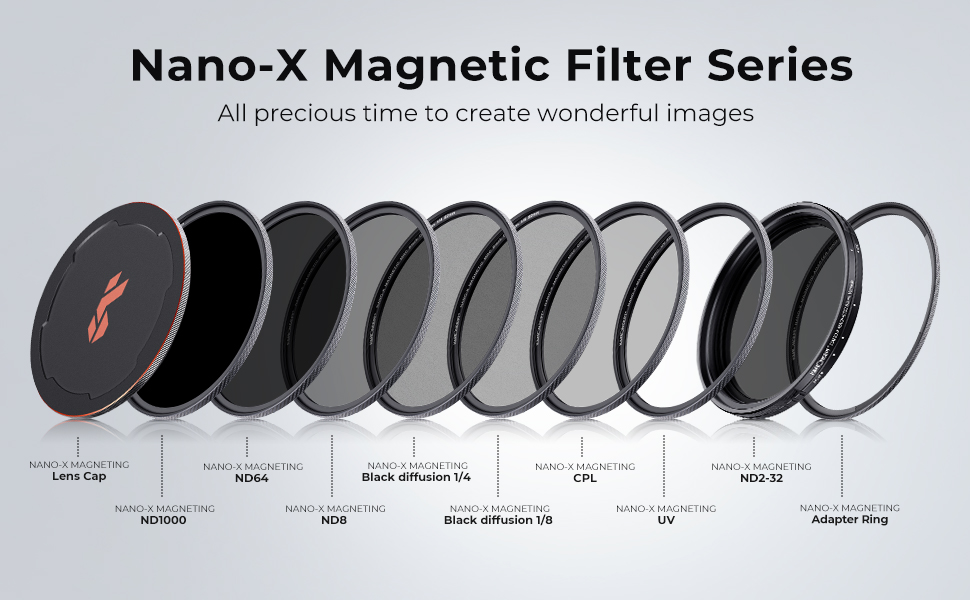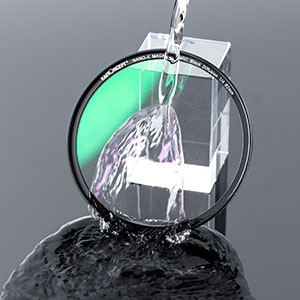 Optical glass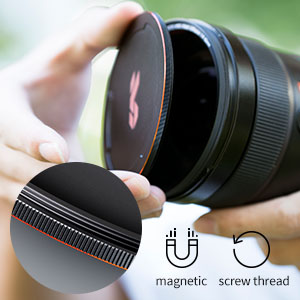 Magnetic alloy cap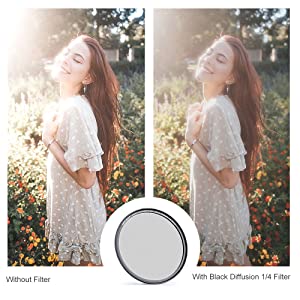 1/4 soft diffusion filter effect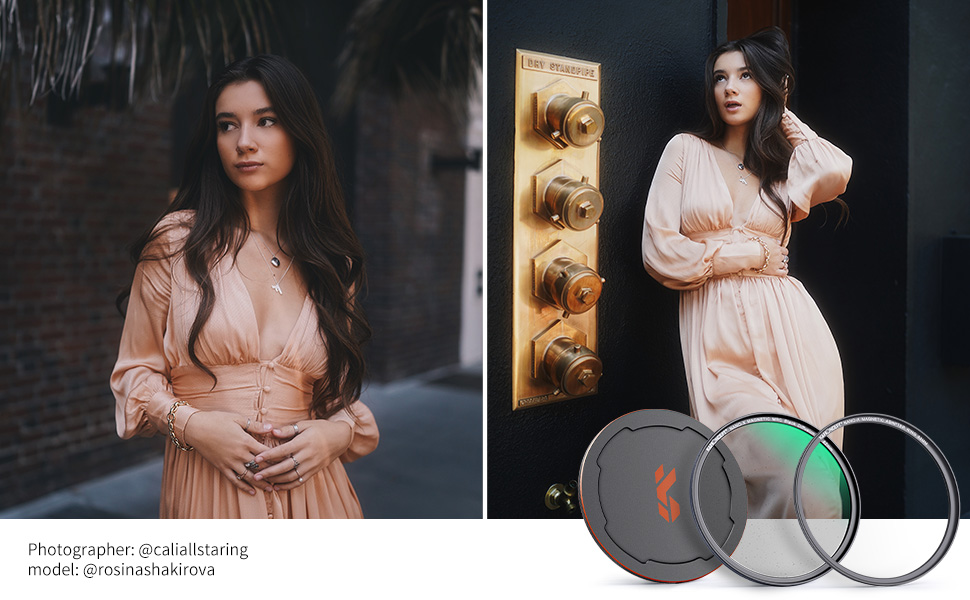 Q: Will the black soft filter have the same dimming effect as CPL?
A: The black effect and soft color will not diminish the light. The black soft fluorescent function is to spread the picture, creating a hazy movie effect, making the dim scene instantly hazy and warm.
---
Q: What is included in the kit?
A: 1pcs magnetic attachment ring, 1pcs magnetic black mist filter, 1pcs magnetic lens cap;
---
Q: Can the lens cap be directly attached to the lens?
A: Yes, the lens cover is threaded, it can be screwed on directly, or it can be magnetically attached by a magnetic attachment ring or filter, which is a two-in-one function;
---
Q: How is the filter installed on the lens?
A: You need to install the magnetic attachment ring first, and attach the filter to the magnetic attachment;
---
Q: Can I install the filter without a magnetic attachment ring?
A: No, you need to install the magnetic adapter first;
---
Q: How to choose a size filter suitable for my lens?
A: Check the diameter of your lens first. The size is usually displayed next to the ø symbol on the front of the lens.

| | | | | | | |
| --- | --- | --- | --- | --- | --- | --- |
| | | | | | | |
| | | | | | | |
| | | | | | | |
| Rating | 45 reviews. | 23 reviews. | 29 reviews. | 6 reviews. | 64 reviews. | 92 reviews. |
| Price | $101.99 | $101.99 | $72.99 | $72.99 | $71.99 | $121.99 |
| Model | SKU.1824 | SKU.1842 | SKU.1744 | SKU.1762 | SKU.1708 | SKU.1627 |
| Series | Nano-X series | Nano-X series | Nano-X series | Nano-X series | Nano-X series | Nano-X series |
| Recommended Scenes | Video Shooting/Landscape Photography | Video Shooting/Landscape Photography | Video Shooting/Landscape Photography | Landscape Photography | Landscape Photography | All Scenes |
| Function | 1 Second Switch/Soft highlight | 1 Second Switch/Soft highlight | 1 Second Switch/Light reduction effect | 1 Second Switch/Light reduction effect | 1 Second Switch/Eliminate stray light/Improve colo | 1 Second Switch/Protect Lens/Enhance Color & C |
| Filter Material | Japanese AGC Glass | Japanese AGC Glass | Japanese AGC Glass | Japanese AGC Glass | Japanese AGC Glass | Japanese AGC Glass |
| Multi-Coating | 28 layers | 28 layers | 28 layers | 28 layers | 28 layers | 28 layers |
| Waterproof | √ | √ | √ | √ | √ | √ |
| scratch-resistant | √ | √ | √ | √ | √ | √ |
| HD | √ | √ | √ | √ | √ | √ |
| Transmittance | 0.84 | 0.87 | 0.0156 | 0.5 | 0.5 | |
| Size | | | | | 82mm | |
| Antireflection | | | | | √ | |
| Filter Thickness | | | | | 5.5mm | |
| Ring Material | | | | | Aviation aluminum alloy | |
| Reflectivity | | | | | | 0.2% |
All Reviews
Image

All Star

5 Star

4 Star

3 Star

2 Star

1 Star
Definitely worth it
So far, so good. It adds the right amount of haze for portraits to make it stylistic.
16/10/2022
works well
is filter made a deep impression on me, I really didn't expect it to be so useful for video production. I think it's enough for me to shoot a video on a sunny day.
12/10/2022
Very interesting ! Very happy with the atmosphere that is achieved!
I had my doubts before buying this 82mm black haze filter, because I really do mostly landscape and thought they were only used in portrait or "Street". I wasn't quite sure what I could pull out and got a pleasant surprise. A filter that creates a particular atmosphere, adding a kind of haze around points of light. In the photos you can see the effect it generates, for me it looks very interesting and I think that in many situations you can give a special touch to the photos. The filter is threaded type, comes in its plastic box, which also serves different sizes of filters, from 49mm to 82mm. Right now I just came up with some ideas for looking for applications in the landscape, I find this is a very interesting option with which I enjoy a lot. I leave you some photos and videos so you can understand what effect is achieved by using this filter.
08/10/2022
Very well
I'm glad I bought this K&F Concept Filter Black Diffusion 1/4 82mm, the effect in the videos is very nice and cinematic.
08/10/2022
Make photos softer
Overall very satisfied with the filter. Great quality. I bought the 52mm version. Used 2 of my kit lenses and no problems. Very easy to install and remove from the lens. Easy to clean. Should last a long time.
06/10/2022
K&F black mist filter - FABULOUS
It is a filter designed for videos and to give a "vintage" touch to the final result. In short: wonderful result also for photography. This is a useful filter for reportage or portrait or landscape narration. You don't lose sharpness and you get much less "pulled" light that also expands in the shadowed area. It is a filter to be used in photography with large apertures and which "tells" an atmosphere. Technical review: It has no dominant details, so it leaves the colors similar to the photo taken without filter. Great ! It doesn't make light, you don't need to increase the Iso when you mount it. Great ! The sharpness in the details (and here is the beauty) remains almost unchanged. You don't lose sharpness in focus areas although I wouldn't use it in ultrafine landscape photography but for a storybook, outdoors or portrait together absolutely you. Autofocus is not affected by the filter, at least not on the Nikon D750 with fixed lenses. Use/Effect: This is a filter that gives a glowing effect to photos, especially special for videos and hard-light or backlit portraits. The reflections are lowered but without becoming dull, moreover the light "penetrates" into the shadows, giving a very soft "glow" effect. Ideal for portraiture or to give a more dreamy atmosphere, eliminates image clarity in high contrast areas. In the photos you can see some comparisons without filter / with filter, two portrait photos together and what comes to you. Bottom Line: This is a filter you don't think you could fit into your kit, but when it comes in, it has such a distinctive result that you try it in any situation. Absolutely to try!
03/10/2022
Satisfactory
Overall, I am satisfied with this K&F model, which dims the light sources at night and creates a pleasant atmosphere during the day. I use it with an Xpro-1 which makes a combo with an analog rendering for a digital camera.
03/10/2022
Good!
In fact, it's more than I thought! Great company!
02/10/2022
A great soft diffusion filter
The 1/8 thickness makes for a nice subtle scattering of your footage. It helps to highlight your shadows slightly while maintaining a little bit of contrast, and gives the highlights a subtle bloom.
01/10/2022
EXCELLENT CHOICE
Comparable to Tiffin Pro Mist1/4 in terms of performance. Recommended.
30/09/2022
There are no faqs for this product.
Do You Know How Your K&F Concept Filters be Produced? | One-day Tour in Production Line
How to check your lens size
Filter
Series
Nano-X series
Recommended Scenes
Video Shooting/Landscape Photography
Function
1 Second Switch/Soft highlight
Filter Material
Japanese AGC Glass
Multi-Coating
28 layers
Waterproof
√
scratch-resistant
√
HD
√
Transmittance
0.84