82mm Magnetic Black Mist Filter 1/4 Special Effects Filter HD Multi-layer Coated, Waterproof/Scratch-Resistant/ Anti-Reflection, Nano-X Series
Free shipping to eligible country
K&F Concept magnetic 1/4 Black Mist Filters feature 1 Second Swap & Install, 28 Multi-Layer Coatings, Ultra Slim Frame, Professional Filter for Portrait Photography.

SKU.1824

SKU:

SKU.1824

88.99

https://www.kentfaith.com/SKU.1824_82mm-nano-x-1-4-black-soft-magnetic-suction-filter-high-definition-coated-with-waterproof-scratch-resistant-and-anti-reflection-green-film-with-magnetic-attachment-ring-and-magnetic-metal-upper-cover
Description
* 【1 Second Swap & Install】K&F Concept magnetic lens filter could finish installed in less than one second compared with conventional thread filter. Avoided frozen hands in cold weather and never miss any wonderful moment.
* 【28 Multi-Layer Coatings】All filters are made of import AGC High Definition Premium Optical glass, double-side multicoated, no chromatic aberration (color shift) hydrophobic,scratch-resistant, oil proof. Provides you a perfect photography experience, protecting your lens from all around.
* 【Ultra Slim Frame】1.9mm-3.5mm ultra-slim frame ensures no vignetting and dark corner on 16mm wide-angle focal length. CNC non-slip system frame , easy for install and remove. Equipped with aviation-grade aluminum alloy material magnetic lens cover, both magnetic and threaded, can be installed on the lens, two-in-one function
* 【Professional Filter for Portrait Photography】 This black soft 1/4 filter could soften the wrinkles, freckles and pores of facial skin, making it more delicate, plump and gorgeous. The hazy film effect can be better realized, showing dreamily film effect. In order to ensure the ultra-high definition image quality, the double polishing process is adopted to ensure the high definition within 550mm focal length.Reconmending use it in video shooting.
Shipping
Free shipping to eligible country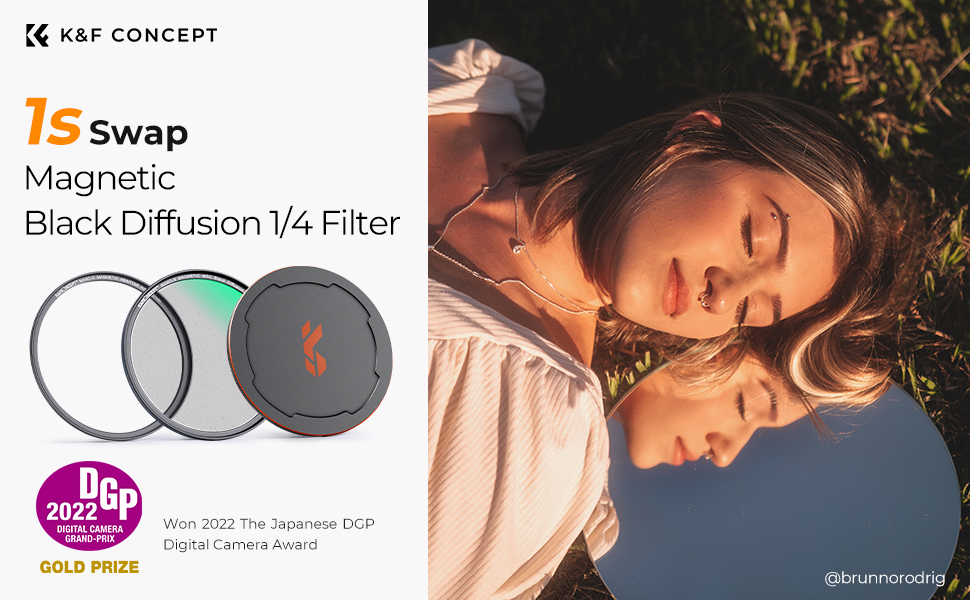 K&F Concept Magnetic Black-mist Lens Filters
Function:
The 1/4 black soft filter can soften the wrinkles, spots, pores, etc. of the human skin, and the more delicate, plump, beautiful and hazy movie effects can be better realized.
---
Features:
1. Magnetic filter ---quick installation and disassembly in 1 second.
2. Top optical glass, the front and back of the lens adopts double-sided multi-layer antireflection coating, which can effectively reduce the surface reflection of the filter and avoid problems such as ghosting.
3. The standard transmittance rate of 1/4 black soft is 84%.
4. Nano-coating. Waterproof, Mold proof, Anti-scratch, Anti-greasy.
5. Magnetic and threaded 2-in-1 filter cap, for your daily use.
6. Magnetic attachment ring also for your other magnetic filters.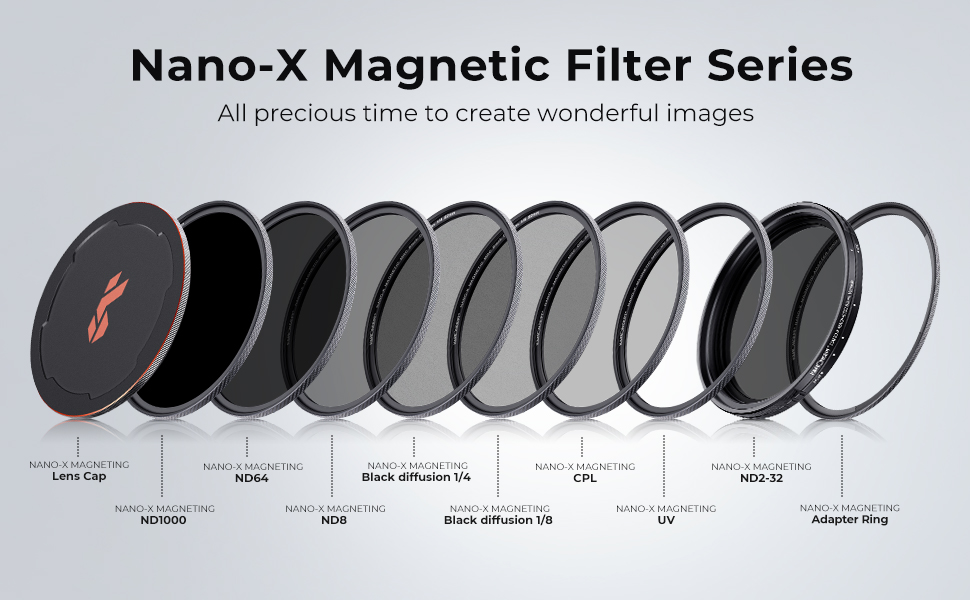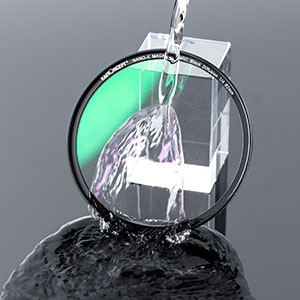 Optical glass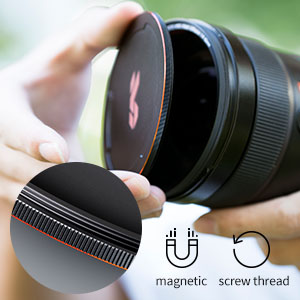 Magnetic alloy cap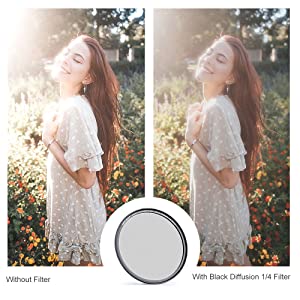 1/4 soft diffusion filter effect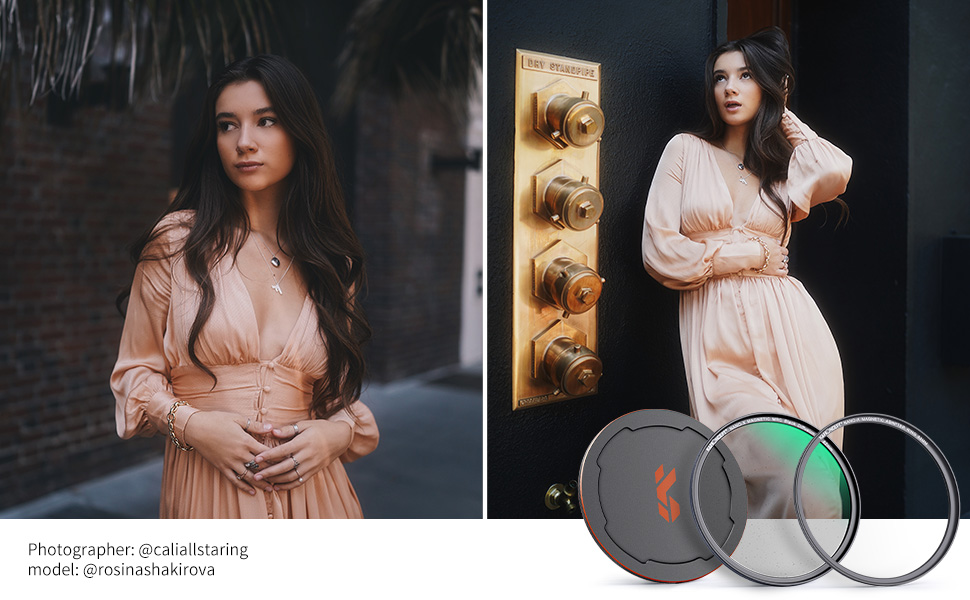 Q: Will the black soft filter have the same dimming effect as CPL?
A: The black effect and soft color will not diminish the light. The black soft fluorescent function is to spread the picture, creating a hazy movie effect, making the dim scene instantly hazy and warm.
---
Q: What is included in the kit?
A: 1pcs magnetic attachment ring, 1pcs magnetic black mist filter, 1pcs magnetic lens cap;
---
Q: Can the lens cap be directly attached to the lens?
A: Yes, the lens cover is threaded, it can be screwed on directly, or it can be magnetically attached by a magnetic attachment ring or filter, which is a two-in-one function;
---
Q: How is the filter installed on the lens?
A: You need to install the magnetic attachment ring first, and attach the filter to the magnetic attachment;
---
Q: Can I install the filter without a magnetic attachment ring?
A: No, you need to install the magnetic adapter first;
---
Q: How to choose a size filter suitable for my lens?
A: Check the diameter of your lens first. The size is usually displayed next to the ø symbol on the front of the lens.

| | | | | | | |
| --- | --- | --- | --- | --- | --- | --- |
| | | | | | | |
| | | | | | | |
| | | | | | | |
| Rating | 10 reviews. | 0 reviews. | 21 reviews. | 2 reviews. | 0 reviews. | 20 reviews. |
| Price | $88.99 | $88.99 | $70.99 | $64.99 | $66.99 | $107.99 |
| Model | SKU.1824 | SKU.1842 | SKU.1744 | SKU.1762 | SKU.1708 | SKU.1627 |
| Series | Nano-X series | Nano-X series | Nano-X series | Nano-X series | Nano-X series | Nano-X series |
| Recommended Scenes | Video Shooting/Landscape Photography | Video Shooting/Landscape Photography | Video Shooting/Landscape Photography | Landscape Photography | Landscape Photography | All Scenes |
| Function | 1 Second Switch/Soft highlight | 1 Second Switch/Soft highlight | 1 Second Switch/Light reduction effect | 1 Second Switch/Light reduction effect | 1 Second Switch/Eliminate stray light/Improve colo | 1 Second Switch/Protect Lens/Enhance Color & C |
| Filter Material | Japanese AGC Glass | Japanese AGC Glass | Japanese AGC Glass | Japanese AGC Glass | Japanese AGC Glass | Japanese AGC Glass |
| Multi-Coating | 28 layers | 28 layers | 28 layers | 28 layers | 28 layers | 28 layers |
| Waterproof | √ | √ | √ | √ | √ | √ |
| scratch-resistant | √ | √ | √ | √ | √ | √ |
| HD | √ | √ | √ | √ | √ | √ |
| Transmittance | 0.84 | 0.87 | 0.0156 | 0.5 | 0.5 | |
| Size | | | | | 82mm | |
| Antireflection | | | | | √ | |
| Filter Thickness | | | | | 5.5mm | |
| Ring Material | | | | | Aviation aluminum alloy | |
| Reflectivity | | | | | | 0.2% |
Get Rid Of That "Digital" Look
As someone who is heavy into video production I am extremely familiar with diffusion filters. I have used them on various projects for quite a while now. What makes this filter from K&F Concept so special besides the awesome look is the magnetic filter system. Having recently purchased a few more different magnetic filters this concept has quickly grown on me and I have almost switched all the way over.

The Diffusion filter does exactly what it should do, no more or less. The filter gives tons more character to your digital images from your DSLR. The magic of the filter is that it causes the highlights (especially light sources) to quite literally glow. The effect adds a dreamy look of halation to the highlights, a common look of feature film styles. I have included a screengrab of a music video I shot using the filter.

In the box you get the diffusion filter, an adapter ring and the lens cap. All of these items are magnetic and snap right into each other. You simply screw the adapter ring into your lens thread and then you just snap the diffusion filter on within seconds you have the dreamy look you have been waiting for.
12/01/2022
Great
This makes a very nice clean bloom effect that makes any image look a little warmer and cozier. I included 2 shots with the filter, and one without to compare. There is a slight green flare to the left of the flamingo caused by this filter. It's fairly subtle, but you'll notice it if you're looking for it. It's more noticeable on video with movement, as it also moves around. As I got this primarily for video, that makes it less usable for me.

It screws on cleanly, and I really like the included magnetic dust cover. It's very easy to cap up and remove, and it looks good on the end of a lens.

Overall a great effect filter.
24/01/2022
Nice magnetic filter set, although the lens cap can be difficult to remove.
Magnetic filters are just plain awesome, especially when they include a magnetic lens cap. K&F concept's 1/4 black soft diffusion filter provides a hefty dose of the 'CineBloom' effect in a magnetic, quick-swap system that includes a lens cap.

Installation is simple and begins with installing the threaded magnetic ring adapter. Once the magnetic adapter is installed, the filter is attached via magnetic attraction, as is the lens cap afterwards.

The filter looks great, with zero distortion or color shift. These are pretty slim so I didn't experience any issues with vignetting.

The reason I took off a star is that the lens cap is fairly difficult to remove. The magnetic forces are ridiculously strong, too much so. Removing the lens cap is difficult, an I usually end up having to use so much force that I end up running a finger across the lens once the lens cap finally budges.

Other than that, its another quality filter kit from K&F concepts. Buy with confidence.
30/01/2022
A good fairly strong diffusion filter
I normally use 1/8 strength diffusion filters which just lowers the contrast a bit and adds some bloom to the highlights. I was shooting a project where I wanted a bit more of a dreamy look to it so I wanted to try this as it should be just a bit strong than a 1/8th strength but not make my footage look too dreamy looking. It did indeed do just that. I noticed so real color cast with this filter. I got stronger bloom in the highlights and just gave my footage a softer more film like look.

Just be sure you want a stronger effect that a 1/4 filter can give you. If it's too strong K&F does make a 1/8 strength black diffusion filter that is excellent.

The magnetic system works very well. I wish all filters used this type of easy to use quick release system.
15/01/2022
Nice filter..
Great little filter made specifically for Cinematic effect.
I'm a professional photographer. I had written a rather lengthy 5 star review, but it was rejected for reasons I am not aware of. I recommend this filter if you are looking to soften the visual impact of your photos and video.
03/02/2022
Nice diffusion filter set!
I'm a big fan of the magnetic filter kits - this is actually my second one from K&F Concept. The magnets are strong enough to provide secure hold, but are still easy to change without fumbling or fear of dropping. p

These diffusion filters create nice pretty effects in my test shots. I love how they look with warm light, but they create some really fun and cool effects with colorful studio-type lighting as well. I really am happy with this set, and I would recommend it.
01/02/2022
Magnetic Feature is Insanely good.
This is my initial review for the K&F Concept Magnetic Black Soft Diffusion, and I'll continue updating it as I am using it.

I am so excited to have this K&F Concept Diffusion. I received it this evening and I am in love. I have ordered similar diffuser from a different brand before from B&H and have been disappointed with it, but this one is a whole different story. I love the magnetic feature, it's so intuitive and stupid easy to use. It is true to the picture, maybe even prettier! It's very high quality and it looks exactly like advertised. I love the details, I am always trying to find great deals like this one. I find it very well priced for the quality that it offers, everything about it is screaming premium. It feels very well made, durable and easy to use. I really enjoy the design and functionality. At my age I am always searching for products and items that can make my life easier and better in whatever way. This product has improved my quality of life, I just keep recommending it to friends and family, I will defiantly do another order soon. I am extremely satisfied with it and I do recommend it 100 percent. Definitely a great experience, no complaints whatsoever. All around great product and worth every penny!

It gives me great pleasure knowing that my opinions and experience might help people in any shape or form, so please if you have the time don't forget to click on the helpful button below, so that this review can give others some insight and help provide people with much needed information to develop and make a more educated decision
31/01/2022
Fine Black Diffusion Filter
I have worked with K&F Concept filters in the past and generally had good experiences with them. They're good, mid-range quality filters at (usually) a budget price. I haven't worked with any black diffusion filters prior to this one so I have no basis against which to compare, but so far it seems to work as designed and seems to be made very well.

In a nutshell, this type of filter softens light a bit, causing some gentle halos around light sources, without impacting image sharpness or detail. Where I have seen the most noticeable impact is in images where there otherwise would be a lot of shadows and contrast; instead of stark contrast and strong shadows, the filter has the effect of brightening up the shadows somewhat and creating smoother color gradients. Sure, this can be done in software after the fact, but it is a lot easier to do this at the time the image is taken and it certainly is a lot less work.

The filter is very easy to install. This is my first magnetic filter and it is as easy to attach to my camera as I could have hoped. The threaded ring attaches to the lens in the same manner as a step ring or another filter, and the filter itself just snaps securely into place due to the magnetics. Removing the filter is just as simple, especially if you choose to leave the magnetic ring in place on the lens.

The assembly seems to be well made. I have had filters in the past that have been poorly constructed and rattle in the frames when shaken, or have been mildly blemished, or just felt cheap. This filter has none of those issues and appears to be well made.

This is a nice black diffusion filter. It's easy to install and use, and it just works. I will be using it more in the coming weeks.
21/01/2022
Softens glare, light, and shadows. Intensifies colors. Fabulous filter!
It is a "magical" filter for portraits. It softens skin tones and imperfections.
I wish I had known about it years ago.
Absolutely love it. Highly recommend.
21/01/2022
Great Build Quality
Please note that a 1/4 diffusion filter is a fairly strong diffuser, so make sure that you want that level of softening for your shots.

If so, this is a great option at this price point. The build quality feels solid, and I did not see any flaws in the optics. The magnetic attachment between the ring (which screws in as normal), the filter, and the lens cap works surprisingly well. I wish this were universal, although if your camera takes a lot of abuse I would still go with the traditional screw-in filters. A good smack will dislodge everything.
19/01/2022
There are no faqs for this product.
Do You Know How Your K&F Concept Filters be Produced? | One-day Tour in Production Line
How to check your lens size
Filter
Series
Nano-X series
Recommended Scenes
Video Shooting/Landscape Photography
Function
1 Second Switch/Soft highlight
Filter Material
Japanese AGC Glass
Multi-Coating
28 layers
Waterproof
√
scratch-resistant
√
HD
√
Transmittance
0.84