82mm Black Mist Filter 1 Special Effects Filter Ultra-Clear Multi-layer Coated With Waterproof Scratch-Resistant and Anti-Reflection Nano-X Series
Free shipping to eligible country
Free Shipping. 30 Day No Reason Return. K&F black mist filters feature Extraordinary Performance on Filter Coating, Premium Material Optical Glass, Ultra Slim & Sturdy Frame.

KF01.1669

SKU:

KF01.1669

62.99

https://www.kentfaith.com/KF01.1669_82mm-nano-x-optical-glass-black-soft-filter-1-ultra-clear-coated-with-waterproof-scratch-resistant-and-anti-reflection-green-film
Description
* 【Function 】The K&F Concept 1 black soft diffusion filter makes the picture or video be soft and controls highlight flares, making skin or pores more delicate, double side polishing technology ensuring high definition within 550mm focal length. Photography Gear for Valentine's Day Shoot.
* 【Import Premium Optical Glass】 K&F Concept black diffusion 1 filter made by Japanese high precision optical glass, multi-layer coating for extra transparency to 74% Transmittance, effectively reduce reflection came from the filter itself.
* 【Special Filter Coating】The K&F black diffusion soft 1 filter with high-tech coating,waterproof, scratch resistant and oil-proof , no affect for images quality , eaily for cleaning and carrying.
* 【CNC Non-Slip & Ultra Slim Frame】This black diffusion soft 1 filter ultra slim frame only 3.3 mm avoids vignetting and dark corner on wide-angle and telephoto lens, CNC-Non slip design easily for intall.
* 【Note】This black soft 1 filter is compatible with all 82mm lenses. Please verify your camera's lens thread size before ordering. Your camera's lens thread size will be marked somewhere on the lens barrel or printed underneath your lens cap. This number is always preceded by a "ø" (diameter) symbol.
Shipping
Free shipping to eligible country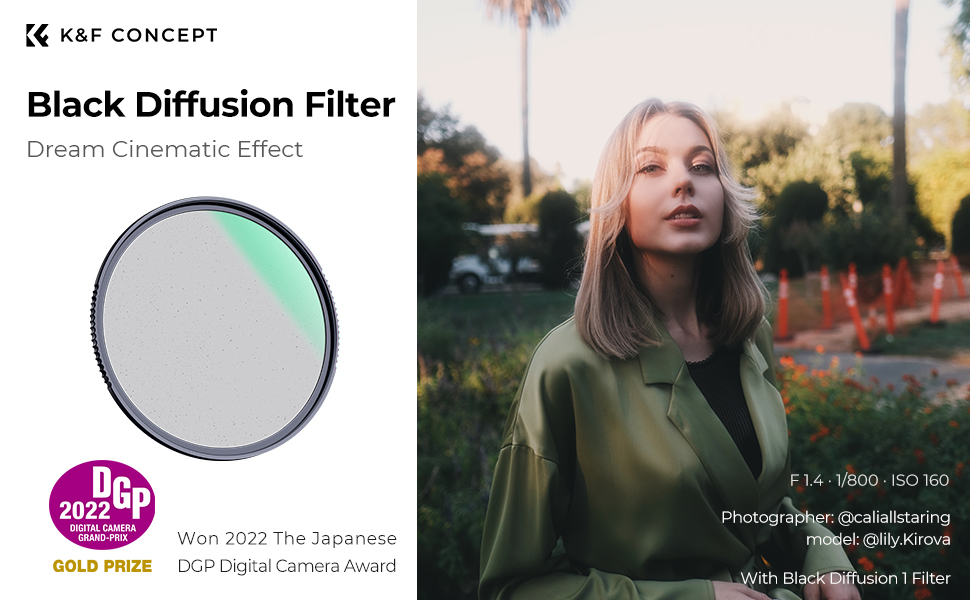 K&F Concept 1 Black Mist Filter
Functions:
1. The main effect of the black soft filter is to soften the highlights. for example, soften the light effect of the actress's facial details.
2. It can effectively reduce some wrinkles and spots on the face of the actor, but at the same time maintain the details and clarity of the character's hair and eyes.
3. It also plays an important role in film shooting. Excellent black mist filter does not affect the color temperature, the use of dim scenes with a hazy age will create the atmosphere of the scene well.
---
Service: 24-hour reliable service team, we are ready to provide help and solution for you when you have questions or problems with our products.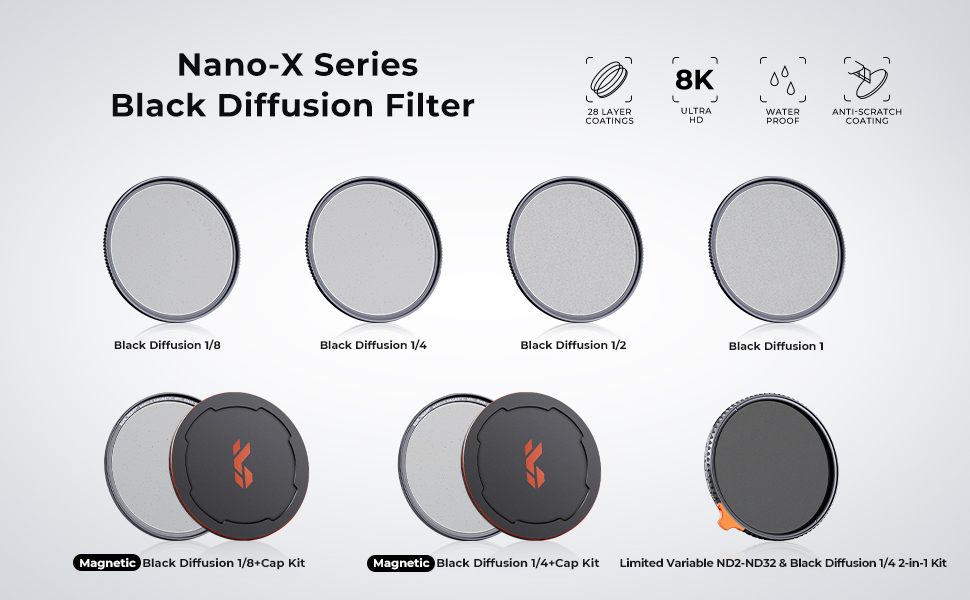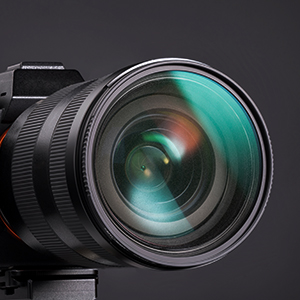 Double side multi-coating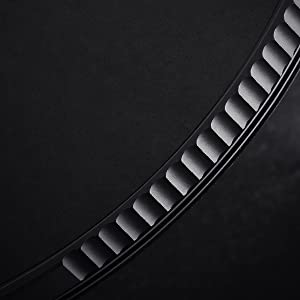 Non-slip silm frame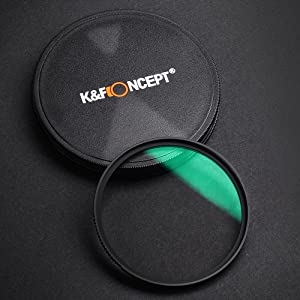 Cinematic, or film look

| | | | | | | |
| --- | --- | --- | --- | --- | --- | --- |
| | | | | | | |
| | | | | | | |
| | | | | | | |
| Rating | 23 reviews. | 46 reviews. | 10 reviews. | 2 reviews. | 36 reviews. | 25 reviews. |
| Price | $62.99 | $54.99 | $88.99 | $89.99 | $51.99 | $58.99 |
| Model | KF01.1669 | KF01.1484 | SKU.1824 | KF01.1816 | KF01.1493 | KF01.1656 |
| Reflectivity | 0.2% | 0.2% | | | 0.2% | 0.2% |
| Size | 82mm | 82mm | | | 82mm | 82mm |
| Series | Nano-X series | Nano-X series | Nano-X series | | Nano-X series | Nano-X series |
| Recommended Scenes | Video Shooting/Potrait Photography | Video Shooting/Potrait Photography | Video Shooting/Landscape Photography | | Video Shooting/Potrait Photography | Video Shooting/Potrait Photography |
| Function | Soft highlight | Soft highlight | 1 Second Switch/Soft highlight | | Soft highlight | Soft highlight |
| Filter Material | Japanese AGC Glass | Japanese AGC Glass | Japanese AGC Glass | | Japanese AGC Glass | Japanese AGC Glass |
| Multi-Coating | 28 layers | 28 layers | 28 layers | | 28 layers | 28 layers |
| Waterproof | √ | √ | √ | | √ | √ |
| scratch-resistant | √ | √ | √ | | √ | √ |
| HD | √ | √ | √ | | √ | √ |
| Transmittance | 0.79 | 0.84 | 0.84 | | 87% | 0.79 |
| Antireflection | √ | √ | | | √ | √ |
| Filter Thickness | 0.13in/3.3mm | 3.3mm | | | 0.13in/3.3mm | 0.13in/3.3mm |
| Ring Material | Aviation aluminum alloy | Aviation aluminum alloy | | | Aviation aluminum alloy | Aviation aluminum alloy |
Very interesting! Very happy with the atmosphere you get!
I had my doubts before I bought this black mist 82mm filter, because I mainly shoot landscapes and I thought that they were only used for portrait or street photography. I wasn't sure what I could get out of it and I was pleasantly surprised.

A filter that creates a special atmosphere, adding a kind of haze around points of light. In the photos you can see the effect that it generates, I find it very interesting and I think that in many situations it can give a special touch to the photos.

The filter is a screw-on type, it comes in a plastic box, which also fits different sizes of filters, from 43mm to 82mm. The rim is made of metal and the filter is made of glass.

Right now I can only come up with ideas to investigate landscape applications, it seems to me a very interesting option that I am enjoying a lot.
11/11/2021
Make photos softer and less vibrant.
Includes: case, and filter.
Tested with my nikon kit lens. (see my sample photos)
Each Top photo was taken on a tripod with a 10 second timer.
Each Bottom photo, the black mist pro filter was added.
This really does work as the name suggests!
Side by side you can see the colors and focus in the original without filter.
Then after applying the filter to the front of the lens,
you get a black mist. This calms down the color saturation and the sharpness.
Just a small amount.

The case.
Top twists off from the bottom and is made of a smoked plastic. The edges have a nice groove set.
Makes opening and closing easy. Branding on top.
The bottom is made of the same plastic and has the same grooves on the side.
The highlight is the 2 gray silicone pads that are glued down inside.
(These grooves will hold you filter) You could also use with smaller and larger filters.
That's a plus.

The filter.
Is slim line and made of aluminum.
Sides have really nice grooves, makes using the filter very smooth.
Great glass. Actually scratch resistant.
Took out my keys and hey no scratches. Thumbs up.
Waterproof.
Filter weighs only .5 ounces. Both the case and filter weight 2.7 ounces.

Overall very pleased with the filter.
Great quality.
I picked up the 52mm version.
Used 2 of my kit lens and no issues. Very smooth to install and remove from lens.
Easy to clean. Should last a very long time.

I prefer to shoot with filters verse going into software and spending extra time to get a similar effect.
Hope this was helpful.
26/10/2021
Good value, 3mm thin, hard case
Great filter with nice features at a decent price. About 3mm thick. Screws on fine. Hard case.
06/11/2021
The effect is very subtle
In the pictures, the first image is with the filter on, the second one is without the filter. Shot with the Nikon 50mm f/1.4 lens at f/1.8. The main difference is in the highlights area. Note how there is loss of contrast and a gentle glow effect around the candle lights and around the stronger highlights. Also, there is a very subtle, dream-like haze in the image, the image sort of feels a little bit warmer.

I can definitely see how this filter will have its place in my camera bag.

Quality-wise, the filter is very nicely made. The storage case is hugely oversized. Looks like the same case size is used for all filter sizes. This is suboptimal for the consumer, since there is no reason why I need to find space for the huge case for a small filter.

The retail box is presentable, and projects quality. The whole package would make a nice gift.
06/11/2021
I was super impressed with this diffusion filter!
So I think a lot of folks involved in video product are very familiar with the Tiffen Black Pro Mist filters. This is K&F's version of that filter. I will go into what I think about the filter but you can also judge for yourself in one of the pictures in this review where I show you the same image; the first without the filter then with the filter.

One of the results you get with a filter of this type is blooming of the highlights. This filter does quite a good job of that. Comparing the bloom to the Tiffen line I would say it falls between Tiffen's 1/2 and 1/4 strength with it being closer to the 1/4. The highlight fall of was strong but natural in my opinion. Keep in mind the light in the image fills the frame so you are seeing this particular effect of this filter at it's most extreme. You won't see that much blooming in a more natural setting. Take a look at the highlights on the camera. To me the K&F filter had a great effect on the highlight roll off which was very smooth.

The other effect you get with a black mist filter is the slightly reduced contrast and the slight softening of the shadows. To me I thought this filter did this quite well. If you look at the texture on the handle of the camera in the image you can see how it's just sort of softened that texture. Imagine shooting a person and you can imagine how much you would be able to smooth out the skin.

It also comes in a nice little screw together plastic case. Inside the case are these little rubber stopper than prevent the filter from sliding around in the case. I love the attention to detail here.

So compared to the Tiffen version of this lens at the size I got which was 82mm the K&F Black Mist is about $40 cheaper. I think you are getting a lot of value for your money here. I can't wait to try out this filter on some upcoming shoots.

I think K&F is making a move into higher end filters and if this filter is an example of the kind of quality they can produce, I can't wait to see what filter they release next.
08/10/2021
A Unique filter for video
I really like the soft light that it produce in videos. It's especially noticeable in "color lights". Made everything more dreamy and cinematic, especially at night.
09/11/2021
Actually improves the Sigma 150-600 E-Mount!
I am usually against UV/haze filters as I am concerned about their effect on image quality. However, I plan to use my Sigma 150-600 DG DN Sport (Sony E-Mount) in pretty harsh conditions such as coastal bird photography, surf photography, and sports. So, I caved and purchased this filter to provide protection for the lens front element.
However, given that this K&F filter would probably be considered "mid-tier" in terms of price, I wanted to test if it in fact had any effect on image quality. The attached image of a $20 dollar bill was taken under the same exact circumstances - 600mm at ISO 100, tripod with OS off. As you can see from the screenshot taken in the compare view of my photo editing software, the image on the right (with filter) is clearly sharper with better contrast.
I'm shocked! I had fully expected to remove the filter when I wanted a better image. Now I can leave it on 100% of the time, and easily wipe off any splashes or dust without worrying about scratching the front element. Strong recommend!
05/11/2021
Fantastic! Love The Non-Slip Design!
I always get filters w/ non-slip design when it's available. It makes a huge difference. I compared it w/ Hoya HD2. I shot these w/ Canon M50 w/ Nikon 35-70mm f/2.8 AF ZOOM-NIKKOR.
1) No filter. 2) K&F. 3) Hoya HD2.
Sure, it's not a great test but I can't tell any difference between all 3 of them. The Hoya was optically as good as K&F except it was very staticky that I had to return it. I didn't like it's not non-slip either. The K&F is not staticky at all and very easy to clean. When there's no reflection, it looks like there's no glass inside the ring. Kind of like magic. It's very well made.
I use it on my Zeiss 50mm f/1.5 Sonnar T* ZM. There's no play and it fits perfectly. Very happy about the purchase.
29/10/2021
Excellent quality at an affordable price
The product came in beautiful packaging and with a handy case that can be used to keep several filter sizes. The filter looks nice and without any glare. I took several photos, which look wonderful. I haven't explored many lighting situations yet, but since my main reason for the filter is to protect the lens, I am satisfied.
02/10/2021
Perfect for my Z50
Was a perfect fit for my Nikon Z50! A must have for any camera to protect your lens and make it easier to clean. Found the price very competitive compared to similar filters.
15/11/2021
There are no faqs for this product.
Do You Know How Your K&F Concept Filters be Produced? | One-day Tour in Production Line
How to check your lens size
Filter
Reflectivity
0.2%
Size
82mm
Series
Nano-X series
Recommended Scenes
Video Shooting/Potrait Photography
Function
Soft highlight
Filter Material
Japanese AGC Glass
Multi-Coating
28 layers
Waterproof
√
scratch-resistant
√
HD
√
Transmittance
0.79
Antireflection
√
Pattern
Filter Thickness
0.13in/3.3mm
Shape
Circular
Ring Material
Aviation aluminum alloy