24*7 Continuous Recording 4G solar security camera System 4G Wireless LTE cctv solar camera PIR human sensor + 2-Way Audio Built-in Battery 28800mAh 2K Infrared Night Vision 20m/66ft US Version
Terms
Coupon Terms
Terms and Conditions:
Coupons are valid for a limited time only. Kentfaith reserves the right to modify or cancel coupons at any time.
You must purchase the qualifying items added to your Cart when the coupon is in effect for the discount to apply.
If you later modify or cancel the subscription or delivery date for the qualifying item, the discount will not apply.
The coupon applies only to qualifying items displaying the coupon offer.
If you buy more than one item from the same coupon, the maximum discount amount of the coupon will be equal to either the percentage discount off or the face value of the coupon on one eligible item. The coupon may only be used on www.kentfaith.com.
The promotion is limited to one coupon per customer.
If you return any of the items purchased with a coupon, the coupon discount or value may be subtracted from the return credit.
Free shipping worldwide
Buy now in the K&F Concept 4G solar security camera ► 30 Day No Reason Return ► Built-in Battery 28800mAh 2K Infrared Night Vision 20m/66ft / 24*7 Continuous Recording ► Fast Shipping From US Free ► 2K Infrared Night Vision 2-Way Audio US Version Seri

KF50.0025US

SKU:

KF50.0025US

236.99

https://www.kentfaith.com/KF50.0025us_4g-outdoor-wireless-surveillance-camera-with-color-night-vision-alarm-pir-motion-detection-cloud-storage-7-24-hours-solar-power-low-power-dome-camera-30000mah-large-capacity-battery
Description
* 【24/7 Recording and Security】Unlike other common security cameras that only record when motion is detected, the K&F 4G Solar Camera records 24/7 and never stops (SD storage mode) because it is equipped with a 20W solar panel and A built-in battery of up to 28800mAh gives you peace of mind recording all the things that might be important to your investigation. (SD card storage 24/7 recording; cloud storage recording when motion is detected)
* 【2K HD Video & Color Night Vision】This solar security camera provides excellent night vision up to 12 meters through 6 infrared LEDs. Enjoy colorful night vision even on dark nights and light your way home with bright LED spotlights, this PTZ camera supports 355° pan, 100° tilt and 4x zoom for 360° coverage and allows you to view any corner you want to monitor. Compatible with U.S. Carriers: Including AT&T, Verizon, T-Mobile.
* 【Multi-User Browsing and Sharing】If you want to build your own security system, just install security cameras in garages, farms, backyards, shops, offices, etc. anywhere, you can easily manage all of them with just one mobile phone through the UBOX app . In order to allow your family to join in better home security management, this surveillance camera can share real-time recording and operation permissions to up to 12 users.
* 【Remote 2-way audio and sound + light alarm】Built-in noise-cancelling speakers and microphones allow you to enjoy live broadcasts and chat with visitors in real time. Even if you are far away from home, you can clearly communicate with the courier to put the package in your hallway. What's more, the audible alarm and blue/red flashing lights are very useful to warn and drive suspicious persons away from your property.
* 【IP66 Weatherproof and Buy with Confidence】Heat, cold, wind, rain and dustproof (-4℉ to 122℉) security camera wireless outdoor will take care of your family and property day and night, rain or shine.
Shipping
Free shipping worldwide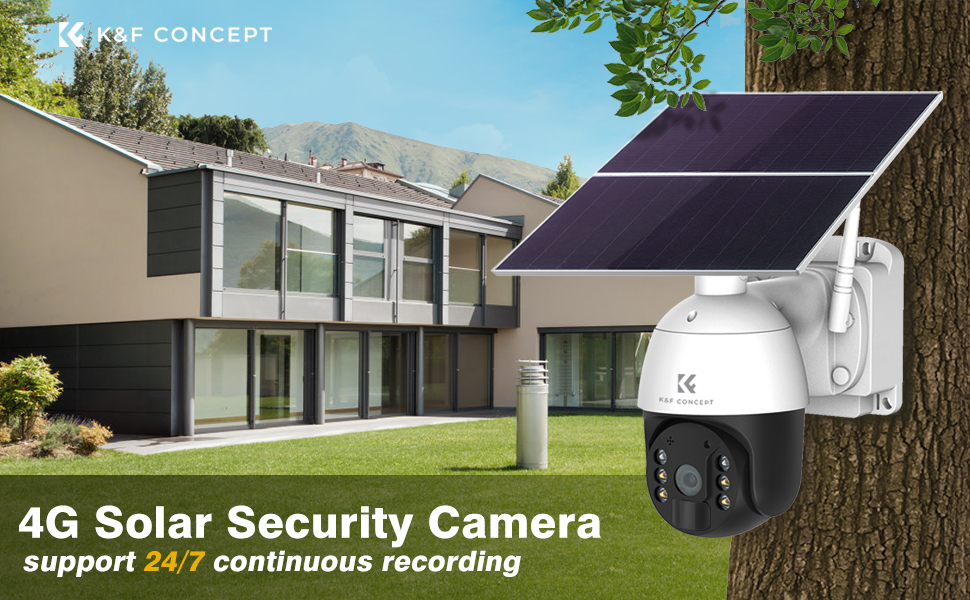 4G 24/7 solar cell camera
Efficient 20W solar panel with adjustable Angle.
Built-in large capacity 30000mAh battery storage.
2K HD azimuth cover each corner translated 355° and tiled 120°
Local SD card slot and cloud storage, support Class 10 4G to 128GB (not included)
IP66 waterproof, weather resistance from -20°F to 140°F (-30 °C to +60 °C)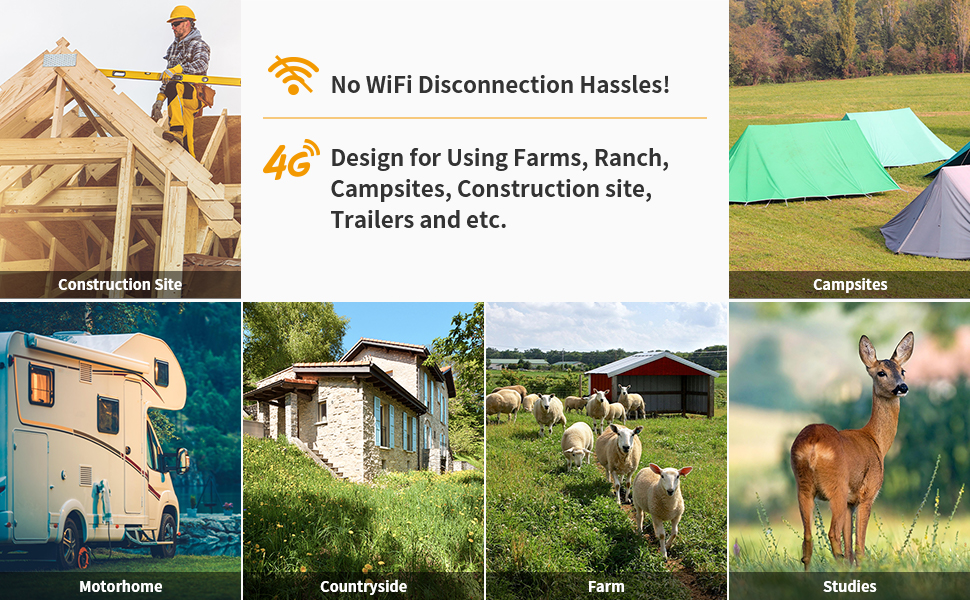 Why a 4G solar cell camera with 24/7 continuous recording
1. A typical 4G solar cell camera will only record or work when awakened by a person's movement. Does not support 24/7 continuous video recording, only supports motion detection video recording.
24/7 continuous recording 4G solar security cameras can support continuous recording (24 hours, 7 days, a year) and never lose power,
2. Because of the advanced 20W solar panels. It works normally and steadily like a wired security camera.
3. Compact, no wiring: It can be done without connecting wires to remote areas, bringing convenience to you.
4. No WiFi network: One of the biggest advantages of 4G solar security cameras is that they are independent of WiFi networks and do not require wired or wireless video transmission.
5. PIR intelligent detection: with PIR sensor and Ai humanoid detection alarm function, reduce a lot of rain, flying insects caused by false alarm.
6. Real-time remote view and notification: Support UBox APP remote view and control at any time.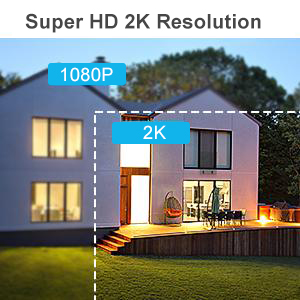 2K HD
The 3MP 1/2.7" CMOS color sensor and 4MM lens provide you with a sharper all-day high-resolution 2K image experience than 1080P.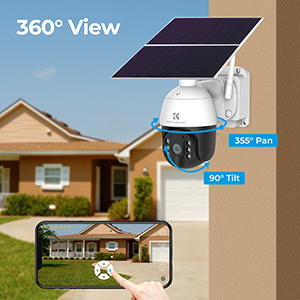 360° panoramic view
Pan by 355° and tile by 100° to provide a panoramic view without missing every detail.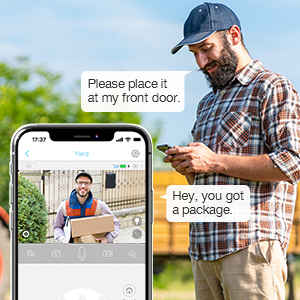 PIR detection and two-way dialogue
Equipped with advanced PIR sensors, it can accurately capture human movements and timely push messages. Built-in enhanced microphones and speakers allow you to communicate easily with visitors even when outdoors.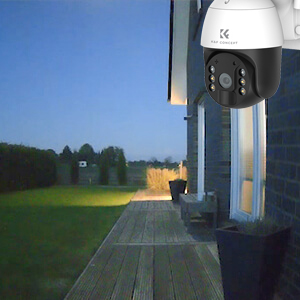 Full color night vision
Equipped with 4 white LED lights and 4 infrared lights, it provides black and white night vision and color night vision up to 12 meters, making the picture clearer.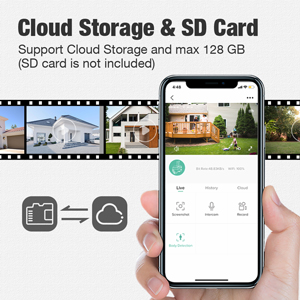 SD card storage and cloud storage
Supports SD card storage, up to 128GB (recording 20-25 days, not included), cloud storage (optional), provides 30 days of free cloud storage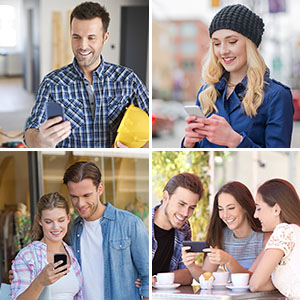 Sharing
Share access with your friends or family
Outdoor cameras can be shared with up to 12 members at a time.
Rating

824 reviews.

871 reviews.

848 reviews.

17 reviews.

761 reviews.
Price

$299.99

$236.99

$259.99

$150.99

$155.99

$122.99

$169.99

$141.99

$139.99

$122.99

Model
KF50.0025US
KF50.0009AUS
KF50.0032US
KF50.0029US
KF50.0020US

Video Resolution

2K
2K
2K
2K
1080P

Power Supply Method

Solar power
Solar power
Solar power
Solar + Battery
Solar power

Built-in Battery Capacity

28800mAh
10400mAh
9600mAh
9000mAh
7800mAh

Storage

Cloud storage/micro SD (maximum 128G)
Micro SD card (up to 128G/cloud storage)
Cloud storage/micro SD (maximum 128G)
Cloud storage/micro SD (maximum 128G)
Cloud storage/micro SD (maximum 128G)

Pan Tilt

Horizontal 355°/Vertical 100°
Horizontal 355°/Vertical 120°
Horizontal 356°/Vertical 90°
Horizontal 355°/Vertical 90°
/

Motion Detection

PIR
PIR
PIR
PIR
PIR

Motion Detection Range

12m39ft
12m/39ft
10m/32,8ft
10m/33ft
12m/39,37ft

Waterproof IP Rating

IP66
IP66
IP66
IP66
IP66

Night Vision

Infrared Night Vision, Color Night Vision
Infrared Night Vision, Color Night Vision
Infrared Night Vision, Color Night Vision
Full Color Night Vision/Infrared Night Vision
Full Color Night Vision/Infrared Night Vision

Night Vision Range

20m/66ft
20m/66ft
10m/32,8ft
10m/33ft
15m/49,21ft

Alarm Method

Sound alarm
Sound Alarm
Sound alarm
Humanoid Detection Alarm
Sound alarm

Two-way Talk

√
√
√
√
√

Connection Method

4G
/(4G LTE)
4G
4G
4G

Application

UBox
UBOX
UBox
UBox
UBox
All Reviews
Image

All Star

5 Star

4 Star

3 Star

2 Star

1 Star
Ideal for sheds and garages
7*24 hour 4G LTE Solar Security Camera for sheds and garages where you don't have power or WiFi signal can't reach. Pros Comes with a SIM card with some data preinstalled so you can start using it right away. A detailed guide. All the tools, screws and brackets you need to mount to the wall.
12/06/2023
does what you should
Surveillance camera with SIM card does what it is supposed to do. Sound could be a little louder, you just have to yell into your cell phone, then the uninvited guest jumps accordingly. Picture very good during the day. I haven't tested at night yet.
11/06/2023
am delighted with this camera
Good design, good price, everything works as promised, great contact with inquiries. I have the outdoor security camera in the garden, picture and night vision is great. The installation is easy and goes quite quickly. I'd love to come back!
10/06/2023
highly recommended
Positive: + very good night vision + very good image quality + motion sensor can be adjusted very well (no false alarms) + easy setup
09/06/2023
surveillance camera with battery
We have the camera in the garage where we kept our guinea pigs in an enclosure over the winter. So we can watch the animals day and night from anywhere via cell phone. The camera can be powered by solar. The camera is not cheap in my opinion, but in my opinion really worth every euro! Definitely to be recommended!
08/06/2023
Works as described.
I was looking for a surveillance camera that can be used anywhere without requiring an existing WLAN network or a power connection and then came across this model from K&F Concept. Everything works great! I can monitor my home at any time. Real 7*24 hour 4G LTE Solar Security Camera!
08/06/2023
Excellent value for money for this solar camera
The quality of the images is pretty good for this type of standalone camera. The night vision is also very correct. The movement is very responsive, which is a very nice surprise. Regarding the autonomy, I have doubts that the indications provided by the camera are correct since I am 100% all the time, even if I sometimes notice that it is sometimes "charged" (via the small solar panel). But I'm not worried about that! For the spotlight, I haven't tried it (human detection mode). Too bad we can't turn it on when needed (well, I haven't figured out how to do it...) In the end, a nice surprise for this autonomous camera that's working perfectly for the moment.
07/06/2023
Overall a good impression and practical for our property
Practical for a property that has neither electricity nor WiFi. With a SIM card and the solar panel, the camera is a reliable part for surveillance. The picture quality couldn't be better. In addition, the price is cheap. Nevertheless, we don't want to miss them. After a month of rain and storms in use, there have still been no problems and the battery is always at 100%
07/06/2023
excellent
I'm constantly taking trips out of town and have rabbits on the balcony that I can't do without without seeing them. I bought it for her and I am very happy to recommend it to everyone. The installation is quite easy.
07/06/2023
Fast assembly and... WIRELESS!
This is THE camera you need to discreetly monitor your home! Just a constraint to be within range of wifi. The undeniable advantage of this camera is its solar power: it works at all times, no matter where it is placed, it is perfect. It only takes a few minutes to configure, scan a QR code and it works. A first charge with a USB plug to have a minimum of autonomy and then the solar panel is used for power supply without any problems. Image quality (day or night), motion detection, camera movement speed, it's really effective! Online storage with subscription or on a microSD card (not included) find detections and recordings. Very very pleasantly surprised by the quality of this camera.
06/06/2023
KF50.0025US 4G 24/7 Recording 28800mAh Large Capacity Battery Solar installation video
Surveillance Cameras
Video Resolution
2K
Power Supply Method
Solar power
Built-in Battery Capacity
28800mAh
Storage
Cloud storage/micro SD (maximum 128G)
Pan Tilt
Horizontal 355°/Vertical 100°
Motion Detection
PIR
Motion Detection Range
12m39ft
Waterproof IP Rating
IP66
Night Vision
Infrared Night Vision, Color Night Vision
Night Vision Range
20m/66ft
Alarm Method
Sound alarm
Two-way Talk
√
Connection Method
4G
Application
UBox