4G ITE Security Outdoor Camera System Wireless, Solar & Battery Powered, PIR Motion Detection, 2K Infrared Night Vision, 2-Way Audio with Memory Card
Free shipping to eligible country
K&F Concept 4G LTE Security Camera features uninterrupted work and wider coverage, 1080P Full HD and Spotlight Color Night Vision, IP66 Waterproof, PIR Human Detection and Instant Alerts.

KF50.0018SEA

SKU:

KF50.0018SEA

189

https://www.kentfaith.com/KF50.0018SEA_outdoor-4g-lte-wireless-security-camera-solar-and-battery-powered-pir-motion-detection-waterproof-with-memory-card-asia
Description
* 【PIR Human Detection and Instant Alerts】PIR sensors and AI humanoid detection alarms are applied to this 4G camera and are used to detect human bodies more accurately and reduce false alarms caused by light or insects. Supports instant alerts and logging. You can instantly see what's going on from your phone through the 4G camera.
* 【Uninterrupted work and wider coverage】The 4G solar security camera is equipped with a solar panel, and the built-in 10400mAh battery provides uninterrupted power, no need to remove the camera from the roof to charge. It achieves 355° viewing through 355° horizontal and 100° vertical rotation, 4X digital zoom, and 360° without blind spots. Application: Ubox APP
* 【1080P Full HD and Spotlight Color Night Vision】K&F Concept 4G solar wireless security camera outdoor equipped with 3.6mm lens, provides 1080P HD decent images and videos. The built-in spotlight flashes bright light to switch to night vision mode, helping to see true-color night vision in real-time and see-through darkness up to 98 feet even in very low light conditions.
* 【PIR Human Detection and Instant Alerts】PIR sensors and AI humanoid detection alarms are applied to this 4G camera and are used to detect human bodies more accurately and reduce false alarms caused by light or insects. Supports instant alerts and logging. You can instantly see what's going on from your phone through the 4G camera.
* 【Optional Storage and Data Encryption Protection】The 4G LTE solar battery-powered outdoor security camera can be used for cloud storage or a MicroSD card (up to 128G, a 64G memory card is included in the package) to provide you with flexible ways to save data. You can freely stream videos anytime, anywhere via the cloud (an additional subscription fee applies). Mobile apps can be downloaded from the Apple App Store/Google Play.
Shipping
Free shipping to eligible country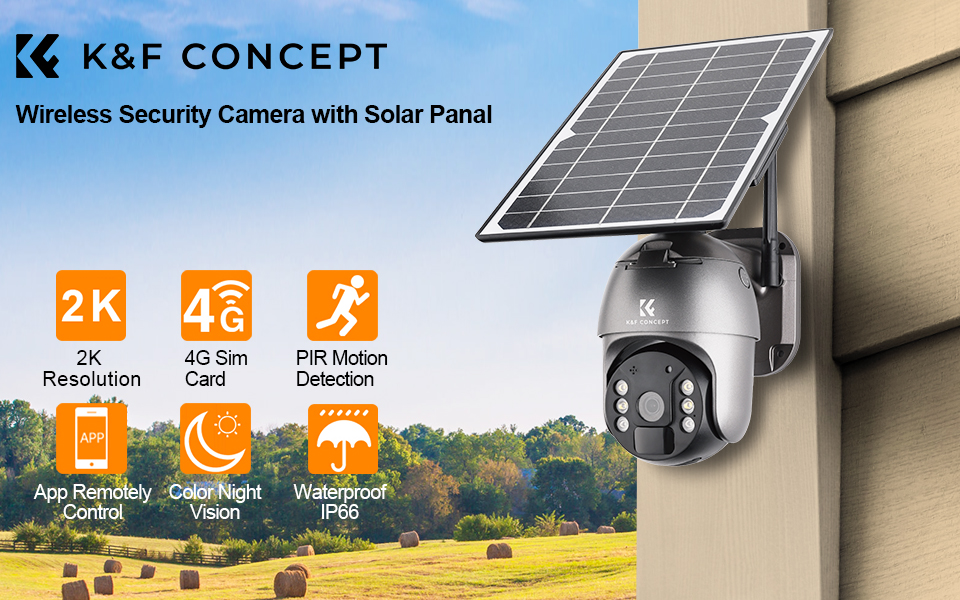 4G Solar Cell Outdoor Camera Color Night Vision
· 8W high-efficiency solar panel with adjustable angle.
· Built-in 10400mAh high-capacity power battery storage.
· HD 2K all-round coverage of any corner Pan 355°Tile 120°
· Local TF card slot & cloud storage, support Class 10 8G to 128G (not included)
· IP66 waterproof, weather resistance from -4°F to 140°F (-20°C to +60°C)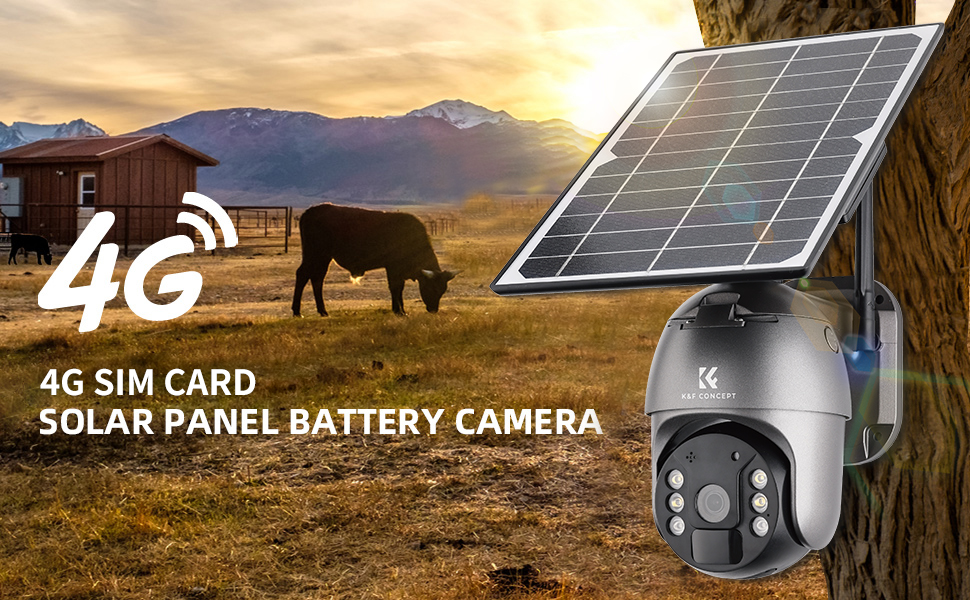 Why choose 4G Solar Security Camera:
1. No wiring, save money: 4G solar security cameras can get the job done without connecting cables to remote areas, saving you a lot of money and trouble.
2. No need for a WiFi network: One of the biggest advantages of a 4G solar security camera is that it is independent of a WiFi network, and it does not need to transmit video by wire or wireless at all.
3. Sensitive to motion: built-in PIR motion sensor + Ai humanoid detection alarm, reducing a large number of false alarm natural elements.
4. Remote real-time viewing and notification: Support remotely viewing and control the direction at any time with the UBox APP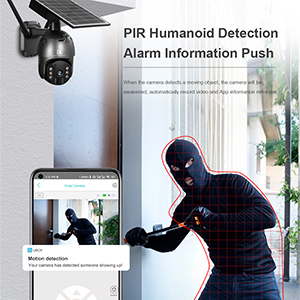 PIR motion detection and alerts
Get active alerts when something unusual happens so you know if anything happens while you're away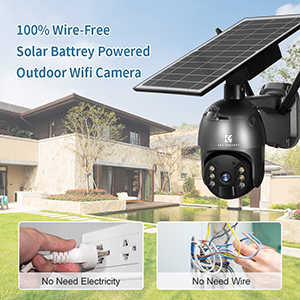 Solar-powered 100% wireless
Built-in high-capacity rechargeable lithium battery and 8W solar panel, no need to worry about battery life and low power, keep it fully charged, and achieve 100% wireless outdoor safety.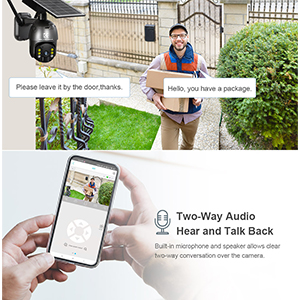 Two-way talk
Built-in enhanced microphone and speakers make it easy to communicate even when you're outside.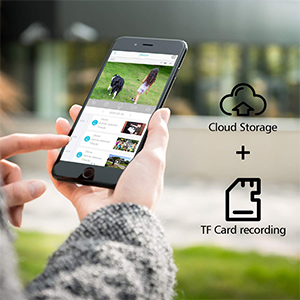 SD card storage and cloud storage
Support SD card storage, up to 128G (not included), cloud storage (optional)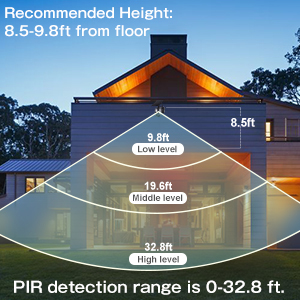 PIR human detection distance
The monitoring distance of K&F solar security cameras is up to 10m/32.8ft and will trigger instant alarm notifications through the APP. The ideal installation height is 8.5-9.8 feet above the ground.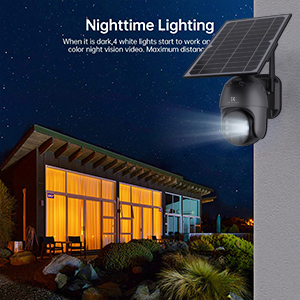 White light
Featuring 4 illuminated LED spotlights, enabling color night vision for clear video recording and 98ft live streaming.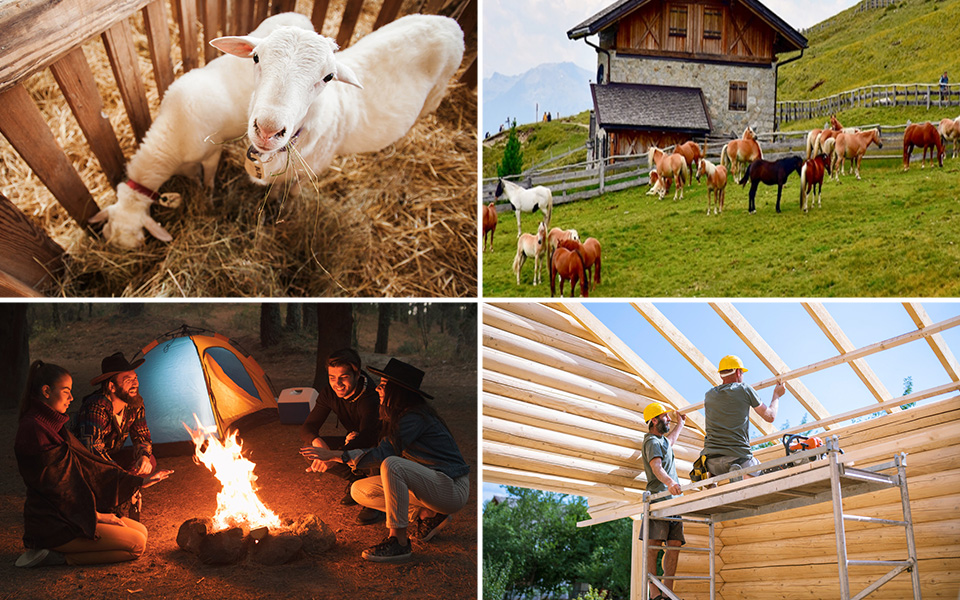 Suitable for home security/farm/construction site, etc. (built-in battery, please charge it with 5V2A adapter for more than 8 hours before first use)
Very easy to set up and impressive image quality
We just placed this camera in my parents' driveway a few days ago and so far I'm very impressed with this little camera! It came in a tiny box packed with the solar panel, all the necessary cables and mounting hardware, and a comprehensive user manual. Setting up the camera was extremely easy and we were able to mount it beautifully in under an hour.

After the camera was mounted, we downloaded the CloudEdge app from the App Store. The app showed how to set up the camera and connect to WiFi with simple step-by-step instructions. Within 10 minutes we moved the camera with the joystick and changed the motion detection settings.

We were very impressed with the image quality, the camera is as good as a smartphone and the wide-angle lens covers a lot, so overall we're very happy with it. Even at night, although black and white, the image quality seems to remain just as sharp with the infrared camera.

I put a 16GB microSD card in the camera so it can store the footage. It's been running for a few days and has only used about 400MB of memory. I think it uses a very efficient video encoding format. There is also an option to save the videos in the cloud, I activated the 7-day trial, we'll see if I end up subscribing, but it would definitely make me a lot safer to have a backup of all the recordings in the Having cloud instead of just on the camera itself!

Overall I think this is an excellent package, the image quality is very impressive, the application has all the features you will ever need and the motion detection works flawlessly. The two-way audio is also a handy plus that we'll be using a lot!
29/08/2022
Top 4G camera mega good quality. Meets the requirements perfectly
So I am more than convinced of this camera. Top quality at an absolutely fair price. Night vision works just as well as day vision. You can make a lot of settings. Incl. 2-way voice output. The cracker. The 4G connection is absolutely great. The all round visibility excellent. So all in all I can only recommend this camera. And the support (if you ever have a question) is excellent. You will get an answer within a day. Thank you Eric I call that service.
23/07/2022
2K HD surveillance
This camera with its solar panel is completely self-contained. Just install it in a place that gets plenty of sunlight.
.
In summary, the procedure is very fast and efficient, even a beginner can easily achieve it.Installed to monitor a specific place in my house, the image on my smartphone is 1080P quality day and night. The PIR motion detection works well and the battery life is excellent with this particular solar panel. The big plus is the presence of the SD card, which works in the same way as cloud storage. We can therefore see the recorded videos remotely. However, you can subscribe for better monitoring.

This camera is ideal for monitoring your property from your smartphone or tablet anywhere if you have a sufficient network. The application is user-friendly and allows a wide range of settings (programming of alarms, notifications, recordings, possibility to set day/night sensitivity threshold). According to my settings, everything worked perfectly. And the next day after the detections, I had access to the videos. I had no idea there were so many cats in the neighborhood!
19/07/2022
works very well
impeccable in wifi 4g very satisfied
really impeccable works wonderful so far I recommend this product it surpasses certain brands it's the best since I've tried wifi cameras
24/06/2022
Nice camera - even at night
We bought the camera to keep an eye on our patio and garden. It was therefore important to us that the camera can be moved and that there is a good view, especially at night. This camera does both! We are really happy with it, it is very easy to set up, however the initial connection to set up is easier with an Android device than with an Iphone. After installation, it works great on multiple devices!
04/09/2022
Ideal in areas without electricity, easy to use
The camera arrived very quickly and I was really impressed with the quality. Having used a Ctronics wired camera before, I also decided to use a Ctronics product to monitor an area without a power source. The image quality is excellent and it is very easy to use.
02/09/2022
Good image quality
Wireless outdoor surveillance camera. Solar camera. Easy to install. It rotates 360° by phone control. Very good image quality with decent night vision. You can save the video with an additional SD card. The application that allows remote viewing is easy to use and easily understandable. Very satisfied I recommend it.
27/08/2022
Excellent outdoor camera via solar power
I've been using this outdoor camera for 2 weeks now and I'm very happy with it. The camera is charged via the solar panel and you don't have a troublesome cable or you can install it anywhere without a plug. Surveillance can be viewed via the dedicated app and has excellent image quality. The camera can be rotated via the app. It works via WLAN and you can also control the camera with it. The camera makes a very robust and stable impression and the design is also classy. I'm very happy with it and also feel safe because the camera tells me directly when it detects motion. You can also save everything to a memory card. But the memory card is not included.
25/08/2022
Autonomous surveillance camera
An excellent quality camera that will allow you to monitor your exteriors in peace.
Camera with integrated battery that is recharged by solar power.
Very good audio and video quality.
Camera that can be controlled remotely via a dedicated application.
25/08/2022
Roof work done, overhead camera, running, solar power
Photos look great, day or night, and the camera records reliably. It cannot happen that the battery is empty at the most important moment. The solar field ensures a sufficient charge, even if we only have full sun at the end of the day. And not always, of course… My area, where the post office deposits parcels at the entrance, is now always very secure. Also, I can see who's trying to sneak in there. Camera surveillance warning sign. So no one can complain. Can he stay away. I am very satisfied. And I feel well protected. Faces could be recognized in case of doubt, as the recordings are so clear, even at night. A wise investment for me.
06/08/2022
There are no faqs for this product.