Solar Wireless Security Camera 1080P with Audio and Light Alarm Outdoor Home Security Camera Color Night Vision 14400mAh Built-in Battery Black
99$-15$ / 199$-30$ / 299$-55$ / 599$-120$
New customer gift package
Free shipping to eligible country
K&F Concept Wireless Solar Security Camera, 1080P WiFi 360° PTZ IP66 Waterproof Night Vision with 64G SD Card Black

KF50.0008

SKU:

KF50.0008

119.99

https://www.kentfaith.com/KF50.0008_solar-wireless-security-camera-1080p-with-audio-and-light-alarm-outdoor-home-security-camera-color-night-vision-14400mah-built-in-battery
Description
* 【100% Wireless and Uninterruptible Power Supply】This solar powered wireless security camera has a cordless power supply. With a built-in 14400mAh battery and efficient solar power, the security camera has an extremely long standby time of up to 6 months. Surveillance cameras run on 2.4 GHz WiFi and stay fully charged via solar panels for 100% wire-free security. There is a built-in 14400mAh 21700 battery, so you only need to connect the PTZ security camera to the WiFi network on the app, and then you can monitor your house remotely through the app.
* 【Tilt Pan & PIR Motion Detection】The intelligent design of the K&F Concept surveillance camera enables it to rotate without obstacles, 355° horizontally and 120° vertically, enabling a wide panoramic field of view, monitoring no blind spots, and no dead angle for panoramic shooting. Complete protection for your sweet home. Smart home security cameras are equipped with smart PIR motion detection chips. No false positives. The optional setting is 5-10 meters, which can quickly identify the human body and reduce false alarms caused by rainy days, insects, animals, etc. Ordinary battery cameras can only send alarm notifications on mobile phones.
* 【Full HD 1080P and Color Night Vision】Infrared full color night vision: The camera can automatically recognize the day and night switching mode. It uses advanced night vision technology. In color night vision mode, two specially designed white lights illuminate when motion is detected, illuminating people at night and alerting suspicious persons
* 【Two-way audio and multiple users remote access】You can remotely talk to the person in front of the solar camera in real time through the mobile phone app, defending against potential thieves when off-site. Easily share your security camera with family or friends with just a QR scan.
* 【2 optional storage methods and 64G memory card】: When motion is detected, the solar outdoor camera can automatically record video to micro SD card (up to 128G) or cloud. Encrypted cloud services keep your privacy safe. Recorded videos can be replayed via the CloudEdge app and client (7-day free trial). Comes with 64G memory card
Shipping
Free shipping to eligible country
Sale
99$-15$ / 199$-30$ / 299$-55$ / 599$-120$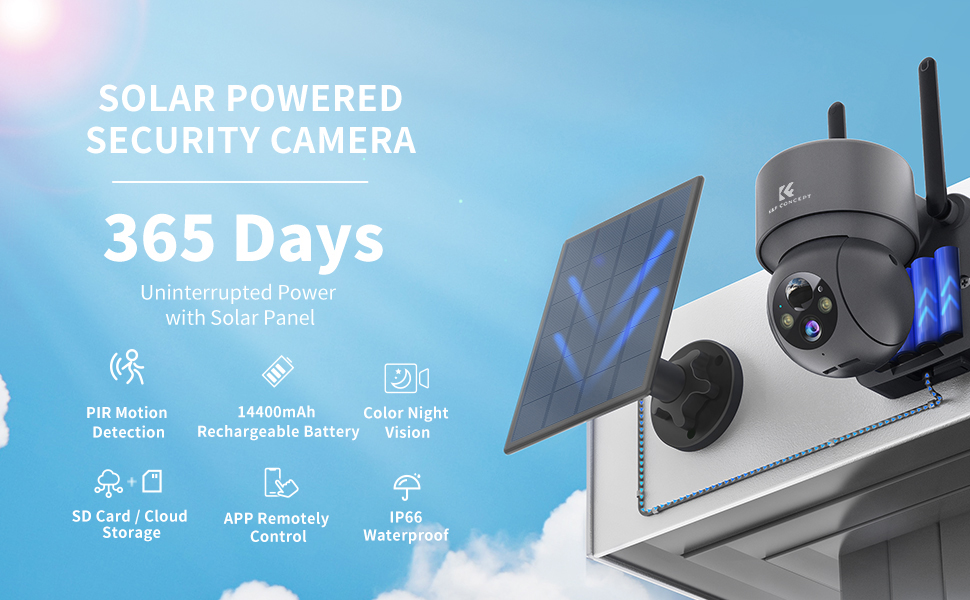 2022 Upgrade Wireless Security Camera with Solar Panel, 100% Wireless PTZ WiFi Outdoor Solar Security Camera System
· 100% free of wires and wiring hassles - works great with K&F concept solar panels and 2.4GHz Wi-Fi (5GHz Wi-Fi not supported)
· Panoramic Outdoor Camera with Tilt and Pan - Remotely rotate and monitor every corner of your home in real-time.
· More sensitive digital PIR sensor - protects your property and sends timely and accurate alerts.
· CloudEdge Mobile App and Client - View, playback, and download manually recorded videos in real-time.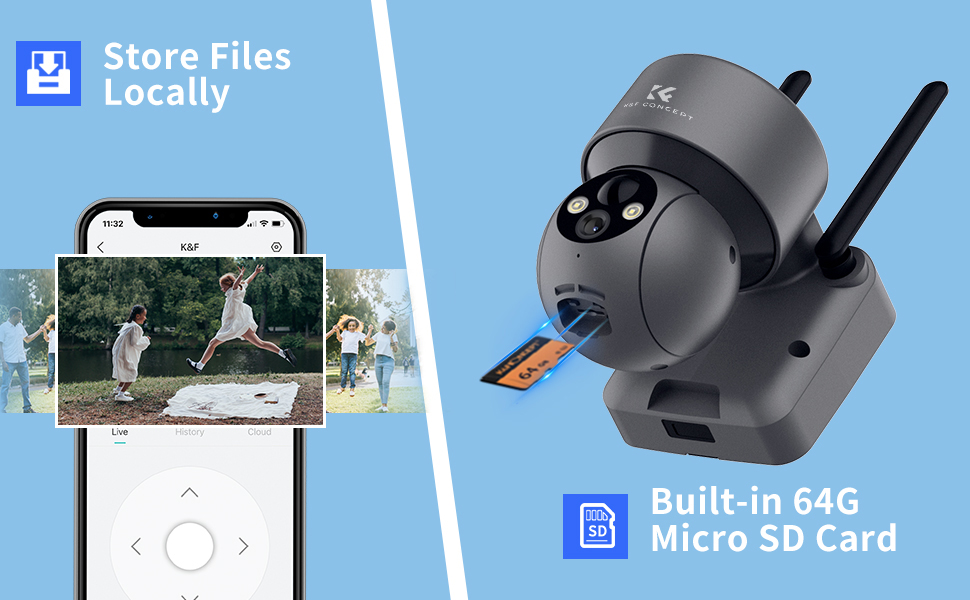 Secure storage (including a 64G memory card)
The solar-powered outdoor camera can automatically record video to a micro SD card (64G memory card included) when motion is detected, or you can choose cloud storage (additional cost). The recorded video can be played back through the CloudEdge application and client.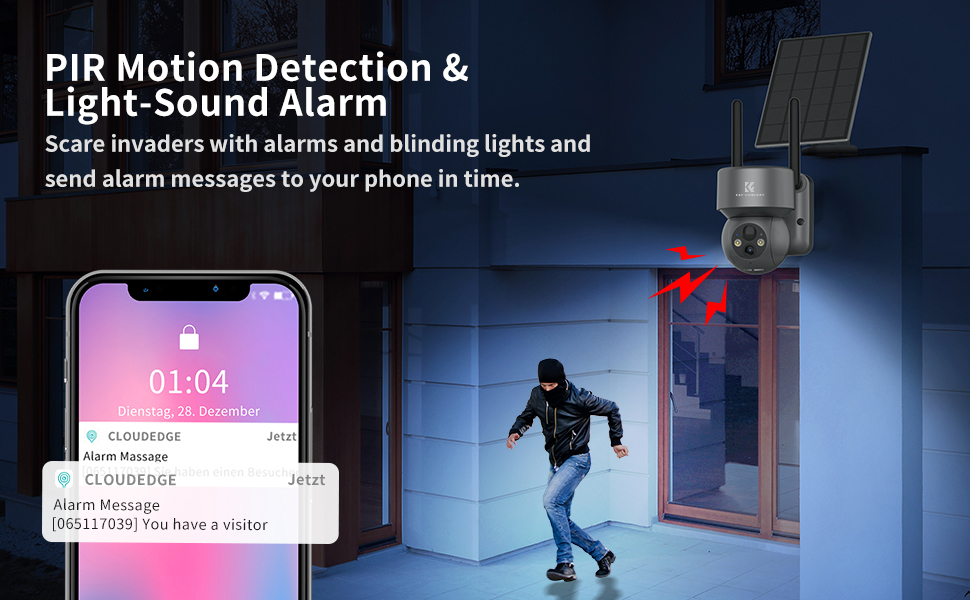 PIR motion detection and instant alerts
Solar security cameras can record motion detection (no automatic tracking). When humanoid motion is detected in the dark, the floodlights turn on and the PIR sensor pushes accurate motion notifications in real-time. Even when you're away, you can see exactly what's going on around your home. You can also set audio warnings to scare away thieves who approach your car or door.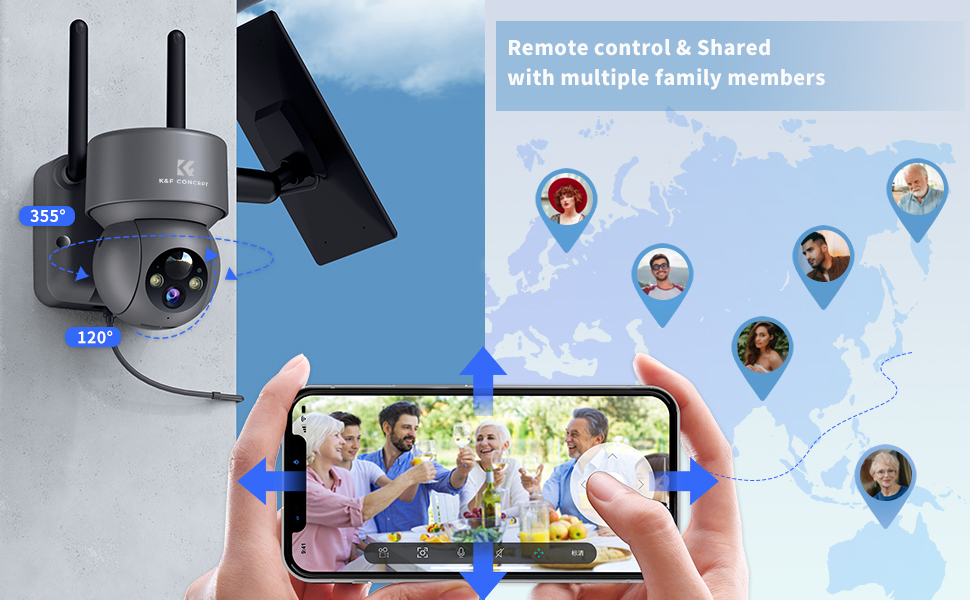 Multi-user sharing and multi-purpose scenarios
Multi-user sharing and multi-purpose scenarios One solar-powered outdoor camera can be shared with multiple family members, so everyone can view/playback/answer calls and alarm notifications simultaneously through the "CloudEdge" APP. (Hint: Shared users must first register an account in the CloudEdge APP)
You can remotely control the pan/tilt security camera with 355° pan, 120° pan, and 4x digital zoom via the app to capture every corner of your home.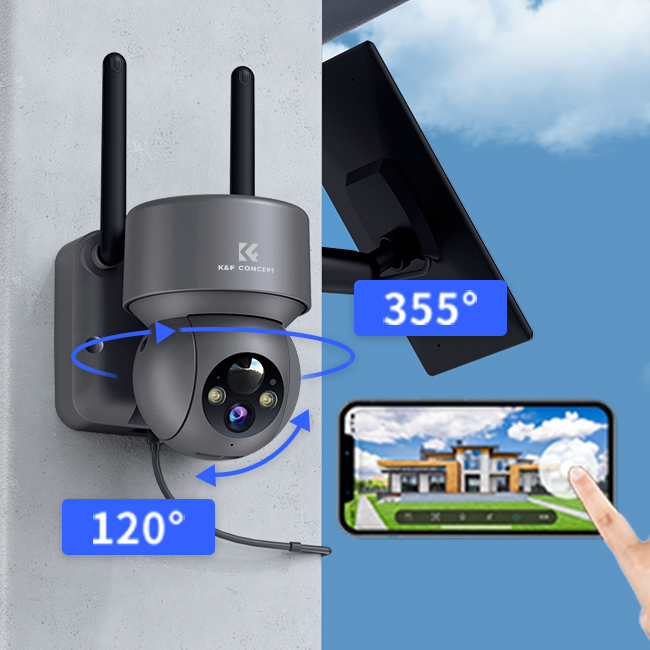 Gimbal - Broaden your horizons
You can remotely control the pan-tilt security camera at 355° pan and 120° tilt on the app to cover every angle of your home. With just 1 pan-tilt-zoom security camera, you can monitor your entire front porch or store.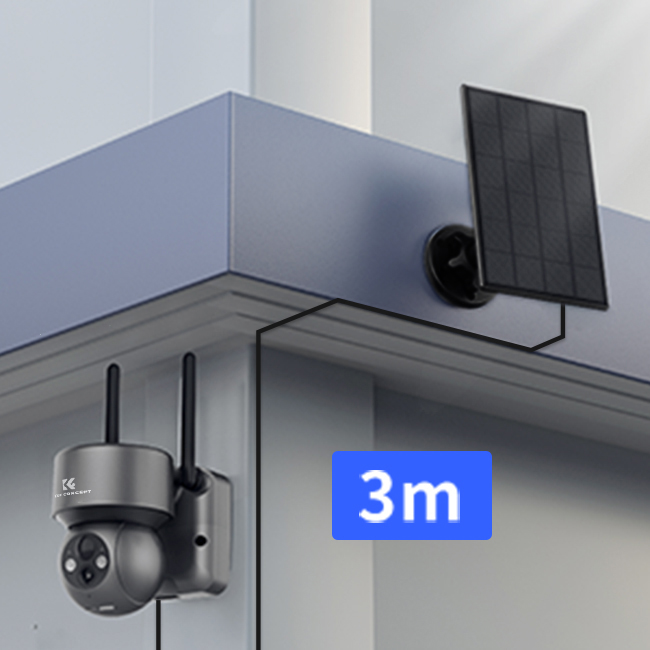 Security Camera Solar Panel
360-degree swivel, 90-degree tilt adjustable wall mount, and 10-foot (3-meter) power cord allow flexible solar panel mounting for maximum sun exposure. The solar panel will charge the camera battery, keeping the outdoor camera working year-round.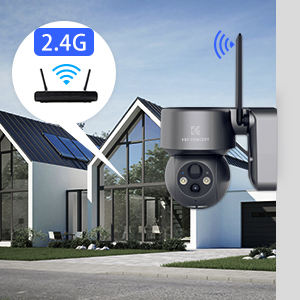 2.4Ghz Wifi Camera
The solar security camera can only support 2.4GHz Wi-Fi (5G is not supported).

If your router is a dual-band model, you need to temporarily turn off the 5Ghz network, and please check if your wifi password is correct.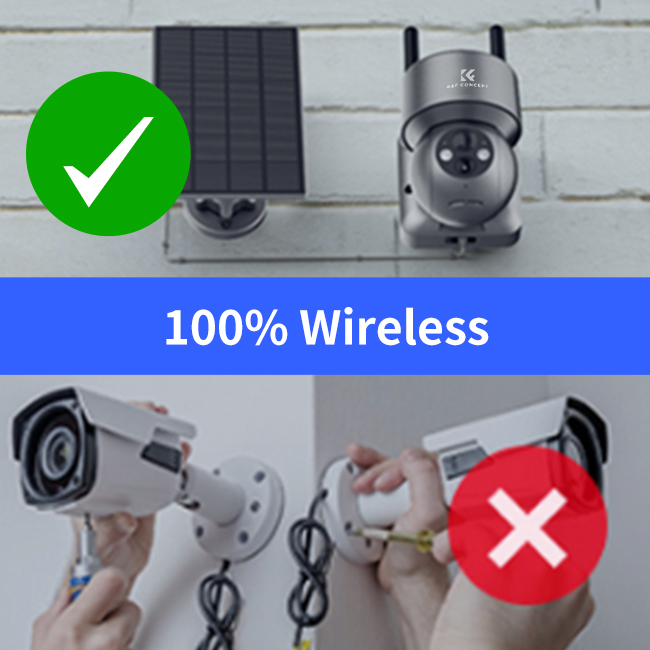 100% wireless and easy to install
Using solar/battery power, home security cameras are 100% wireless or cordless and super easy to install.

Tip: The installation height should be between 6.5 feet - and 10 feet, and the solar camera should be tilted 15 degrees.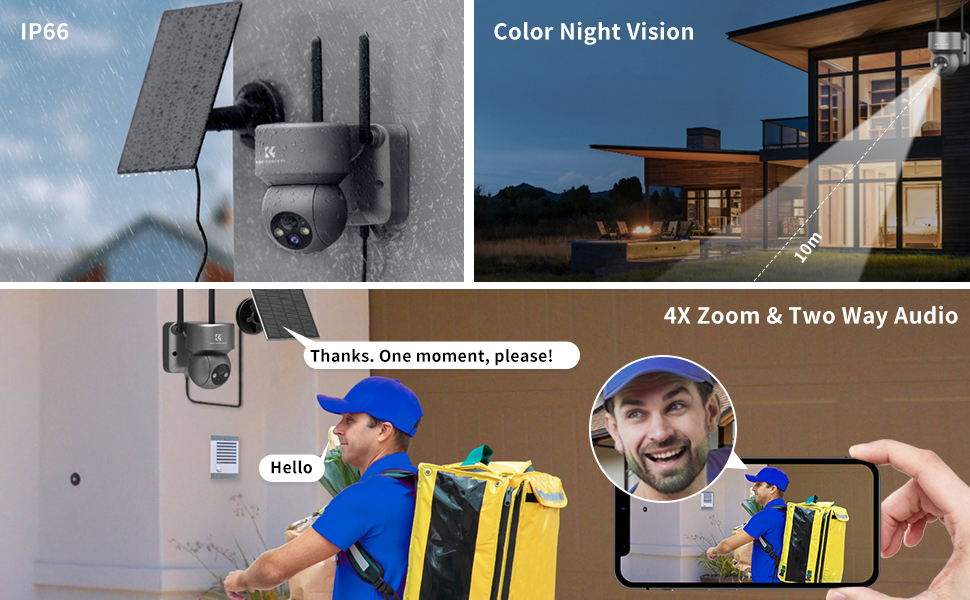 | | |
| --- | --- |
| model | DQ201 |
| Resolution | 1920*1080 |
| frame number | 20FPS |
| sensor type | 1/2.9"CMOS, 2 million pixels (GC2063) |
| Infrared night vision | support |
| night vision distance | 10M |
| video encoding | H.264 |
| intercom | Built-in microphone, speaker |
| store | SD card (maximum 128G), cloud storage |
| WIFI | 2.4G WIFI(IEEE802.11b/g/n) |
| Battery | 14400mAh/3.7V three polymer lithium battery |
| Support mobile phone system | iOS 9X or later, Android 4.3 or later |
| Product Size | 11*8*7cm |
| Package dimensions | 23*16.4*14 |
| product weight | 619 |
| Package weight | 1200g |
| Package Contents | Camera*1, Multilingual Manual*1 (English, German, French, Italian, Western, Japanese), Installation Kit*1 |
Nice camera
Everything worked as advertised! Installation is easy and solar panel keeps the battery full. I use it for checking my bird feeder, no motion detection is required, so I can't comment on that.
09/10/2022
Worth it and easy to set up!
Recently I got my new house and definitely need a camera like this, so far so good, very clear and loud sound which is good lol!
The best thing was that don't need to charge it,
06/10/2022
Great wireless surveillance camera
This is a solar security powered camera, running on 2.4 GHz WiFi. The app to download is called CloudEdge. The app can be easily set up.
The solar panel needs to face the sun for the built-in rechargeable batteries to stay fully charged. The installation process took 20 minutes as I had to drill holes in a concrete wall. I used my own reinforced screws as the screws provided by the seller are good only for stucco and wood. It is a bonus that the camera did not require to install any power cords or ethernet cables. The only wire which had to be attached to the wall was the one from the solar panel to the camera. The camera pans and moves around from the phone, and a second camera is not needed to see the front of the house. The pan and tilt features are definitely a plus, as well as the built-in intercom. I can speak in real-time to any person standing in front of the security camera through the phone app. The camera will automatically record any motion to an included (another bonus) 64G microSD card (up to 128G, but not included) or a cloud storage which comes free for 7 days only. Overall, this security camera is a good option for adding some safety to your home. The video quality is good, and the K&F Concept surveillance camera is worth the money.
01/10/2022
Amazing outdoor camera
I really love the quality of this camera. The picture is really great. It has motion detection as well. I love that it has the rechargable aspect of it so you don't have to worry about it. It was super easy to install. Overall, highly recommend.
01/10/2022
Good quality security camera.
I have a lot of K&F Concept camera optical filters that I regularly use and I have been very satisfied with the quality so I have a good experience with the brand.

The camera uses the CloudEdge app, which is a platform used by many different manufacturers of security cameras. Pairing the camera with the app is made super easy, and viewing recordings or a live feed from a remote location is easy and reliable. You have the option of paying CloudEdge for a monthly cloud plan and having the videos stored on the cloud, but this is not mandatory. The advantage of this service is that if the camera is stolen, you'll have access to the videos it recorded, otherwise you're out of luck because you won't be able to connect to it to see the recordings. You can get a free 7 day trial of the service to test it out.

The video quality is reasonably good for a security camera, though it doesn't compare to the quality of a smartphone. Having the option to remotely pan and tilt is a great feature so you can remotely check on different areas of your property. You can pinch to zoom on the video in the CloudEdge app but be aware this is only digital zoom, the camera doesn't have a physical zoom lens. Technically this is not a PTZ (pan tilt zoom) lens but just a pan/tilt lens.

The camera comes with a solar panel, which is awesome because it means you never have to worry about charging the battery.

Audio quality is comparable with other security cameras I've used, which is to say it's not great but it's adequate. The audio has a little bit of a muffled, underwater sound to it.

A 64GB K&F Concept branded micro SD card is included, which is a nice touch.

The price is reasonable for this good quality, wire-free, solar powered security camera with pan and tilt functionality so I would definitely recommend this.
30/09/2022
I think it's great The only drawback is that it's made in China
It is a product of K&F CONCEPT, a Chinese company that deals in camera products. I don't know.
[What is the selling point?]
Above all, the power is supplied from the included solar panel, eliminating the need for wiring. Whether it's wiring or taking it from an outdoor outlet, the wiring process is very troublesome, and if you need to make a hole in the wall to pass the wiring through, you have to ask a contractor to do the work
. It's been 3 days since I installed it, and the built-in battery is currently full due to
the fine weather
. The image has been partially reorganized for privacy protection.) Although
it claims 1920X1080, jaggedness appears as soon as the image on the smartphone is enlarged by pinching, so at least the image received via the Internet is not very high quality. Images can be saved on the SD card in the slot of the main unit, so it may be high quality, but (even if it is) it is realistic to take out the SD card and see the recorded images every time.
Even so, if it is installed at the recommended height (2-3m) during the daytime, it is possible to fully check the facial features of the person in the camera
. However, it seems that this is only when a moving object is detected. When a moving object is detected, the light flashes and it seems to shoot in color.
[Sound quality] Not good enough
It is said that you can talk via the camera, but when I installed it on the wall facing the road in front of my house, I could not hear the sound of a car running, but a noise similar to howling, so I decided to use this device. It seems a little difficult to have a conversation over the camera .
[Motion detection] Excellent.
If 6 is changed to 8 or 9, the detection rate will increase, but for practical purposes, this level is sufficient.In
addition, when a moving object is detected, the video at that time is saved to the SD card of the main unit. It is saved, and you can call it and check it on your smartphone. On this check screen, if you specify the date, the time and snapshots will be displayed in a row, so it is easy
to select.However, you can pinch the screen while playing the called video If you do, you can't move the screen position, so you can only zoom in on the center
.
However, I don't think there are many people in Japan who make a hole in the wall of their house and attach the camera to it. (Refer to the image)
[Security] It doesn't seem to be too much of a concern
. It might be good)
When I checked the app, the authority was given only to the location information, so it is modest compared to other apps.

I deleted the permission for location information after installation, but it is still usable
. And there is almost no delay in operation. The only dissatisfaction is that this is a product of a Chinese company, but if you remove the authority, it seems to be safe to use.
29/09/2022
Solar Charging is a Game-Changer!
I tested the camera in daylight and darkness and found the image quality to be very good.
24/09/2022
Great wireless outdoor camera with a good quality picture
This is perfect if looking for a little extra security. It was great for the other side of our house, opposite where we have our Ring. Now we have full coverage. For the price, this is a great security cam. The camera quality is really good. You can adjust the settings regarding the notifications and get a lot if you want.
Even the picture quality at night is good.
Definitely recommend.
23/09/2022
Great Quality
This camera has exceeded my expectations and I will be purchasing more.
23/09/2022
satisfaction!
There is a solar charging function, and the price is very satisfying! I used to use relatively inexpensive security cameras so far, but cheap ones always need to be connected to an outlet, and battery types need to be charged regularly, which is troublesome and difficult to install. was limited.

Compared to that, when solar charging becomes possible, there is no need to worry about charging or an outlet, so we were finally able to install a K&F Concept security camera outside the front door. I'm worried about how much solar charging will work in the rainy season, but I'll add that point later!
20/09/2022
Surveillance Cameras
Video Resolution
1080P
Power Supply
Solar / Built-in Battery
Built-in Battery Capacity
14400mAh
Storage
SD memory card (up to 128G/cloud storage)
Pan Tilt
Horizontal 355°/Vertical 120°
Motion Detection
PIR
Motion Detection Range
8m/26.2ft
Waterproof IP Rating
IP66
Night Vision
Infrared Night Vision, Color Night Vision
Night Vision Range
Infrared Night Vision, Color Night Vision
Audio & Light Alert
Audio & Light Alert
Two-way Talk
√
WiFi Connectivity
2.4GHz wifi
App
Cloudedge