Solar Wireless Security Camera 2K with Audio and Light Alarm Outdoor Home Security Camera Color Night Vision 9600mAh Built-in Battery Black
K&F Concept Wireless Solar Security Camera, 2K WiFi 360° PTZ IP66 Waterproof Night Vision with 64G SD Card Black

KF50.0008

SKU:

KF50.0008

109.99

https://www.kentfaith.com/KF50.0008_solar-wireless-security-camera-1080p-with-audio-and-light-alarm-outdoor-home-security-camera-color-night-vision-14400mah-built-in-battery
Description
* 【100% Wireless and Uninterruptible Power Supply】This solar powered wireless security camera has a cordless power supply. With a built-in 19600mAh battery and efficient solar power, the security camera has an extremely long standby time of up to 6 months. Surveillance cameras run on 2.4 GHz WiFi and stay fully charged via solar panels for 100% wire-free security. There is a built-in 9600mAh battery, so you only need to connect the PTZ security camera to the WiFi network on the app, and then you can monitor your house remotely through the app.
* 【Tilt Pan & PIR Motion Detection】The intelligent design of the K&F Concept surveillance camera enables it to rotate without obstacles, 355° horizontally and 120° vertically, enabling a wide panoramic field of view, monitoring no blind spots, and no dead angle for panoramic shooting. Complete protection for your sweet home. Smart home security cameras are equipped with smart PIR motion detection chips. No false positives. The optional setting is 5-10 meters, which can quickly identify the human body and reduce false alarms caused by rainy days, insects, animals, etc. Ordinary battery cameras can only send alarm notifications on mobile phones.
* 【Full HD 2K and Color Night Vision】Infrared full color night vision: The camera can automatically recognize the day and night switching mode. It uses advanced night vision technology. In color night vision mode, two specially designed white lights illuminate when motion is detected, illuminating people at night and alerting suspicious persons
* 【Two-way audio and multiple users remote access】You can remotely talk to the person in front of the solar camera in real time through the mobile phone app, defending against potential thieves when off-site. Easily share your security camera with family or friends with just a QR scan.
* 【2 optional storage methods and 64G memory card】: When motion is detected, the solar outdoor camera can automatically record video to micro SD card (up to 128G) or cloud. Encrypted cloud services keep your privacy safe. Recorded videos can be replayed via the CloudEdge app and client (7-day free trial). Comes with 64G memory card
Shipping
Free shipping worldwide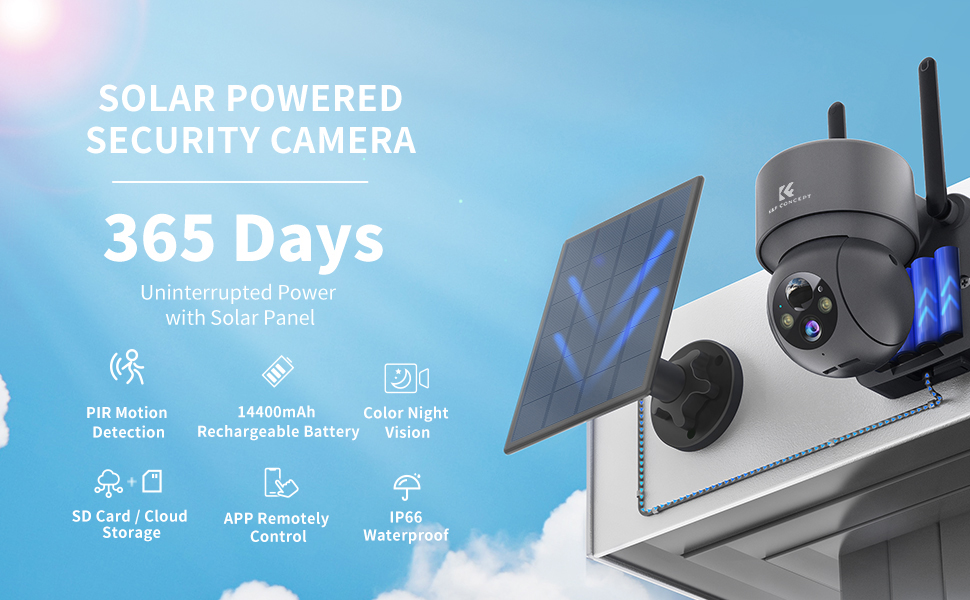 2022 Upgrade Wireless Security Camera with Solar Panel, 100% Wireless PTZ WiFi Outdoor Solar Security Camera System
· 100% free of wires and wiring hassles - works great with K&F concept solar panels and 2.4GHz Wi-Fi (5GHz Wi-Fi not supported)
· Panoramic Outdoor Camera with Tilt and Pan - Remotely rotate and monitor every corner of your home in real-time.
· More sensitive digital PIR sensor - protects your property and sends timely and accurate alerts.
· CloudEdge Mobile App and Client - View, playback, and download manually recorded videos in real-time.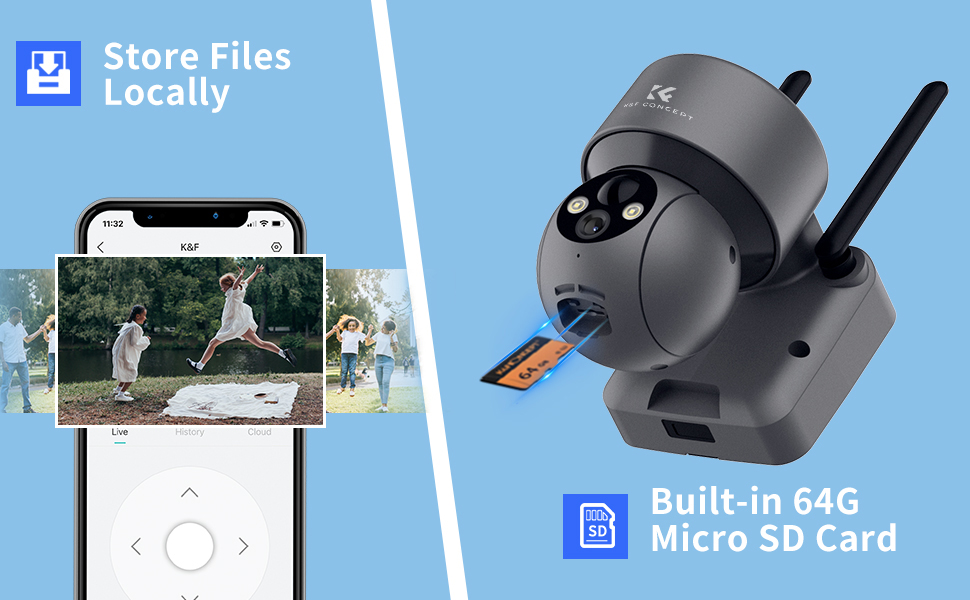 Secure storage (including a 64G memory card)
The solar-powered outdoor camera can automatically record video to a micro SD card (64G memory card included) when motion is detected, or you can choose cloud storage (additional cost). The recorded video can be played back through the CloudEdge application and client.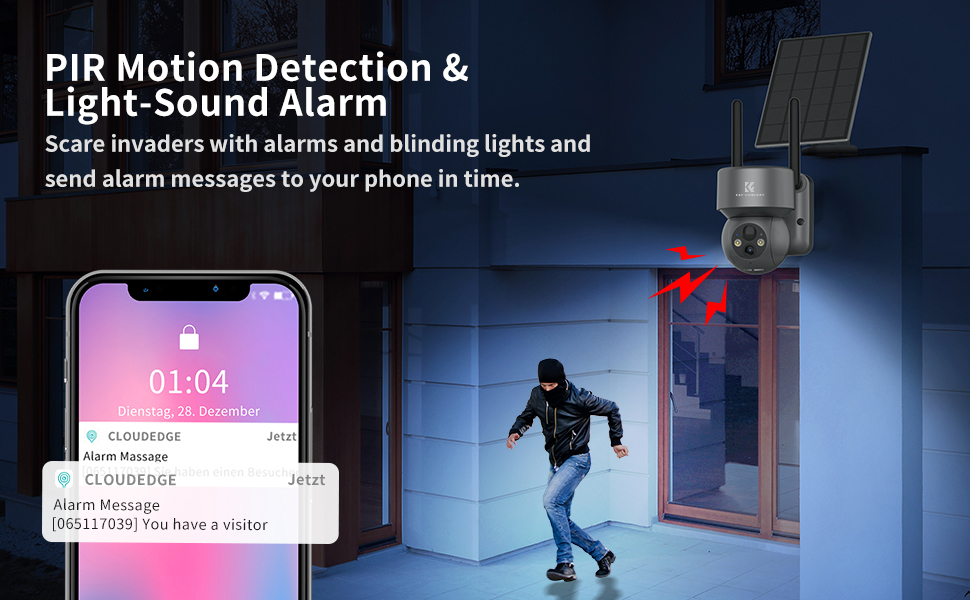 PIR motion detection and instant alerts
Solar security cameras can record motion detection (no automatic tracking). When humanoid motion is detected in the dark, the floodlights turn on and the PIR sensor pushes accurate motion notifications in real-time. Even when you're away, you can see exactly what's going on around your home. You can also set audio warnings to scare away thieves who approach your car or door.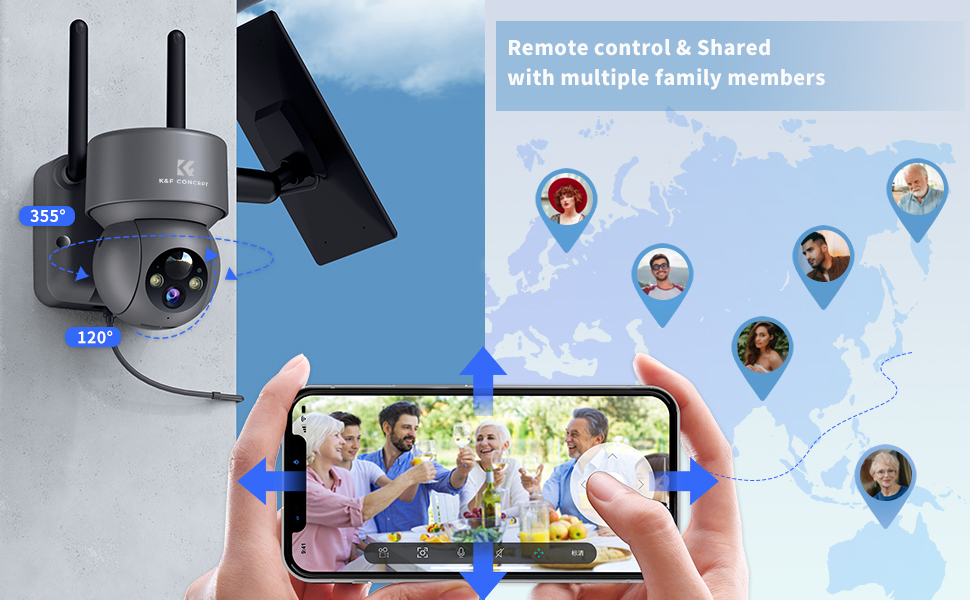 Multi-user sharing and multi-purpose scenarios
Multi-user sharing and multi-purpose scenarios One solar-powered outdoor camera can be shared with multiple family members, so everyone can view/playback/answer calls and alarm notifications simultaneously through the "CloudEdge" APP. (Hint: Shared users must first register an account in the CloudEdge APP)
You can remotely control the pan/tilt security camera with 355° pan, 120° pan, and 4x digital zoom via the app to capture every corner of your home.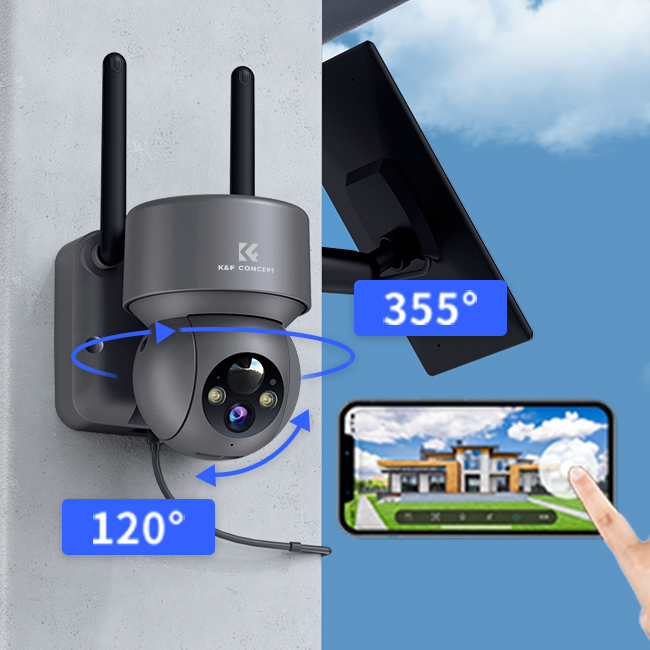 Gimbal - Broaden your horizons
You can remotely control the pan-tilt security camera at 355° pan and 120° tilt on the app to cover every angle of your home. With just 1 pan-tilt-zoom security camera, you can monitor your entire front porch or store.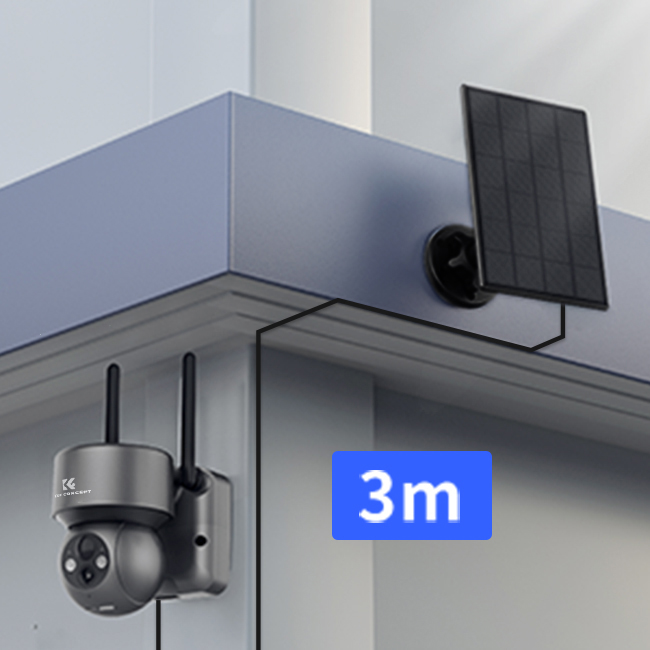 Security Camera Solar Panel
360-degree swivel, 90-degree tilt adjustable wall mount, and 10-foot (3-meter) power cord allow flexible solar panel mounting for maximum sun exposure. The solar panel will charge the camera battery, keeping the outdoor camera working year-round.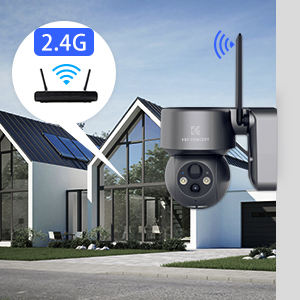 2.4Ghz Wifi Camera
The solar security camera can only support 2.4GHz Wi-Fi (5G is not supported).

If your router is a dual-band model, you need to temporarily turn off the 5Ghz network, and please check if your wifi password is correct.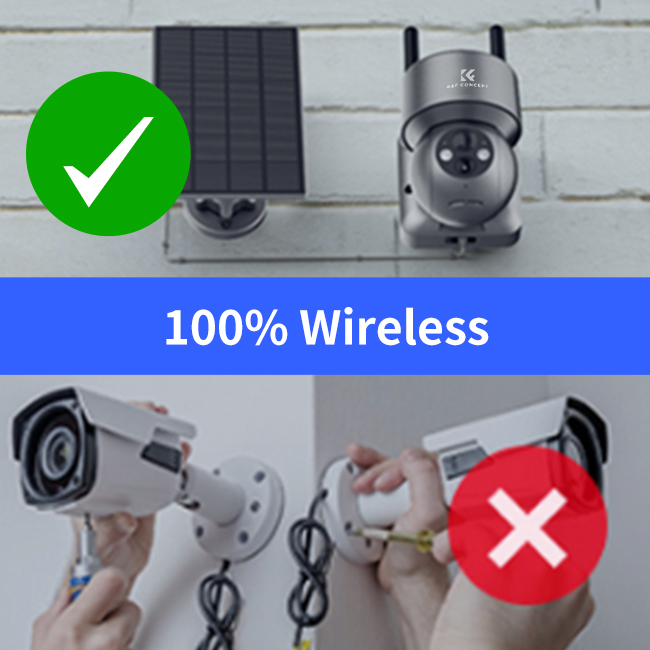 100% wireless and easy to install
Using solar/battery power, home security cameras are 100% wireless or cordless and super easy to install.

Tip: The installation height should be between 6.5 feet - and 10 feet, and the solar camera should be tilted 15 degrees.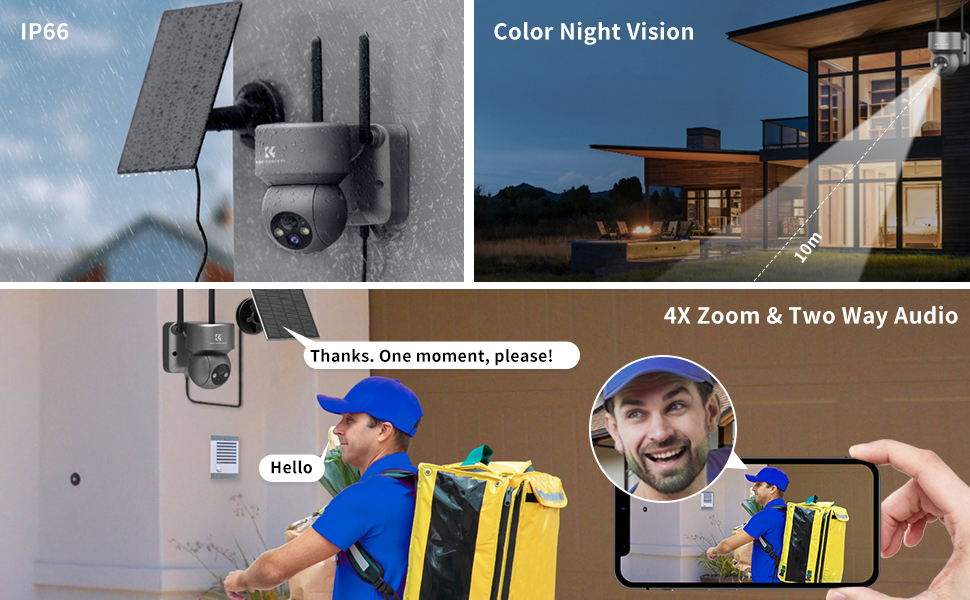 | | |
| --- | --- |
| model | DQ201 |
| Resolution | 1920*1080 |
| frame number | 20FPS |
| sensor type | 1/2.9"CMOS, 2 million pixels (GC2063) |
| Infrared night vision | support |
| night vision distance | 10M |
| video encoding | H.264 |
| intercom | Built-in microphone, speaker |
| store | SD card (maximum 128G), cloud storage |
| WIFI | 2.4G WIFI(IEEE802.11b/g/n) |
| Battery | 9600mAhAh/3.7V three polymer lithium battery |
| Support mobile phone system | iOS 9X or later, Android 4.3 or later |
| Product Size | 11*8*7cm |
| Package dimensions | 23*16.4*14 |
| product weight | 619 |
| Package weight | 1200g |
| Package Contents | Camera*1, Multilingual Manual*1 (English, German, French, Italian, Western, Japanese), Installation Kit*1 |
All Reviews
Image

All Star

5 Star

4 Star

3 Star

2 Star

1 Star
picture great
On recommendation, we decided on a Zeetopin and are very satisfied with the picture quality!
14/06/2023
Super security camera with easy setup
Good camera with very easy setup. The app works very well too. The picture quality in HD is really good.
14/06/2023
Great camera
Super WiFi reception, the motion detector is very sensitive and you can easily adjust the sensitivity in the app and also the times for alarm and monitoring, that the solar panel charges and that quickly, battery life is also great, microphone and sound output work perfectly, night mode also in color thanks to the powerful LED lighting. Clear recommendation
13/06/2023
Good quality but too classic!
The processing of the camera is very good and from the first touch you get the feeling that the product is of good quality. All the accessories needed for implementation are included, except for the SD card, which must be purchased separately in addition to the notifications on the phone to benefit from the "Replay". Setup is quick and the application that lets you connect it to your Wi-Fi network and use it on a daily basis is overall effective and quite educational to use. As for the features, I'll give you the details since everything is in the product description: it's pretty standard but you don't expect more from this type of device and in fact it's more than enough to monitor your home. Image quality is good both day and night, although the camera sometimes seems to need time to adjust to rapid changes (e.g. the sun re-emerging after a cloud has moved ahead). As for the WiFi reception, it's pretty good because I placed it under a porch about 7 meters from the box: thanks to two partitions and a supporting wall, I have a very good signal and I have no losses to report. The camera reacts directly and fluidly. In summary, it is a good model that comes with all the features that can be expected from a security camera and that also has the advantage of being content format and easy to use. While I think the price is a bit high, it's still possible if you don't want a model full of unnecessary options (as is often the case).
12/06/2023
This camera is AWESOME!!!
This camera is a 4G camera and does not run off of wifi. I have a long driveway and my wifi won't go that far. So I got this camera. It comes with a sim card that only has 100mb of data so you can test the product and signal strength. I am very impressed with this camera. Like I said, I put this at the end of my driveway, the fact that is is solar powered is absolutely perfect because I do not have access to electric at the end of my driveway. You can recharge the sim card for as little as $10/mo for 2GB of data. The camera quality is fantastic! I can monitor my neighbors driveway and it's about 1/4 mile away!!! The night vision is excellent for a camera in this price range. This camera uses the UBOX app and has a bunch of different settings that you can adjust to your specific needs. I have my motion detection set on high as there is a delay with the less sensitive settings. However, I live on a deadend street so there is no traffic. I don't think the high setting would be great if you lived in a busy neighborhood. When I get the chance I will be buying more of these camera for the backside of my acerage. The solar panel works great and keeps the camera fully charged all the time. Even they I live in a rural area in Oklahoma the 4G signal strength is pretty good.
12/06/2023
Class
Class processing, very good pictures!
09/06/2023
Purchase recommendation!
Highly recommended! Very good picture and easy installation. Very long battery life. Clear purchase recommendation!
06/06/2023
Great camera
Very good camera with a very good price-performance ratio.
04/06/2023
Top quality, easy commissioning
Great product, picture quality is great
04/06/2023
Good quality
A good security camera with a good quality. The assembly was very easy and the setting up of the camera as well. The app is well and clearly structured, everything is easy to find and manageable. The motion detector works great and you can see everything well on the recordings.
03/06/2023
Surveillance Cameras
Video Resolution
2K
Power Supply Method
Solar power
Built-in Battery Capacity
9600mAh
Storage
SD memory card (up to 128G/cloud storage)
Pan Tilt
Horizontal 355°/Vertical 120°
Motion Detection
PIR
Motion Detection Range
10m/32,8ft
Waterproof IP Rating
IP66
Night Vision
Infrared Night Vision, Color Night Vision
Night Vision Range
10m/32.8ft
Alarm Method
Sound and light alarm
Two-way Talk
√
Connection Method
2.4GHz WIFI
App
Cloudedge