4K WiFi 30MP Trail Camera with 940nm Infrared Outdoor IP66 Waterproof Hunting Infrared Night Vision Camera + 32GB Memory Card
Free shipping to eligible country
Brand:

K&F Concept

Free Shipping. 30 Day No Reason Return. K&F trail camera features high video&image definition, fast trigger speed, wide flash range, rugged&waterproof housing, long battery standby time.

KF35.038

SKU:

KF35.038

127.99

https://www.kentfaith.com/KF35.038_4k-wifi-30mp-off-road-camera-game-camera-with-940nm-infrared-outdoor-ip66-waterproof-hunting-infrared-night-vision-camera-free-sd-32gb-memory-card
Description
* 【4K/30MP Ultra HD Image&Video Resolution】The wifi infrared tracking camera captures 4K high-definition video and 30M pixel clear images, clear records, and provides more high-quality and wonderful visual details during the day (black and white at night). You can easily hear and see the vivid wildlife world.
* 【WiFi Connection & APP Control】The tracking camera has built-in WIFI and APP control functions. Mobile phone download APP, connect to WIFI. You can adjust the settings to view or download photos and videos directly on your phone. This tracking camera is not a web camera, and the APP control range is 15 meters
* 【Long Infrared Range】Equipped with 36 940nm infrared LED tracking cameras with a range of 65FT (20m). Equipped with 3 passive infrared sensors, even in the dark, once motion is detected, it can take clear photos, and quickly trigger the hunting camera within 0.2 seconds, so you will not miss any shots
* 【IP66 Waterproof & Rugged Housing】The IP66 waterproof rating is higher than IP56, and the sturdy housing greatly protects the hunting camera from rain and dust. Even in harsh environments such as deserts, grasslands, and tropical rainforests, WIFI cameras can perform well. 120° passive infrared detection range. Every detected action will be captured and recorded quickly and accurately
* 【Perfect for Hunting, Wildlife Monitoring, Farm Protection】This camera is very suitable for wildlife monitoring, hunting, home security, farm monitoring, etc.
4K WiFi 30MP Trail Camera
Catch every fantastic wildlife moment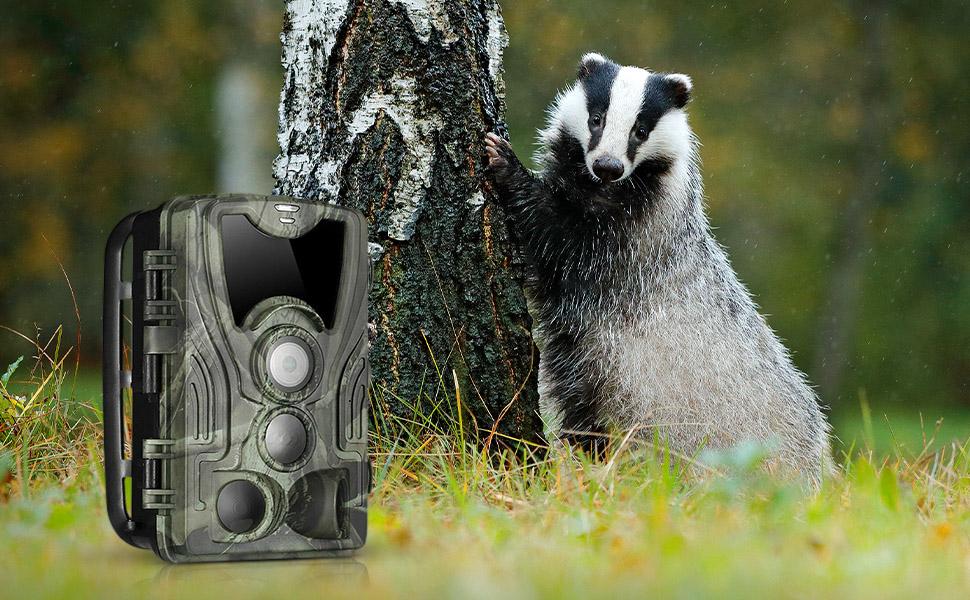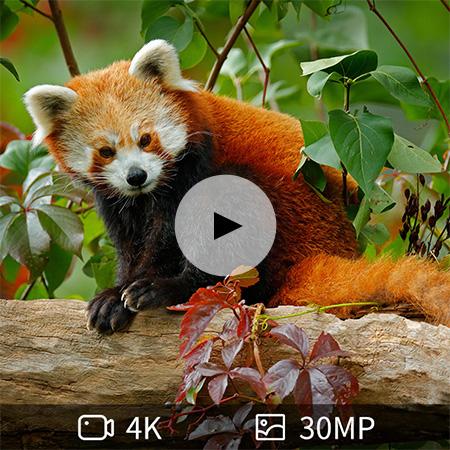 4K Video and 30MP Image
This hunting camera captures 4K vivid video and 30MP clear images each time motion. You will not miss any detail on your wildlife expedition.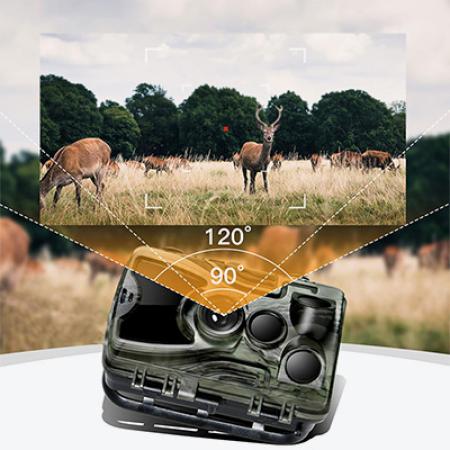 120° Detection Angle
Excellent Optics lens, encompassing distortion correct technologies provides a wider view and more precise vision , captures more details with no spots missed.
0.2S Trigger Speed
Preactivated and fast-boot technology combined to reach ultra-fast 0.2s trigger speed and 0.1s recovery time, quickly capture every exciting moment.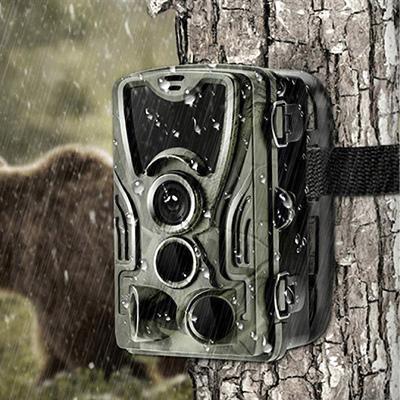 IP66 Waterproof & Sturdy
The hunting cam case has passed the waterproof test up to IP66, protecting it from rain and dust damage.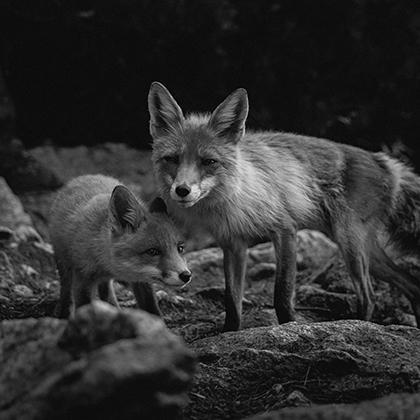 More Brilliant Night Vision
36 non-luminous infrared lights, using intelligent night vision imaging technology, night vision distance of 20 meters.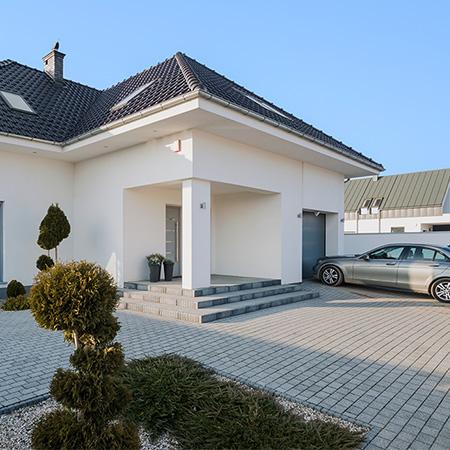 Home Security
The trail camera is also as a home monitor, which would be a multifunctional device.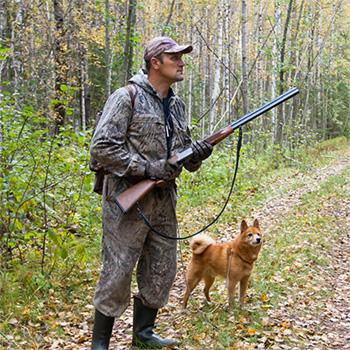 Hunting
Trail camera is a helpful assistant to track animals for hunter.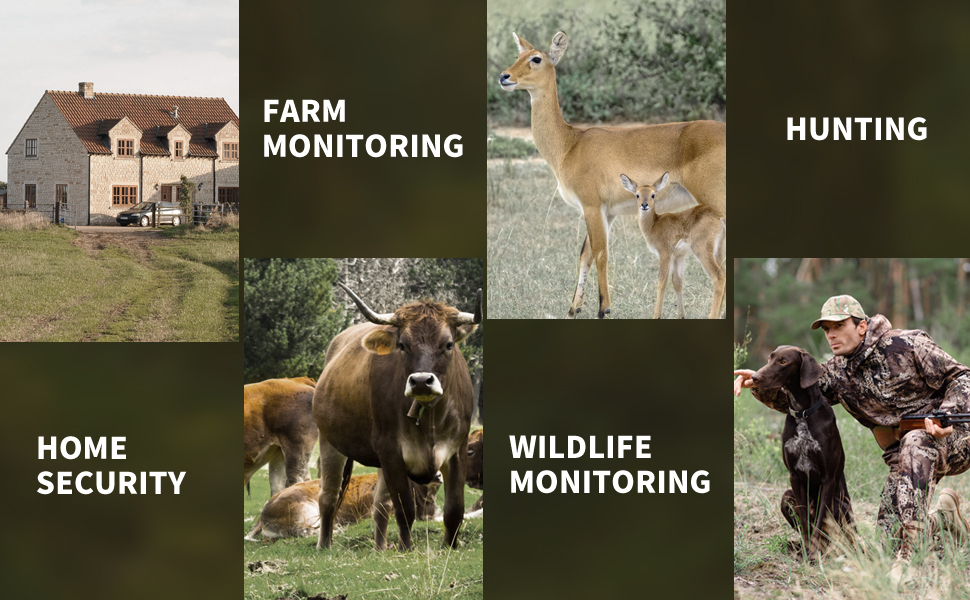 It could not only monitor the wild animals, scout the prey, but also gurad your house and protect your farm from burglar. with a super long standby, it is unnecessary to replace the battaries frequently and gives you a long-term and reliable guard.
Rating

425 reviews.

412 reviews.

890 reviews.

795 reviews.

412 reviews.

460 reviews.
Price

$239.99

$127.99

$437.99

$208.99

$165.99

$249.99

$173.98

$569.99

$254.99

$99.99

$70.99

Model
KF35.038
KF35.007V2
KF35.002V2
KF35.003V2
KF35.006V4
KF35.004

Max. Storage

256GB
32GB
32GB
32GB
32GB
32GB

Image Resolution

30MP
24MP
24MP
36MP
16MP
20MP

Video Resolution

4K
1296p
2.7K
2.7K
1080p
2.7K

WIFI+Bluetooth

WIFI
Wifi
NO
NO
NO
NO

Amount of infrared lamps

44pcs (940nm)
36pcs (850nm)
44pcs (940nm)
44pcs (940nm)
22pcs (850nm)
42pcs (940nm)

Amount of PIR SENSORS

3pcs
3pcs
3 pcs
1pcs
1pcs
1pcs

Detection Range of PIR sensors

120°
120°
120°
120°
80°
120°

Trigger Distance

22m (65ft)
22m (65ft)
20m (65ft)
20m (65ft)
20m (65ft)
26m (82ft)

Trigger Speed

0.2s
0.4s
0.3s
0.3s
0.4 s
0.3s

Waterproof IP Rating

IP66
IP65
IP65
IP65
IP65
IP66

Screen Size

2.0"
2.0"
2.0"
2.0"
2.4"
Ok for a cheaper camera
Dont know if it me not knowing how to set the motion but dosnt seem to capture all the motion. Like to long in between.
11/01/2022
Trail camera
Great trail camera and great price easy setup
11/01/2022
Great basic camera
Great camera.
09/01/2022
Great Trail Camera
The product is great! I would give it 5 stars, if it was compatible with rechargeable batteries or had a removable rechargeable battery pack.
08/01/2022
Eats batteries...
In lots of activity will eat batteries!...needs ac adapter....probably get by with a 12v battery and a dc to dc 6v converter....
06/01/2022
Trail Camera
Max. Storage
256GB
Image Resolution
30MP
Video Resolution
4K
WIFI+Bluetooth
WIFI
Amount of infrared lamps
44pcs (940nm)
Amount of PIR SENSORS
3pcs
Detection Range of PIR sensors
120°
Trigger Distance
22m (65ft)
Trigger Speed
0.2s
Waterproof IP Rating
IP66