2.7K 20MP Trail Camera 0.2s Fast Trigger Speed IP66 Waterproof Robust Hunting Camera with 120° Wide Flash Range for Wildlife Monitoring + 32GB Memory
Buy 2 get 5% off, Buy 3 get 10% off, buy 6 get 20% off
Free shipping to eligible country
Free Shipping. 30 Day No Reason Return. K&F Concept trail camera features HD image & video resolution, fast trigger speed, wide flash range, waterproof&rugged housing, long standby time.

KF35.036

SKU:

KF35.036

72.99

https://www.kentfaith.com/KF35.036_2-7k-20mp-tracking-camera-0-2s-fast-trigger-speed-ip66-waterproof-and-robust-hunting-camera-with-120-wide-flash-range-for-wildlife-monitoring-sd-32gb-memory-card-free
Description
* [20MP/2.7K ultra-high image and video resolution]-The camera has a good structure, design and easy-to-use controls. It can capture impressive 20MP photos and record wonderful 2.7K videos day and night.
* [0.2s ultra-fast trigger speed and 120° wide flash range]-The trigger speed is 0.2s, equipped with a 120° detection range, and the speed is extremely fast, ensuring that you will not miss any movement. It is moving fast or moving slowly.
* [Enhanced low-light infrared night vision] Fully automatic PIR sensor and 48 940-nanometer infrared low-light LED lights ensure clear night images and videos, and a longer and wider visible range in the dark, which can record every dream moment at night.
* [IP66 Waterproof Rugged Shell] IP66 waterproof, dustproof, and drop-proof plastic shell, sturdy and durable, is an indispensable guarantee for prolonging the service life, and is very suitable for outdoor use.
* [Color screen, easy viewing and long standby time] The 2" color LCD screen allows you to easily set up the camera and view photos immediately. The camera has a long standby time of up to 6 months.
Shipping
Free shipping to eligible country
Sale
Buy 2 get 5% off, Buy 3 get 10% off, buy 6 get 20% off
HB-E2 HD Night Vision Trail Camera
Catch every fantastic wildlife moment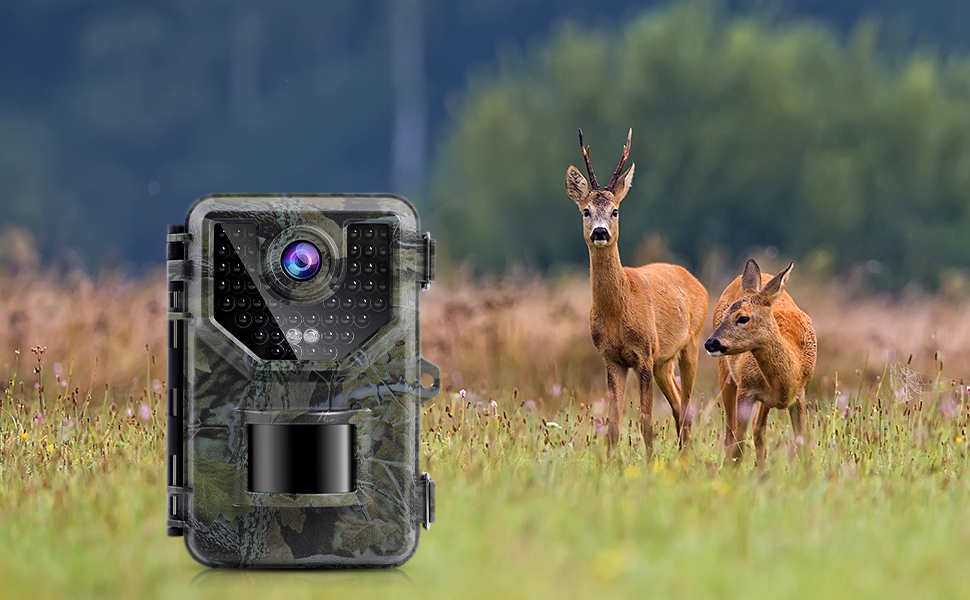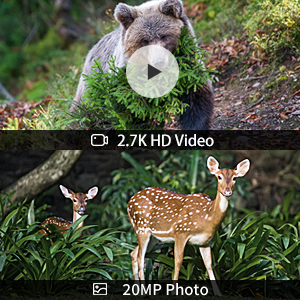 2.7K Video and 20MP Image
This hunting camera captures 2.7K vivid video and 20MP clear images each time motion. You will not miss any detail on your wildlife expedition.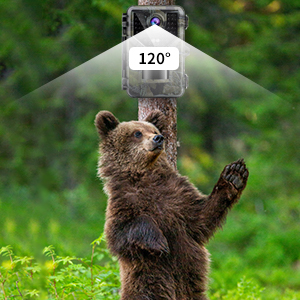 120° Detection Angle
Excellent Optics lens, encompassing distortion correct technologies provides a wider view and more precise vision , captures more details with no spots missed.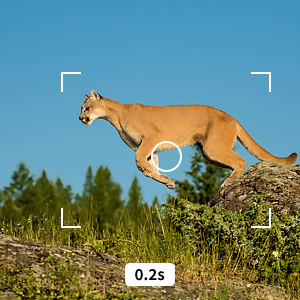 0.2S Trigger Speed
Preactivated and fast-boot technology combined to reach ultra-fast 0.2s trigger speed and 0.1s recovery time, quickly capture every exciting moment.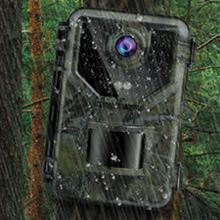 IP66 Waterproof & Sturdy
The hunting cam case has passed the waterproof test up to IP66, protecting it from rain and dust damage.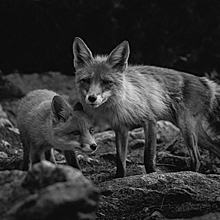 More Brilliant Night Vision
48 non-luminous infrared lights, using intelligent night vision imaging technology, night vision distance of 20 meters.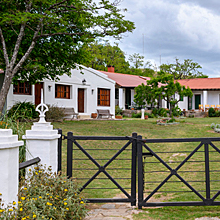 Home Security
The trail camera is also as a home monitor, which would be a multifunctional device.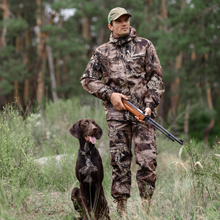 Hunting
Trail camera is a helpful assistant to track animals for hunter.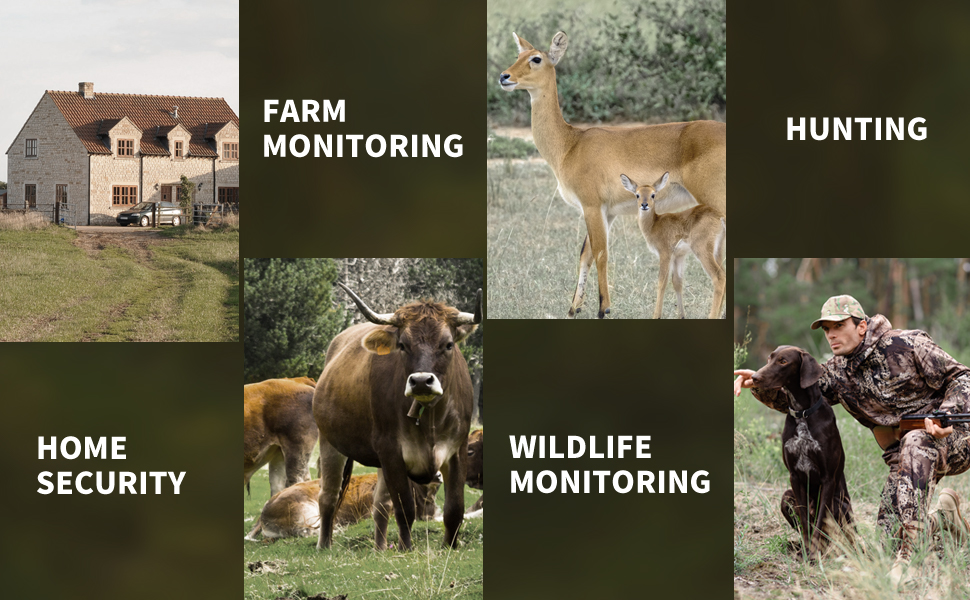 Suitable for farm monitoring/hunting/home safety/wild animal monitoring, etc.
| | | | | | |
| --- | --- | --- | --- | --- | --- |
| | | | | | |
| | | | | | |
| | | | | | |
| Rating | 23 reviews. | 102 reviews. | 28 reviews. | 414 reviews. | 100 reviews. |
| Price | $72.99 | $64.99 | $64.99 | $121.99 | $64.99 |
| Model | KF35.036 | KF35.021 | KF35.037 | KF35.038 | KF35.044 |
| Max. Storage | 32GB | 32GB | 32GB | 256GB | 256GB |
| Image Resolution | 20MP | 16MP | 16MP | 30MP | 20MP |
| Screen Size | 2.4" | 2.0" | 2.0" | | 2.0" |
| Video Resolution | 2.7K | 1080p | 1080p | 4K | 1080P |
| WIFI+Bluetooth | NO | NO | NO | WIFI | NO |
| Amount of infrared lamps | 42pcs (940nm) | 22pcs (850nm) | 22pcs (850nm) | 44pcs (940nm) | 2pcs (940nm) |
| Detection Range of PIR sensors | 120° | 80° | 80° | 120° | 120° |
| Trigger Distance | 26m (82ft) | 20m (65ft) | 20m (65ft) | 22m (65ft) | 15m~20m |
| Trigger Speed | 0.2s | 0.4 s | 0.4s | 0.2s | 0.2s |
| Waterproof IP Rating | IP66 | IP65 | IP65 | IP65 | IP66 |
Ahhh ok camera
The software is not that great. They really need to do a much better job making it seem less.
01/01/2022
Wow
Excellent camera for the money, I will be buying another.
29/12/2021
Works great!
Battery depletes quicker if you have it set to record longer videos every time it detects motion, so I keep it set to take multiple photos instead. Battery lasts very well that way. Good crisp photos. Very happy with purchase.
18/12/2021
Need the Correct App!
Very good quality photo/ video , easy to mounted. Room to improve is the external power connector with Screw tighten to prevent drop off and with good waterproof. Overalls the product is good.
05/11/2021
Wonderful product!
Product works great with Bluetooth on iPhone!Good pictures and quality video
05/11/2021
4K 30MP WiFi Trail Camera,
The waterproof gasket came out as soon as opened up camera to install batteries.The QR code in the manual doesn't take you to right app - which is actually called "Hunting 4K". This app matches the pictures of the instructions in the manual. However, the app doesn't work. Despite camera saying it was connected, and my phone showing it was connected to the same SSID as the camera, the app refused to connect to the camera.Also, this camera doesn't actually connect to you wifi network. It only connects to your phone (supposedly, never did for me), and only if you can get close to camera to turn wifi on through blue tooth.Will return the camera.
03/11/2021
Wireless works great
I took a chance on the app being fixed but nope. Will not connect to phone or ipad with wifi. Sent back same day of delivery. Buyer BEWARE!
29/10/2021
How do you get the IR working?
My neighbor friend got this for me for my birthday. We live in a little community of cabins in the mountains in a national forest with bears and wildcats roaming around. I live alone so this is an added security feature as well. I'm not computer-illiterate but I had a difficult time connecting with my phone...although I could easily remove the SD card (not included) and view the recordings. I did contact customer support and they answered within 24 hours. It ended up that I needed to click on "Bluetooth Tethering" and turn it on, on my Android phone. It's fantastic! picture quality is top notch, I was able to save the short film and share it with my family. Very pleased with this...can't wait to see what critters are visiting my property at night!!
13/10/2021
FIRST TIME TRAIL CAM USER
29/09/2021
EASY TO USE!
Very easy to set up, Bluetooth and WiFi feature works great. Takes nice pics.
21/09/2021
There are no faqs for this product.
HB-E2 2.7K 20MP Trail Camera 0.2s Fast Trigger Speed IP66 Waterproof Sturdy Hunting Camera
Trail Camera
Max. Storage
32GB
Image Resolution
20MP
Screen Size
2.4"
Video Resolution
2.7K
WIFI+Bluetooth
NO
Amount of infrared lamps
42pcs (940nm)
Amount of PIR SENSORS
1pcs
Detection Range of PIR sensors
120°
Trigger Distance
26m (82ft)
Trigger Speed
0.2s
Waterproof IP Rating
IP66