55mm Variable ND Filter ND3-ND1000 Ultra-thin HD with Double-sided 28-layer Nano-coating Nano-X Series
Buy 99$-15$, 199$-30$, 299$-50$, 599$-120$(autumn sale Price)
To
United States
Expedited Shipping
3-5
business days
Buy now in the K&F Concept Variable ND Filter ► 30 Day No Reason Return ► ND3-ND1000 28-layer ► Fast Shipping From US Free ► Nano-X Series

KF01.2006

SKU:

KF01.2006

69.99

https://www.kentfaith.com/KF01.2006_55-mm-variable-nd-filter-nd3-nd1000-ultra-thin-hd-with-double-sided-28-layer-nano-coating-nano-x-series
Buy 99$-15$, 199$-30$, 299$-50$, 599$-120$(autumn sale Price)
Description
* 【7.4mm ultra-thin aviation aluminum frame】 The frame is made of aviation-grade aluminum, and the frame is designed with an ultra-wide-angle structure. The 7.4mm thin frame design ensures that customers will not experience vignetting when using the 16mm wide-angle end. The surface of the frame is designed with a CNC trapezoidal pattern. Consumers can increase friction in a large area when rotating, and install/remove lenses and other accessories anytime, anywhere.
* 【Ultra-high-definition imaging】 The lens is made of top Japanese optical glass, and the surface is oxidized and sandblasted. It adopts double-sided multi-layer enhanced coating and grinding and polishing technology, which can effectively reduce the reflected light on the surface of the filter. In this way, the glare phenomenon caused by the reflection of the external defense line of the long-exposure lens is greatly reduced, and the ultra-high-definition image quality is ensured.
* 【Double-sided nano-coating】 The lens has 28 layers of nano-coating on both sides, which is waterproof, oil-proof and scratch-proof. Effectively prevent the wind from scratching the surface of the lens. If water is accidentally splashed on the filter, the water droplets will remain solidified and will not spread out, which is easy to carry and clean, and plays an anti-fog role in long-term storage.
* 【Convenient to switch gears】 Promise ND3-1000, switch gears freely, the frame is equipped with a push rod, which is convenient for customers to adjust the gear size. For users who shoot video, it is helpful to automatically adjust the light reduction gear through auxiliary tools.
* 【Convenient storage】 The product is equipped with a storage bag, which is convenient for customers to store when going out for shooting. The side pull structure follows the design style of the square storage bag, and it is easy to take out.
Shipping
To
United States
Expedited Shipping
3-5
business days
Sale
Buy 99$-15$, 199$-30$, 299$-50$, 599$-120$(autumn sale Price)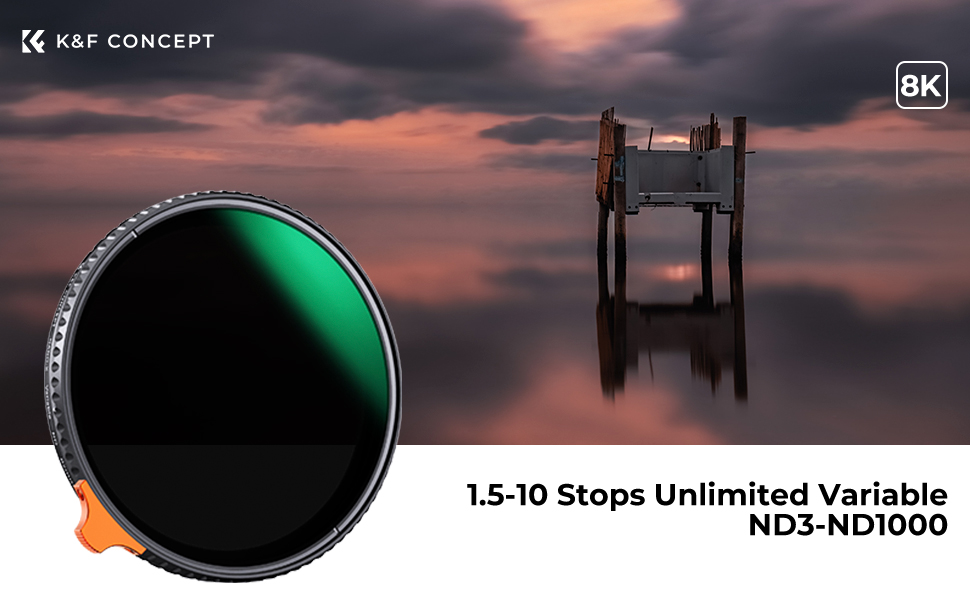 K&F Putter Adjustable ND3-1000 (1.5-10 Stop) Lens Filter with 28 Multi-Layer Coated for Camera Lens
The K&F Concept Variable nd filter – rotate until you reach your desired effect and shoot. It allows you to have continuous control over the amount of light coming through your lens in an approximate range of ND3 (ND1.5) to 1000(ND10) stops – while maintaining the integrity of your image.
Provides 1.5 to10 stops of light reduction control.
Ultra Slim – 7.4mm.
Ultra-slim frame support no vignetting at 16mm focal length.
Comes in K&F Concept professional packaging with PU leather filter bag.
Made with Japanese imported optical glass using K&F Concept Nanotec technology.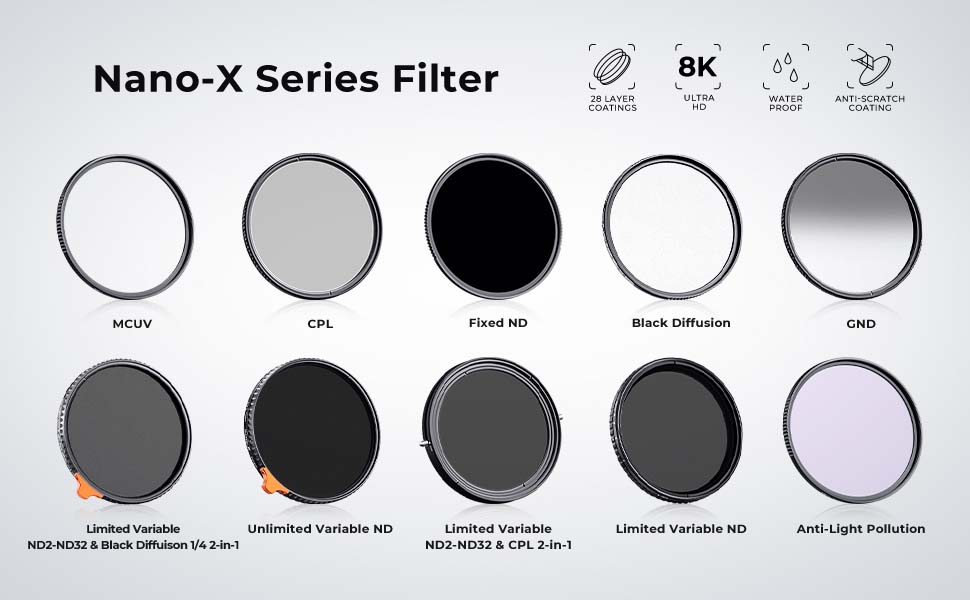 High Definition Image
Made by imported Japanese AGC glass, high definition enough, no color cast, showing the true color of scene.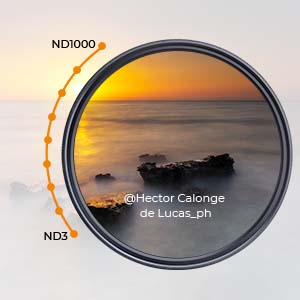 1.5-10 Stops Adjustable
Wide light reduction range from nd3-1000, from a cloudy day to an extremely bright day, one filter with the multi-scenario application.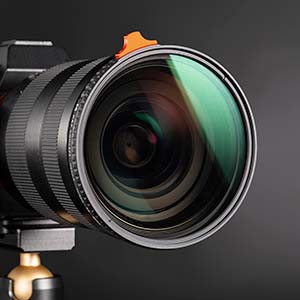 28 Multi-Layer Coated
Each glass on both sides was coated, a total of 28 layers of coating, reducing the filter itself reflection effectively and the glare because of long time exposure.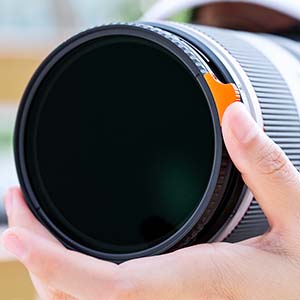 Putter Adjutable
The putter can provide a extra buckle to adjust the filter, especially on video shooting via the putter conveniently to reach the exact stop you need.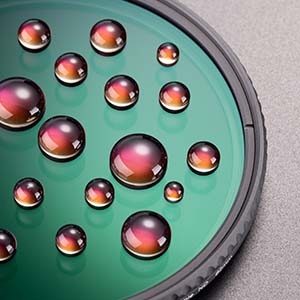 Waterproof & Scratch Resistant
With waterproof and scratch resistance on both glass sides, even the water spilled on the glass can be easily wiped, easily for cleaning and carrying, and also with anti-fog function.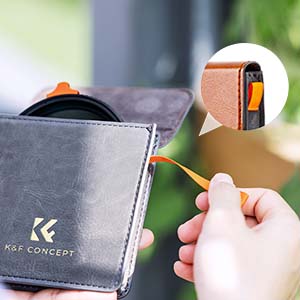 Leather Carry Case
The ND filter case made of PU leather, side pull design can take out the filter conveniently.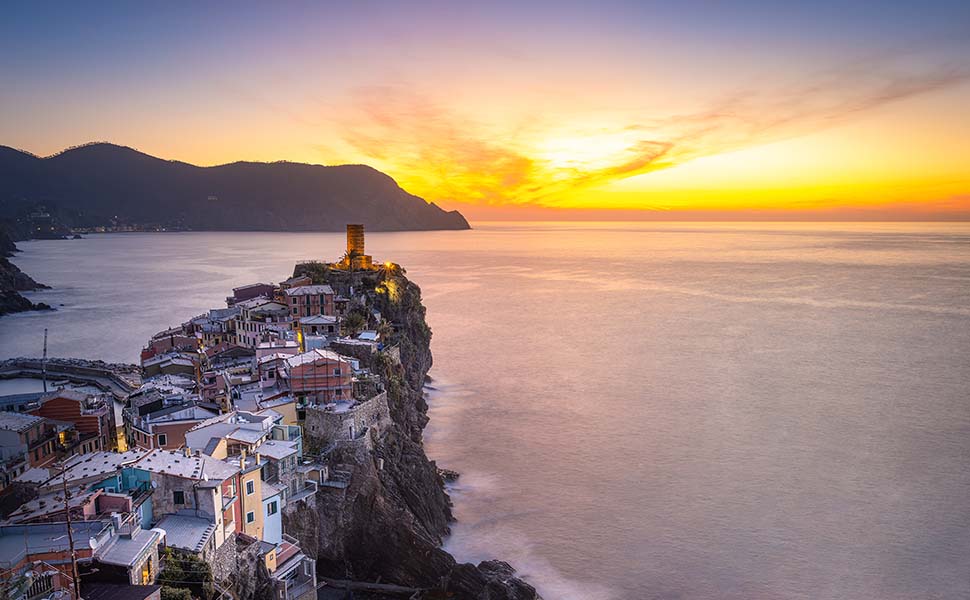 All Reviews
Image

All Star

5 Star

4 Star

3 Star

2 Star

1 Star
There are no faqs for this product.
Variable ND Filter ND3-ND1000 Nano-X Series
Filter
Size
55mm
Series
Nano-X Series
Recommended Scenes
Video Shooting/Landscape Photography
Function
Light Reduction Effect
Stops
0.45 to 3.0 (1.5 to 10 Stops)
Filter Material
AGC Japanese Glass
Multi-Coating
28 Layers
Waterproof
√
Scratch-resistant
√
HD
√