82mm Magnetic Variable ND2-ND32 (1-5 Stop) Lens Filters NO X Spot NANO X Series
Buy 99$-9$, 199$-25$, 299$-39$, 599$-100$
New customer gift package
Free shipping worldwide
Buy now in the K&F Concept Magnetic Variable Filters ► 30 Day No Reason Return ► ND2-ND32 (1-5 Stop) ► Fast Shipping From US Free ► NANO X Series

KF01.1854

SKU:

KF01.1854

82.99

https://www.kentfaith.com/KF01.1854_82mm-magnetic-variable-nd2-32-lens-filters
Buy 99$-9$, 199$-25$, 299$-39$, 599$-100$
Description
* 【Magnetic 1 Second Swap】This magnetic variable ND2-ND32 filter with magnetic technology, install the magnetic filter adapter ring on the lens first, then the filter can be absorbed in 1 second, faster installation than a traditional thread filter (6s).
* 【Frame Self-Lock, No "X" Cross】Say goodbye to the dark "X" cross on images, K&F Concept utilizes cutting-edge technology (frame self-lock) to avoid the common "X" cross on a wide-angle and telephoto lens.
* 【High Definition Image, No Color Cast】Made by importing Japanese AGC optical glass, no effect on the color balance, ensures the high definition image quality. Support 1-5 stops adjustable to control the amount of light entering the lens to reach the light reduction effect in different stops.
* 【Waterproof & Scratch Resistant Coated】Both sides of the glass with nanometer coating (a total of 28 layers) are waterproof, scratch-resistant, and anti-glaring, effectively protecting the valued camera lens and presenting high-quality photos.
* 【Note】Package including: 1* ND2-ND32 filter + 1* Magnetic Basic ring. This filter kit is compatible with all 82mm lenses. Please verified the lens size before ordering. The number is always preceded by a "ø" (diameter) symbol.
Shipping
Free shipping worldwide
Sale
Buy 99$-9$, 199$-25$, 299$-39$, 599$-100$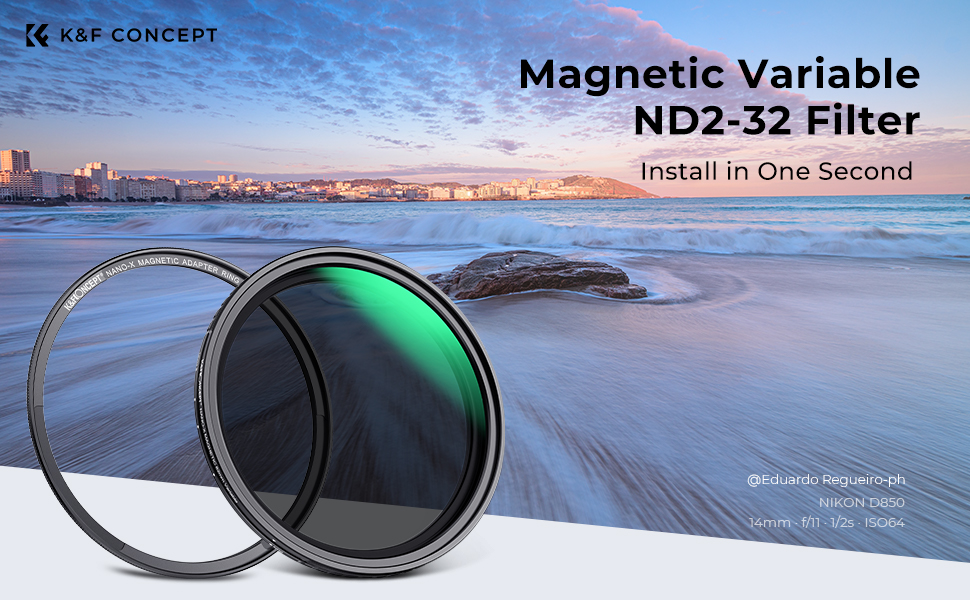 K&F Concept Magnetic 1-Second Swap ND2-ND32 (1-5 Stops) Variable ND Lens Filter with 28 Multi-Layer Coatings for Camera Lens
K&F Concept Magnetic Variable ND-------Extend exposure time, never miss any wonderful moment. Try K&F Concept magnetic variable neutral density filter. ND filter reduces the amount of light entering the lens. This makes it easier to achieve effects such as a shallower depth of field or blurred motion.
1-second swap, no need to screw on lens, never miss any wonderful moment.
Neutral density filter support adjustable from 1 to 5 stops, via rotating the filter to control light reduction.
Support the wide-angle lens with no vignetting, the front diameter is larger than the back diameter of this filter.
Allows the use of slow shutter speeds, with high-speed films or digital cameras, to record movement/image blur in subjects.
Decrease the depth of field by using wider apertures, which helps separate subjects from their background.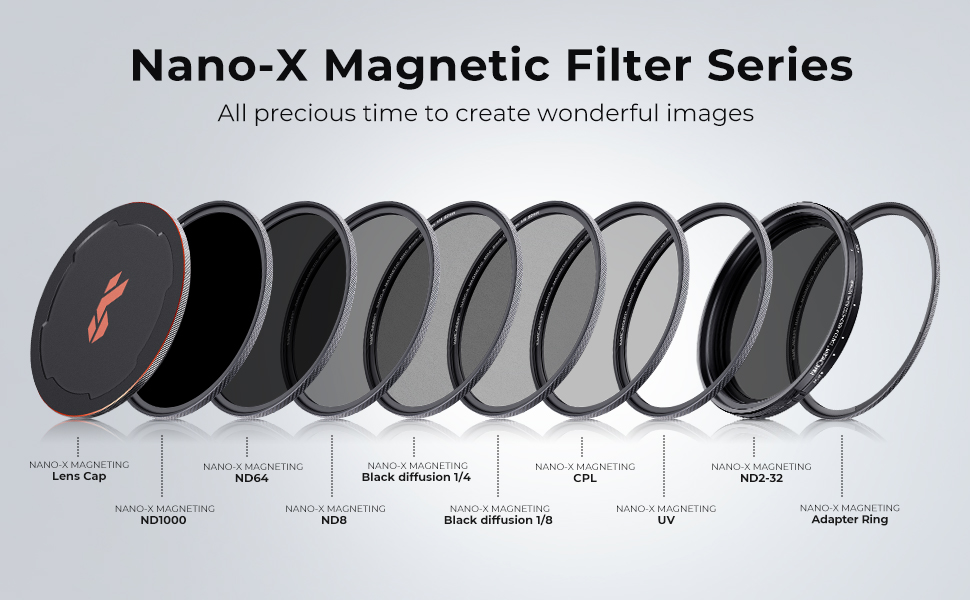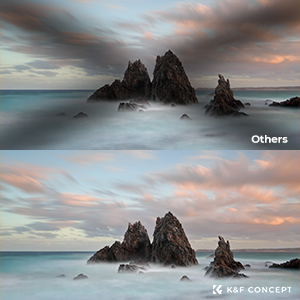 Support Wide Angle Lens No-X Cross
K&F Concept self-lock frame technology ( the frame will be locked while rotating the filter to the Min(ND2) or Max(ND32)) helps the wide-angle lens to avoid dark "X" cross in photos.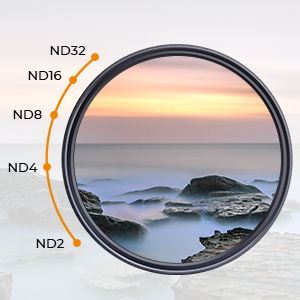 1-5 Stops Adjustable
Variable from ND2-ND32, with 5 stops light reduction including ND2 / ND4 / ND8 / ND16 / ND32, suitable for various scenes.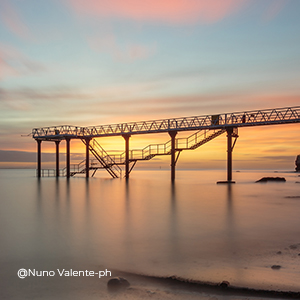 Reconmmend for Landscape Photography
0.3-1.5 light reduction, control the light precisely, fit most landscape photography needs, one filter than more.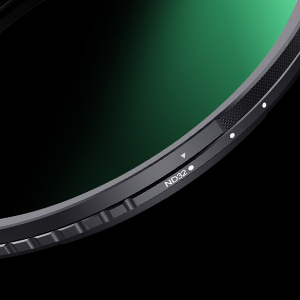 Ultra Slim Frame
Only 7.4mm thickness, effectively avoided vignetting even on wide-angle lenses.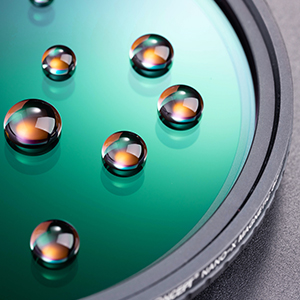 Waterproof &Scratch Resistant
Both sides with nanometer coating, waterproof and scratch-resistant, reduce the reflections coming from the filter-self, without any negative effect on the image quality.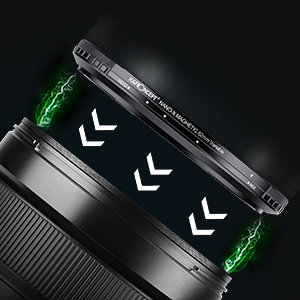 Magnetic Filter Adapter Ring
The package including:
---
1* Magnetic ND2-ND32 filter
1* Magnetic filter dapter rings


| | | | | | | |
| --- | --- | --- | --- | --- | --- | --- |
| | | | | | | |
| | | | | | | |
| | | | | | | |
| Rating | 52 reviews. | 67 reviews. | 107 reviews. | 49 reviews. | 116 reviews. | 32 reviews. |
| Price | $82.99 | $60.99 | $89.99 | $98.99 | $79.99 | $65.99 |
| Model | KF01.1854 | KF01.1064 | KF01.1088 | KF01.1816 | KF01.1466 | KF01.1080 |
| Reflectivity | 0.2% | 0.2% | 0.2% | | 0.2% | 0.2% |
| Series | Nano-X series | Nano-X series | Nano-X series | | Nano-X series | Nano-X series |
| Recommended Scenes | Video Shooting/Landscape Photography | Video Shooting/Landscape Photography | Video Shooting/ Landscape Photography | | Video Shooting/Landscape Photography | Video Shooting/Landscape Photography |
| Function | 1 Second Switch/No X cross/Light reduction effect | No X cross/Light reduction effect | Remove glare/No X cross/ Light reduction effect | | Light reduction effect | No X cross/Light reduction effect |
| Stops | 0.3 to 1.5(1 to 5 Stops) | 0.3 to 1.5(1 to 5 Stops) | 0.3 to 1.5(1 to 5 Stops) | | 0.3 to 2.7(1 to 9 Stops) | 0.9 to 2.1(3 to 7 Stops) |
| Filter Material | Japanese AGC Glass | Japanese AGC Glass | Japanese AGC Glass | | Japanese AGC Glass | Japanese AGC Glass |
| Multi-Coating | 28 layers | 28 layers | 28 layers | | 28 layers | 28 layers |
| Waterproof | √ | √ | √ | | √ | √ |
| scratch-resistant | √ | √ | √ | | √ | √ |
| HD | √ | √ | √ | | √ | √ |
| Size | | 82mm | 82mm | | | 82mm |
| Transmittance | | ∕ | ∕ | | | ∕ |
| Antireflection | | √ | √ | | | √ |
| Filter Thickness | | 7.3mm | 9.3mm | | | 7.3mm |
| Ring Material | | Aviation aluminum alloy | Aviation aluminum alloy | | | Aviation aluminum alloy |
All Reviews
Image

All Star

5 Star

4 Star

3 Star

2 Star

1 Star
Seamless ND Transition; Easy to Use & Great Quality Pictures
This Magnetic Variable ND Filter is a great option for those who travel, take pictures outdoors and who would like to capture an image at lower settings which cameras are incapable of without ND filters. This particular filter gives you a range of options which simplifies what a photographer has to carry. For those who regularly shoot in conditions which they cannot plan around (such as harsh sunlight), this gives more options within your control. It arrives with a protective case and a magnetic adapter ring so that you can simply remove the filter if you wish to shoot without it. However, the downfall to this is that the ND filter can be bumped off (which did happen to me while setting up a photo and my camera swung forward) and with this adapter on you cannot mount your lens hood on your lens.

On a bright and sunny day, I was able to capture an image at 1/50, f/2.8 ISO 100 at the ND2 setting. I attached a screenshot of the straight-out-of-the-camera RAW files, with the bottom image being no filter. Each setting produced the same image with one exception; the images with the filter on appear to have slightly more contrast to them. This could be due to the fact that I cannot have my lens hood on, causing the filter-less image to be exposed to the harsh sunlight. Or, it could be an effect of the ND filter itself. Either way, I do like the effect and would recommend this filter.
21/05/2023
Convenient magnetic, variable ND filter kit.
High quality glass with magnificent ND filter performance throughout the entire ND2-ND32 range. There's no "X" from turning the filter too far since there's hardstops incorporated into the design.

The set includes a magnetic adapter ring which screws onto your lens and serves as the mounting vehicle for the ND filter - just snap it on and off whenever you like. Very convenient.

The filter itself provides a wide range of density, with minimal color shift which is important.

Slim design is great and doesn't result in any vignetting during regular use.

Overall, excellent filter that produces consistent and reliable results.
21/05/2023
Great ideea, well implemented, makes ND adjustments a breeze
This is one of the best additions to our camera since we got it. It is very easy to install and once in it stays put due to the alignment slots on the back side.
Adjusting it is very easy once it snaps in. We like the infinite variability, it allows you to perfectly tweak your settings for each scene.
21/05/2023
Unique Design and Excellent quality glass and build
I come with a long history of taking photographs with filters for special effects. I have used Cokin systems where you can share one filter with various lenses with adapters. I own over 50 such filters and lately, I am simplifying my camera bag and traveling with only a few filters. My most popular filters are the graduated neutral density (ND) filters. With these, I can rotate the filter to my preference on each shot. BUT that means I have to carry more than a few of the same ND filter but at different stops.

Solution: The K&F Concept Magnetic Variable ND Filter offers me an option to use one filter covering 5 stops within seconds. That is great timesaver as my shots of landscapes or sunsets sometimes requires swift framing and adjusting to rapid light changes.

ND filters are an investment to your camera gear. These will filter out very bright light and allows the photographer longer exposures during daylight. My favorite use of ND filters is to have water movements look silky while capturing the surrounding in detail. This K&F Concept filter is built amazingly well. The glass is better than my Cokins. Since it is built to specific lens size diameters, I had to rationalize which lens I used the most and ordered that size. 58mm in this case.

The case is a worthy vault for this filter. Kudos to the team that designed that feature. The magnetic ring screwed nicely into my existing lens. In fact, it screwed in too tightly, it took me 10 long minutes trying to unscrew it later on.

The magic is with the magnetic technology. Wow! It was instant on and instant off for the actual ND filter. Amazing. With that also comes the fear of dropping the filter. I fear that a bump will dislodge it so I kept my hand on the lens at all time. If you are in stationary setting, you should be fine.

This lens filter is a great tool for many future vacation shoots. Simple to carry and use.

Do note you cannot place a regular lens cap over the ND filter. Bummer.

Overall, I love the new direction that these ND Filters are headed. It is less fuss and more time spent on the actual shooting pictures. Give this a try. I do recommend this variable ND filter. 4.5 stars.
20/05/2023
Filter is good, magnet is Ok
I've hardly taken it off my camera since I tested it. I just loved it. I didn't notice any color shift but the variable ND has been handy. The magnet is decent in my opinion. It's the best I've seen as they all fall off at some point. This one only fell off when I was storing in my bad and had the lens cover on. It hit the case and fell off. I snapped it back on and and it's been in place since. I totally forgot that it's magnetic till it fell off. I believe that's a good report. I really can't complain. It's definitely a good product.
20/05/2023
Pretty neat lens
I'm an amateur at photography and decided to try out this lens. I like that you can adjust the lighting and darkening of the lens. I love the magnetic feature.
19/05/2023
brilliant ideas
Having a lot of camera equipment such as strobe lights, key lights, speedlights, umbrella, lenses, extra batteries, tripods and many other things. Wow I can't believe I use so many things just to get the photos that I want. Adding lens filter on top of all these is just.... what a hassle.

This variable ND filter and magnetic adapter ring kit are one step in the right direction. It's very easy to put on the magnetic adapter ring kit. Once the ring kit is secured, attaching the variable ND filter is very easy. It's a convenience that this filter god from ND2 - N32, 5 stops.

Hint: Make sure you pick the right filter size. If you have a collection of lenses with varying sizes, pick a higher size. You can buy a separate adapter to downsize.
19/05/2023
Magnetic makes this one a winner
I'm learning new photography skills using ND filters. What makes this one nice is it does 1-5 stops. It's got dots at each stop so I know where to stop. It stops rotating precisely at 1 and at 5 so no mistake can be made.

It's magnetic. There is a ring that screws into my lens and the filter sticks to that ring magnetically. This allows quick removal of the filter so that reference photos can be taken first, if desired. The filter pops off and on easily and stays securely.

A plastic case is included for protection.

I have nothing negative to say about the set up. It works well and is high quality. I recommend this filter.
03/05/2023
Works well
I have only been experimenting with this lens for a few days but it worked very well at the beach where I wanted to "smooth out" the water on a very brightly lit day. The photos came out well and the filter fit perfectly for me--I had no issues installing it or removing it (it didn't stick in place as some filters can). It is certainly an interesting filter for landscape photographers or those interested in refining their art.
03/05/2023
Excellent Product!
Excellent product. Very minimal colour shift and no dreadful X. Should have add-on option to purchase the magnetic lens cover as a bundle.
19/04/2023
A
Il filtro ND K&F Concept 67mm ND2-ND32 è compatibile con tutti gli obiettivi della fotocamera che richiedono una filettatura Ø 67mm. Il copriobiettivo e il paraluce devono avere una filettatura più grande (ad es. 67 mm ND ha un copriobiettivo da 72 mm)
Show more
A
Hi, if you want put len cap , doesn't need remove the magnetic basic ring, thanks.
Show more
Gimbal Stabilizers
Reflectivity
0.2%
Filter
Series
Nano-X series
Recommended Scenes
Video Shooting/Landscape Photography
Function
1 Second Switch/No X cross/Light reduction effect
Stops
0.3 to 1.5(1 to 5 Stops)
Filter Material
Japanese AGC Glass
Multi-Coating
28 layers
Waterproof
√
scratch-resistant
√
HD
√