5 in 1 Circular Reflector 43 Inch/110cm Portable Foldable Reflector/Diffuser With Grip & Carrying Case, Suitable for Photography Studio and Outdoor Lighting
Free shipping to eligible country
Brand:

KENTFAITH

Free Shipping. 30 Day No Reason Return. Reflector is a wireless mirroring and streaming receiver suitable for photography studio lighting and outdoor lighting.

GW52.0004

SKU:

GW52.0004

20.99

https://www.kentfaith.com/GW52.0004_5-in-1-circular-reflector-43-inch-110cm-portable-foldable-reflector-diffuser-with-grip-carrying-case-suitable-for-photography-studio-and-outdoor-lighting
Description
* Easy to use-there are two comfortable handles on the reflector, allowing you to use it with just one hand. Provide a better experience than traditional reflectors.
* Portable-Folding size is only 15 inches, with a carrying case, suitable for travel or storage. Suitable for outdoor photography activities.
* Durable-multiple high-quality layers and raised texture design. This makes the life of the reflector nearly 80% longer than ordinary reflectors, and the reflectivity can reach 90%!
* Multifunctional—4-color cover and translucent panel, suitable for different photography needs. Help you improve the efficiency of photography creation.
* The multi-layer design saves 80% of the pigment loss compared with ordinary reflectors.
Shipping
Free shipping to eligible country
Frequently Bought Together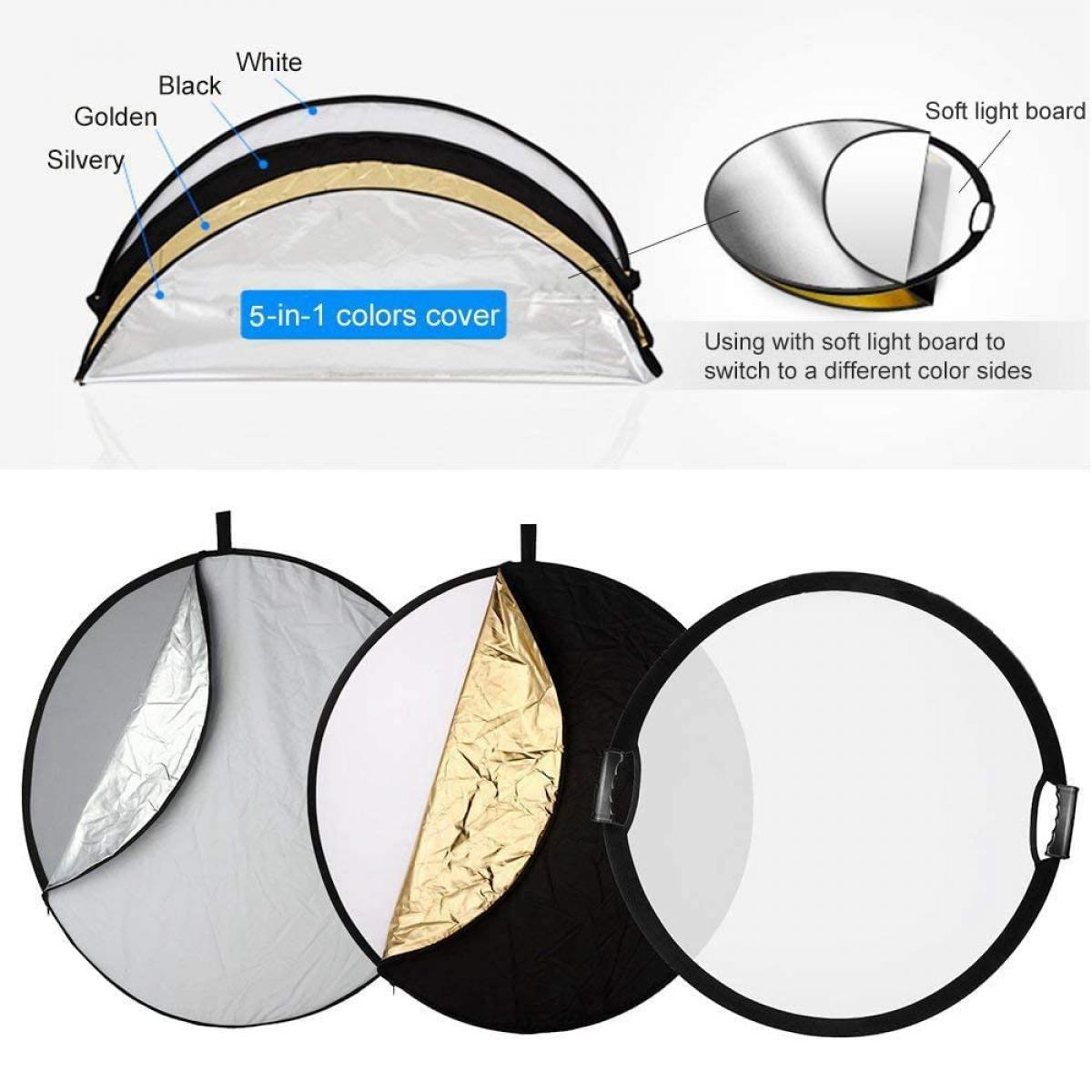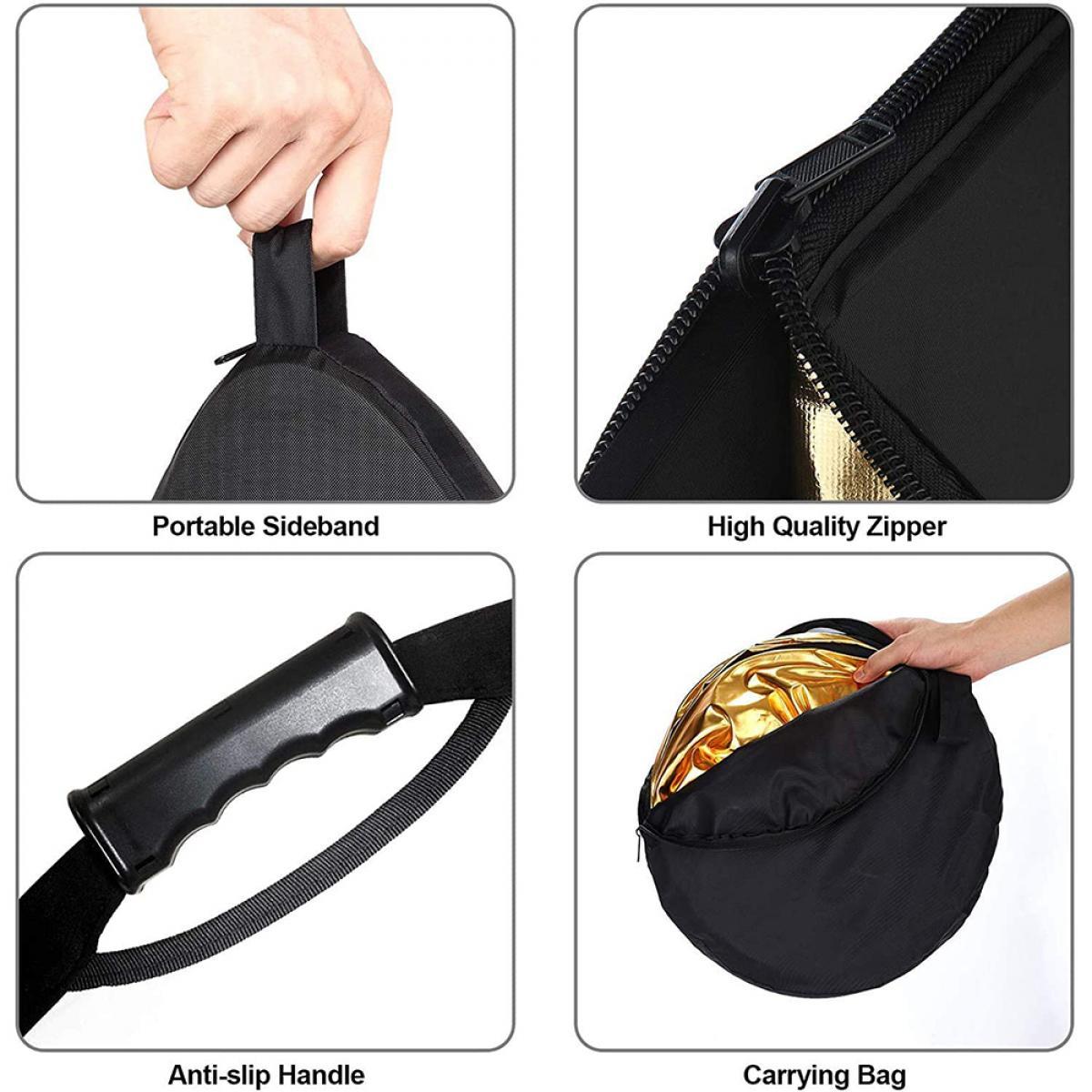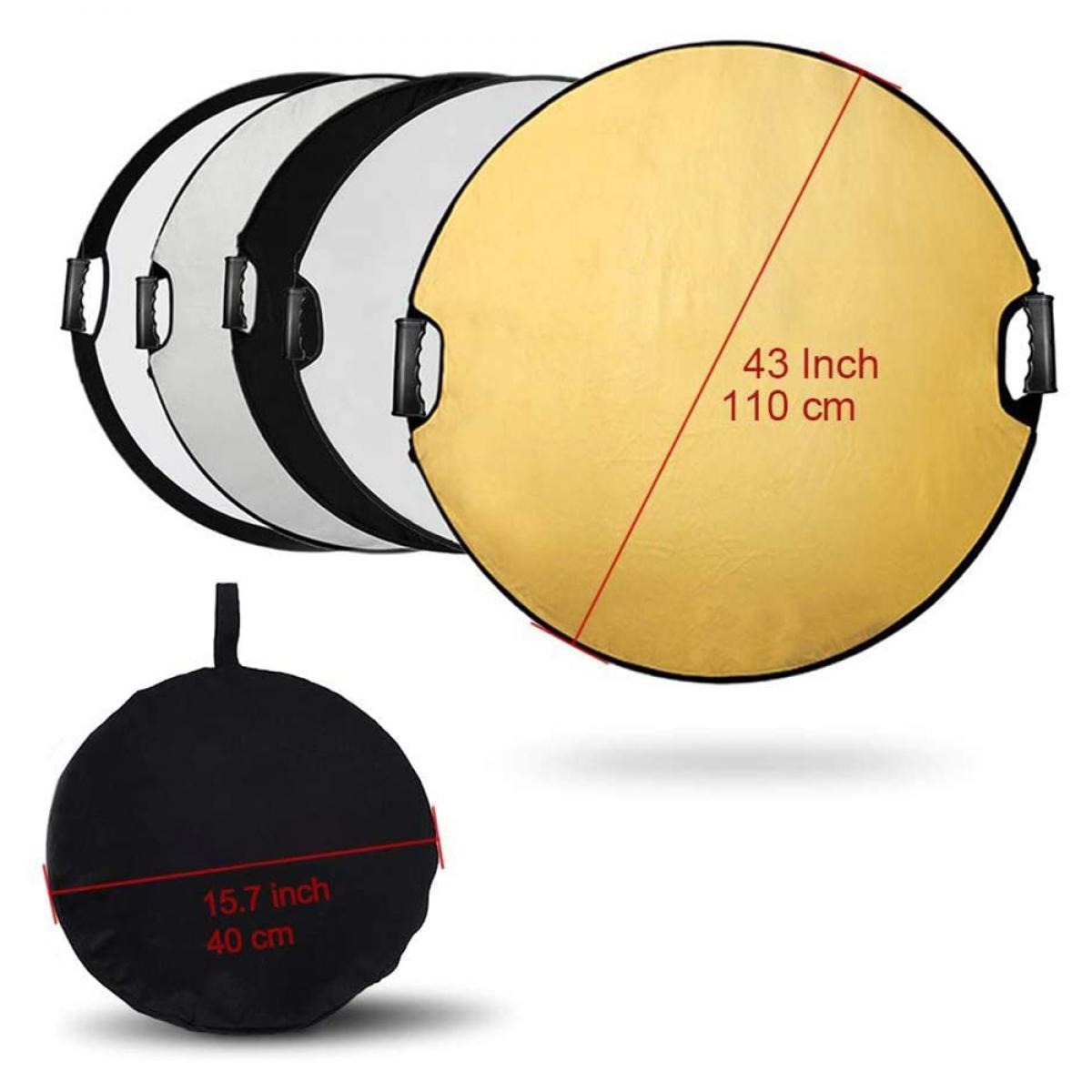 | | |
| --- | --- |
| name | 5 in 1 folding reflector material |
Handles Improve and Already Good Product
This 5-in-1 is pretty cool. I also have the older model, without the handles, that I have been using for a few years. One thing I noticed, though, was how difficult it can be to hold onto it in the wind. My assistants always struggle with it. These handles make the product so much more user-friendly.I generally use the internal diffuser fabric and the silver reflector part of this 5-in-1, so I can't speak to the effectiveness of the gold or black sides. But I love the softening effect of the light when using it as a diffuser.
01/12/2017
Great and handy
Awesome I tell you
28/11/2017
Great size and quality
Great size and quality. I was very nervous when I first bought this item that the quality was not going to be up to par with other companies but I really like it. It ended up being a lot bigger than I realized and so it is perfect for all the photography I use it for.
29/10/2015
Big, good reflections but cumbersome for one person crew.
It reflects fine, good size, packs small and light. I just need a good light stand to hold it, or an intern, which ever is cheaper.
22/10/2015
I Love that it is compact and folds up easily for ...
29/07/2015