Solar Outdoor Security Camera, Wireless WiFi Pan/Tilt 360° Camera with 15000Mah Built-in Battery Infrared Motion Detection 2-Way Audio Waterproof Encrypted SD/Cloud
Free shipping to eligible country
Brand:

K&F Concept

Free Shipping. 30 Day No Reason Return. K&F Solar Outdoor Security Camera features Pan/Tilt 360°View & True 1080P FHD, Non-Stop Solar Power Supply & 15000mAh Built-in Battery - 100% Wireless, Two-way Talk & Multi-user Sharing, IP66 waterpr

GW50.0039

SKU:

GW50.0039

119.99

https://www.kentfaith.com/GW50.0039_outdoor-security-camera-wireless-wifi-pan-tilt-360-viewing-angle-camera-15000-mah-solar-home-security-camera-passive-infrared-motion-detection-2-way-call-waterproof-encrypted-sd-cloud
Description
• 【Pan/Tilt 360°View & True 1080P FHD】The outdoor security camera can rotate the head at 355° horizontally and 120° vertically, allowing you to monitor your property 360° on the App without blind spots. Our wireless outdoor security camera adopts 1080P FHD resolution (1920*1080), which can provide you with clear and clear video so that you can remotely watch it in real-time through APP.
• 【Non-Stop Solar Power Supply & 15000mAh Built-in Battery - 100% Wireless】This solar security camera is equipped with a long-lasting 15000mAh rechargeable battery and a high-efficiency solar panel, which can run on uninterrupted power. Eliminates the trouble of power cord and wiring, and it only takes a few minutes to complete the setup. (The wireless camera only supports 2.4GHz WIFI)
• 【Passive Infrared Motion Detection & Real-time Alert】 Improved passive infrared sensor and adjustable sensitivity enable home security cameras to be smarter and more accurate to capture the content you really care about. When it is triggered, the wifi camera will send an instant alert on your phone and automatically save the video to the SD card/cloud according to your choice. You can easily and accurately see what is happening at home.
• 【IP66 Waterproof & Infrared Night Vision】This outdoor wireless camera has a waterproof housing to ensure that it can work normally in any weather, such as sunny, rainy, and stormy, and shows good working performance. The night vision camera is equipped with 4 infrared LEDs, which can ensure you get a clear image up to 55 feet even in a dark environment.
• 【Two-way Talk & Multi-user Sharing】Through the home surveillance camera, see who is there, interact clearly with your children, pets, or anyone you care about, so you don't miss a package or make guests wait. Share indoor/outdoor wireless surveillance cameras with your family, you can view live broadcast and recorded clips at the same time.
K&F Outdoor Security Cameras Always Protect Your Family
K&F outdoor security camera can control the camera lens from the mobile phone to rotate up and down 120 degrees, and rotate 355 degrees left and right, basically monitoring every corner of the home in all directions, without blind spots.
Long battery life: 15000mAh large capacity battery, one charge can provide 4-6 months of battery life, reducing charging time. A continuous solar power supply can provide uninterrupted protection for every family.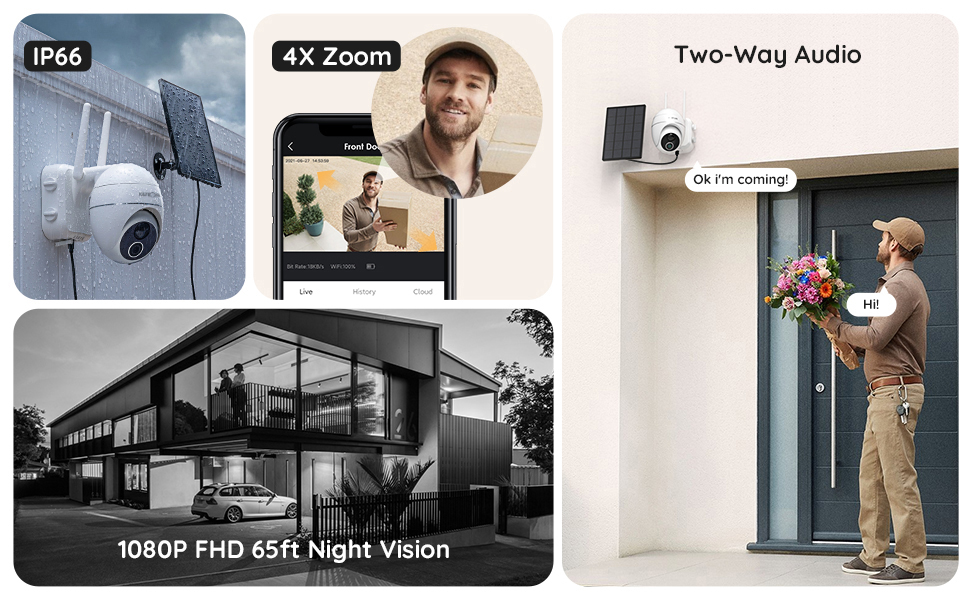 Outdoor wireless charging camera
With the IP66 weatherproof function, the outdoor wireless camera can be on standby at any time regardless of rain, snow or hot weather. So you can use the waterproof camera outdoors or indoors.
1080 high-definition picture quality and 4x digital zoom, allowing you to easily see monitoring information during the day and night, and communicate with people at any time through the two-way call function.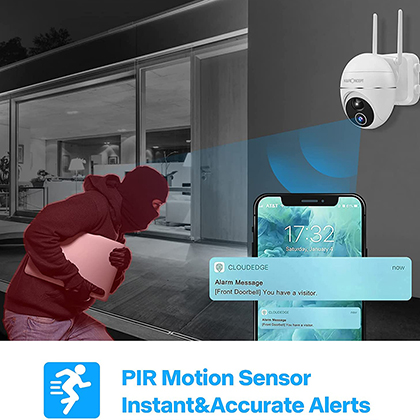 PIR motion detection
Outdoor solar cameras use advanced PIR sensors with accurate AI intelligent algorithms, which can detect human figures and send alarm notifications to mobile phones, reducing false alarms caused by flying insects and shaking leaves.
Smooth two-way audio
The wireless outdoor security camera supports real-time two-way audio. You can communicate directly with your family or friends to protect your family and property from harm, and work without worries.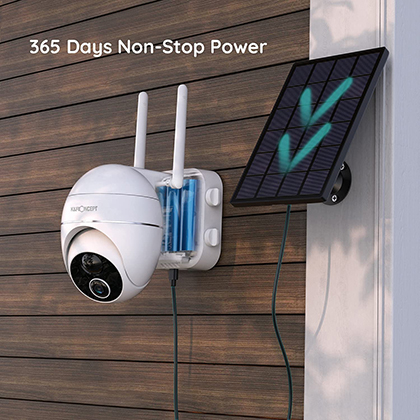 Solar panel charging
Outdoor wireless security cameras use solar panels to charge, plug the solar panels into the camera to get 365 days of uninterrupted solar power.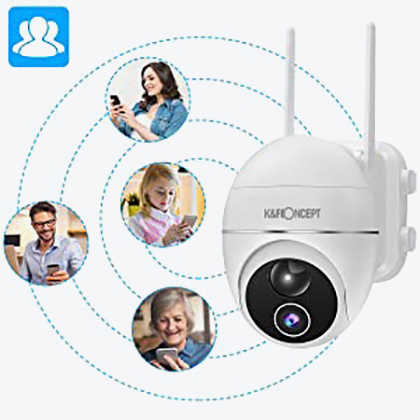 Camera sharing
Security cameras support device sharing, allowing multiple people to watch videos online at the same time, suitable for sharing with family members.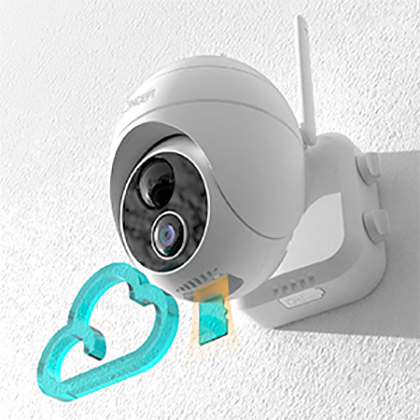 Encrypted cloud and SD card storage
K&F wireless outdoor camera supports cloud storage and SD card storage (not included, maximum 128G), you can choose one of them for recording and playback.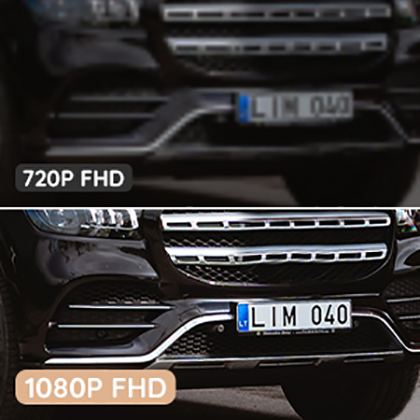 1080P Full HD images and videos
The wireless camera has 1080P high-resolution images and videos, which can provide clear picture quality, allowing you to accurately understand what is happening.
| | |
| --- | --- |
| Video encoding | H.264 |
| Intercom | Built-in microphone, speaker |
| Product Size | 15*15*9cm |
| Package dimensions | 18*17*13cm |
| product weight | 866g |
| Package weight | 1260g |
| Package Contents | Camera*1, solar panel, English manual*1, installation kit*1 |
Good camera
Can only use 2g and slow to load up good camera for the price with a solar panel.
17/10/2021
VERY easy to setup and install.
Make sure the solar panels point at the sun. Have zero obstructions in order for the camera to charge properly. The cameras charge great with the solar panels. The percentages increase faster on the batteries than the cameras consume.
04/10/2021
Excellent Security Camera
Many security cameras are coming from China. Many of them are built from a reference design and work with a reference app. Therefore, some products may look and work similarly. I have another security camera using CloudEdge app. Zumimall and CloudEdge apps look like twins. However, the Zumimall one keeps getting updates and works much better than the other. It seems like they are fixing issues and improving products. Zumimall is one of the few good security cameras brands on Amazon.I install this on the fence. It works pretty well. The solar panel keeps the battery 100% always. I let it save videos on the installed SD card and didn't use the cloud service. I can control the device and play recordings remotely. I am very satisfied with this product, but I have issues with birds and spiders. I just installed it two weeks. Birds poop on the solar panel, and spiders build up the web on the camera. It's wireless but not maintenance-free.
03/10/2021
Excellent works
Very clear and works like a pro!!!
03/10/2021
The 360 pan works great solar panel charges camera for me worry free
No zoom feature so very difficult to determine a specific individual.App was initially problematic.
25/09/2021
Surveillance Cameras
Video Resolution
1080P
Power Supply
Solar / Built-in Battery
Built-in Battery Capacity
15000mAh
Storage
SD memory card (up to 128G/cloud storage)
Pan Tilt
Horizontal 355°/Vertical 120°
Motion Detection
PIR
Motion Detection Range
8m/26.2ft
Waterproof IP Rating
IP66
Night Vision
Infrared Night Vision
Night Vision Range
15m/49.2ft
Audio & Light Alert
/
Two-way Talk
√
WiFi Connectivity
2.4GHz wifi
Comparison of similar products
Rating

76 reviews.

26 reviews.

6 reviews.

0 reviews.

288 reviews.

43 reviews.
Price

$159.99

$119.99

$179.99

$119.99

$119.99

$82.99

$199.00

$89.00

$179.99

$129.99

$109.99

$79.99

Model
GW50.0039
KF50.0001
GW50.0035
KF50.0005US
KF50.0002
GW50.0034

Video Resolution

1080P
1080P
1080P
1080P
1080P
1080P

Power Supply

Solar / Built-in Battery
Solar / Built-in Battery
Solar / Built-in Battery
AC/DC Power (plug-in)
Solar / Built-in Battery
Built-in Battery

Built-in Battery Capacity

15000mAh
14400mAh
9600mAh
/
14400mAh
6700mAh

Storage

SD memory card (up to 128G/cloud storage)
SD memory card (up to 128G/cloud storage)
SD memory card (up to 128G/cloud storage)
SD memory card (up to 128G/cloud storage)
SD memory card (up to 128G/cloud storage)
SD memory card (up to 128G/cloud storage)

Pan Tilt

Horizontal 355°/Vertical 120°
Horizontal 355°/Vertical 95°
Horizontal 180°
Horizontal 180°
Horizontal 355°/Vertical 95°
×

Motion Detection

PIR
PIR
PIR
PIR
PIR
PIR

Motion Detection Range

8m/26.2ft
8m/26.2ft
8m/26.2ft
10m/32.8ft
8m/26.2ft
10m/32.8ft

Waterproof IP Rating

IP66
IP66
IP66
IP66
IP66
IP65

Night Vision

Infrared Night Vision
Color Night Vision (optional)
Color Night Vision (optional)
Infrared Night Vision
Color Night Vision (optional)
Infrared Night Vision

Night Vision Range

15m/49.2ft
10m/32.8ft
15m/49.2ft
10m/32.8ft
10m/32.8ft
10m/32.8ft

Audio & Light Alert

/
Audio & Light Alert
Light Alert
×
Audio & Light Alert
×

Two-way Talk

√
√
√
√
√
√

WiFi Connectivity

2.4GHz wifi
2.4GHz wifi
2.4GHz wifi
2.4GHz wifi
2.4GHz wifi
2.4GHz wifi