Gialer SmartMic Wireless Bluetooth Microphone Lavalier Microphone for iPhone and Android, 50ft Wireless Lapel Microphone Smart Mic
Buy 99$-9$, 199$-25$, 299$-39$, 599$-100$
New customer gift package
Free shipping to eligible country
Free Shipping Worldwide. 30 Day No Reason Return. Wireless Bluetooth for iPhone and Android, 50ft Wireless Lapel Microphone Smart Mic easy to connect, covering 50 feet of Bluetooth signal. Can be used with any of your smartphones, including iPhone and And

KF10.018

SKU:

KF10.018

58.99

https://www.kentfaith.com/GW01.0151_gialer-smartmic-wireless-bluetooth-lavalier-microphone-for-iphone-and-android-50ft-wireless-lapel-microphone-smart-mic
Buy 99$-9$, 199$-25$, 299$-39$, 599$-100$
Description
* Professional Bluetooth Lavalier lapel microphone, easy to connect, covering 50 feet of Bluetooth signal. Can be used with any of your smart phones,include iPhone and Android, iPad. Ideal for online courses, zoom meetings, interviews, video content creators, tutorial videos, home recording, games, Yahoo recording and YouTube recording.
* Use Gialer new tech wireless lavalier microphone to increase your likes, viewers and subscribers on social media by ten-fold. Any professional job dealing with content creation will benefit using this Gialer Smart Microphone. it is portable and has professional product design with premium chipset which produces great sound, and has more than 6 hours working time per charge.
* As a professional wireless lavalier microphone, built-in 6mm ECM high sensitivity microphone, Bluetooth Qualcomm Chipset, SWISS Intelligent Algorithm and the SmartMike+ APP which has noise reduction function. All work together to offer Multi-level Noise Cancellation, restore the most authentic sound, provide high quality audio source for speech recognition.
* Clip and Go, No cables required, Perfect for outdoor recording. Mini Metal Clip allows you to easily clip it to your collar or pocket. Compact and lightweight design are easy to carry around. The premium material is durable enough to use through years.
* This Bluetooth Lavalier Microphone can only work with SmartMike+ App on Smart Phone(iPhone, Android,iPad). It is NOT work with original Camera and voice record of smart phone,NOT work with Tablet, Computer and Camera.
Shipping
Free shipping to eligible country
Sale
Buy 99$-9$, 199$-25$, 299$-39$, 599$-100$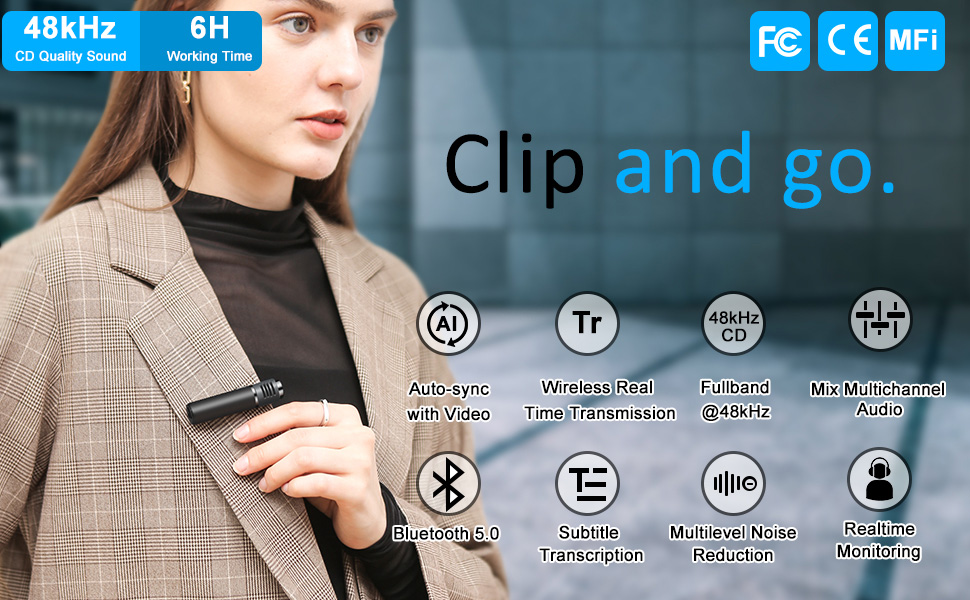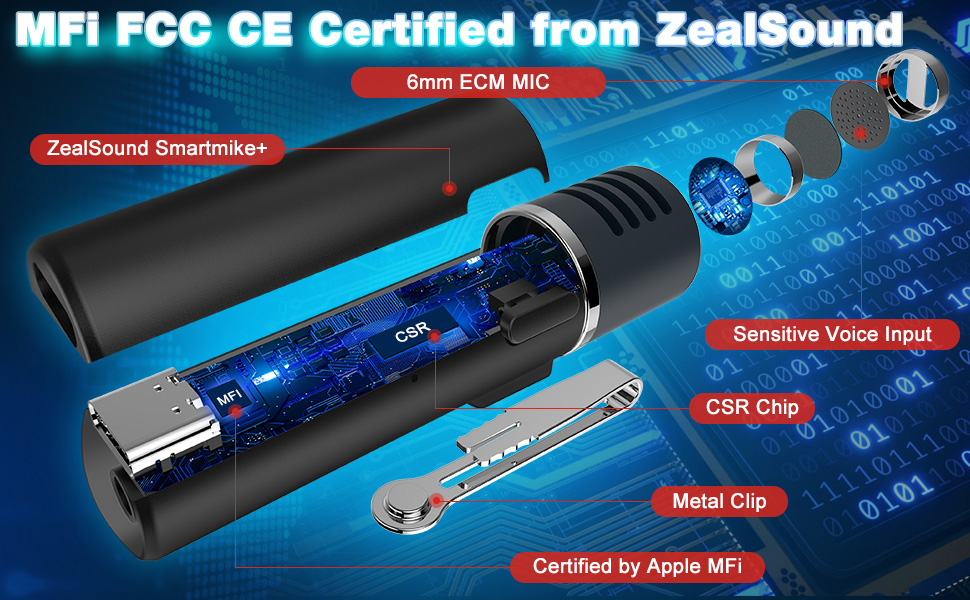 MFI CE FCC CERTIFIED Microphone Leads to Premium Audio Quality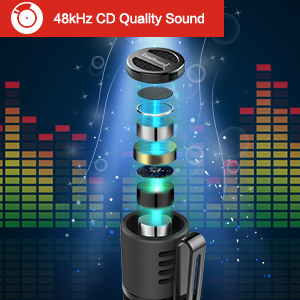 48KHz CD Quality Audio Output
Provides clearer audio recording for CD quality 48KHz-16bit AAC. Adjust your sound with built-in sound card mixer controller and professional grade chip to reach a perfect voice.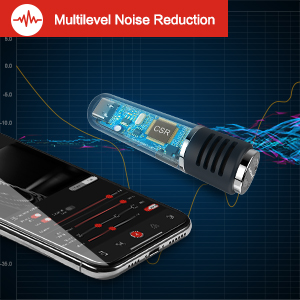 Multi-level Noise Reduction
Professional MFI certified wireless lavalier microphone system, built-in 6mm ECM high sensitivity microphone, Bluetooth Qualcomm Chipset, SWISS Intelligent Algorithm and the supplementary Smartmike+ APP which work together for the noise reduction.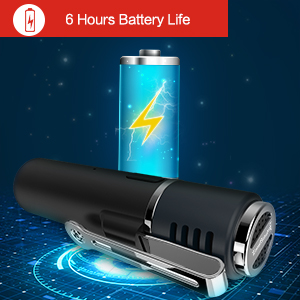 Continuous 6 Hours Battery Life
Battery life is up to 6 hours with one hour full charging time. Perfect for on the go recording. Portable and 14g light weight with the cool storage case makes it easy to carry around.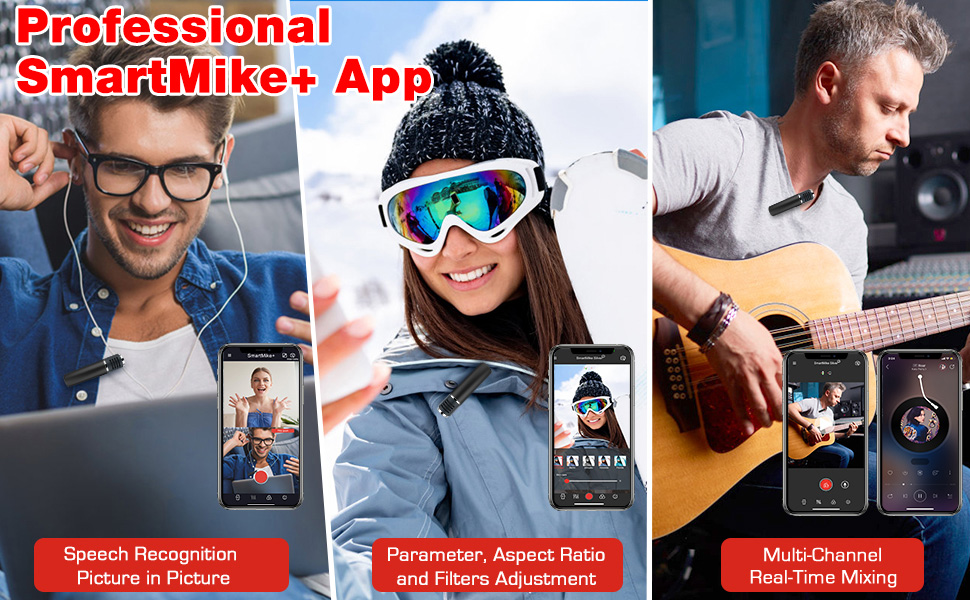 Works with SabineTek Powered Professional SmartMike+ APP / Also can work with ZOOM APP
Note: Only works with SmartMike+ APP and ZOOM APP SmartMike+ APP has no PC version, so it can't work with PC if you use the SmartMike+ APP ZOOM APP can work freely on your PC, phone and tablets Pay Attention: It can't work other APPS, such as Facebook live, ins live. But you can create video with the SmartMike+ APP and upload it to other website.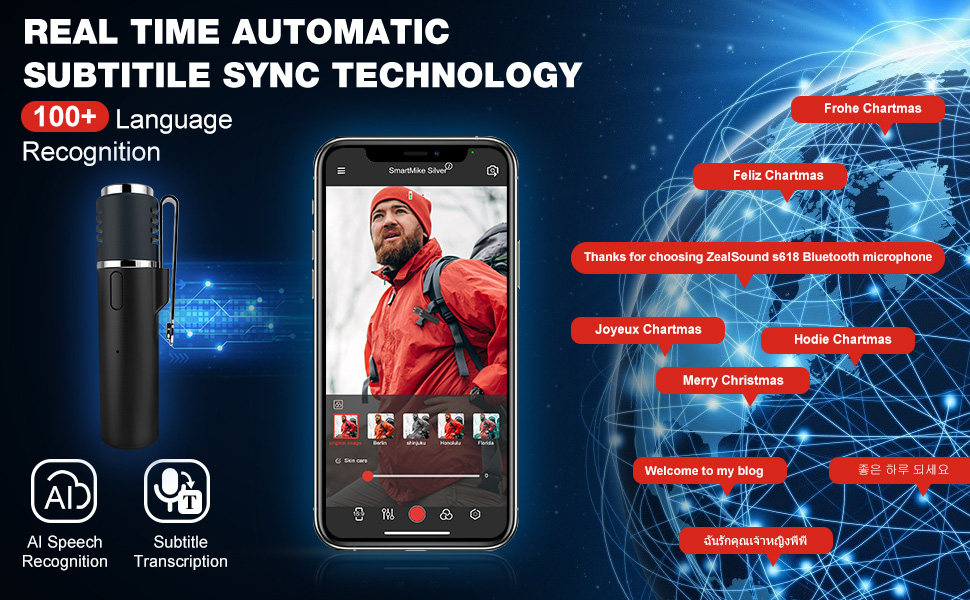 Specifications:
Product size: 2.64*0.6 inch
Microphone: 6mm ECM
Bluetooth: 5.0
Bluetooth Distance: 98 feet/30 meters
Power capacity: 130 mAh
Battery life: 6 hours
Charge power: type c (Charging cable included)
Connector: 3.5mm audio connector
Frequency: 100Hz~20KHz
Recording Pattern: 48KHz-16bit AAC
Weight: 14g
CUSTOMER SUPPORT: LIFETIME FROM ZealSound
All Reviews
Image

All Star

5 Star

4 Star

3 Star

2 Star

1 Star
Best Budget Lav!?!
There is a slight learning curve to using the app and making sure the mic is not just connected to your Bluetooth on your phone but connected to the Smart Mic+ app. However, once you get it working it's easy to use afterwards, and the sound quality is fantastic!This is perfect for people who vlog on their phone, want clean audio for Instagram reels, or do instructional videos or reviews... Maybe even some interviews.Audio syncs without any lag in my tests and isolates voice really well.I was reluctant to like this but its so lightweight and easy to use after initially hick-up, that I started vlogging more!
01/08/2021
Light weight in palm size
Palm size microphone that can clip on easily, portable to slide into the pocket that comes with.
25/07/2021
easy, clearly
Very easy to install, compact and convenient, good quality, very clear sound. worth to buy.
22/07/2021
A best buy
Excellent product for video project for daily use. I highly recommend this to anyone looking for a Best Buy.
22/07/2021
I can take it down easily and interview others if I need to.
I have always wanted a separate microphone for my video vlogging, after trying other types of lavalier mic I finally set on this one. It's a battery size with a clip so it would stay on my collar, I can take it down easily and interview others if I need to.
18/07/2021
This should be a must to have for YouTube creators
Best microphone I ever bought .. hands down .. my videos on YouTube will be a lot better
16/07/2021
Value!
Great mic! Easy to use. Noise canceling.
16/07/2021
Nice!!!
Great sound and super easy to use
13/07/2021
Great for IG videos
The quality of the sound is good with the app
12/07/2021
Sounds great.
That's is all.
10/07/2021
A
Thanks for your question . this SmartMic have no 3.5mm audio connector in the package.
Show more