Camera Bag Water Repellent Shockproof Sling Backpack with Adjustable Crossbody Strap and Removable Modular Inserts for DSLR/SLR/Mirrorless Cameras (Compatible Canon,Nikon,Sony)
To
United States
Expedited Free Shipping
3-5
business days
Buy KENTFAITH camera bag water repellent shockproof sling backpack with adjustable crossbody strap and removable modular inserts for dslr/slr/mirrorless cameras (compatible canon,nikon,sony) online, worldwide free shipping and 30 days return guarantee.

KF13.050

SKU:

KF13.050

39.99

https://www.kentfaith.com/USKF13.050_dslr-camera-sling-backpack-waterproof-9-06-5-51-14-57-inches
Description
* Sling backpack fits DSLR with attached standard zoom lens, 1-2 extra lenses or a flash and accessories, a compact tripod or monopod and personal items.
* The backpack design allows for quick rotation from the back to the front of your body, giving you easy and fast access to your gear (side zippered pockets for easy acess,back-open design antitheft).
* DSLR camera models that fit the bag:Canon EOS Rebel SL1/T3/T3i/T5, Nikon D3200, Nikon D3300, Sony Alpha A5000 and Sony Alpha A6000 etc.
* Two removable straps with quick-release buckles are included for quick attachment of your tripods.
* This lightweight and durable travel bag is ideal for on-the-go use! Improve the pleasure of your journey and give you a sense of security.
Shipping
To
United States
Expedited Free Shipping
3-5
business days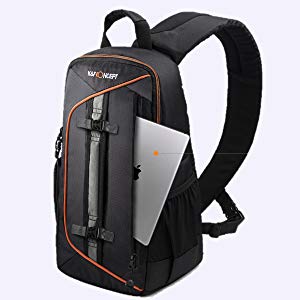 Specifications:
1. Brand: K&F Concept
2. Model: KF13.050
3. Dimension: 23cm x 14cm x 37cm
4. Weight: 580g
5. Material: Waterproof nylon
6. Style: Classic, simple
7. The backpack is available in a form of shoulder bag that brings a touch of modernity and elegance. Adapt them to your style and bring your backpack.
8. EST backpack has zippered pockets that allow the bag to expand to increase its capacity. When you open the hinge part behind the main compartment it expands to position the camera and the lens, and when you open the hinge on the right you can get the camera.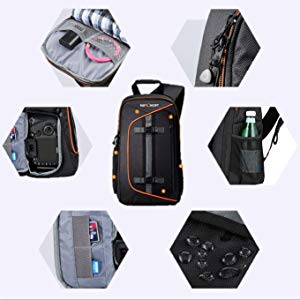 Compatibility:
Machine:
Canon EOS 5D / 7D / 1000D;Nikon D800 / D500 / D3200 / D5200 / D7000;Pentax K-50 / K-3 / K-5 IIs / K-S1;Sony A6300 / A7R II / ILCE-5100 (A5100) / ILCE-9 (A9);LeicaQ (TYP 116)

Target:
Canon 17-40mm f / 4L USM Nikon AF-S DX 17-55mm f / 2.8G IF-ED Pentax-DA 35mm f / 2.4 AL Sony E 50mm f / 1.8 OSS Leica TRI-ELMAR-M 16-18-21mm f / 4 ASPH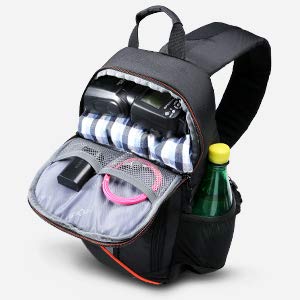 Upper Side
Upper part you can place some cloths or other small kits.
Side pocket and front pocket can contain your bottle, umbrella and other kits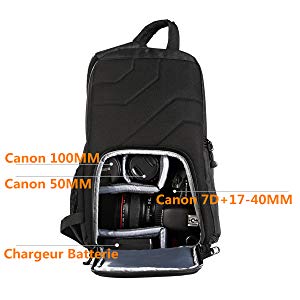 Bottom Side
Bottom part for your lens and camera or flash
Can place 1 camera+2~3 lenses
The divider between the top and bottom compartments is removable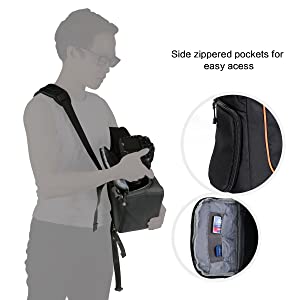 Body-Side Access Design
With the body-side design,the backpack provides you a quick access to your gear; Back-open design can give strong anti-theft effection.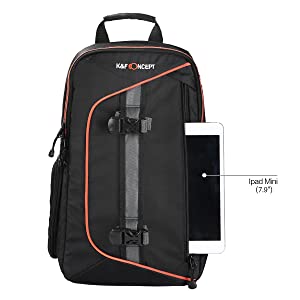 Ipad/Tablet Comaptiable
You can put your Ipad/Tablet up to 7.9 inch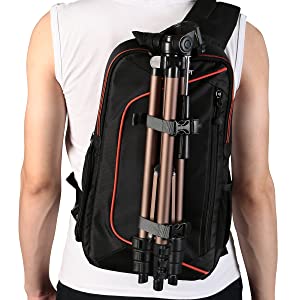 External Tripod Connections
This backpack comes with the option and proper connections to attach your tripod externally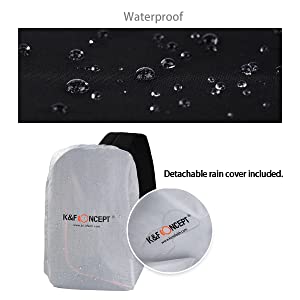 Rain Cover
Included fold-out protector which, when installed, creates a barrier between the wet outside and dry inside of your bag
Nice and lightweight. Love this backpack for hiking and taking on short trips.
I am a bit surprised by how much I like this. I have had a pretty large and bulky camera bag that I have been using for the past 6 years. It is great for my go-to bag when I travel by plane but recently I had been getting jealous of my brother who has a bag like this sling backpack. It is just so lightweight and much easier to take around.The design for this thing is fantastic. Everything is really compact but it is roomy enough that you can put just about all the camera gear you need. I think the only gear you may not be able to pack on this would be large lenses.The material and sewing of this is solid. The zippers all glide without catching or slowing down.I really love how easy it is to pull out my camera, then take a few shots and put the camera back in and be on my merry way. Up until I got this backpack, when I would hike, I would just hike with a camera in my hand all the time because it was too much work to have to take my large backpack off then unzip everything just to get out the camera. This really simplifies the process and makes things painless and easy. I really love this backpack!
19/08/2017
A great camera bag for on the go
I particularly like the design of this bag. I appreciate how the large camera compartment is separate from the lens' compartment. The camera space is quite big, as you'll see in my photo using an Xbox controller for scale. Speaking of the lens compartment, there's tons of room for accessories of all kinds. The segmented divider is fairly thick. Nothing moves around once its in place. You can also access through the side door for any quick grab items if you don't want to fully open the lens case.•• How's the build quality? ••The material feels great, particularly the plastic buckles. Each of them is thick, not flimsy. I can see them lasting a long time. As with all bags from China, I was worried about the quality of the zippers, but there were zero problems. I've zipped and unzipped them many times without any snags or drag.•• Overall ••This is a well-designed, basic camera bag. No complaints. If I encounter any issues, I will update. If you have any questions, please leave a comment.Update 10/02/2017:I recently acquired a climbing gym membership. I have to carry shoes, a harness, and a couple of small items in it. I didn't want to use my large backpack, so I busted out the K&F Concept Sling. If you remove all of the slotted material, you end up with a tiny backpack perfect for carrying small loads.I've had no issues with the build quality over time. I will continue to update as I use it.
25/04/2017
Great camera bag!
This bag is just so great!Let me start by saying that photography and cinematography are just hobbies of mine, I am not some big time professional.HOWEVER, this bag is perfect for someone like me.I don't carry around a million lenses and a thousand accessories. I have stuff, just a few lenses, a few accessories, a tripod or two, and a camera. I just need something that can handle that light load and also be in a small footprint. This camera bag is perfect. I'm not a huge fan of a sling, but this is growing on me. It has enough room to hold all of my stuff with room to spare, and the accessories that they include for free are great as well.There's enough padding in the bag to make me confident that my gear will be safe and sound. It's slightly water resistant, if you're walking through some quick rain, it'll be fine, but I wouldn't recommend submerging your stuff or long term exposure to the elements.All in all, this bag is affordable, does the job, and is really handy to have around.
14/09/2017
Great little bag
Bought this after reading lots of reviews for similar products. It is a reasonable sized bag for general day use. I can get the following in the bag, a Canon Eos100D with an 18-200mm zoom fitted, a 18-55mm zoom, a set of 3 extension tubes, 4 circular filters. a reducing ring, remote shutter release and extension lead, spare battery, battery charger and cable, download cable and iPad connection plus the lens cleaning kit that comes with the bag and the rain cover. There is also a dedicated pocket for my iPad mini. It does me proud.
06/01/2022
Very nice camera bag
Very nice camera bag.. Has lots of room for camera supplies and film.. Great size, actually bigger then I expected..
07/09/2017
Nice bag but...
Nice sling bag but : 1. My Nikon D5500 fits a little bit tight with the charger, the 18-55mm and 70-300mm lenses. 2. Regarding de rain cover, I used once and the seams starts to tear up.
07/07/2017
Great bag with many compartments!
Pros:
1) The bag has a very nice textured material and is very sturdy. It holds really well against scratches and water.
2) A waterproof bag is included just in case there is a lot of rain.
3) The clips on the front are very useful as they can hold either a tripod or something else such as a slider (as is shown in the video)
4) The accents on the zipper are great to have as they add to the overall aesthetic of the bag,
5) It has a lot of compartments in it. It has the main one which holds the camera and some other items such as lenses, flashes, batteries etc., one on the top which can also hold some batteries, charges, cables, SD cards and even phones and another which can hold slim items such as a small tablet, phone or books
6) The DSLR compartment is great as it has velcro straps which can therefore adjust the angle and the size of each compartment. It also has an extra compartment where you can slide the camera inside so it sits in place without having to open the back compartment.
7) Very easy to wear and is very comfortable. It has nice soft material covering the sling.

Cons:
1) Most DSLR bags cost a lot compared to other bags. Would like to see this at a lower price but since this is a general comment on most bags, I will still leave it at 5 stars.

Great bag if you have a small to medium sized DSLR. You can fit a lot of items inside very easily. Would definitely recommend it if you are looking for a camera bag!
27/12/2021
Loved it -- Until It Broke -- Got A New One -- Love It Again [UPDATED]
UPDATE:I'm very pleased to report that the seller, HiShop, read this review and contacted me straightaway with the offer to send me a new bag. That's just a massive bonus in their favor. They were very concerned about me having been sent a defective product. I hope that it is just that - a one-off, defective bag I got and that the quality of the bag is equal to the quality of the customer service.I haven't used the bag much since getting the new one but there is no sign of any weaknesses or tearing anywhere. I'm quite happy with how things turned out.****************************************************************************************************I don't hate the idea of this bag and I don't hate the design of this bag. In fact, this bag perfectly fulfilled my number one need in a camera bag -- It is very small with only a bit more room than what is needed to hold my Canon 6D with my 24-105 lens attached plus extra batteries and an after-market battery charger (which is considerably smaller than the Canon one). I can even fit one extra (non-telephoto, obviously) lens in the upper part of the bag. A tripod can be attached to the front grey strip on the bag but it felt really awkward to me. For my particular photo adventures, that's all that is needed 95% of the time. It's difficult to find a bag that is big enough for the camera I carry but not much bigger.So there's that.I got this bag in the early part of May. I didn't do anything with it beyond make sure that it would hold what I needed it to hold and that it fit comfortably on my rather short self.May 19th was its inaugural trip. It left my house for the first time. It contained one Canon 6D with the 25-105 lens attached, three extra batteries, an after-market battery charger, plug adapters for the charger (1 European wall, 1 car), two extra storage cards, storage card reader, one 1 quart plastic bag with lip balm, eye drops, hand lotion, toothbrush, and toothpaste. It would eventually contain my passport and boarding documents.- It was carried out to the car and placed on the floor in the front of the car (with a hysterical "Noooooo! Cam-er-AA!" when my husband tried to transfer it to the back of the car.- It was driven to a friend's house a few miles from the airport.- It was removed from our car and rode on my lap in a taxi the few miles to the airport.- It was worn on my body and walked quite a bit through the airport to the check in desk because the taxi driver was an idiot ("No, not here! It's at the end of the drive! No! Yes! Keep going! No! Down there! You see that sign? You know what? Forget it. Here is perfect.)- It was worn on my body another unreasonable distance through the airport because this particular airport was designed by a sadist.- It was opened at security by me and placed in a bin onto the conveyor belt.- It was placed back on my body after being checked for explosives - both the bag and myself. Whatever.- It was worn on my body through the airport and set down on the seat next to me while waiting to board our flight.- It was worn on my body while boarding the flight and then placed under the seat in front of me.- It stayed under the seat in front of me for the ~10 hour flight to our layover airport.- Upon arrival in Frankfurt, Germany, it was removed from under the seat in front of me and placed back on my body.- While walking through the airport in Frankfurt to find our connecting airline check in, my husband asked me if I was aware that my bag was torn.That's its diary. When it tore, I have no idea but that's the absolute maximum it could handle before tearing.Of course, I was still out of the country when my window for returns to Amazon firmly slammed shut.I checked with an old world cobbler (they do great work on bags if you ever need it done) in a tiny island's tiny village in Greece to see if it could be fixed and he suggested I fix it by throwing it away and buying better products. Yeah. Great.Now, not only do I have forty bucks worth of crappy bag, I have to start the search all over again. A search that took months.I've attached a picture of my bag. Guess what color my cat is!
11/07/2017
Camera bag
This bag seems really great. However, out of the box it was missing one of the tripod buckle straps. I did check all the pockets just in case. I will be returning it and have ordered another in the meantime. Hopefully this next one comes with all pieces.
25/04/2017
Great little extra bag
A great bag for short trips, easy to carry and easy access to the camera and some small accessories, if you have a lot of things to carry with you then you need a bigger one. I recommend this bag and the seller, quick response and delivery, i am happy, thank you so much.
30/08/2022
These images belong to KENTFAITH end users.
There are no faqs for this product.
Budget 10L sling camera bag by K&F Concept | Review and tips
K&F Concept® Sling-Rucksack / Kamerarucksack / Fotorucksack Test
Gimbal Stabilizers
Axis
21.5*12*34cm
Bag Compartment
Carrying/Transport Options
Sling Bag
Camera Support Strap
No
Camera Compartment
1
Lens Compartment
2
Laptop Compartment Screen Size
8 inch
Bag Exterior
Exterior Color
Black
Exterior Dimensions
22*14*36cm
Exterior Material
Polyester
Type of Closure
Buckle
Rain Cover
Yes
Bag Interior
Maximum Volume
9L
Weight
0.58kg