Camera Bag Water Repellent Shockproof Sling Backpack with Adjustable Crossbody Strap and Removable Modular Inserts for DSLR/SLR/Mirrorless Cameras (Compatible Canon,Nikon,Sony)
To
United States
Expedited Free Shipping
3-5
business days
Buy KENTFAITH camera bag water repellent shockproof sling backpack with adjustable crossbody strap and removable modular inserts for dslr/slr/mirrorless cameras (compatible canon,nikon,sony) online, worldwide free shipping and 30 days return guarantee.

KF13.050

SKU:

KF13.050

44.99

https://www.kentfaith.com/USKF13.050_dslr-camera-sling-backpack-waterproof-9-06-5-51-14-57-inches
Description
* Sling backpack fits DSLR with attached standard zoom lens, 1-2 extra lenses or a flash and accessories, a compact tripod or monopod and personal items.
* The backpack design allows for quick rotation from the back to the front of your body, giving you easy and fast access to your gear (side zippered pockets for easy acess,back-open design antitheft).
* DSLR camera models that fit the bag:Canon EOS Rebel SL1/T3/T3i/T5, Nikon D3200, Nikon D3300, Sony Alpha A5000 and Sony Alpha A6000 etc.
* Two removable straps with quick-release buckles are included for quick attachment of your tripods.
* This lightweight and durable travel bag is ideal for on-the-go use! Improve the pleasure of your journey and give you a sense of security.
Shipping
To
United States
Expedited Free Shipping
3-5
business days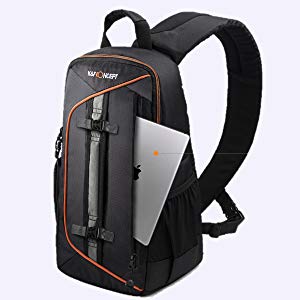 Specifications:
1. Brand: K&F Concept
2. Model: KF13.050
3. Dimension: 23cm x 14cm x 37cm
4. Weight: 580g
5. Material: Waterproof nylon
6. Style: Classic, simple
7. The backpack is available in a form of shoulder bag that brings a touch of modernity and elegance. Adapt them to your style and bring your backpack.
8. EST backpack has zippered pockets that allow the bag to expand to increase its capacity. When you open the hinge part behind the main compartment it expands to position the camera and the lens, and when you open the hinge on the right you can get the camera.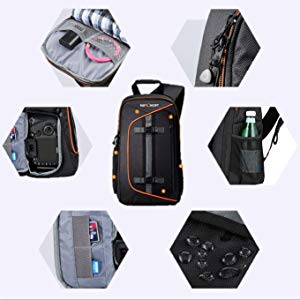 Compatibility:
Machine:
Canon EOS 5D / 7D / 1000D;Nikon D800 / D500 / D3200 / D5200 / D7000;Pentax K-50 / K-3 / K-5 IIs / K-S1;Sony A6300 / A7R II / ILCE-5100 (A5100) / ILCE-9 (A9);LeicaQ (TYP 116)

Target:
Canon 17-40mm f / 4L USM Nikon AF-S DX 17-55mm f / 2.8G IF-ED Pentax-DA 35mm f / 2.4 AL Sony E 50mm f / 1.8 OSS Leica TRI-ELMAR-M 16-18-21mm f / 4 ASPH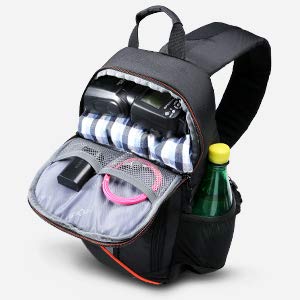 Upper Side
Upper part you can place some cloths or other small kits.
Side pocket and front pocket can contain your bottle, umbrella and other kits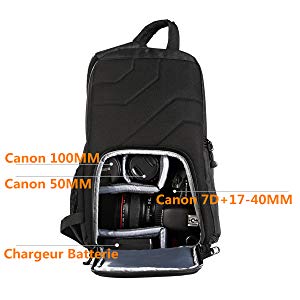 Bottom Side
Bottom part for your lens and camera or flash
Can place 1 camera+2~3 lenses
The divider between the top and bottom compartments is removable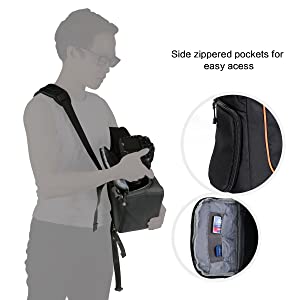 Body-Side Access Design
With the body-side design,the backpack provides you a quick access to your gear; Back-open design can give strong anti-theft effection.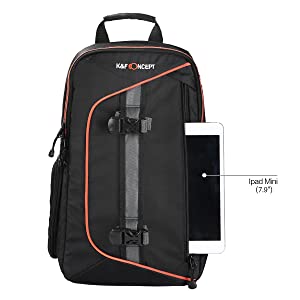 Ipad/Tablet Comaptiable
You can put your Ipad/Tablet up to 7.9 inch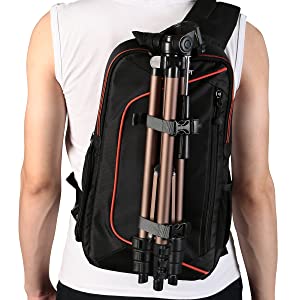 External Tripod Connections
This backpack comes with the option and proper connections to attach your tripod externally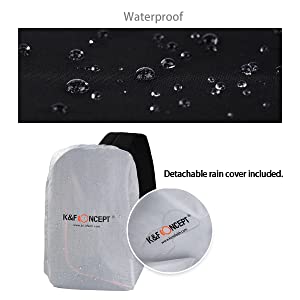 Rain Cover
Included fold-out protector which, when installed, creates a barrier between the wet outside and dry inside of your bag
These images belong to KENTFAITH end users.
There are no faqs for this product.
Budget 10L sling camera bag by K&F Concept | Review and tips
K&F Concept® Sling-Rucksack / Kamerarucksack / Fotorucksack Test
Gimbal Stabilizers
Axis
21.5*12*34cm
Bag Compartment
Carrying/Transport Options
Sling Bag
Camera Support Strap
No
Camera Compartment
1
Lens Compartment
2
Laptop Compartment Screen Size
8 inch
Bag Exterior
Exterior Color
Black
Exterior Dimensions
22*14*36cm
Exterior Material
Polyester
Type of Closure
Buckle
Rain Cover
Yes
Bag Interior
Maximum Volume
9L
Weight
0.58kg