58mm Camera Center Pinch Lens Cap with Lens Cap Leash*3+Microfiber Vacuum Cleaning Cloth*3+Anti-lost Rope*3, Compatible with Canon Nikon Sony Olympus Fujifilm Pentax Panasonic Leica
Buy 99$-15$, 199$-30$, 299$-50$, 599$-120$(autumn sale Price)
To
United States
Expedited Shipping
3-5
business days
37mmCamera Center Pinch Lens Cap with Lens Cap*3+Microfiber Vacuum Cleaning Cloth*3+Anti-lost Rope*3, Anti-lost Rope Protection Lens Cap Compatible with Canon Nikon Sony Olympus Fujifilm Pentax Panasonic Leica

SKU.1993

SKU:

SKU.1993

13.99

https://www.kentfaith.com/SKU.1993_58mm-camera-lens-cap-keeper-holder-with-elastic-string-anti-loss-3-microfiber-vacuum-cleaning-cloth-
Buy 99$-15$, 199$-30$, 299$-50$, 599$-120$(autumn sale Price)
Description
* 【9 in 1】: This is a 9 in 1 kit, including 3 lens caps and 3 anti-lost ropes and 3 individually packaged vacuum cleaning cloths.
* 【Lens Cap】: This lens cap is made of high-quality ABS, lightweight and durable, and can be used with filters and hoods. The middle press structure design fits all kinds of lenses and protects the lenses from dust, dirt and scratches.
* 【Anti-lost rope】: The 3m anti-lost rope can be stuck to any surface of the lens cover. The lens cap adopts a perforated design, which can be directly tied with the lens through a rope to avoid loss.
* 【Cleaning cloth】:150*150mm imported optical microfiber cleaning cloth, independent vacuum packaging, fine texture, soft and lint-free, can be washed and reused. Not only suitable for cleaning delicate electronic equipment, but also suitable for cleaning lenses, filters, screens, cameras, laptops, mobile phones, glasses, watches and microscopes.
* 【Compatible with Ø37mm】: This accessory kit is compatible with all 37mm diameter lenses. To know the diameter, there is a symbol on the lens, which is a circle and a line, which is "Ø".
Shipping
To
United States
Expedited Shipping
3-5
business days
Sale
Buy 99$-15$, 199$-30$, 299$-50$, 599$-120$(autumn sale Price)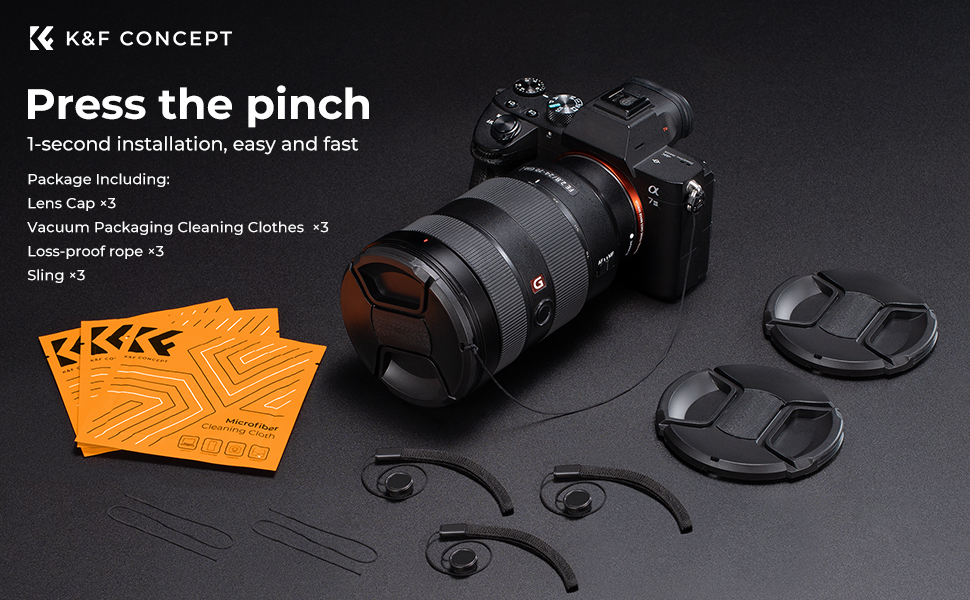 K&F Concept 9 Pcs Lens Cap + Anti-Loss Keeper Leash + Microfiber Cleaning Cloth Kit for Camera Lens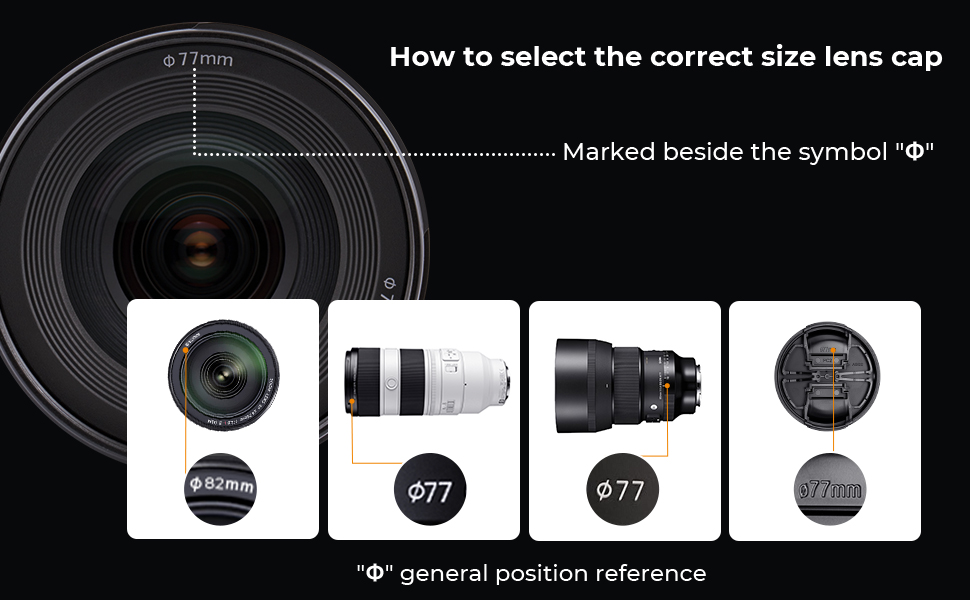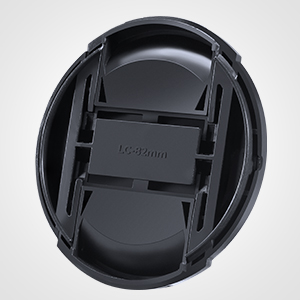 Center-pinch design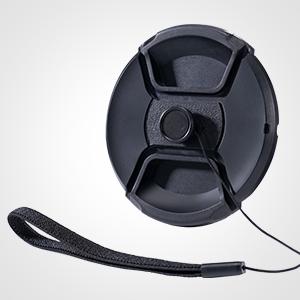 Anti-loss keeper leash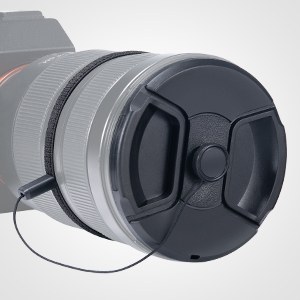 Connect with the lens directly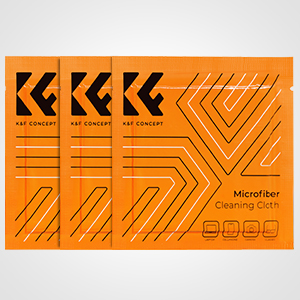 Vacuumed packaged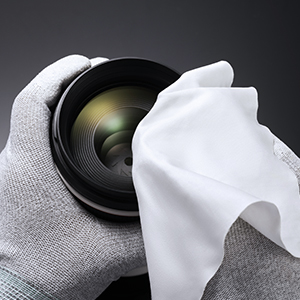 Harmless for camera lens coatings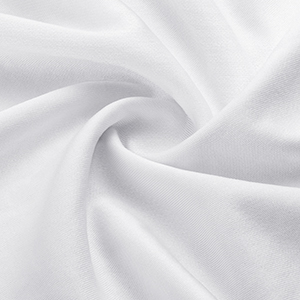 Mircrofiber cleaning cloth
All Reviews
Image

All Star

5 Star

4 Star

3 Star

2 Star

1 Star
Clutch Lens Caps.
There is no such thing as too many lens caps. Youre bound to lose them at least once. K&F decided you may lose one at least 3 times. Me personally, I always swap the factory caps with ones i could stand to misplace.

3 in the pack and a lens cleaner as a bonus. So you could essentially keep a spare in each bag. If you can stand for the cap to hang from the side you can thread the string and attach the strap to your lens. I definitely recommend a pack of these for the lenses you use the most.
30/11/-0001
they work, and it is nice to have three
they go on the lens with no issues. It is nice to have three extras because there is always a risk of loosing caps and not having one while the camera is not being used. I don't use the tethers so it is even more important.
They are not a smooth working (the center pinch) as others but the function without issue.
30/11/-0001
Good replacement option
Fit my canon lens great. Firm fit with spring. Stays in place better than the canon caps. Comes with anti loose strap and lens cleaner cloths.
30/11/-0001
Just what I needed
I lost the end cap for my canon 70-200 lens and I was searching around for a solution to my problem. I came across these and they are perfect. It fit great and now my lens is protected again. It comes with some cleaning accessories and some strapping to attach the lens cap to your lens but I prefer to have it free from the lens so I didn't use those parts. Would recommend this product!
30/11/-0001
Lens caps
It did what I wanted it to do!
30/11/-0001
Perfect replacement cap for my long-lost 'classic' film lens w/handy leash & soft cloths
This is a good deal on a set of light-weight replacement or extra lens caps -- this is a set of three and each includes a leash (the band fits around my lens and does not obscure the markings + the disk has a small pad that adheres to the cap; just remove the paper covering and stick it in place).
I have two older Pentax film cameras (I guess they are considered vintage, now -- sounds better than obsolete, anyway). They are actually the same model, one belonged to my father and I later chose the same one when I started getting interested in B&W photography. The original lens cap on one of them was lost long ago, but the camera is kept in one of those fitted cases so the lens was protected. Unfortunately that case is now falling apart and I found this kit which seemed perfect for my needs. Most lenses are marked with a Chi symbol followed by a number designating the diameter of the lens (as shown in the pictures in the product description) but not all lenses have this, and as it turns out, mine do not. It is possible to measure them using a metric ruler or tape measure, but being very much an amateur photographer, I wanted to be absolutely sure, so I looked up my 50 mm lens online. It turned out to be a fairly popular one for the time (30+ years ago) and I found a website that showed all of the specifications, so I felt confident ordering the 49 mm version. These caps are not as robust as the original ones -- they thin and lightweight but they are easy to position (just pinch the slides on each side to install or remove). They fit securely on my lenses don't pop off easily and I feel that the glass I well protected. I really like the leash, as I am always losing lens caps that don't have them (I take them off and put them in my pocket or set them down and forget where). I really ordered this set just for the lens caps and I really like that there are three of them, so I have extras. The microfiber cleaning cloths are of very good quality, too. There are three and each is packed in a separate foil packet. The squares are a good size (about 6" X 6") and are a very fine gauge, very soft and silky. They are a welcome addition to my camera accessory kit. The current price of $14.99 seems very reasonable to me.
30/11/-0001
They work as the should
The caps work great. I have them attached to an old telephoto lens. The caps work great and I now have plenty of caps and put away the OEM cap so I won't lose it. The lens cap keepers will never be used. They are annoying and should never be used. The hanging caps could swing into the glass lens if it's windy or cause a vibration when you need everything to be still.

The 3 individually wrapped cleaning cloths are perfect. I keep them in my bag as backups when my main clothes get too dirty to use.

The set of 3 caps alone is worth the purchase. It's a great deal when you add the additional microfiber cloth packs are a bonus.
30/11/-0001
Great Replacement Lens caps
These are great replacement lens caps. I really like how you have multiple ways of attaching the cap to your lens so that you don't lose it. You can attach to the camera itself or use the flexible leash around the lens. both work great, or you can just remove it and stick it in your pocket, old-school style. The center pinch grip release is nice and firm, it has a good grip. I definitely recommend getting some of these!
30/11/-0001
Works great!
Works great, good for photographer who is constantly losing lens caps like me
30/11/-0001
Just what I needed
I use a Sony camcorder with a lens cap that will roll underneath a stage from time to time. These lens caps fix this problem. I was able to order a 62mm and it fits! I didn't think I would have to tie the string that comes with the cap, but I was able to figure out that a simple knot will secure the lens cap to the lens hood, and it's good to go. The string that comes with the caps is a well made, kind of rubbery string. It's not just a piece of string. So I won't need to replace the lens cap ever.
30/11/-0001