Bluetooth 5.0 Wireless Earbuds, Bluedio Hi (Hurricane) Wireless Earbuds In-Ear Headphones with Charging Case, Mini Car Headphones with Built-in Microphone for Phone Call/Running, 5H Playtime
Buy 99$-9$, 199$-25$, 299$-39$, 599$-100$
New customer gift package
Free shipping worldwide
Brand:

KENTFAITH

Buy KENTFAITH bluetooth 5.0 wireless earbuds, bluedio hi (hurricane) wireless earbuds in-ear headphones with charging case, mini car headphones with built-in microphone for phone call/running, 5h playtime online, worldwide free shipping and 30 days return guarantee.

GW53.0067

SKU:

GW53.0067

28.99

https://www.kentfaith.com/GW53.0067_bluetooth-5-0-wireless-earbuds-bluedio-hi-hurricane-wireless-earbuds-in-ear-headphones-with-charging-case-mini-car-headphones-with-built-in-microphone-for-phone-call-running-5h-playtime
Buy 99$-9$, 199$-25$, 299$-39$, 599$-100$
Description
* 【Bluedio 5.0 and Superior Sound Quality】- The Bluedio Hi wireless earbuds feature the most advanced Bluetooth 5.0 technology. Support A2DP, HSP, HFP, AVRCP. 13mm dynamic speakers (the largest drivers on the headphone market today) and noise isolation provide clear and flawless in-ear call quality.
* 【One-Step Pairing】- The automatic system provides you a hassle-free experience while pairing and connecting to your device. You just take them out of the case and open the left and right earbuds, the two earbuds will connect automatically, put them on and you can immerse yourself in the music world.
* 【20 HOURS PLAYTIME WITH PORTABLE CHARGING CASE】- The charging case can hold about 4 full charges, and each charge can be used for about 5 hours. Charge the headset battery from empty to full in about 1 hour, and the charging case takes only 2 hours.
* 【Latest face recognition technology to control pause/play】- No longer use infrared sensing technology to control music pause and play, Bluedio introduces the latest face recognition technology to control music pause/play, which is more stable. The music will pause when you remove the RIGHT earbuds from your head and continue playing when you wear them.
Shipping
Free shipping worldwide
Sale
Buy 99$-9$, 199$-25$, 299$-39$, 599$-100$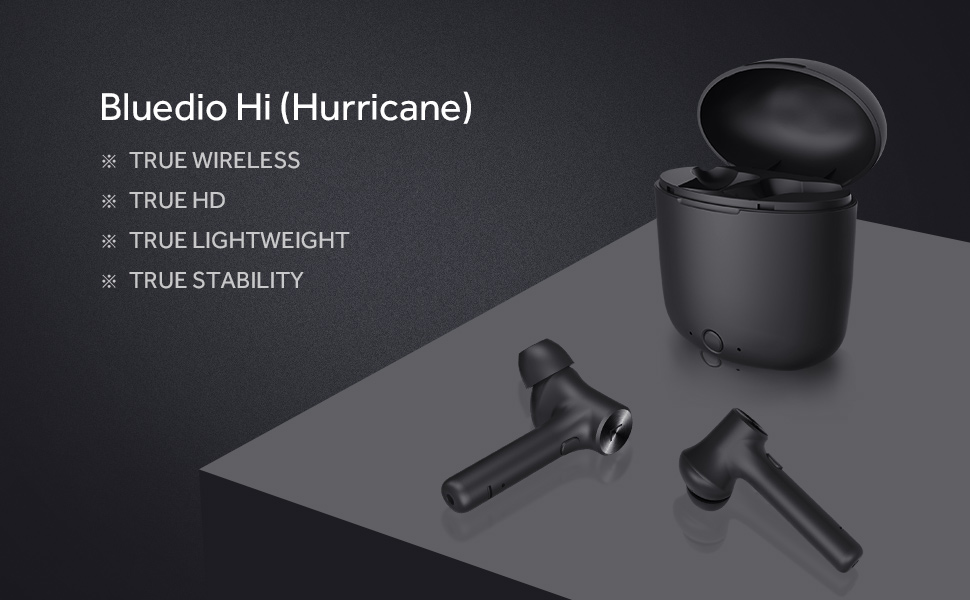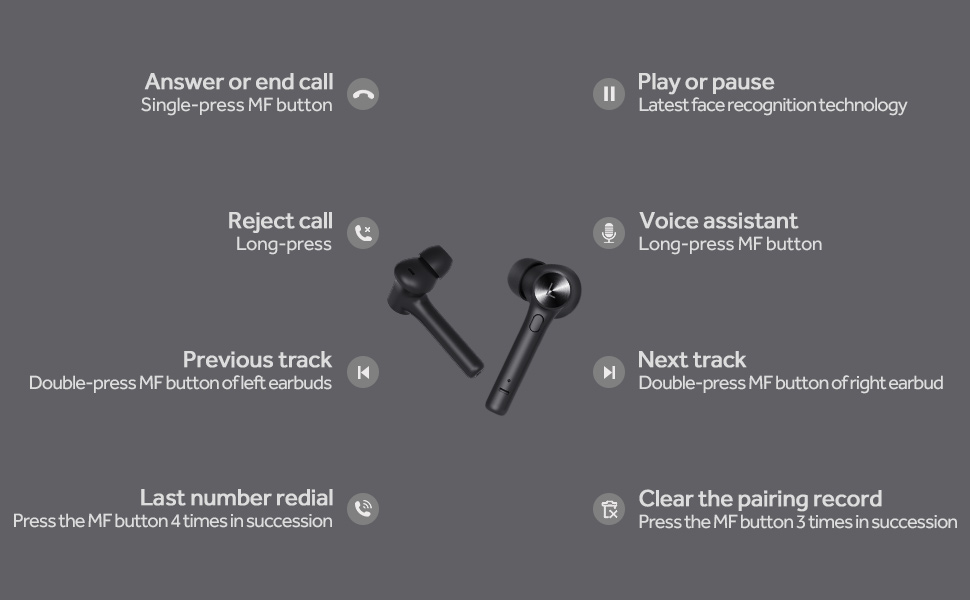 Operation Tips
Auto Power On and Pairing with Phone
The first step - Open the charging case,long-press the multi-function button respectively, click any one of the earphones, the two earphones can be paired quickly.
Second step-turn on the Bluetooth of your phone and choose "Hi"
After First Pairing
Put the earphones in the charging case, click the charing button of charing box Then open the charing box to take out the earphones, they will be turned on and reconnected automatically
How to do if only one earphone has sound or the other earphone does not be connected?
1. Firstly, long-press the multi-function button to turn on the earphones, press the multi-function button three times, the earphones will be turned down automatically.
2. Secondly, put the two earphones back into the charing box, close the cover, click the charing button of the charing box, clear the pairing information.
3. Restart the earphones and turn on the Bluetooth of the phone for Bluetooth pairing.
Face Recognition Technology
The built-in touch sensor chip intelligently senses the wearing status.
---
When you take down only the RIGHT earbud from your head, the music will pause, when you wear it, the music will continue to play.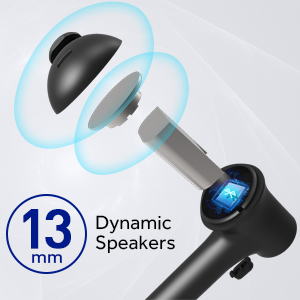 Superior Sound Quality
13mm dynamic speakers(Biggest Driver on the earphones Market At Present) and noise isolation deliver clear and flawless in-ear call quality.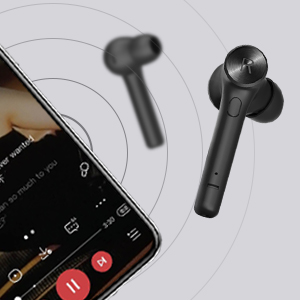 Bluetooth 5.0 Technology
Fast and stable transmission without tangling.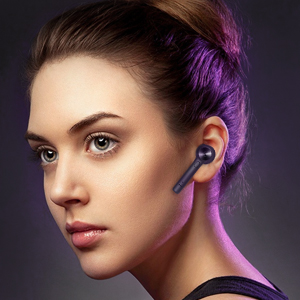 Clear Phone Calls
Bluedio Hi Support A2DP, HSP, HFP, AVRCP. Provides in-call stereo sound.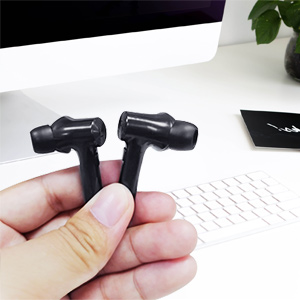 Light Weight & Fashionable Design
So light you can barely notice, comfortable after hours of wear thanks to its ergonomic design.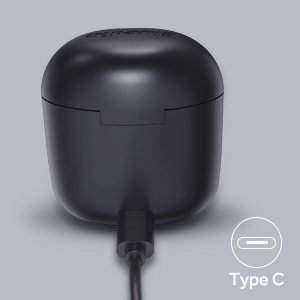 Type-C Fast Charge
Case Charges: 4
Case Charge Time: 2 Hours
Earbuds Charge Time: 1Hour
Earbuds Play Time: 5 Hours
Total Play Time: 20 Hours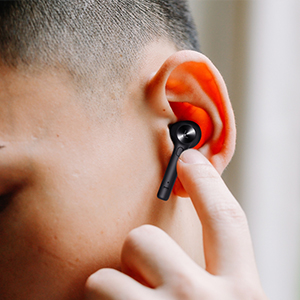 Voice Assistant Support
Long-press MF button to play your favorite tunes.
Comfortable Wearing
Bluedio's eartips are engineered from a super-soft liquid silicone for exceptional in-ear comfort. Eartips are also available in multiple sizes to ensure everyone has a perfect listening experience.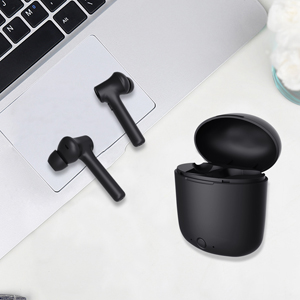 Package Included
1 x Bluedio Hi
1 x Charging Case
1 x Charger Cable
1 x User Manual
3 Pairs of eartips with 3 different sizes (S, M, L)
| | |
| --- | --- |
| Brand | bluedio |
| Model | Hi |
| Type | TWS |
| Support Protocol | A2DP AVRCP HSP HFP |
| Working range | 10 meters |
| Frequency range | 2.4GHz-2.48GHz |
| Frequency Response Range | 20Hz-15kHz |
| Speaker size | 13MM*2 |
| Working temperature | - 10℃ -50℃ |
| Headphone/battery box capacity | 50MA*2/300MA |
| Impedance | 32Ω |
| Music/phone battery life | about 40 hours |
| Standby time | about 650 hours |
| Charging time of charging box | about 2 hours |
| Product size | 7.5*5.5*3.5cm |
| Packing size | 13.9*8.7*4cm |
| Product weight | 80g |
| Packing weight | 150g |
| Package Contents | Headphone*1, Charging Cable*1, Instruction Manual*1 |
All Reviews
Image

All Star

5 Star

4 Star

3 Star

2 Star

1 Star
The only bad thing about these headphones is that they disconnect from the phone all the the time
They sound very good and they do cancel out the background noise I really like them but they disconnect from the phone too much for me
22/03/2022
Years of ownership and still work
Ive had these for years and they still work.I mainly used them for the gym and sometimes watching entertainment on my phone.Im nor audiophile nor brand snob and for my limited uses I personally couldnt see a reason to spend more on earbuds
16/03/2022
Not a good ítem
It broke to soon
05/03/2022
For the price, it's impressive!
I expected the sound quality to be much worse given the price... this is great for kids, who you expect might lose them. It's more than passable!!! Honestly!
04/03/2022
Surprzing good sound
Fits in ear good. Good battery life. I use fie watching movies at night. I like loud and clear sound. Bluetooth connects easy one connected. They always connect when taken out the box automatics. Good stereo sound. Realistic. No disturtion. They recharge really easily and hold charge for days.
05/02/2022
Air buds
The charge could last longer.
04/02/2022
Quality for a low price!
I was hesitant to purchase these at such a low price, concerned for the quality of sound. They came already charged so I was able to use them out of the box. I can honestly say that I am totally surprised at the quality of the ear buds and the rich, crisp sound. I am certain that others selling for 100's more are better but I am completely satisfied with these earbuds! Thanks. JR.
18/01/2022
Way Better than the Money You Paid
How does a product that I gave all "4 stars" to get an overall 5 star rating....well, it's because of "Bang for Buck"!! These little jewels perform very well and considering their price point, I am extremely pleased!! I was very skeptical when I saw the article on Yahoo about them but decided to order 2 pair for my wife and I. We both really like them.
17/01/2022
More junk
Lasted 3 months and stopped working. Customer service doesn't answer messages. 1 year warranty. How do I get it?
08/01/2022
A little bit bigger than expected
The quality is ok, easy to use, it's a little bit bigger than expected but overall is good
14/12/2021
There are no faqs for this product.