Bluedio Ei Bluetooth Wireless Earbuds Wireless Headphones In-Ear Headphones with Charging Case, 40H Playtime, Car Headphones with Built-in Microphone Supports Wireless Charging, for Sports/Work, White
Free shipping to eligible country
Brand:

KENTFAITH

Buy KENTFAITH bluedio ei bluetooth wireless earbuds wireless headphones in-ear headphones with charging case, 40h playtime, car headphones with built-in microphone supports wireless charging, for sports/work, white online, worldwide free shipping and 30 days return guarantee.

GW53.0065

SKU:

GW53.0065

29.99

https://www.kentfaith.com/GW53.0065_bluedio-ei-bluetooth-wireless-earbuds-wireless-headphones-in-ear-headphones-with-charging-case-40h-playtime-car-headphones-with-built-in-microphone-supports-wireless-charging-for-sports-work-white
Buy 2 get 5% off, Buy 3 get 10% off, buy 6 get 20% off
Description
* 【WIRELESS CHARGING SUPPORTED】- Bluedio Ei wireless earbuds are compatible with both wireless charging and wired charging, with fewer restrictions and more ways to maintain battery life. Music, games, videos you can do whatever you want. [Note: Bluedio Ei does not come with wireless charger]
* 【Faster Bluetooth Connection】- Ei Bluetooth earbuds are designed with full coverage antenna, which can effectively avoid interruption problems when using TWS earbuds. You can easily reconnect your device simply by opening the lid, and Ei brings you a whole new convenient lifestyle.
* 【8 Hours of Non-stop Long Play】-- Enjoy 8 hours of non-stop playback on a single charge. It also provides 5 additional full charges for a total playtime of up to 40 hours.
* 【Face Recognition Technology】——Ei earphones have a built-in touch sensor chip, which intelligently senses the wearing status. When you only remove the RIGHT earbuds from your ears, the music will stop to save power, and it will continue to play when you put it on.
* 【ENC Microphone】-Upgrading the ENC function with a microphone to effectively reduce ambient noise, the Bluedio Ei in-ear headphones allow you to enjoy clearer audio and calls in business communication.
Shipping
Free shipping to eligible country
Sale
Buy 2 get 5% off, Buy 3 get 10% off, buy 6 get 20% off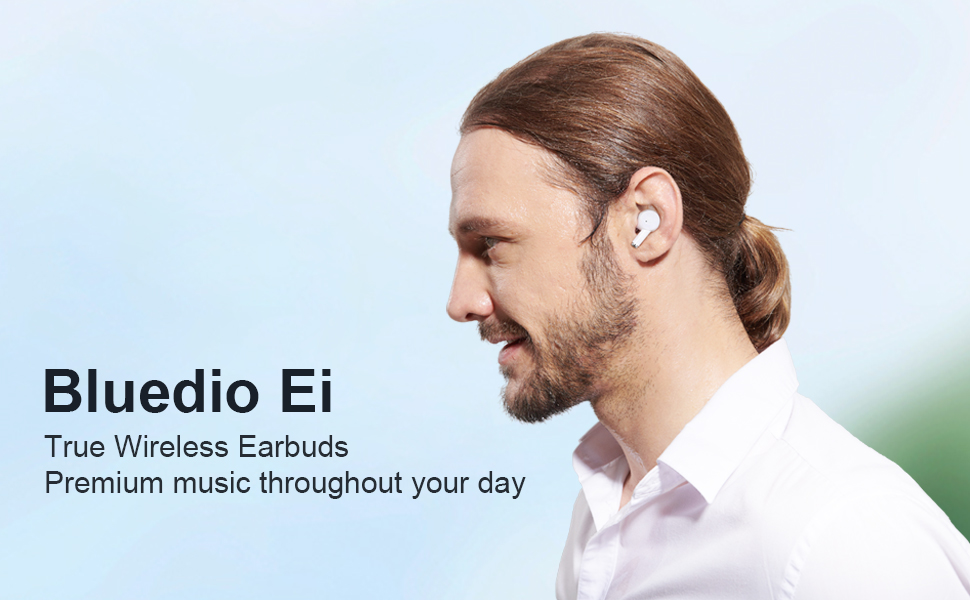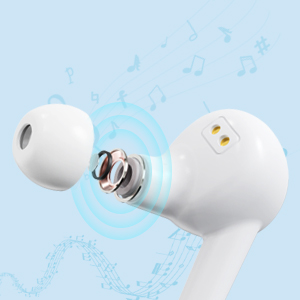 Superior Audio Quality
6mm dynamic speakers and Bluedio VFT technology deliver clear audio sound.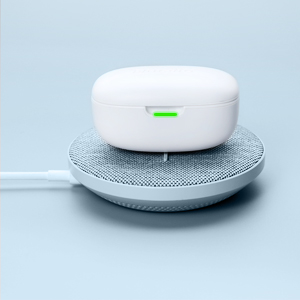 Supports Wireless Charging for the Case
The case which is compatible with wireless charger (Note: Wireless Charger is Not included in the package) offers you a more convenient charging method and gets you rid of wire.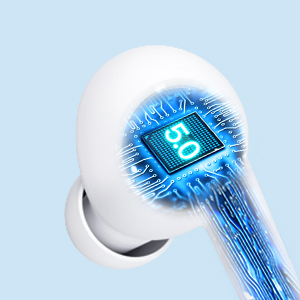 The Most Advanced Bluetooth 5.0 Technology
Support A2DP, AVRCP, HSP, HFP, provides in-call stereo sound. Also own fast and stable transmission without tangling.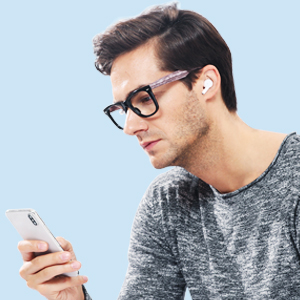 Clear Calls
Upgrade equipped microphone's ENC feature to reduce environmental noise effectively, enabling you to enjoy stepped-up clear audio and phone call effect.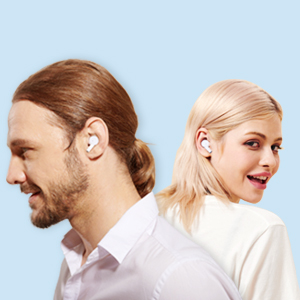 Share Mode
SGive one earbud to your lover/familiar/friend to share your moment. Ideal for sharing or not wanting to miss the great sound with your friend.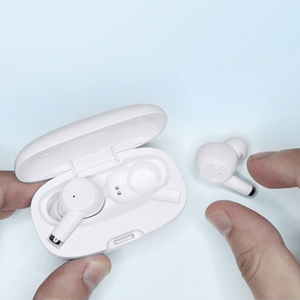 Face Recognition Technology
The built-in touch sensor chip intelligently senses the wearing status. When you take down only the RIGHT earbud from your head, the music will pause, when you wear it, the music will continue to play.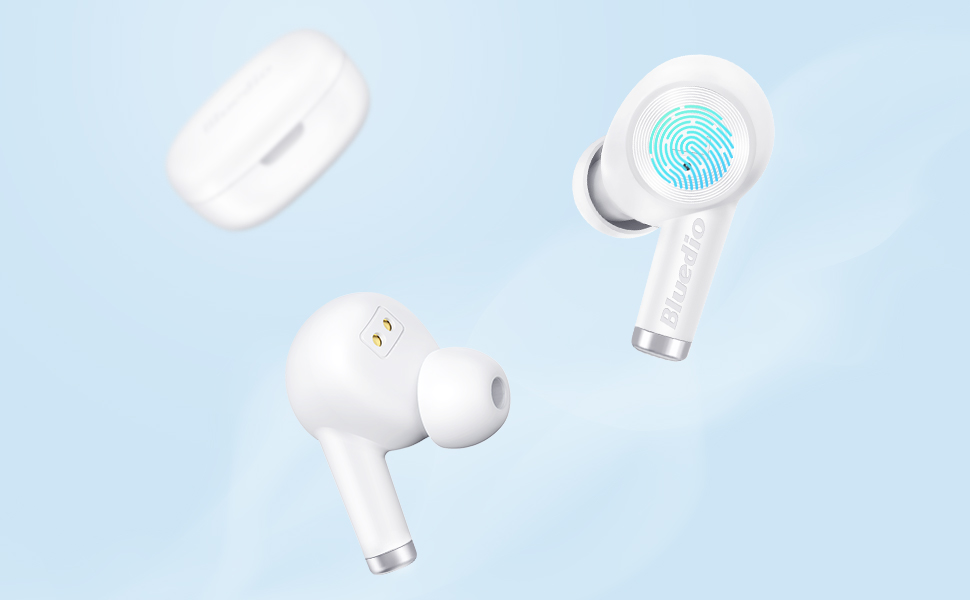 Simple on ear touch controls offer an effortless way to answer calls and control music.
Power on/off: Long press on either earbud until hearing the prompt voice
Previous/Next track: Press left/right earbud for 1 second
Use voice assistant: Triple click on left/right earbud
Answer/hang up: Click either earbud
End or reject call: Long press on either earbud for 2s
Play/Pause: Click either earbud
Volume+/- : Click twice right/left earbud
| | |
| --- | --- |
| Brand | bluedio |
| Model | Ei |
| Type | TWS |
| Support Protocol | A2DP AVRCP HSP HFP |
| Working range | 10 meters |
| Frequency range | 2.4GHz-2.48GHz |
| Frequency Response Range | 20Hz-15kHz |
| Speaker size | 13MM*2 |
| Working temperature | - 10℃ -50℃ |
| Headphone/battery box capacity | 50MA*2/300MA |
| Impedance | 32Ω |
| Music/phone battery life | about 40 hours |
| Standby time | about 650 hours |
| Charging time of charging box | about 2 hours |
| Product size | 7.5*5.5*3.5cm |
| Packing size | 13.9*8.7*4cm |
| Product weight | 80g |
| Packing weight | 150g |
| Package Contents | Headphone*1, Charging Cable*1, Instruction Manual*1 |
Great Pair of Wireless Earbuds!
I ordered these headphones because I needed a new pair for the gym. I was looking for something that was reasonably priced and has a noise canceling feature. These are exactly that and more! They have a really nice wireless charging feature and the battery life is pretty good. I have been using them for about a week now and they seem very promising. I would recommend this product to my friends and family.
07/03/2022
Wireless Earbuds
Purchased these and they are my very first pair of wireless earbuds. They were so easy to pair with my phone. Worked straight of the box and their charging case. i am pleasantly surprised by the quality of the sound. Also these earbuds are very reasonably priced. Very good buy!
29/01/2022
Small and powerful
I love it for calls and for music as well.
04/09/2021
Really bad
Worst buy on Amazon ever! The sound quality is horrible and defective. You heard the sound coming back and for from one earpiece to the other without mention they uncomfortable to put on the ear. Really bad
24/06/2021
5 Stars for Price Versus Performance
I've learned with Bluetooth stereo wireless headsets, it takes some actual used before it's worth forming a solid opinion. I say this because I've now been through approximately five different sets of headphones in the last 14 months or so.I'm going to give these five stars after many months of use, and many months of my wife's direct use, particularly in light of the current price on Amazon which is shockingly low for what you're getting.Here's what I like, or why I think they are an incredible value. Sound quality is perfectly acceptable, even quite good, overall balance from my perspective is good. It is not heavy on the base, overly tinny on the highs, and also not muddy in the center. Just good balanced sound but of course this is not going to rival anything over $75 for example from a reputable manufacturer. Wireless charging, speaking of the actual case on a wireless charging pad, has been awesomely reliable. That is how we charge these 99% of the time. Use of either ear has been excellent and consistent. What I'm trying to say here is that we use one ear and one ear only all the time. Right or left it doesn't matter these Bluedio's seem to figure it out and work just fine either way. They also do a good job of pairing for Stereophonic sound as well when we want to use both of them at the same time. Battery life is decent, I would say about on par for these kinds of products which equates in my personal experience to about 4 to 6 hours of continuous use. Everything seems to charge pretty quickly in the charging case although this is a smaller case so I don't think you could probably go through multiple cycles of charging these headsets without actually charging the case itself. That said, I haven't spent a lot of time checking that, because we're always pretty good about charging them basically every night. Oh and I hope that last statement is clear, we charge them every night because they get used essentially every single day during my wife's workouts. This equates to both in house working out, as well as long walks and jogs outside. And I guess that's also a good segue into the last point, these have been very reliable to pair easily with different phones and I've given us no trouble on the Bluetooth side of the equation. And that's not saying something without experience, between my wife and I we have cycled through four or five different phones over the last few months and these have paired easily with all those phones. Finally, although we've not actually used these for a lot of phone conversations (because they're mostly used in the morning before work hours begin ) the ones we have had have worked fine, with people indicating they can hear us acceptably well.The only negative I really have to report is the light on the case. It is blindingly bright if you're going to have it on your bedside at night. It stays lit green while it's charging and it's just annoyingly bright.Overall, and incredible product at an incredible price or value.
31/05/2021
There are no faqs for this product.