Hohem iSteady V2 White Smartphone Gimbal Stabilizer with AI Tracking Sensor, 3 Axis Lightweight Foldable Phone Stabilizer with Initial Time Lapse for iPhone 12 Pro Max/11 Samsung Phone Video vlog Shooting
Free shipping to eligible country
Brand:

KENTFAITH

Buy KENTFAITH hohem isteady v2 white smartphone gimbal stabilizer with ai tracking sensor, 3 axis lightweight foldable phone stabilizer with initial time lapse for iphone 12 pro max/11 samsung phone video vlog shooting online, worldwide free shipping and 30 days return guarantee.

GW46.0016

SKU:

GW46.0016

119.99

https://www.kentfaith.com/GW46.0016_hohem-isteady-v2-white-smartphone-gimbal-stabilizer-with-ai-tracking-sensor-3-axis-lightweight-foldable-phone-stabilizer-with-initial-time-lapse-for-iphone-12-pro-max-11-samsung-phone-video-vlog-shooting
Buy 2 get 5% off, Buy 3 get 10% off, buy 6 get 20% off
Description
* 【Excellent AI Tracking & Non-Contact Control】2021 Hohem's patented AI gimbal iSteady V2 has built-in AI vision sensor, which can track without any app. Get rid of the limitations of designated apps, and face tracking can be achieved during live broadcasts or online meetings on Tiktok, Youtube, Facebook, Teams, Instagram and other platforms. 0.6T computing power, the gimbal gimbal can be controlled to switch between landscape and portrait through gestures.
* 【Portable Design for Outdoor Use】iSteady V2 smartphone phone gimbal weighs only 0.58 lbs. Its foldable design allows our iSteady V2 iPhone stabilizer to be carried anywhere in your pocket or bag. Our smartphone gimbal handle is made of soft, non-slip synthetic leather for a more comfortable feel and a better texture, allowing you to happily create a full day of video content. This is an ideal design for outdoor lovers.
* 【LED VIDEO LIGHT FOR ANYWHERE】Ditch your light ring because you'll get a perfect LED light with the iSteady V2 Gimbal for iPhone. 3 levels of brightness can be adjusted to meet different needs and show the natural luster of the skin. In addition, the iSteady V2 Android PTZ stands by for 9 hours, and supports emergency charging of electronic devices such as mobile phones. No need to worry about running out of battery when shooting outdoors.
* 【Moment Mode - For Your Own Story】Explore more fun in Hohem Pro App and record the blockbusters of your life! A little trick to get more likes with one-click templates on Youtube, Tiktok, etc. Hohem Gimbal Moment Mode includes 7 templates, namely Inception, Dolly Zoom, Timelapse and Panoramas. Such a convenient function, suitable for beginners to make movie videos. Hohem Pro App is compatible with iOS 10.0 and Android 6.0 and higher phones.
* 【Superb 3-axis stabilizer】 Equipped with brushless motor and iSteady 4.0 anti-shake algorithm, iSteady V2 gimbal stabilizer can shoot high-definition video even if you turn the gimbal, no matter how shaking your hands are when running . It works stably on phones under 280g (0.62lb). Four working modes (gimbal follow, gimbal follow, full follow, full lock) can also meet your various shooting needs.
Shipping
Free shipping to eligible country
Sale
Buy 2 get 5% off, Buy 3 get 10% off, buy 6 get 20% off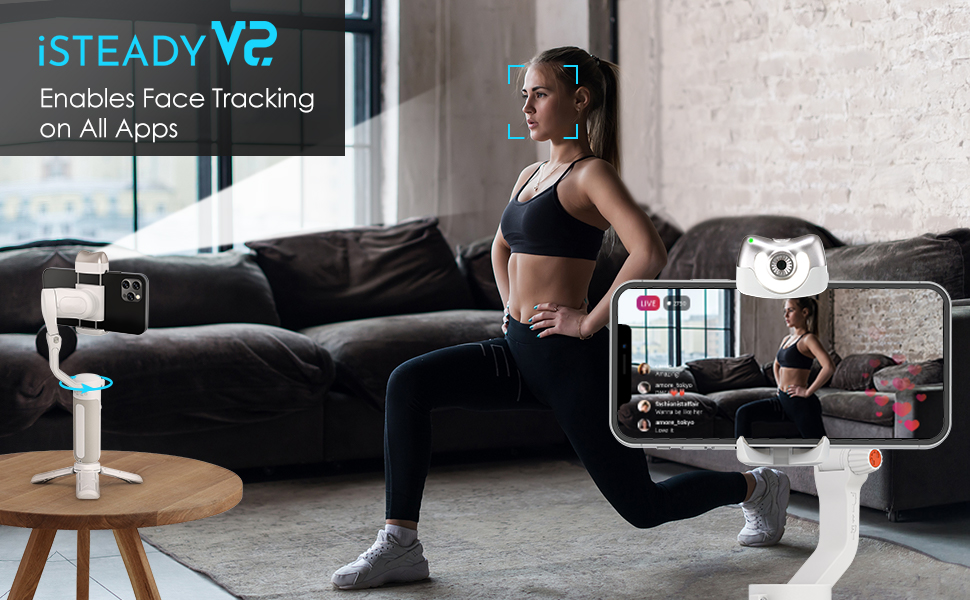 Face Tracking on All Apps
Hohem iSteady V2 Smartphone Gimbal, the first gimbal with a built-in AI Visual Sensor, bring a revolution to the gimbal market. Turn on AI tracking gimbal, turn on your happiness.

Most of the gimbals in the world need their specific Apps to achieve face tracking. If you wanted to do live streaming or online meeting and face tracking at the same time with gimbal, that would be impossible. Built with AI visual sensor on itself, Hohem iSteady V2 gimbal stabilizer for live streaming gets rid of Apps' limitations and makes it possible to track your face on Zoom, Teams, WhatsApp, Instagram, Facebook, Youtube, or TikTok. Enjoy your time with this brand-new innovation.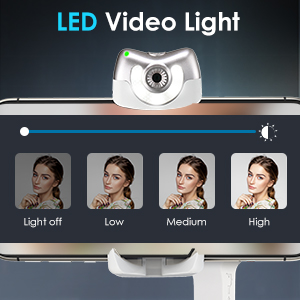 LED Video Light
3 Levels Adjustable LED Light provides soft and continuous lighting without creating shadows or harsh lines on your face, making it perfect for live streaming, TikTok video, portrait photography, selfies, macro photo shooting, applying makeup, and more.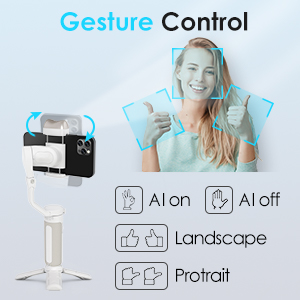 Gesture Control
Just show your hand gesture and it will understand your needs. Built-in AI vision sensor, iSteady V2 cell phone gimbal is an unbelievable smart gimbal that is able to fast respond following your hand gesture. Four hand gestures including OK to active AI sensor, a high-five palm to turn off AI sensor, thumbs up for landscape, and thumbs right for portrait.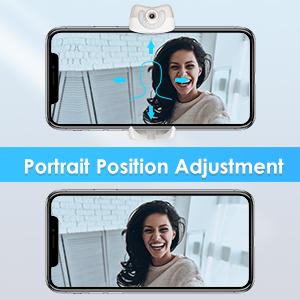 Portrait Position Adjustment
Hohem AI calibration setting in Hohem Pro App allows you to customize your portrait position to compose the shot in different scenarios within the visual tracking range. Please get into Hohem Pro App to calibrate: Connect Bluetooth - Settings - Gimbal Parameter Settings - AI Visual Calibration.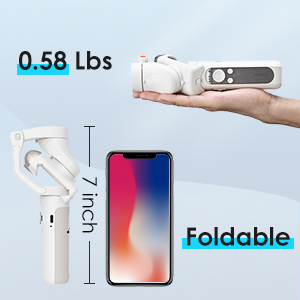 Portable Design
With the portable design, iSteady V2 phone gimbal stabilizer weighs only 0.58 lbs, while the max payload is 0.62 lbs, allowing you to put this smartphone gimbal in your pocket and bring it anywhere. Enjoy filming your specular moments with this gimbal without any burden.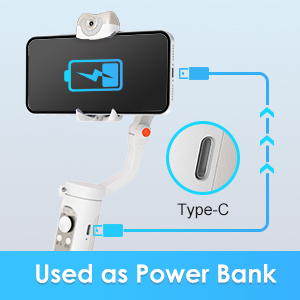 Work as Back-up Charging
iSteady V2 smartphone stabilizer has 9 hours battery life, supports emergency charging of mobile phones and other electronic devices. The gimbal can be used as a backup charger when you're outdoor and your phone runs out of battery. Enjoy your trip without any concerns about power off!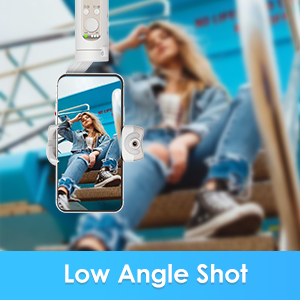 Low Angle Shot
Switch to low angle shooting by turning the phone gimbal stabilizer for video upside down while setting the gimbal on POV following mode. You will find the surprise from a different perspective to view the world with 4 following modes and 4.0 automatic upside-down detection.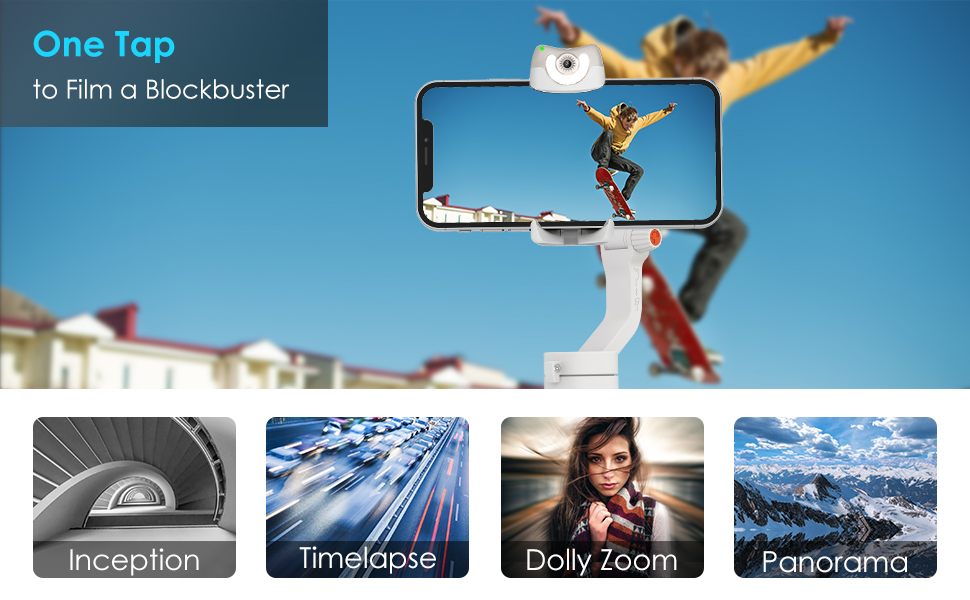 One Tap to Film a Blockbuster
Want to figure out how to make outstanding videos? With the Moments Mode in Hohem Pro App, every shot can be made into a masterpiece with one-tap templates without editing. iSteady V2 cell phone stabilizer contains many enhanced cinematic one-tap templates, such as 3D Inception mode, Dolly Zoom, and Timelapse, that bring out a whole new level of creativity to you for any situation.
| | |
| --- | --- |
| Brand | Hohem |
| Model | iSteady V2 |
| Colour | Black |
| Compatible mobile phone | Weight |
| Mechanical angle range | Pan |
| Controllable range | Pan |
| Built-in battery | 1 * 3.7V 2800mAh 18650 battery |
| Charging time | 2.5 hours |
| Working time | 9 hours/4 hours (AI vision sensor on)/2 hours (AI vision sensor and LED fill light on) |
| Folded size | 17.9*7.9*3.9cm / 7*3.1*1.5 |
| inches Item weight | 263 g / 9.28 oz |
| Package size | 21.5 * 13 * 7 cm / 8.5 * 5.1 * 2.8 inches |
| Package Weight | 603g / 21.27oz |
| packing list | |
Will not hold my phone
To position my phone correctly, it covers the power button so when it is holding the phone, I can't turn it on! Also when I do put in the phone. It beeps then turns off every time. The software is also hopeless.
16/03/2022
It is awesome. Only thing is that for 12 pro max I need to take out my cover
It is awesome. Only thing is that for 12 pro max I need to take out my cover
11/02/2022
Excellent
I am impressed by this tool. It works great and it has a very good build quality. I am particularly impressed by image stabilization, gesture control, and face tracking. The video lights and emergency charging features are great plusses. I would recommend it without reservation.
29/01/2022
Innovative Technology
This innovative technology is great and exactly what I was searching for. I create content for fun and this has helped immensely. It captures a clear video. The difference in quality is quite noticeable. The flexibility feature is the coolest gadget for products such as these. 10/10, would definitely recommend.
23/01/2022
iPhone 12 Pro Max is not fully Compatible
Wrote 4 stars because the iPhone pro max 12 is too heavy for this unit. Though it works for the most part with and without the case, randomly it will spin out of control as it seems it's too heavy for it
10/01/2022
There are no faqs for this product.
Gimbal Stabilizers
Axis
3-Axis
Applicable Equipment
Mobile
Fill Light
√
Remote Control
×
Payload
Max:280 g(0.62lbs)
Battery Life
9H
Compatible Phone Size
55mm~90mm, screen of up to 7"