2" Screen Video Baby Monitor with Wireless Remote Camera, Night Vision, Temperature Monitoring and Two-way Talk Work with 2.4 GHz WiFi US Power Plug
Terms
Coupon Terms
Terms and Conditions:
Coupons are valid for a limited time only. Kentfaith reserves the right to modify or cancel coupons at any time.
You must purchase the qualifying items added to your Cart when the coupon is in effect for the discount to apply.
If you later modify or cancel the subscription or delivery date for the qualifying item, the discount will not apply.
The coupon applies only to qualifying items displaying the coupon offer.
If you buy more than one item from the same coupon, the maximum discount amount of the coupon will be equal to either the percentage discount off or the face value of the coupon on one eligible item. The coupon may only be used on www.kentfaith.com.
The promotion is limited to one coupon per customer.
If you return any of the items purchased with a coupon, the coupon discount or value may be subtracted from the return credit.
Buy 2 get 5% off, Buy 3 get 10% off, buy 6 get 20% off
Free shipping to eligible country
Brand:

KENTFAITH

Free Shipping. 30 Day No Reason Return. K&F baby monitor features long range, screen sleep mode, temperature monitor, 24h battery life.

GW60.0023US

SKU:

GW60.0023US

69.99

https://www.kentfaith.com/GW01.0276US_video-baby-monitor-wireless-remote-camera-night-vision-temperature-monitoring-and-portable-2-quot-color-screen-us-standard-vb602
Description
* The UPGRADED LONG RANGE 850' long-range baby monitor can monitor your child anywhere at home (even working in short distance outdoors). The reliable 2 4 GHZ wireless frequency is more reliable than the camera that can be used with home WiFi
* The screen sleep mode enables the VOX mode, and when no sound signal is detected, the digital screen will sleep. When the camera is monitored from the bedside table in the bedroom, the screen will not light up. Set the alarm wake-up time in the monitor settings
* The thermometer on the top of the temperature monitoring cam can measure the crib or room temperature to ensure your baby is comfortable in summer or winter. The built-in baby monitor night vision system will activate when the optical element senses low light
* Through the intercom call, press and hold the monitor's baby camera audio button to speak or comfort the child, you can talk through the two-way intercom mode and allow the speaker to make double calls. Kindergarten camera radio button can play lullaby music
* 24-hour battery life The night vision baby monitor battery is designed for all-day use. Use the wireless monitor travel clip to get the best access during the day and charge the twin baby monitors at the bedside at night. Baby Monitors are on the list of Top 10 Baby Must-Haves For First-Time Parents, Best Gifts for New Moms.
Shipping
Free shipping to eligible country
Sale
Buy 2 get 5% off, Buy 3 get 10% off, buy 6 get 20% off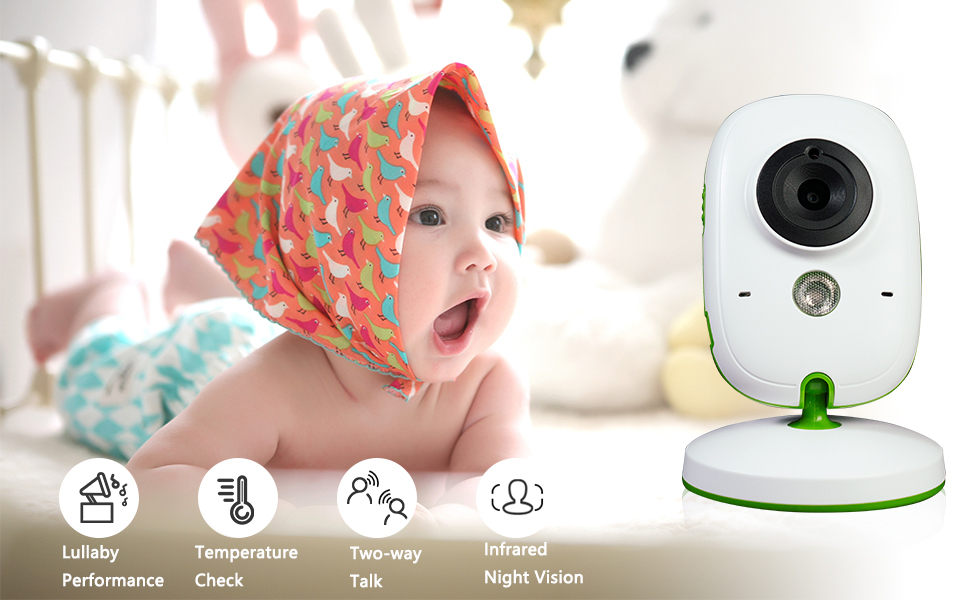 Always pay attention to your baby
EThe simple design of our products allows you to always pay attention to your baby and make you feel at ease. The camera is equipped with an infrared LED, which can be turned on automatically when there is insufficient light. The two-way walkie-talkie allows you to talk to and calm your baby.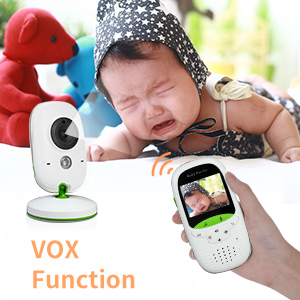 VOX wakes up automatically
The VOX function ensures that you can see your baby crying on the display and save energy when your baby sleeps safely and peacefully.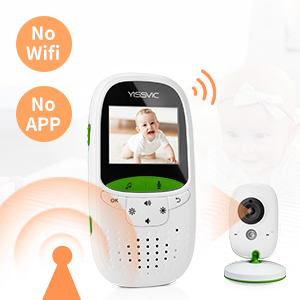 2.4 GHz secure network
Reliable 2.4 GHz FHSS wireless technology-privacy and security are 100% guaranteed.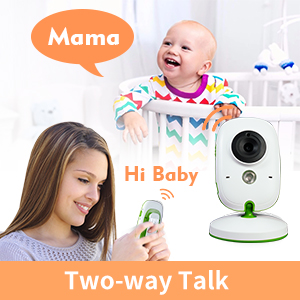 Two-way conversation
Even if you are elsewhere in the house, the built-in microphone and speakers allow you to communicate directly with your baby.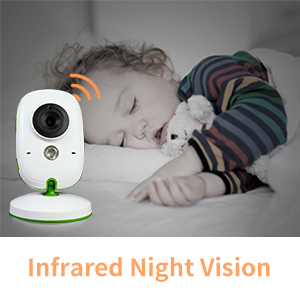 Infrared night vision
The camera is equipped with an infrared LED, which can be turned on automatically when there is insufficient light.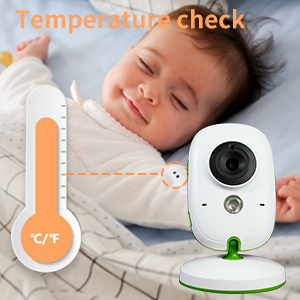 temperature display
The baby surveillance camera is equipped with a temperature sensor, which can display the temperature value on the monitor display in real time, allowing you to know whether the baby is in a comfortable environment.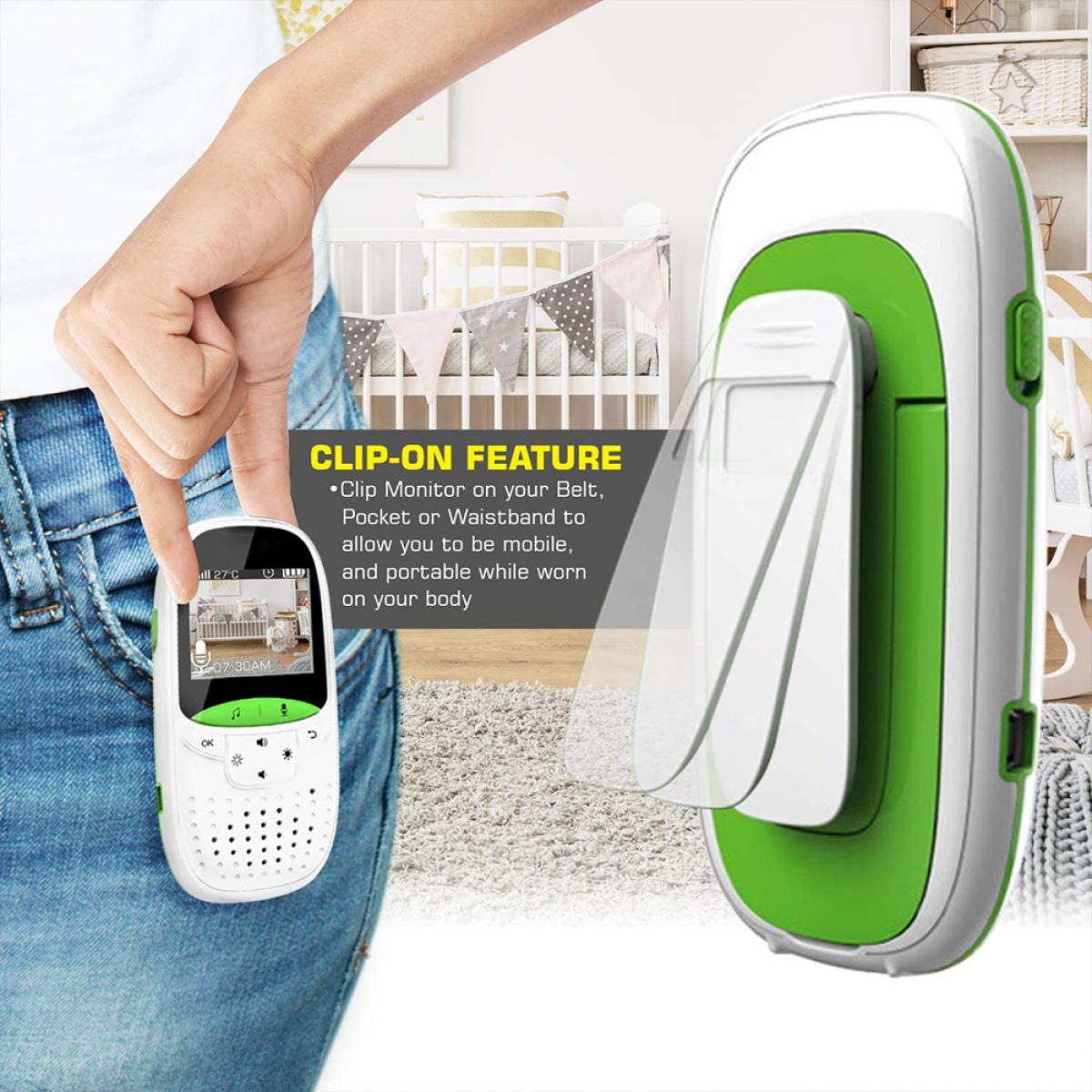 Easy to carry
The display is small, so you can follow your baby whenever you want.

Works great!!!
This monitor I bought for my moms care giver. Mom is 103 and sometimes gets disoriented thinking she can get up out of bed. Even thought we have bed alarm which works great, the monitor shows what she is doing and caregiver doesn't need to go into room to see what she's up to unless necessary. Glad I bought this. Worked out great.
10/11/2021
overall good
The wiring on transformers is very thin. The night vision doesn't have much range. Otherwise we liked the product. Haven't had it long enough to say anything about battery life.
24/07/2021
Love it
Just ordered a second one.
22/07/2021
Highly recommend
Love this! This is our 5th baby and we decided with several little one it was time to invest in a monitor and I couldn't be happier with this!! Highly recommend
17/07/2021
Good quality
Good quality but I dint know why it turns off all the time!
10/07/2021
Good picture, external antenna sucks
We have only had this monitor for 6 months and now it has horrible interference. There is an external antenna that you have to be very careful not to bend so when traveling it make it's tricky to pack without bending they antenna, which is likely why we have issues with this now
14/06/2021
Great picture
It comes in handy.. great quality
20/05/2021
Great to keep and eye on kids when having to do something.
Amazing, works great and most importantly price is reasonable.
10/04/2021
Decent buy for the price
I dont really like that it doesnt move using the parent unit. The one I had before this I could move and swivel using the parent side. My kids move alot while sleeping. The battery is good will last on a full charge 8hrs. And the night vision and picture quality is good also. The night vision is really clear even in black and white can make out small things in great detail. The temperature gauge is off but might just be our house. It can be 68 in the house and it will say 70. But it is a good buy if you just need something to help. The audio is pretty good too.
25/03/2021
Baby shower
It was given as a gift, and the mommy couldn't be happier
25/03/2021
There are no faqs for this product.
Baby Monitor
Screen Size
2"
Video Resolution
320*240
Battery
540mAh
Pan Tilt
×
Zoom
1
Infrared Night Vision
√(visible)
Connect Up To
1
Night Light
×
Lullaby
/
Temperature Sensor
√