6W Mini Fill Light Full-Color RGB Pocket Fill Light Built-in 2000mah Rechargeable Battery LED Camera Light Vlog Fill Light Live Light
Buy 99$-15$, 199$-30$, 299$-50$, 599$-120$(autumn sale Price)
Free shipping worldwide
Brand:

KENTFAITH

Full-color RGB fill light pocket light 6w, built-in 2000mah rechargeable battery, LED camera light, 20 scene modes, 0-100% stepless dimming, 2500-9000K, VLOG fill light live light with magnet adsorption function

GW51.0065

SKU:

GW51.0065

29.99

https://www.kentfaith.com/GW01.0264_full-color-rgb-fill-light-pocket-light-6w-built-in-2000mah-rechargeable-battery-led-camera-light-20-scene-modes-0-100-stepless-dimming-2500-9000k-vlog-fill-light-live-light-with-magnet-adsorption-function
Buy 99$-15$, 199$-30$, 299$-50$, 599$-120$(autumn sale Price)
Description
* 73 high-efficiency lamp beads, the illumination angle is 120°, the color rendering index is greater than 95, the color saturation can be adjusted between 0% and 100%; the brightness is adjustable from 0% to 100%; the color temperature is from 2500K (warm color) to 9000K (cool color) dimmable, LED display, battery level is clear at a glance
* Three modes: in CCT mode, the adjustable color temperature range is 2500-9000k, and the adjustable brightness range is 0-100%; in RGB mode, the adjustable color temperature range is 0-360°, and the adjustable brightness range is 0-100%; special effect mode You can switch the current special effects, a total of 20 kinds, the adjustable brightness range is 0-100%.
* 2000mah high-capacity battery, Type-c charging for about 2 hours, high-end light endurance time of 120min, low-end light endurance 15h
* The back magnetic design can be attached to most metals. There are various ways to play (do not attach the magnet to the surface with a temperature over 80°C to prevent the magnetic force from declining); 1/4 screw design, with a hot shoe base, can be connected to the camera, Expansion of tripod, light stand, pan/tilt and stabilizer.
Shipping
Free shipping worldwide
Sale
Buy 99$-15$, 199$-30$, 299$-50$, 599$-120$(autumn sale Price)
Frequently Bought Together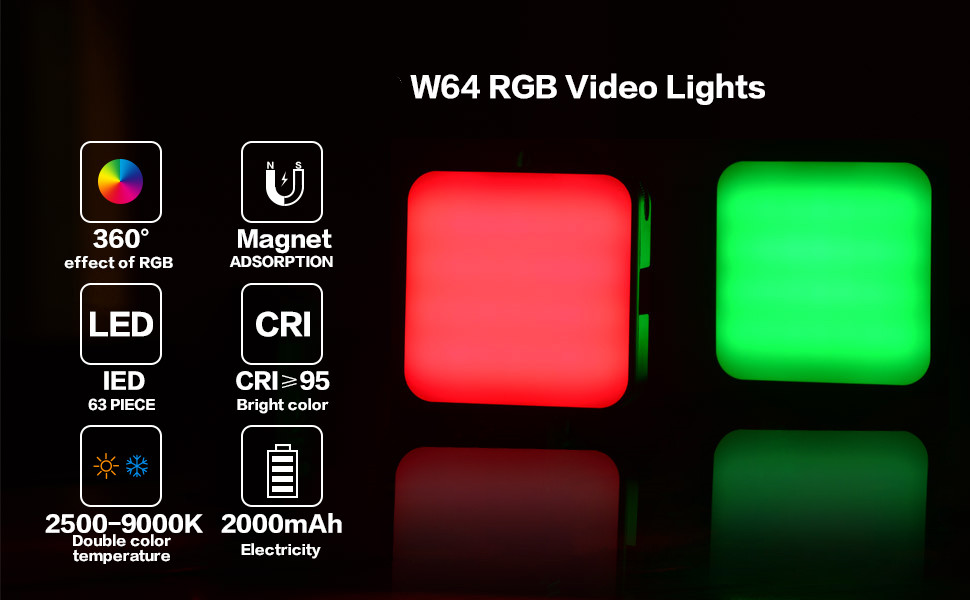 RGB Video Lights,Portable LED Camera Light w 3 Cold Shoe, Video Conference Lighting 360°Full Color, Rechargeable 2000mAh 2500-9000K with Magnetic Instructions:
1.Power off/Mode Switch: Long press to turn on the light,short press to switch light mode(CCT Mode,RGB Mode,Effect Mode)
2.Display Zone:
CCT Mode: Toggle the mode adjust thumbwheel to adjust the color temperature range:2500-9000k,Toggle the brightness adjust thumbwheel adjust the brightness: 0-100%
RGB Mode: Toggle the mode adjust thumbwheel to adjust the rgb color hue rgb hue range:0-360°,Toggle the brightness adjust thumbwheel adjust the brightness: 0-100%
Effect Mode: Toggle the mode adjust thumbwheel to shift effects(20 kinds effects),Toggle the brightness adjust thumbwheel adjust the brightness: 0-100%
Product Specification:
Beads: White 22pcs/Yellow 23pcs/RGB 28pcs
Work Time: Strong Brightness>2h, Weakest Brightness>15h
CRI: 95+ Power: 6W
Voltage: 6V Charge Port: type-c
Battery Campacity: 2000mAh Beam Angle: 120°
Illuminance: 800LUX/0.3m Charging Time: 2.5h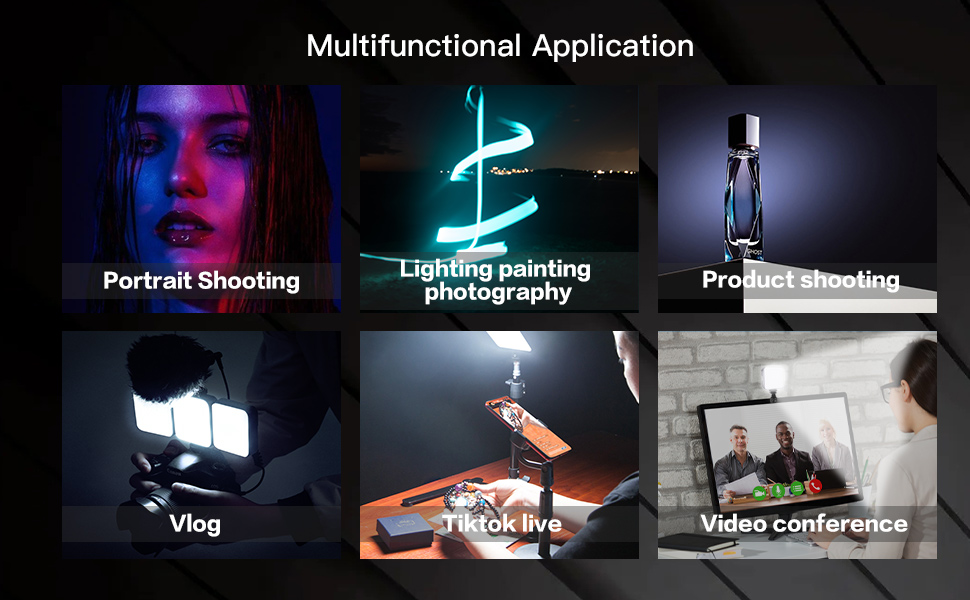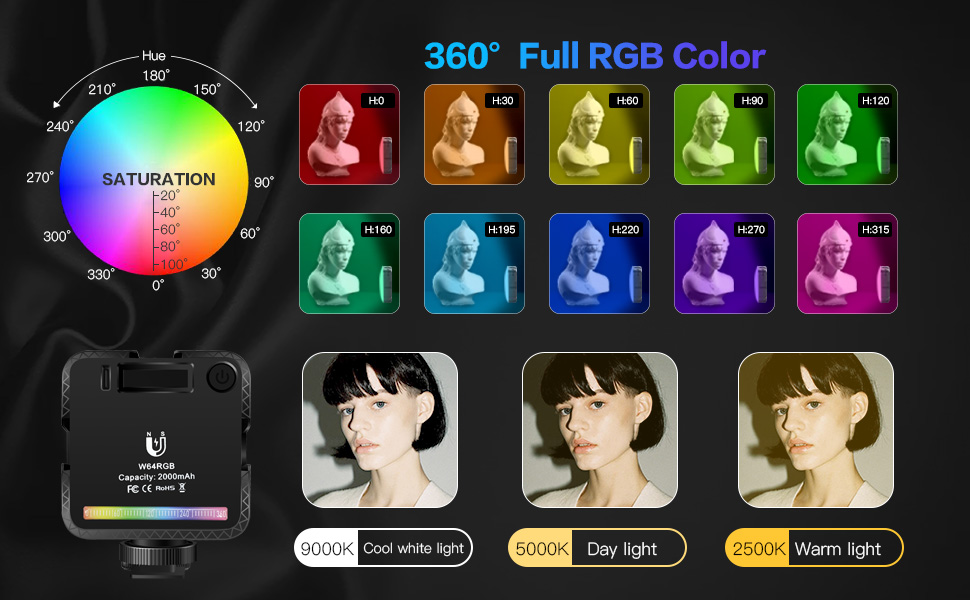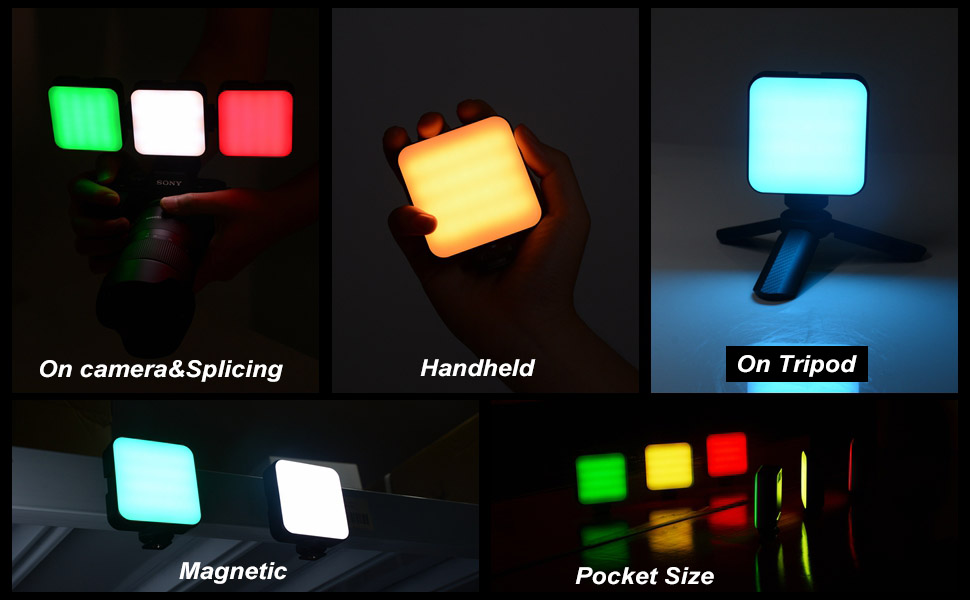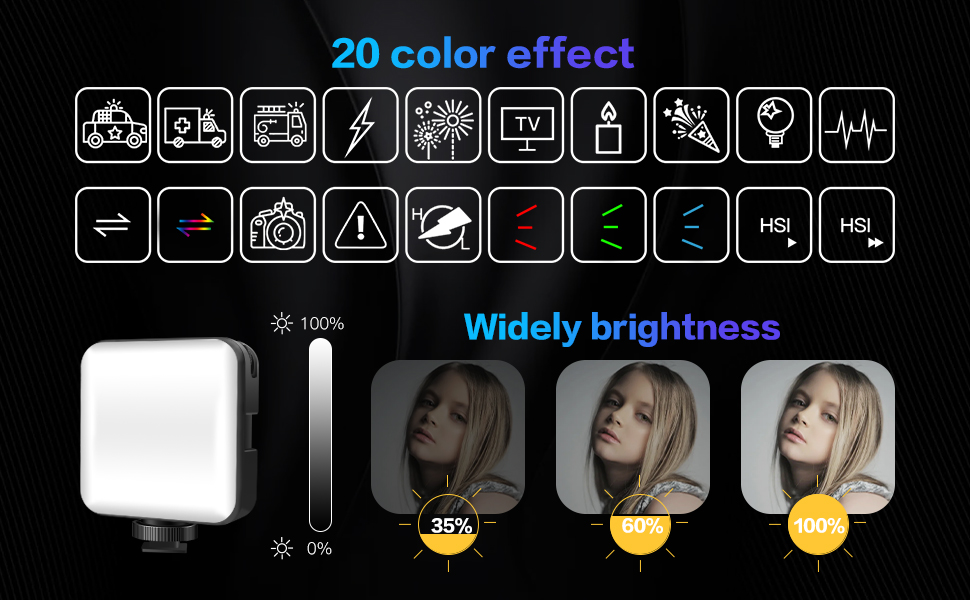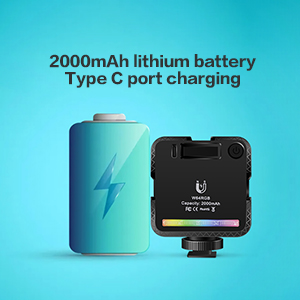 Built-in Rechargeable 2000mAh Battery
The charging time is about 2.5 hours, the maximum brightness output up to 2 hours, the minimum brightness output up to 15 hours.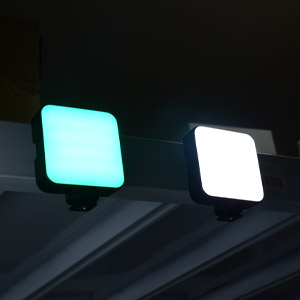 Magnetic Back Design
Built in agnetic which support you to put it anyplace with iron, be convenient for your shooting.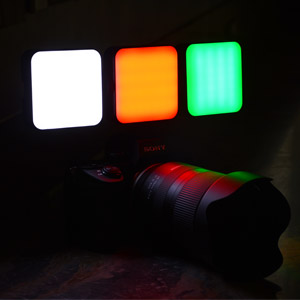 3 Cold Shoe Mount
The number of PANEL lights can be spliced arbitrarily to create different RGB lighting atmospheres and required brightness.
| | |
| --- | --- |
| model | W64RGB |
| Material | SECTION |
| Number of lamp beads | 73pcs (white 22pcs, yellow 23pcs, RGB28pcs) |
| Display index | Ra≥95 |
| Operating Voltage | 3.7v |
| battery capacity | 2000mah |
| Illuminance | 800LUX / 0.3m |
| power | 6w |
| Recharge | Type-C |
| Light angle | 120° |
| Charging time | 2.5h |
| Color temperature range | 2500k-9000k adjustable |
| Battery life | Maximum brightness>2h |
| Scope of application | Fill light suitable for indoor and outdoor shooting environments, such as mobile phones/cameras/video cameras/sports cameras |
| Product Size | 7.5*6*3.1cm |
| Package dimensions | 12.5*11.2*3.8cm |
| product weight | 190g |
| Package weight | 210g |
| Package Contents | Fill light*1, charging cable*1, manual*1 |
All Reviews
Image

All Star

5 Star

4 Star

3 Star

2 Star

1 Star
Bright, light, and user friendly
This is an amazing product, specially at this price point. The light weight, combined with the magnets make it very easy to mount. Battery like it's pretty good, and the ability to dim the brightness allows for the perfect set up for product photography or just to brighten up the background of a picture or video.Different color hues and the temperature selector are pretty user friendly. Definitely recommend.
23/04/2021
Great lighting for streamers!
This is really great! Arming it to a arm stand for microphones allows you to have ease of access to lightning for the perfect shot for streams!
18/04/2021
Great light control!
Works really well! RGB increments are really good! Excellent product for price!
17/04/2021
So much product in such a small space
I ordered one to check it out, after having out of box for less than 10 minutes, I immediately ordered another one.You can produce any color, and intensity. On the white light, you can pick the exact color temperature, which will allow you to set the same temp on your white balance.Get one before they are all gone! The camera picture I included was done with one set on white and the other a shade of red.
17/04/2021
Small but powerful.
This product is amazing, I only use it between 10-50% of the brightness setting, it is very lightweight, and cheap for how much it can do. Plus the mounts on the top and sides allow you to add even more lights if you wanted to. I highly recommend.
17/04/2021
Great on camera RGB light.
You have a choice of Daylight or Tungsten temperature lighting, or RGB colors. When using it on the camera, it only requires the light to be set to 30% brightness to light your subject a few feet away.
16/04/2021
Good light, but better options out there
I bought the regular vl49 light and had been happy with it - so bought two these lights as I thought I could change the color of the lights for my backgrounds. The light is not even and the colors seem off for some reason. I have another brand's light and that is superior to this one - for the same price. Lots of options out there - so definitely shop around. BTW, I bought this light from Ulanzi directly (via their website). It took 17 days to get delivered to me, from the time of ordering. Do yourself a favor and order via Amazon directly - that way you will get the light in 2 days maximum.
15/04/2021
Just not what I thought!
Well I was disappointed that the colors really don't reflect very well? The White is bright but it just didn't do what I needed it for.
09/04/2021
Quick and professional delivery of exactly what I wanted
Quick delivery of good quality product
07/04/2021
Best in color saturation and brightness. Value for money
Beautiful little led light. The color saturation is perfect. It comes in a small package and with usb c charging cable. Light and easy to use with 3 extra cold shoe mounts. 100% recommended for a more stylistic photography or for video use.
07/04/2021