55mm UV Lens Filter HD MCUV Ultraviolet 28 Multi-Coated Filters (Nano-x series Toughened Glass)
Buy 99$-15$, 199$-30$, 299$-50$, 599$-120$(Black Friday Price)
To
United States
Expedited Shipping
3-5
business days
Buy now in the K&F Concept UV Lens Filter ► 30 Day No Reason Return ► HD MCUV Ultraviolet 28 Multi-Coated Filters ► Fast Shipping From US Free ► Nano-x series Toughened Glass

KF01.1863

SKU:

KF01.1863

28.99

https://www.kentfaith.com/KF01.1863_55mm-uv-lens-filter-hd-mcuv-ultraviolet-28-multi-coated-filters-nano-x-series-toughened-glass
Buy 99$-15$, 199$-30$, 299$-50$, 599$-120$(Black Friday Price)
Description
* 【Prevent UV Ray & Protect Lens 】UV filter has two functions, one is to prevent CCD has affected by UV ray and weakens the blue tone in images caused by UV, ensuring clarity and color. Another is to protect the lens away from shock harm, water, dust, scratches, oil, and fingerprint .
* 【Shockproof Tempered Optical Glass】K&F Concept shockproof tempered UV filter is made by importing Japanese AGC glass, shockproof, waterproof, and scratch resistant.
* 【28 Multi-Layer Coatings】Both sides of the glass with nanomerter coatings, 99.6% transmission, effectively reduces the reflection coming from both the ground and the filter itself, high definition images while maintaining the true color of photos.
* 【Telephotos & Wide-Angle Lens No Vignetting】Shockproof tempered UV filter frame only 3.3mm ultra slim with double side polishing technology no vignetting and the images still clarity even on telephotos lens.
* 【Note】Please verify your camera's lens thread size before ordering. This number is always beside a "Φ" (diameter) symbol. For example, Φ55 =55mm lens thread size.
Shipping
To
United States
Expedited Shipping
3-5
business days
Sale
Buy 99$-15$, 199$-30$, 299$-50$, 599$-120$(Black Friday Price)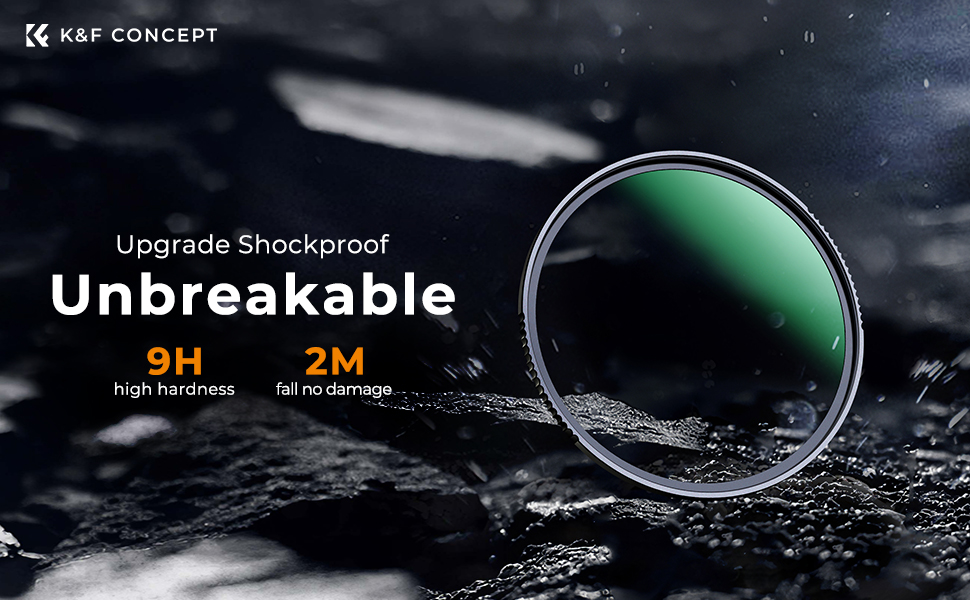 K&F Concept Shockproof Tempered Glass MCUV Protection Filter for Camera Lens
K&F Concept Shockproof Tempered MCUV Protection Filter - A Milestone for Lens Protection Filters - A Must-Have in Your Camera Bag!
---
99.6% transmittance, presenting first-class image quality.
Shockproof, waterproof, scratch-resistant, and oil-proof in one filter, protecting the valued lens in all rounds.
9H hardness, 2m fall no damage to the lens.
Ultra Slim – 3.3mm, no vignetting even on wide-angle and telephoto lens.
It was made with Japanese imported optical glass and K&F Concept Nanotec technology.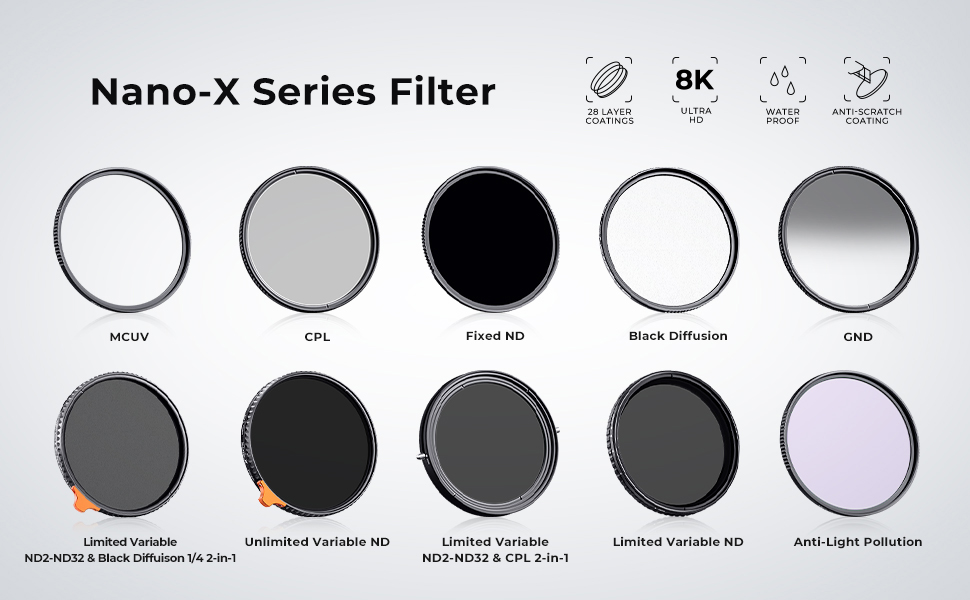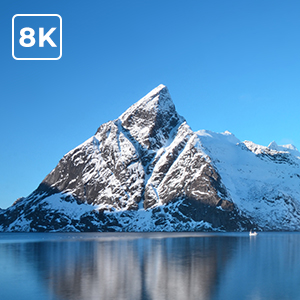 A New Generation of MCUV Filter- Shockproof Tempered Optical Glass MCUV Filter
K&F Concept new generation shockproof MCUV filter added shockproof function -9H hardness tempered glass supporting 2m falls no damage of the filter on the basis of general UV filter, enriched the UV filter protection function, except waterproof, oil-proof, scratch-resistant, also shockproof, protecting the valued lens well.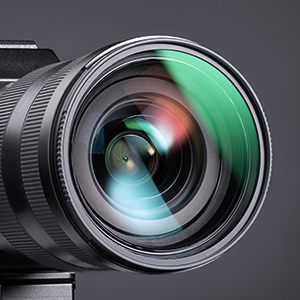 28 Multi-Layer Coatings
Both glass sides with coatings ,ensures the light transmittance reach to 99.6%, no affect for the image quality.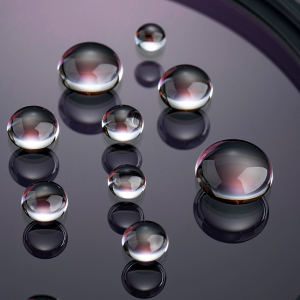 Waterproof /Scratch Resistant /Shockproof
Triple protection tempered glass shockproof, waterproof, and scratch-resistant, provides more wides of protection for the lens, even the glass split, still together, won't shatter to scratch the lens.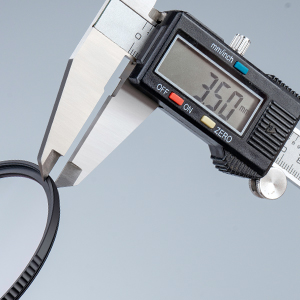 Ultra Slim Frame No Vignetting
3.5mm Ultra-slim optical glass, there is no vignetting even on wide-angle and telephotos lens.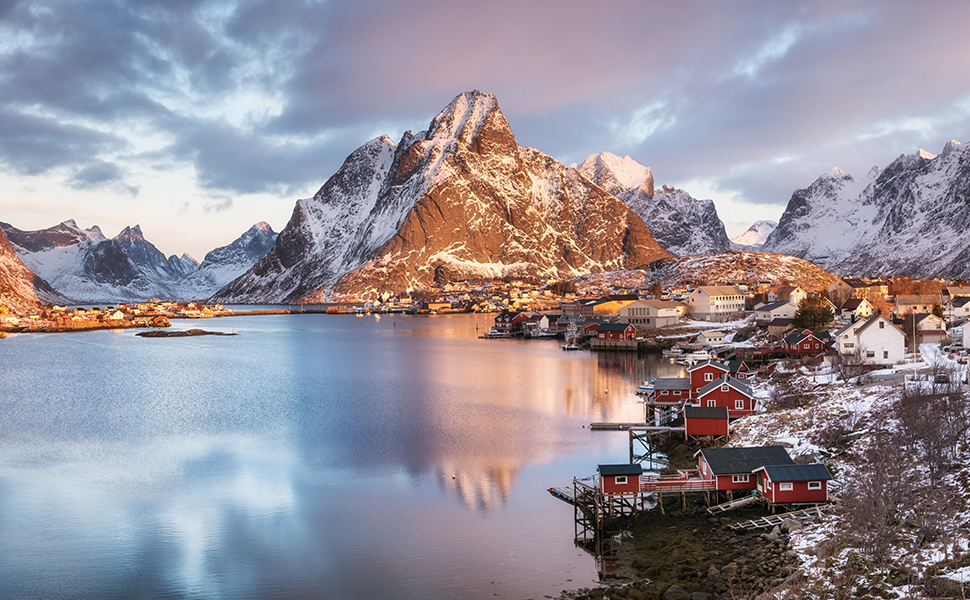 All Reviews
Image

All Star

5 Star

4 Star

3 Star

2 Star

1 Star
Protects your investment.
I know some people arent fans of putting glass on top of glass, but often times when you rent a lens its gonna have a protective filter on it. I needed something to protect my 35 1.8s lens for Nikon. This allows me to do that. The picture quality remains solid. I just wish the case this came in wasnt so big.
21/05/2023
Solidly good quality protection filter that fits perfect and guards your lens like a champ.
If you're looking for some good quality protection for your lens, it's hard to beat K&F Concepts at this price point. The quality of materials, fit and finish. And overall clarity and protections of this product, provides a fantastic way to keep a multitude of things from getting to and damaging your more expensive lens.

For me it gives me a great amount of comfort having some protection that is so good at doing its job, that I don't even know it's there until it's already succeeded at protecting me.

Overall, this product is made very well, it fits perfect on my lens and does a fantastic job at what it's intended to do. If you need UV or more importantly damage protection, this is a great choice that I highly recommend for this price point.

I have included some pictures and video to help show the quality of the product. I hope you found this information to be helpful in your decision.
20/05/2023
Great protection and good picture quality
it fits right in and felt protective. Also I am able to rest in peace for the lence
19/05/2023
Stay protected
Some say you don't need now with digital photography, but I have always bought a UV filter to cover all my lens. Never have to worry about fingerprints or dirt and dust getting on lens. Great price and very well packed, love the case it comes in.
18/05/2023
Crystal clear UV/protection filter.
Quality filter from K&F concepts at an affordable price. The filter is slim and threaded onto my lens easily. I experience no vignetting with this filter on my 18-45mm kit lens. The lens is clear, and provides a layer of protection for my lens. Photos included show the photo taken without the filter attached (the one with the filter in the photo), and then the same shot after I installed the filter. No difference - exactly what I'm looking for. You can't go wrong with K&F concepts - high end quality at a budget friendly price.
17/05/2023
Improved pictures during day
This has helped with UV protection during the day and has also helped prevent scratches to my camera lens. It is very slim and you can barely tell that its on. I am also able to put my lens cover on it so that it does not get damaged. Worth the investment
16/05/2023
Doesn't Really affect the photo on Mirrorless, but is great for protection
UV filters are a lot more useful for film as UV affects film way more. However this is still useful for protection, both from UV if you are shooting a lot and also from dust and other particles. There is almost no visible difference between having it on vs having it off in most circumstances so if you want a little more protection on your lens, this is perfect for you.
16/05/2023
Protect my camera and improved contrast
Definitely low profile, uv protective of camera. I think there is slightly more contrast in photos too which is welcome! Highly recommended!
15/05/2023
Great UV filter, awesome filter case
K&F makes solid filters, and this UV filter is no different. My 24-70 has been naked for some time and I decided it was time to get it a protective UV filter as I've brought it back into my rotation of travel lenses, so I ordered a matching 77 mm filter. The K&F filter surprised me when I first unboxed it. First, the case is fantastic. It's a hard-shell smoky-transparent plastic case that is secured with 4 tabs and a short rotation to lock and unlock it. It's a large filter case because the same case accommodates 82 mm filters, but it will also accommodate smaller filters down to 43 mm. And the filters won't slide around. But how? Inside the case are two conical sections of silicone, a small one with 2 ridges and a large one with 10. The large one has numbers next to each ridge indicating the size it fits (43, 46, 49, 52, 55, 58, 62, 67, 72, 77, 82). The small one with 2 ridges is meant to hold the opposite end of the filter and stabilizes it. So as long as your filter is one of those listed sizes, it should fit in this case and is held securely in place due to the silicone ridges. Now, it's held my single-layer filters without issues, but it doesn't accommodate my variable ND filters or filters with rotating handles/extensions that jut out.

The filter itself is very well constructed. The aluminum body has two sections of thick knurling built in so it's easy to grip the filter for installing and uninstalling. The filter itself doesn't noticeably impact my image quality on my 24-70 compared to without the filter when I examine an image up to 2x in Lightroom, and I don't notice a significant color cast either. For me, the K&F UV filter is well-constructed and good to use.
02/05/2023
superb
Excellent. It delivers what the manufacturer promises.
02/05/2023
There are no faqs for this product.
Filter
Size
55mm
Series
Nano-X Series
Recommended Scenes
All Scenes
Function
Protect Lens/Impact Resistance
Filter Material
Japanese AGC Glass
Multi-Coating
28 Layers
Waterproof
√
Scratch-resistant
√
HD
√