R11 handheld monocular IR night vision device with 5x digital zoom and 7 levels of adjustable IR brightness for hunting, monitoring wildlife, and exploring the wilderness in 100% darkness
Buy 99$-15$, 199$-30$, 299$-50$, 599$-120$(autumn sale Price)
Free shipping worldwide
Brand:

KENTFAITH

Buy KENTFAITH r11 handheld monocular ir night vision device with 5x digital zoom and 7 levels of adjustable ir brightness for hunting, monitoring wildlife, and exploring the wilderness in 100% darkness online, worldwide free shipping and 30 days return guarantee.

GW41.0051

SKU:

GW41.0051

57.99

https://www.kentfaith.com/GW41.0051_r11-handheld-monocular-ir-night-vision-device-with-5x-digital-zoom-and-7-levels-of-adjustable-ir-brightness-for-hunting-monitoring-wildlife-and-exploring-the-wilderness-in-100-darkness
Buy 99$-15$, 199$-30$, 299$-50$, 599$-120$(autumn sale Price)
Description
* 【Day and Night, HD Shooting】The R11 night vision monocular features an 850nm IR illuminator and a full optical system that lets you see your target clearly in 100% dark or dim ambient light. You can take HD photos and videos with excellent optical clarity in daylight, low light or at night.
* 【5X Digital Zoom】This IR goggle has 5X digital zoom and 25mm objective aperture, you can easily adjust to the best focal length to see clearer details of your target. You can record 1920*1080P HD images and 1080P videos with vivid details, save them in your computer via USB cable (included), and share them with your family and friends through the night vision goggles;
* 【Built-in 3W IR LED light】 Monocular night vision goggles with built-in 3W IR LED, 850nm allows you to clearly observe the target 984 feet away in the dark without any ambient light. 7-position adjustable IR design, adapt to the needs of different people in different environments to get the best results. (Just short press IR+/IR- button to adjust IR brightness.) The higher the IR adjustment, the clearer the image;
* 【Lightweight and portable】Ergonomic design, lightweight and compact, weighing only 195g, very easy to carry. The device is equipped with a padded wrist strap that fits comfortably in the palm of your hand, making it easy for you to use for stable photo and video recording.
* 【Wide Applications】This infrared monocular with night vision can be your good helper for hunting, camping, fishing, sailing, scouting, surveillance, outdoor adventure, search and rescue, wildlife observation, yard monitoring, bird watching, landscape photos. You can view photos/videos immediately or save everything on a memory card and download easily. (Note: memory card is not included)
Shipping
Free shipping worldwide
Sale
Buy 99$-15$, 199$-30$, 299$-50$, 599$-120$(autumn sale Price)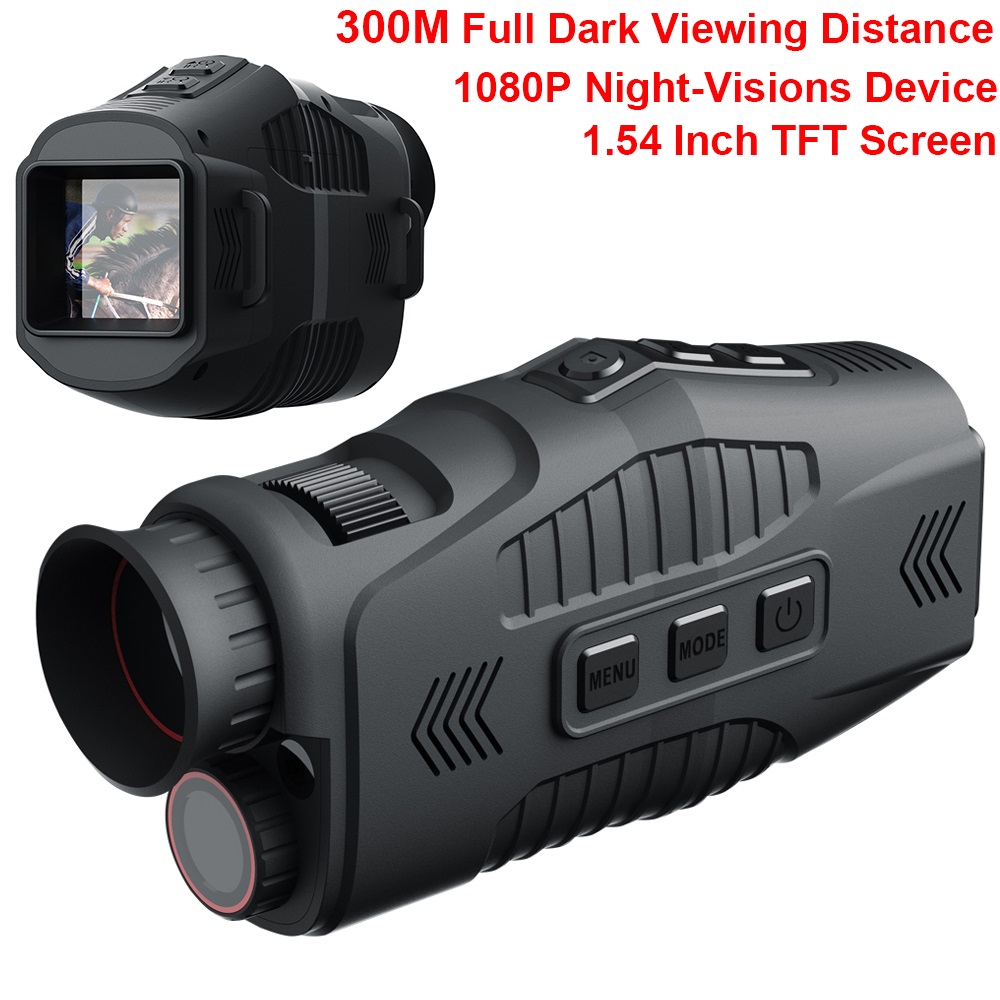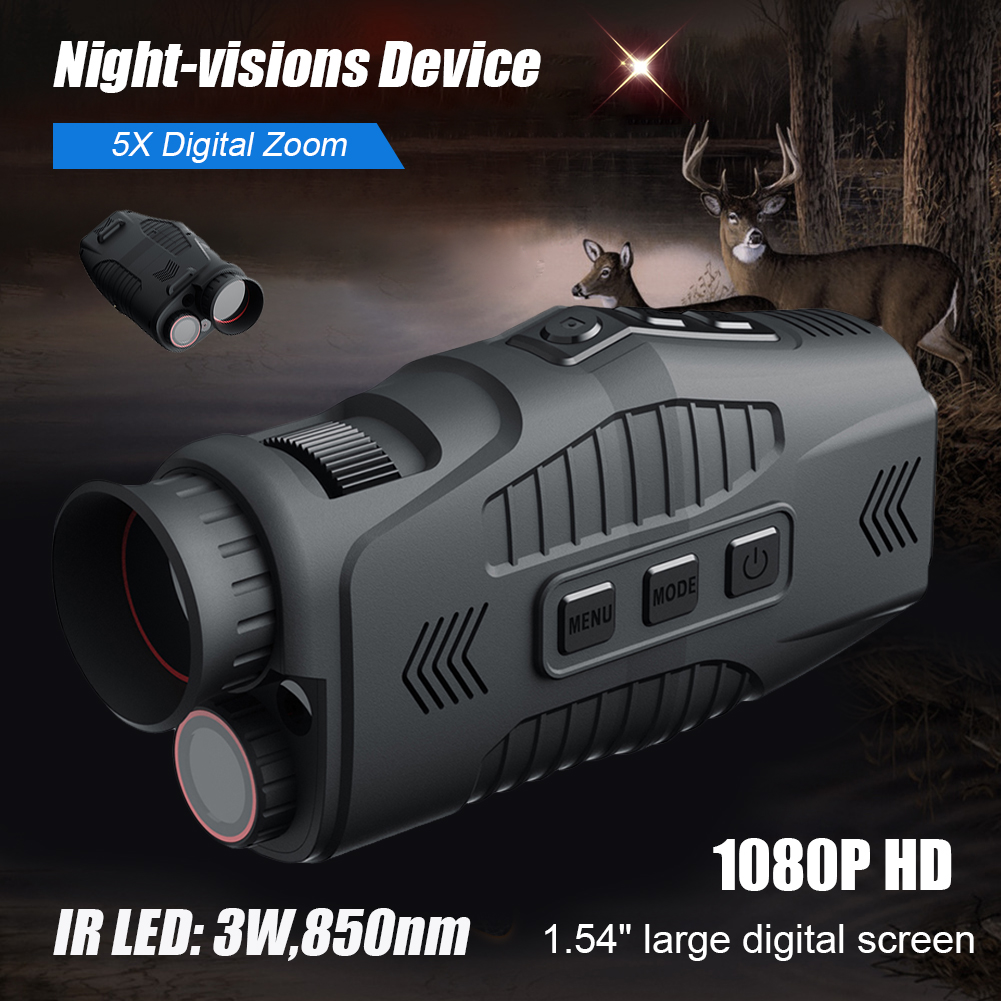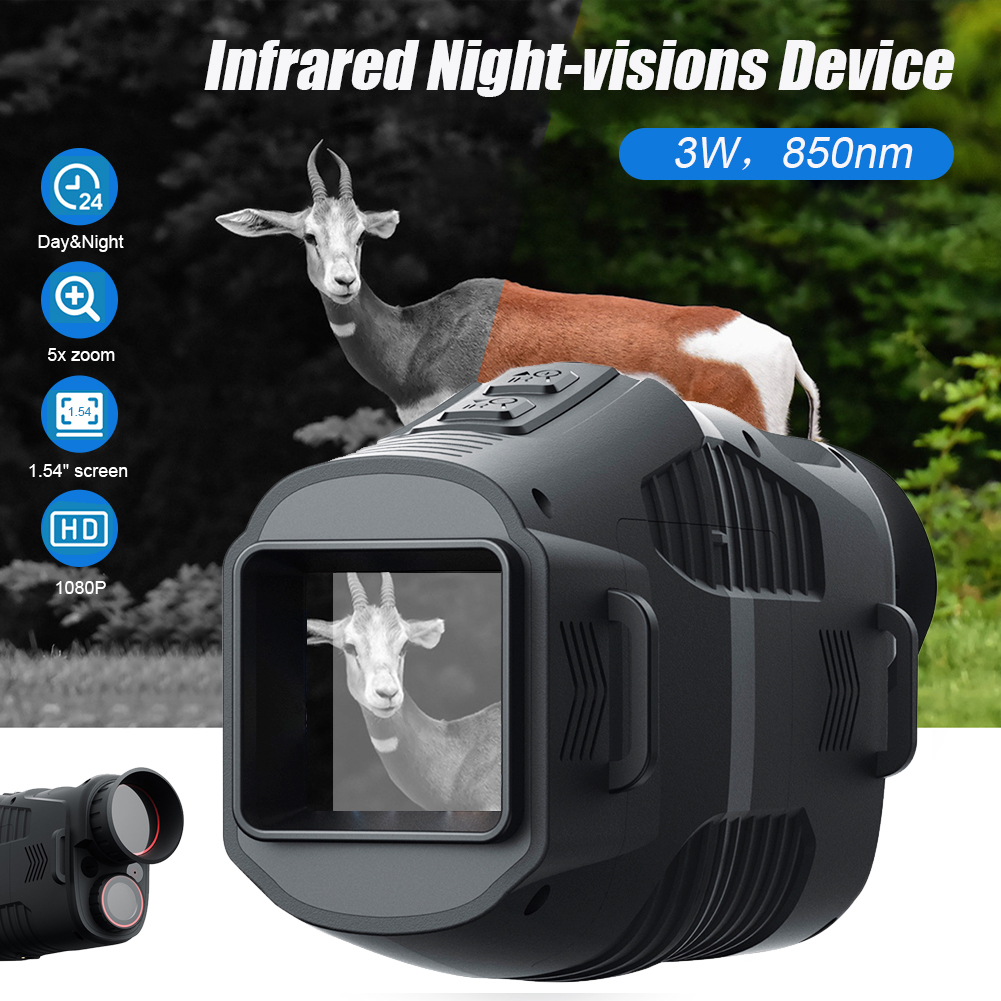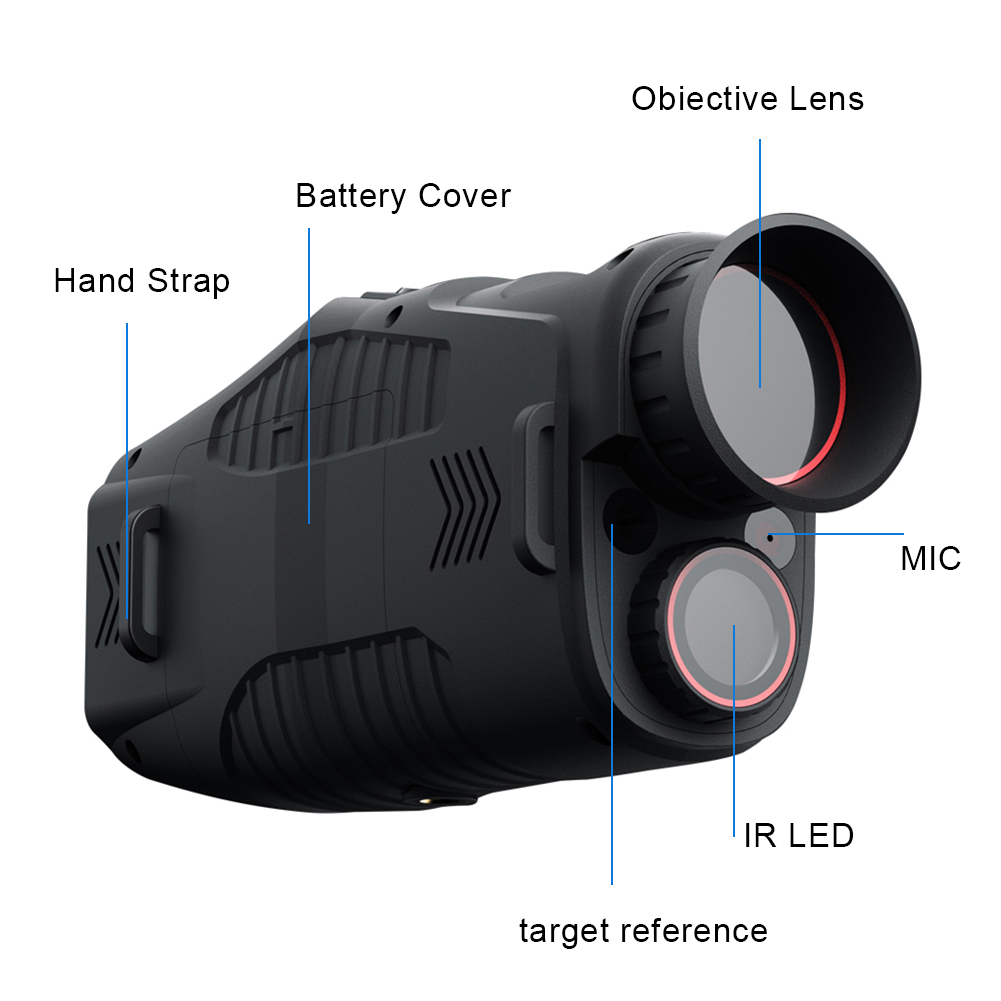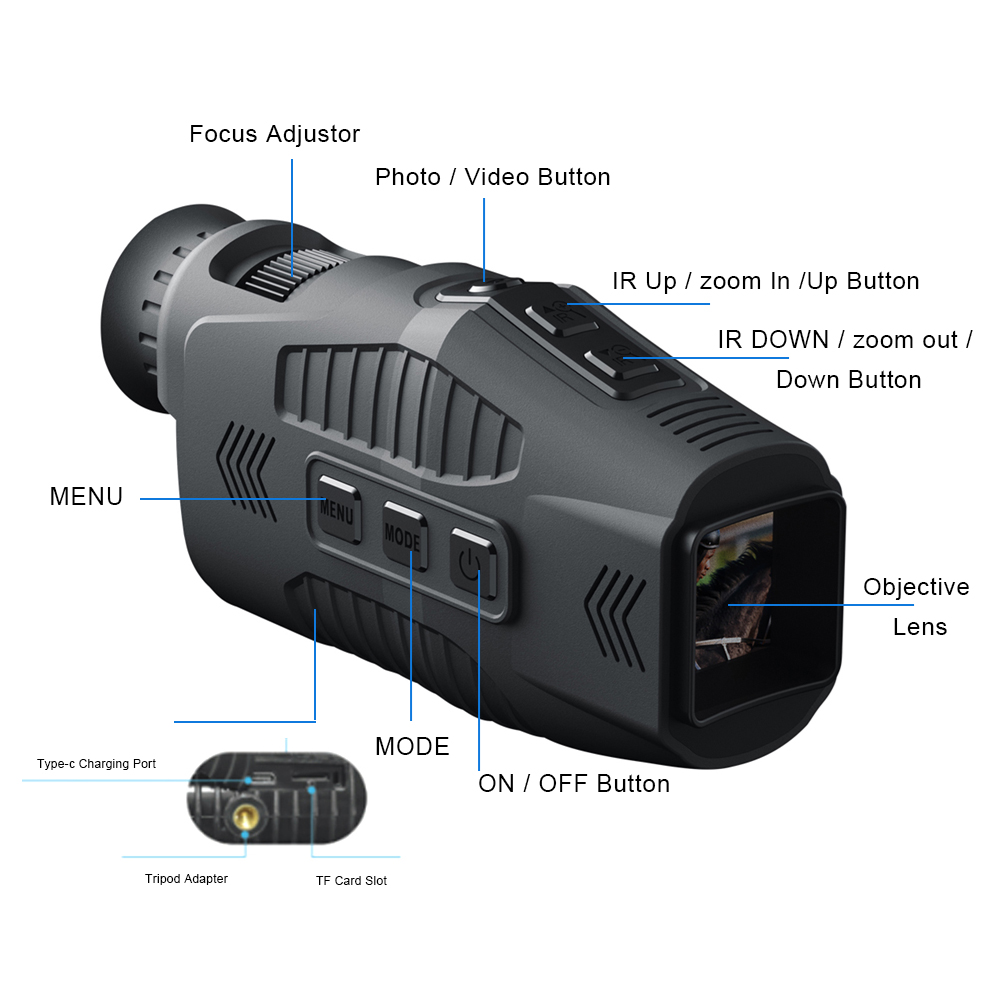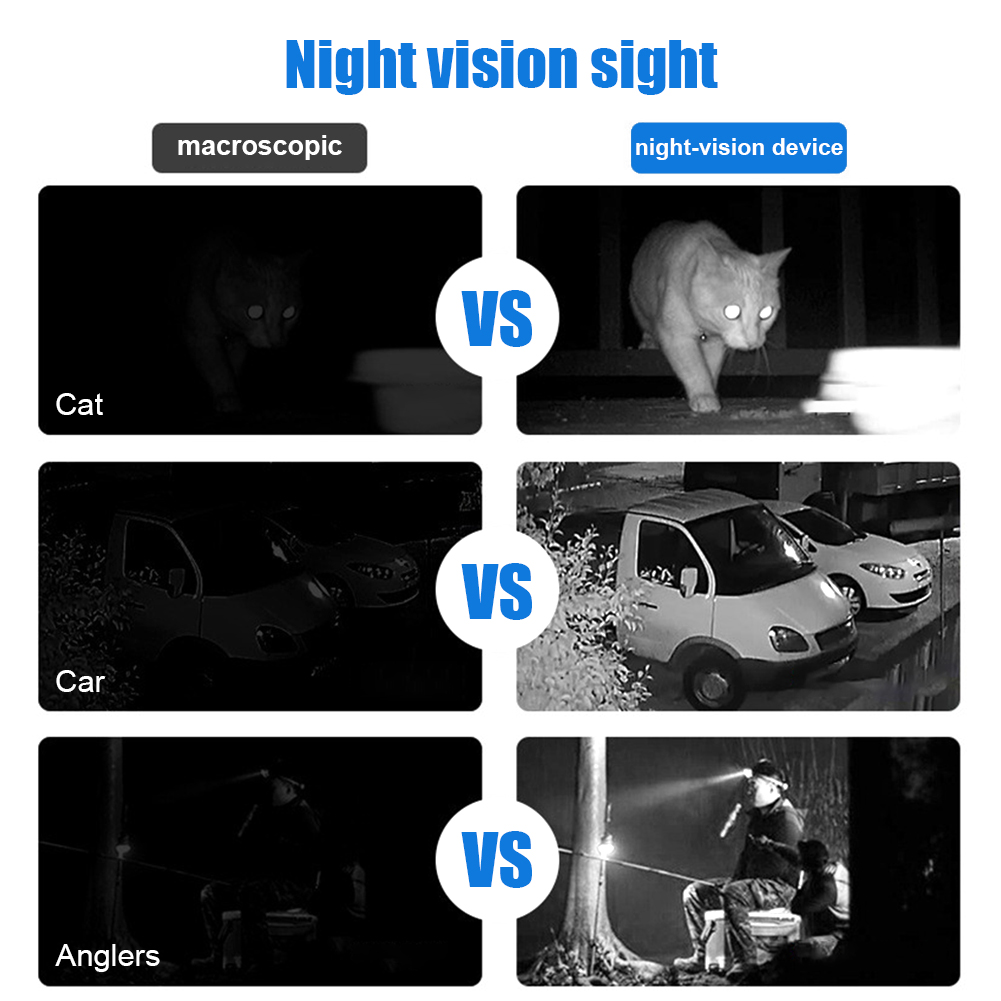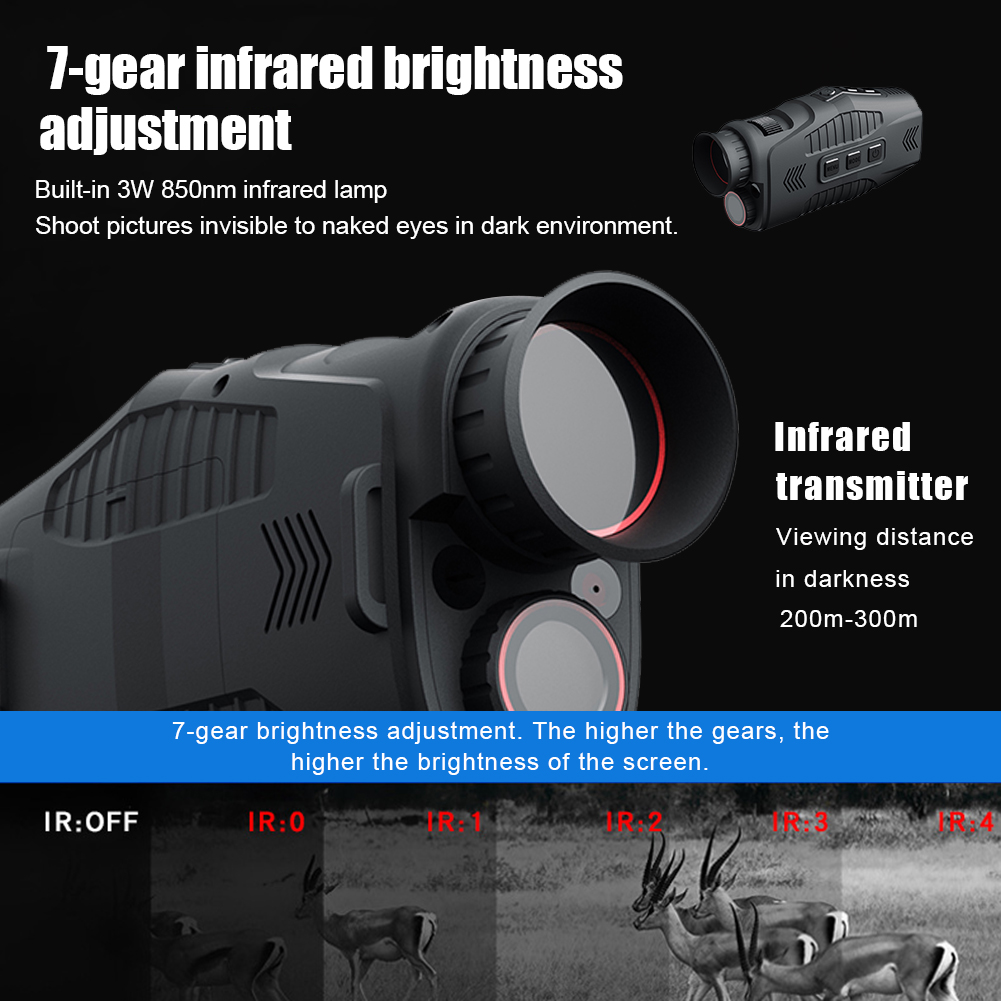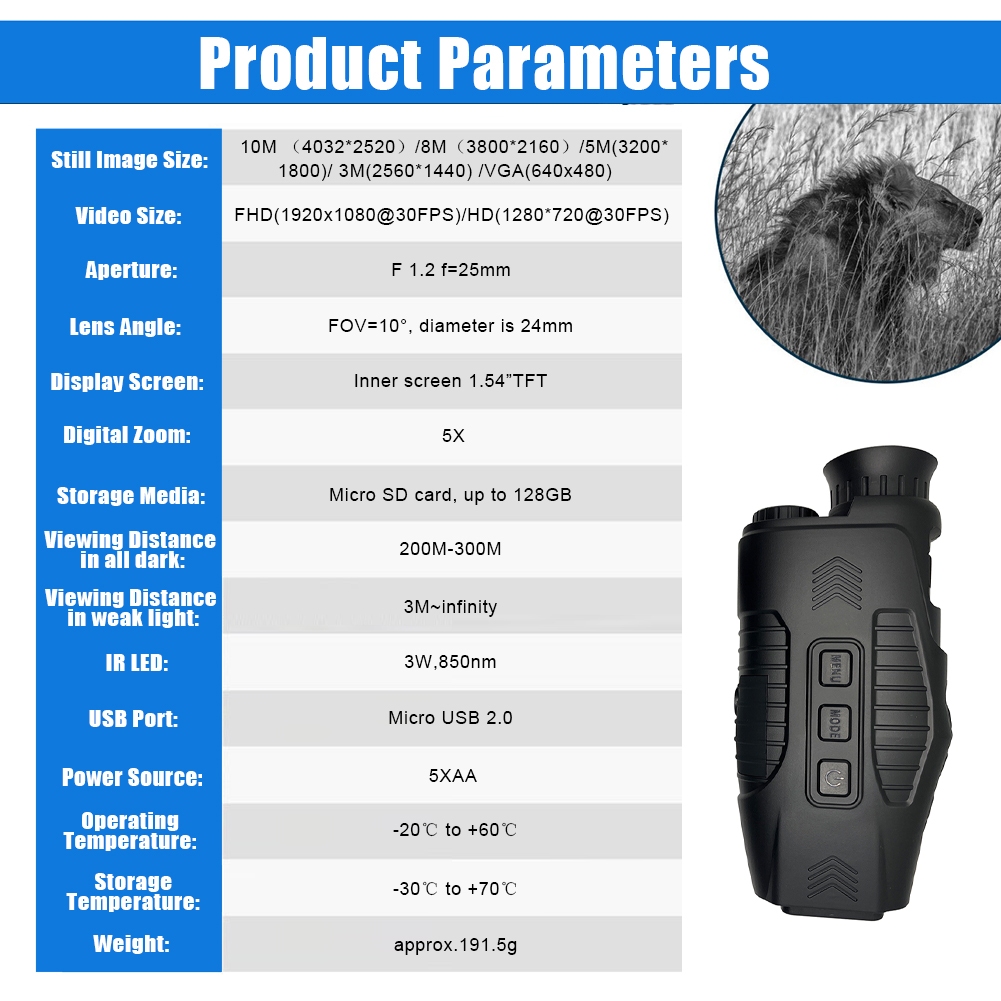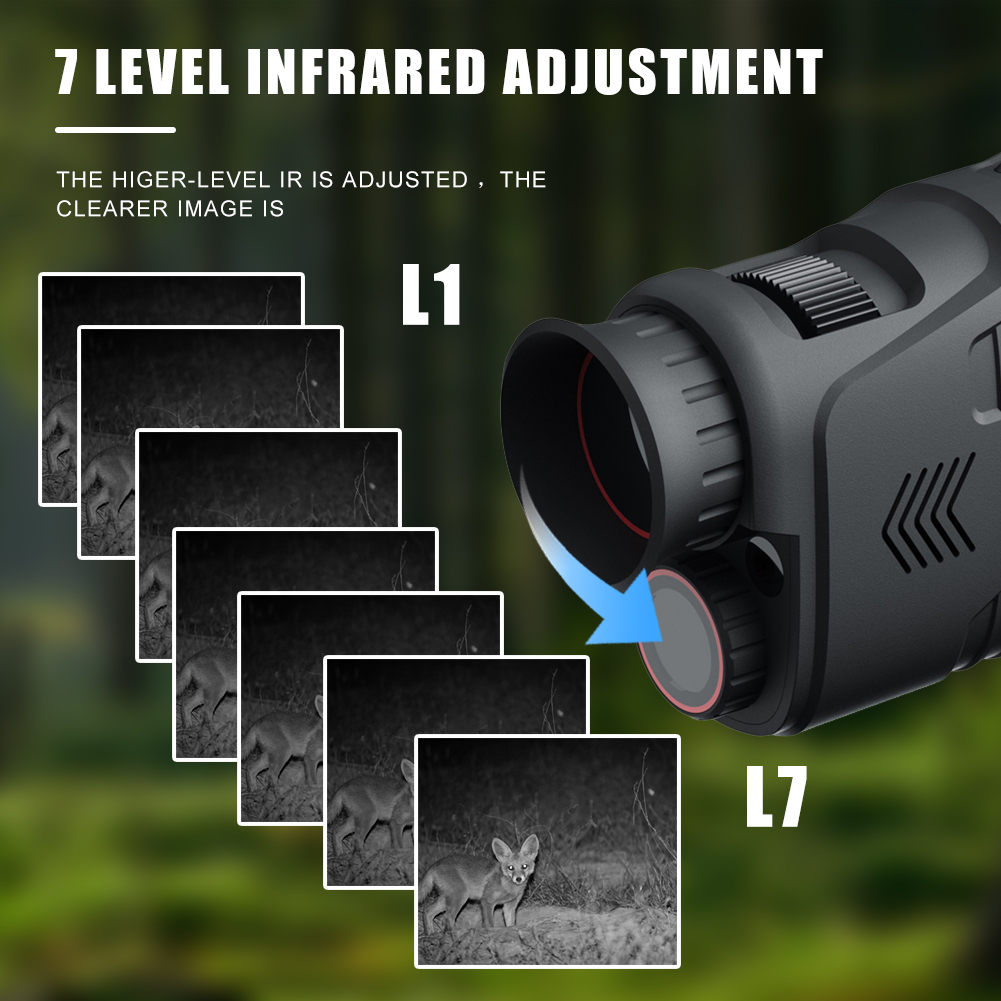 All Reviews
Image

All Star

5 Star

4 Star

3 Star

2 Star

1 Star
Nice handset. Good price.
This is a nice portable IR night vision device. I found it ergonomic and easy to use. The zoom is great and the picture is of good quality. It can be used as a night vision device or as a day monocular because the IR projector (IR flashlight) can be turned on and off separately from the device. The fact that it comes with a memory card for taking and transferring photos and videos from the device is a huge plus. The video function is of good quality. I have used it to discreetly check the property at night and for game viewing. Be aware that this won't completely hide you, as the backlit screen casts a bit of a dim light on you, but as we said, it's relatively discreet and much more than pointing a white-light spotlight or flashlight at the area. The price was great for what I consider the excellent quality. I'
20/03/2023
budget night vision
This is a very budget friendly night vision. It's easy to use and set up. Battery life isn't great, but bearable. I use it in a very dark rural area and can get very clear vision out to 50 meters with the infrared. I cheat a bit with an extra infrared flashlight and it gets me out to 100 meters with no problem. I don't use it for anything other than a hobby to see what's lurking in the woods and it works well. If you're looking for something that does what it's supposed to do at a reasonable price, then I would buy it.
17/03/2023
Works as expected
Works great for the price. The screen is a bit bright and it would be nice to be able to adjust the screen brightness.
17/03/2023
Decent bag for your money
When used in a structure at night, it works perfectly. Everything is clearly lit and easy to see. Outdoors I was able to get a visibility of around 25 meters which again was clear and easy to see. All in all, for what you pay, you get solid night vision in a compact little design. The only downside I could come up with is the battery life. I haven't tracked it, but it seems like the device chews through the batteries pretty quickly.
17/03/2023
Good product
We use this to hunt pigs at night. The display is very bright, so we just use a piece of tape to hold a red lens over the display. We put it on a tripod and don't even turn on the IR light on the scope. We only use the IR light on the camera on low
16/03/2023
needs an improvement
First let me say this is worth the money. it's much better than i expected. easy to use and is pretty good night vision. many advantages, but of course there is a disadvantage. You cannot bring your eye to the viewfinder. It has to be several inches away from your face to see anything. A bit like trying to place your eye against the screen of your phone or TV. I wish the viewfinder was more like a camcorder. but I recommend this product.
16/03/2023
Very good up to about 100 meters.
If you want to see something alive beyond 100 meters, you need additional IR light.
15/03/2023
Surprisingly better than I expected
bought it to observe the nocturnal critters in the backyard. To be honest I wasn't expecting much in this price range but people seemed to like it. I can add that I was also impressed with what I was able to see. All in all, what you can see is pretty incredible. Would I use this for hunting? - No. Would I use it at a campsite to determine what the rustling behind the light was? - Absolutely. The main problem with this is the battery life. Just make sure you have some brand new batteries or some extras on hand before you take it out. Overall, though, it's a nice piece that comes in handy when I need it.
15/03/2023
Fun camera for casual people
This camera was relatively cheap compared to more sophisticated models. I think it's a good starting point for someone who wants to see what one of these cameras is like. The camera strap held up well, but the camera was a bit difficult to hold due to my large hands. That's to be expected, however, as the camera is fairly compact by design. The viewfinder is very bright but a bit small, again due to the nature of the design. I initially had a problem with my camera, but the seller responded quickly and fixed the problem. Had fun with it!
15/03/2023
Affordable, lightweight camera
needed something to check for predator eyes on my property. This little handheld is better than I expected based on the price. Had a coupon that got it under $70. Easy to use and fits my hand just right. However, it is not designed for left-handers. The screen is small but very bright and clear. The SD card was included, but when I uploaded my first photos, I found images of a warehouse with crates and boxes with Chinese characters printed on them. Actually not a big deal. Requires brand new batteries to work. However, I got more use out of it than I expected. Not a bad deal.
14/03/2023
There are no faqs for this product.