40W Portable Solar Panel Charger with Dual USB (5V/4A Overall) & DC (18V1.6A), IPX4 Waterproof Solar Charger for Camping, Compatible with iPhone 14/13/12/11/Xs,iPad,Samsung Galaxy
3-5 Days
Refilling Supplies
Within About 3-5 Days
Brand:

KENTFAITH

Buy KENTFAITH 40w portable solar panel charger with dual usb (5v/4a overall) & dc (18v1.6a), ipx4 waterproof solar charger for camping, compatible with iphone 14/13/12/11/xs,ipad,samsung galaxy online, worldwide free shipping and 30 days return guarantee.

GW31.0040

SKU:

GW31.0040

89.99

https://www.kentfaith.com/GW31.0040_40w-portable-solar-panel-charger-with-dual-usb-5v-4a-overall-dc-18v1-6a-ipx4-waterproof-solar-charge
Description
* FOLDABLE & PORTABLE - The folded size is 11x7.3x1.2 inches, allowing you to easily put it in your backpack, provide portability for your travels. Comes with 4 carabiners make it to be attached to the backpack and recharged at any time, perfect for hiking, camping and more.
* HIGH CONVERSION EFFICIENCY - 40W monocrystalline solar cell has a high conversion efficiency of 23%, and its performance and service life are better than that of polycrystalline solar panels under the condition of insufficient light.
* IPX4 WATERPROOF & DURABLE - Our solar panels are made with advanced lamination technology to achieve IPX4 water resistance, and use high quality 900D Oxford waterproof fabric as a folding storage bag, waterproof and scratch resistant. (NOTE: The interface box is not waterproof, please keep it dry.)
* WIDE COMPATIBILITY - Our 40W foldable solar charger with 2 USB output and a DC port, can charge for multiple small devices at the same time, including smart phones, tablets, digital cameras and other USB devices. Equipped with 8 multifunctional adapters, it also can be used in portable power stations.
Shipping
Free shipping worldwide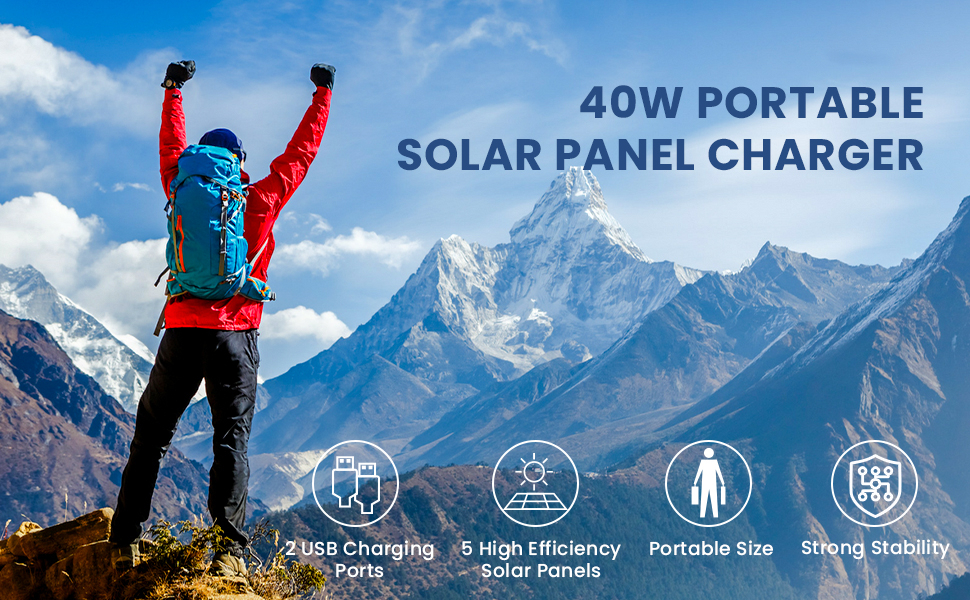 BEST CHARGING ACCESSORY FOR OUTDOORS
Whether you're an outdoor enthusiast, hiking or camping junkie or you just simply enjoy long adventures and traveling outside you will really love the convenience of having a solar-powered charger. Enjoy the sights and beauty of nature while having your important gadgets powered by pure solar energy with the use of highly efficient portable solar panels

PORTABLE SOLAR PANEL CHARGER PROVIDES POWER FOR 2 USB DEVICES:
The solar powered charger has 2 USB TYPE A ports that can equally charge 2USB devices up to 2.4A(5V) max per port or 4.0A (5V) as its maximum charging power. The presence of 2 charging ports makes it compatible with most smartphones that use micro USB charging cable (Android units), USB C to TYPE A, iPhone units (USB A to Lightning Cable) tablets, and other USB gadgets that can be powered by 2.4A(5V) or 4.0A (5V).

COMPATIBILITY
Our solar charger for cell phone and other devices have wide compatibility with a large number of mobile phones such as iPhone 12/12 Mini/12 Pro/12 Pro Max, iPad/Kindle Fire/Galaxy tablets/Galaxy S, GPS, Camera, tablets, and other USB devices(USB-C to Lightning Cable is NOT included)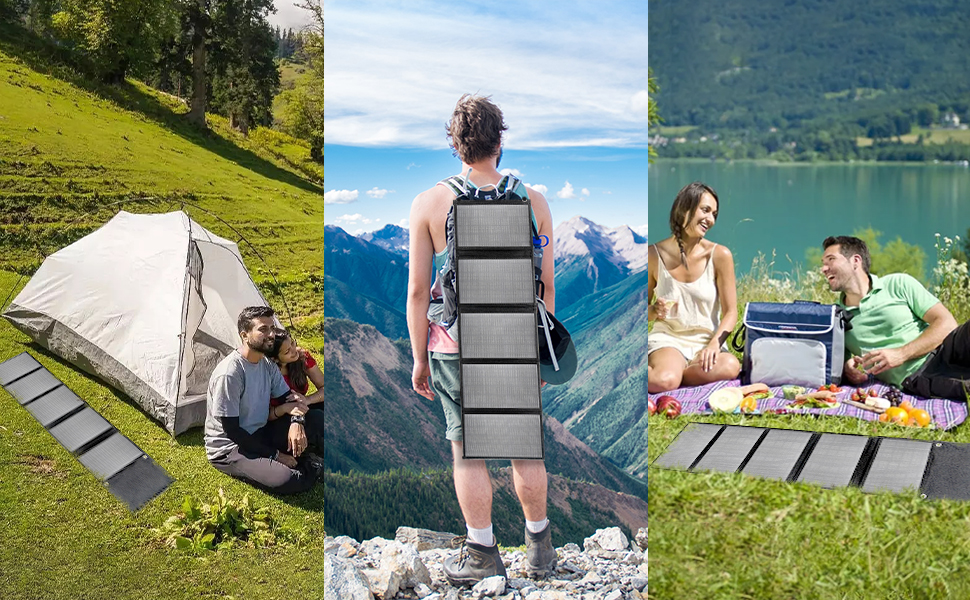 DESIGNED FOR EASY CARRY AND TRAVEL
Nekteck's 28W solar panel USB charger is just 13.3*9.8*0.7inch when folded or 40.9*13.3*0.2inch when solar panels are opened. It is practical and convenient to carry or attach to your backpack using its 2 hanging hooks and eyelets. with a zipper pouch and velcro you can charge your devices safely in the pouch while traveling and hiking without the fear that your devices will fall.
Specification
Maximum Power
40W(±5%)
Dual USB Output
5V/2.0A, 5V/3.0A (QC3.0)
DC Output
18.0V/2.2A
Product Weight
about 1kg
Materials
High Conversion Efficiency Monocrystalline Chip, PET, EVA, Waterproof Cloth
Folded Dimension
13.3*9.8*0.7inch(340*250*20mm)
Unfolded Dimension
40.9*13.3*0.2inch (1040*350*5mm)
Accessories
DC Line, Data Line, Climbing Buckle, 8-piece Set of DC Connectors
Package Dimension
380*340*50mm
Package Weight
about 1.35kg
Lifespan
5 years
Application Range
Charging mobile phones, power banks, batteries, 5V/12V electronic products, etc.
All Reviews
Image

All Star

5 Star

4 Star

3 Star

2 Star

1 Star
Works for charging 1s 3.7v 150mah lipo batteries.
I fly a few different UMX micro planes and they take the tiny 1s 3.7mah lipo batteries. By the time I'm done using the 2nd battery it charges 1 full battery. Takes about 40 minutes, but that isn't a problem for me while I chat it up with other RC pilots. I usually head out to the field with 6 batteries anyways. I di keep the charging and battery in the shade, while the solar panel is in full sun. Some of the guys charge 2s batteries with these, so it does work. I like that I can hang this off a backpack, and it doesn't seem too fragile to me. I haven't went lately, but I do go camping and it is nice to take a solar charger for emergencies which trust me can happen easily, if your not careful (leaving your phone on while in the deep woods, and battery drains). Overall happy with it, and works fine for my situation.
08/11/2023
Solid solar charger
This is a very powerful solar charger and works like a champ. You can feel that it is well built and sturdy. For sure it will last long time. It can quickly charge my Iphone and tablet at same time. One time it even charged my phone in a couple of hours in cloudy weather. Love it! Highly recommended.

One thing, I'd like to point out is that it is a little bit heavy for serious backpack campers.
06/11/2023
So easy to setup great for emergencies
I recently bought one for myself and my brother in law for emergencies and for hiking and have been very very happy with the product I've tested it several times and it's worked perfect! I would recommend to add to your emergency kit!
04/11/2023
Great addition to my truck's EDC loadout.
Finally decided to add a solar charging option to my EDC kit by picking up this foldable solar panel and I'm glad I did. It's simple with no exposed wires, reasonably sized when in use or folded up, performed well out of the box and the material feels durable. My phone charged about 20% in 15 minutes which is more than enough for me. Now I just wish I had two.
02/11/2023
Always wanted one of these for outdoor activities and emergencies.
I wouldn't call myself a hiker but I occasionally like to hike and camp. I usually take a bunch of battery packs without a way of recharging them. This was super handy; it's powerful and built tough. It did get into the water a bit, but there was no issue as its waterproof. I also like to prepare for emergencies, like the last ice freeze that hit the Texas area in 2021, when we lost power and couldn't recharge our phones or listen to the radio. When not in use, this will be kept in my prepping bin. Really no complaints, worth the money.
31/10/2023
Good little panel!
Perfect for charging cellphone or rechargeable flashlight! Easy to pack and easy to use. Works even with indirect light.
28/10/2023
Sized similar to a large tablet or ultrabook, great for powering phones when hiking/kayaking
This solar panel works great when camping or hiking as you can charge power banks or usb compatible devices like iphones or android smartphones without a power bank. I prefer to use this in combination with a small power bank though to keep my devices topped up when camping for multi-day trips.

While it's built well and provides a good bit of trickle power when in direct sunlight, it is a bit heavy. Size wise it's comparable to an ultrabook or large tablet so ultralight backpackers will want to get a smaller version. I'd recommend getting a longer usb cable so you can keep your phone or tablet in your backpack or in the shade when charging.

Overall I have no complaints really, works great so far.
24/10/2023
It works but its alternative energy not a plug in the wall charger
First it does not have batteries in it. It unfolds and u place it in the direct sunlight if u have it. Plug the appropriate addaptor in (not included) and charge your device. I let my smart phone go to 5% and plugged it in with full sun and it charged up. Slower but it did charge......A laptop or tablit??? Then a power bank such as an Anker charger I don't know. Well try. In an emergency its certainly better than nothing
20/10/2023
Excelente producto, el puerto tipo c carga rapidísimo
Carga muy rápido, gracias a qué no es tan pesado se facilita transportar
18/10/2023
Very well made
I have so far used this while away and at the beach. Very easy to use to charge up my electronics and my Jackary type power unit, has quick charges, and is very sturdy and lightweight. I have 3 other solar charges and actually plan on more. The price is right also.
16/10/2023