TWS Bluetooth Earbuds Wireless Earphones In-Ear Headset Black for Mobile
Buy 99$-9$, 199$-25$, 299$-39$, 599$-100$
New customer gift package
Free shipping worldwide
Brand:

KENTFAITH

Free Shipping. $25.99 TWS Bluetooth Headphones Stereo True Wireless Headset Earbuds In-Ear Handsfree Earphones EarBuds for Mobile Phone Black

GW53.0045

SKU:

GW53.0045

25.99

https://www.kentfaith.com/GW01.0418_tws-bluetooth-headphones-stereo-true-wireless-headset-earbuds-in-ear-handsfree-earphones-ear-buds-for-mobile-phone-black
Buy 99$-9$, 199$-25$, 299$-39$, 599$-100$
Description
* One-Step Pairing & Quick Connection - Just pick up 2 wireless Bluetooth headphones from the charging box, they will connect with each other and connect to the last paired device automatically.
* Easy & Smooth Touch Operation, just tap the touch area, you can easily control music, phone, and other operations, simple and convenient
* 50-Hour Battery Life - The wireless headphones Bluetooth can play for 5-6hrs on a single charge, the charging case can recharge the Bluetooth earphones about 4 times. Ideal for everyday sport, workout, travel, etc.
* Premium HiFi Sound - Built-in composite diaphragm pure copper moving coil unit, stereo sound super bass, restore the essence of sound.
* Intelligent Noise Reduction - Built-in high-definition CVC noise reduction call chip effectively eliminates the echo and environmental noise in the call, and realizes the binaural high-definition call.
Shipping
Free shipping worldwide
Sale
Buy 99$-9$, 199$-25$, 299$-39$, 599$-100$
Frequently Bought Together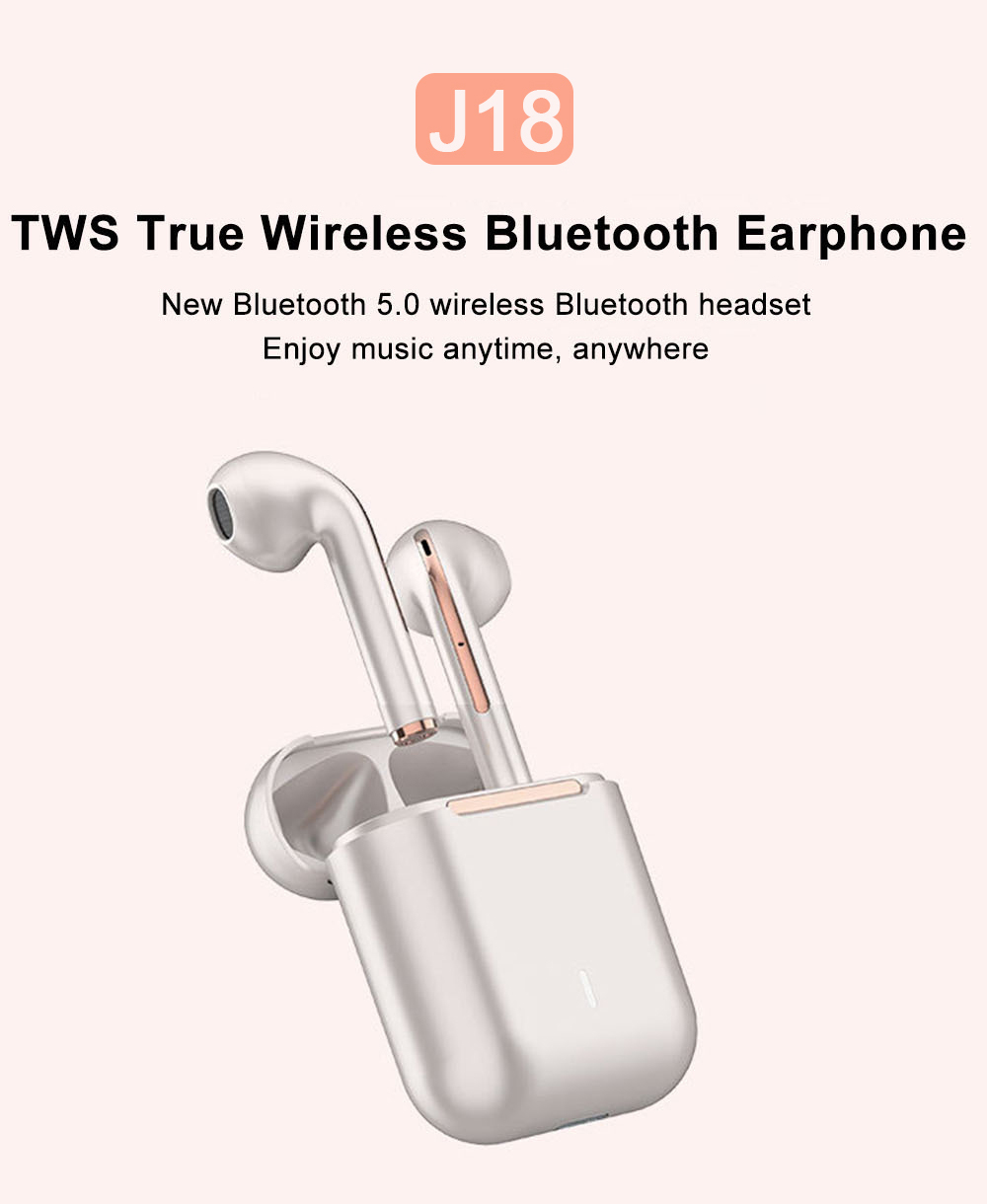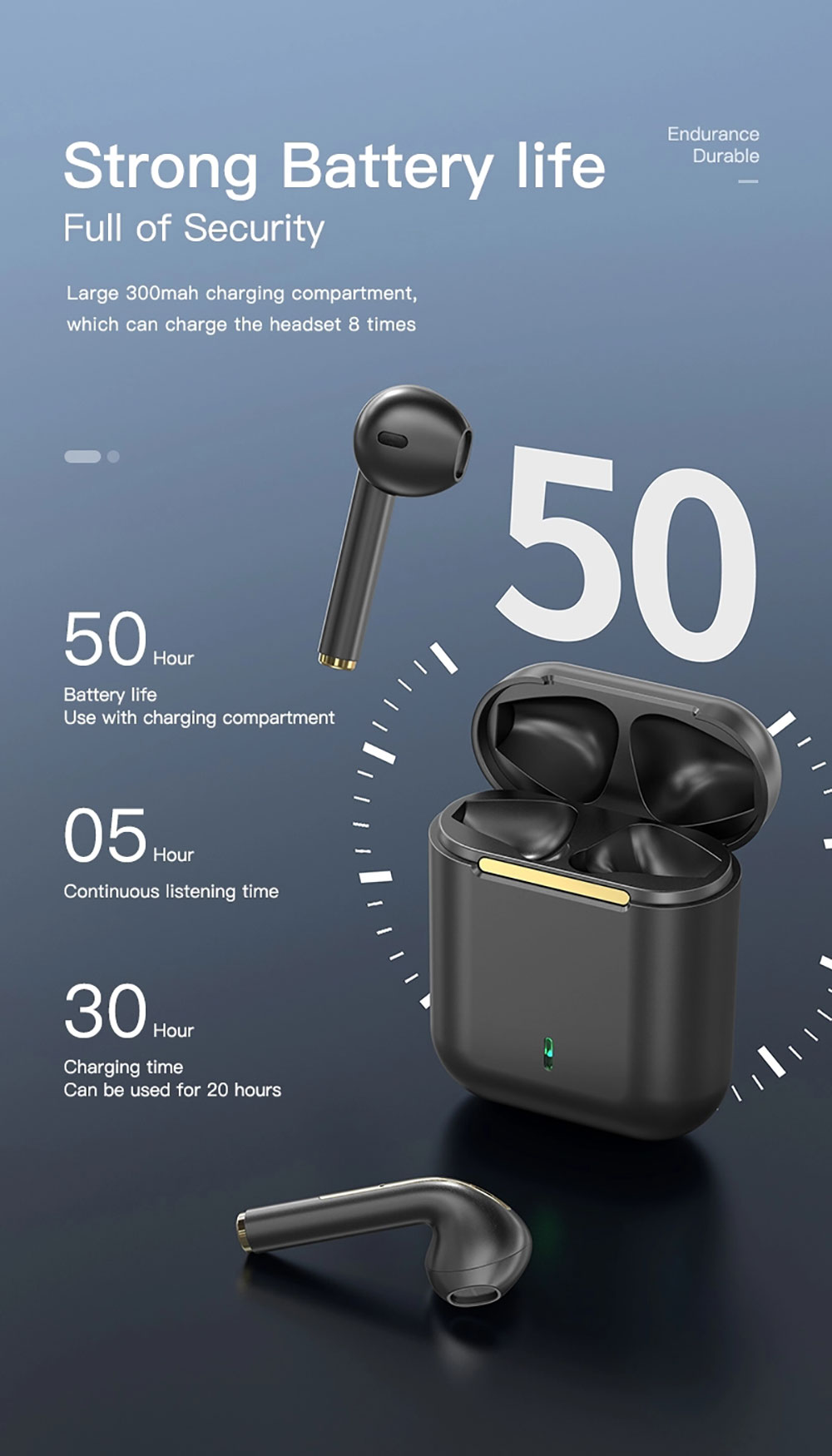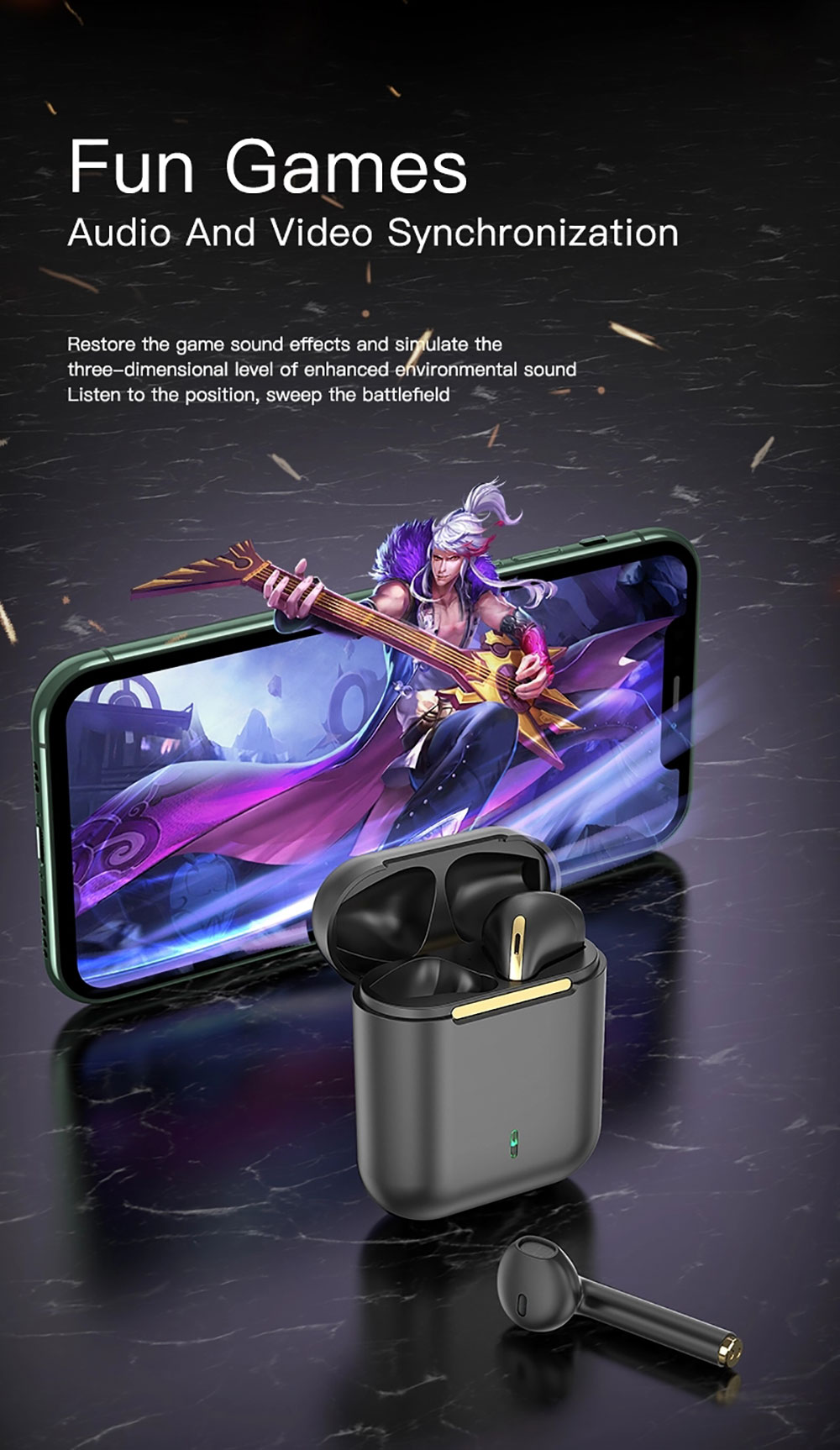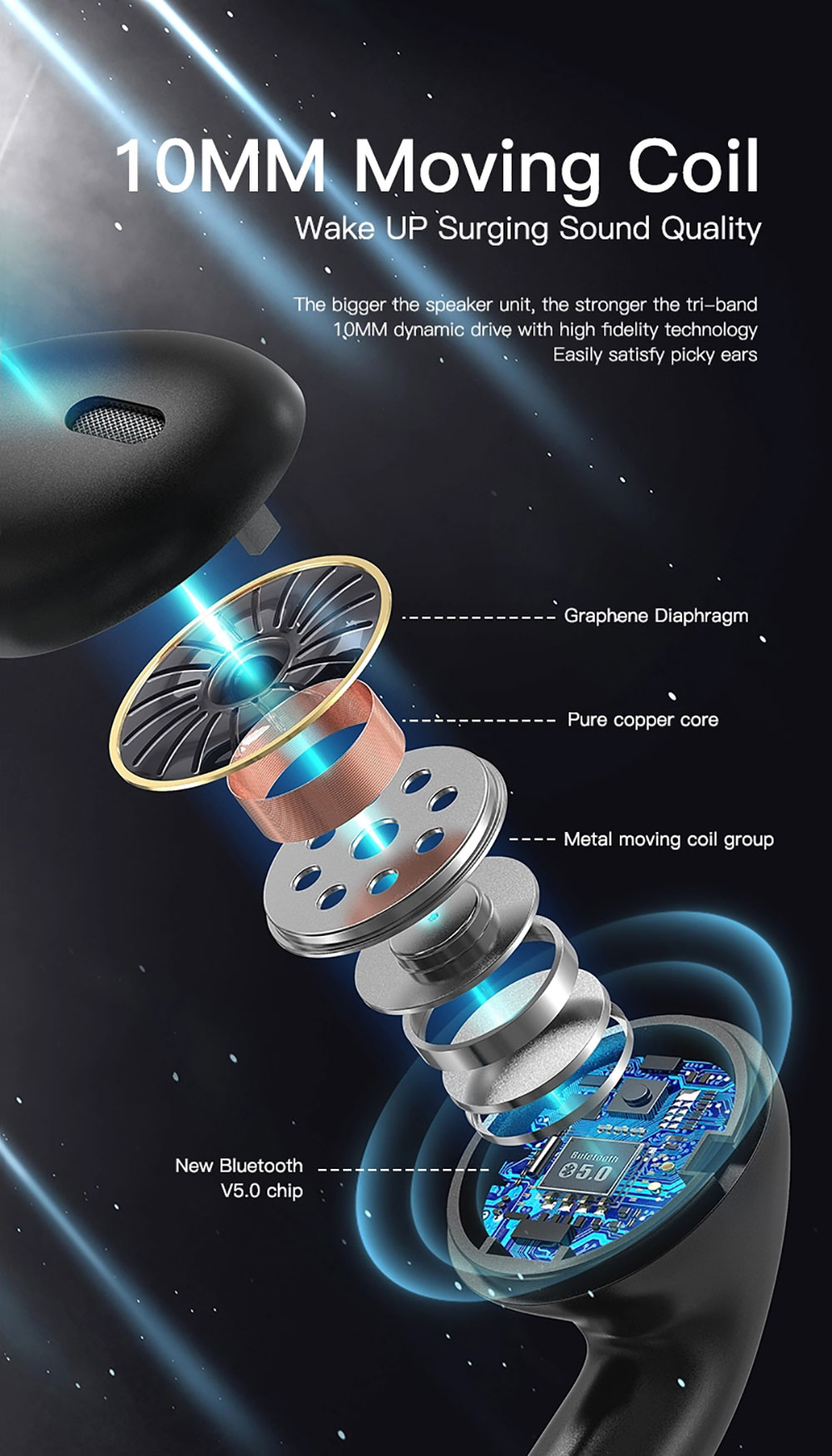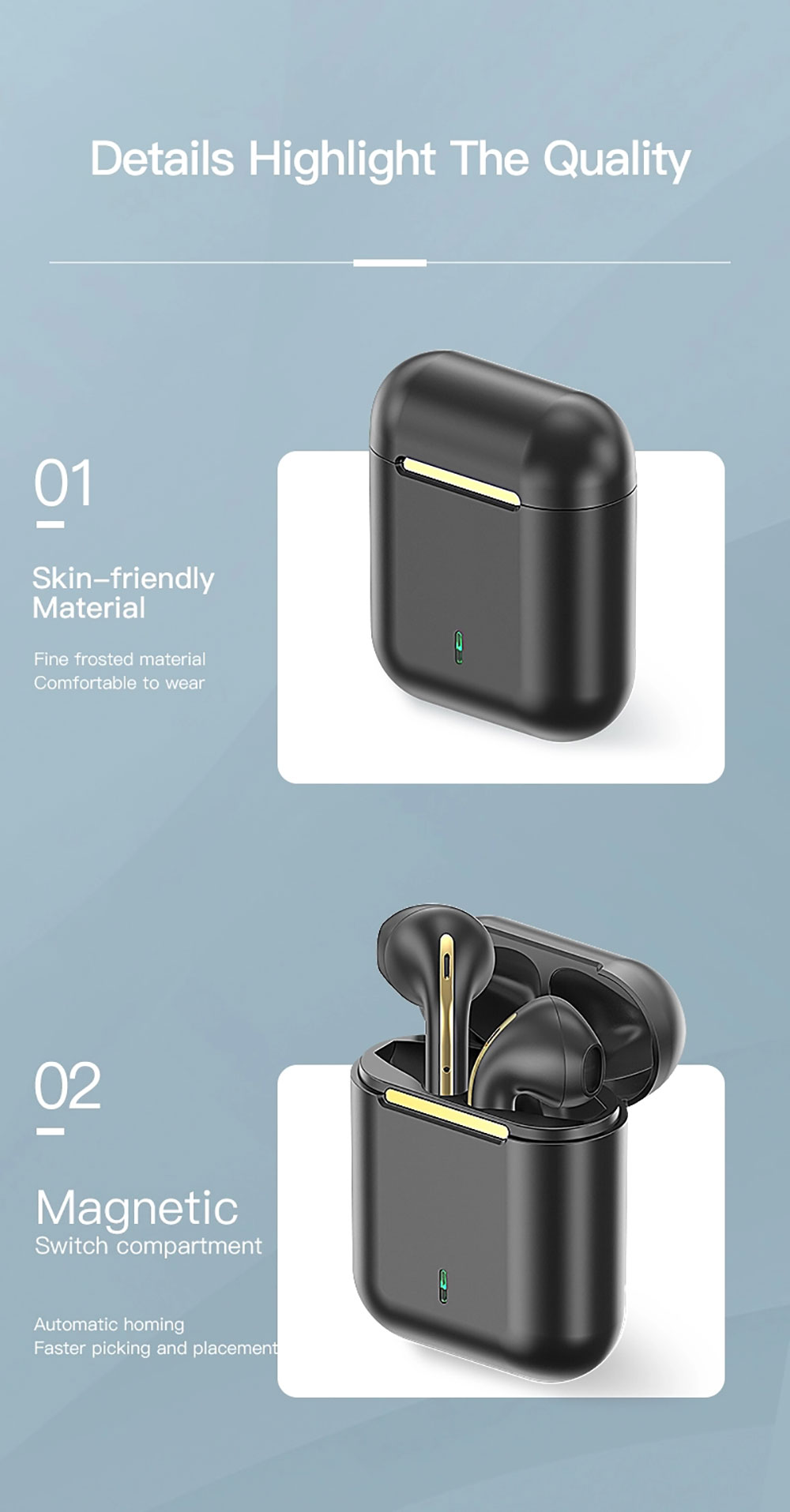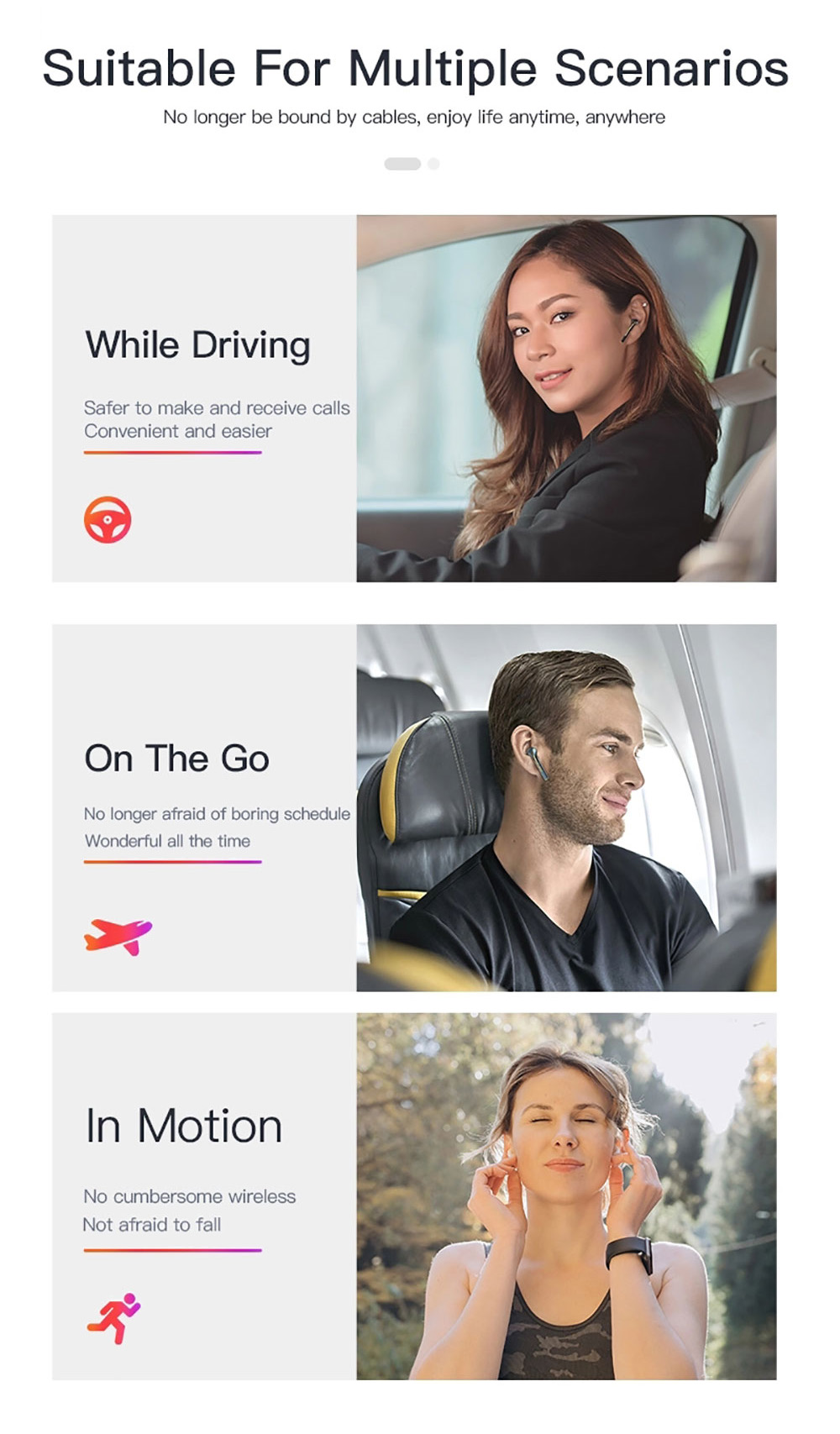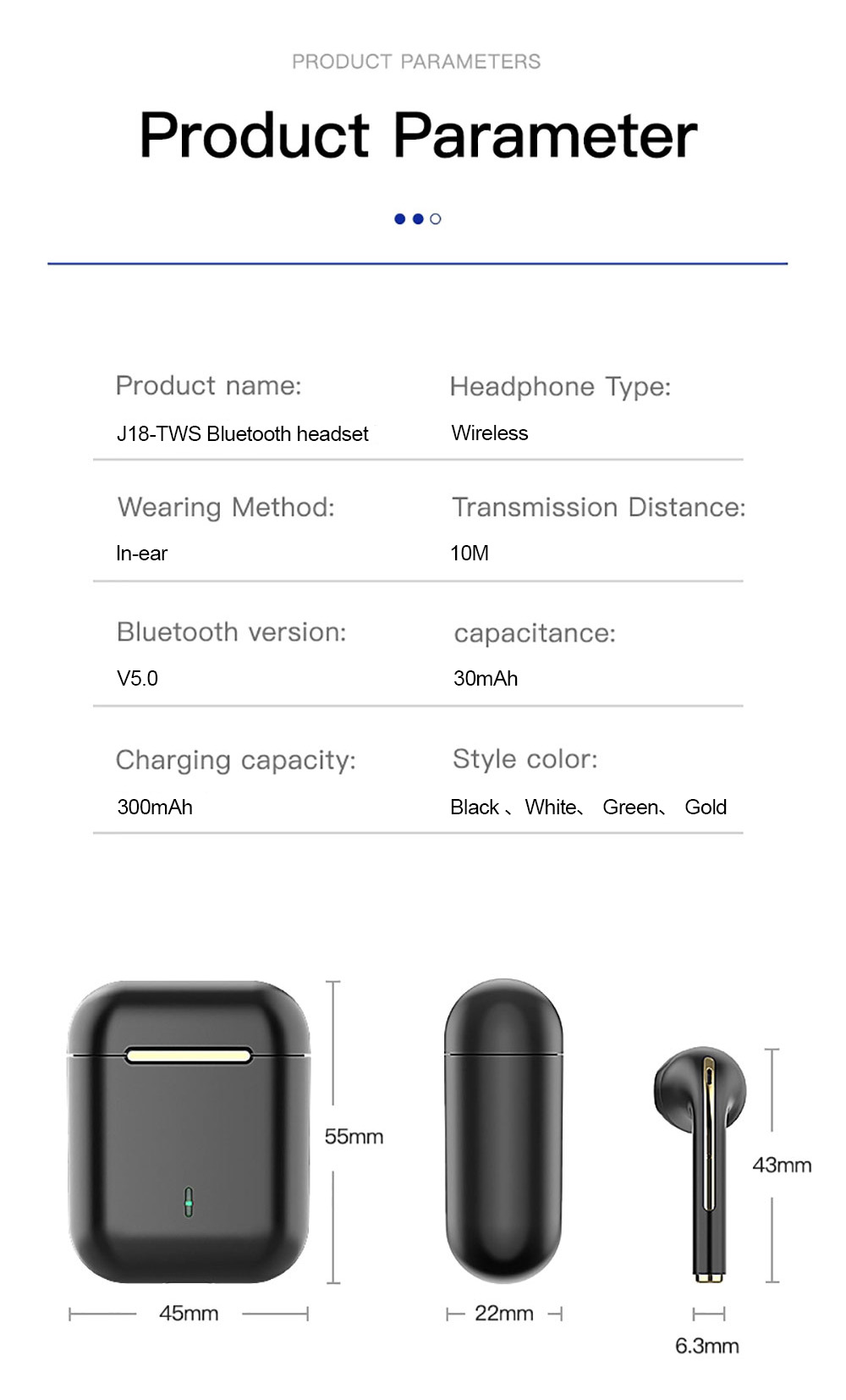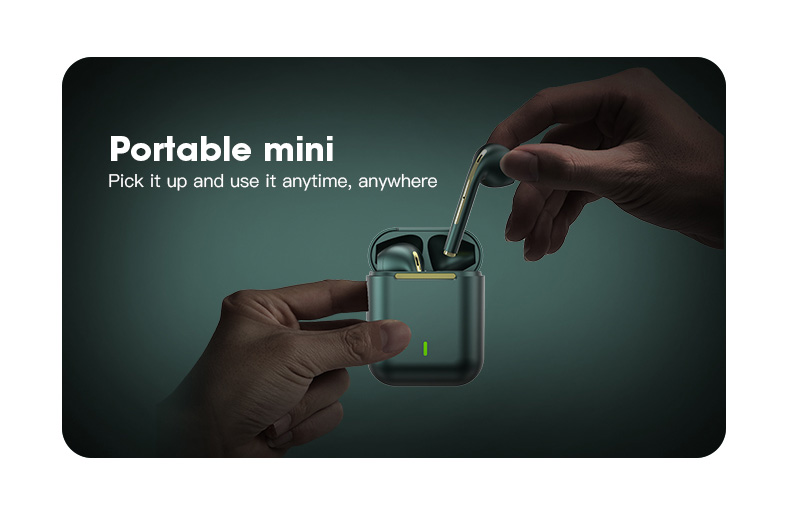 | | |
| --- | --- |
| Signal reception distance | 10m |
| Speaker size | 13mm |
| Response HZ | 20Hz-20KHz |
| Impedance | 32Ω |
| Battery capacity | 250mAh |
| Charging time | 1.5h |
| Earphone battery | 2-3h |
| Product size | 10*10*3.3cm |
| Product weight | 116g |
| Package content | charging cable*1, earphone*2, charging case*1, user manual*1 |
All Reviews
Image

All Star

5 Star

4 Star

3 Star

2 Star

1 Star
These are awesome for the money!!
Wasn't sure about them considering the price but… they are well worth it and the sound quality is outstanding! I use them on the riding lawn mower and they're great!!!! 100% happy with this purchase!!!
28/08/2021
Rich bass & super comfortable!
These ear buds have a great sound and they're so much more comfortable than AirPods! They're also great at canceling out background noise. Very impressed with the quality of sound considering the low cost of these buds! For $35, you won't be disappointed!
02/08/2021
Great little earbuds
Quick delivery. Comfortable and great sound. It fits snug in my ear. I don't like it when it's too bulky. I walk and run with it.
27/06/2021
Fantastic for budget ear phones. Almost perfect for premium ear phones
They work great! Absolutely Fantastic mic quality when your in a quiet environment. They don't do the best job of handling Wind noise or background noise but for $40 you can't complain. The Bluetooth works very well! I'm able to walk pretty far away from my phone and maintain a connection (however this will be partially dependent on our new devices that you're connected to. If it has an old Wi-Fi protocol the device might not be able to transmit the signal very far)They have a good audio quality. And personally I think they sound better at higher higher volumes.These only have an advertised three hours of battery life but I don't find it to be a problem at all (Of course whether or not this is an issue for you all depend on your lifestyle and how you end up using these.)
19/06/2021
Noise cancelling earbuds
Really nice earbuds
15/06/2021
Good value
Great sound quality!
15/06/2021
Great earbuds and price!
I wanted a pair of wireless comfortable ear buds. These are exactly what I wanted!
14/06/2021
Earbuds
Quick delivery and easy to set up. Listening to music, making and excepting calls. Surprised for the quality and price. Recommend 100%
09/06/2021
Great air buds
These work great. Sounds are clear and outside noises reduced. Plus, the batteries last a long time. Three price was right too
08/06/2021
Great ear buds
These little guys work great. Long battery life and I like that the case can also be used to charge your phone. Although, I havent had to use it for that yet. Sound quality is really good, too. Great purchase for the price. Very happy with the purchase.
20/05/2021
A
If your PC is bluetooth enabled it should work.
Show more
A
Hi, no, you can only connect it to a portable TV. The headset supports SCMS-T content protection. You can play music and other audio content originating from a device, such as a portable TV, that supports SCMS-T content protection on the headset.
Show more