360° Face Tracking Phone Holder Desktop Tripod for Selfie Vlog Facetime YouTube Tik Tok, iPhone, Android Universal Phone Mount 6-8h Rechargeable
Out Of Stock
Product Unavailable
No Cancellation Fee
Buy 99$-15$, 199$-30$, 299$-50$, 599$-120$(autumn sale Price)
Free shipping worldwide
Brand:

KENTFAITH

Free Shipping. 30 Day No Reason Return. K&F Concept face tracking phone holder features Face Tracking AND Intelligent Shooting, No APP Required, 360° Rotatable Phone Holder, Standard 1/4" Interfacer, Built-in Rechargeable Battery.

GW46.0004

SKU:

GW46.0004

34.99

https://www.kentfaith.com/GW01.0261_360-face-tracking-phone-holder-no-app-fast-face-tracking-desktop-tripod-for-selfie-vlog-real-time-video-youtube-tik-tok-iphone-and-android-universal-holder-indoor-and-outdoor-use-time-is-6-8-hours
Buy 99$-15$, 199$-30$, 299$-50$, 599$-120$(autumn sale Price)
Description
* 【Face Tracking AND Intelligent Shooting】This face tracking phone holder adopts AI computing system that can automatically recognize and track your face or body, 360° rotate steadily with your movement. Free your hands for video calls and live streaming.
* 【No APP Required】With a built-in camera, the face tracking phone holder can track you intelligently, you don't need to download any app or connect via Bluetooth. Compatible with all video apps like Facebook, Zoom, live streaming, photo & video shooting.
* 【360° Rotatable Phone Holder】 The adjustable 360°clamp rotation and 315°neck can choose horizontal or vertical camera mode, can be adjusted at multiple angles. 105°field of view angle of lens and 42°rotation speed per second ensure that the tracking tripod can track your movement, wherever you go, you're the focus all the time.
* 【Standard 1/4" Interface】The smart tracking holder comes with a standard 1/4" screw thread at the bottom that can be mounted on a tripod and adjust the angle and height. The included phone holder expands 2-4" wide to securely fit any size cell phone.
* 【Built-in Rechargeable Battery】The smart tracking phone holder is equipped with a built-in rechargeable 2200mAh battery and USB charging port. After fully charged, it will last up to 6-8 hrs. The red charging indicator is on when charging, after the charging is completed, the red charging indicator goes out.
Shipping
Free shipping worldwide
Sale
Buy 99$-15$, 199$-30$, 299$-50$, 599$-120$(autumn sale Price)
Frequently Bought Together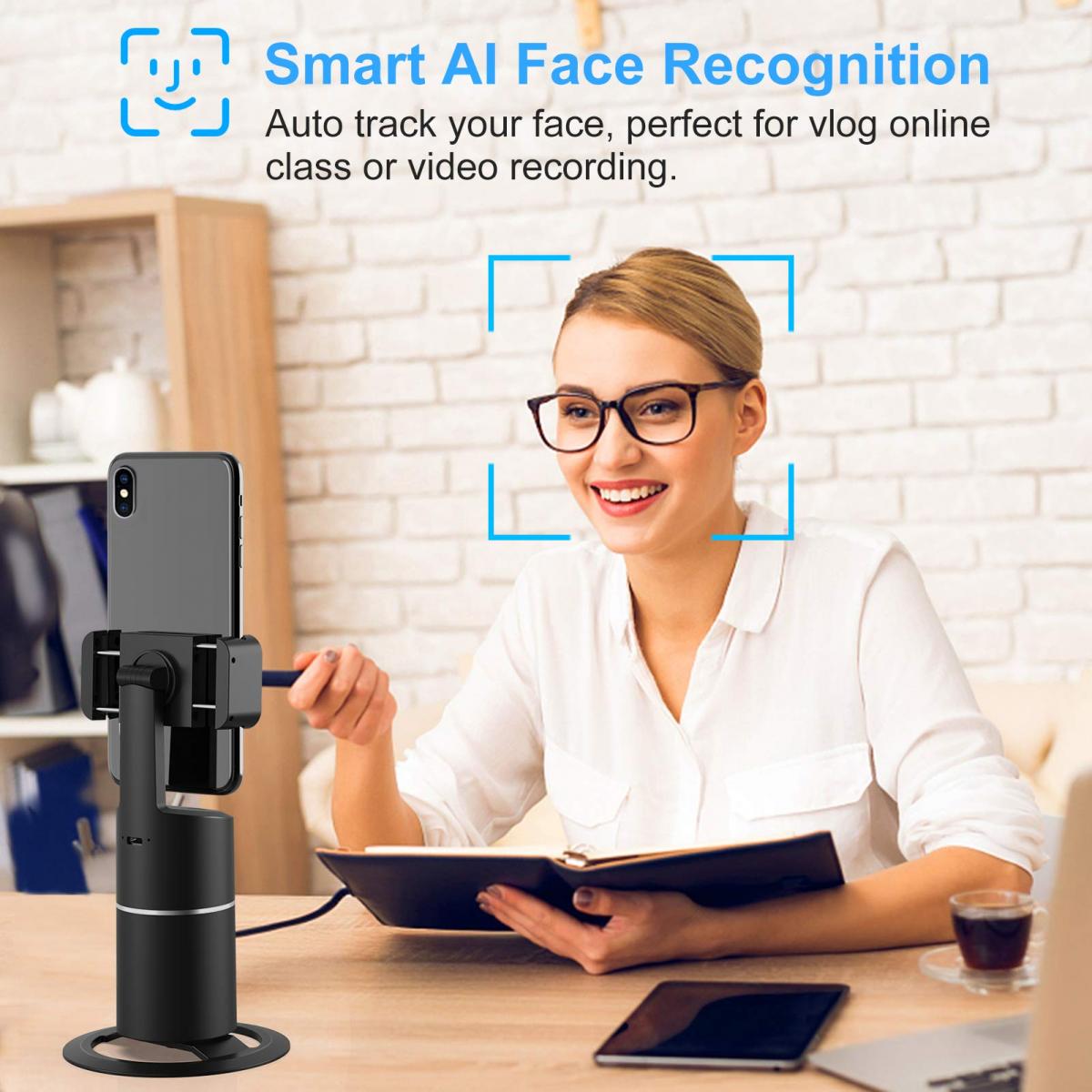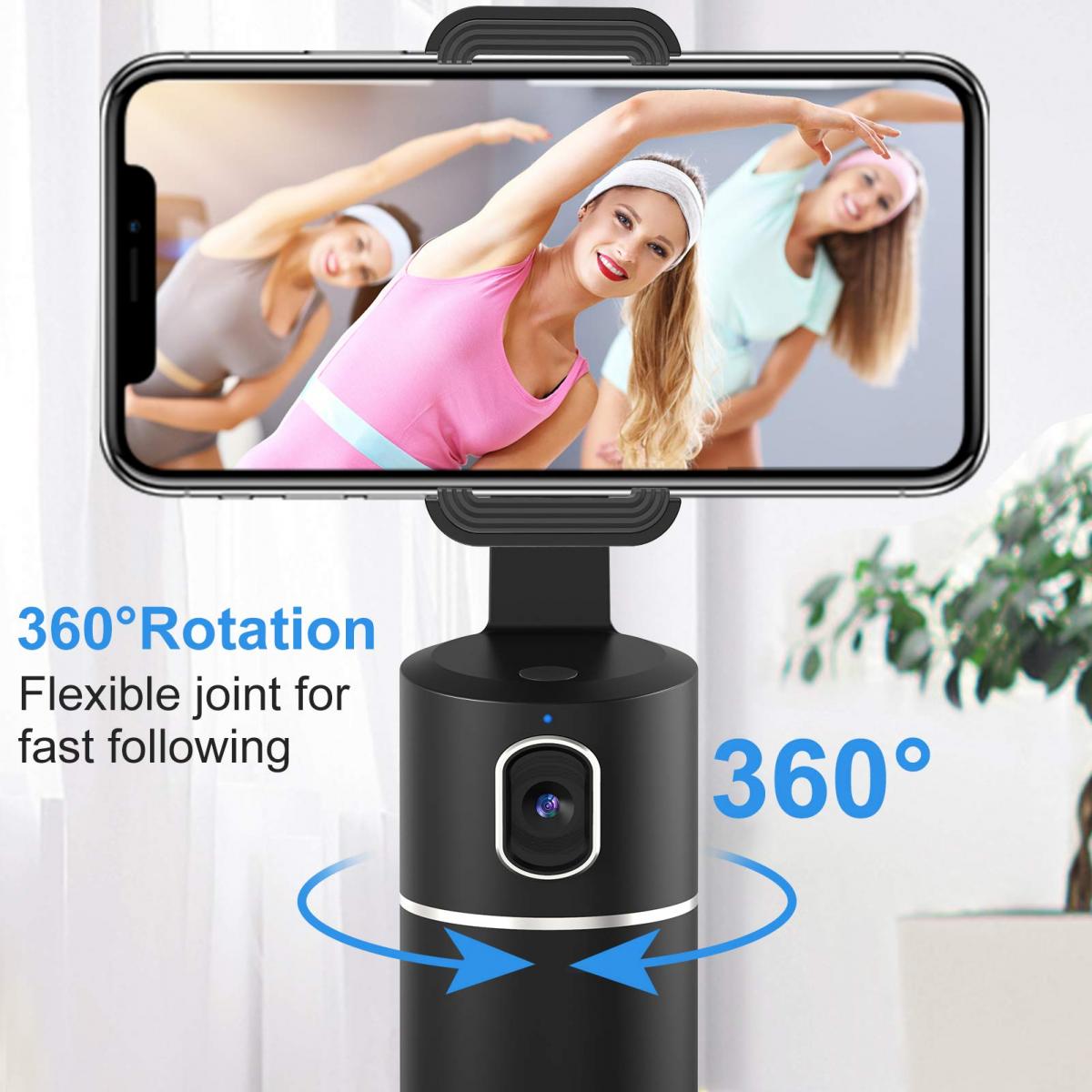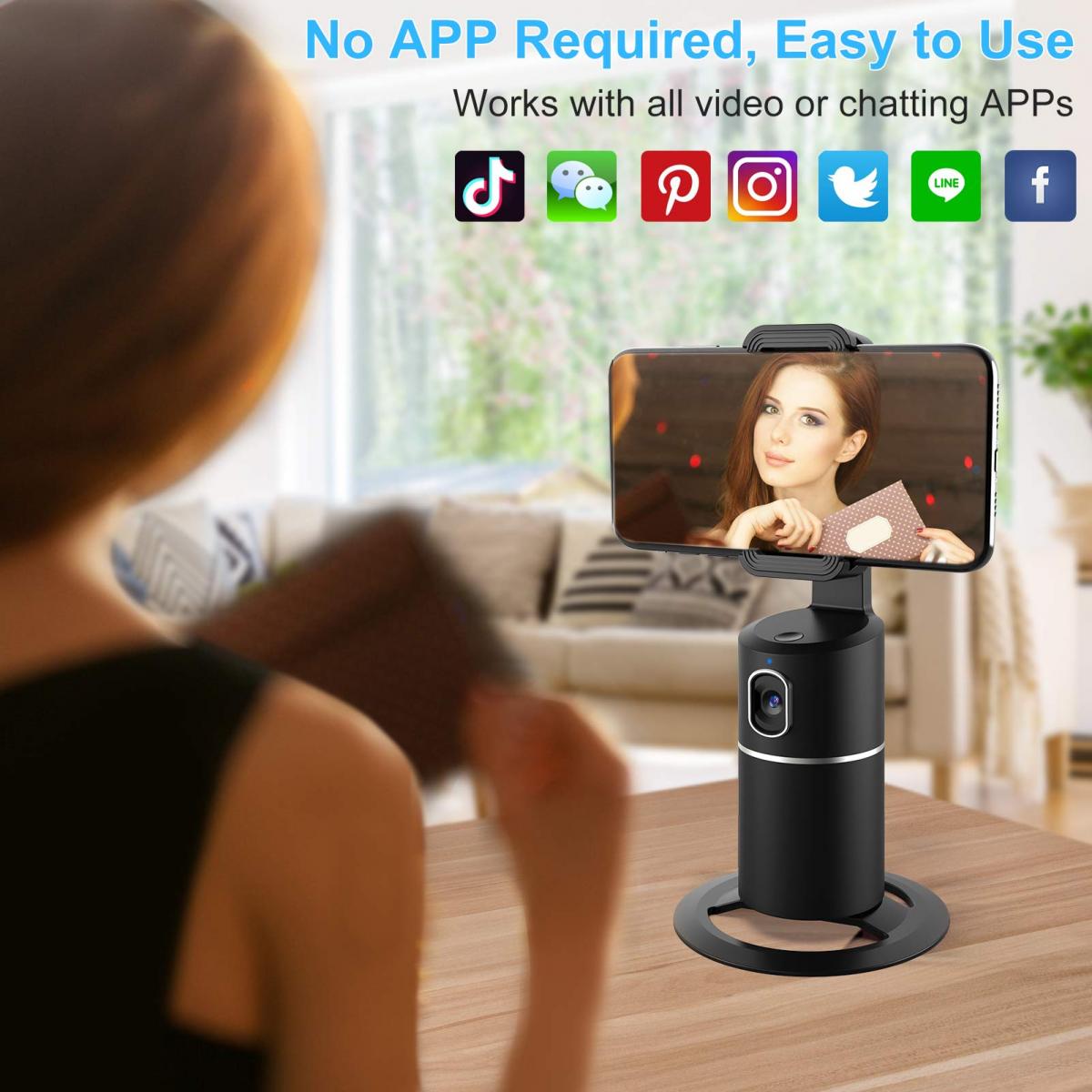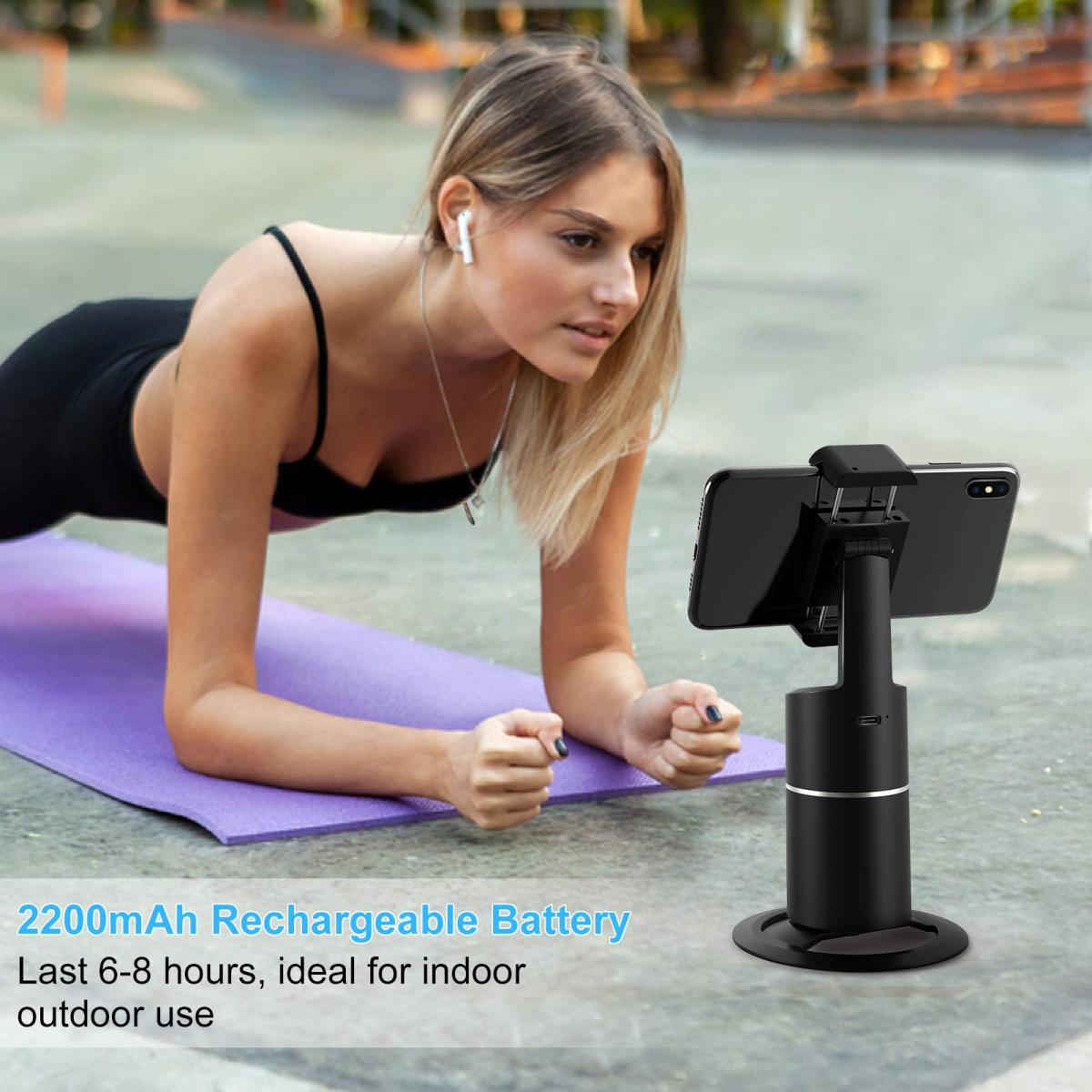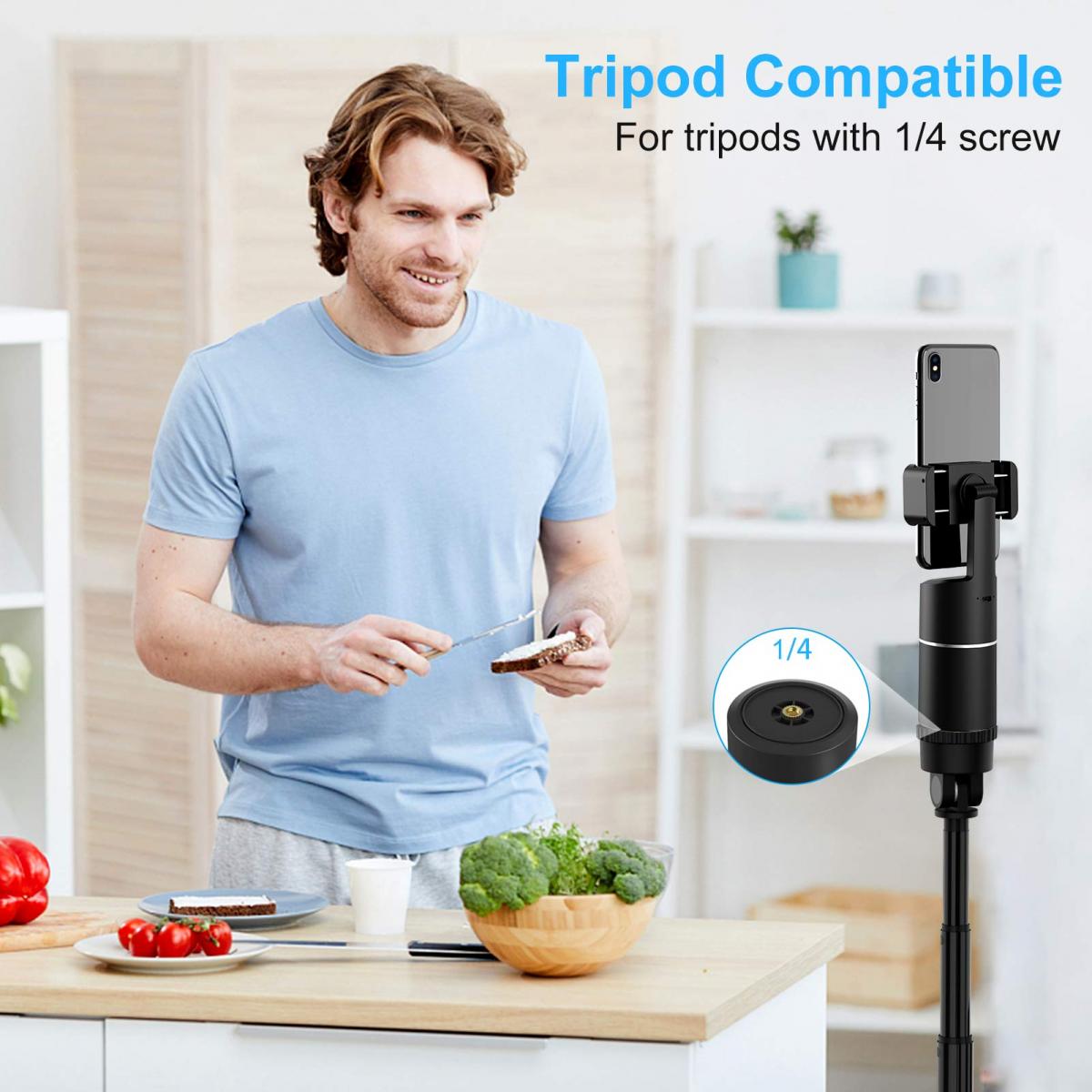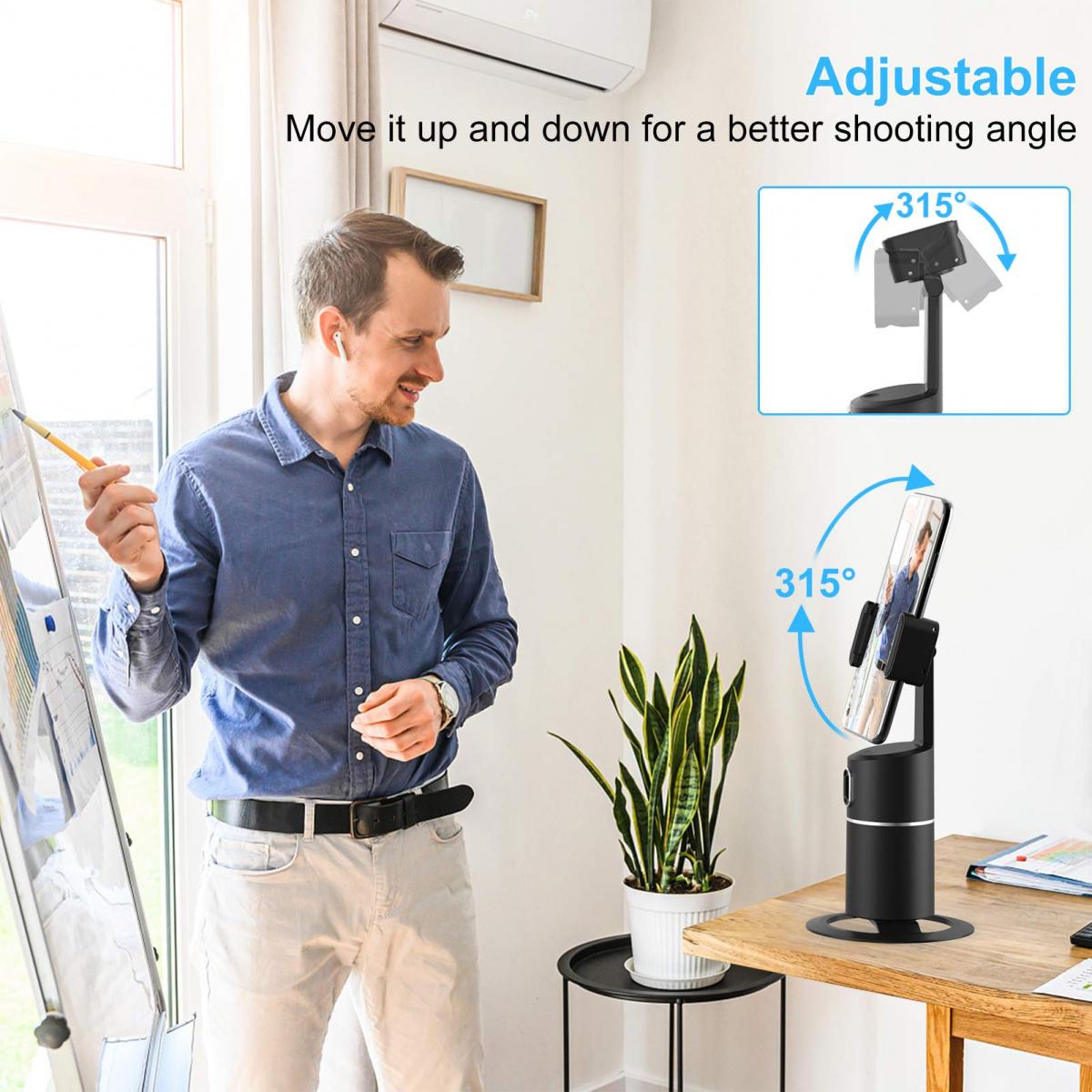 | | |
| --- | --- |
| 1. Model | T2 |
| 2. Track the rotation angle | 360° |
| 3. The flip angle of the phone clip | X |
| 4. Mobile phone clip range | Up to 6.5 inches |
| 5. Field of view | 105° |
| 6. Battery capacity | 2200mAh |
| 7. Applicable models | 6.5 inches or less |
| 8. Battery life | 6-8H |
| 9. Charging port | Type-C |
| 10. Power | 5V1A |
All Reviews
Image

All Star

5 Star

4 Star

3 Star

2 Star

1 Star
Creepy but awesome
I brought this product over a year ago. Once out the box it appeared to be exactly what I was looking for . However it struggled to keep up with it's only task … follow me … the product came in as it should while plugged did it's rotation to start initial setup followed me for about two spins and than stopped moving. At the time I had been so consumed by other things I put it back up for later use. Well today after about 2 other prior attempts I've finally had to except that this isn't a good product !! Bummer
11/04/2022
Little cutie!!!
It does what it says. It comes in handy. Does all the tricks for the family video and picture activities WITHOUT me ALWAYS being behind the camera!!.
20/03/2022
Tripod tracker for my phone
Very nice product my granddaughter loves it
09/03/2022
The Quality and the accuracy of camera that follows you around like a little kid (smile
I like everything about it's It works just like it was described in the advertisement.I would recommend it to anyone.
07/03/2022
Does everything I need it to
This works perfectly for videos & reels I put on social media. It's easy to attach the base & operate. Definitely a bargain for the $$
23/02/2022
Tracking not smooth
I use this product for my cooking videos. The only thing I find annoying is it doesn't track smoothly. You have to get to the end of the screen...then the device will move and follow. It doesn't keep you centered in the screen.Other than that....it really is a great product
17/02/2022
It's pretty cool
I like this device. A family member has one that's more advanced but I like this one. It came close enough. I can't rotate it but it does follow you
15/02/2022
Tik tok camera for grandson
It's pretty amazing how it just follows people around, it remains to be seen whether it works for one person
31/01/2022
So much better than Belkin!
I started out with Belkin's attempt at this product. It connected using a glitchy app and relied on the phone's camera and the app to do the face tracking. This required me to link my phone and the Belkin stand via Bluetooth. Between the crummy app and the eternal flakiness of Bluetooth, it worked precisely once after many attempts and never worked again. Belkin also relies on a magnet to retain the phone, so I had to remove my case each time to use it. The Belkin unit uses three AA batteries.This item is so much better. It has a built in camera to perform the face tracking. No app is necessary and no bluetooth is required. Phone retention is accomplished by spring tension, so I can leave my case on while I film. Finally, this one is rechargeable. No AA batteries here!I am a professor and I am using this to record my live lectures to post for my students in isolation or quarantine. As long as I do not move too fast, it keeps up with my movements just fine. I use a microphone with a remote speaker, which I place under the phone so, no matter how far I stray or which direction I face, the phone's microphone always picks up my rantings. This stand has a standard 1/4-20 camera mount on the bottom. I am using it with a small tripod to put my phone at eye level on the first row of the class. This gives the video a student's perspective. All in all, I am quite pleased with this gizmo.
28/01/2022
Great investment for a speaker/lecturer
I use this to record my sermons in church. It works great! However, it doesn't stay on target if it detects something in it's field of vision that is moving. So keep that in mind to insure no one passes in front of it while recording or it will follow them.The only 2 things I would like to see::1. remote control- could be used to film panoramas or you could use it to bring the camera back on view if needed2. a different camera attachment for a small video camera or my Canon M50 MKII
14/01/2022