360° Face Tracking Phone Holder Desktop Tripod for Selfie Vlog Facetime YouTube Tik Tok, iPhone, Android Universal Phone Mount 6-8h Rechargeable
Buy 2 get 5% off, Buy 3 get 10% off, buy 6 get 20% off
Free shipping to eligible country
Brand:

KENTFAITH

Free Shipping. 30 Day No Reason Return. K&F Concept face tracking phone holder features Face Tracking AND Intelligent Shooting, No APP Required, 360° Rotatable Phone Holder, Standard 1/4" Interfacer, Built-in Rechargeable Battery.

GW46.0004

SKU:

GW46.0004

39.99

https://www.kentfaith.com/GW01.0261_360-face-tracking-phone-holder-no-app-fast-face-tracking-desktop-tripod-for-selfie-vlog-real-time-video-youtube-tik-tok-iphone-and-android-universal-holder-indoor-and-outdoor-use-time-is-6-8-hours
Description
* 【Face Tracking AND Intelligent Shooting】This face tracking phone holder adopts AI computing system that can automatically recognize and track your face or body, 360° rotate steadily with your movement. Free your hands for video calls and live streaming.
* 【No APP Required】With a built-in camera, the face tracking phone holder can track you intelligently, you don't need to download any app or connect via Bluetooth. Compatible with all video apps like Facebook, Zoom, live streaming, photo & video shooting.
* 【360° Rotatable Phone Holder】 The adjustable 360°clamp rotation and 315°neck can choose horizontal or vertical camera mode, can be adjusted at multiple angles. 105°field of view angle of lens and 42°rotation speed per second ensure that the tracking tripod can track your movement, wherever you go, you're the focus all the time.
* 【Standard 1/4" Interface】The smart tracking holder comes with a standard 1/4" screw thread at the bottom that can be mounted on a tripod and adjust the angle and height. The included phone holder expands 2-4" wide to securely fit any size cell phone.
* 【Built-in Rechargeable Battery】The smart tracking phone holder is equipped with a built-in rechargeable 2200mAh battery and USB charging port. After fully charged, it will last up to 6-8 hrs. The red charging indicator is on when charging, after the charging is completed, the red charging indicator goes out.
Shipping
Free shipping to eligible country
Sale
Buy 2 get 5% off, Buy 3 get 10% off, buy 6 get 20% off
Frequently Bought Together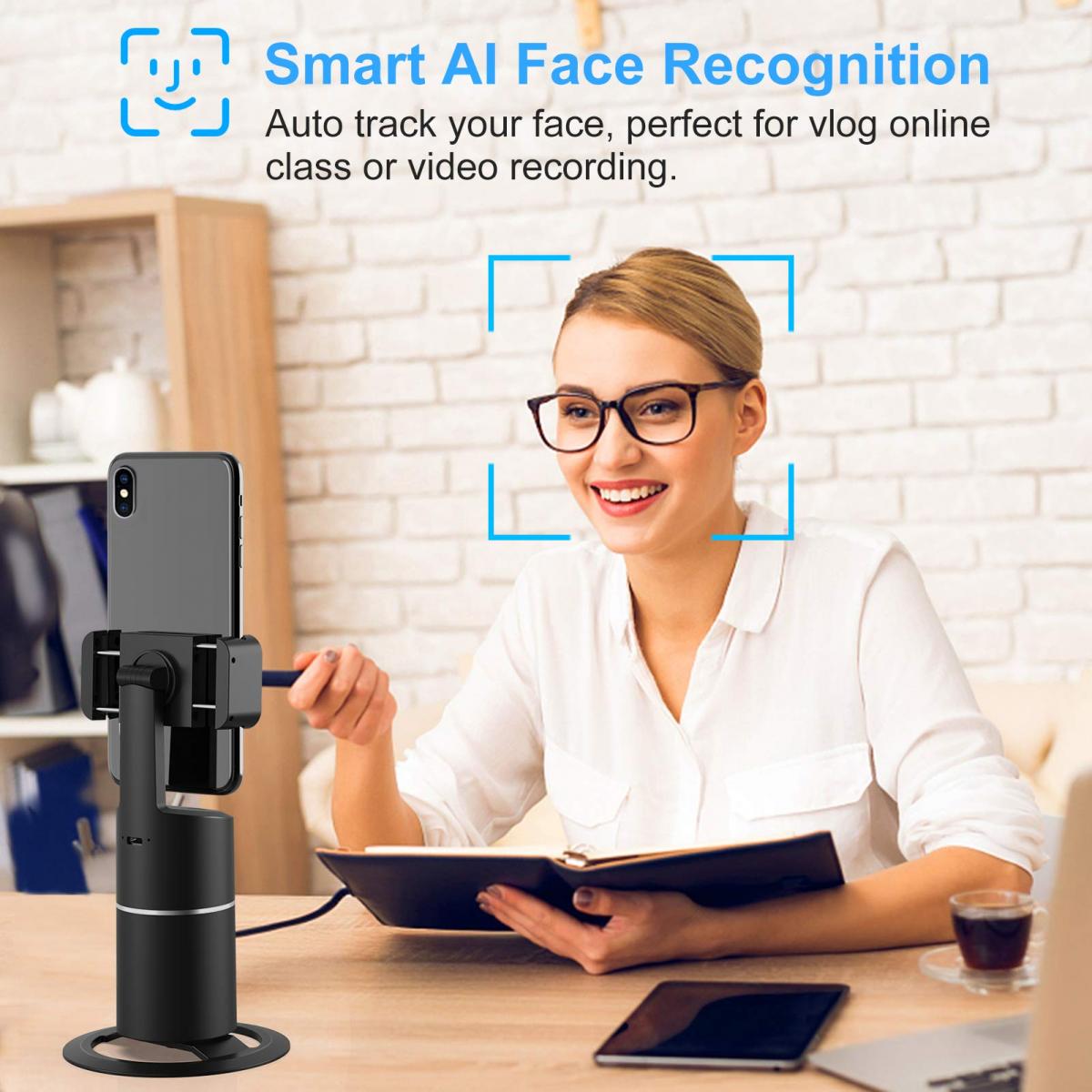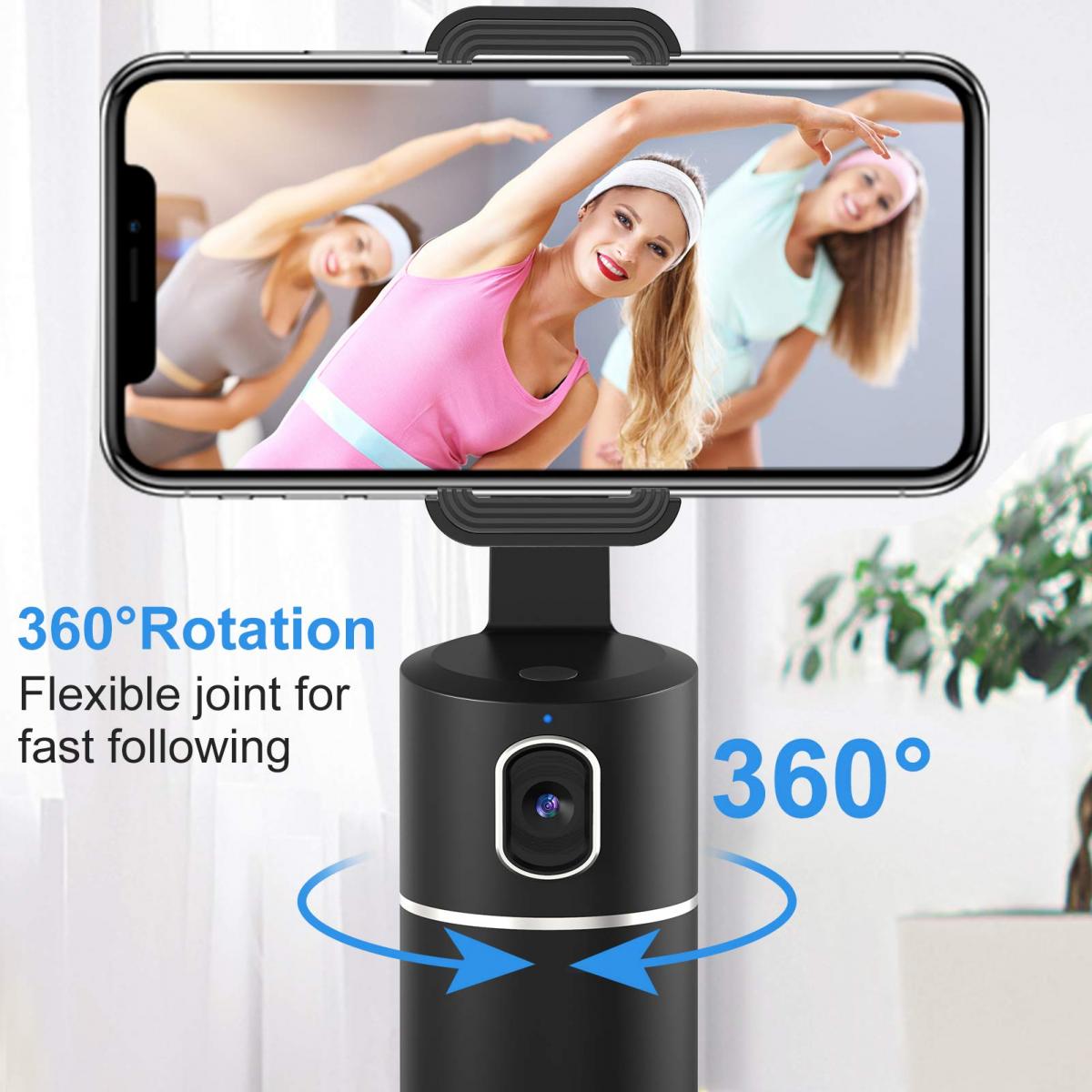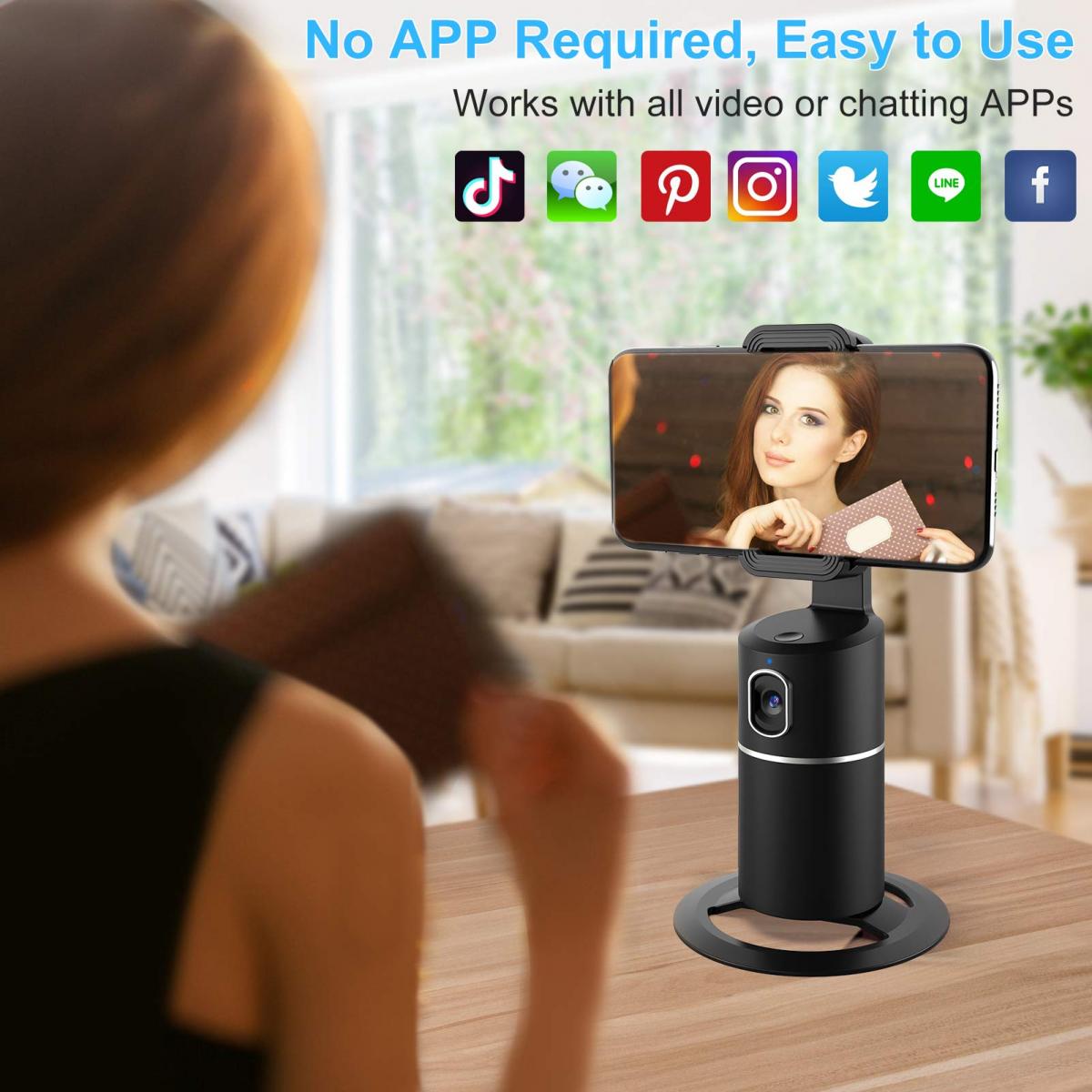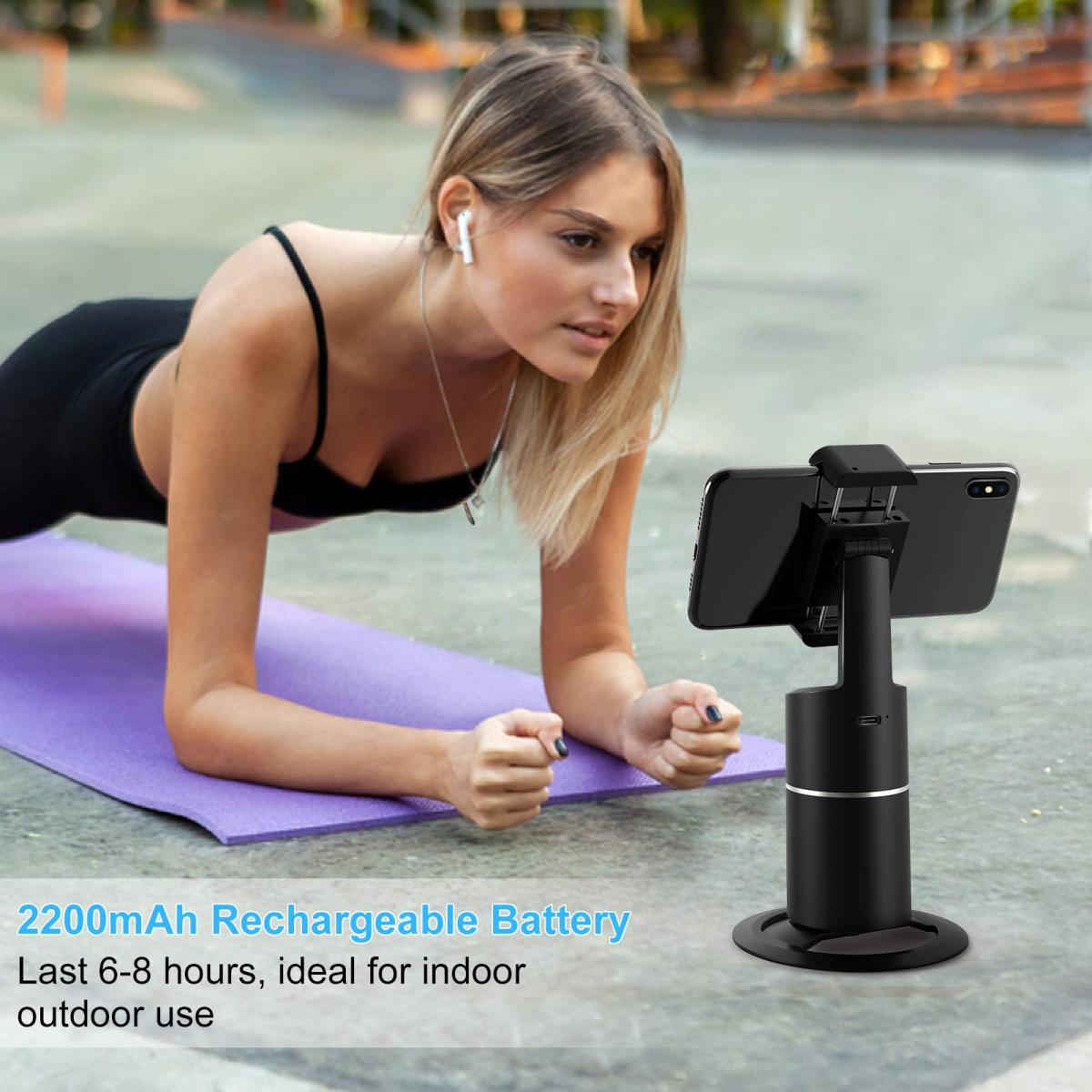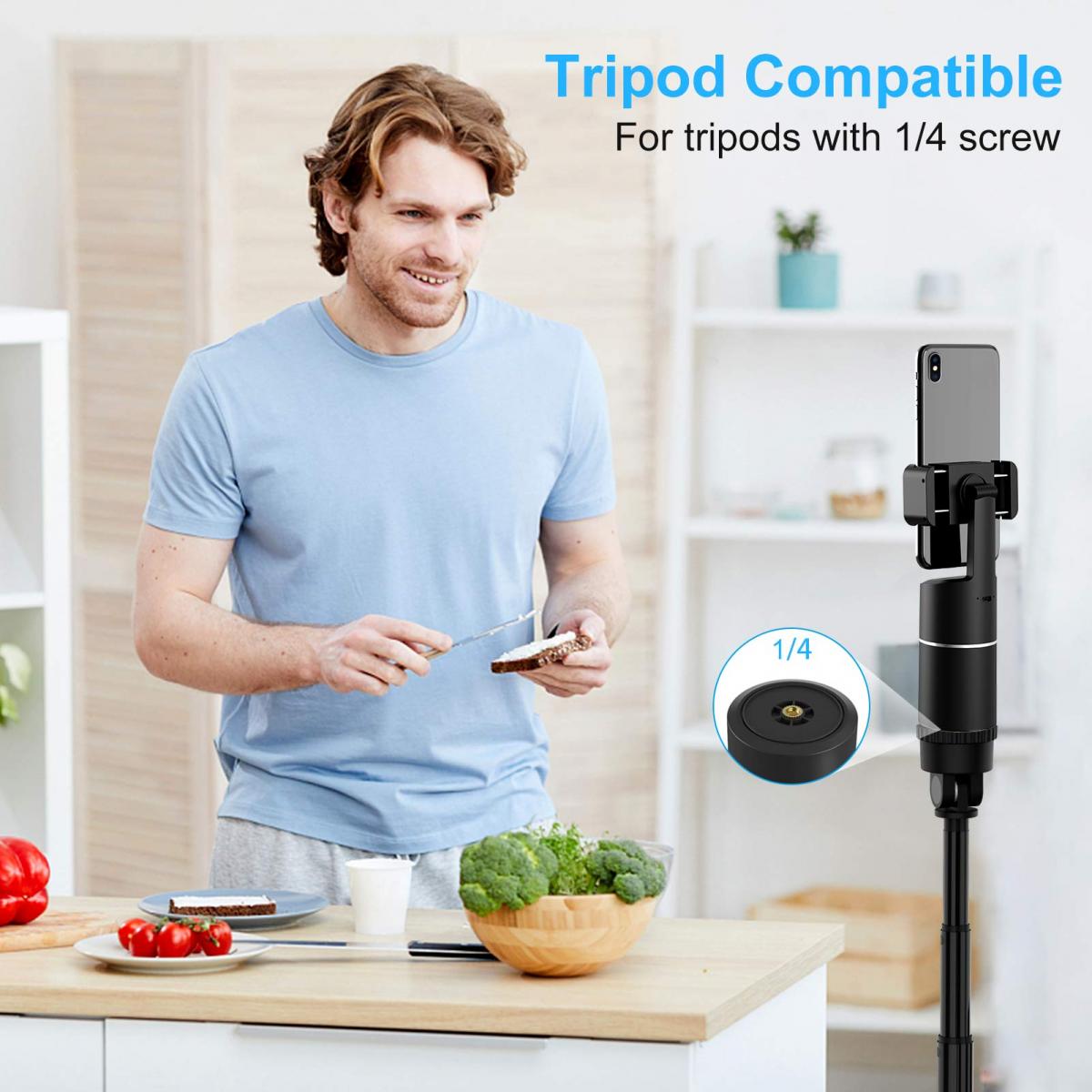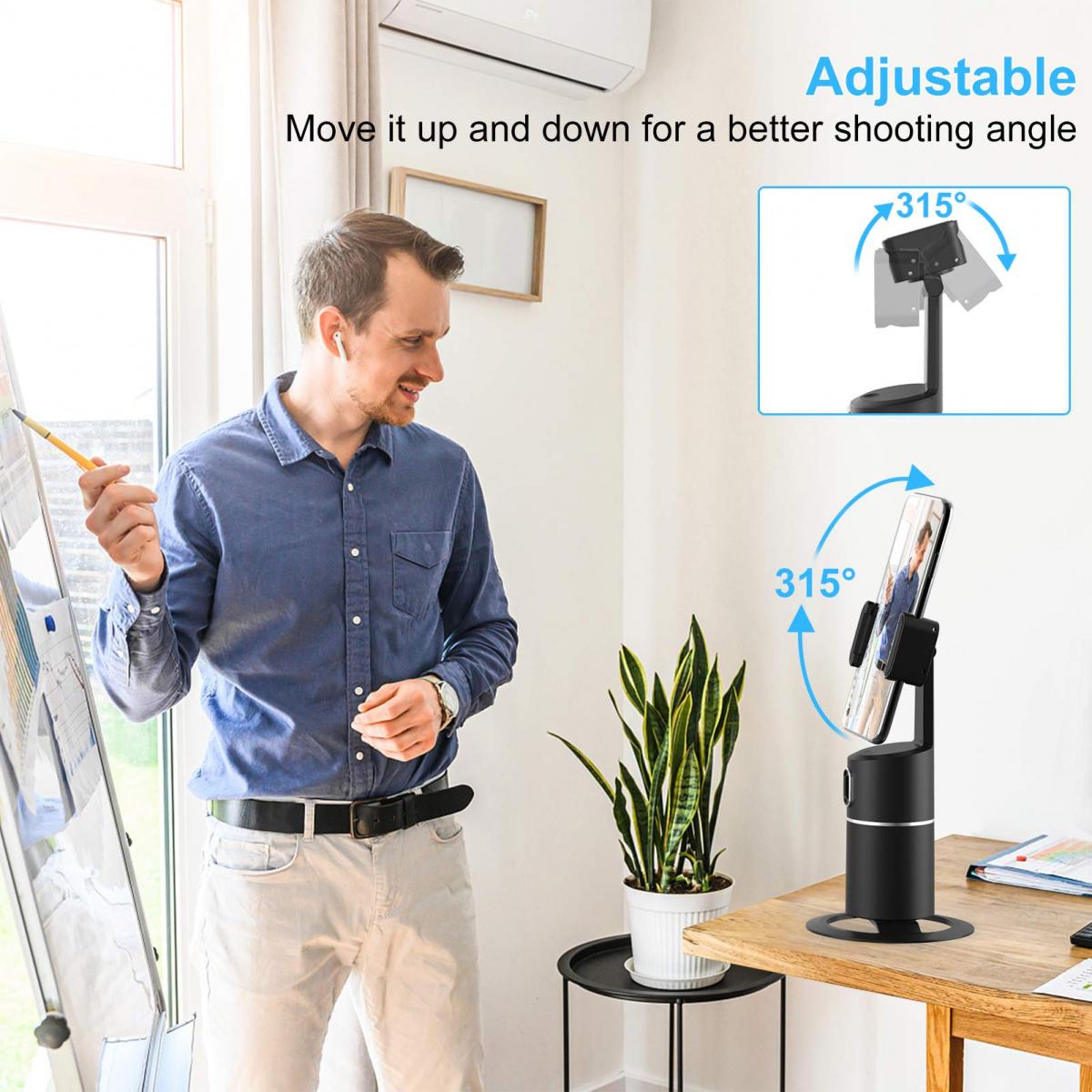 | | |
| --- | --- |
| 1. Model | T2 |
| 2. Track the rotation angle | 360° |
| 3. The flip angle of the phone clip | X |
| 4. Mobile phone clip range | Up to 6.5 inches |
| 5. Field of view | 105° |
| 6. Battery capacity | 2200mAh |
| 7. Applicable models | 6.5 inches or less |
| 8. Battery life | 6-8H |
| 9. Charging port | Type-C |
| 10. Power | 5V1A |
Great for selfies, vlogging and for facetiming with friends and family
I love this tracking tripod that I bought for my cell phone. I initially bought it for myself to use when I talk to my family and friends on FaceTime. The tripod has a built-in camera that automatically follows me since it tracks my face. This way I can move around the kitchen while I am talking to my family, and the tripod will follow me. My family doesn't lose track of me on their screen. It is super easy to mount my phone on the tripod, and it moves around effortlessly to track my face. It is also great for taking selfies while you are in motion. You don't have to worry about missing any opportunities for great photos with this tripod. My favorite feature is that it doesn't need to connect to bluetooth and you don't have to download any apps to make it work. All it needs is your phone attached to it, and to be charged using the included USB cable. My son has also been borrowing this for vlogging on his vlog site.
01/09/2021
Very good product
Very easy to use and the angels you can set ut to is good and being able to connect it to a tripod is great.
29/06/2021
I love it
Super easy to use, the phone holder fits my phone perfectly! It's a great product to make videos, and not even need to use the Bluetooth or any app. I use it for video chats, and It also helps to attend the zoom meetings and other video meetings. Very sturdy and the swivel action on the head is fantastic. The facial recognition is spot on about most of the time is a lot. I like the fact that I can attach it to my tripod, it makes filming so effortless.
10/06/2021
Creepy but awesome
I brought this product over a year ago. Once out the box it appeared to be exactly what I was looking for . However it struggled to keep up with it's only task … follow me … the product came in as it should while plugged did it's rotation to start initial setup followed me for about two spins and than stopped moving. At the time I had been so consumed by other things I put it back up for later use. Well today after about 2 other prior attempts I've finally had to except that this isn't a good product !! Bummer
11/04/2022
Little cutie!!!
It does what it says. It comes in handy. Does all the tricks for the family video and picture activities WITHOUT me ALWAYS being behind the camera!!.
20/03/2022
Tripod tracker for my phone
Very nice product my granddaughter loves it
09/03/2022
The Quality and the accuracy of camera that follows you around like a little kid (smile
I like everything about it's It works just like it was described in the advertisement.I would recommend it to anyone.
07/03/2022
Works Great
Works as described with no problems. It is independent of any phone app and tracks your movement well as long as you don't move too fast.
26/02/2022
Does everything I need it to
This works perfectly for videos & reels I put on social media. It's easy to attach the base & operate. Definitely a bargain for the $$
23/02/2022