K&F M21171 Leica R Lenses to Nikon F Lens Mount Adapter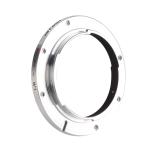 I stumbled across a Leica 28mm lens for $20 at an estate sale. Even though it was an R-mount lens, and I have a Nikon DSLR, I figured I could work it out. For the price this mount converter ring did the trick. Even though I do not have full functionality (the auto focus does not work), I can still take sharp photos; I can always change the mount ring to a Fotodiox for $129.Installation was a bit tricky, but not really difficult. You need a set of computer screwdrivers, and the screws are really small. A bit of a challenge for those of us with old eyes and shaky hands, but not insurmountable. I got it done in about 20 minutes. Note to sellers: Please consider adding installation directions. I found a couple of web sites that helped out, but it would have been more convenient to have them in the package. Overall, a great inexpensive way to convert lenses for use on Nikon cameras.
K&F M21171 Leica R Lenses to Nikon F Lens Mount Adapter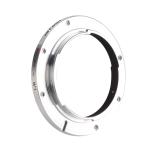 Habe mir für meine Nikon D750 ein Leica Summicron R 50mm f2 gegönnt und brauchte nun einen Adapter.Dieser hier wird anstelle des Leica Bajonetts mit den vorhanden 6 Schrauben angebaut.(Bitte achtet darauf, dass die kleine Kugel die die Rasterung der Beide vornimmt dabei nicht verloren geht. Dafür muss man das Bajonett nur nach oben legen und den alten Bajonettring ganz langsam abheben!)Das Objektiv sitzt wie eine eins, fokussiert sauber auch bis unendlich. Die Kamera erkennt keine Objektivdaten und es gibt auch keine Springblende aber die Belichtung stimmt dennoch top.Der Adapter ist daher echt zu empfehlen.