K&F 2 Packs 78.75 inch/6.56 ft Aluminium Photo Studio Tripod Light Stands
Out Of Stock
Product Unavailable
No Cancellation Fee
Free shipping to eligible country
Brand:

K&F Concept

Buy K&F Concept k&f 2 packs 78.75 inch/6.56 ft aluminium photo studio tripod light stands online, worldwide free shipping and 30 days return guarantee.

KF34.018

Availability:

Out Of Stock

69.99

https://www.kentfaith.com/KF34.018_kf-2-packs-78-75-inch-6-56-ft-aluminium-photo-studio-tripod-light-stands-for-video-htc-vive-vr-portrait-product-photography-relfectors-softboxes-umbrellas-backgrounds
Buy 2+ items get

10% off

!
Features
• The light stand is made of aluminum alloy, the diameter of the lamp stand is 26mm,making it strong for heavy duty work.
• The design of the buckle is convenient for the telescopic pole to be more flexible and smoother than the traditional lamp holder. It can greatly enhance the operating experience.
• 1/4 inch screw tip on the stem, multiple different photography equipment can be mounted on this tripod stand,such as reflector, softbox, different lights, umbrella, background.
• Tripod-style base can be easily folded for easy carrying and storage, makes it an all-round excellent stand to use around the studio.
• Folded height: 1.64 ft; Maximum heigh:6.56 ft; Min heigh: 1.8 ft; Max load capacity: 8.8 lbs; Net Weight: 1.95lbs*2. Lightweight design,easily transported from one location to another, adjustable for many lighting situations.
Aluminium Photo Studio Tripod Light Stands
For Video HTC Vive VR, Portrait, Product Photography
Relfectors, Softboxes, Umbrellas, Backgrounds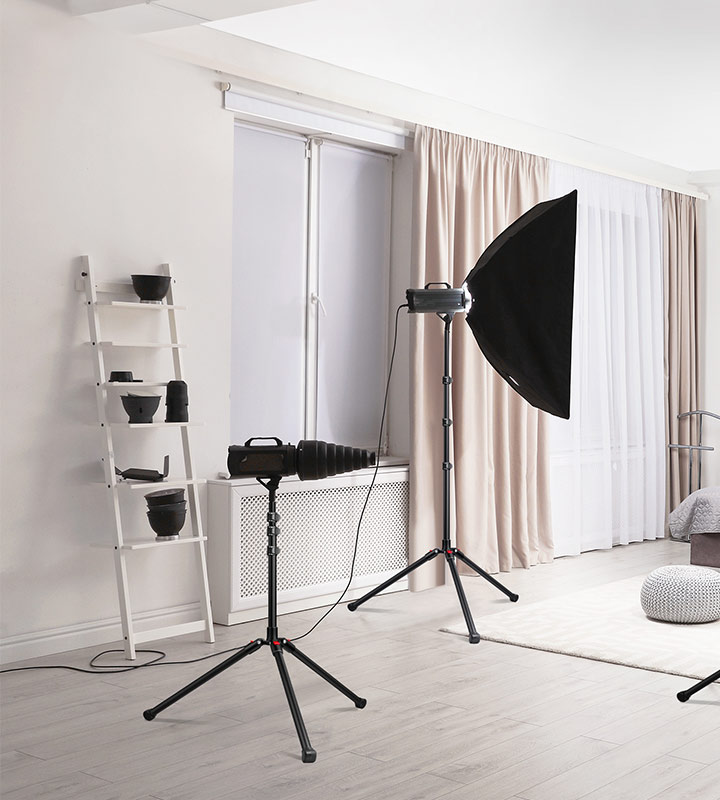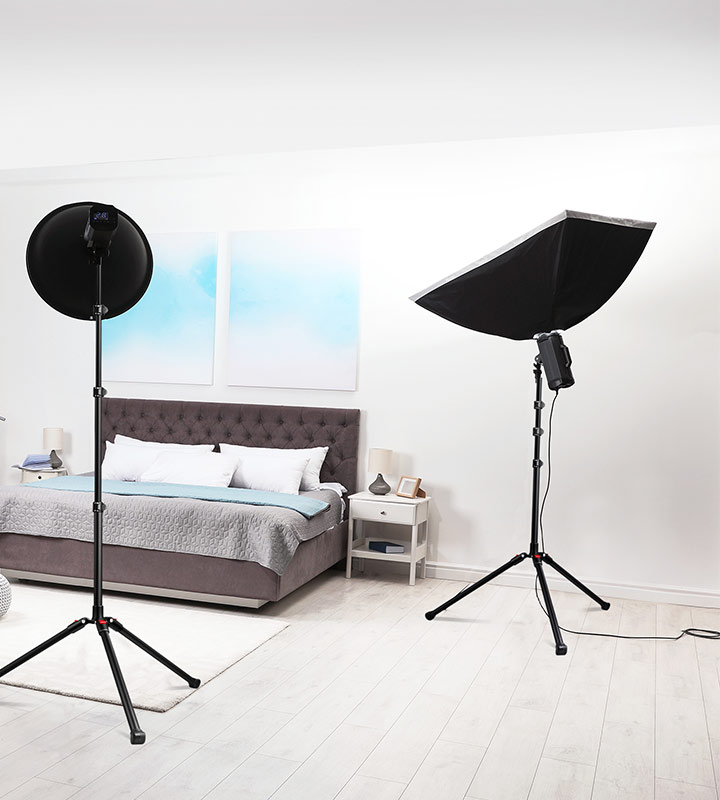 Adjustable Buckle
3 kind of angles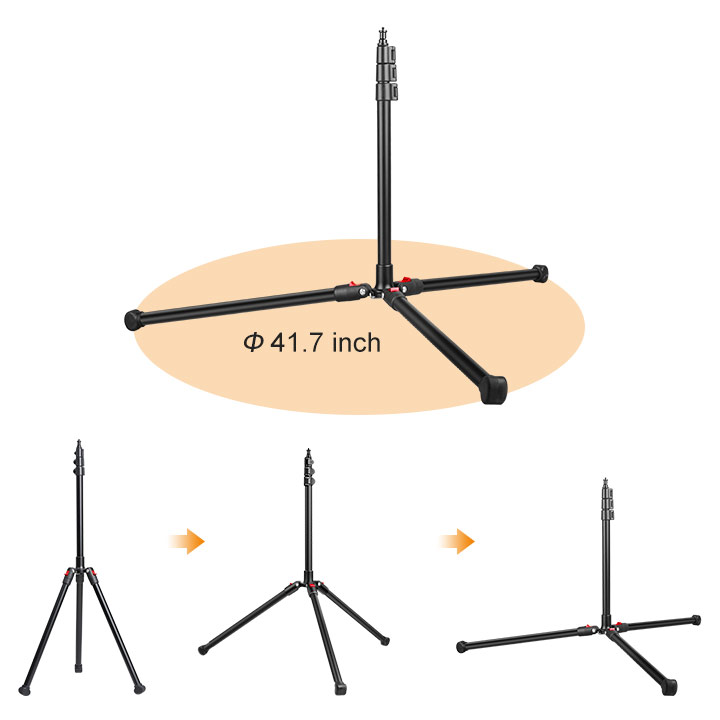 78.75 inch tripod light stand
The diameter of the lamp stand is 26mm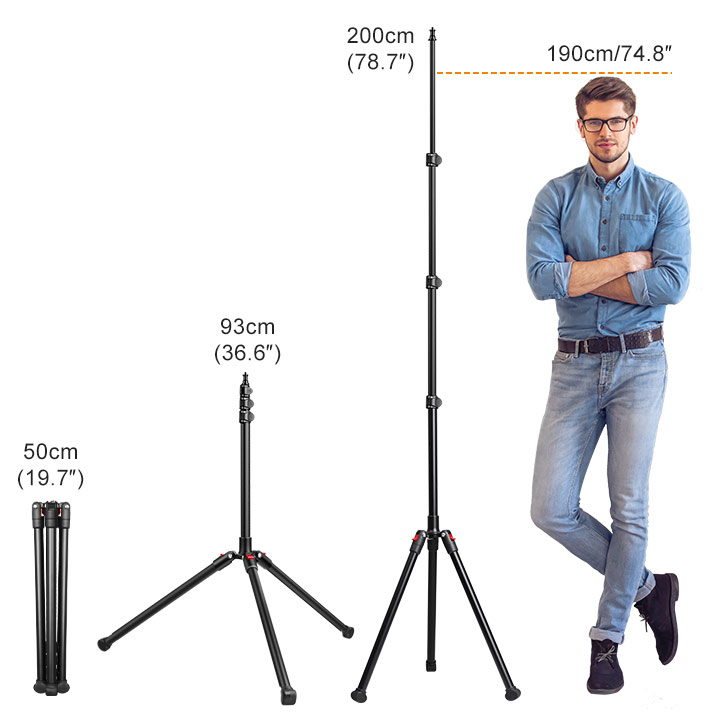 8.8lbs (4kg) Load capacity
All aluminum magnesium alloy with forged technology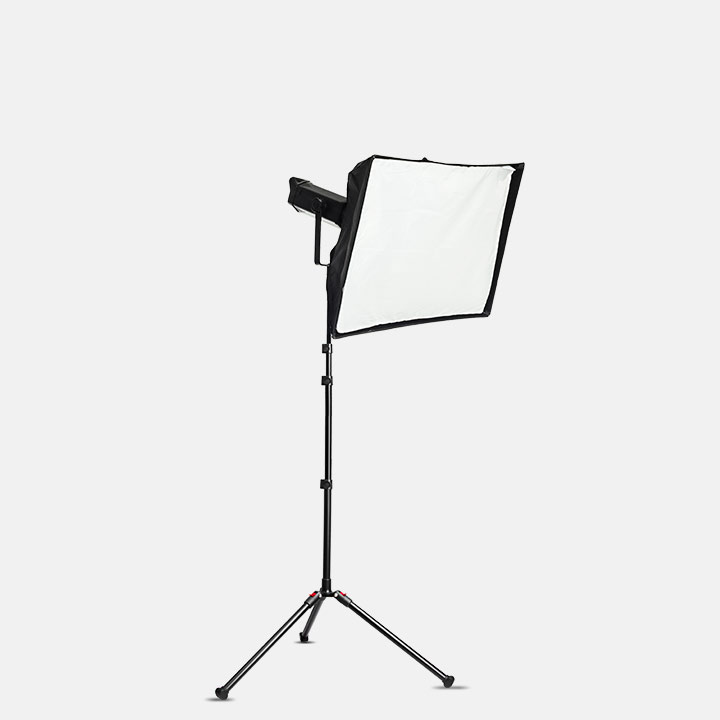 1/4″ screws
Widely applied to most photography studio devices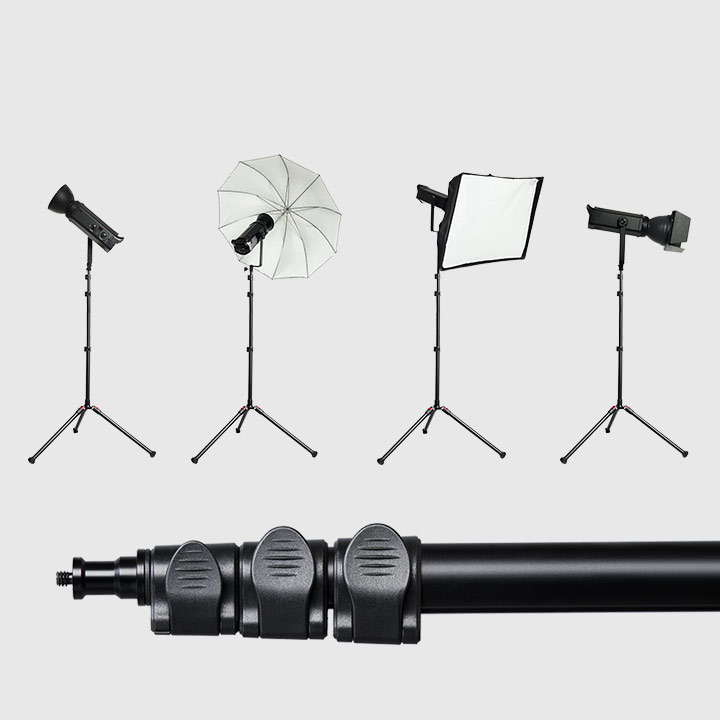 Multi-purpose
Install various photographic equipment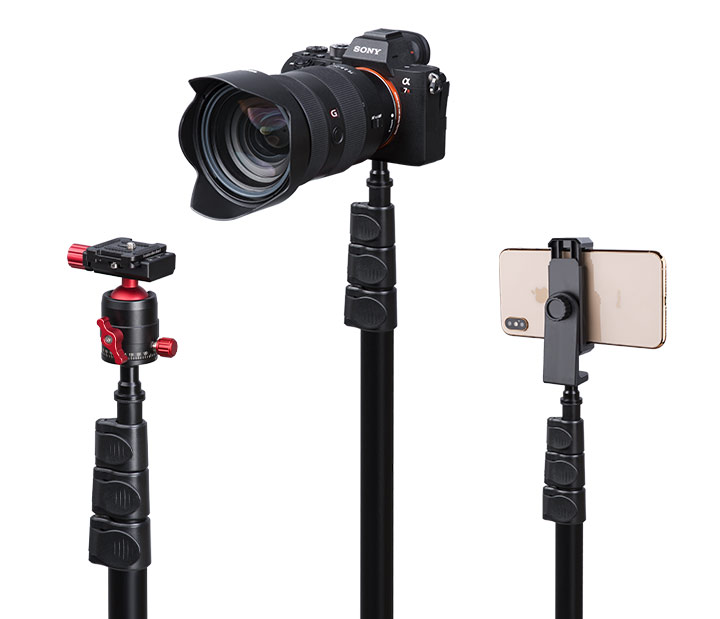 Beauty light application
Can video chat with mobile phone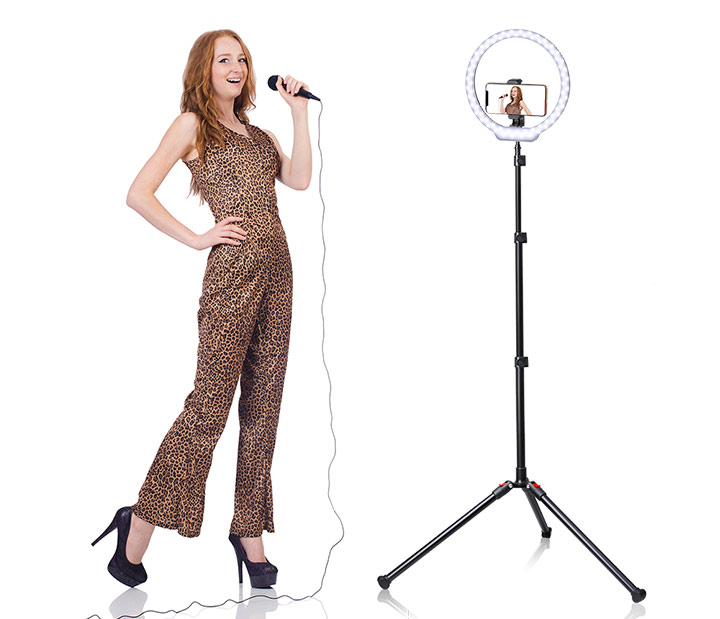 Easy to carry
Tube made of high quality magnesium aluminum alloy, can be 180°reflexed, better portability.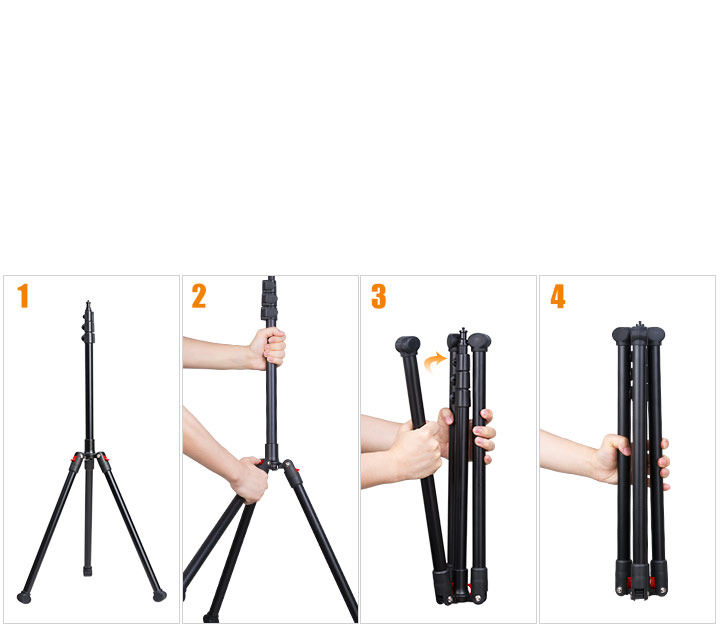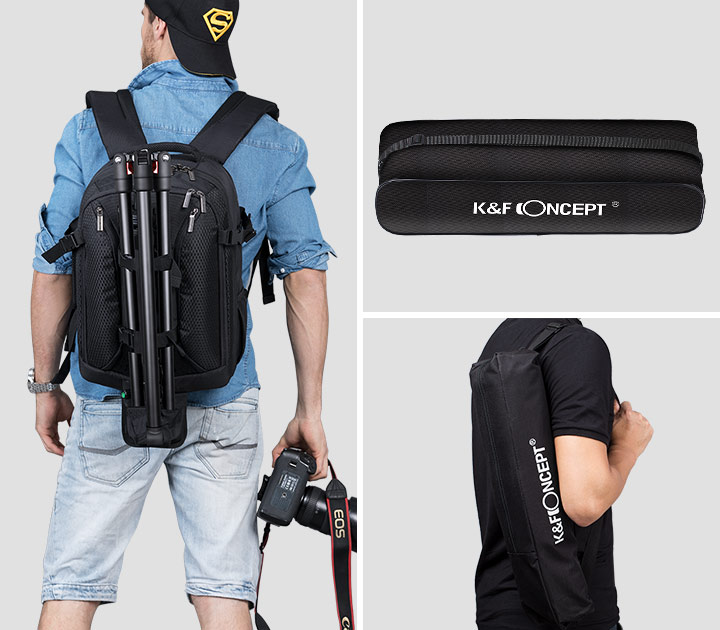 Strong material.
When i received this tripod i was really surprised. The tripod stand legs are really well constructed. Legs are really easy to use and they extend upto 6ft something and they come in the pack of 2. The price is really good for the pack of 2 and the carrying case it strong material as well . Overall really happy with the purchase.
not like any other light stands
I never saw this kind of light stands before. This light stand is more like camera tripod so i can lengthen the legs with buttons which is very easy to lengthen the legs out. The poles are thick so it can load heavy light with soft box. I used cheap light stands but they couldn't stand straight because the light and soft box were too heavy. But this one is heavy duty. Very stable and easy to use.
2 packs stands
Excellent sturdiness, also the light weight very good and great value.The tripod stand legs are really good quality and strong. Very easy to use. It can be extend up to 6ft great value they came 2 in the pack.
Best stand out! Extremely durable
Best value ever! Been looking for these for a long time and so happy I chose these! Very easy to use, durable and sturdy. They extend very far and good for lights for a large set up and can even be adjustable for smaller settings. I would not go with any other brand as this one has met all my photo needs and worth it! I expect this to last forever as the bars hold up very well. 10/10 would recommend
Best Aluminum Light/ Softbox Holder?
The Aluminium Photo Studio Tripod Light Stands truly is Light & heavy-duty. I have used it with a octa box on my light head with the stand extended to over 6.6 feet. It is steady as a rock. The feet spread over 4 feet, this gives the stand great stability but it does take up space. I am giving the stand 5 stars out of 5 because I couldn't find a bad reason to writeTripod-style base can be easily folded for easy carrying and storage, makes it an all-round excellent stand to move around.I could carry both of them in my pack bag without even notice it's there; that's how light it's to be honest (less than 5lbs in my opinion I have not weight both of them just yet)I love K&F products
These images belong to K&F Concept end users.