XN25 67mm ND1000 (10 Stop) Fixed ND Filter Neutral Density Lens Filter Multi-Coated Optical Glass, for DSLR Camera
99$-15$ / 199$-30$ / 299$-55$ / 599$-120$
New customer gift package
Free shipping to eligible country
Neutral density filters restrict light entering a camera lens. It is often used for photography of landscape subjects such as waterfalls, running water, waves, mountains and rivers.

KF01.976

SKU:

KF01.976

35.99

https://www.kentfaith.com/KF01.976_67mm-nd1000-filter-10-stops-multi-resistant-nano-coating
99$-15$ / 199$-30$ / 299$-55$ / 599$-120$
Description
* 【Premium Quality】Solid ND Lens filter (NOT a variable nd)Made of high quality optical glass, no colour cast while providing solid 10 f-stop reductions and enabling longer exposures to capture the beauty of time and movement.
* 【Keep Real colors】Adopted 28-Layer multi-resistant coating technology, the green coating helps effectively reduce filter surface reflection and the ghosting while making the filter anti-scratch, water repellent, oil and dust resistant.
* 【Ultra Slim and Lightweight】Super slim and lightweight aluminum frame, maximum reduce impact on light and effectively avoid dark corner for wide-angle shooting.
* 【Functions】ND1000 Filter Enables slow shutter speeds to be used to record movement in subjects such as waterfalls, providing a silky smooth affect to flowing water.
* 【Choose the right size】This K&F ND1000 is compatible with all 67mm lenses. Please verify your camera's lens thread size before ordering. Your camera's lens thread size will be marked somewhere on the lens barrel or printed underneath your lens cap. This number is always preceded by a "Ø" (diameter) symbol. For example: Ø77=77mm lens thread size.
Shipping
Free shipping to eligible country
Sale
99$-15$ / 199$-30$ / 299$-55$ / 599$-120$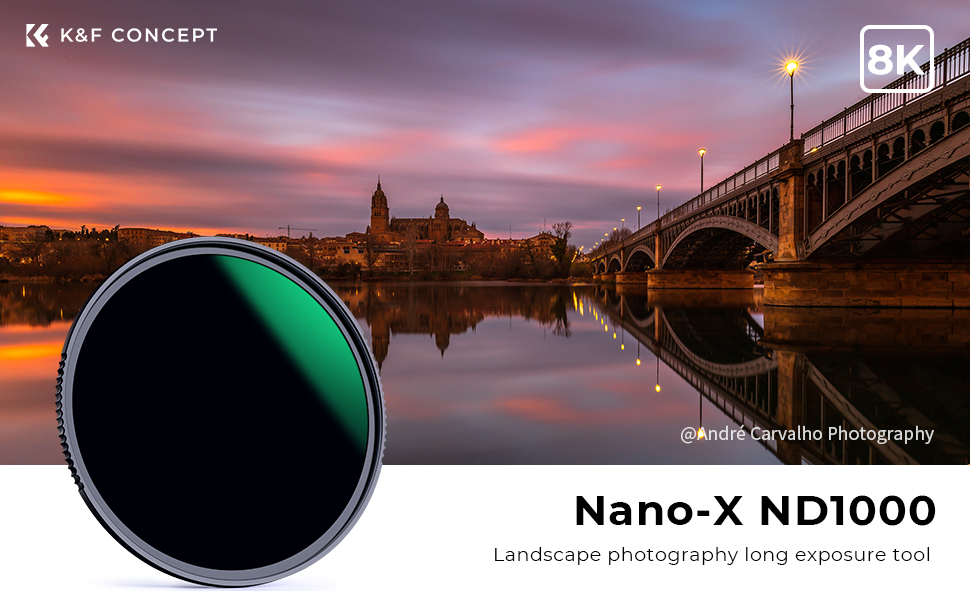 K&F Concept ND1000 Filter (10 stops) Fixed Neutral Density Filter with 28-layer Coating Waterproof and Scratch Resistant
• K&F Concept professional fixed 10 stops Nano-X neutral density ND1000 filter helps you get better shots in bright light as well as assists you with some special effect images.
• The fixed ND1000 neutral density filter enables the shooter to provide 10 stops of exposure light reduction without affecting color balance.
• Recommend using it in extreme sun days when recording the water movement on a slow shutter.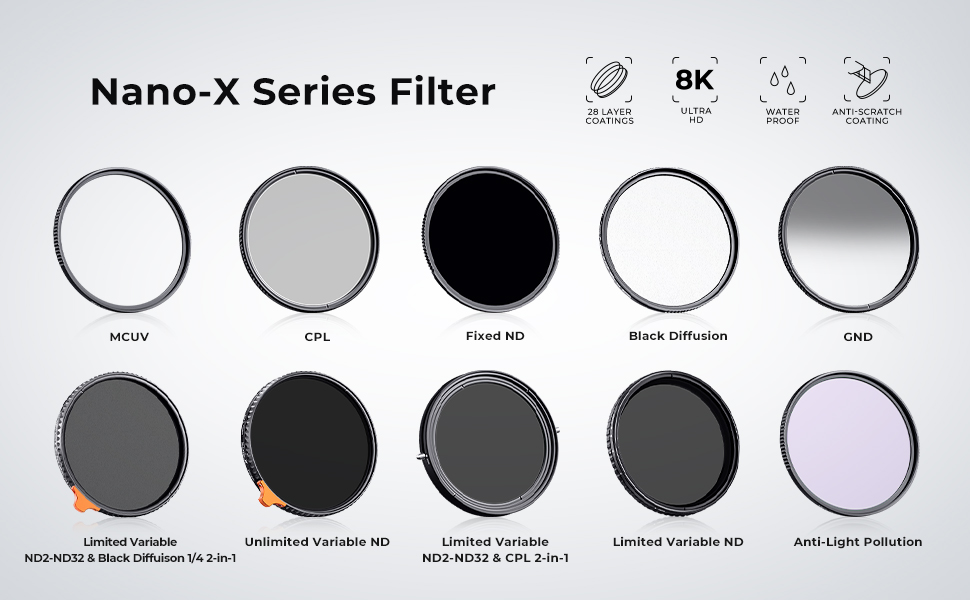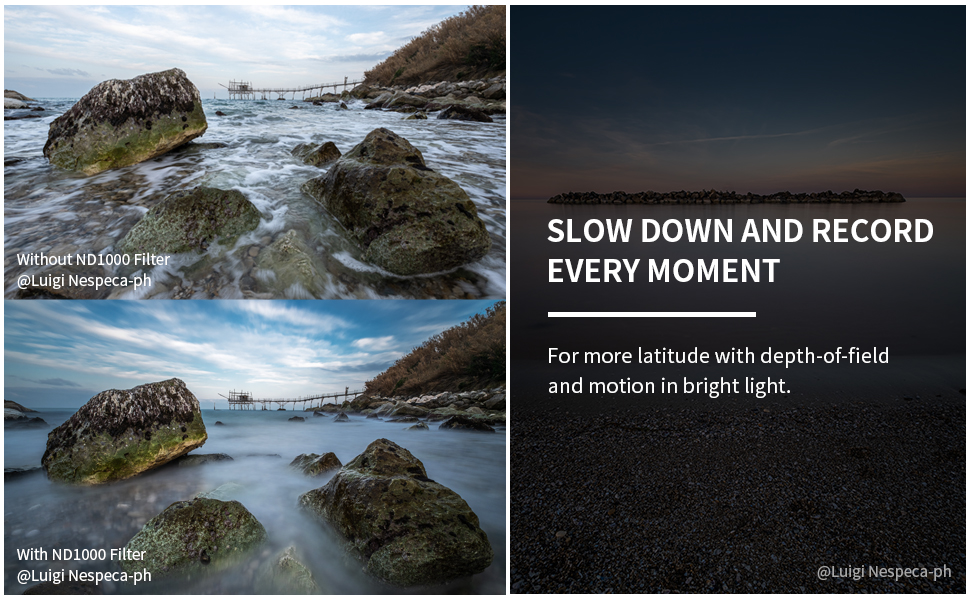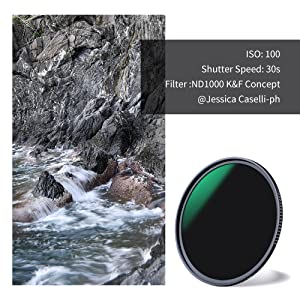 Main Benefits
Slower shutter, better exposure ND filter K&F Concept fixed ND1000 for long exposure landscape photography and motion blur effects without overexposure of the image in bright light.
A fixed 10 f-stop light reduction allows you to use wider apertures for a shallower depth of field or slower shutter speeds for blur, or a combination in high light conditions.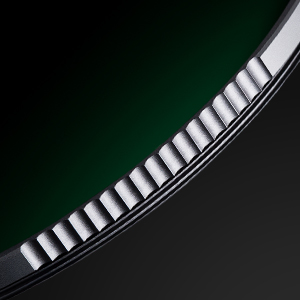 3.3mm Ultra-Slim Frame
• Aviation aluminum alloy frame, ultra-thin and lightweight enough, suitable for wide-angle telephoto without vignetting
• Note: This K&F Concept neutral density filter is only compatible with the same size lens. This number is always preceded by a "Ø" (diameter) symbol. For example. Ø77mm = 77mm thread size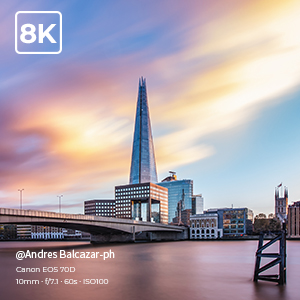 Import Japanese AGC Glass
• Made by import Japanese optical glass with 28-layer coatings offers the excellent anti-reflective ability, is scratch-resistant, waterproof, high definition, and outstanding protection.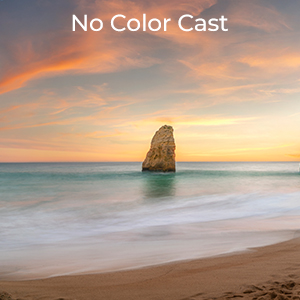 Better Control, Wider Aperture
• Get the stunning depth of field with wider apertures even in bright light with the K&F Concept ND1000 neutral density filter.
• For best results use a tripod, as long exposures are enhanced by the contrast between the silky blur and the sharpness of still objects.

| | | | | | | |
| --- | --- | --- | --- | --- | --- | --- |
| | | | | | | |
| | | | | | | |
| | | | | | | |
| Rating | 14 reviews. | 0 reviews. | 5 reviews. | 0 reviews. | 56 reviews. | 0 reviews. |
| Price | $35.99 | $58.99 | $35.99 | $35.99 | $51.99 | $71.99 |
| Model | KF01.976 | SKU.1759 | KF01.1552 | KF01.1512 | KF01.1061 | KF01.1851 |
| Reflectivity | 0.2% | | 0.2% | 0.2% | 0.2% | 0.2% |
| Size | 67mm | | | | 67mm | |
| Series | Nano-X series | Nano-X series | Nano-X series | Nano-X series | Nano-X series | Nano-X series |
| Recommended Scenes | Landscape Photography | Landscape Photography | Video Shooting/Landscape& Potrait Photography | Video Shooting/Landscape& Potrait Photography | Video Shooting/Landscape Photography | Video Shooting/Landscape Photography |
| Function | Light reduction effect | 1 Second Switch/Light reduction effect | Light reduction effect | Light reduction effect | No X cross/Light reduction effect | 1 Second Switch/No X cross/Light reduction effect |
| Stops | 3.0(10 Stops) | | 1.8(6 Stops) | 0.9(3 Stops) | 0.3 to 1.5(1 to 5 Stops) | 0.3 to 1.5(1 to 5 Stops) |
| Filter Material | Japanese AGC Glass | Japanese AGC Glass | Japanese AGC Glass | Japanese AGC Glass | Japanese AGC Glass | Japanese AGC Glass |
| Multi-Coating | 28 layers | 28 layers | 28 layers | 28 layers | 28 layers | 28 layers |
| Waterproof | √ | √ | √ | √ | √ | √ |
| scratch-resistant | √ | √ | √ | √ | √ | √ |
| HD | √ | √ | √ | √ | √ | √ |
| Transmittance | 0.001 | 0.5 | | | ∕ | |
| Antireflection | √ | | | | √ | |
| Filter Thickness | 3.3mm | | | | 7.3mm | |
| Ring Material | Aviation aluminum alloy | | | | Aviation aluminum alloy | |
All Reviews
Image

All Star

5 Star

4 Star

3 Star

2 Star

1 Star
A nice addition for any photographer's bag!
I just bought a brand new set up and needed something to fit my RF 24-105mm lens. The 67mm ND filter is made of a sturdy metal material, and the photos taken with it are wonderful. It adds a little bit of temperature warmth to the photo so have that in mind when using. But I enjoy how the case it comes in has rings to keep the filter in place and not moving around when being carried in my backpack. Would highly recommend to anyone looking for an ND filter!
06/08/2020
Its what its worth
It makes it about 2 stops darker... but it is pretty bad LOL. Just save up and get a real filter.
24/06/2020
affordable pro product.
K & f just hit another one, Never go wrong with their products, very good quality product, is the best value for the price in the market.
14/06/2020
Really handy filter for landscape shooters
this is mega 10 stop ND!!!!!Admitted I won't use this often but during your vacation travels if you're the type that likes to lug around your already to shoot landscapes especially waterfalls and water movement then getting a budget ND will come in ultra handy and you can seriously get some unbelievable shots from it.You need this when you're out on that hike and discover a gorgeous water movement but its so bright you can't take the slow shutter shot without over exposing. What would normally take say 1/10000 shutter you use this 10 stop nd to get you to 1 second shot. You achieve some ultra buttery smooth water falls or mist. Something you really want active otherwise.I want to share some example of what this budget ND can do but the amazon platform currently isn't allowing photo uploads during covid. I shall update with pics another dayWhen i say budget filters, I'm comparing with +100$ b+w 10 stop ND. So if you're like me and enjoy landscape water photog as a hobby , and wont find yourself using it often then this is a pretty good buy at the 30-50 price range depending on filter size.Since its not a filter you normally leave on the lens I do appreciate the nice case it comes with. Keeps the filter centered and secure to throw in the bag.
28/05/2020
Happy with product.
Easy to use and works good.
04/05/2020
Good Entry Level ND 3.0
there is no real comparison between pro-level filters, but if you are using a Variable ND filter or don't have one. This is a good entry point. An ND 1000 ( ND 3) Filter will give you the smooth water look you are likely looking for. There is minimal color cast. I do wish the case was a bit smaller. for 67MM or smaller, the case is larger than it needs to be. It arrived with no scratches and threads are fine. Remember the rule for every stop you need to double your shutter speed ( open longer ); ND 1000 is 10 stop you leave your shutter open 10 times longer.
22/03/2020
fits perfectly - very dark filter
The K&F Concept 67MM Neutral Density Lens Filter 10 Stops ND 1000 Filter Multi-Coated Optical Glass Neutral Grey ND Lens Filter with Multi-Resistant Nano Coating for Nikon Canon DSLR Camera fits perfectly on my NIKON lens, but is a very dark filter creating some light issues with my lens. the filter itself does exactly what it should and is expected to do though....but is very dark.
18/03/2020
Just right - and at the right price.
Purchased the 10-stop ND filter for the super-long exposure work I'm starting. The filter arrived on time as expected; there were some minor polishing marks on one of the filter surfaces (removed with a microfiber cloth), but no optical defects appeared in any of my test exposures. (And believe me, I looked for them!) I've purchased a few K&F Concept filters now and have always been satisfied...solid workmanship, optical quality is great and again, the price is right. I can certainly recommend this one.
16/12/2019
Amazing details and contrast at an affordable price.
I was pleasantly surprised just how tact sharp the photos are with this ND filter being as affordable as it is. I shot in AWB "auto white balance" and did no color correction in post processing these images and was able to shoot at F22, ISO 50 for 30 seconds in the middle of the day with this 10 stop ND filter.
20/07/2019
Great for long exposure
Love this ND filter and I will get more. You don't have to break the bank for great results
25/05/2019
These images belong to KENTFAITH end users.
A
This filter should fit all 67mm lenses.
Do You Know How Your K&F Concept Filters be Produced? | One-day Tour in Production Line
How to check your lens size
Gimbal Stabilizers
Reflectivity
0.2%
Filter
Size
67mm
Series
Nano-X series
Recommended Scenes
Landscape Photography
Function
Light reduction effect
Stops
3.0(10 Stops)
Filter Material
Japanese AGC Glass
Multi-Coating
28 layers
Waterproof
√
scratch-resistant
√
HD
√
Transmittance
0.001
Antireflection
√
Pattern
√
Filter Thickness
3.3mm
Shape
Circle
Ring Material
Aviation aluminum alloy