K&F M29131 Exakta Lenses to Canon EF Lens Mount Adapter
Free shipping to eligible country
Brand:

K&F Concept

K&F M29131 Exakta Lenses to Canon EF Lens Mount Adapter Allow Exakta mount lenses used on Canon EOS Rebel camera body.

KF06.141

Availability:

In Stock

27.59

https://www.kentfaith.com/KF06.141_exakta-to-canon-eos-ef-mount-adapter
Buy 2+ items get
10% off
!
Features
• Allow Exakta mount lenses used on Canon EOS Rebel camera body.
• Compatible with Canon EOS Rebel camera includes: Canon 300D, 350D, 400D, 450D, 500D, 550D/T2i, 600D/T3i, 650D/T4i, 700D/T5i, 750D/T6i, 760D/T6s, 800D/T7i, 100D, 200D, 1000D, 1100D/T3, 1200D/T5, 1300D/ T6,Canon 77D, D30, D60, 10D, 20D, 20Da, 30D, 40D, 50D, 60D 60Da, 70D, 77D, 80D, 7D, 7D Mark II, 5D, 5D Mark II, 5D Mark III, 5D Mark IV, 5Ds, 5Ds R, 6D, 6D Mark II,-1D,-1Ds,-1D X,-1D C etc.
• Made of brass and aluminum. Stable, precise and durable construction. Manually operated. Infinity focus allowed.
• For heavy medium format lenses, we suggest to use with a telephoto bracket and a tripod to balance its weight when shoot.
• 30 Days No Reason Return, 12 months quality guarantee, 100% satisfaction assurance.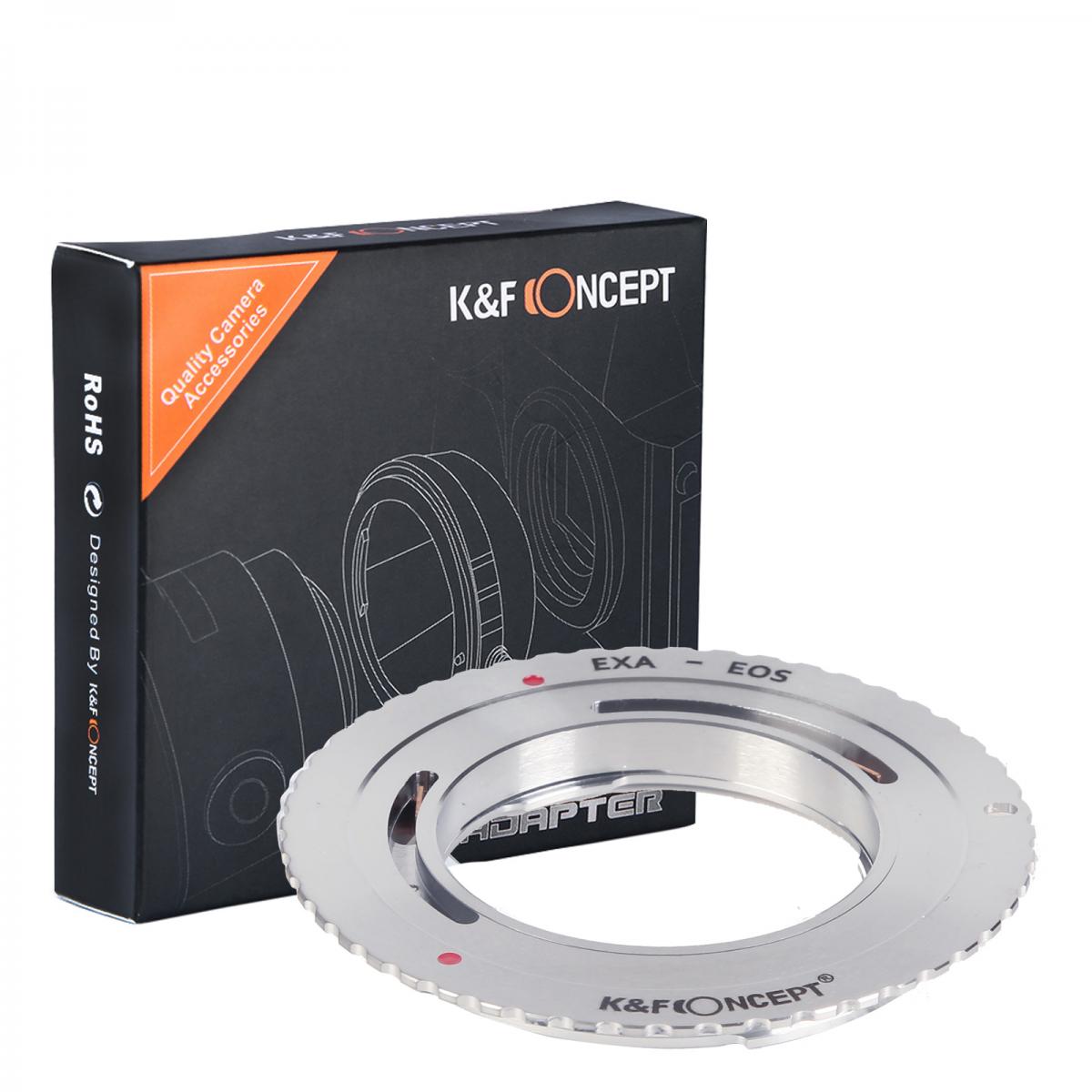 K&F Concept design and produce full range of lens adapters to fit lenses of Canon, Nikon, Pentax, Olympus, Leica, Contax Yashica, Minolta, Tamron, T2, C mount, Exakta, M39, M42, Pentacon etc used on Camera bodies of Canon, Nikon, Sony, Fujifilm, Pentax, Micro 4 3, Leica, M42, Cinema C mount etc.

EXAKTA k EN f ADAPTER FOR cANON EOS 50 D
at least a good adapter that fix the mount of Canon 50 D ....thanks.....quickly delivery - reasonable prices - So for me is K and F recommanded by a friend photographer super ok
Adapter
am Vollformat bleibt der Spiegel oben und man macht ne Langzeitbelichtung, ungewollt.Am APS-C funktioniert es besser, der Spiegel arbeitet ganz normal und hat genug Luft um nach der Auslösung wieder runter zu kommen!!
These images belong to K&F Concept end users.
| Image | Lens | Mount | Filter Size (mm) |
| --- | --- | --- | --- |
| | A. Schacht Munchen Travenar 85mm f/ 2.8 | Exakta | - |
| | A. Schacht Ulm M-Travenar R 50mm f/ 2.8 | Exakta | 49 |
| | A. Schacht Ulm S-Travegon 35mm f/ 2.8 R | Exakta | 49 |
| | A. Schacht Ulm S-Travegon 35mm f/ 2.8 R | Exakta | 49 |
| | A. Schacht Ulm S-Travelon R 50mm f/ 1.8 | Exakta | 49 |
| | A. Schacht Ulm Tele-Travelon R 200mm f/ 4 | Exakta | - |
| | A. Schacht Ulm Travenar R 90mm f/ 2.8 | Exakta | 49 |
| | A. Schacht Ulm Travenon R 135mm f/ 4.5 (1) | Exakta | 40.5 |
| | A.Schacht Ulm Travegar R 100mm f/ 3.3 | Exakta | 49 |
| | A.Schacht Ulm Travegar R 100mm f/ 3.3 | Exakta | 49 |
| Camera | Mount |
| --- | --- |
| Canon EOS 1000D/Rebel XS/Kiss F | Canon EF EF-S |
| Canon EOS 100D/Rebel SL1/Kiss X7 | Canon EF EF-S |
| Canon EOS 10D | Canon EF EF-S |
| Canon EOS 1100D/Rebel T3/Kiss X50 | Canon EF EF-S |
| Canon EOS 1200D/Rebel T5/Kiss X70 | Canon EF EF-S |
| Canon EOS 1300D/Rebel T6/Kiss X80 | Canon EF EF-S |
| Canon EOS 1500D/EOS 2000D/Rebel T7/Kiss X90 | Canon EF EF-S |
| Canon EOS 200D/Rebel SL2/Kiss X8 | Canon EF EF-S |
| Canon EOS 200D/Rebel SL2/Kiss X9 | Canon EF EF-S |
| Canon EOS 20D | Canon EF EF-S |