Canon EF Lenses to M43 MFT Mount Camera Adapter
$27.59
$24.99
&Free shipping worldwide
Brand:

K&F Concept

Buy K&F Concept canon ef lenses to m43 mft mount camera adapter online, worldwide free shipping and 30 days return guarantee.

Availability:

In Stock

24.99

https://www.kentfaith.com/KF06.090_canon-eos-to-micro-four-thirds-m4-3-mount-adapter
Buy 2+ items get
10% off
!
Features
• Allow Canon EOS EF, EFS mount lenses used on Micro 4 3 MFT mount camera body.
• Compatible with Micro Four Thirds (M4/3) camera includes: Panasonic Lumix G1, GH1, GF1, G10, G2, GH2, GF2, G3, GF3, GX1, GF5, G5, GH3, GF6, G6, GX7, GX80/GX85/GX7 Mark II, GM1, GH4, GM5, GF7, G7, GX8, G85/G80, DC-GH5, DC-G9; Olympus PEN E-P1, E-P2, E-PL1, E-PL1s, E-PL2, E-P3, E-PL3, E-PM1, E-PL5, E-PM2, E-P5, E-PL6, E-PL7, PEN-F, E-PL8; Olympus OM-D E-M5, E-M1, E-M10, E-M5 II, E-M10 Mark II, E-M1 Mark II, JVC GY-LS300 S35 mm Camcorder, DJI Zenmuse X5, Kodak Pixpro S-1, Blackmagic Pocket Cinema Camera etc.
• Made of brass and aluminum. Stable,precise and durable construction.Manually operated.Infinity focus allowed.
• For heavy medium format lenses, we suggest to use with a telephoto bracket and a tripod to balance its weight when shoot.
• 30 Days No Reason Return,12 months quality guarantee,100% satisfaction assurance.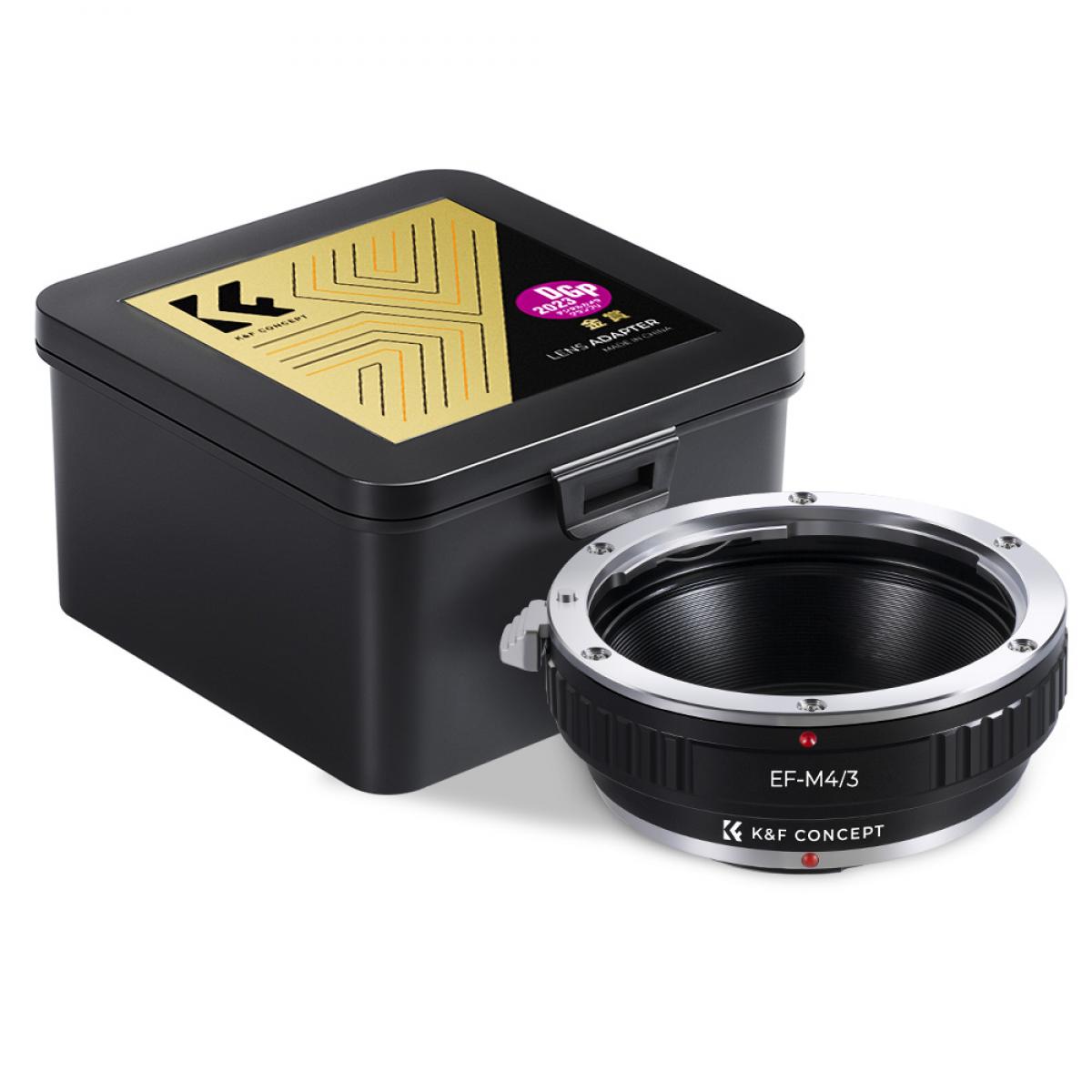 K&F Concept design and produce full range of lens adapters to fit lenses of Canon, Nikon, Pentax, Olympus, Leica, Contax Yashica, Minolta, Tamron, T2, C mount, Exakta, M39, M42, Pentacon etc used on Camera bodies of Canon, Nikon, Sony, Fujifilm, Pentax, Micro 4 3, Leica, M42, Cinema C mount etc.

Canon EF Lenses to M43 MFT Mount Camera Adapter
Great quality EOS to mft mount for Canon EF lenses only!
High quality. Nice fit. Less likely to get this adapter stuck in the lens because of the release lever. Don't buy cheap one 14 bucks adapter. One of my lenses got permanently stuck with a cheap Fotodiox adapter. Be careful! I am using this adapter with 70-200mm f4 zoom L lens. Works like a charm. No loss in quality. Read other reviews on how to use various size f stops. Works only with Canon EF lenses (with a red dot). DOES NOT WORK with EF-S lenses (White dot).
Canon EF Lenses to M43 MFT Mount Camera Adapter
Decent adapter for what it is.
not a bad adapter, obviously has no electronics or it's own aperture. but it holds the lens on and feel solid. doesn't seem to leak light anywhere. a nice option for adapting lenses if you don't need to worry about electronic apertures or autofocus.
Canon EF Lenses to M43 MFT Mount Camera Adapter
Quality for cheap, but not cheap quality
I love this thing. I upgraded from a Canon t3i to a Panasonic g7, but this let's me keep all my lenses which is absolutely amazing. Added bonus is that there's a crop factor of I believe 1.6? So my 55-200 mm is now actually an 88-320 mm on my Panasonic so please remember that when purchasing. Sturdy metal construction. I've never had any wobbling or unsteadiness. It does also increase your camera's apparent size, weight, and silhouette, so it's not going to be as light as just the kit lens let's say. Great product. Works as advertised. 10/10.
Canon EF Lenses to M43 MFT Mount Camera Adapter
Returned adapter
I bought this to adapt my Canon EF lenses to my Lumix GX8 and G9. The adapter fit nicely on both cameras and on my EF 200 f/2.8 L I. But it would not fit anywhere nearly correct on four other lenses I tried it on (mount would jam tight after about a 1/4 inch turn, long before it could be twisted to lock): 28 f/2.8 IS, 50 f/1.8 STM, 400 f/5.6 L, and EF 2X II. So it was returned.
Canon EF Lenses to M43 MFT Mount Camera Adapter
Great Product good price
Works great dose not have auto focus but what do you expect for the price great Product A++++. Works perfect with canon lenses.
K&F CONCEPT Canon FD to MFT- M4/3 LENS ADAPTER Review
Canon Objektive an MFT Kameras nutzen. Adapter für die Panasonic g70 | Deutsch
K&F Concept® Lens Mount Adapter for Canon EOS EF mount Lens to GH4
These images belong to K&F Concept end users.
| Image | Lens | Mount | Filter Size (mm) |
| --- | --- | --- | --- |
| | ARAX 80mm f/ 2.8 S&T | Canon EF EF-S | 62 |
| | Bell+Howell 14mm f/ 2.8 ED Aspherical IF | Canon EF EF-S | - |
| | Bell+Howell 85mm f/ 1.4 Aspherical IF | Canon EF EF-S | 72 |
| | Bell+Howell 8mm f/ 3.5 Fish-Eye CS | Canon EF EF-S | - |
| | Belomo 17mm f/ 2.8 МС | Canon EF EF-S | - |
| | Beroflex Auto W.W. 35mm f/ 2.8 | Canon EF EF-S | 55 |
| | Bower 14mm f/ 2.8 ED AS IF UMC | Canon EF EF-S | - |
| | Bower 24mm f/ 1.4 | Canon EF EF-S | 77 |
| | Bower 85mm f/ 1.4 Aspherical IF | Canon EF EF-S | 72 |
| | Bower 8mm f/ 3.5 Fish-Eye CS | Canon EF EF-S | - |
| Camera | Mount |
| --- | --- |
| Blackmagic Pocket Cinema Camera | Micro 4/3 |
| Blackmagic Pocket Cinema Camera 4K | Micro 4/3 |
| DJI Zenmuse X5 | Micro 4/3 |
| JVC GY-LS300 4KCAM Handheld S35 mm Camcorder | Micro 4/3 |
| Kodak Pixpro S-1 | Micro 4/3 |
| Olympus Air | Micro 4/3 |
| Olympus OM-D E-M1 | Micro 4/3 |
| Olympus OM-D E-M1 Mark II | Micro 4/3 |
| Olympus OM-D E-M10 | Micro 4/3 |
| Olympus OM-D E-M10 Mark II | Micro 4/3 |