Leica M Lenses to Leica M Mount M-EXT 10mm Adapter
$31.19
$31.99
&Free shipping worldwide
Brand:

K&F Concept

Buy K&F Concept leica m lenses to leica m mount m-ext 10mm adapter online, worldwide free shipping and 30 days return guarantee.

Availability:

In Stock

31.99

https://www.kentfaith.com/KF06.321_leica-m-lenses-to-leica-m-mount-m-ext-10mm-adapter
Buy 2+ items get
10% off
!
Features
• Compatible with Leica M lenses, Carl Zeiss ZM lenses, Voigtlander Nokton VM lenses
• Compatible with Leica M cameras, RICOH GXR cameras
• Special for macrophotography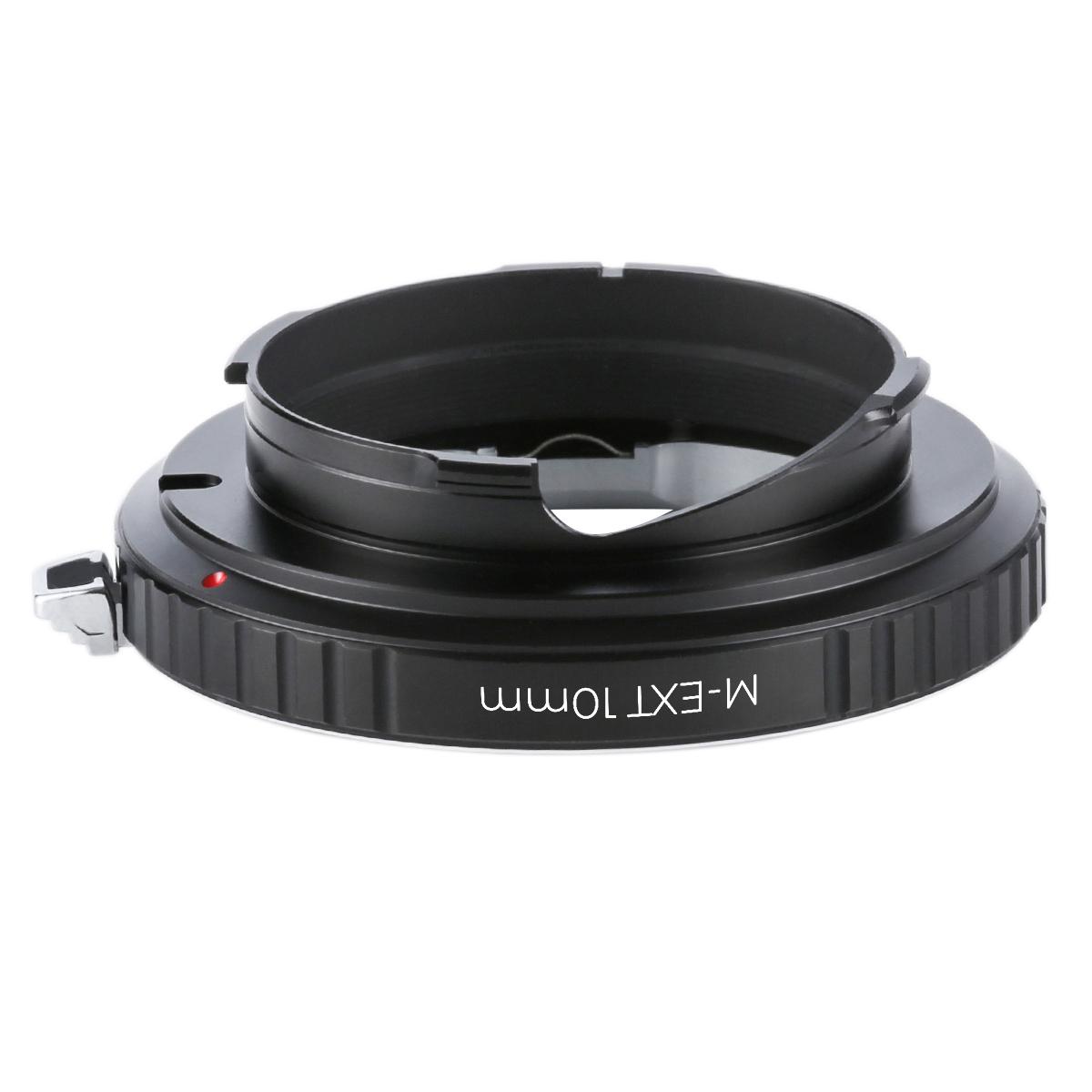 Why Choose K&F Concept?

• professional camera accessory manufacturer.

• Premium Picked up Product. Shop with Guarantee.

• Dedicated to provide products in high quality & good price.

• Made of metal sealing ring, much tighter. Laser fonts, much durable

• Meet Environmental Standards of RoHS
There are no reviews for this product.
| Image | Lens | Mount | Filter Size (mm) |
| --- | --- | --- | --- |
| | Carl Zeiss Biogon T* 21mm f/2.8 ZM | Leica M | 46 |
| | Carl Zeiss Biogon T* 25mm f/2.8 ZM | Leica M | 46 |
| | Carl Zeiss Biogon T* 35mm f/ 2 ZM | Leica M | 43 |
| | Carl Zeiss Biogon T* 35mm f/ 2 ZM | Leica M | 43 |
| | Carl Zeiss C Sonnar T* 50mm f/ 1.5 ZM | Leica M | 46 |
| | Carl Zeiss Distagon T* 18mm f/ 4 ZM | Leica M | 58 |
| | Carl Zeiss Hologon 15mm f/ 8 | Leica M | - |
| | Carl Zeiss Tele-Tessar T* 85mm f/ 4 | Leica M | 43 |
| | Ernst Leitz GmbH Wetzlar Summarit 50mm f/ 1.5 | Leica M | - |
| | Ernst Leitz Wetzlar Elmar 50mm f/ 3.5 (III) | Leica M | - |
| Camera | Mount |
| --- | --- |
| 35mm Bessa | Leica M |
| Cosina Voigtländer | Leica M |
| Epson R-D1 | Leica M |
| Hexar RF | Leica M |
| Leica CL | Leica M |
| Leica M | Leica M |
| Leica M Monochrom | Leica M |
| Leica M-A | Leica M |
| Leica M-D | Leica M |
| Leica M-E | Leica M |