K&F XB41 77mm Variable ND&CPL Filter 2 in 1 Function Nano Coating No "X" cross
Brand:

K&F Concept

K&F XB41 77mm Variable ND&CPL Filter 2 in 1 Function Nano Coating No "X" cross 【ND & CPL filter 2 in 1】One filter has both of CPL and varaible ND filter function,save your time to replace two filters; it can not only reduce the amount of light enteri

Availability:

2-3 Days

82.99

https://www.kentfaith.com/KF01.1087_77mm-variable-nd2-nd32-neutral-density-and-circular-polarizing-filter-coated
Buy 2+ items get
10% off
!
Features
• 【ND & CPL filter 2 in 1】One filter has both of CPL and varaible ND filter function,save your time to replace two filters; it can not only reduce the amount of light entering the lens but also darken skies, manage reflections at the same time.
• 【No "X" cross on images】Say goodbye to the "X" cross on images, K&F utilize cutting edge technology you're going to say goodbye to this common issue with wide angle lenses and variable ND filters.
• 【Material】Made by completed professional optical glasses, Multi-layer coating, only allows 0.7% light transmittance and waterproof, scratch-resistant, which could protect your valued lens.
• 【Filter Frames】Filter Frames made by aluminum alloy, the serrated design of the edge of the frame makes it easy to install. There is 5 mark from Min to ND32 on frame, It is convenient for you to sure the ND filter stops.
• 【Note】 Please verify your camera's lens thread size(usually marked somewhere on the lens barrel or printed underneath the lens cap) before ordering. The number is always preceded by a "ø" (diameter) symbol.
Frequently Bought Together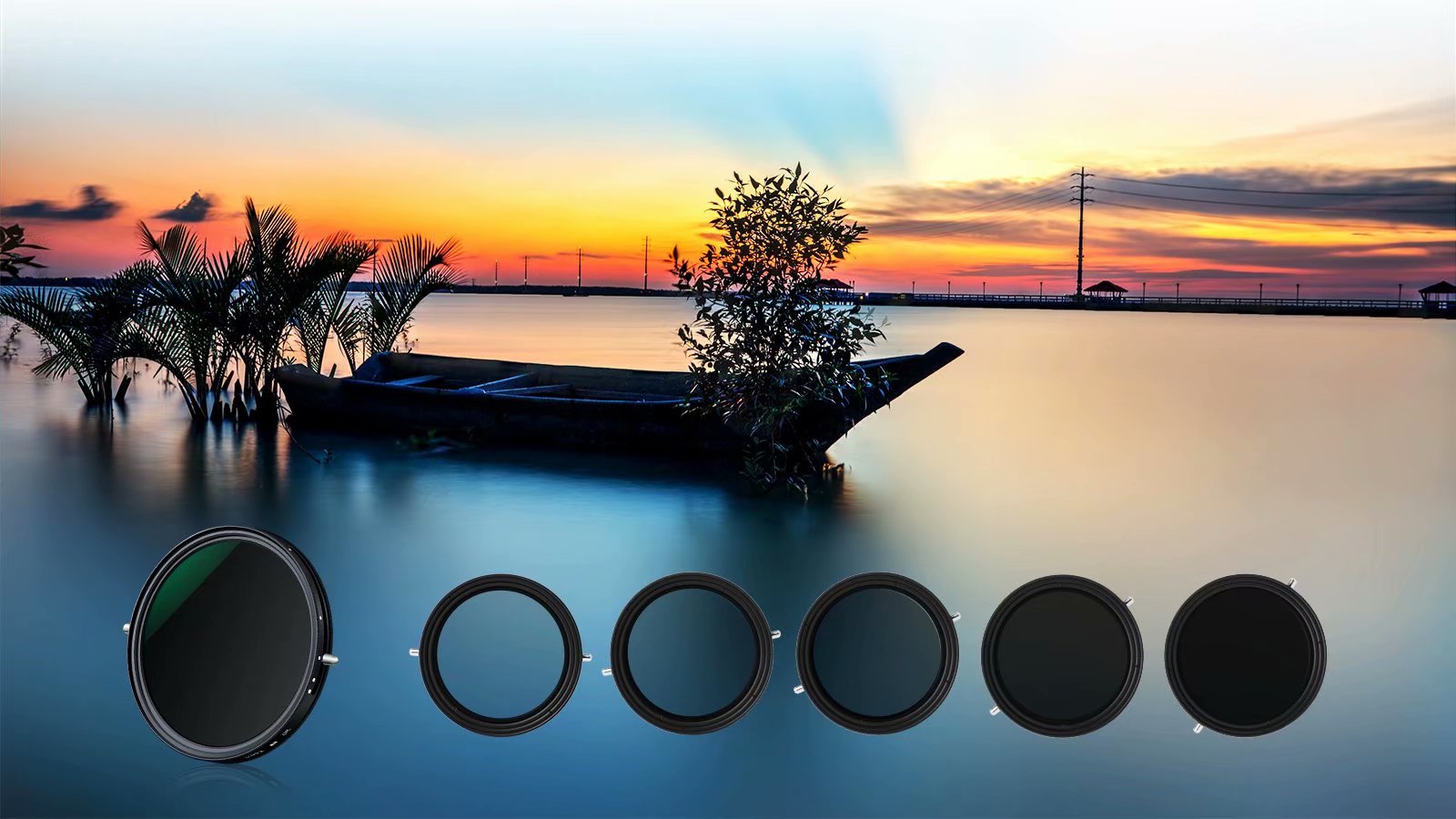 5 Stops Variable ND And CPL Filter
ND2
ND4
ND8
ND16
ND32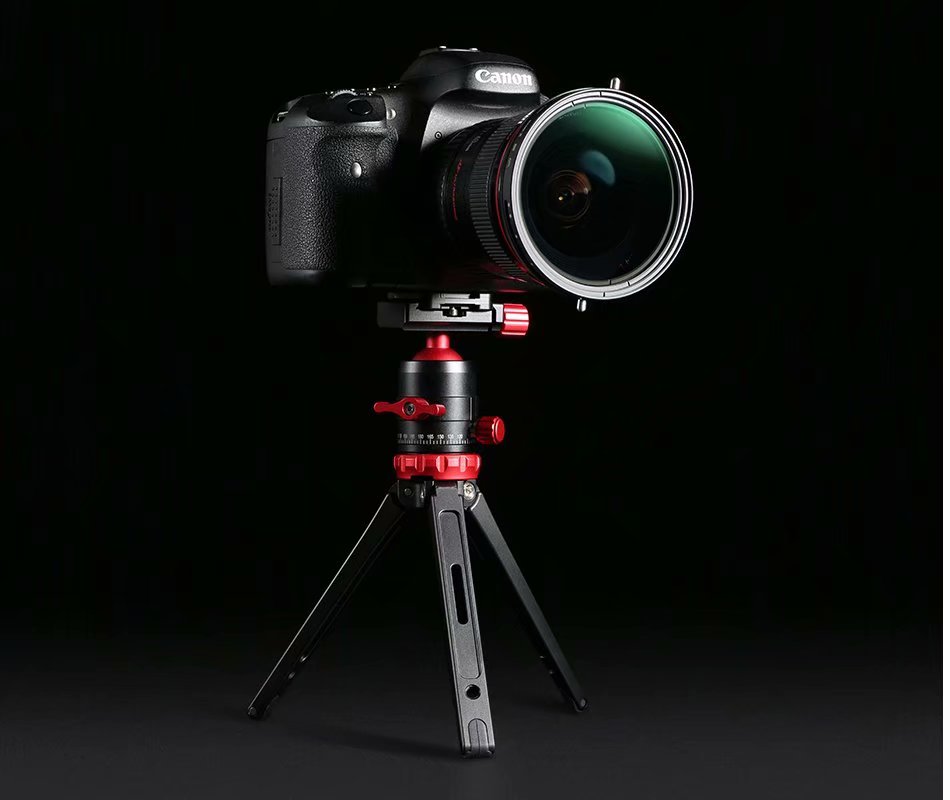 Variable ND And
CPL Filter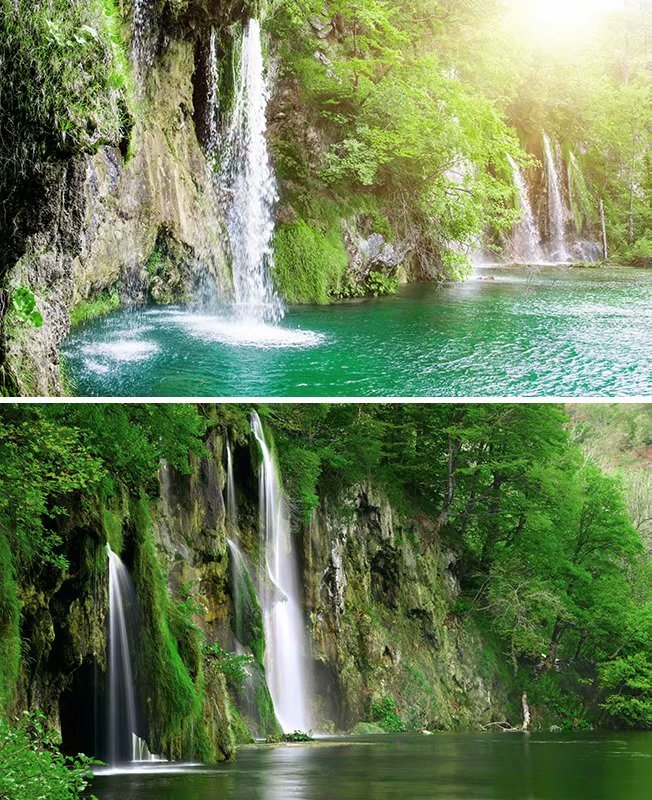 Without ND Filter
With ND Filter
Enables slow shutter speeds to be used to record movement in subjects such as waterfalls, providing a silky
smooth affect to flowing water.
ND&CPL Filter
ND Filter
CPL Filter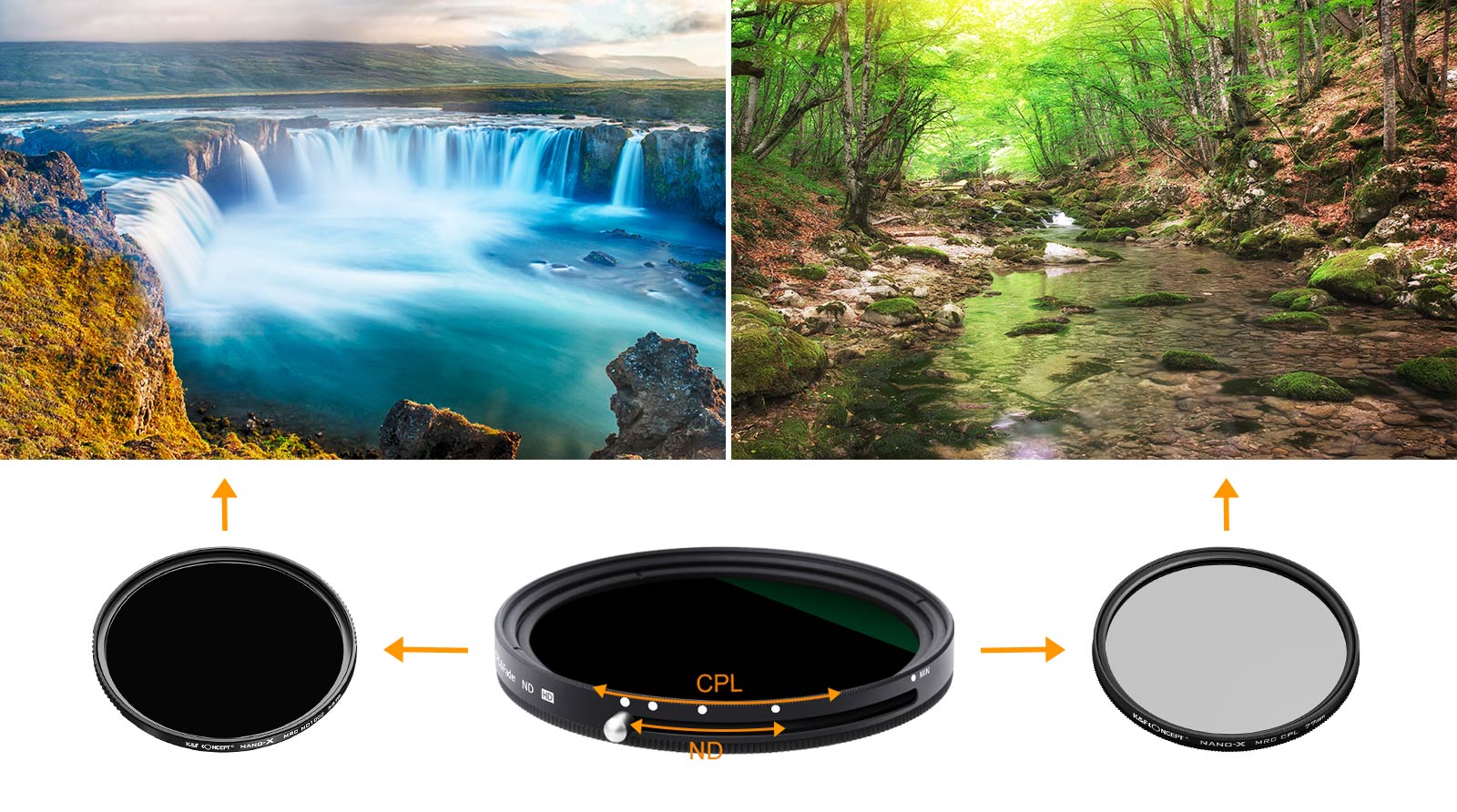 No Filter
ND2
ND4
ND8
ND16
ND32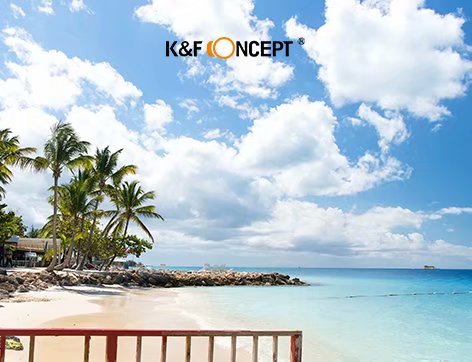 Double-sided Multilayer Green Film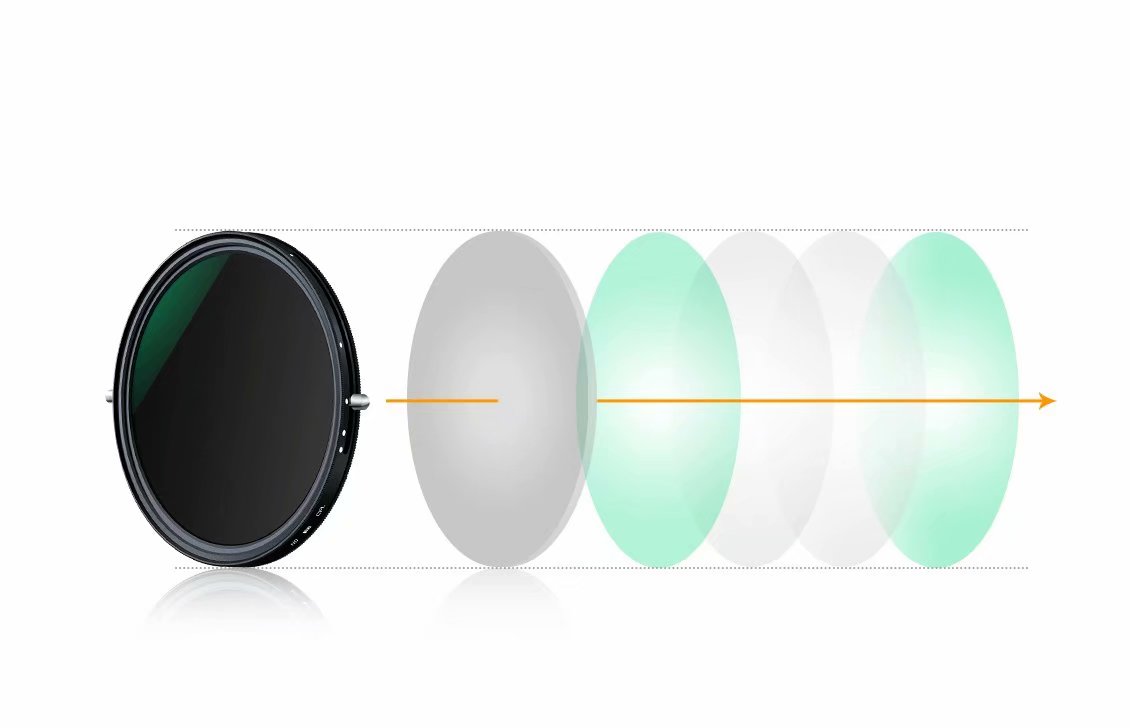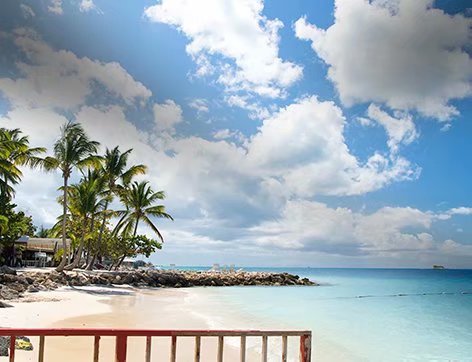 Other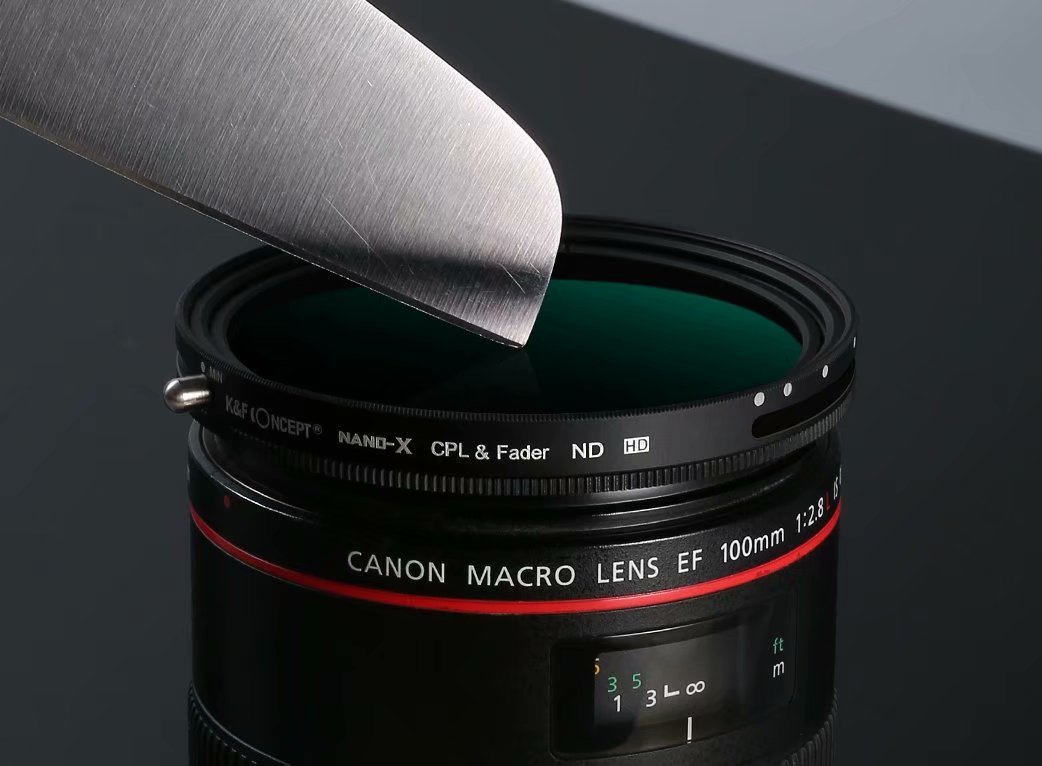 Waterproof, oil resistant, scratch resistant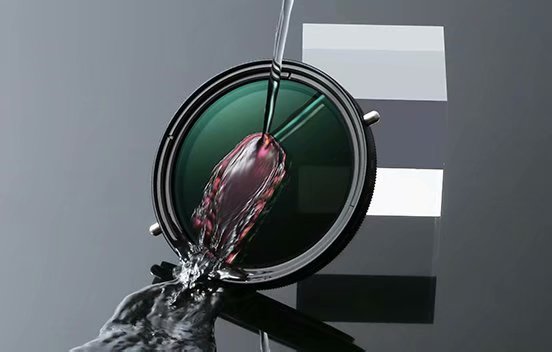 Before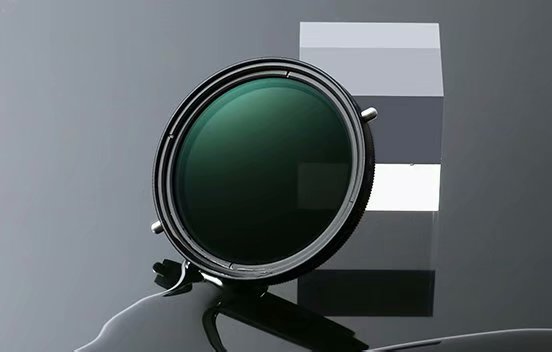 After
| | | | |
| --- | --- | --- | --- |
| NDnumber | Optical density | f-stop reduction | Fractional transmittance |
| | 0 | 0 | 100% |
| ND2 | 0.3 | 1 | 50% |
| ND4 | 0.6 | 2 | 25% |
| ND8 | 0.9 | 3 | 12.50% |
| ND16 | 1.2 | 4 | 6.25% |
| ND32 | 1.50 | 5 | 3.13% |
| ND64 | 1.8 | 6 | 1.56% |
| ND100 | 2 | 62⁄3 | 1% |
| ND128 | 2.1 | 7 | 0.78% |
| ND256 | 2.4 | 8 | 0.39% |
| ND400 | 2.6 | 82⁄3 | 0.25% |
| ND512 | 2.7 | 9 | 0.20% |
| ND1024/ND1000 | 3 | 10 | 0.10% |
| ND2000 | 3.3 | 11 | 0.05% |
| ND4000 | 3.6 | 12 | 0.025% |
| ND8000 | 3.9 | 13 | 0.0125% |
| ND32000 | 4.5 | 15 | 0.003% |
K&F XB41 77mm Variable ND&CPL Filter 2 in 1 Function Nano Coating No "X" cross
Decent concept
So here is my take. I'm a little on the fence. First and foremost the good. The good is "I mean what the heck is cooler than a filter that changes density with a switch" omg right. So when it comes to light control ability the options are endless with this filter because it's dark to everything in the middle. super cool right. well the bad. the petty first you can't add or remove your lens hood using it buuuut you don't really need it. I mean it is an ND filter. the bad though. the filter spins freely on the lens once it is tightened. So it makes it very hard to adjust the switch with one hand. I guess that's a matter of what you are shooting. If it's on a tripod no problem but free hand is going to be a bit of a challenge. It fits snug and comes with a nice carrying disk style case. It feels like you are getting a quality filter material wise. It is heavy duty so I would trust my lens to a small fall to it if need be. I think it would be more than awesome for a long exposure I cant wait to try it.
K&F XB41 77mm Variable ND&CPL Filter 2 in 1 Function Nano Coating No "X" cross
Best for this price
Just a touch of vignette on max stops
K&F XB41 77mm Variable ND&CPL Filter 2 in 1 Function Nano Coating No "X" cross
32 stops? Doubtful.
It is neat, no doubt about that. The combination of a CPL and variable ND filter was too convenient to pass up.The CPL works great. The ND filter is variable and very easy to adjust. You do have to be careful not knock it around and accidentally adjust it.The big issue I have is that I see no way no how that this stops down to 32. Even in the evening after the sun has set, with the ISO at 100 and my aperture closed all the way, I can only manage an exposure of a few seconds. That is a far cry from the 20 second plus exposure another reviewer said he got in the middle of the day.Its neat, sure. I am not going to send it back. Maybe I got a bad one? I don't know. But I am disappointed in what I have for the money I spent.
K&F XB41 77mm Variable ND&CPL Filter 2 in 1 Function Nano Coating No "X" cross
Very good filter!
I've always struggled with situations where I wish I could use my variable ND filter with my polarized filter which until now, it was impossible. This filter solves my problem with really good picture quality.
K&F XB41 77mm Variable ND&CPL Filter 2 in 1 Function Nano Coating No "X" cross
Amazing
Amazing
Best Low Cost ND Filters? K&F Concept ND Filters Review
K&F Concept 58mm Slim Variable ND FILTER REVIEW AND TEST VIDEO (4K)
K&F Concept 52mm 6 piece Filter Kit
These images belong to K&F Concept end users.