K&F KV31 62mm ND2 to ND400 Variable ND Filter Videography Photography
Free shipping to eligible country
Brand:

K&F Concept

K&F KV31 62mm ND2 to ND400 Variable ND Filter Videography Photography Kit Includes: 62MM K&F Concept Filter Kit (ND2 to ND400) + Lens Cleaning Cloth

SKU0126

Availability:

In Stock

21.99

https://www.kentfaith.com/SKU0126_62mm-variable-nd-filter-nd2-to-nd400-cleaning-cloth
Buy 2+ items get
10% off
!
Features
• Kit Includes: 62MM K&F Concept Filter Kit (ND2 to ND400) + Lens Cleaning Cloth
• NOTE: This kit is compatible with all 62mm lenses. Please verify your camera's lens thread size before ordering. Your camera's lens thread size will be marked somewhere on the lens barrel or printed underneath your lens cap. This number is always preceded by a "ø" (diameter) symbol.
• Manufactured by a professional team for photography enthusiasts to provide a very exciting experience. 100% Satisfaction Guaranteed.
• High quality product made of import optics glass and resin,top level of transmittance. Metal sealing ring instead of the plastic sealing ring, better tightness, avoids fall or loose.
• Compatible with the Sony Alpha A57 A77 A65 with 62MM Lens wich include: 18-200mm 18-250mm
Frequently Bought Together
ND FILTER
Reduces the amount of light entering the lens, thus decreasing camera shutter speed. Useful for situations where motion blur needs to be created (rivers, waterfalls, moving people) or large apertures must be used with flash to avoid overexposure.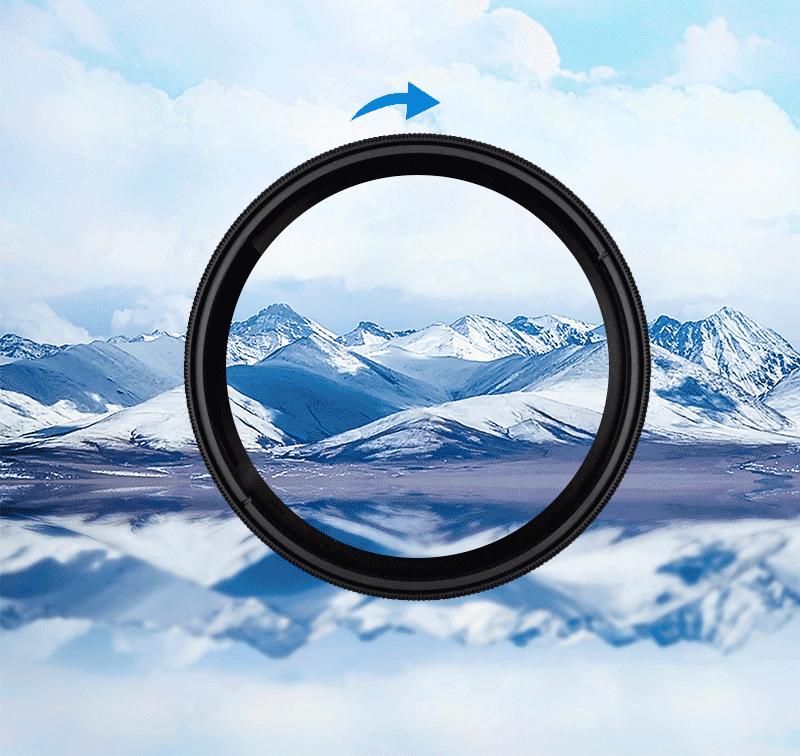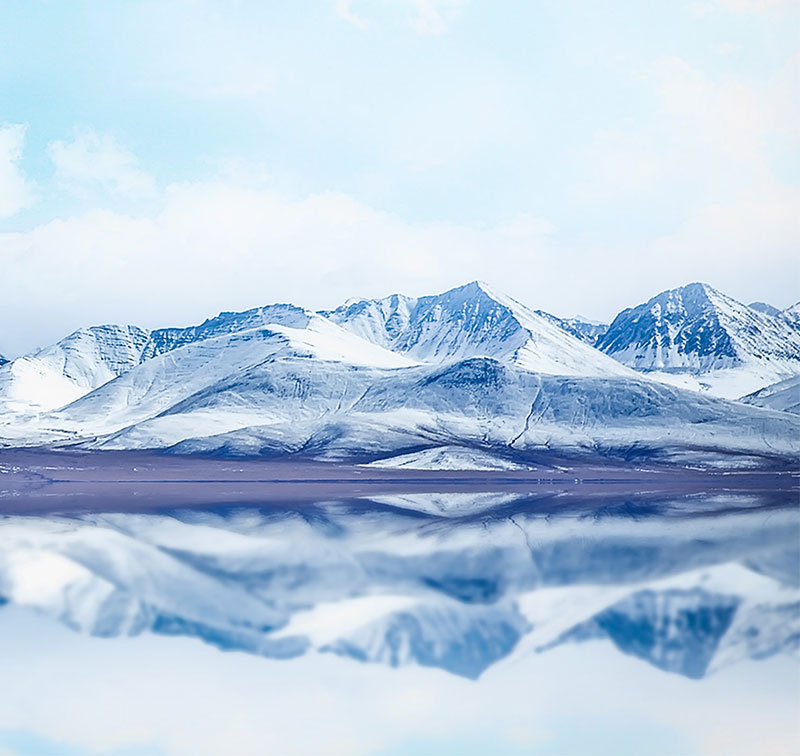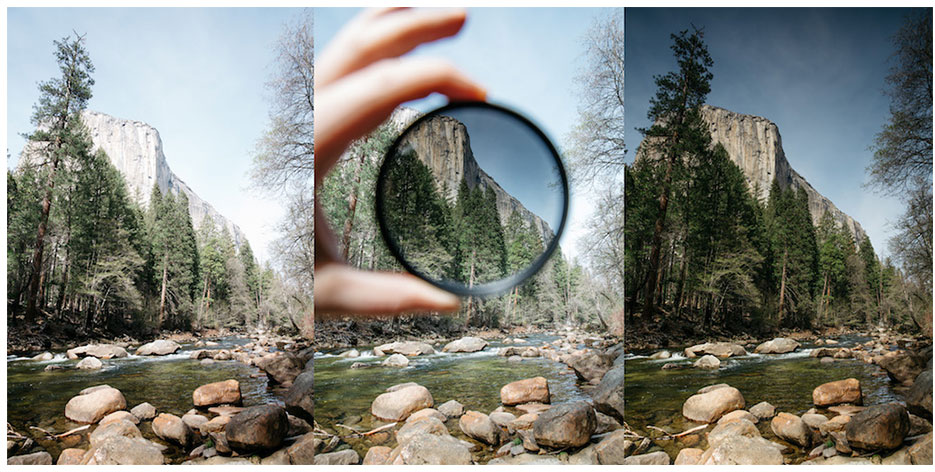 Without ND Filter
Use Contrast
With ND Filter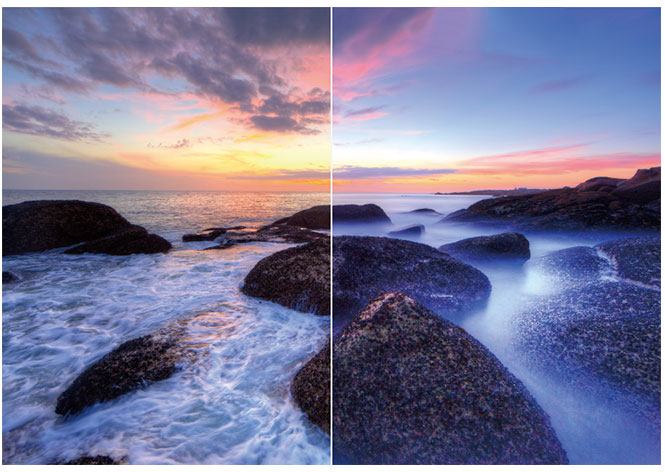 Without ND Filter
With ND Filter
Enables slow shutter speeds to be used to record movement in subjects such as waterfalls, providing a silky smooth affect to flowing water.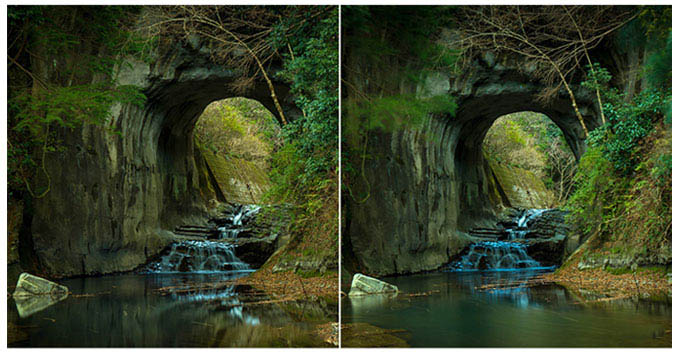 Without ND Filter
With ND Filter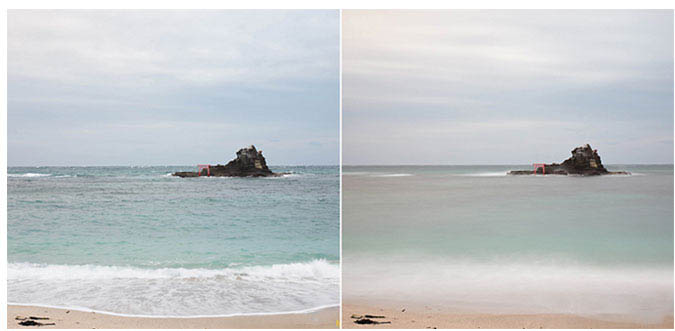 Without ND Filter
With ND Filter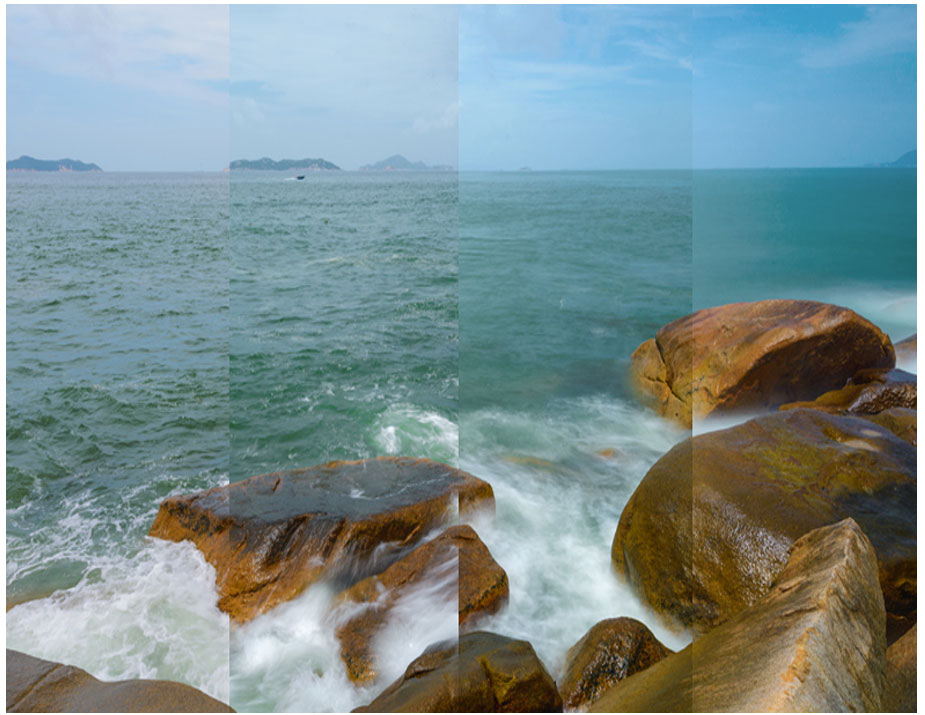 NO ND
ND8
ND64
ND1000

No Filter
ND2
ND4
ND8
ND16
ND32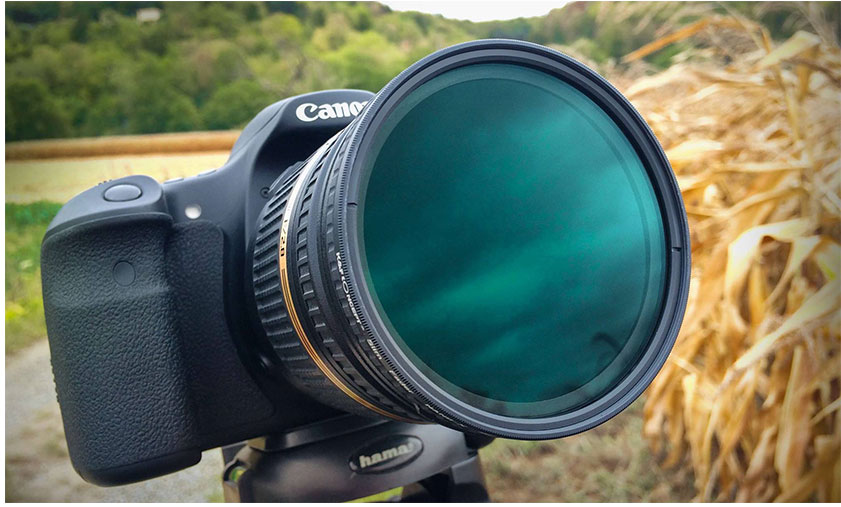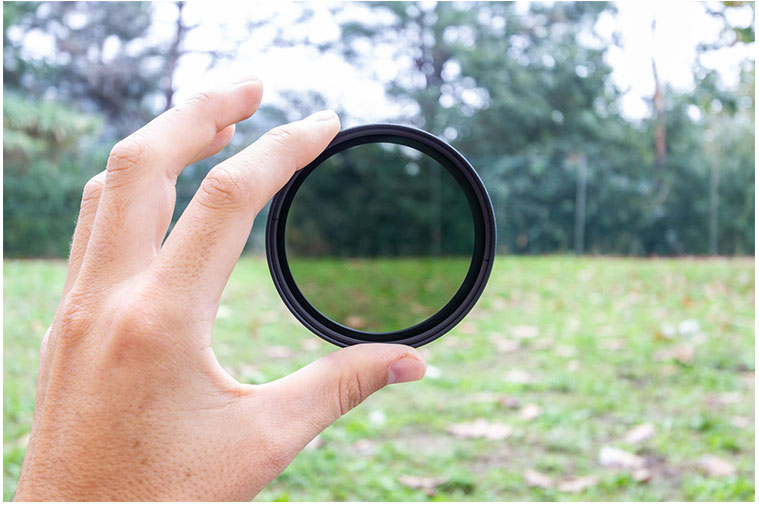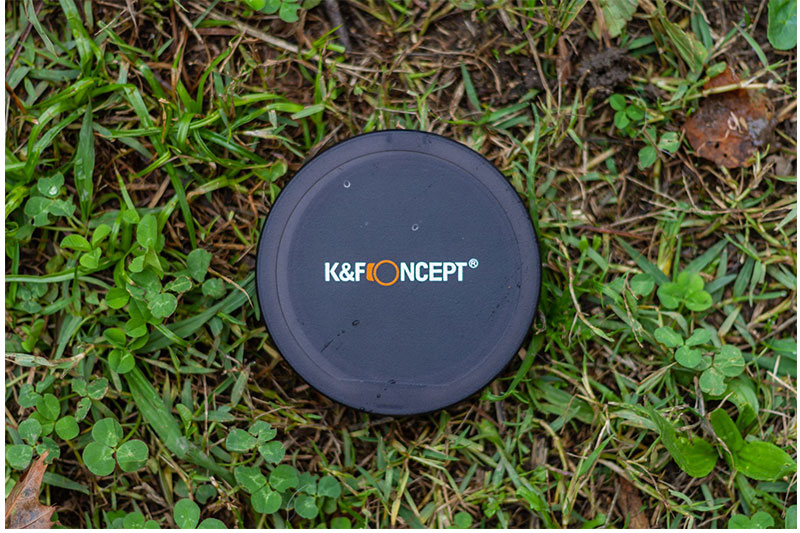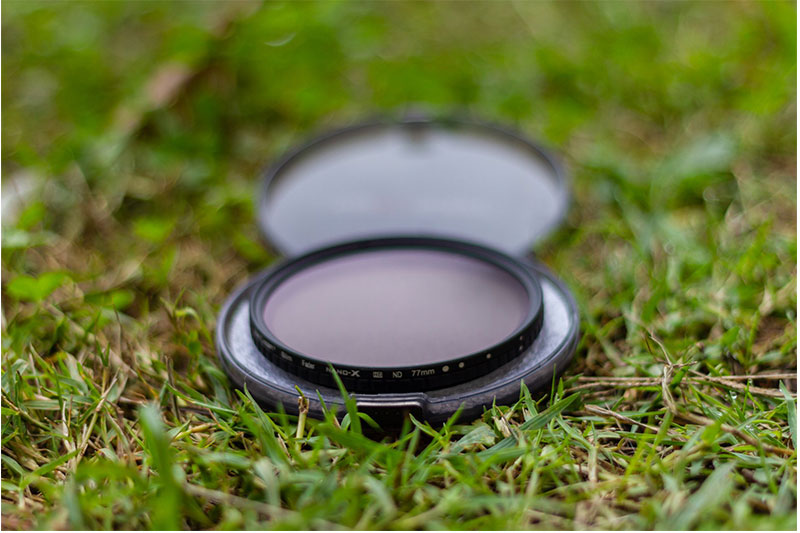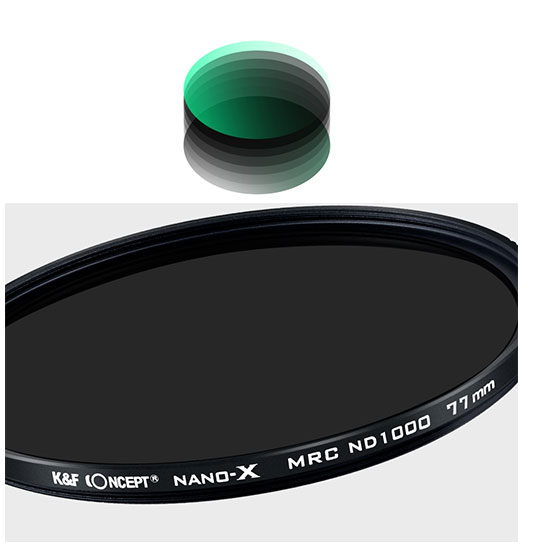 Multiple layer nanometer coating
Reduction of reflection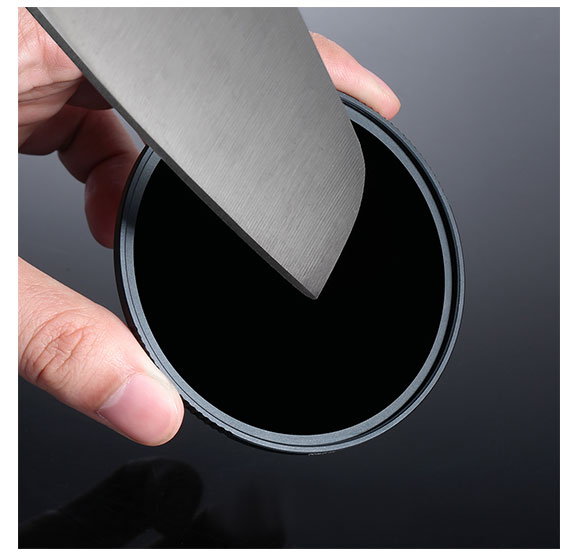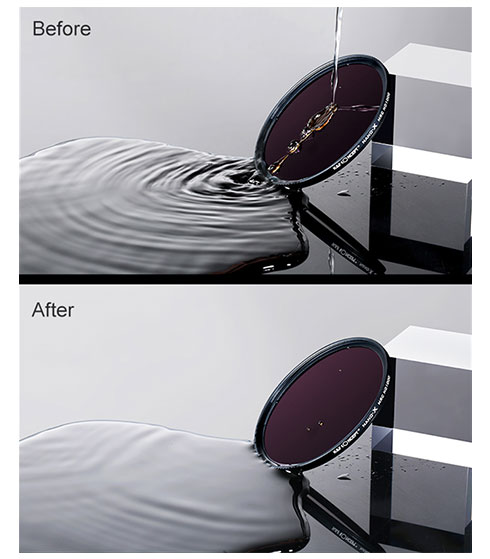 Nanometer Coating
Enables slow shutter speeds to be used to record movement in subjects such as waterfalls, providing a silky smooth affect to flowing water.
| | | | |
| --- | --- | --- | --- |
| NDnumber | Optical density | f-stop reduction | Fractional transmittance |
| | 0 | 0 | 100% |
| ND2 | 0.3 | 1 | 50% |
| ND4 | 0.6 | 2 | 25% |
| ND8 | 0.9 | 3 | 12.50% |
| ND16 | 1.2 | 4 | 6.25% |
| ND32 | 1.50 | 5 | 3.13% |
| ND64 | 1.8 | 6 | 1.56% |
| ND100 | 2 | 62⁄3 | 1% |
| ND128 | 2.1 | 7 | 0.78% |
| ND256 | 2.4 | 8 | 0.39% |
| ND400 | 2.6 | 82⁄3 | 0.25% |
| ND512 | 2.7 | 9 | 0.20% |
| ND1024/ND1000 | 3 | 10 | 0.10% |
| ND2000 | 3.3 | 11 | 0.05% |
| ND4000 | 3.6 | 12 | 0.025% |
| ND8000 | 3.9 | 13 | 0.0125% |
| ND32000 | 4.5 | 15 | 0.003% |
Tres bon, solide et efficace, Very good and solid
je l'utilise maintenant depuis plus d'un an, c'est simple il est tout le temps fixe sur ma lentille. il me sert autant pour les videos ! et les poses longue.Pratique d'utilisation, solide et efficace, je ne peux que vous recommander cet article.I use every day since ago 1year now. It's always on my lens, I use it as much for videos! and long exposure.Convenient to use, solid and effective, I can only recommend this article to you.
Sharp image but color shift...
This filter seems to be nice for the price. I took a few pictures of local creeks with rapids. Well I was glad to see that the resulting pictures looked almost as sharp as the ones taken without the filter, but I got very frustrated with the color shift. What I got were purplish-reddish pictures - super unnatural colors. I tried to fix the colors with photo processing software, but it was tedious and difficult because certain elements in the picture while having quite different hues and colors in reality ended up being the same color in the picture, and there was no easy way to separate them. So I decided that the money I saved on this filter I had to pay with the time I spent fixing the colors and it was not worth that. In the end I returned the filter. I attached unprocessed image. You can see how bad the color is, and there is virtually no way to separate gray stones brownish bottom of the stream, light-orange last year leaves and the dark greenish tree trunk. Changing tint and HSL settings helps, but the colors are still so much off. Oddly, the green is the only color distinct and close to the truth.P.S. also at max setting the filter produces x-shaped darkened areas in the picture. So do not expect to use at max setting.
Great value for money
5 stars if favoring value. Better than most even at 2-3 times the price. You'll have to spend about 200 to best this ND. Only work it if you have some of the best lenses money can buy.If your lens cost less than 1500 bucks, than this ND is one of your best bets.
Decent entry level filter with some problems.
I bought this before I knew what a good ND filter actually is.The problem with this filter is uneveness and unwanted color hue. Furthermore, with many lower end filters, the camera will have a hard time hunting for auto focus.Variable filters really need to be higher end with actual stops and better bezel materials. With this, you get what you pay for.I ended up returning it and instead bought some Hoya fixed ND filters. Better quality glass and feel. Most of all, much easier to color correct and very little distortion. For just a few more dollars.
Filter
size
62mm
Transmittance
∕
Multi-Coating
Antireflection
waterproof
scratch-resistant
HD
Filter Material
Optical glass
Pattern
Filter Thickness
7.0mm
Shape
Circle
Ring Material
Aviation aluminum alloy
These images belong to K&F Concept end users.
| Image | Lens | Filter Size (mm) |
| --- | --- | --- |
| | Access P-MC 70-210mm f/ 3.5 (one ring) | 62 |
| | Access P-MC 70-210mm f/ 3.5 (two rings) | 62 |
| | Accura Diamatic YS 200mm f/ 3.5 | 62 |
| | Admiral G.M.C. 200mm f/ 3.5 | 62 |
| | Albinar 200mm f/ 3.5 Auto | 62 |
| | Albinar 200mm f/ 3.5 Auto | 62 |
| | Arax 80mm f/ 2.8 MC | 62 |
| | ARAX 80mm f/ 2.8 S&T | 62 |
| | Arsat H 20mm f/ 2.8 МС | 62 |
| | Asanuma 100-300mm f/ 5 auto-zoom | 62 |