67mm Filter Set (Graduated & Full Color Orange, Blue, Red, Green, Yellow, Purple, Pink, Grey, Brown)
Out Of Stock
Product Unavailable
No Cancellation Fee
Free shipping to eligible country
Brand:

K&F Concept

Buy K&F Concept 67mm filter set (graduated & full color orange, blue, red, green, yellow, purple, pink, grey, brown) online, worldwide free shipping and 30 days return guarantee.

SKU0836

Availability:

Out Of Stock

42.99

https://www.kentfaith.com/SKU0836_67mm-filter-set-full-color-orange-blue-red-green-yellow-purple-pink-grey-brown-graduated-orange-blue-red-green-yellow-purple-pink-grey-brown-pouch
Buy 2+ items get

10% off

!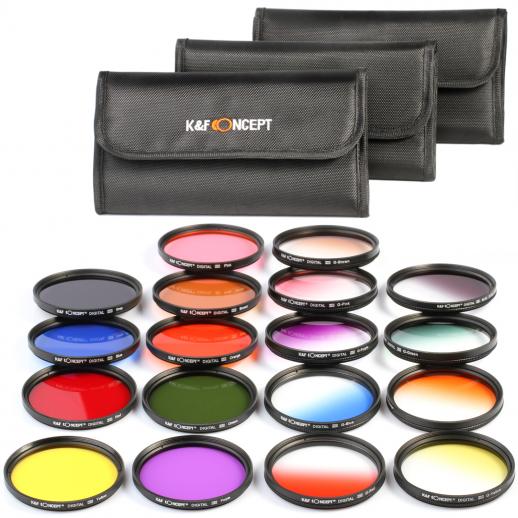 67mm Filter Set (Graduated & Full Color Orange, Blue, Red, Green, Yellow, Purple, Pink, Grey, Brown)
Features
• Kit Includes: K&F Concept 67mm Round Full Color Filter Set (Orange Blue Red Green Yelow Purple Pink Grey Brown) + Graduated Filter Kit (Orange Blue Red Green Yelow Purple Pink Grey Brown) + Filter Pouch
• High quality product made of import optics glass and resin,top level of transmittance. Metal sealing ring instead of the plastic sealing ring, better tightness, avoids fall or loose.Extinction paint seiko manufacturing,To achieve the testing sights on military standard
Frequently Bought Together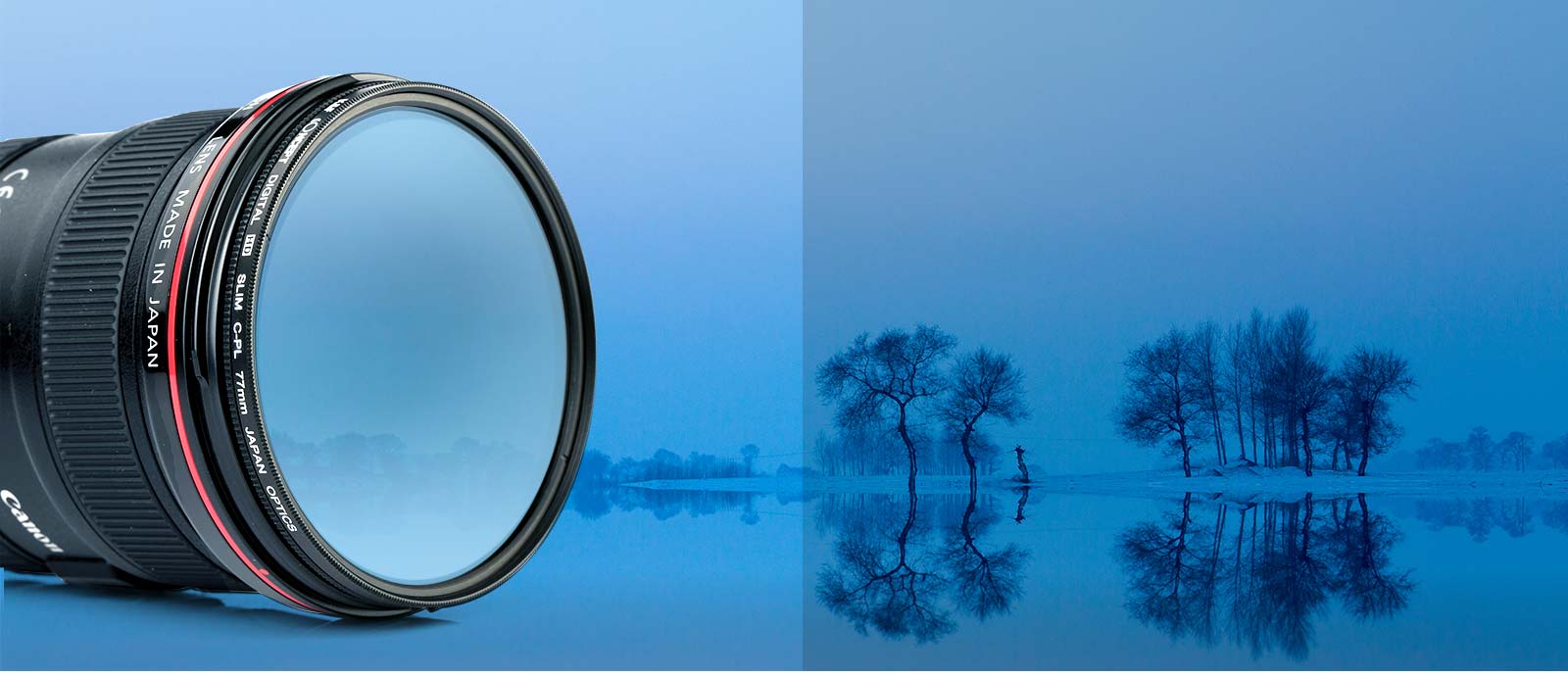 Circular Polarizing CPL Filter
Can be used for any type of photography. Polarizing filters are typically circular, allowing for easy control of the effect of polarization.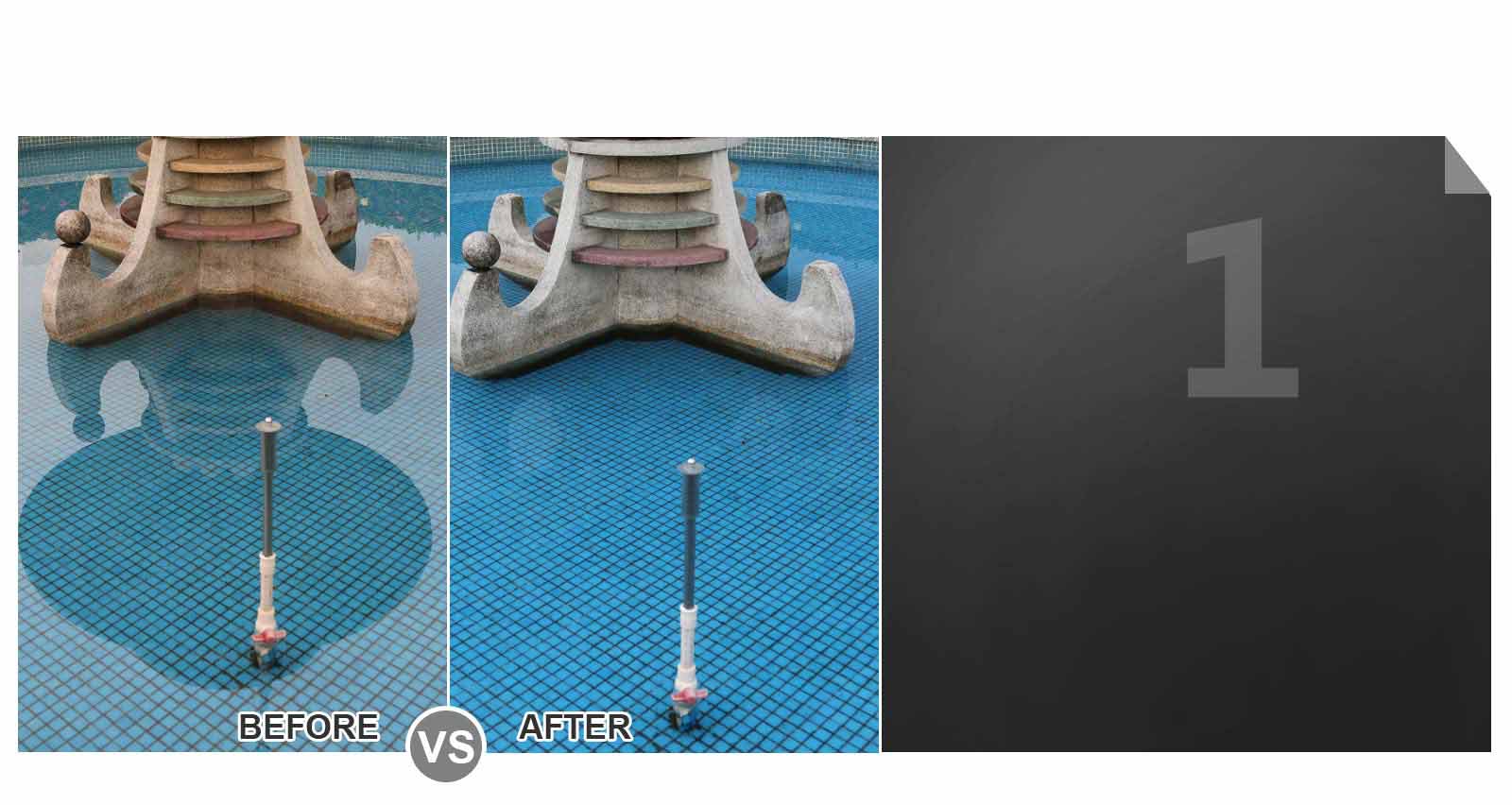 ENHANCING COLORS AND INCREASING CONTRAST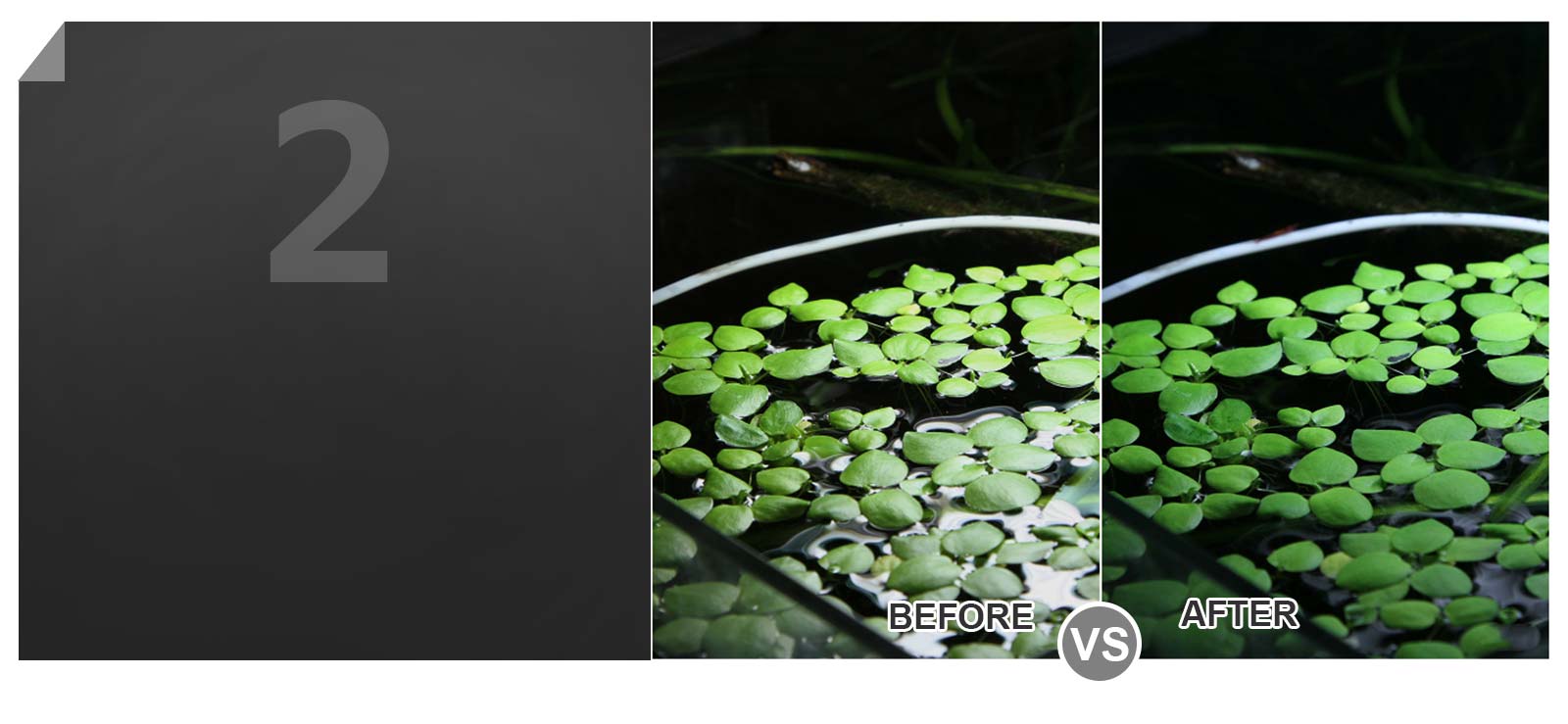 DRAMATICALLY REDUCING REFLECTIONS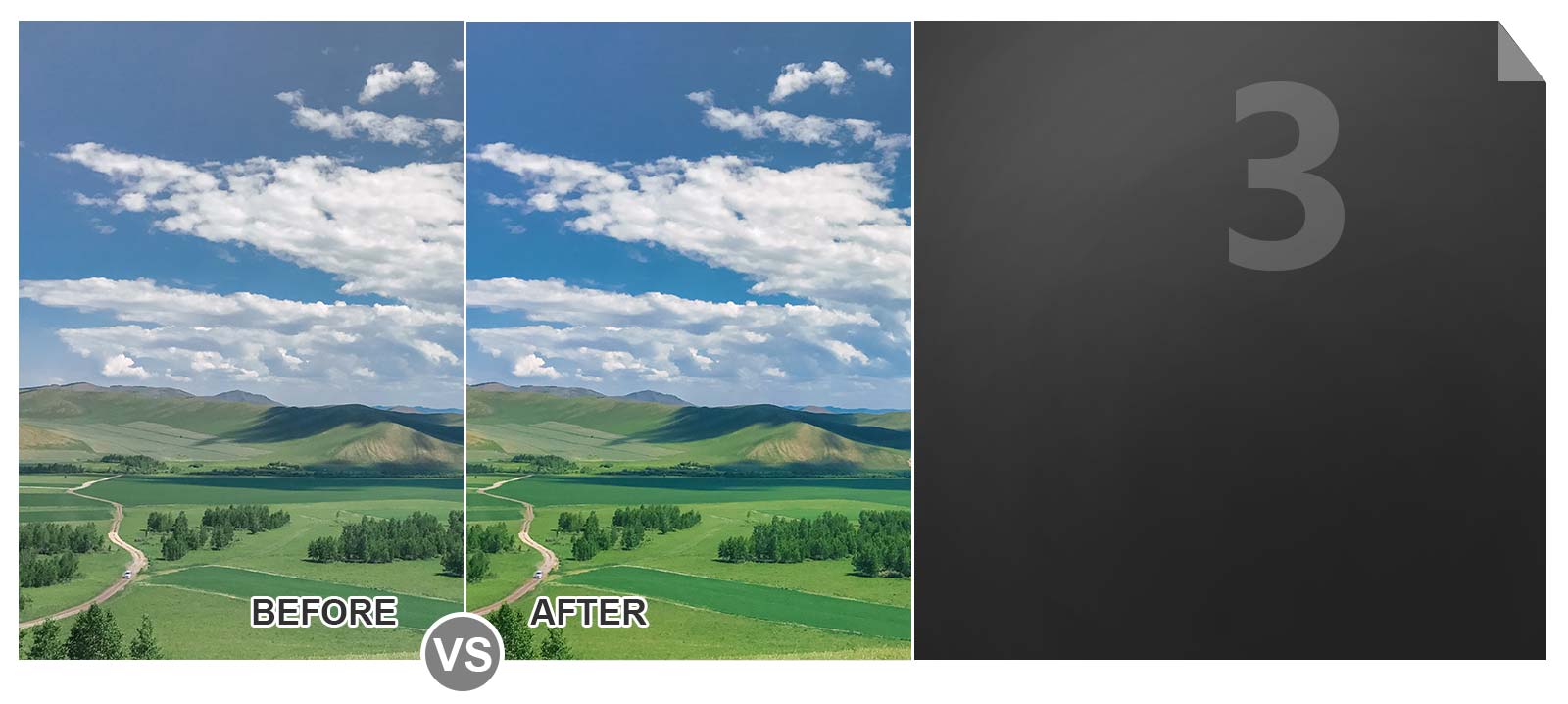 FILTERS OUT POLARIZED LIGHT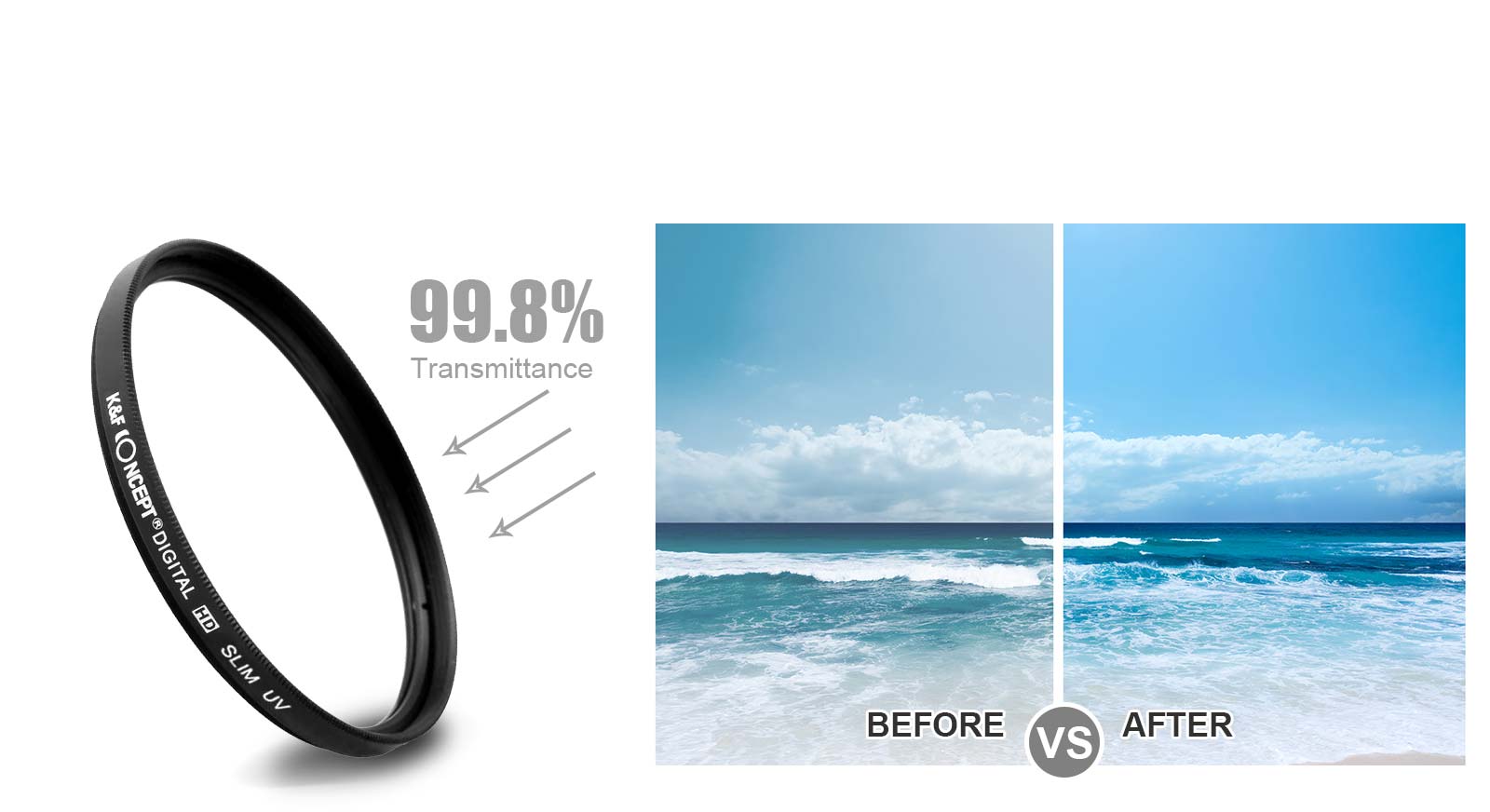 UV FILTER
High quality UV filters can be permanently mounted on lenses with a minimum impact on image quality.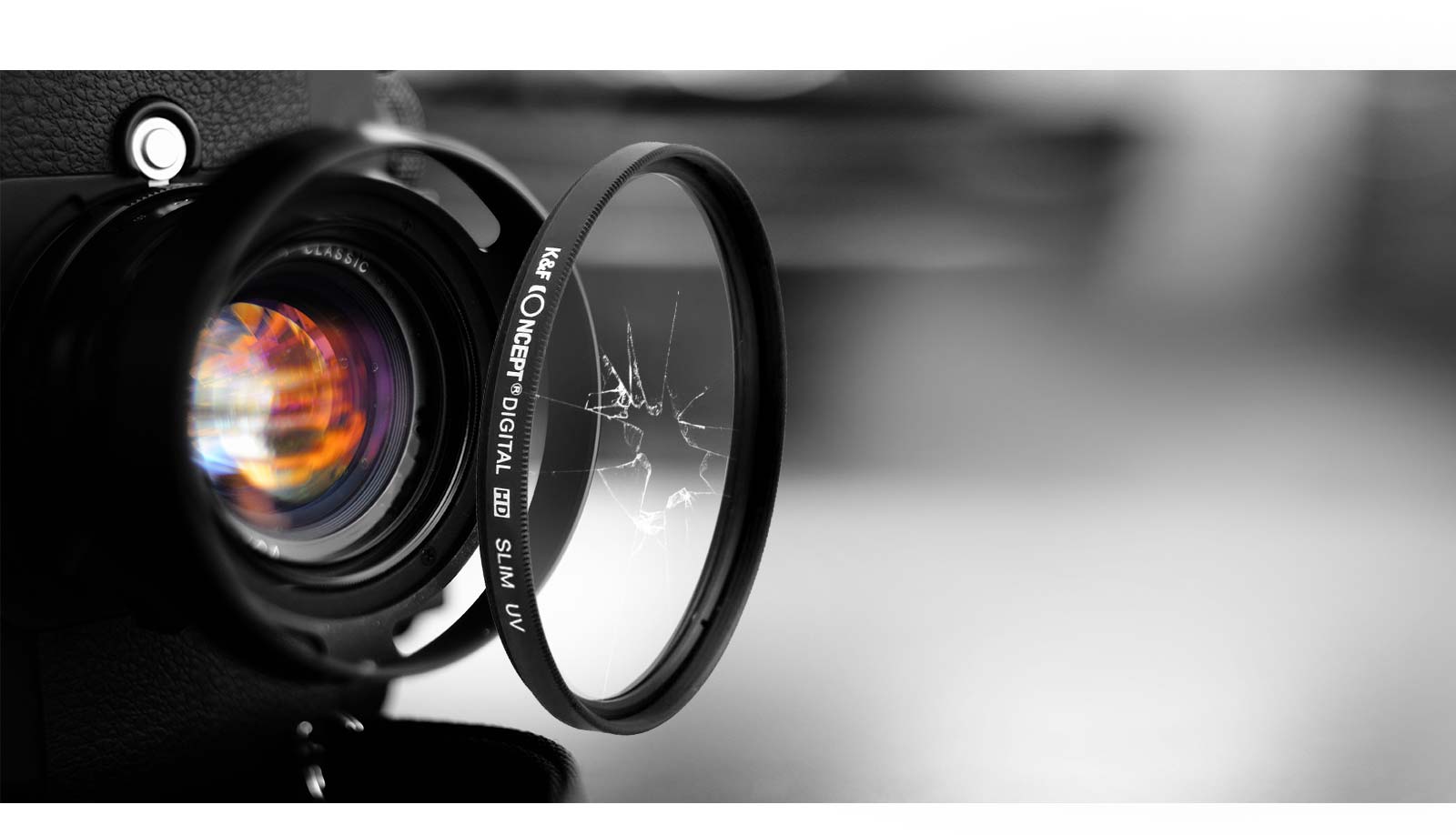 LENS PROTECTION
Protects the front element of a lens from dust, dirt, moisture and potential scratches.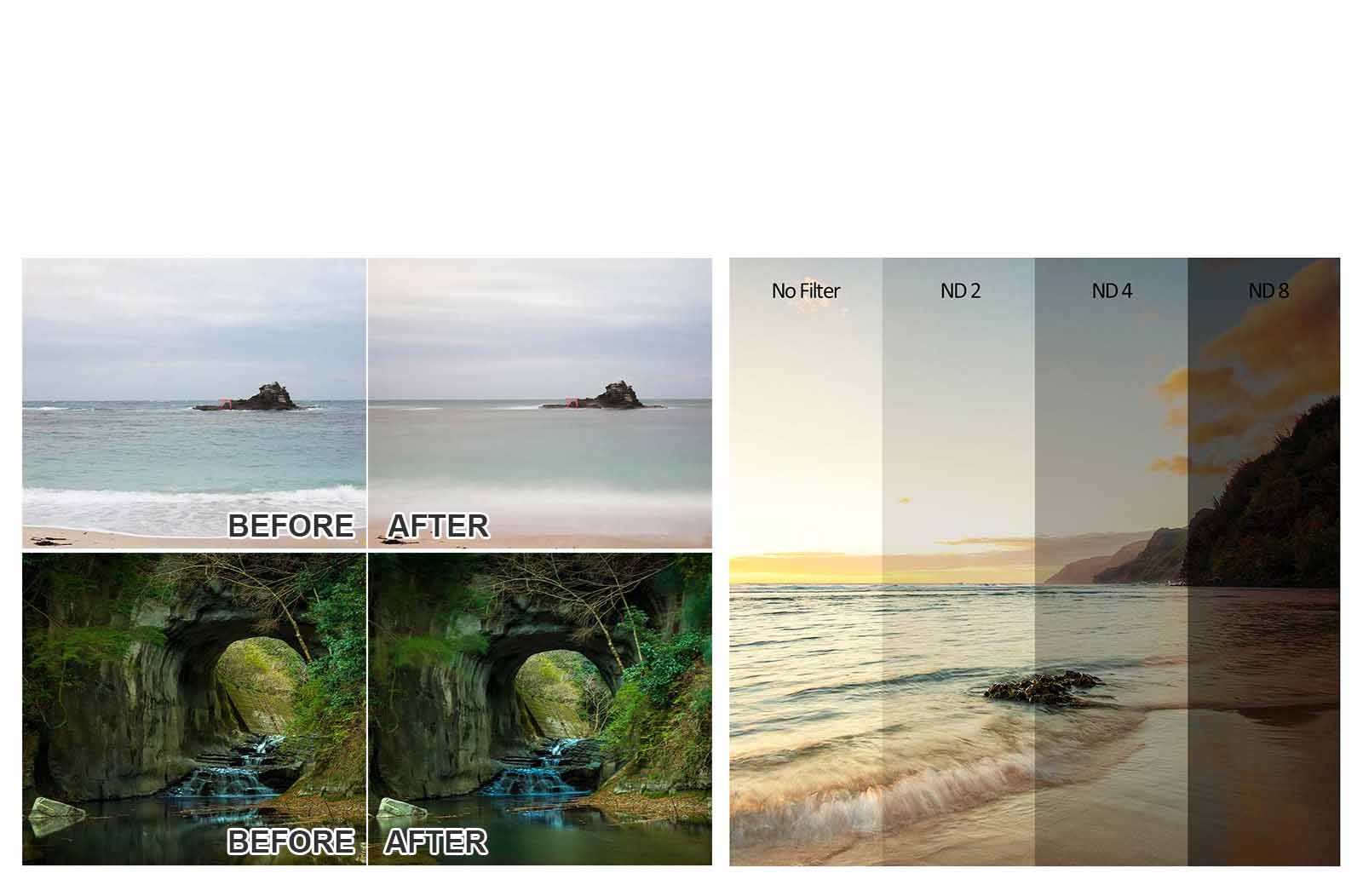 ND FILTER
Reduces the amount of light entering the lens, thus decreasing camera shutter speed. Useful for situations where motion blur needs to be created (rivers, waterfalls, moving people) or large apertures must be used with flash to avoid overexposure.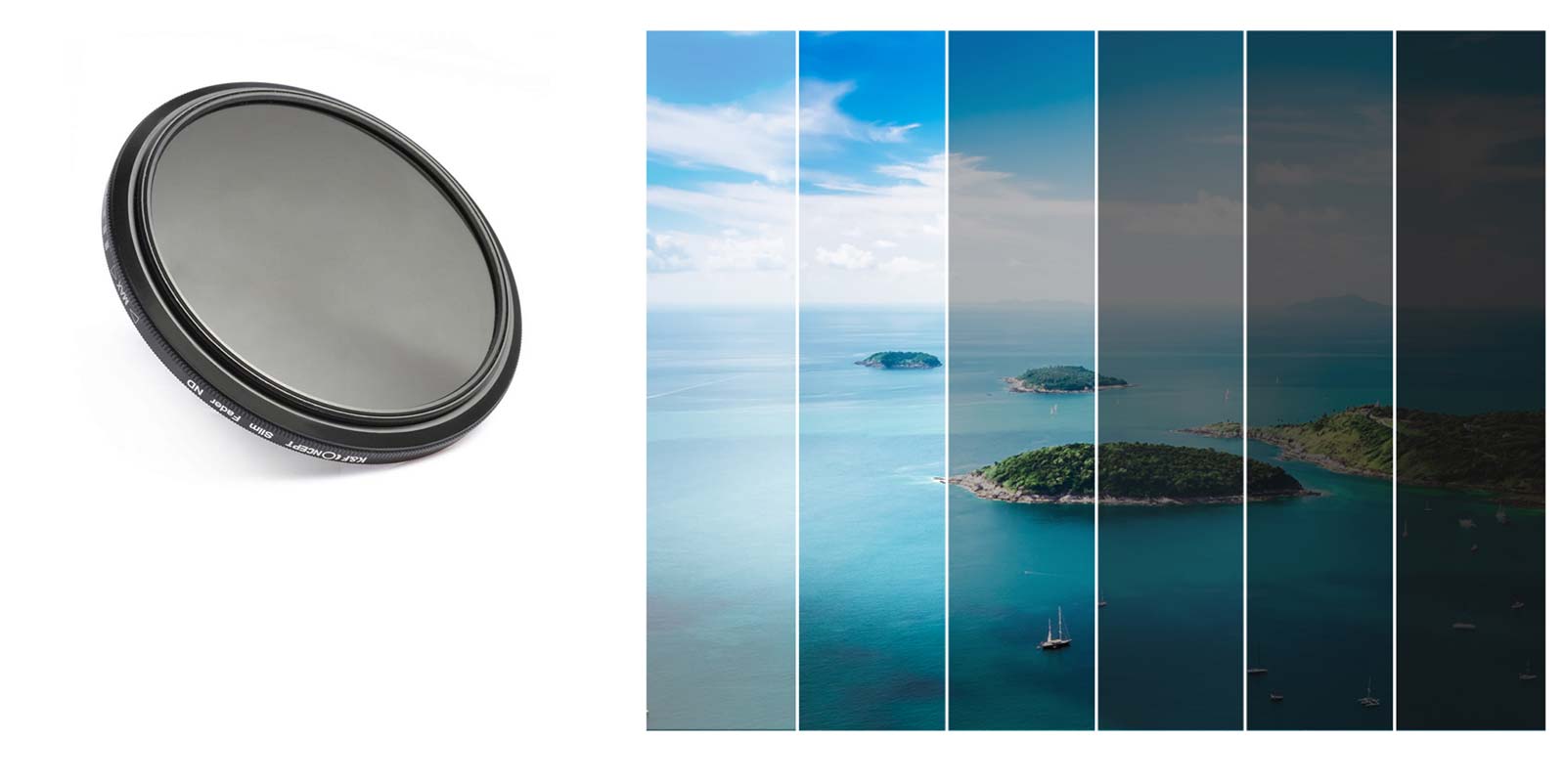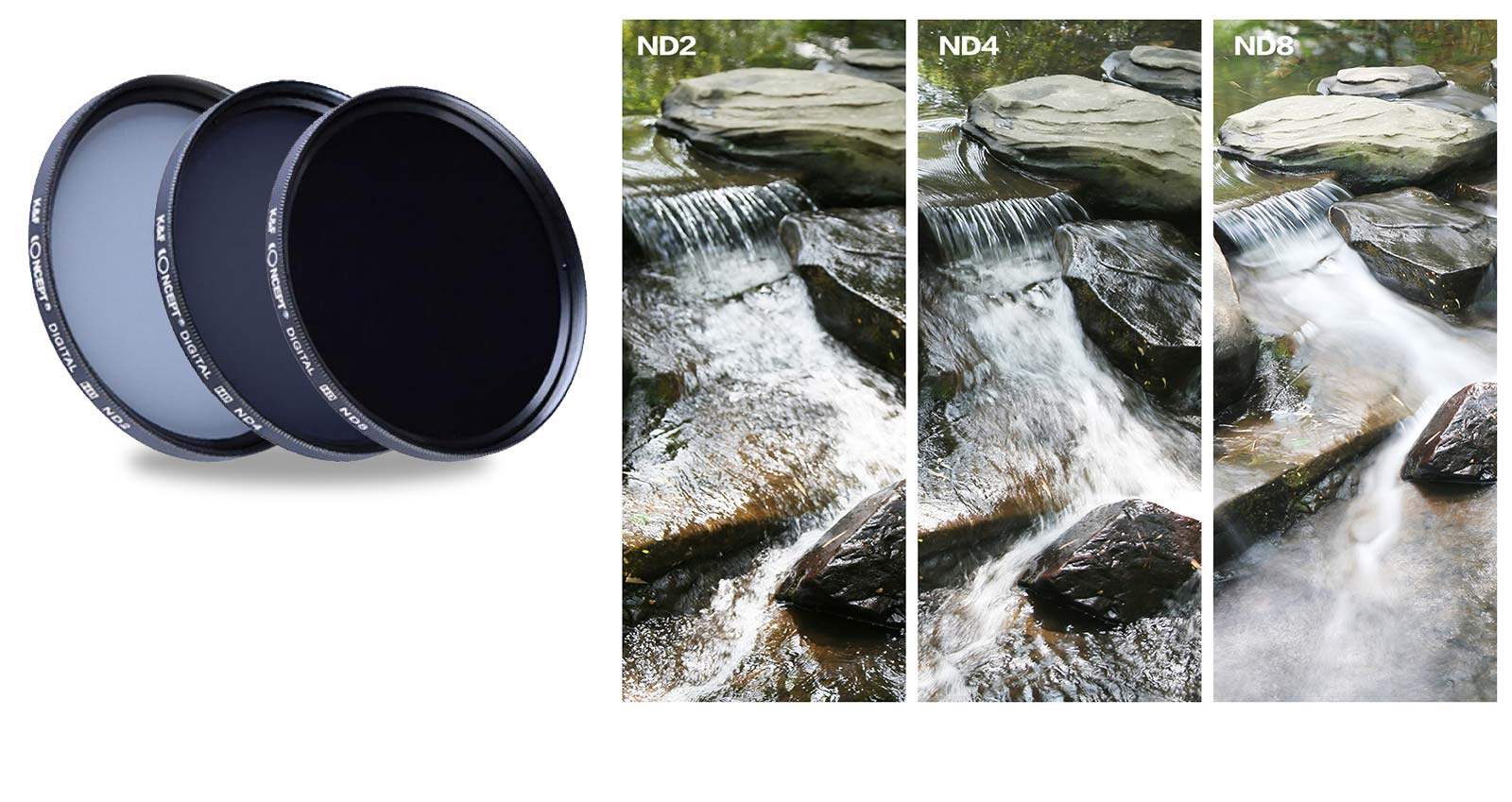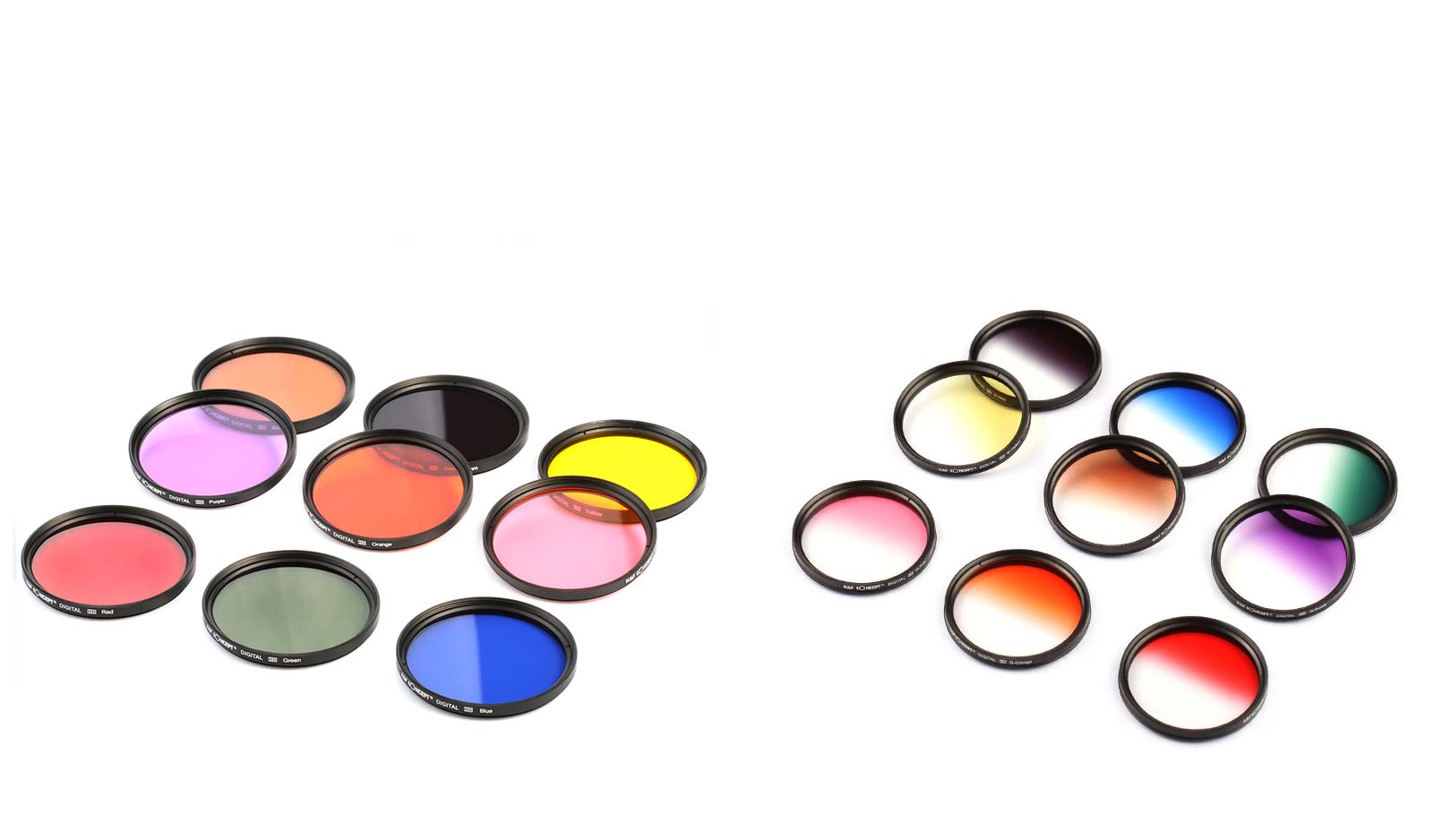 COLOR FILTER SET
Corrects colors, resulting in a change in camera white balance. Some color filters can subtract colors, blocking one type of color and allowing other colors through. These types of filters were popular for film. They are rarely used in digital photography, since their effects can be easily applied in post-processing.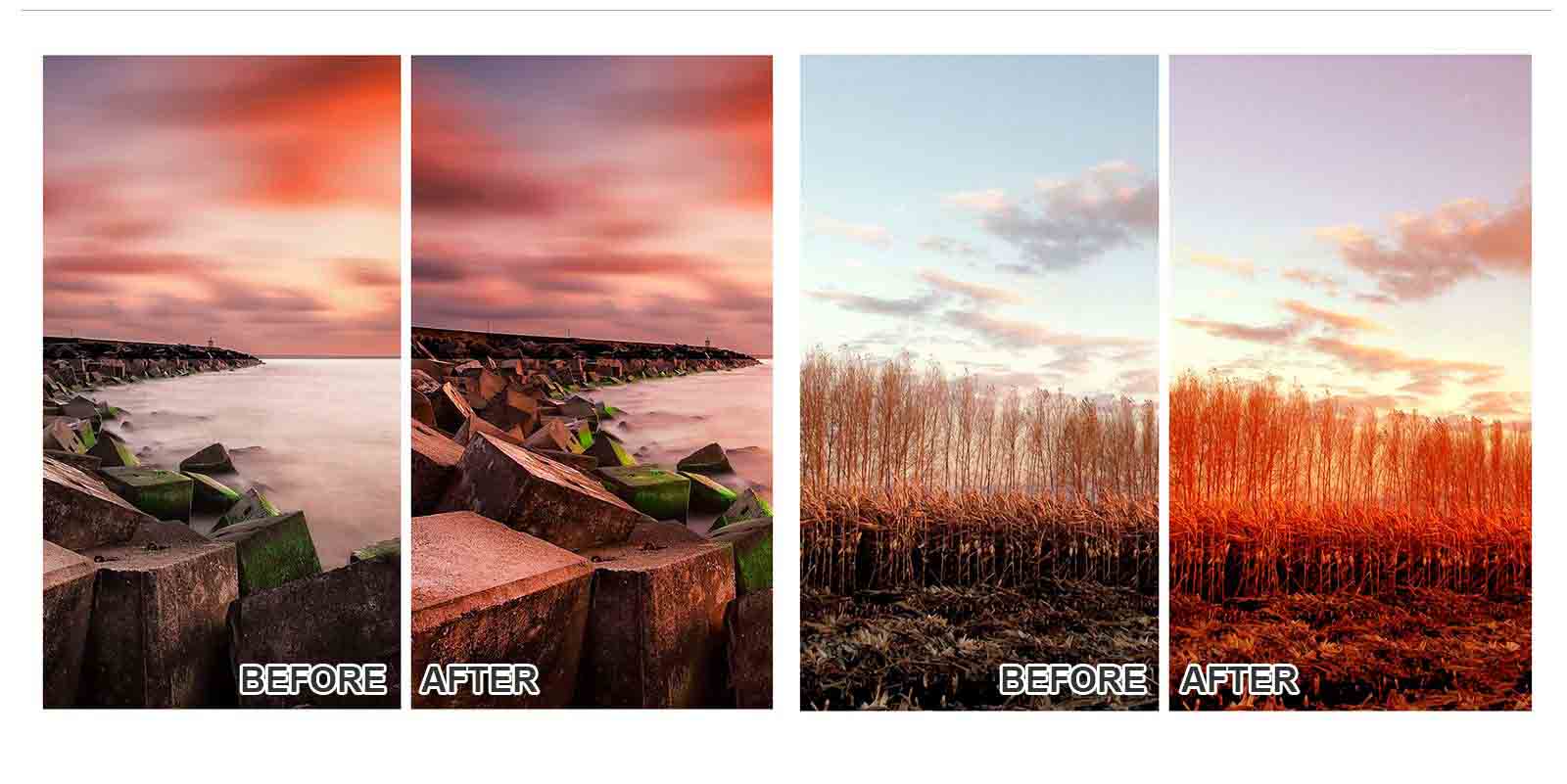 Graduated red
Graduated orange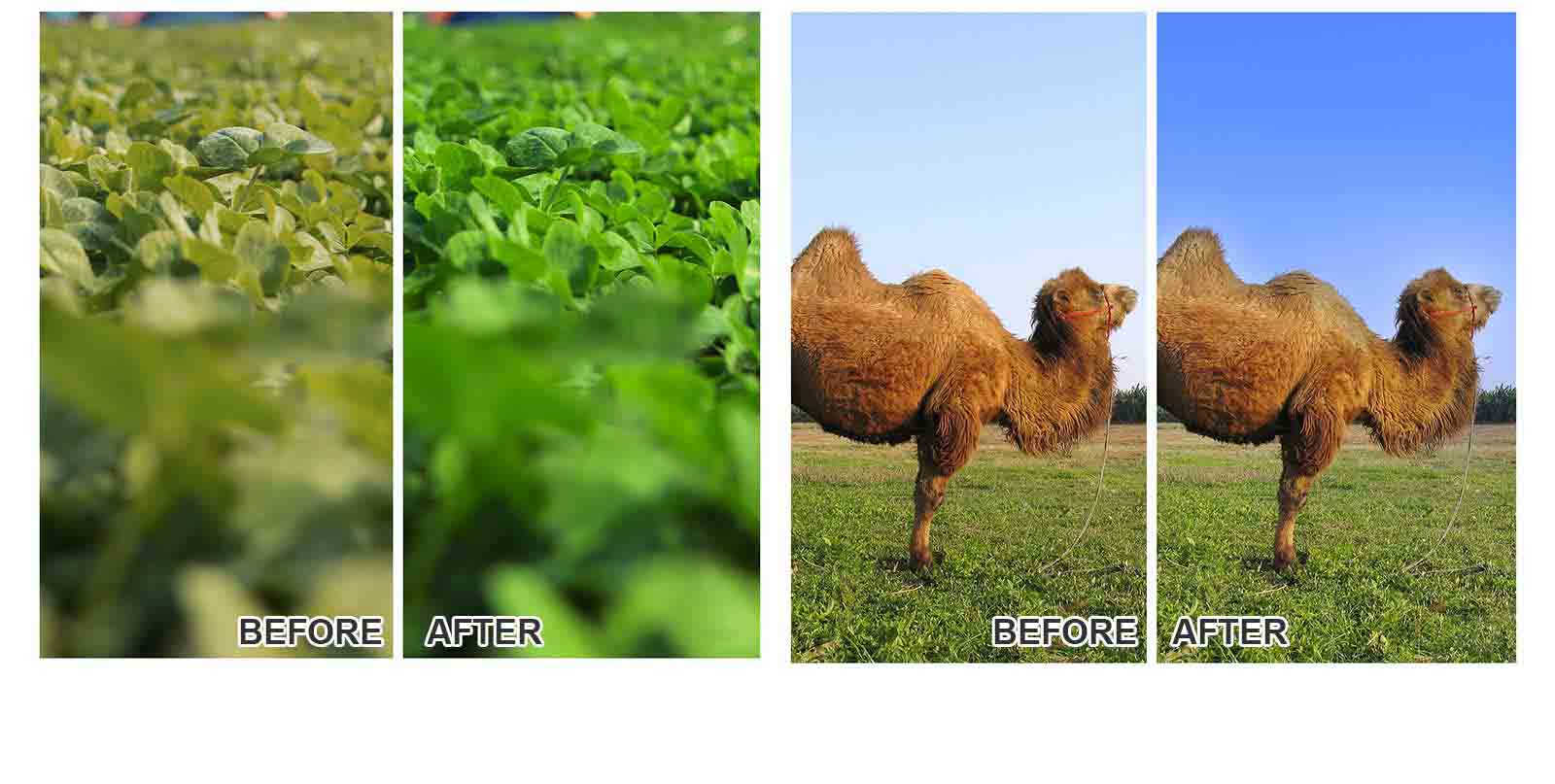 Graduated green
Graduated blue
Surprisingly Impressive!!! And much FUN!!!
Excellent product! Solid metal rim, beautiful colours, I've been having tons of fun! I'm quite impressed by this company actually, I also bought their fisheye and wide angle lenses kit, they came with more filters and magnifying filters, & more , not expecting too much due to the price, $45 I think, ... but I compared both to a Sigma 10-22 ($1000 Canadian) and WOW! seriously, they held their own!!! I did get these filters on another popular merchant's site for $35 less... look around!
Screws perfect on lens.
Nice quality storage bags. Each filter individually packed within storage bags and screw on perfectly onto lens. Full colour filters and graduated filters ranging from red, green, purple, orange, blue to grey. Haven't used them yet for actual shoot.
Vielseitiges Set zum Experimentieren für Einsteiger zu einem fairen Preis
Bewertung für das 18-teilge Filterset für 67mm Objektive von K&F Concept.Ich habe mir dieses Set zugelegt um mit verschiedenen Farbeffekten experimentieren zu können. Dafür ist es mit seinen verschiedenen einfarbigen und halbeingefärbten Filtern super geeignet. Mit den halbeingefärbten Filtern lassen sich klasse Bildteile wie Himmel oder Meer/See betonen - man erzielt Effekte für die manche sonst länger in Photoshop tricksen müssen - und man sieht das Ergebnis sofort.Praktisch finde ich auch die mitgelieferten Sortiertaschen, in denen man die Filter sicher transportieren kann.Ja, die Filter sind aus Kunststoff - jedoch hat man bei pfleglicher Behandlung länger daran Freude und erhält viel Raum zum Experimentieren zu einem sehr fairen Preis.Mit der Qualität der Filtergewinde bin ich auch zufrieden. Sie lassen sich leicht und problemlos auf- und abschrauben.Um die Teile auch an Objektiven mit anderem Gewinde-Durchmesser nutzen zu können habe ich mir vom gleichen Herstellen noch einen Adaptersatz bestellt K&F Concept® 22 Stücke Filteradapter Set Filter Adapter Ring Metall 11 er Step up Ring Set 11er Step Down Ring Set für Canon Nikon Sony Sigma Tamron DSLR Kamera
Tolle Effekte
Ich habe mir das Set gekauft,weil für den Preis eine Auswahl zumProbieren und Rumexperimentieren mit Farbe und Verlaufsfiltern besteht - dieFilter lassen sich gut auf das Objektiv aufdrehen (allerdings ist Fingerspitzengefühl notwendig ,dass sich die Verlaufsfilter auch drehen lassen).(Nikon D3300-67 mm Filter )Den UV-Filter den ich drauf habe,muss ich zwar vorher entfernen,aber das ist einfach nur etwas mehr Aufwand für wirklich schöne Effekte -Habe bisher noch nicht alle Filter ausprobiert ,aber die bisherigen Bilder waren wirklich toll :)Durch die schönen Hüllen ,die im Angebot mit enthalten sind ,sind die Filter immer gut verpackt und leicht mitzuführen .Ich würde sie jederzeit wieder kaufen! KlareEmpfehlung meinerseits
Five Stars
Top quality product, thanks a lot...
These images belong to K&F Concept end users.
| Image | Lens | Filter Size (mm) |
| --- | --- | --- |
| | 3M-7 300mm f/ 5.6 | 67 |
| | 3М-7К 300mm f/ 5.6 МС | 67 |
| | Aetna Rokunar MC Auto Zoom 35-200mm f/ 3.8-5.6 | 67 |
| | Asahi Takumar 200mm f/ 3.5 Preset | 67 |
| | Auto Makinon Zoom 80-200mm f/ 3.5 | 67 |
| | Auto Mamiya/Sekor 200mm f/ 3.5 | 67 |
| | Beroflex MC Auto Zoom 70-215mm f/ 3.5 | 67 |
| | Beroflex Zoom 75-235mm f/ 4.5 | 67 |
| | Cambron MC 500mm f/ 8.8 | 67 |
| | Canon EF 100mm f/ 2.8 L Macro IS USM | 67 |