K&F Concept150 TTL Marco Ring Flash for Nikon GN14
99$-15$ / 199$-30$ / 299$-55$ / 599$-120$
New customer gift package
Free shipping to eligible country
Buy KENTFAITH k&f concept150 ttl marco ring flash for nikon gn14 online, worldwide free shipping and 30 days return guarantee.

KF22.008

SKU:

KF22.008

96.99

https://www.kentfaith.com/KF22.008_kf150-ttl-flash-macro-ring-lite-with-led-for-nikon-dslr
99$-15$ / 199$-30$ / 299$-55$ / 599$-120$
Description
* 2.9 seconds high-speed recycle time and supports LED assist lamp ,won't let you miss every wonderful moment.
* Multiple flash mode: TTL auto flash for convenient operation as normal auto exposure; Master- manual flash for personal needs in exposure; Multi flash mode and rear-curtain sync for shooting a moving object.
* Flash A and Flash B with adjsutable 8 grades flash brightness, desinged for a complete picture with particular subject and accurate exposure.
* Dot-Matrix LCD display with backlight mode,can achieve easy adjustment for clear night photography.
* Compatible with Nikon DF D5500 D3200 D3100 D3300 D5000 D5100 D5200 D5300 D7000 D7100 D600 D610 D750 D90.
Shipping
Free shipping to eligible country
Sale
99$-15$ / 199$-30$ / 299$-55$ / 599$-120$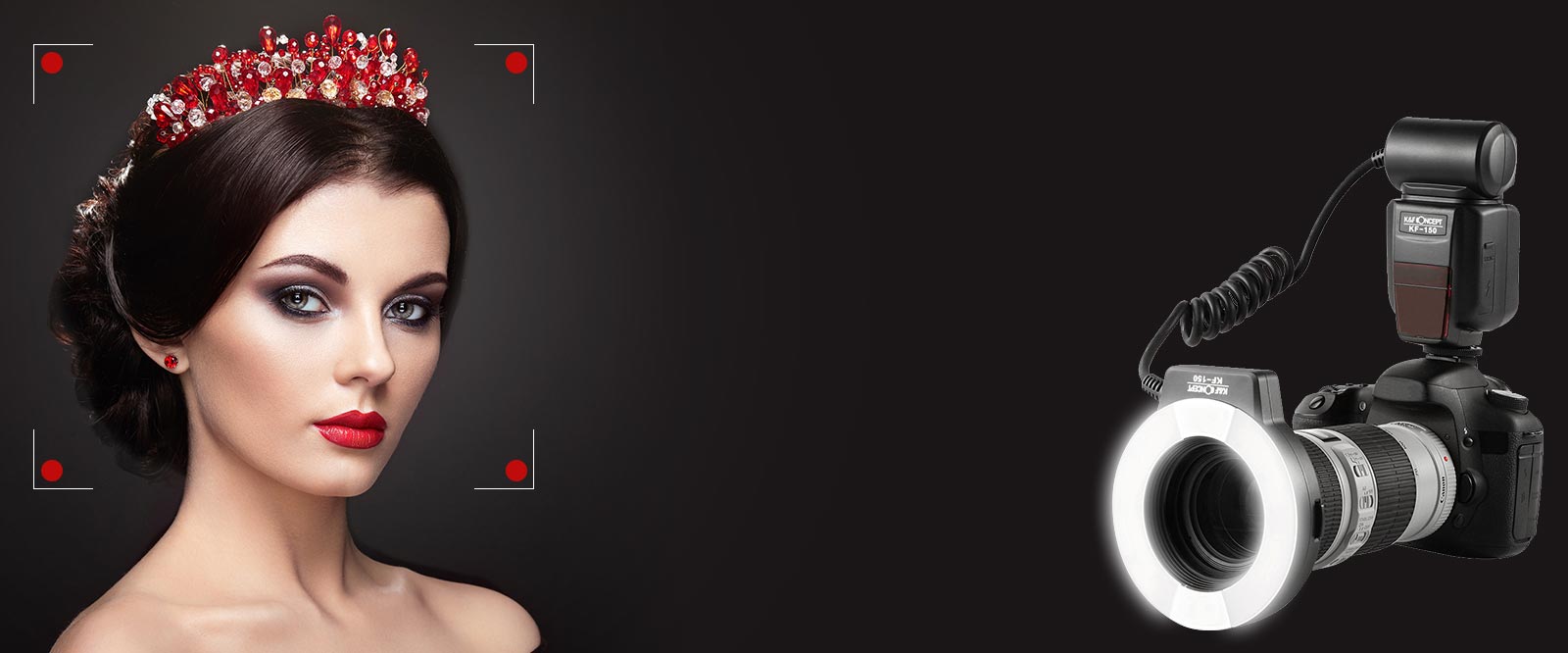 K&F CONCEPT KF-150 I-TTL MACRO RING LIGHT FLASHS
Desinged for a complete picture with particular subject and accurate exposure.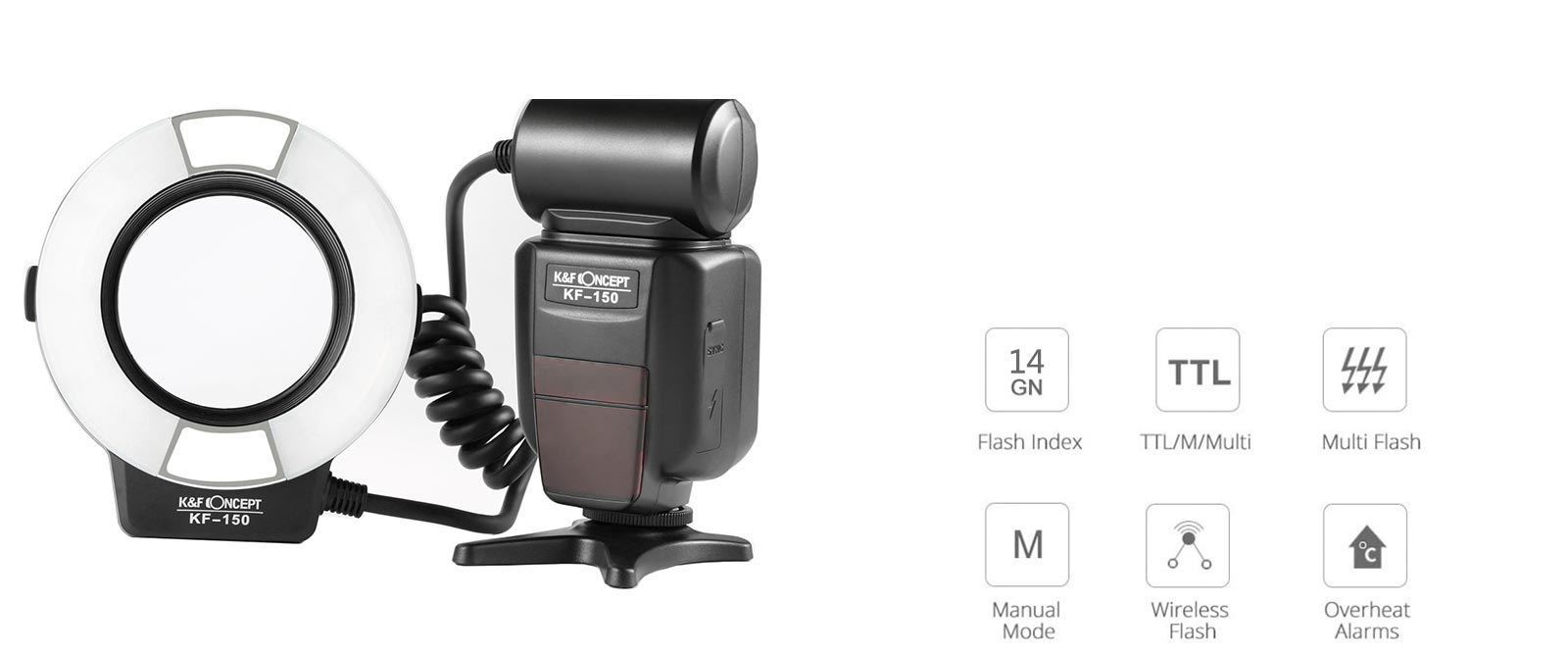 FUNCTION
Compatible with Nikon DF D5500 D3200 D3100 D3300 D5000 D5100 D5200 D5300 D7000 D7100 D600 D610 D750 D90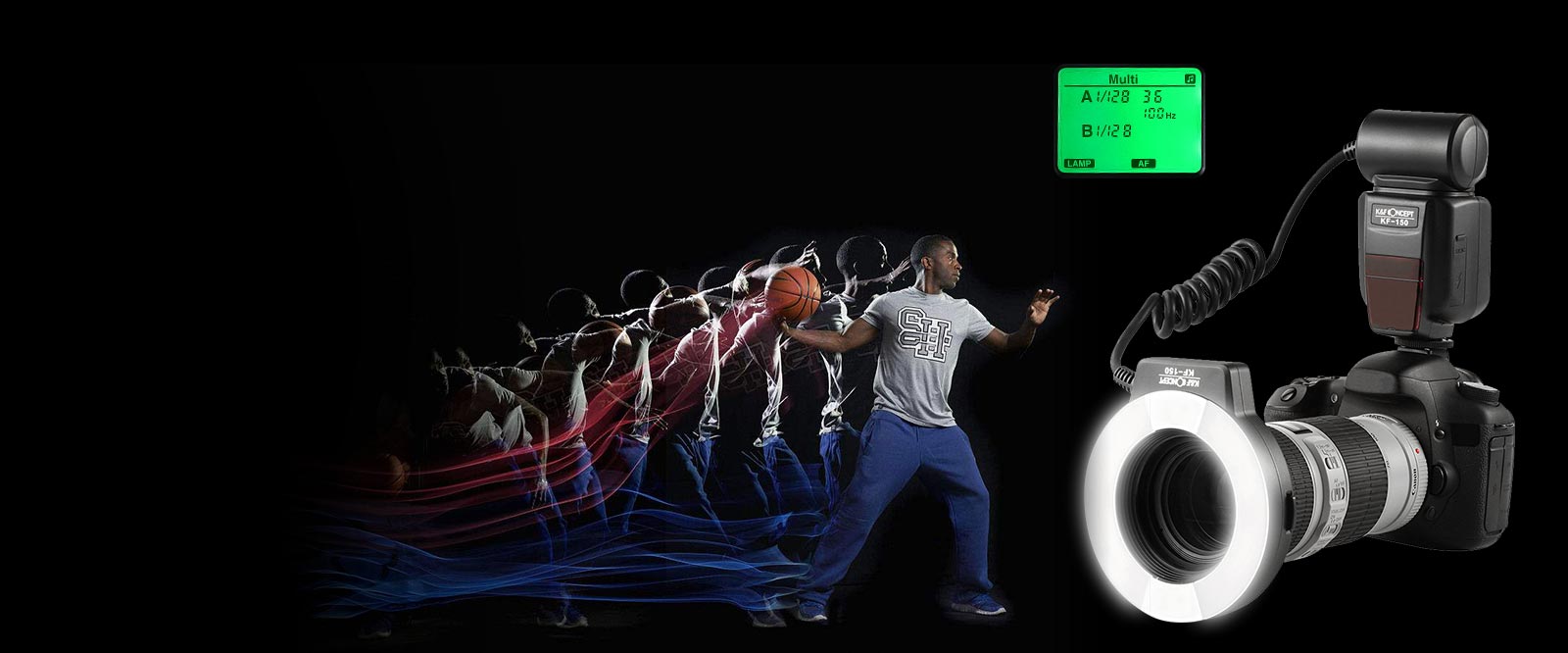 STROBOSCOPIC FLASH FUNCTION
During a single exposure, let the speedlite flash multiple times. The trajectory of the subject can be captured by strobe flash.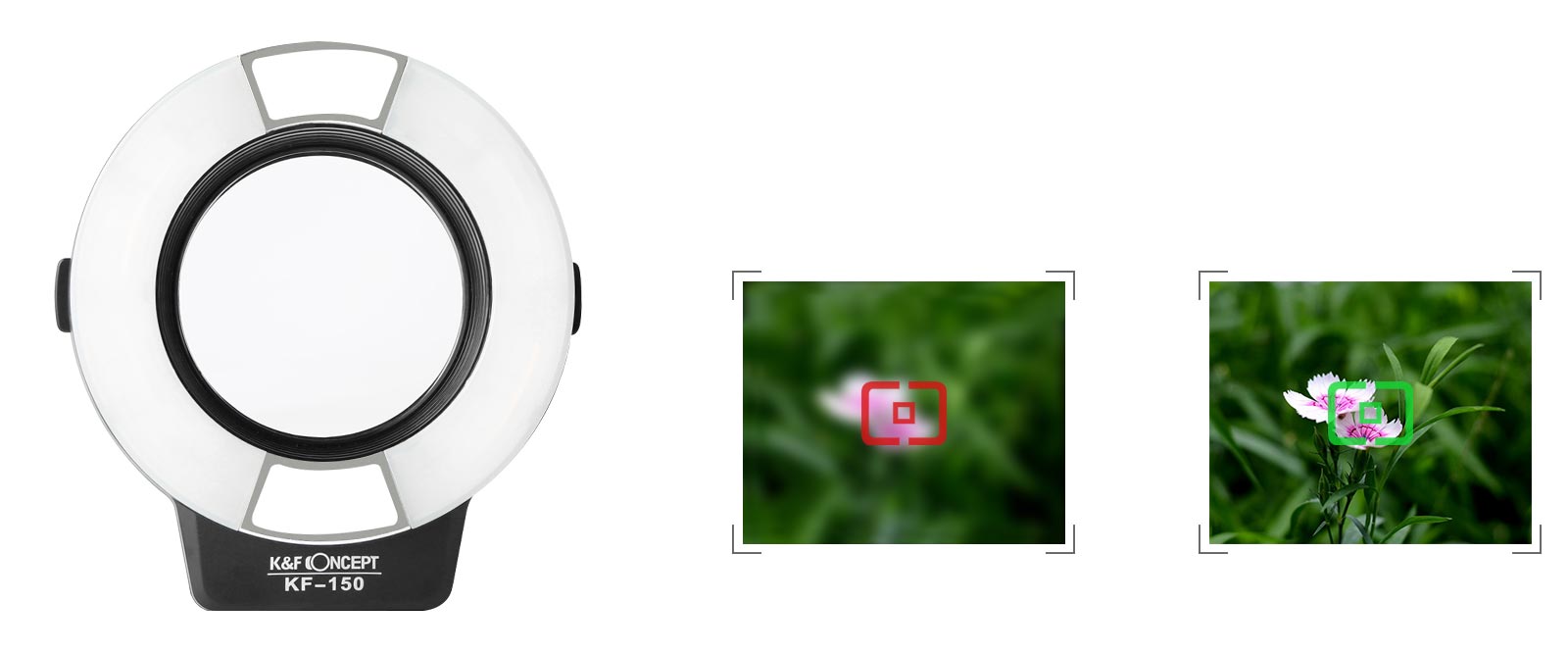 HIGH-BRIGHTNESS FOCUS LED ASSIST LIGHT
Half-press the camera shutter to assist the camera with focus by preflash
Without assist focus illumination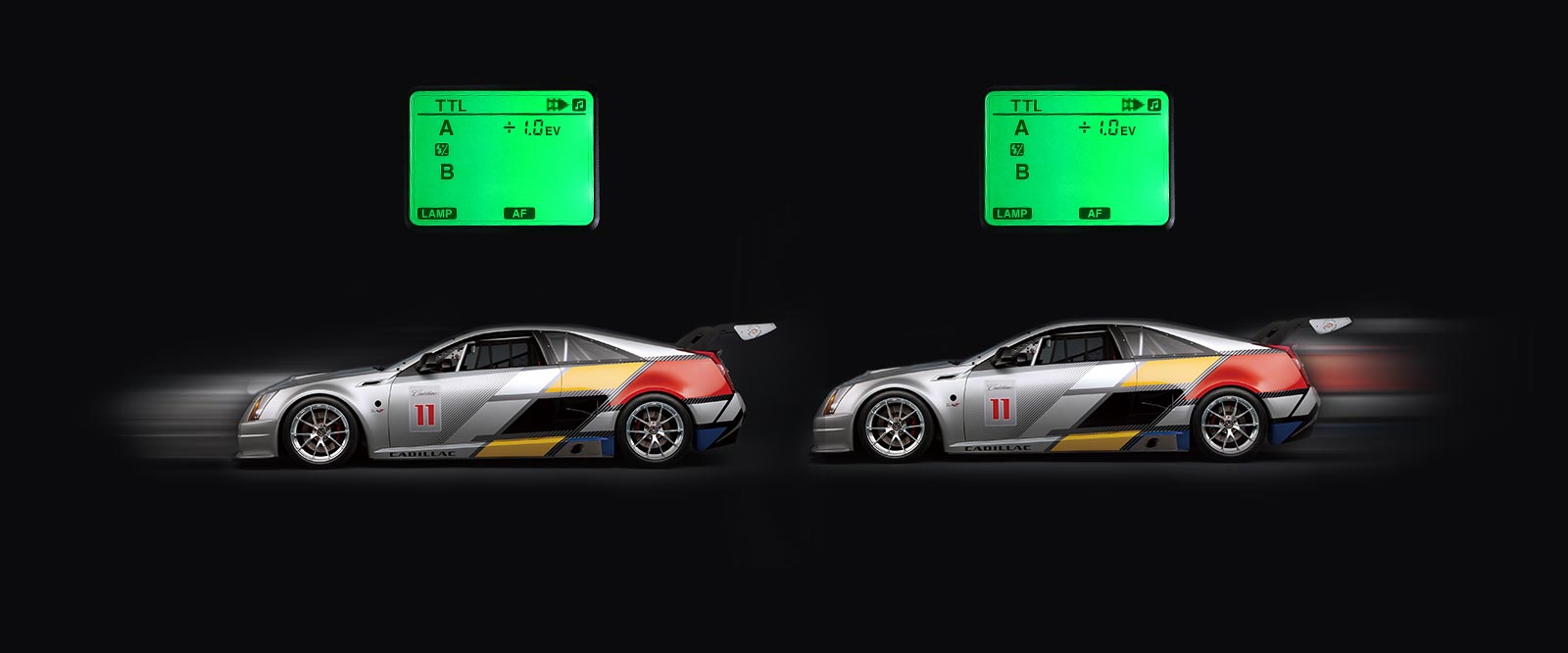 Front curtain sync effects
Rear curtain sync effects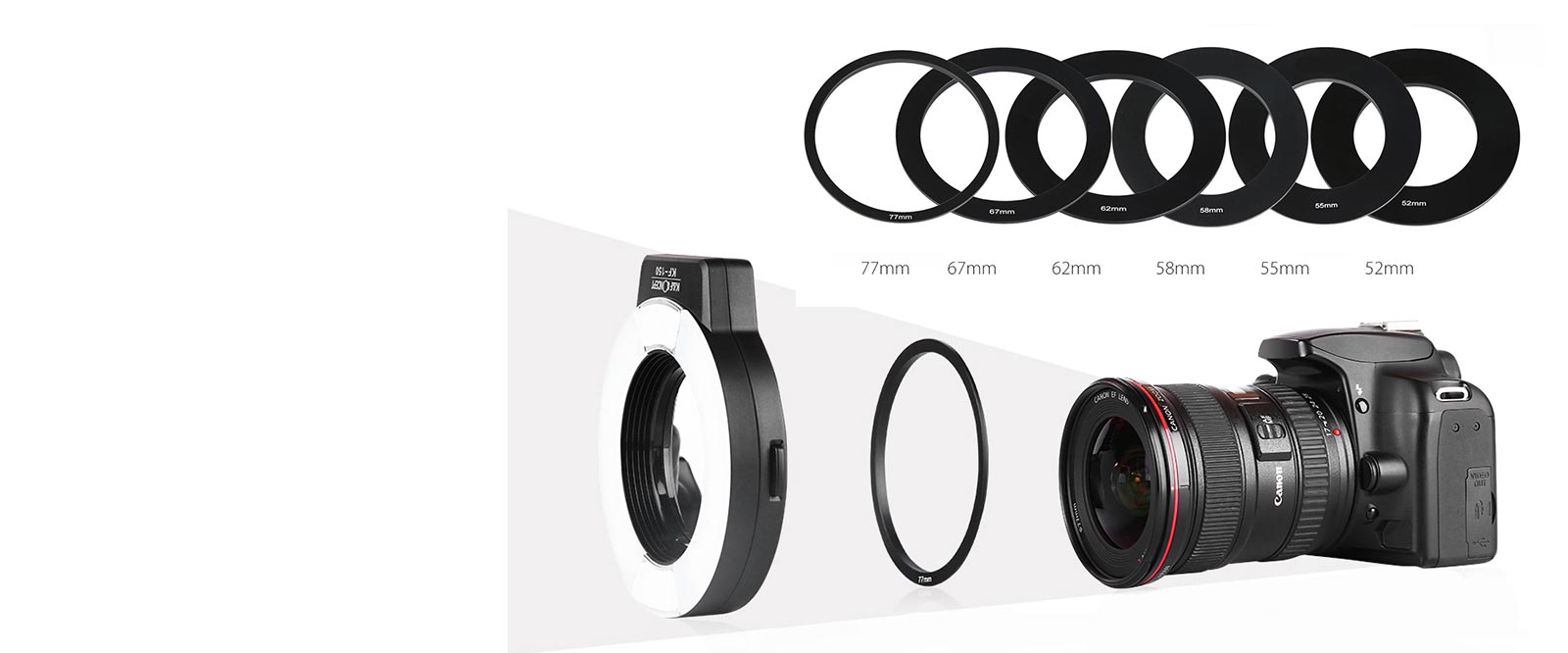 VARIOUS SHOTS
With 6pcs Adapter Rings for Nikon DSLR Cameras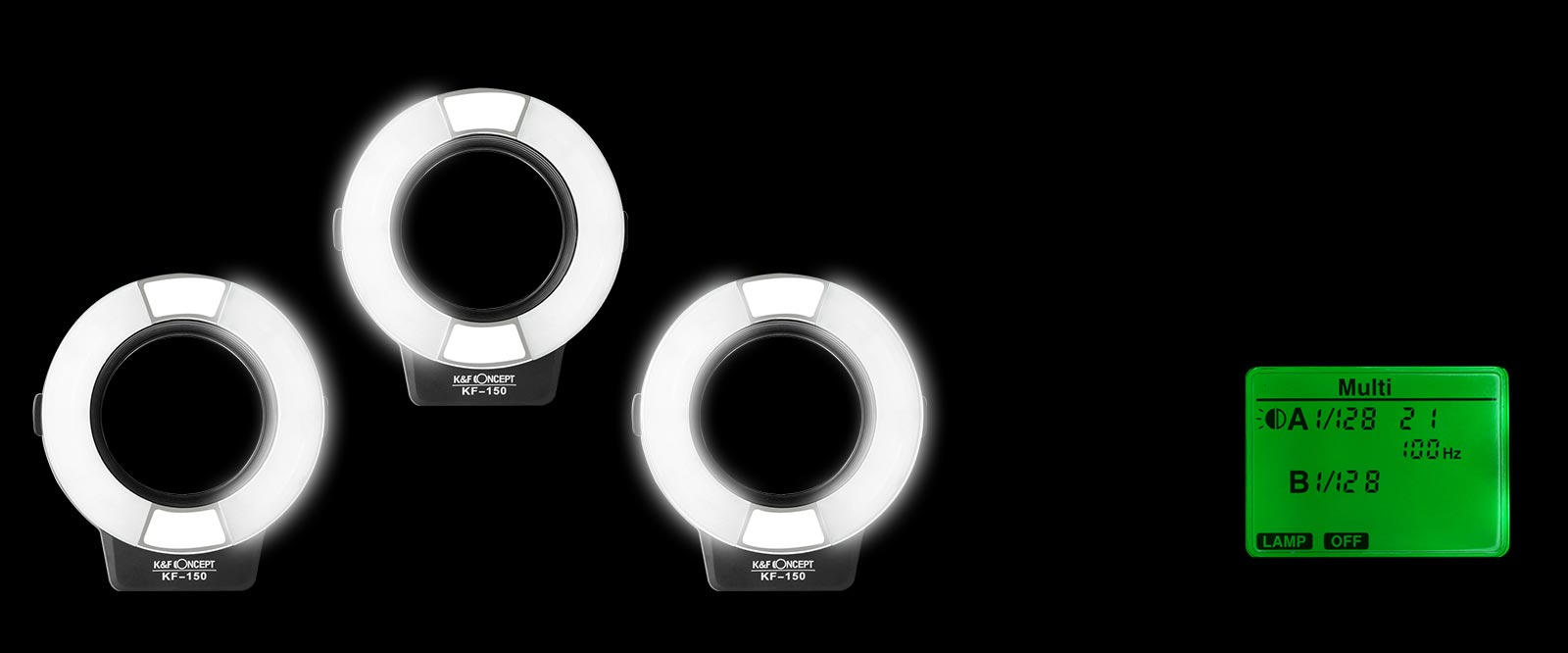 LIGHT ADJUSTMENT
Adjust the flash ration of tube A and tube B or just make either of them work.
The Flash Ration Between A and B ls Adjustable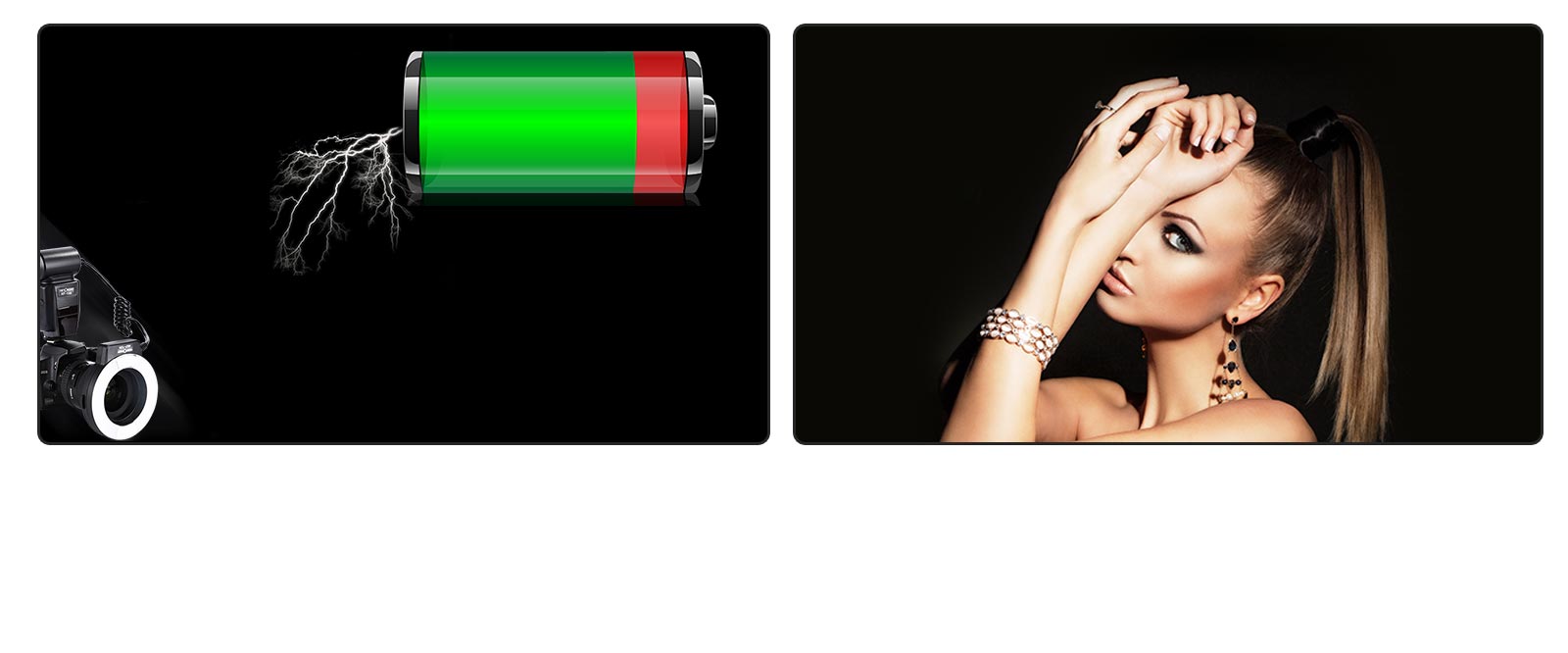 RECYCLE TIME
2.9 seconds recycle time at full power output avoids timeless waiting.
TTL auto flash
Convenient operation as normal auto exposure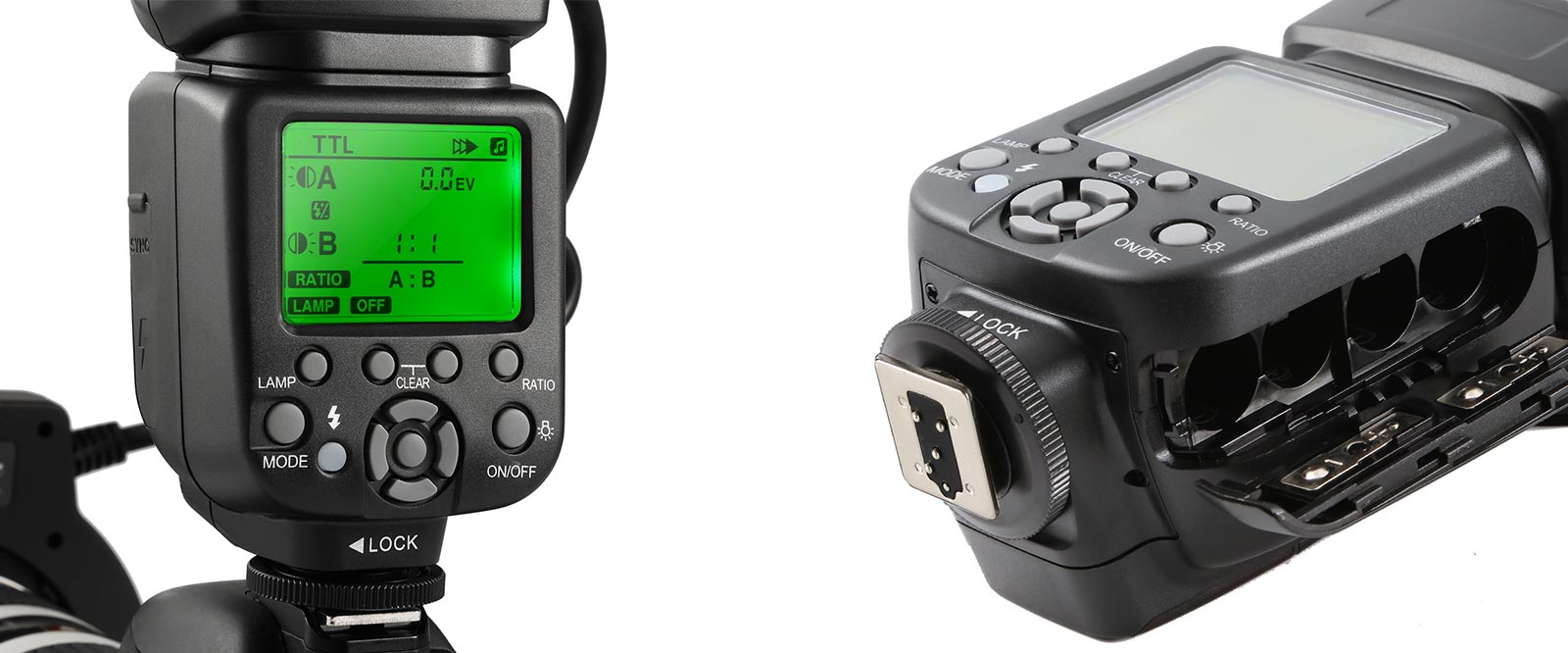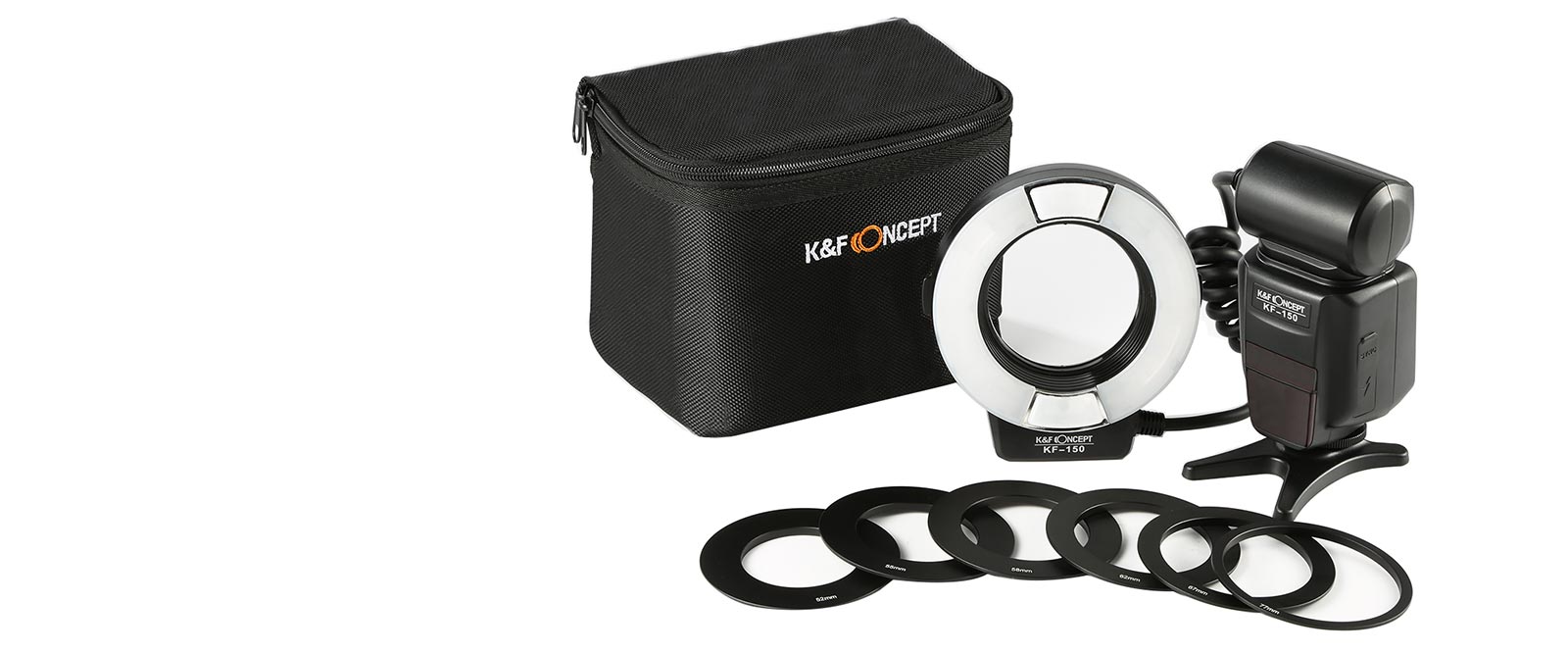 KIT INCLUDES
1 X User Manual 6 X Adapter ring (1pc/each size): 52MM, 55MM, 58MM, 62MM, 67mm, 77mm.
All Reviews
Image

All Star

5 Star

4 Star

3 Star

2 Star

1 Star
Good overall value, mediocre material, ease to use, bright for miniature photography
The package came with a waist bag (a rectangular bag with a belt hole on the back side, double-opener zipper for the top side) including different thread-on adapters for mounting the flash (from 52 mm to 77 mm, not for lenses having thread diameter greater than 77 mm). User manual is in CN and EN. The F/ number reading with Nikon camera is accurate (tested with G lenses). The exposure compensation operation is intuitive - just played around to figure out which button to push (but the LCD display shows "+" like a division sign). Not noticing the flash showing focal length information, or distance information, but assuming the TTL sensors working because the test shots show proper lighting and EV changes. The test shots were taken with 28-300 mm VR on FX Nikon, at the 300 mm end at the closest focus distance, F/5.6 through F/11, +1 EV, ISO 250, 1/100~1/125 handheld, VR off, all shots came out great (better than expected). Basically, this flash allows one to shoot close up for documentary without any tripod. But this could potentially black out anything that is not lit by the flash (either good or bad, depending on use). I am sure the flash is even more useful with a tripod for even lower F numbers and/or more complicated set lighting.Shortcomings are: the product is made of cheap materials when compared to Nikon products. The difference is pronounced in details (edges are not straight, plastic look cheap, etc.) However, this is fair given its price (and the cost behind).
03/01/2020
rapido y en buen estado
excelente producto
13/12/2019
Great !
I love it. Works great and the quality is great ! Im not an expert but I am sure you will love it
11/06/2019
Defective tube
The K&F ring flash appeared to be a very nice unit, unfortunately flash tube "A" did not work. I returned the ring flash and the money was promptly credited to my account. Defects occasionally occur with electronic equipment and I have no negative comments.
17/05/2019
Not exactly what I was looking for, but a great product non the less
I had to return this as it did not provide me with images I hoped to achieve. I was hoping to get a more diffused light, and a better halo in my subject's eyes. I ended up with very hard shadows, and I think the flash ring that I need for my purpose should be much bigger in size. The adjustment rings for the lens were clear, unfortunately it did not fit my 35 and 55mm lenses.. maybe they are designed for macro lens only.I was very happy with how quickly the product arrived, and how fast the return was processed, so the customer service is great. I think if I was doing macro photography, I would definitely keep the flash, unfortunately for me, the light it produced was little different from my external overhead flash.
12/02/2019
Works fine
Works fine.Manual is so so...For my use I would not pay more.Ttl is nice non ttl are much cheaper.Wish it could be multi brand
08/02/2019
Concerned customer
great item but unfortunately it did not work with my Nikon P1000 I returned it but I still haven't receive my refund. So far it's been a pleasant experience and I'm hoping customer service will expedite my refund soon.
06/02/2019
great for the price of it
previously bought a LED ring light to do some macro shots , seemed not so bad at the time but this is SO much better. Worth the extra money with out a doubt. No idea about durability yet only had for a couple months and used a couple times but seems solid , the adapters are made of steel, for the price I thinks its a bargain.
06/01/2019
Nice flash for the price.
I'm very happy with the product, it performs well and appears to be of good quality with a strong connector wire and easy fit adapters for quick set up. The printed instructions are not that clear however if you need guidance in its use then there are a few youtube instructional videos out there that walk you through it. There is a lot of latitude with the flash settings and is a good buy for the enthusiast photographer. I really liked the well made padded case that's included with handy pockets inside. For the price it is a great deal. I did need a 72mm adapter which was not included so I contacted the company who answered my email the next day and informed me they will mail me one immediately at no charge, great service! I'll update this review when I receive it.
26/10/2018
These images belong to KENTFAITH end users.
A
Colin adaptor ring P series 062
Flash, Speedlite Flash de K&F Concept® KF 150 Flash Nikon Macro Opiniones
Flash
Guide Number
14
Manual Flash
Yes
Off-Camera Terminal
PC
Slave Flash Mode
Yes
Coverage
18-180mm
TTL Mode
TTL
Slave/Master Mode
Yes
Master mode
No
Hi-Speed Sync
No
Second-Curtain Sync
Yes
Modeling lights
Yes
Bounce Head
Yes
Internal Power
AA battery
Recycle Time
2.9s
Color Temperature
5500K±200K
Voice Prompts
Yes
Suitable Camera
Nikon Camera
Accessories
Instruction Manual/Light Bag/Stent/Adapter-52mm/55
Stroboscopic Node
Flash Compensation