K&F Concept150 TTL Marco Ring Flash for Canon EOS Rebel GN14
99$-15$ / 199$-30$ / 299$-55$ / 599$-120$
New customer gift package
Free shipping to eligible country
Buy KENTFAITH k&f concept150 ttl marco ring flash for canon eos rebel gn14 online, worldwide free shipping and 30 days return guarantee.

KF22.005

SKU:

KF22.005

106.99

https://www.kentfaith.com/KF22.005_kf150-ttl-flash-macro-ring-lite-with-led-for-canon-eos-rebel
99$-15$ / 199$-30$ / 299$-55$ / 599$-120$
Description
* 2.9 seconds high-speed recycle time and supports LED assist lamp ,won't let you miss every wonderful moment.
* Multiple flash mode: TTL auto flash for convenient operation as normal auto exposure; Master- manual flash for personal needs in exposure; Multi flash mode and rear-curtain sync for shooting a moving object.
* Flash A and Flash B with adjsutable 8 grades flash brightness, desinged for a complete picture with particular subject and accurate exposure.
* Dot-Matrix LCD display with backlight mode,can achieve easy adjustment for clear night photography.
* Compatible with the Canon Reble ( T5i T4i T3i T2i ), EOS ( 700D 650D 600D 550D 70D 60D 7D ); 18-135mm EF-S IS STM, EF-S 17-85mm f/4-5.6 IS USM Lenses.
Shipping
Free shipping to eligible country
Sale
99$-15$ / 199$-30$ / 299$-55$ / 599$-120$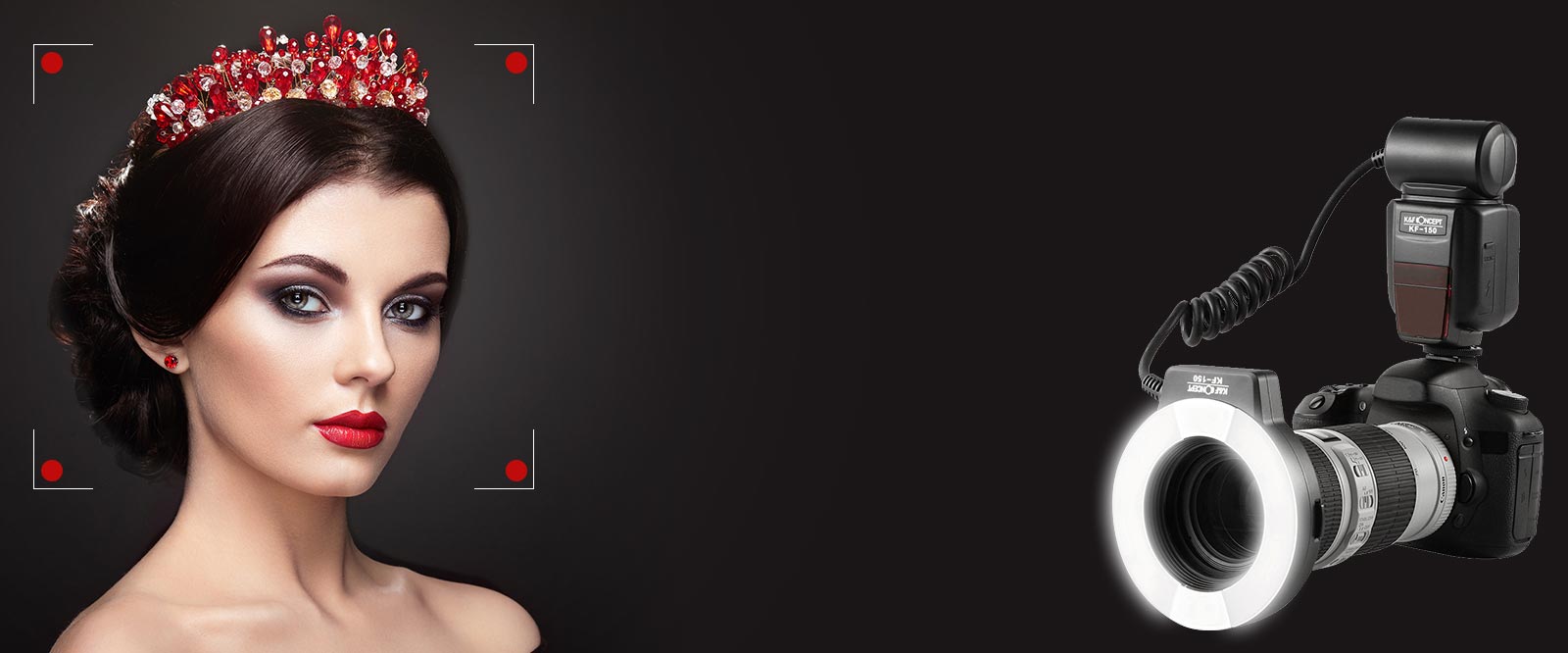 K&F CONCEPT KF-150 E-TTL MACRO RING LIGHT FLASHS
Desinged for a complete picture with particular subject and accurate exposure.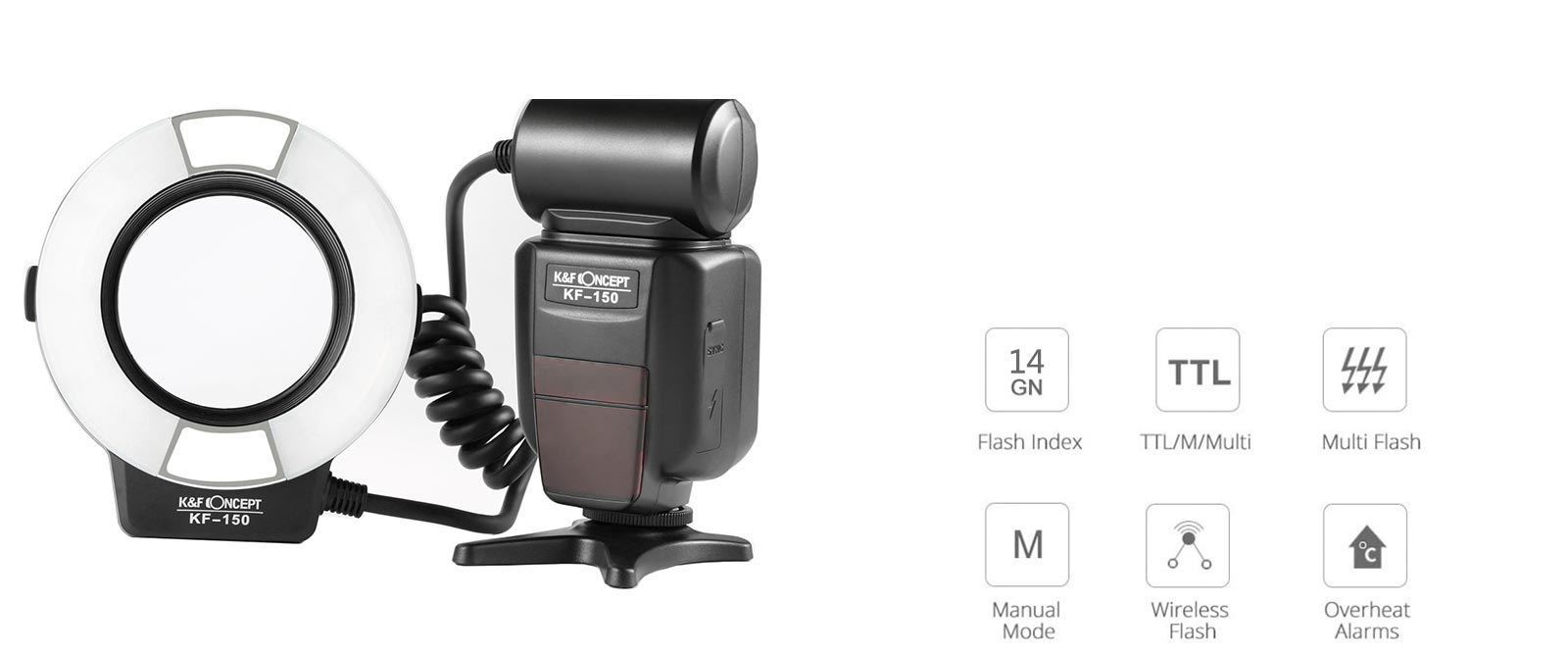 FUNCTION
Compatible with the Canon Reble ( T5i T4i T3i T2i ), EOS ( 700D 650D 600D 550D 70D 60D 7D ); 18-135mm EF-S IS STM, EF-S 17-85mm f/4-5.6 IS USM Lenses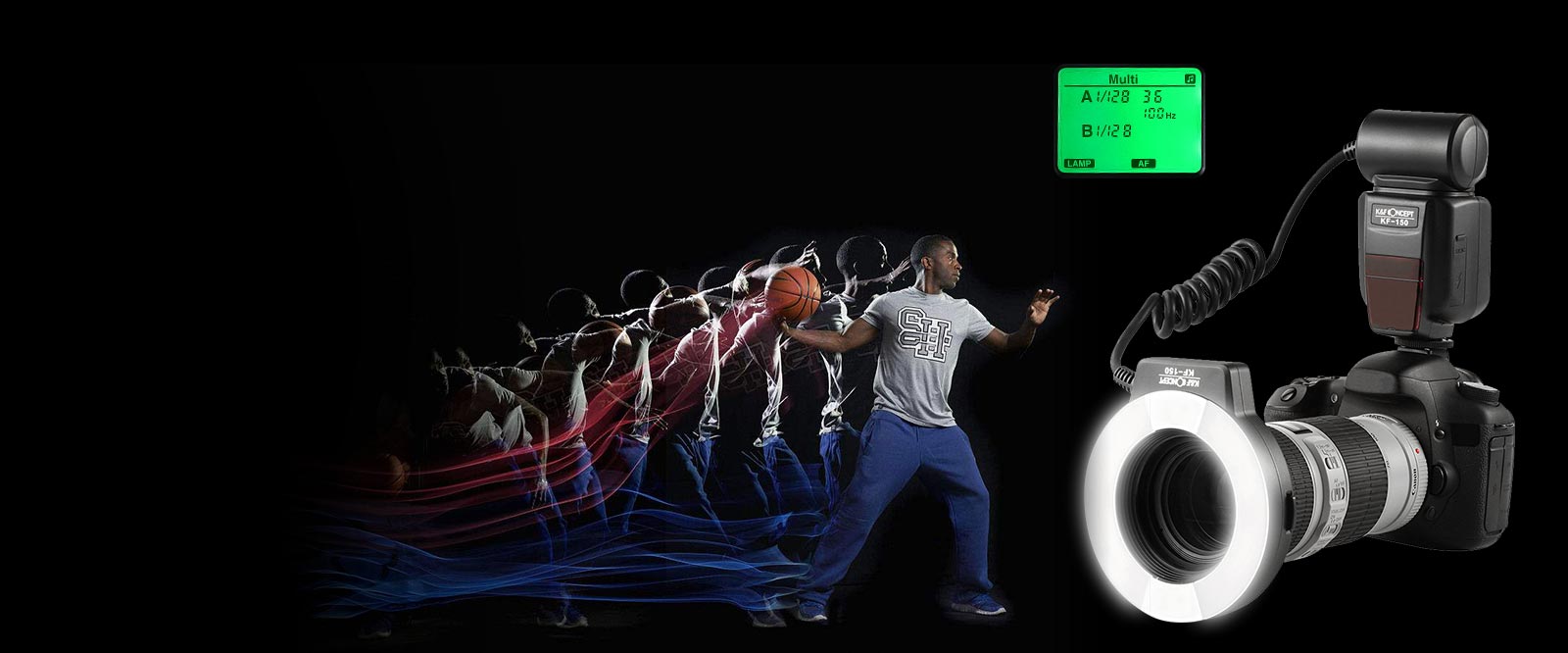 STROBOSCOPIC FLASH FUNCTION
During a single exposure, let the speedlite flash multiple times. The trajectory of the subject can be captured by strobe flash.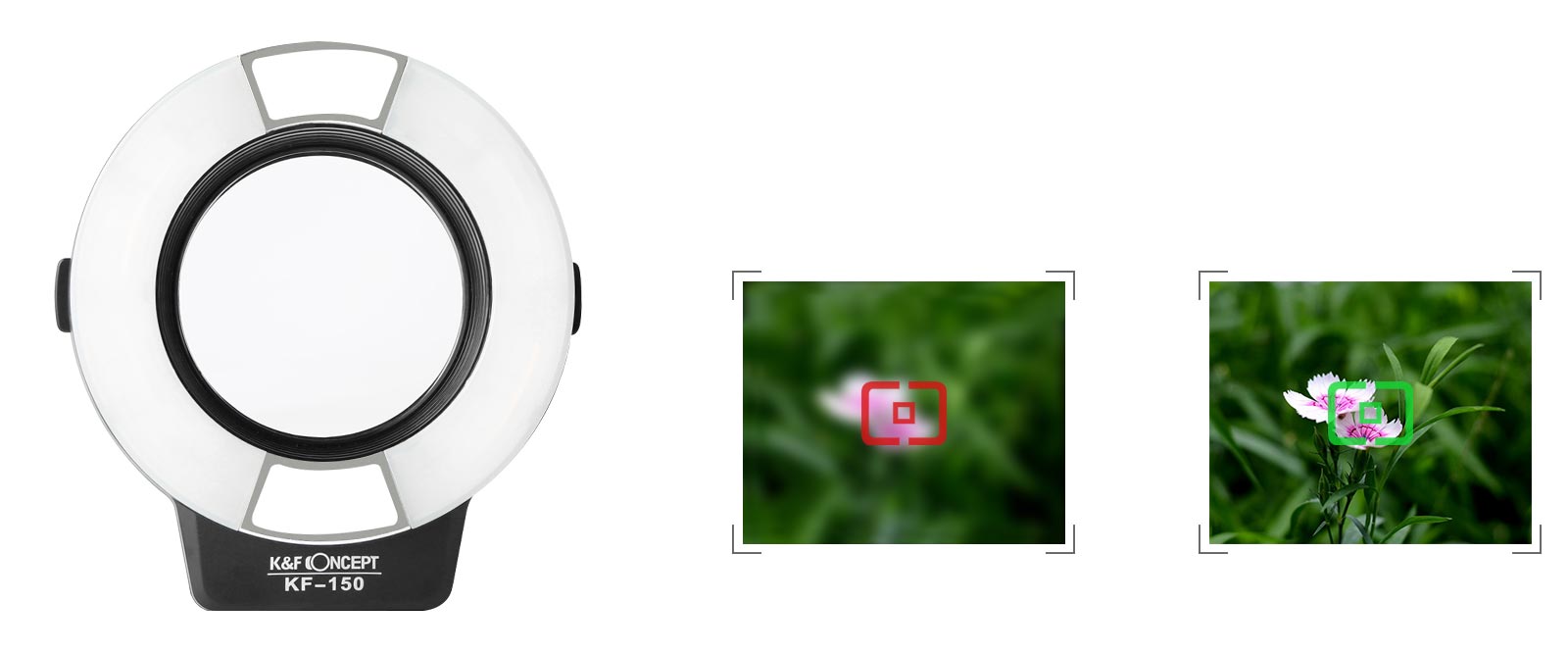 HIGH-BRIGHTNESS FOCUS LED ASSIST LIGHT
Half-press the camera shutter to assist the camera with focus by preflash
Without assist focus illumination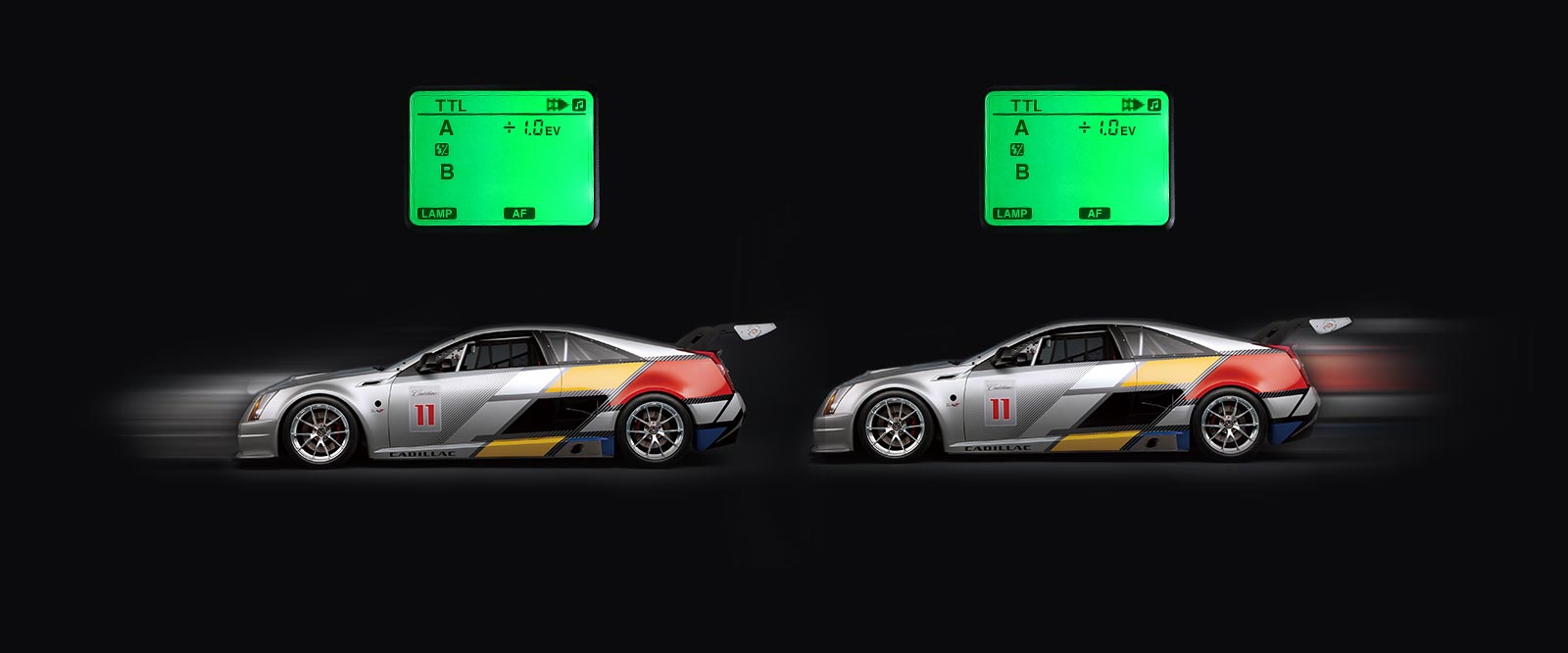 Front curtain sync effects
Rear curtain sync effects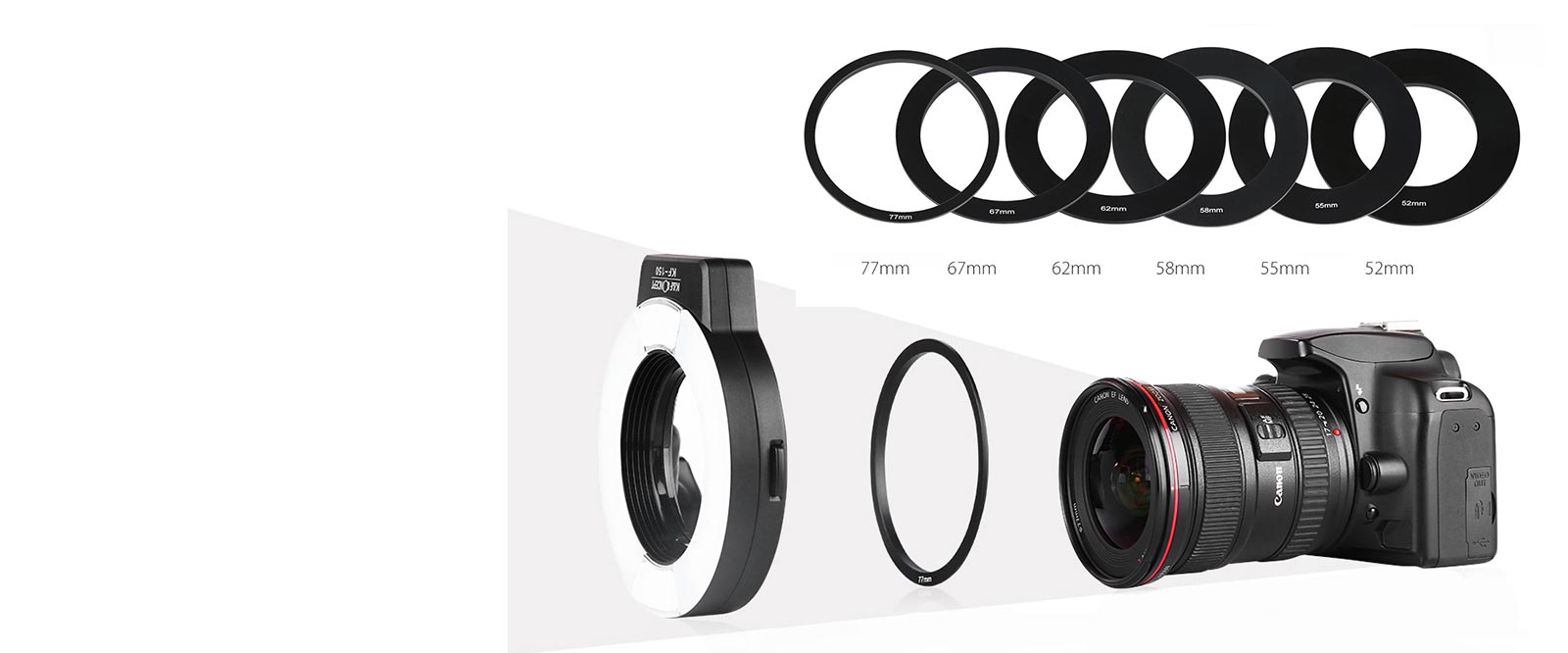 VARIOUS SHOTS
With 6pcs Adapter Rings for Canon DSLR Cameras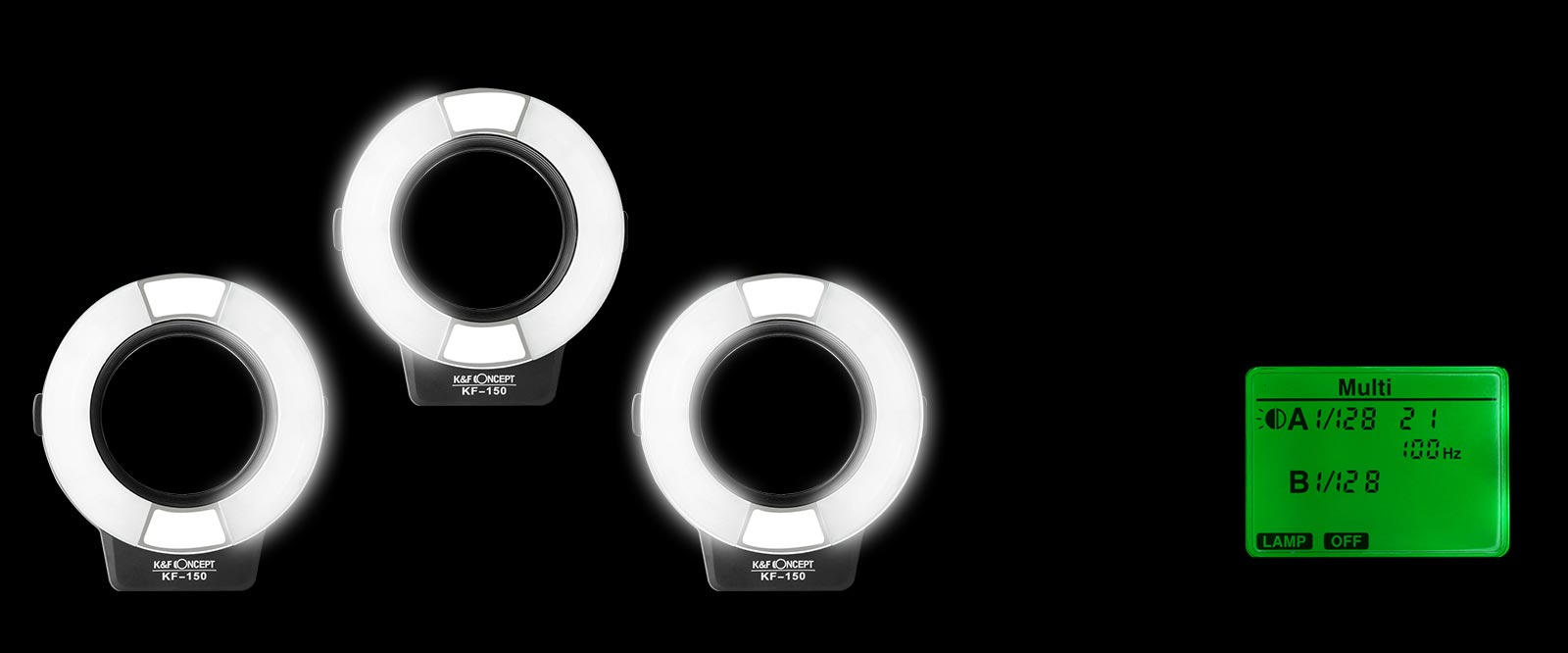 LIGHT ADJUSTMENT
Adjust the flash ration of tube A and tube B or just make either of them work.
The Flash Ration Between A and B ls Adjustable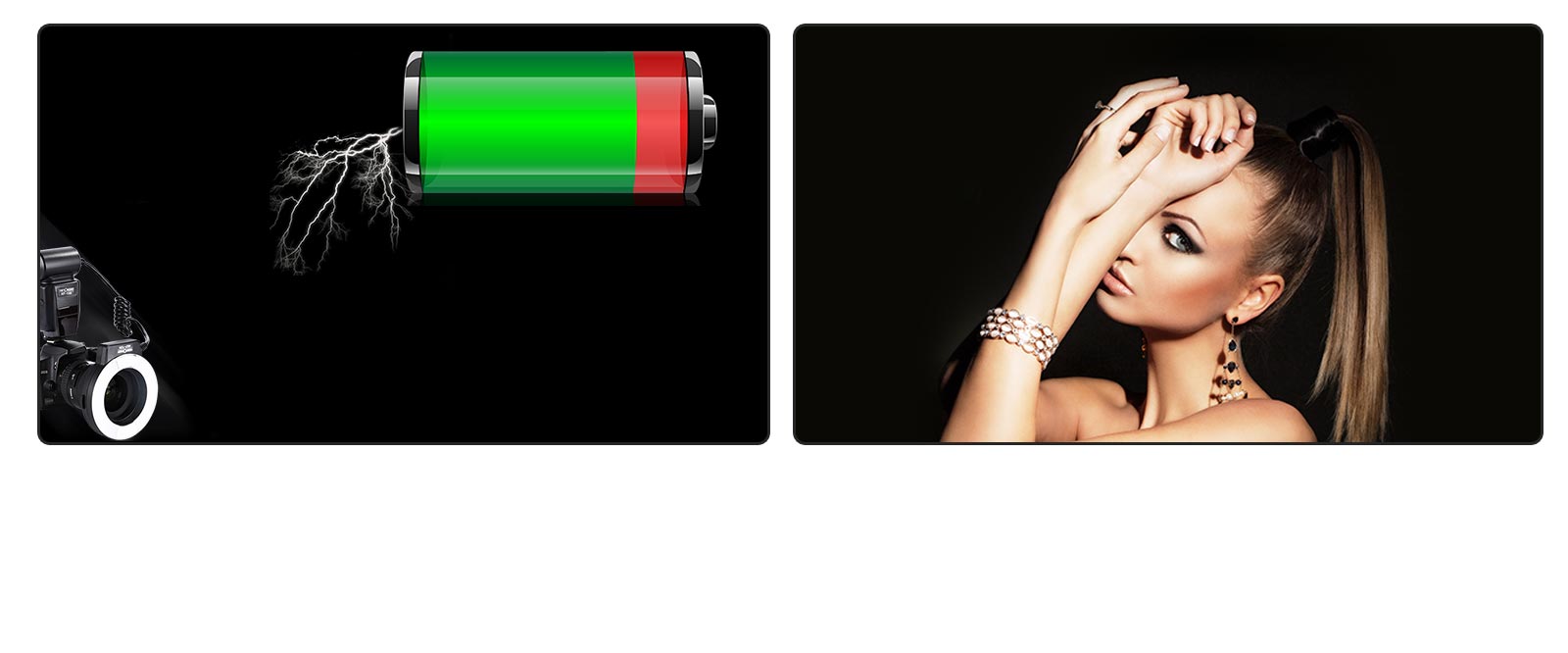 RECYCLE TIME
2.9 seconds recycle time at full power output avoids timeless waiting.
TTL auto flash
Convenient operation as normal auto exposure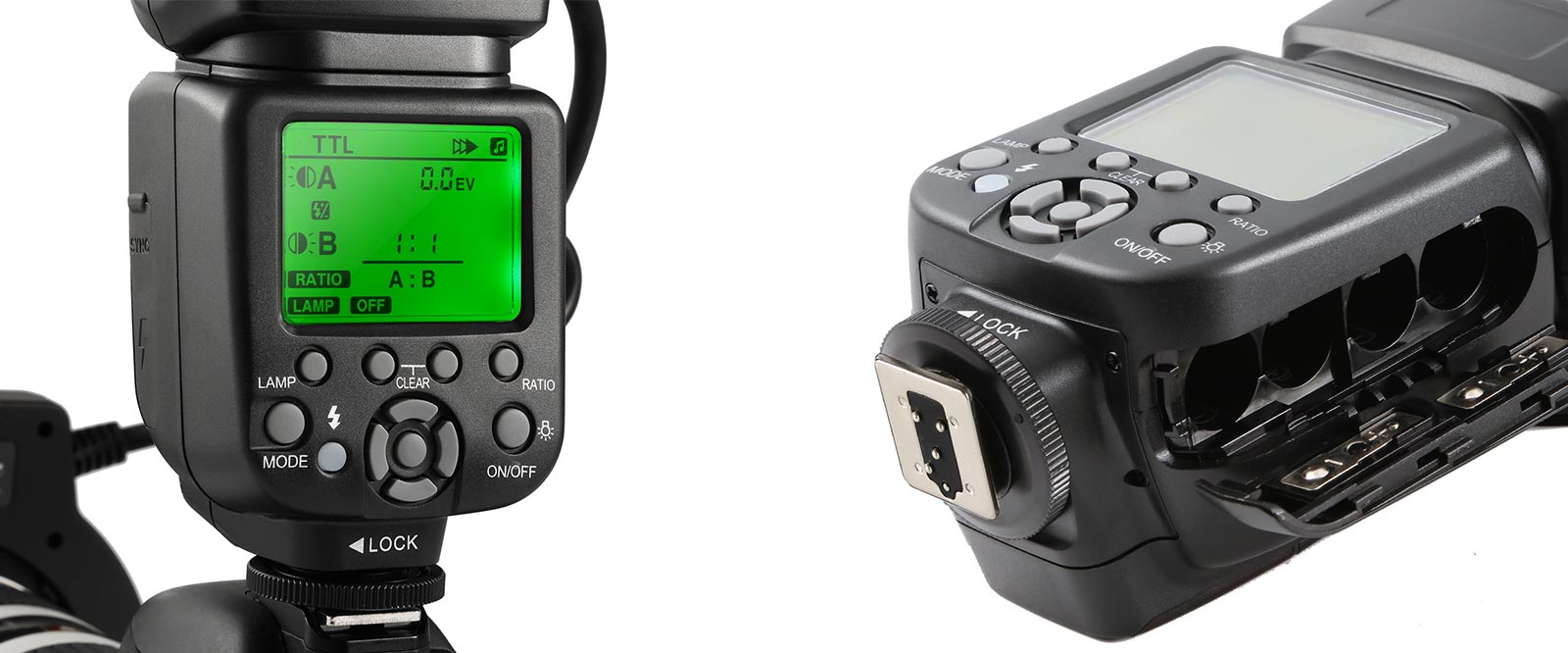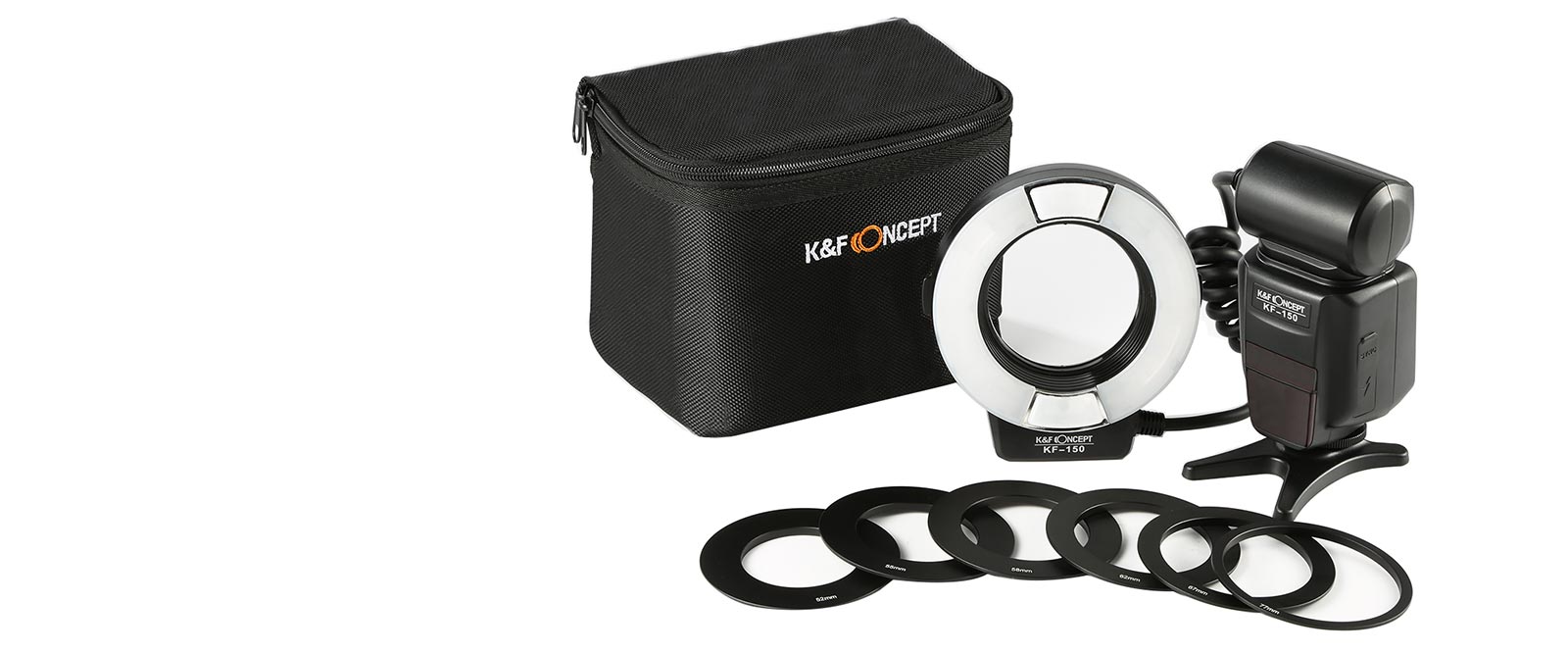 KIT INCLUDES
1 X User Manual 6 X Adapter ring (1pc/each size): 52MM, 55MM, 58MM, 62MM, 67mm, 77mm.
All Reviews
Image

All Star

5 Star

4 Star

3 Star

2 Star

1 Star
Works with recent Canon EOS
When I got a new Canon D77, my older Metz flash and SIGMA ring light would no longer work. I took a chance on the K&F Concept KF-150 E-TTL ring flash, and I'm happy that it works well with the D77.
30/09/2020
Awesome ring light
Awesome ring light :) loving it for my canon
27/07/2020
Superb ETTL Ring Flash for the price
I tried this flash when I received it, packaging is great by the way, little case to keep everything safe. Solid material, does not feel cheap at all. I tried all the features and everything works as described. ETTL works great even with the flash compensation, and works perfectly in manual mode too. Tried the left and right feature, again this does the job, I saw a difference in the object I was taking a picture of. The picture with this light was better than the picture with ambient light, so I will be using this flash for sure. Didn't try for a portrait yet. The gn number is not that great but I didn't buy this flash for distance. And we also can use this flash as a modelling lamp. The zoom also works.
26/02/2020
Lampe annulaire pour Canon
Parfait
26/07/2019
Good value for the money and easy to use.
This is my first time using a ring flash and it was for outdoor macro photography. It was so easy to use and really makes the pictures pop. Good value for the money.
15/07/2019
Of for dental use
Does the job for me.Basic ttlMax speed about 200-250 syncOk for mouth close ups
10/05/2019
For the money, I am impressed.
This flash is easy to install and operate. I have not used it enough to get an idea of battery life yet. The Battery door is kind of hard to get closed and if you are not a patient person I could see some people breaking it. Some reviews mention the flash spinning around on their lens, I can see that happening. See mine mounted, it is up side down and stays put just fine. I was considering the Canon for around $550. I am very glad I bought this one instead.
21/12/2018
K&F Concept Are Really Good
I got this to compliment my Macro photography hobby. Due to family illness I only managed to use twice. It has been boxed without the batteries for most of the year. Came to use it today and it is broken. K&F concept offered to replace straight away and even said they would help further in the future. They are very good. Thank you K&F Concept
09/11/2018
Bright light!
Great for a cheaper alternative than the canon, need to replace the batteries often so I would suggest buying rechargeable ones!!
08/11/2018
Good value product with some issues.
The product was a bit heavier than expected, and the coiled lead is quite tight and when on the lens, puts a lot of pressure on the front ring and feels like it is trying to pull it away from lens. After loading new batteries the unit did not want to turn on. After repeating the instructions a number of times eventually it turned on and seemed okay. After returning to the flash to play some more I had the same problem, don't know if my batteries at fault or the connection is just temperamental. The product did arrive without the flash stand and I was disappointed that my 50mm 1.8 lens was not supported. I have emailed seller who responded positively but after submitting my full address for shipping a ring and stand they requested my phone number which I did not understand. I am currently thinking about just returning the item, but would have liked to test it in the field. Without these problems I a am sure it would have been a more positive review.
05/10/2018
These images belong to KENTFAITH end users.
Flash
Guide Number
14
Manual Flash
Yes
Off-Camera Terminal
PC
Slave Flash Mode
Yes
Coverage
18-180mm
TTL Mode
TTL
Slave/Master Mode
Yes
Master mode
No
Hi-Speed Sync
No
Second-Curtain Sync
Yes
Modeling lights
Yes
Bounce Head
Yes
Internal Power
AA battery
Recycle Time
2.9s
Color Temperature
5500K±200K
Voice Prompts
Yes
Suitable Camera
Canon Camera
Accessories
Instruction Manual/Light Bag/Stent/Adapter-52mm/55
Stroboscopic Node
Flash Compensation