Camera Backpack Professional Large Capacity Waterproof Photography Bag for DSLR Cameras,14-15 inch Laptop,Tripod,Lenses
Free shipping to eligible country
Brand:

K&F Concept

Buy K&F Concept camera backpack professional large capacity waterproof photography bag for dslr cameras,14-15 inch laptop,tripod,lenses online, worldwide free shipping and 30 days return guarantee.

KF13.044V5

Availability:

In Stock

59.99

https://www.kentfaith.com/KF13.044V5_camera-backpack-professional-large-capacity-waterproof-photography-bag-for-dslr-cameras-14-15-inch-laptop-tripod-lenses
Buy 2+ items get
10% off
!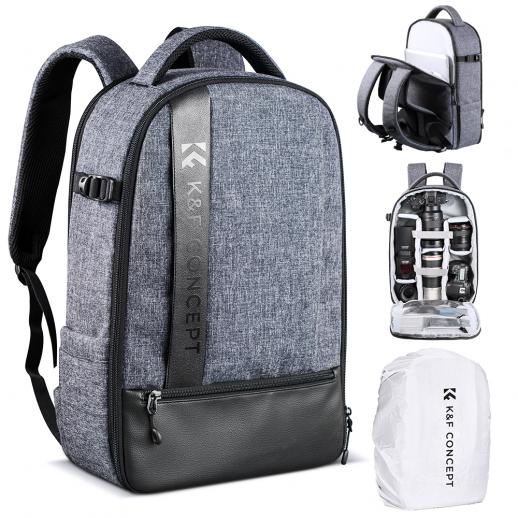 Camera Backpack Professional Large Capacity Waterproof Photography Bag for DSLR Cameras,14-15 inch Laptop,Tripod,Lenses
Features
• 【Large-Capacity】Dimension: 11"* 5.5"* 16.9"; Holds 2 DSLR cameras + 4 lenses + tripod + laptop and other photography accessories.
• 【Independent Laptop Compartment】There is a special designed compartment for laptop up to 14-15 inch, which separates the laptop from other items.
• 【Quality Material】Water-repellant and tear-resistant 840D high-density nylon, sturdy and durable. PE board + EPE foam divider,strong and solid, shock relief and decompression, to protect your equipment well.
• 【Easy Travel】Breathable air-mesh straps and ergonomic well-padded back keep you cool and comfortable; Adjustable chest belt keeps the straps tight on you shoulders to reduce weight; Also can easy mounting onto a draw-bar box through the back part when travel.
• 【More Storage Pockets】Special internal pockets designed for storing photographic spare parts, such as filters, adapter rings, etc. There is also pockets for card that is made of elastic band; Side pockets can carry tripod and water bottle.
Frequently Bought Together
Good backpack
Got exactly what it said in the description! For all my lens and everything and there's a lot of space for expansion! Great starter backpack that can for all the stuff I currently take
Great Job K&F!
I can only describe this value for money with this bag as absolutely outrageous, the sheer size of it is colossal and that is perfect for so many reasons. I carry a mid-sized DSLR, DJI Mavic PRO, lots of accessories, 1 rain covers, numerous filters and brackets, Combo tripod/monopod , along with my 15" laptop and the charger and this bag fits it all in with room for more gear! I'm Blown away by this bag and for the price there really isn't anything like it on the market, trust me I've done my research before buying it!
Awesome value of a bag.
Terrific bag. Solid build quality and i love the ability to customize the interior. The side pocket is great for a water bottle and the other side is great four firing a tripod.Laptop pocket is nice and will fit most laptops up to 15". My Acer Nitro with a very large bezzle did not fit however.
Lot of space.
Before buying this bag, i was using small sling backpack for my camera gear. As my lens collection increased, i needed a bag with little more storage. After looking through number of bags on Amazon i came across this bag.This bag has a lot of storage. It comes with more than enough velcro dividers. Compartment size can be easily customized and elastic straps help to keep everything in place. There are also zip pockets for smaller item's. The bag materials seems water resistant but, it includes a rain cover fir bad weather.On the outside, it has pockets on sides for small tripod. It can hold my lenovo thinkpad easily. There is more than enough padding for safety of the gear.Looking at the high quality, i believe this bag will last a long time.
Large capacity backpack with refined details contained in a casual sort of look
This backpack is terrific. It has a large capacity and lots of zippered spots, room for a laptop, and lots of velcro dividers for the main compartment. It could really be used for any purpose, not just photography.On the outside, it's made of a nice gray canvas sort of material that is water resistant. It looks and feels great, and I love the front black leather zip pouch and the K&F Concept logo etched in on the vertical black leather accent--- very subtle and classy looking, really puts the whole backpack look together.You can unzip nearly the whole front side of the main compartment, which is really nice and makes loading and unloading a breeze. The backside of the backpack is where the zippered compartment for your laptop or tablet or whatever is. It fits my 15.6" laptop with ease, but I don't think you could fit much larger in there. Like the main compartment, it's padded with the sort of nylon liner material. The liner is a kind of slate blue and again, barely visible, the K&F Concept logo is repeated all over it as a pattern. You can't even tell unless you're looking at it closely with the light shining on it the right way. I love subtle details like this, it really shows the thoughtfulness and effort put into the design.The main compartment can fit a boatload though. I'm fairly new to photography so I still have a lot of room to grow to add filters, and lenses, and whatnot, but for now it holds my camera, a gimbal stabilizer, a lens, my little phone lens kit, a small flexible tripod, and some other little knick-knacks, and I still have lots of room.The arm straps on the backpack are very padded with a very comfortable mesh material. The backpack also has a side pouch on either side for quick access things--- like a tripod or a water bottle or whatever. It holds my rather large 62" tripod fine.Oh, a pleasant surprise, it also comes with a nice little nylon-like rain cover to help protect your gear from a sudden downpour.While it is such a great backpack, and the details and look and feel are very polished, it still does seem a little pricey to me, but when you want the best I guess it's going to cost you. It's definitely an end-game photography backpack, I think, and I definitely recommend it.