The Only Light Stand You Ever Need
What you need when shooting is not just a camera or lens. I also work as a business travel photographer, so a light stand is one of must accessories for me. Personally i will choose a light and compact one.
A light stand that can balance the weight and stability is a perfect solution for me. I found one from the K & F concept that fits my demand, so in the article i will talk about this light stand and compared it with thone I used before.
Introduction of K & F concept light stand!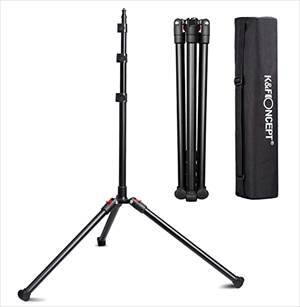 K & F Concept Light Stand Camera Tripod Bottom 55 ~ 200cm Quick Shoe Lever Lock
The longest: 200cm
1 piece: 891g
Load capacity: 4 kg
There several light stands in K&F Concept, among them, I chose the above one. The reason is compactness and light weight .
This light stand combines compactness and light weight, making it the most balanced light stand.
Main Specs:
[Exclusive tripod base] The tripod base is easily folded, making it easy to carry and store. The foldable length, with a maximum height of 78.75 inches and a length of 50cm, is a perfect all-purpose stand for use around the studio.
[Durable and stable] The light stand is made of aluminum alloy, the diameter of the lamp stand is 26mm, and it is strong for heavy work.
[Quick Release Flip Lock] The buckle design makes the telescopic pole more flexible and smoother than conventional lamp holders. This greatly improves operability.
[Flexible and convenient] folded height: 2.26FT; maximum weight: 6.5FT; minimum height: 1.6FT; maximum loading capacity: 8.8 pounds; net weight: 1.95 pounds. Lightweight design that can be easily carried from one place to another. Adjustable for many lighting situations.
[Compatibility] You can attach multiple different shooting devices to this tripod stand, such as the 1/4 inch screw tip of the stem, reflector, soft box, different lights, umbrella, and background.
Comparison
I will compare K&F light stand with the FOSOTO light stand.
Let's check the details comparison between 2 light stands.
Left: K & F concept light stand Right: FOSOTO light stand
I introduced the difference between the two light stands with photos.
Next, I compared the weight of the two light stands.
K & F Concept light stand is about 300g heavier. However, as you can see from the beginning, the light stand of K & F Concept is superior in terms of rigidity and stability, such as the thickness of the legs of the light stand.
Of course, in terms of compactness, it can be mounted on the camera back, although it can be transferred to a FOSOTO light stand.
It will look like this when it is posted on the camera back of the K & F concept.
If you put it in the case that comes with the light stand, it can no longer be fixed to the camera back.
Therefore, it is fixed to the back so that it cannot be put in the case.
Final Thoughts:
I have summarized the appeal of the K & F concept light stand by comparing it with a FOSOTO light stand that I own.
FOSOTO light stands are characterized by their pursuit of lightness and compactness. There is no lighter and more compact model than this light stand! I think.
However, if I turned over, I felt it is unstable ... So, while looking for a lightweight and compact light stand, I will choose K & F concept light stand instead.
K&F light stand offers a more stable and easy experience.
There is almost no price difference, so you may be able to choose the one that suits your shooting style.
You can check other people's evaluation comments on the following site!