77mm Filter Set (ND2, ND4, ND8)
Free shipping to eligible country
Brand:

K&F Concept

Buy K&F Concept 77mm filter set (nd2, nd4, nd8) online, worldwide free shipping and 30 days return guarantee.

SKU0046

Availability:

In Stock

15.99

https://www.kentfaith.com/SKU0046_77mm-filter-set-nd2-nd4-nd8-cleaning-cloth-pouch
Buy 2+ items get
10% off
!
Features
• Made of import optics resin,top level of transmittance. Metal sealing ring instead of the plastic sealing ring, better tightness, avoids fall or loose
• ND filters (Neutral Density) reduce the amount of light reaching the film without affecting the color. Can be used to enable slower shutter speeds.
• Extinction paint seiko manufacturing,To achieve the testing sights on military standard
• Compatible with Canon EOS(6D 5D Mark III) Rebel (T4i T3 T3i T2i T1i XSi XS) DSLR Cameras. EF 24-105mm f/4 L IS USM Zoom Lens;Compatible with Nikon (D70 D90 D7100 D3200 D7000 D5100)DSLR Camera. 28-300mm f/3.5-5.6G ED VR II AF-S Zoom Lens;Compatible with Sigma 17-50 70-200 80-400;Compatible with Sony 11-18 24-70 70-200 70-400 16-35
• Brand of K&F Concept manufactured by a professional team.
Frequently Bought Together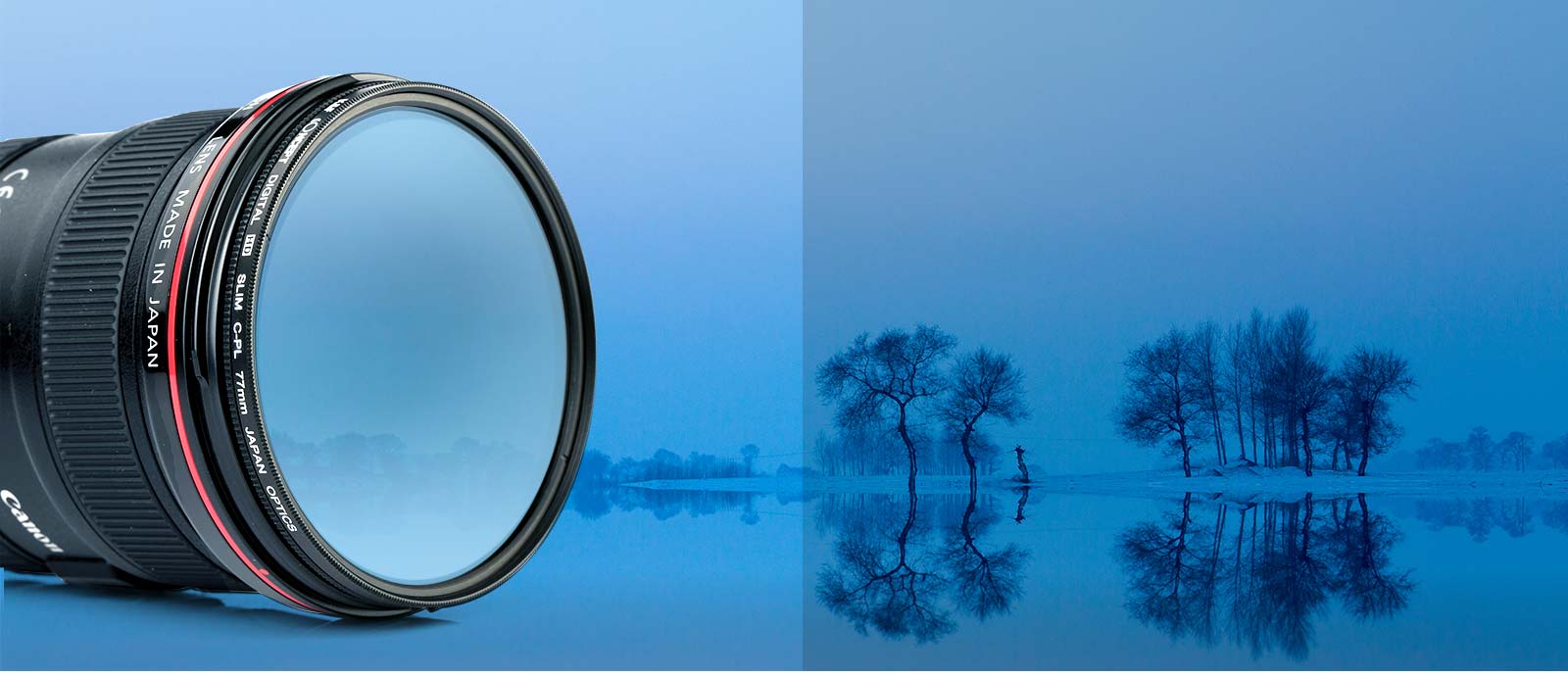 Circular Polarizing CPL Filter
Can be used for any type of photography. Polarizing filters are typically circular, allowing for easy control of the effect of polarization.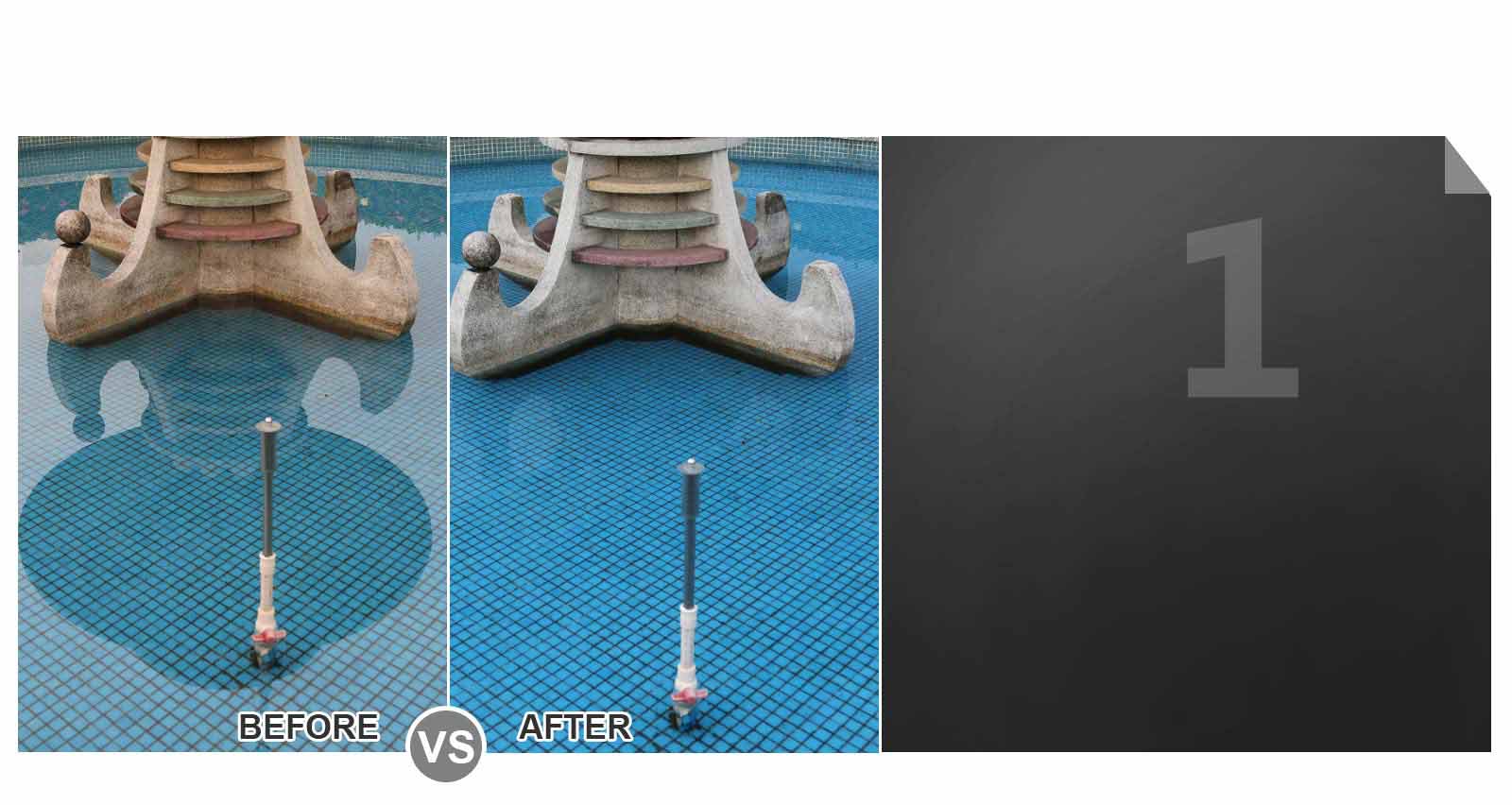 ENHANCING COLORS AND INCREASING CONTRAST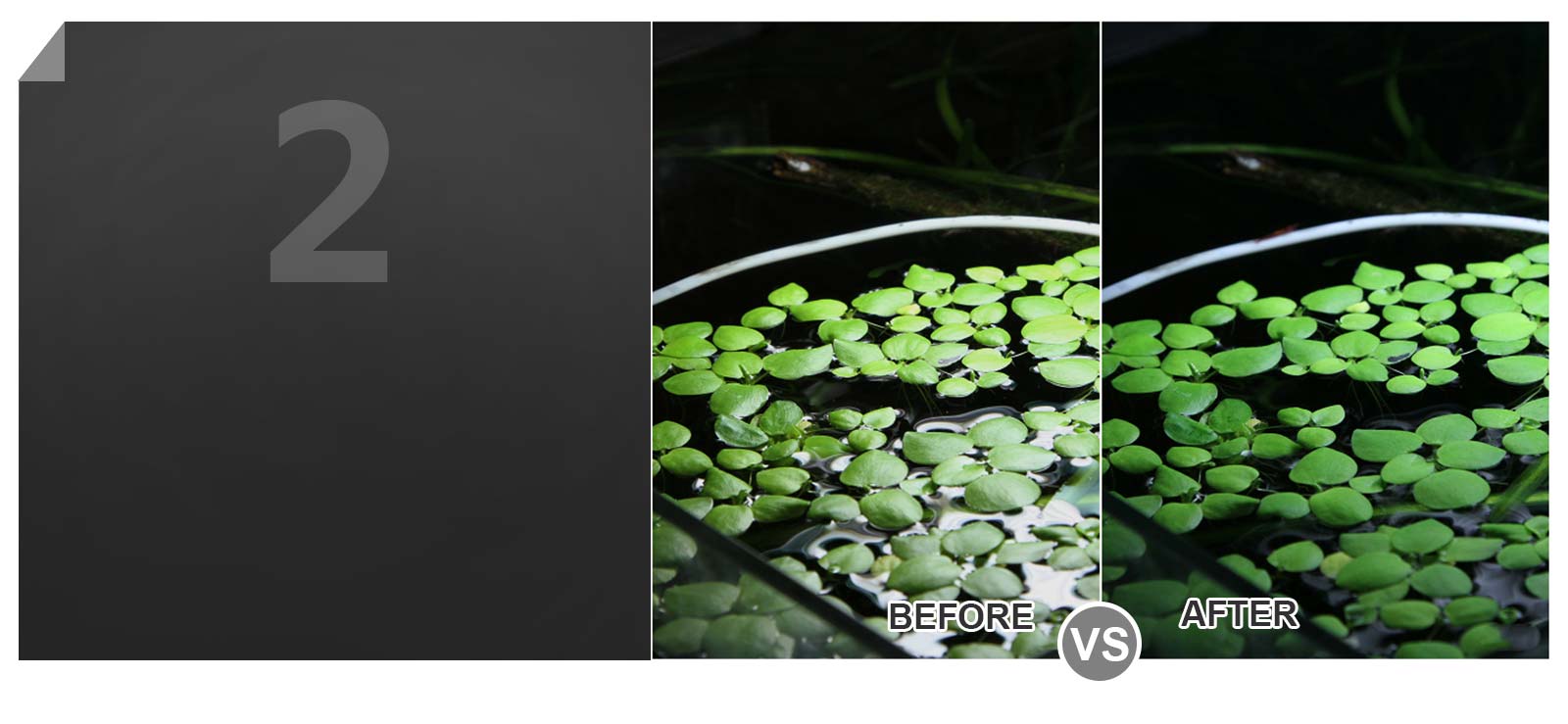 DRAMATICALLY REDUCING REFLECTIONS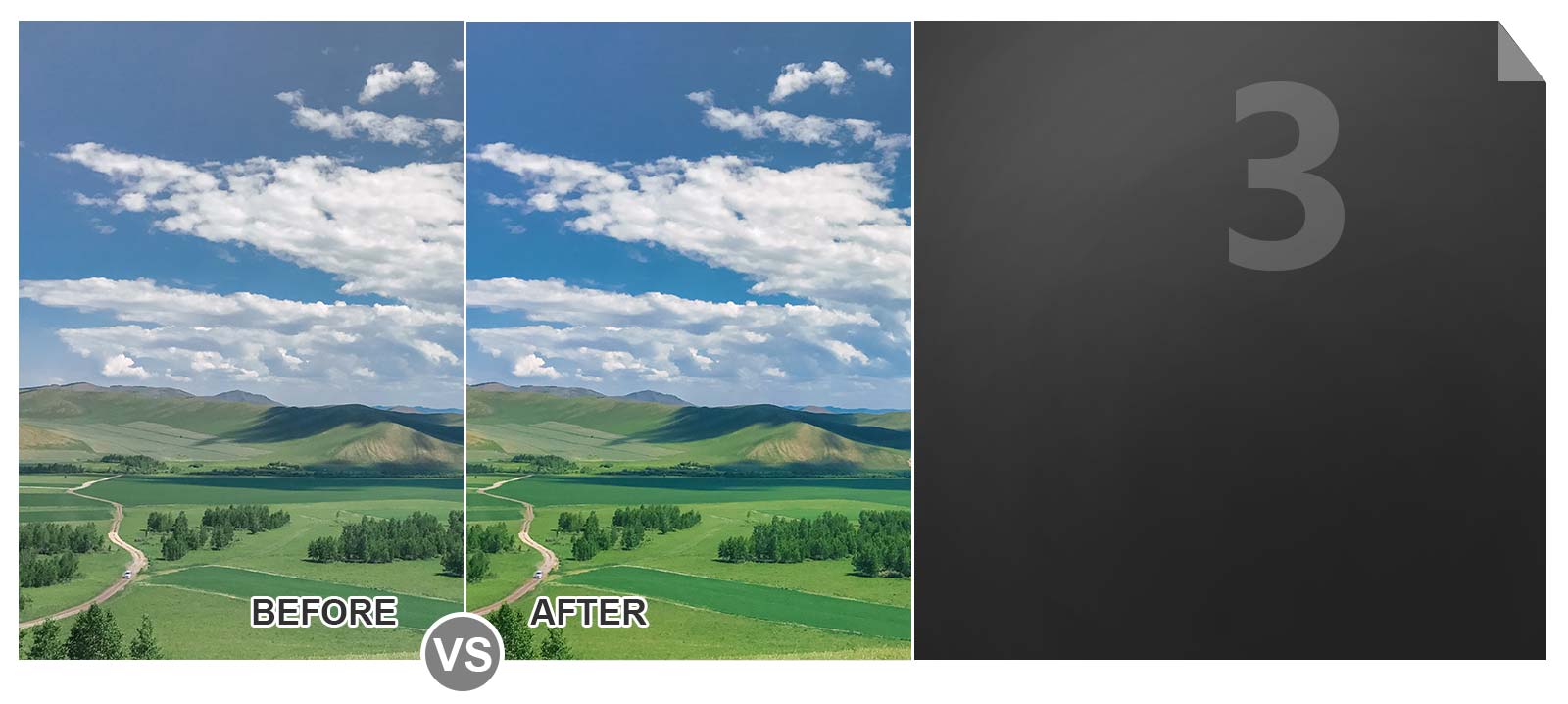 FILTERS OUT POLARIZED LIGHT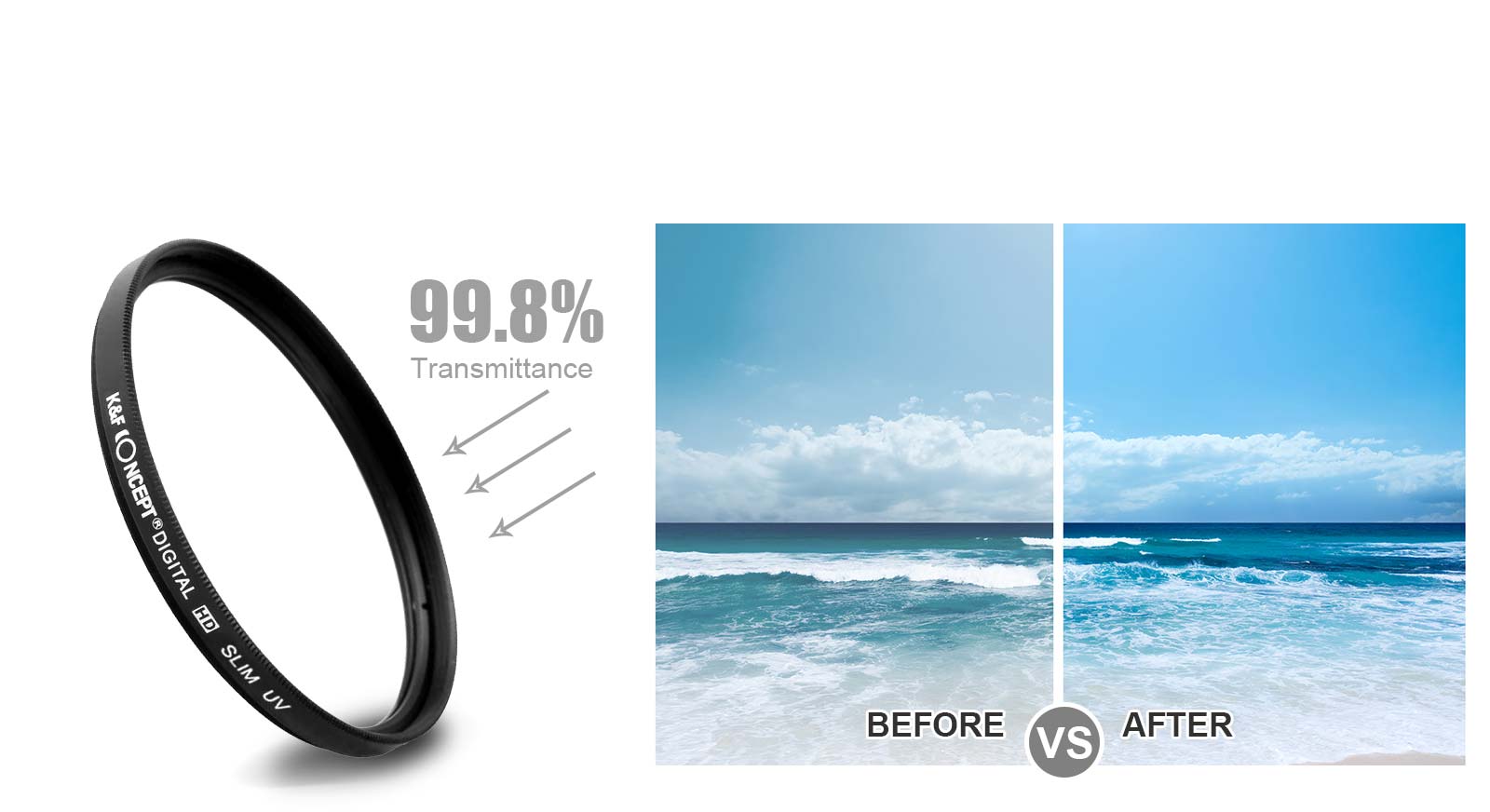 UV FILTER
High quality UV filters can be permanently mounted on lenses with a minimum impact on image quality.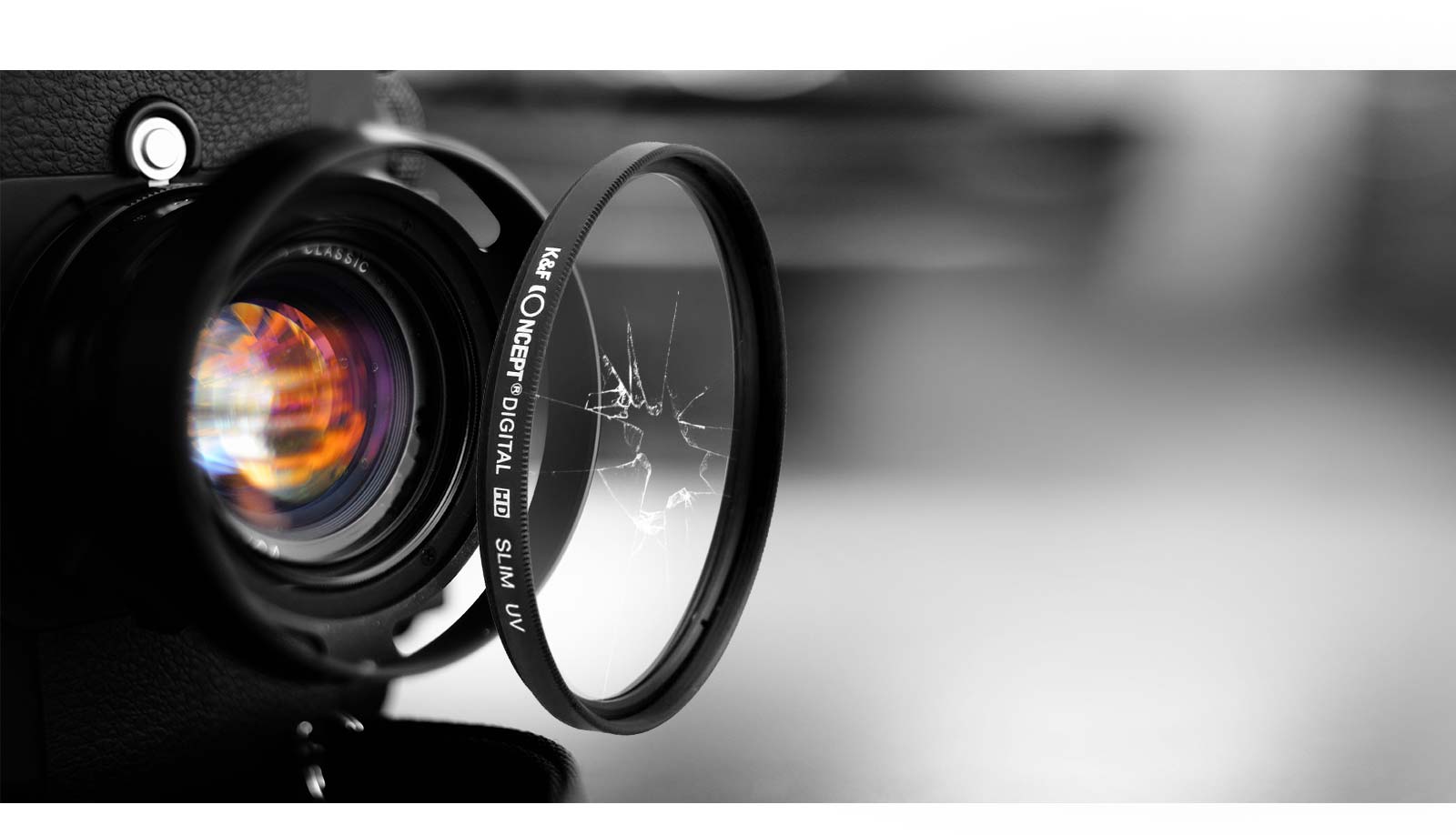 LENS PROTECTION
Protects the front element of a lens from dust, dirt, moisture and potential scratches.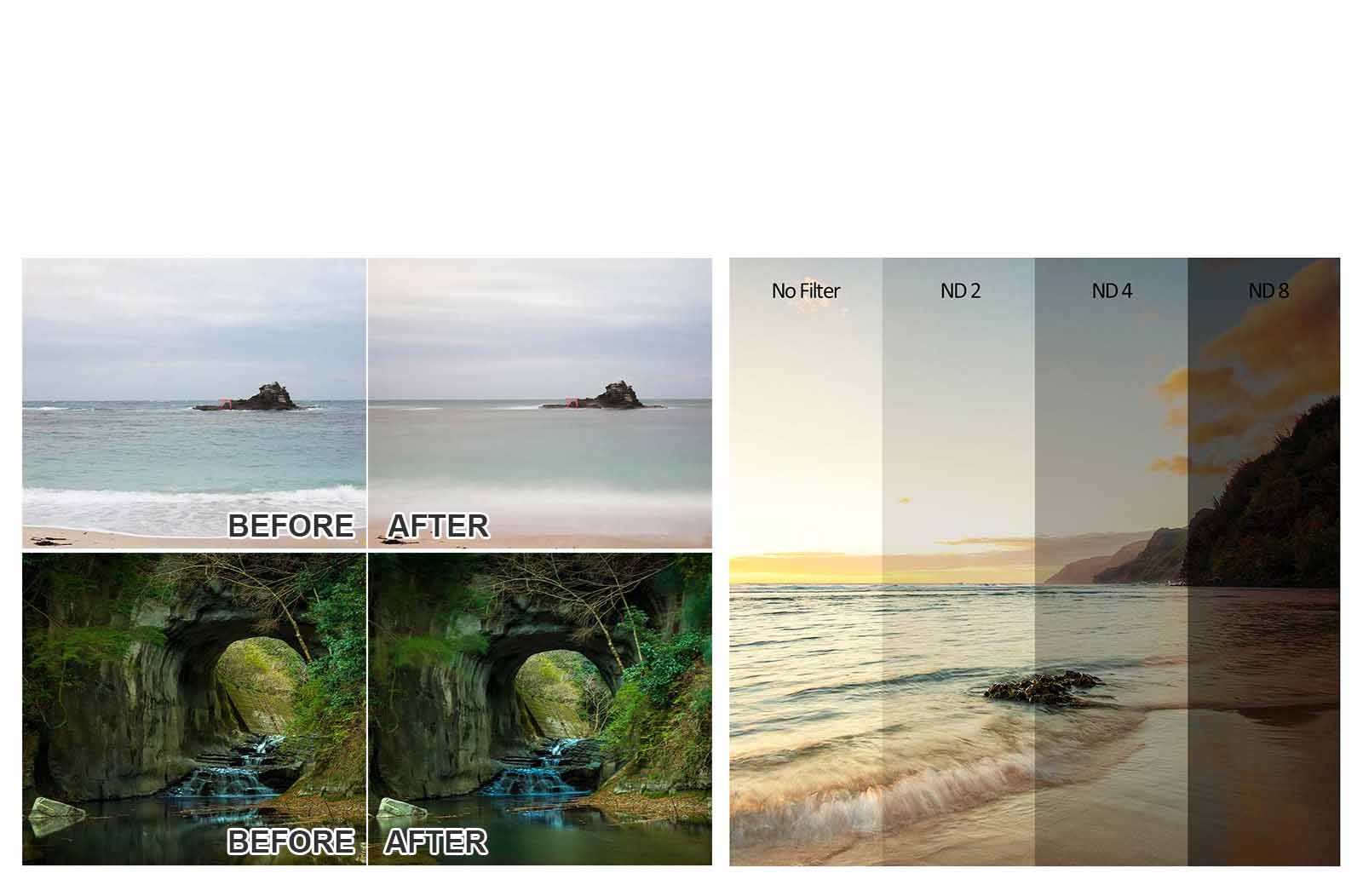 ND FILTER
Reduces the amount of light entering the lens, thus decreasing camera shutter speed. Useful for situations where motion blur needs to be created (rivers, waterfalls, moving people) or large apertures must be used with flash to avoid overexposure.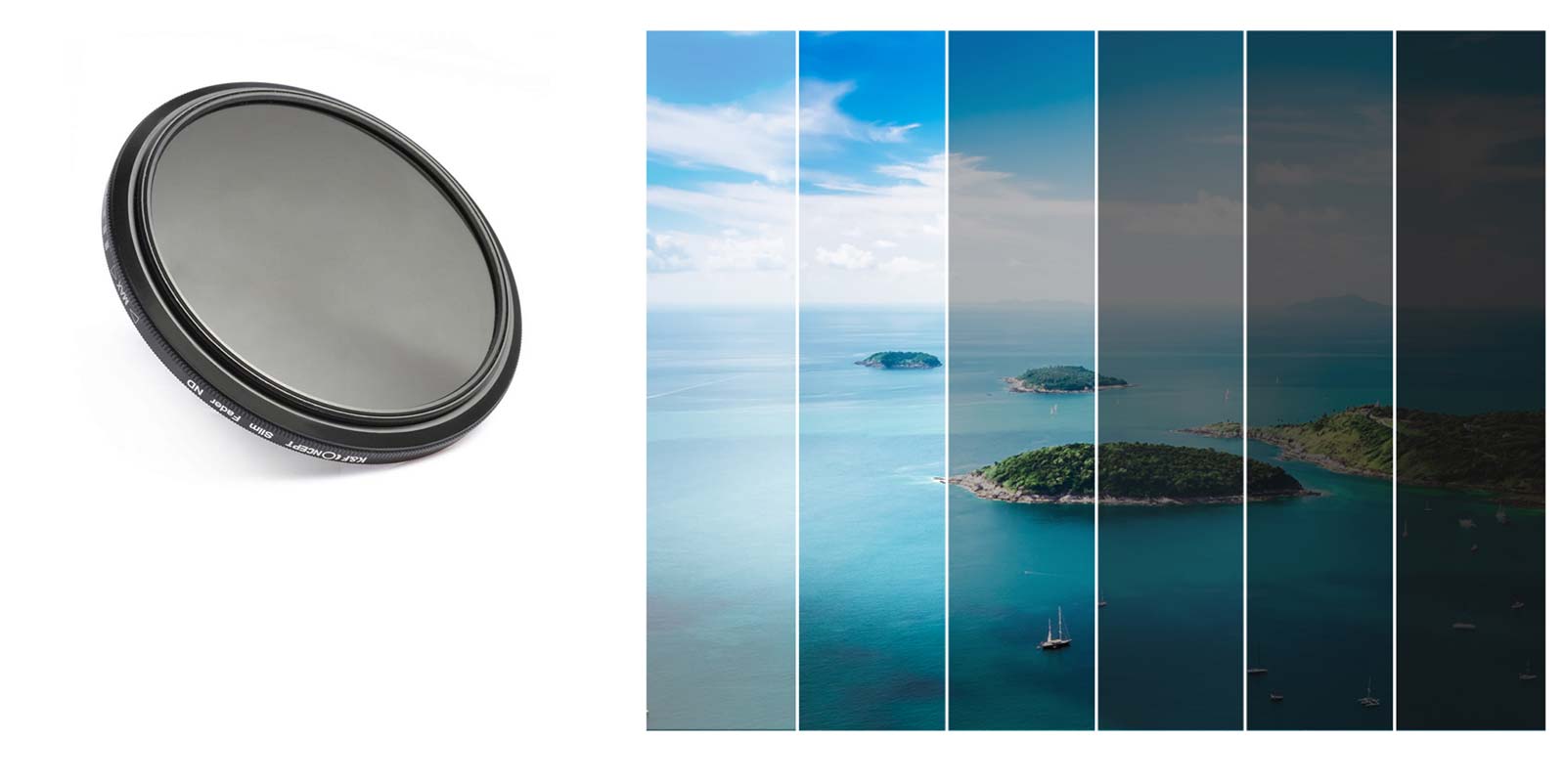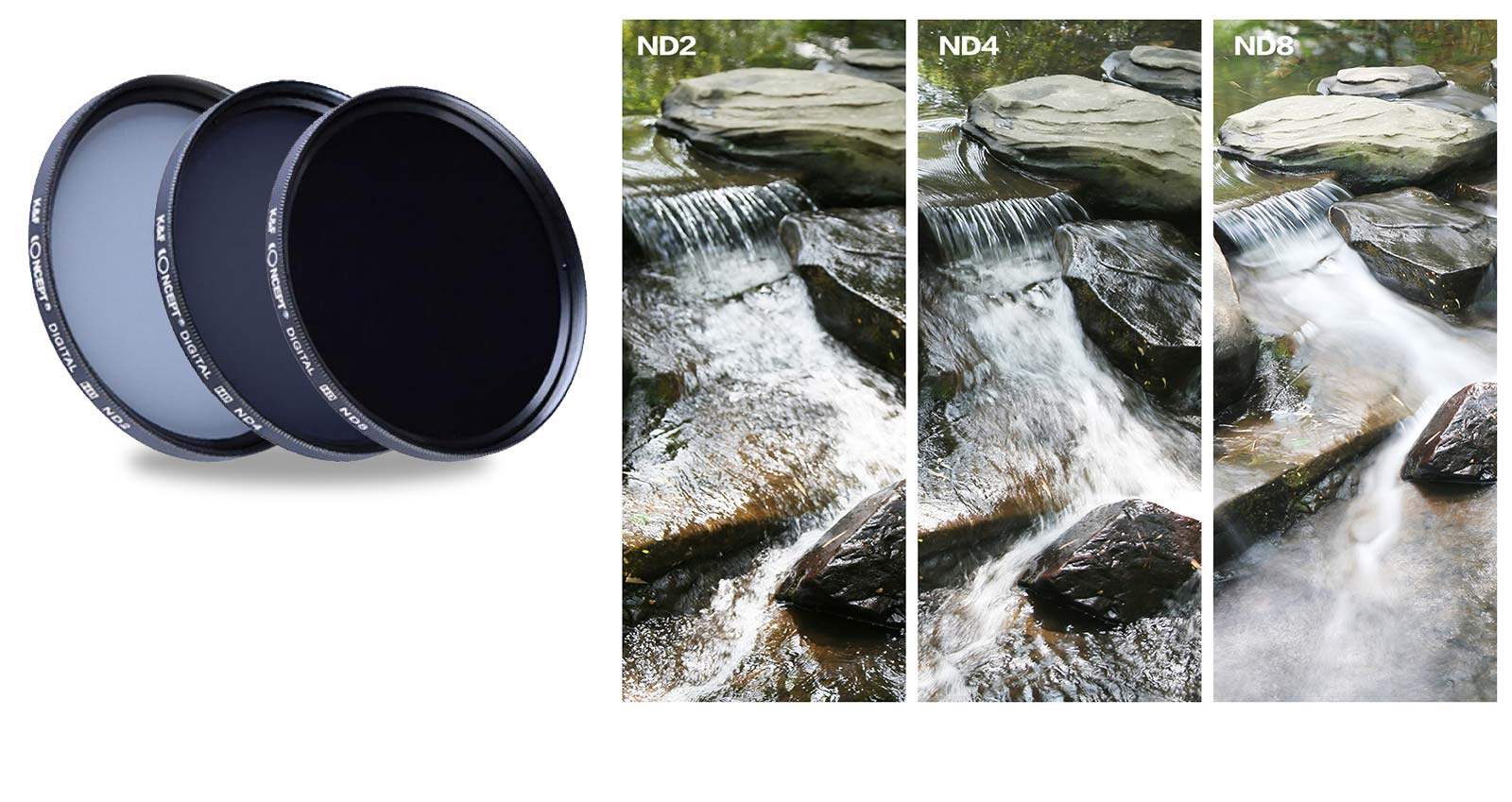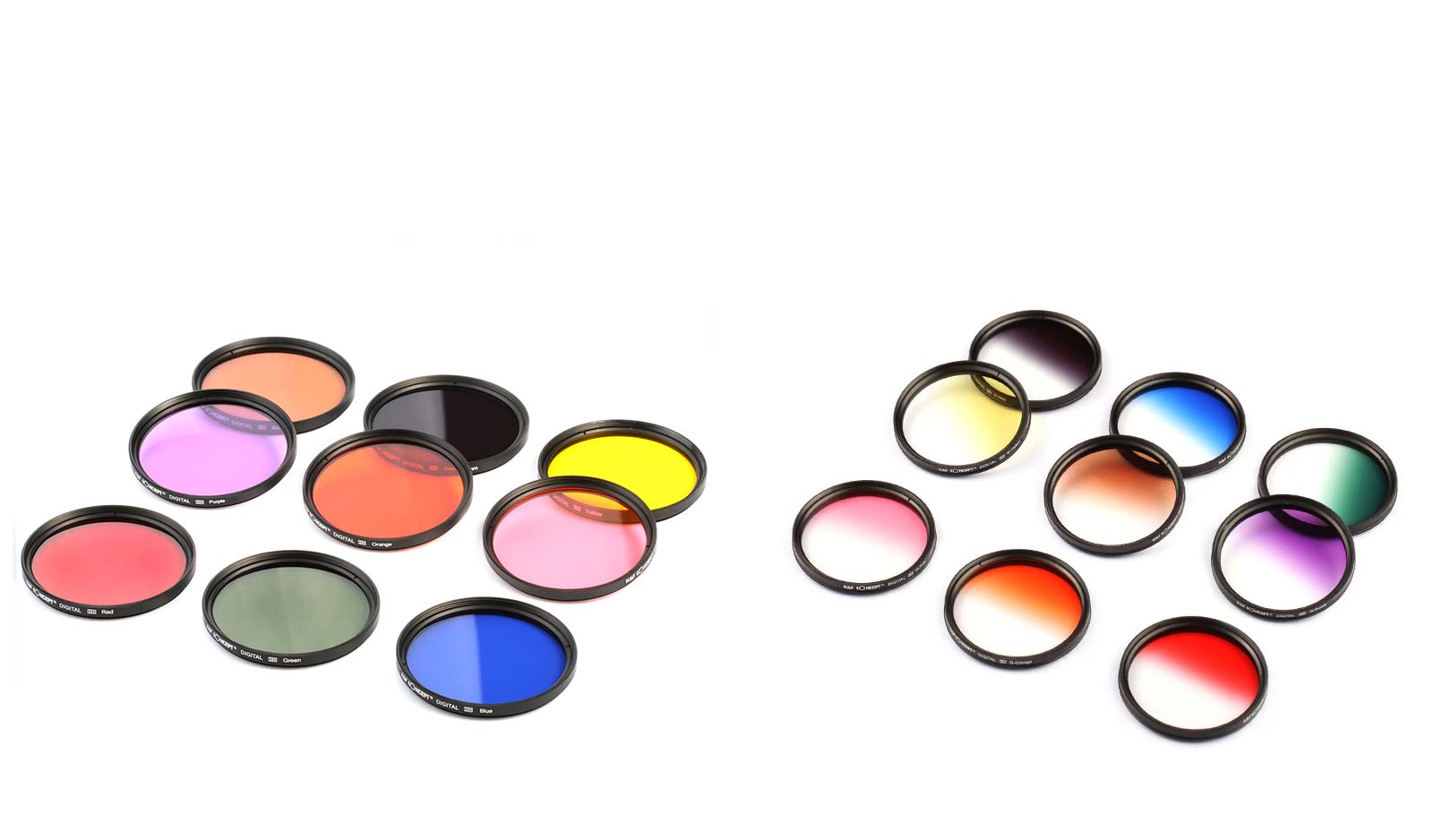 COLOR FILTER SET
Corrects colors, resulting in a change in camera white balance. Some color filters can subtract colors, blocking one type of color and allowing other colors through. These types of filters were popular for film. They are rarely used in digital photography, since their effects can be easily applied in post-processing.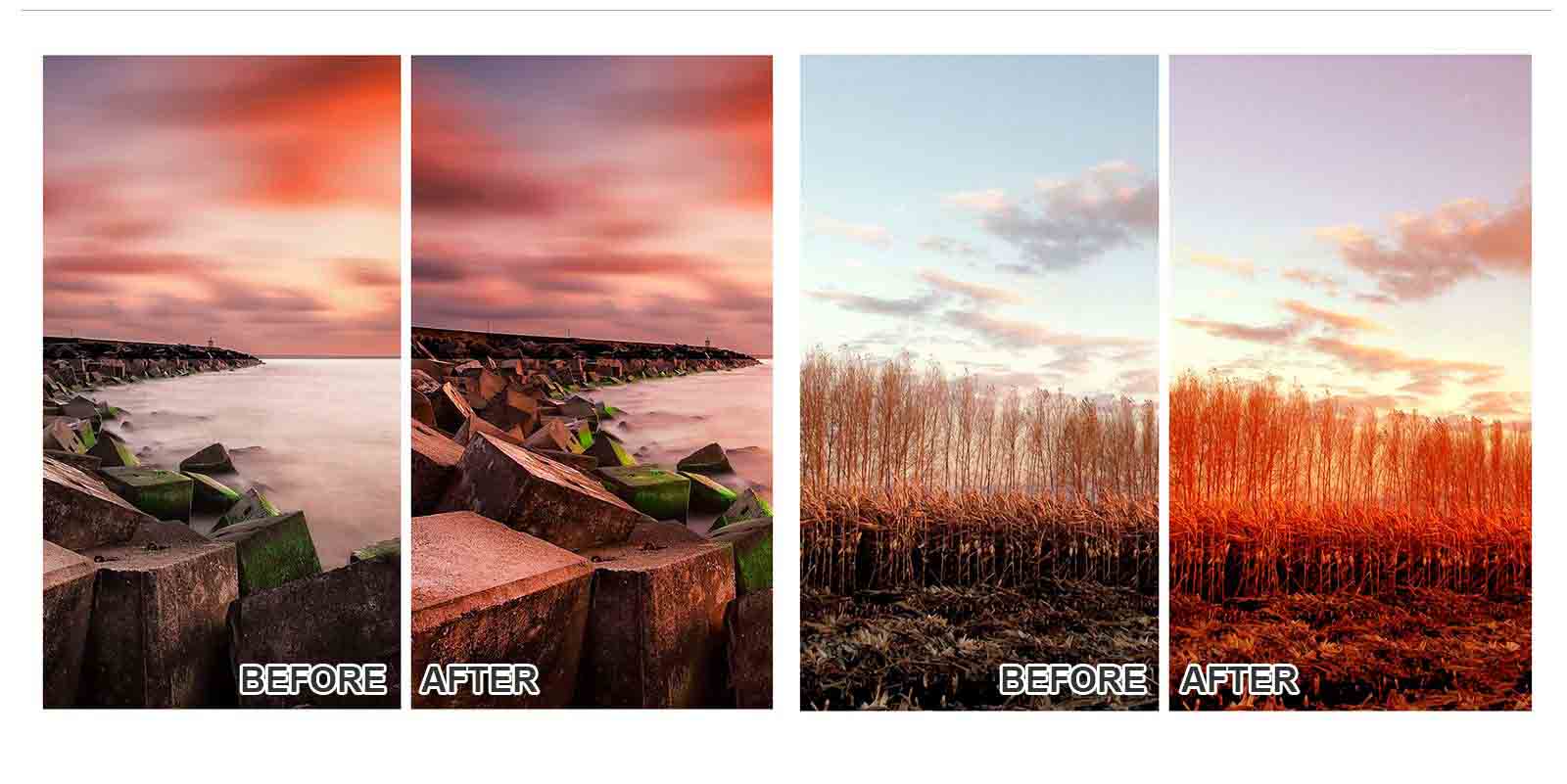 Graduated red
Graduated orange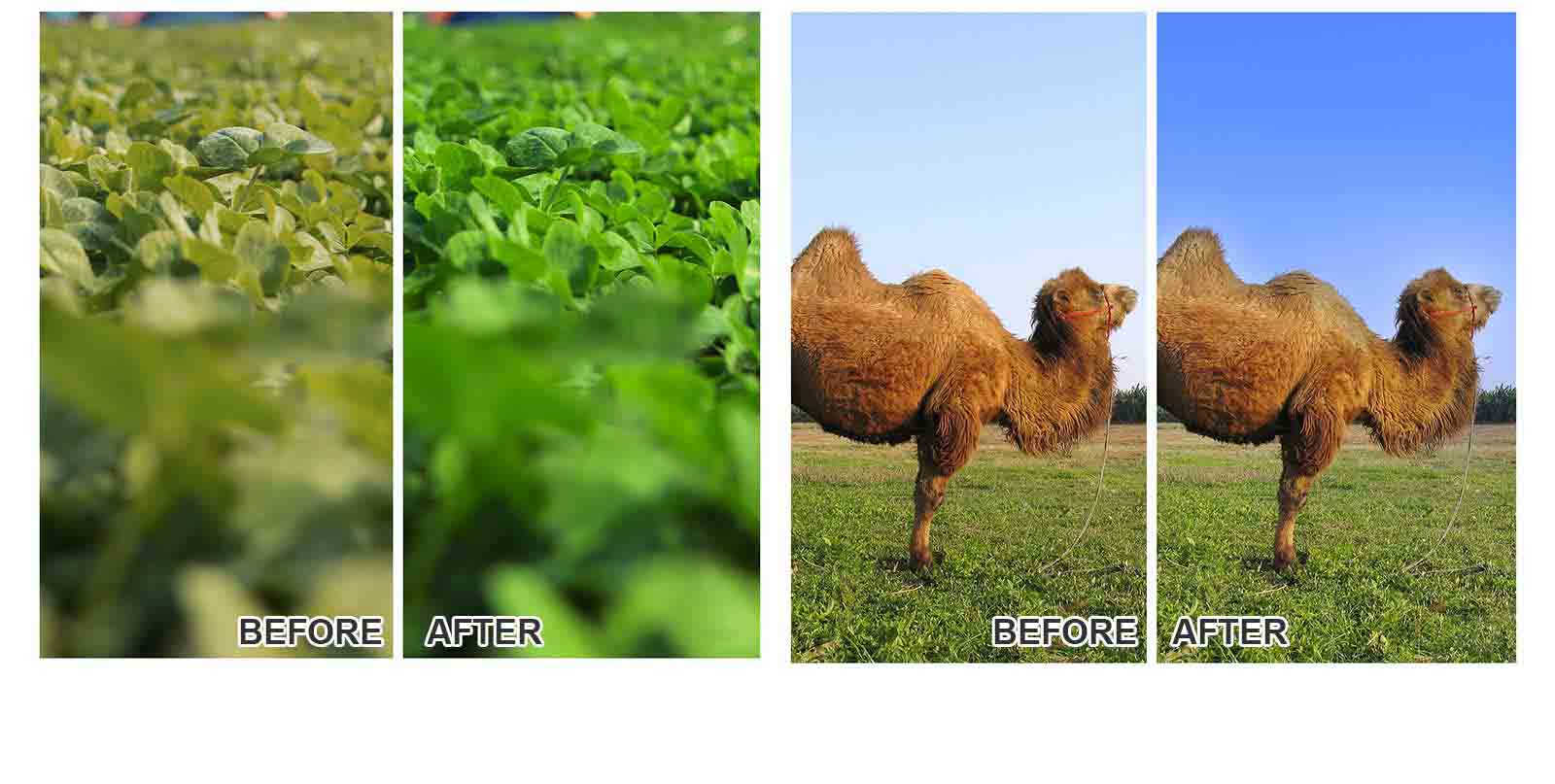 Graduated green
Graduated blue
Great value
Many people will tell you that cheap filters are useless and that to get successful long exposure photographs you need to invest in high cost filters such as the Lee system. This is simply not true, this set of bargain ND filters works very well. Like all ND filters with a digital SLR you will get a slight colour cast which increases the longer the exposure. This is caused by infra red which digital cameras are sensitive to. However this set cast no stronger a cast than any more expensive ND filters I have used. They are great value. They are also slim enough to allow you to fit two to the popular Sigma 10-20mm UWA lens without intruding on the frame.
100% recommended
Great quality, good price, fast delivery, arrived on time, 100% recommended
Good Quality at a Good Price
For the price, these are good quality filters. Well pleased.
As expected.
I ordered, they arrived and they work, brilliant.
Great value filters
Comes in compact wallet.
These images belong to K&F Concept end users.
| Image | Lens | Filter Size (mm) |
| --- | --- | --- |
| | 135mm F2.0 ED UMC | 77 |
| | 3M-5A-MC 500mm f/ 8 | 77 |
| | 3M-5A-MC 500mm f/ 8 | 77 |
| | Angenieux 28-70mm f/ 2.6 | 77 |
| | Bower 24mm f/ 1.4 | 77 |
| | Canon EF 100-400mm f/ 4.5-5.6 L IS II USM | 77 |
| | Canon EF 100-400mm f/ 4.5-5.6 L IS USM | 77 |
| | Canon EF 16-35mm f/ 2.8 L USM | 77 |
| | Canon EF 16-35mm f/ 4 L IS USM | 77 |
| | Canon EF 17-35mm f/ 2.8 L USM | 77 |