67mm ND8 Magnetic Lens Filter, HD Waterproof Scratch-Resistant Anti-Reflection, Nano-X Series
Free shipping to eligible country
Free Shipping. 30 Day No Reason Return. K&F Concept magnetic lens filter features HD optical glass, waterproof, scratch-resistant, anti-reflection, both attachment ring & magnetic metal cover included.

SKU.1723

SKU:

SKU.1723

58.99

https://www.kentfaith.com/SKU.1723_67mm-nano-x-nd8-magnetic-filter-high-definition-coated-with-waterproof-scratch-resistant-anti-reflection-green-film-with-magnetic-attachment-ring-and-magnetic-metal-cover
Description
* 1. Quick installation and removal, magnetic filter can be installed in one second
* 2. No color cast, three gears dimming (0.9)
* 3. 16-layer nano-coating, with anti-reflection green film, which can effectively reduce the reflection of the filter surface while filtering ultraviolet rays, greatly improving the light transmittance and balancing the color;
* 4. After the glass is optically polished, a high-tech film is plated on the surface. "Moldproof", "Waterproof", "Scratch-proof" and "Greasy-proof". While having the characteristics of hard scratching, it will not have any impact on the image quality, even if it is contaminated with water droplets or oil, it can be easily removed;
* 5. Equipped with aerospace-grade aluminum alloy material magnetic lens cover, both magnetic and threaded, you can install the lens, two-in-one function. Both attachment ring & magnetic metal cover included.
Shipping
Free shipping to eligible country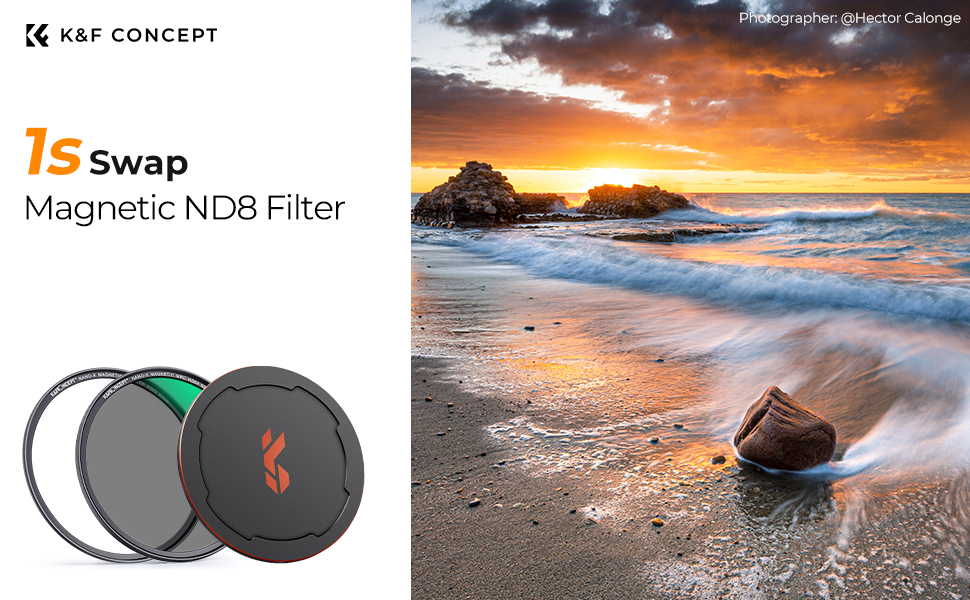 K&F Concept Magnetic ND8 Filter with Alloy Cap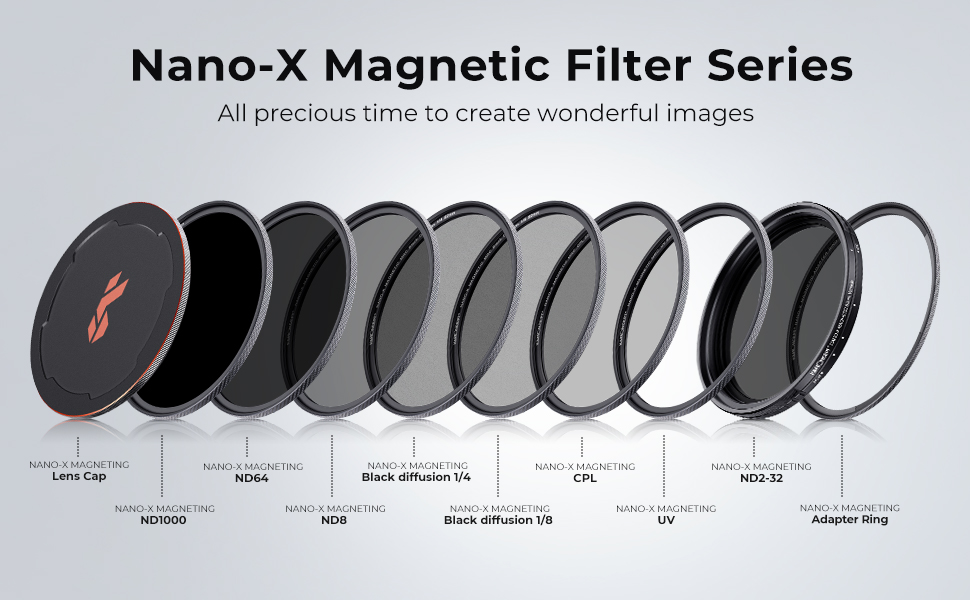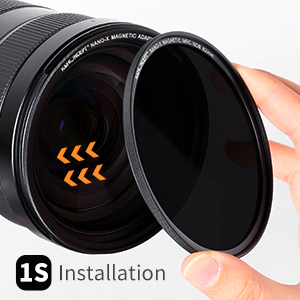 New way of photography!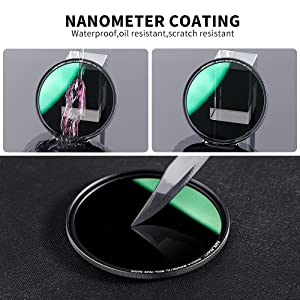 nano coating get better effect
Increased friction design - easy access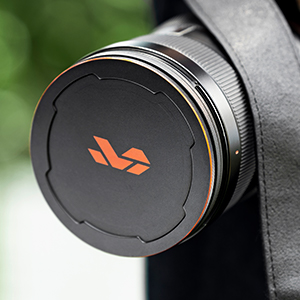 Magnetic cap included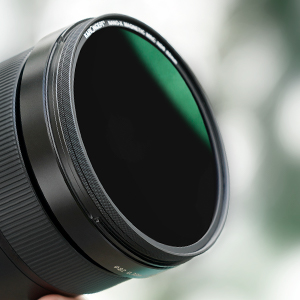 ND function- Reduce the light intake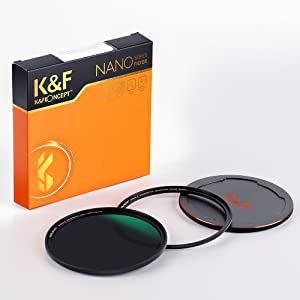 Filter set - for everyday use

Magnetic ND1000 Filters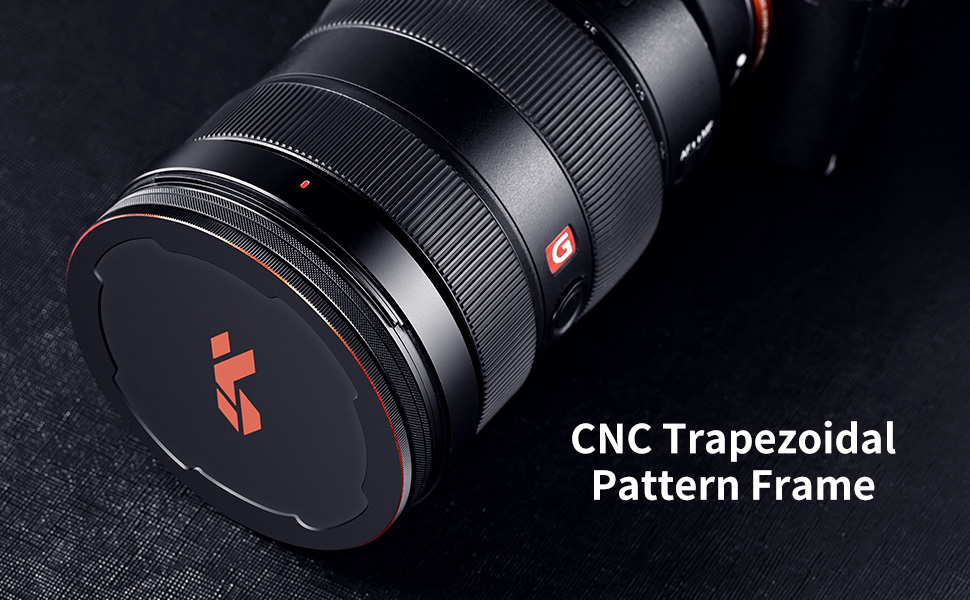 Rating

20 reviews.

21 reviews.

2 reviews.

0 reviews.

10 reviews.

22 reviews.
Price

$79.99

$58.99

$79.99

$55.99

$65.99
$60.99

$99.99

$71.99

$129.99

$92.99

Model
SKU.1723
SKU.1741
SKU.1759
SKU.1705
SKU.1821
SKU.1624

Series

Nano-X series
Nano-X series
Nano-X series
Nano-X series
Nano-X series
Nano-X series

Recommended Scenes

Video Shooting/Landscape Photograhy
Video Shooting/Landscape Photograhy
Landscape Photography
Landscape Photography
Video Shooting/Landscape Photograhy
All Scenes

Function

1 Second Switch/Light reduction effect
1 Second Switch/Light reduction effect
1 Second Switch/Light reduction effect
1 Second Switch/Eliminate stray light/Improve colo
1 Second Switch/Soft highlight
1 Second Switch/Protect Lens/Enhance Color & C

Filter Material

Japanese AGC Glass
Japanese AGC Glass
Japanese AGC Glass
Japanese AGC Glass
Japanese AGC Glass
Japanese AGC Glass

Multi-Coating

28 layers
28 layers
28 layers
28 layers
28 layers
28 layers

Waterproof

√
√
√
√
√
√

scratch-resistant

√
√
√
√
√
√

HD

√
√
√
√
√
√

Transmittance

0.125
0.0156
0.5
0.5
0.84

Size

67mm

Antireflection

√

Filter Thickness

5.5mm

Ring Material

Aviation aluminum alloy

Reflectivity

0.2%
Great ND Filter that doesn't break the Bank
I'm a Professional and I've had 100's of lens filters over the span of a 30 year career. K&F ND Filter is as good as my highend, high priced glass at a very affordable price. As many are buying cameras that shoot both stills and video and you're looking for an ND but aren't sure what to buy... you will be very happy with K&F ND Filters.

I strongly Recommend this Product
29/10/2021
highly recommend
This is the real deal in terms of money and quality !!! Great design, look and feel. Comes with a soft pouch which is nice ,i use this nd on my miami trip, it works fine , this is just a raw files.
24/10/2021
Great Buy!
Very happy with this purchase. I love the fact that it is magnetic giving me more Quick installation and removal. It ses to be made of good quality and as the K&F Concept ND filter I bought, it is definitely great value for the quality and your wallet if you are looking for a great mid-ish grade filter. Happy purchaser :)
08/10/2021
Extremely Satisfied
Very well made. Fast shipping.If this is what K&F filters are all like, this won't be my last purchase from them!
15/11/2021
A great budget-friendly option for filters
A few years ago, I started beefing up my camera equipment. I had a Canon 5D Mark IV camera body, but didn't have great glass. So, I started my gear journey by upgrading my lenses. I now have four amazing lenses. After I finalized my collection of lenses, I started looking at accessories I needed to accompany those lenses and came up with a short list of items that included high-quality filters. The problem I had was that I needed to be able have filters that works with all my lenses. Buying filters for each one of your lenses can get really cost prohibitive. K&F Concept has a great option for this type of set-up so I gave it a try.
14/11/2021
Do You Know How Your K&F Concept Filters be Produced? | One-day Tour in Production Line
How to check your lens size
Filter
Series
Nano-X series
Recommended Scenes
Video Shooting/Landscape Photograhy
Function
1 Second Switch/Light reduction effect
Filter Material
Japanese AGC Glass
Multi-Coating
28 layers
Waterproof
√
scratch-resistant
√
HD
√
Transmittance
0.125