77mm MCUV+CPL+ND1000+Adapter Ring Magnetic 4 in 1 Lens Filter Kit Waterproof Scratch-Resistant Anti-Reflection with Filter Pouch
Buy 2 get 5% off, Buy 3 get 10% off, buy 6 get 20% off
Free shipping to eligible country
Free Shipping. 30 Day No Reason Return. K&F magnetic filters feature optical glass, high definition, waterproof, scratch-resistant, sturdy structure.

SKU.1626

SKU:

SKU.1626

106.99

https://www.kentfaith.com/SKU.1626_kf-77mm-magnetic-filter-mcuv-cpl-nd1000-waterproof-scratch-resistant-anti-reflection-green-film-with-magnetic-attachment-ring-and-case-bag
Description
* 【Kit Includes】This filter kit includes MCUV+CPL+Neutral Denstiy ND1000+ Magnetic Adapter Ring + Filter Pouch.
* 【1 Second Swap & Install】 This magnetic lens filter kit could finish installed in less than one second compared with conventional thread filter. Avoided frozen hands in cold weather and never miss any wonderful moment. Combination Way 1:Magnetic Adapter Ring + CPL+ ND1000. Combination Way 2; MCUV+CPL+ND1000.
* 【28 Multi-Layer Coatings】 All filters are made of import AGC High Definition Premium Optical glass, double-side multicoated, no chromatic aberration (color shift) hydrophobic ,scratch resistant , oil proof. Provides you a perfect photography experience, protecting your lens from all round.
* 【Ultra Slim Frame】1.9mm-3.5mm ultra slim frame ensures no vignetting and dark corner on 16mm wide-angle focal length. CNC non-slip system frame , easy for install and remove.
* 【Filters Function】Circular Polarizer (CPL) filter helps reduces glare from non-metallic surface enhance color saturation & contrast. ND1000 filter. ND1000 (10 f-stops) filter helps shoot stunning mesmerizing long exposure. MCUV protection filter with 99.6% transmittance, effectively reduces the reflection came from both the ground and filter itself, ensuring the true color of photos and protect lenses.
Shipping
Free shipping to eligible country
Sale
Buy 2 get 5% off, Buy 3 get 10% off, buy 6 get 20% off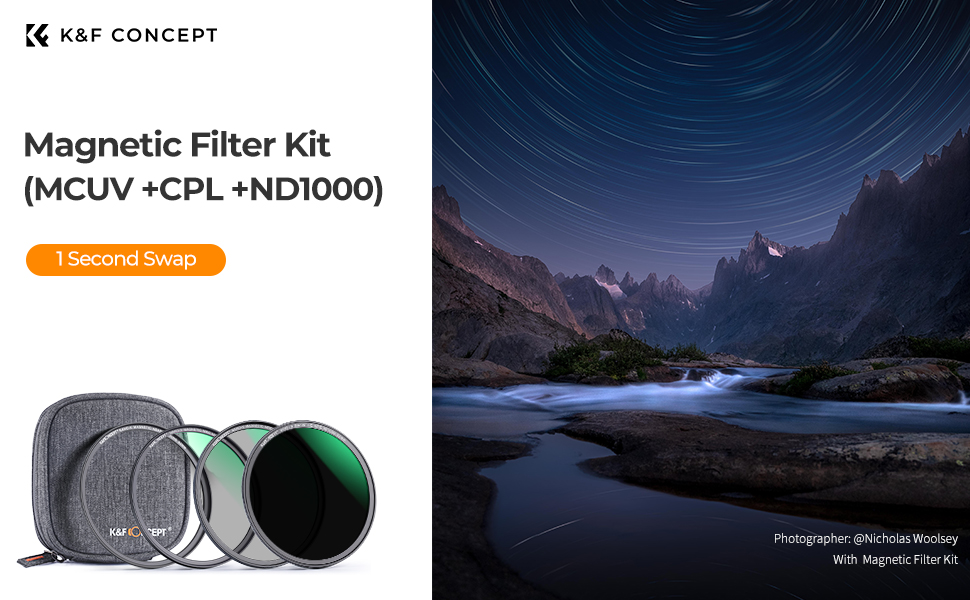 K&F Concept 4-Pack Magnetic ND/CPL/UV / ND1000 Filter Adapter Ring Kit with 28 Multi-Layer Coatings for Camera Lens
How does it help?
---
Now switch your filters in the seconds with K&F Concept Magnetic Quick-Swap Kit.
---
As a photographer, you know all about the waiting game: those times when utmost patience is required to capture that once-in-a-lifetime image. Every second is important to you, meanwhile, your heart is racing because you know you have just milliseconds to win your race against time or tide.
---
K&F Concept has announced a magnetic camera filter kit system to reduce the time it takes to swap out lens filters literally in seconds, a 1second swap, never missing any wonderful moment.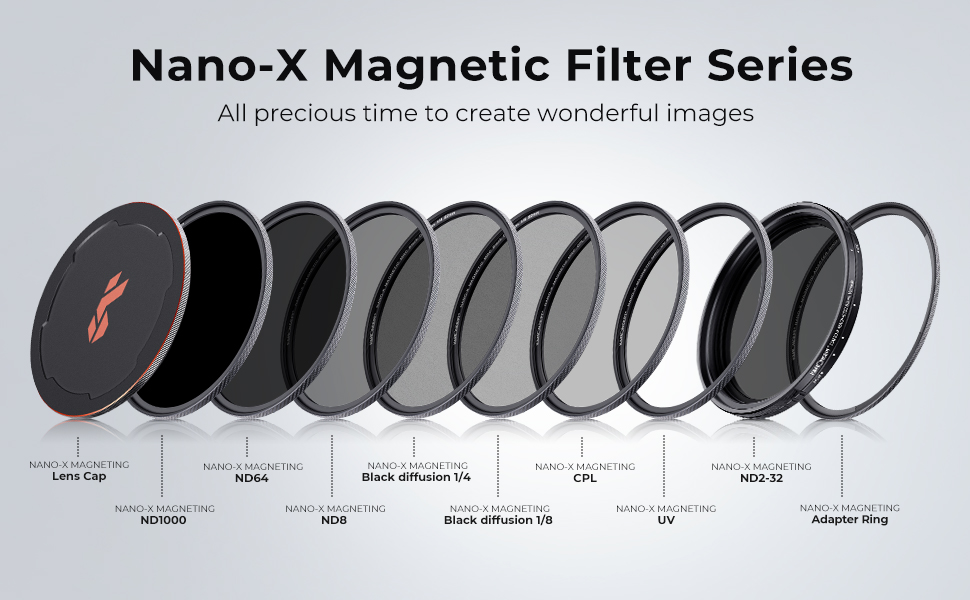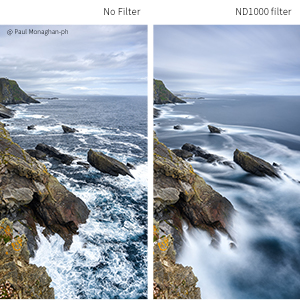 ND1000 Filter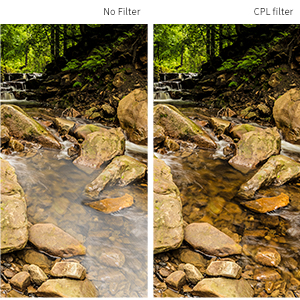 CPL Filter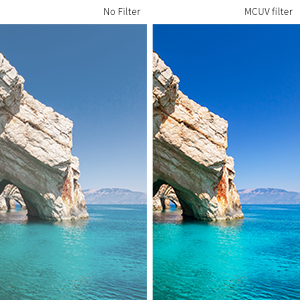 UV Filter

| | | | | | |
| --- | --- | --- | --- | --- | --- |
| | | | | | |
| | | | | | |
| | | | | | |
| Rating | 22 reviews. | 0 reviews. | 0 reviews. | 0 reviews. | 0 reviews. |
| Price | $106.99 | $80.99 | $62.99 | $61.99 | $54.99 |
| Model | SKU.1626 | SKU.1635 | SKU.1665 | SKU1552 | SKU1539 |
| Reflectivity | 0.2% | 0.2% | 0.2% | 0.4% | 0.4% |
| Series | Nano-X series | Nano-X series | Nano-X series | Nano-D series | Nano-D series |
| Recommended Scenes | All Scenes | Video Shooting/Landscape Photography | All Scenes | Video Shooting/Landscape Photography | Landscape Photography |
| Function | 1 Second Switch/Protect Lens/Enhance Color & C | Light Reduction Effect | Protect Lens/Remove Glare/Enhance Color & Cont | Improve color contrast/Light reduction effect | Improve color contrast/Light reduction effect |
| Filter Material | Japanese AGC Glass | Japanese AGC Glass | Japanese AGC Glass | Japanese AGC Glass | Japanese AGC Glass |
| Multi-Coating | 28 layers | 28 layers | 28 layers | 24 layers | 24 layers |
| Waterproof | √ | √ | √ | √ | √ |
| scratch-resistant | √ | √ | √ | / | / |
| HD | √ | √ | √ | √ | √ |
Super comfortable to use and very good quality!
Delighted with my 55mm magnetic filter kit. It consists of 4 components, an adapter, a UV filter, a polarizer filter and a ND1000 filter. Both the polarizer and the UV filter are threaded, so they can be screwed on the front of the lens, but they also have a magnetized part, so the rest of the filters can be magnetically attached to them. I have several types of filters, threaded, square and these. Without a doubt, the magnetic ones are my favourite filters, I am very happy with them as they are very comfortable to use, especially for that reason, for the comfort of use. It is very easy to put on and take off any of the filters. You leave the UV or the adapter and it's instantaneous to put on or take off any of the others. I always use the UV, which also has a thread on the outside so I can put the cap on, the thread is fine, but the cap stays on and doesn't fall off. This way, I always have the camera ready to attach any of the other filters quickly and easily.
10/12/2021
Great filters, practical and lightweight
As a landscape photographer, I found this filter system really interesting. Unlike screw filters, these filters can be applied and removed in a fraction of a second, while unlike plate filters they are much less bulky, lighter and, of course, much quicker to install. The K&F Concept Nano Series magnetic filter kit is extremely practical. The case containing the filters is compact in size, which allows us to carry it in our backpacks with very little space sacrificed.
The weight is extremely light, which is really useful for long excursions where the weight of the equipment starts to be felt after several hours.
The installation and removal of the filters is lightning fast, to say the least; in a matter of seconds you can easily fit all three filters and, in just as many seconds, remove them.
The holding power of the magnets is really good and therefore there is no fear of finding yourself with filters that fall during shooting or transport.
27/01/2022
Filter photography made innovative easy...
Admittedly, the system of magnetic filters is not entirely new and I can't say who has copied from whom here, but K&F is already known to me through very good lens adapters and solid tripods. I was of course interested to hear that K&F now also offer such a system.
Whether the magnetic K&F round filters could convince me or the low price demands too many sacrifices, you can read in my review...
So far I have used screw-in filters from Rodenstock, B+W, Heliopan and Haida. These are all brands where a filter tends to cost what K&F wants for a complete set including a bag. I was therefore very sceptical about what to expect, also because K&F advertises Schott glass (hardened and therefore very robust) and 16-fold nano sealing. That reads amazingly well, but in practice it doesn't necessarily mean anything, because in the end it always comes down to optical performance, no matter how great the handling advantages are.
The set contains in each case...

- a very delicate adapter ring to screw in
- a UV or protective filter (to protect the front lens)
- a CPL polarising filter (removes reflections and enhances contrasts)
- an ND 1000 filter (darkening for longer exposure times. Water becomes silky, clouds blur)
- a storage bag
the filters, their workmanship and feel, is great. There are no visible defects, the threads of the adapter ring and UV filter run silky smooth, the holding force of the magnets is just right and even the fine knurling of the edge is perfectly finished. If it didn't say K&F on it, I wouldn't be able to distinguish the filters from any of the branded filters in my portfolio, purely from the outside
I don't know how K&F managed to do this at this price.
The most time-consuming part is opening the bag, the rest, well, "snap" and the filter is changed. The magnet has so much power that even if I attach the lens cap, there is no danger of anything coming loose at any time or in any position!
The whole thing is so ingenious that I ask myself why someone didn't think of it much earlier. Gone is the fiddling with unscrewing and how often I used to be annoyed that the filter is difficult to put back down again
29/12/2021
Excellent Filters Performance and Value.
I purchased this K&F Concept 67mm Magnetic Lens Filter Kit
for my Tamron 28-75 f2.8. These filters work great and fit on my new camera.quality looks good.
It was a great choice!.... It allows me to capture long exposure water shots on bright, sunny days. It's not a variable and it's too dark for those dark dreary, overcast days. You'll want a different filter for that. The filter is well made and easy to thread onto my lenses. It also comes with a nice case to store and carry. The images come out clear and sharp with no vignetting, like you might get with some filters. Great value, definitely worth the money. I am happy with this purchase.
10/12/2021
Game Changer !
Been wanting to try these K&F Concept Magnetic Filters since they were announced,
I'm glad I purchased these they're awesome,
Super easy to use and swap when in the field,
Just attach the magnetic ring to your lens and then it's simply a case of attaching the filters with ease and swapping out,
No hassle of having to screw the filters on and off, this is totally a game changer in my opinion, I own a fair bit of K&F gear and these are great quality as always,
I have the k&f square filter kits but these are way easier,
The supplied case is really nice too,
They're not cheap but you get what you pay for, I'm overall extremely happy
26/11/2021
Easy to use filters
This is something that I never expected to see since I use DSLR and lenses.
Honestly now, it makes a massive difference.
I am not talking about the filters because you can find these any time, I am saying here about the system itself which I find to be absolutely brilliant!

How easy is now? Very very easy and I explain why.
I use filters for filming outside which sometimes can be challenging because of the light, the sun comes up from the clouds, manual settings, everyting over exposed which is very bad for video.

My lens diameter is 67mm so I got those. You have to screw the ring and then based on what you want to get you just have to attach the filters.........you DONT have to screw them one by one which saves you a lot of time.

Now, the advantage?
You avoid moving your camera is you want to change the filter!!! This is the most important feature I would say!!
I keep my camera in one spot and 100% doesnt have to move AT ALL!! So with this magnetic system i just remove one filter and add another, easy as that. I dont have to screw anything!!!

What you get? A nice pouch, a filter ring(the magnetic one), 1 uv filter, 1 cpl and one ND1000. You already know what they do because you are all photographers so its easy.

Build quality? Good, clean design, slim filters, nice pouch(has a ring so you can attach it to the bag, tripod and so on.

VERY IMPORTANT!!
You cannot attach all 3 filters at the same time!!
ONLY one by one so dont try to attach more because they might fall and you damage them.

How strong is the magnet?
Once attached to the lens even if you run with the camera in your hand you will not lose the filter so dont worry.

Easy to remove? I would recommend to use both hands to make sure you remove the filters properly.
The most interesting filter for my type of work is the ND1000, makes a massive difference. I dont have to explain things like filming at f2.8 when it is bright outside + shutter at 60 for 30fps because you already know what I am talking about.

Make sure you choose the right filter size, check and double check your lens size.

Overall experience?
Impressive techology!!
05/11/2021
Convenient filter set with some color cast and vignetting
I really like the convenience of this magnetic filter system. You only need to thread on the base ring and magnets do the rest. Makes it less likely to damage the threads of your lens if you don't have to keep putting on and removing a filter on every time you need to use it. I am using this with a 24-105mm full-frame lens and the base ring works with the lens cap and the hood although you probably need to remove the hood to snap on the filter because otherwise your fingers get in the way.
Each of the filters themselves are quite a bit heavier than the screw on K&F versions, probably because they need to make the filter ring out of a magnetic steel instead of aluminum. Whatever the reason, they feel a lot more premium than the regular K&F version.
In terms of performance, its a bit of a mixed bag. I don't have tremendous experience using CPL and ND filters (this is my first set) so I don't know what's considered good performance at a given price range.

Moving on, the CPL filter (photos looking out the window) has similar vignette to the ND filter at 24mm but appears to cut down quite a bit of reflections in my windows. Not much for me to point our here, it seems to do the job.
The set does come with a UV filter but I do not intend to use it unless I am in a rainy/dusty environment where my lens needs a bit more protection so I haven't tested it out yet.
For both the ND and the CPL filter, I did not detect any noticeable decrease in sharpness caused by using the filters.
I think the performance of these filters is acceptable. I am a little disappointed with the vignette but I have heard of much more expensive filters having similar issues so I don't want to be too hard on this set. All in all, for someone like me who does this for fun, I think its a great system to learn the basics until I can justify the move to something more premium.
02/01/2022
Very impressed, ordered another set for my 72mm lenses
This is a solution for one of my pet peeves, taking filters off and on in the field. I always carry a CPL filter with me when doing a shoot, but it is difficult to take them off and on in the back of a Range Rover on the move. This one is protecting my Olympus 300mm f4.0 lens (UV) and allows me to quickly switch to the CPL when I need it. I ordered another set for my 72mm lenses. Great packaging, good carrying case and I'll be able to cover all my field lenses with the two sets. Extremely impressed with the ease of rotating the CPL filter. My lens cap stays on with no problem and can be either on the CPL or the bare magnetic mount. The magnet is very strong, the filters stay where you want them until you want them off.
26/01/2022
Recomend it
If you are looking for good quality filters that don't negatively affect your image and are very easy to carry and use, I would definitely buy magnetic ones. Carrying the square ones is sometimes a nuisance and I find the threaded ones much more uncomfortable, apart from the risk of them falling off, I'm a bit handy and it has already happened to me several times with the threaded ones. With these so far no problem and I'm very happy.
24/01/2022
Quick and easy lens switch!
I shoot in various elements and destinations where lighting is different and filters are needed for optimal results. I have been using the traditional screw on filters but I find it time consuming especially how it needs to be aligned perfectly on your lens, taking up to a few minutes for each one when I could miss the opportunity of my shot. I find this K&F filter set to be a great choice for me. I am no professional by any means and take photos for fun with my Nikon d850 and these filters have worked great for me. The magnetic adapter ring is easy to screw on the lens and the lenses stick to it well. These lenses work great in the rain and are not only waterproof but the water beads off of them. I have not had any issue of fogging between the lens and filter.
The come packaged nice in a hard case, each in its own slot. I find this to be a great value for all of the different lenses offered in this set and I am extremely happy with them.
20/01/2022
Do You Know How Your K&F Concept Filters be Produced? | One-day Tour in Production Line
How to check your lens size
Filter
Reflectivity
0.2%
Series
Nano-X series
Recommended Scenes
All Scenes
Function
1 Second Switch/Protect Lens/Enhance Color & C
Filter Material
Japanese AGC Glass
Multi-Coating
28 layers
Waterproof
√
scratch-resistant
√
HD
√