Messenger Shoulder Bag for Man 3-in-1 Backpack Fits 15.6 Inch Laptop Crossbody Bag for DSLR Camera Photography for Travel Work College
Buy 99$-9$, 199$-25$, 299$-39$, 599$-100$
New customer gift package
To
United States
Expedited Shipping
3-5
business days
Buy KENTFAITH messenger shoulder bag for man 3-in-1 backpack fits 15.6 inch laptop crossbody bag for dslr camera photography for travel work college online, worldwide free shipping and 30 days return guarantee.

KF13.088

SKU:

KF13.088

46.99

https://www.kentfaith.com/KF13.088_large-shoulder-messenger-bag-for-dslr-camera-photography-40-13-58-cm
Buy 99$-9$, 199$-25$, 299$-39$, 599$-100$
Description
* 3 in 1: backpack, shoulder bag & tote; Small items can be placed in the side pockets and front pockets; The bottom zipper of the back panel can be pulled open on the trolley case.
* The Removable inner bag absorbing shock and vibration to protect your camera against damages, dust and scratches, Detachable divider enable you to adjust the space of this case to match your camera well.
* Exterior L*W*H: 40*13*58 cm(15.7"*5.1"*22.8"); Interior L*W*H: 29*11.5*18 cm (11.4''*4.5''*7.1''). Can hold 1 Camera + 2 Lenses + Accessories; Internal pockets designed for 15.6"" laptop and 9.7'' iPad.
* The bag was made of 840D quality waterproof nylon material,scratch resistant, tear resistant; Sturdy and durable enough for your outdoor hiking or other activities.
* Different installation ways achieve different styles, lightweight but multipurpose
Shipping
To
United States
Expedited Shipping
3-5
business days
Sale
Buy 99$-9$, 199$-25$, 299$-39$, 599$-100$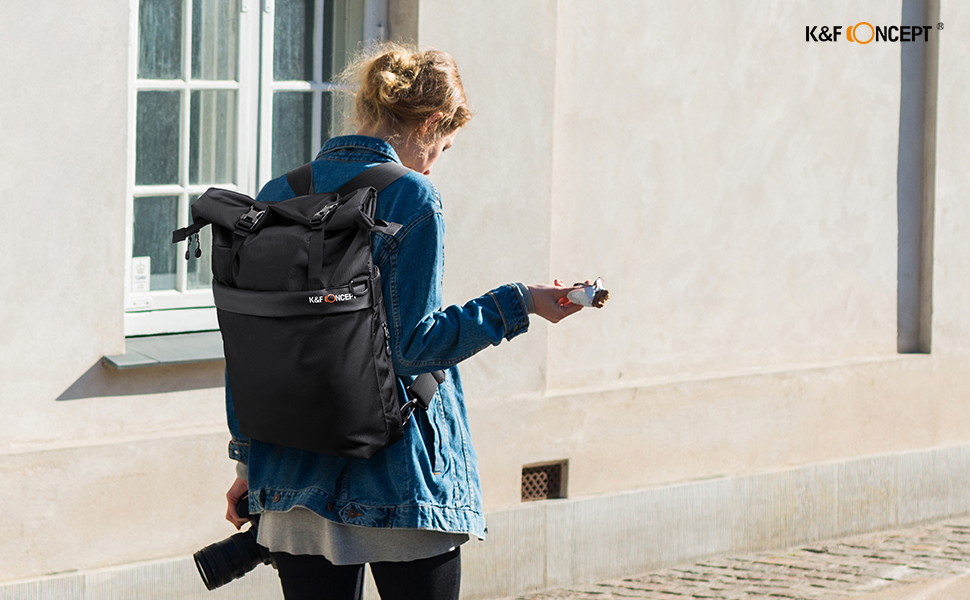 3-Way Camera Shoulder Backpack Bag
K&F Concept 3-Way camera shoulder backpack bag is perfect for city commuters and people who are always on the move with their photography kit, and is designed to be carried from home to work or anywhere while you travel, if that maybe walking or cycling. With their urban look, they will be your perfect companion for your everyday city shoot!
One strap can be used in 3 ways--3 carry options: shoulder bag, backpack, or tote
1. shoulder bag-to used as a shoulder bag
2. handbag-to carry in hand with two straps
3. backpack-to be a backpack with two straps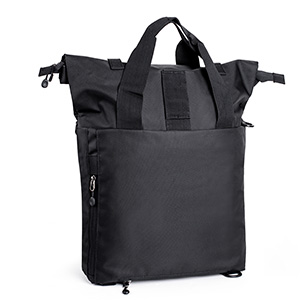 More Capacity
When used as a backpack and you want to put more things on, you can extend the upper side and to use it as the biggest capacity travel backpack.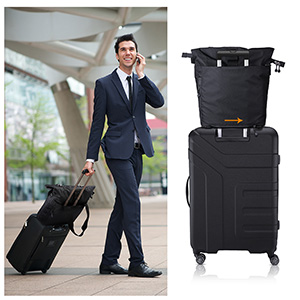 Trolley Connection
For easy wheel along transportation simply slide the designated strap connector over any standard trolley or luggage handle.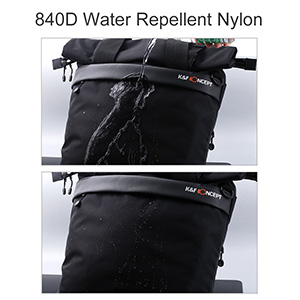 Laptop Compatible
Inner separate compartment can contain your laptop up to 15.6".
Outside pocket can contain your ipad up to 9.7".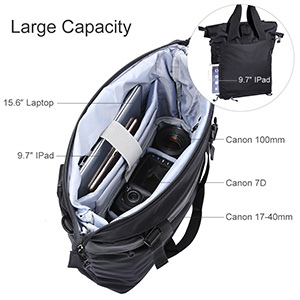 Waterproof
840D quality waterproof nylon material,scratch resistant, tear resistant,Sturdy and durable enough for your outdoor hiking or other activities.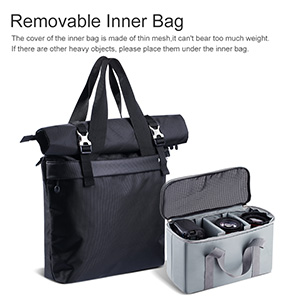 Inner Bag
Comes with removable inner case, made of closed cell padding and soft cotton lining that provides protection for a camera body and standard lens.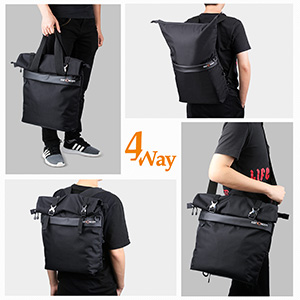 Kinds of Using Ways
According to different occasions, the bag could as a shoulder bag, backpack,hand bag, designed for photographers and photography enthusiasts.
All Reviews
Image

All Star

5 Star

4 Star

3 Star

2 Star

1 Star
Versatile camera utility bag
This is a very versatile bag with multiple modes which is really nice so that you can configure it to whatever you need at the time. Kinda disappointed there isn't a way to hold a tripod and it does not really fit under the top roll easily with no way to secure it. Lots of pockets which is really nice and all the pockets are deep. Most of the pockets are zippered so it's secure as well some of the outside ones are weatherproofed from the top. The shoulder strap attachment points are offset which is great from a functionality point because the bag does not tip over as easily. The bag is quite tight when not even all the pockets are in use. The camera compartment is not as versatile as the bag but I love how the bag is expandable.
The Good:- Lots of pockets and storage
- Multiple methods of carrying
- Design The Not So Good:
- No tripod storage
06/01/2022
Beyond just being a camera bag
After recently getting into video making and photography, I had a hard time trying to figure out the easiest way for me to carry around my Sony camera and the lenses that came with it. But that was not all, after adding in couple of flash brackets, three tripods and LED lights, it was no longer feasible for me to carry everything in a plastic bag. I had two options, either to get a large camera bag that is easy to use and is versatile beyond being a camera bag, or settle with using plastics bags, gym bags or my suitcase. A good friend of mine recommended visiting K&F Koncept website and get a quality bag from there, I definitely welcomed the water resistant material it was made out of as it helped me take my gear out to use on a rainy day. The bag featured metal clips and a strong zipper, which makes it a lot harder for someone to reach in and steal anything. And having that built in laptop sleeve was convenient as it allowed me to bring MacBook along in the same bag. This is a great beginner camera bag worth considering.
23/12/2021
It is a good back Pack
I love it, good capacity but see how is durability. Which is good enough to the price deserved.
09/12/2021
Capacious and well organised!
I have to say I was a bit skeptical but the depth is remarkable and on top of everything is full of pockets (which is essential to organize my 1000 cables and accessories). I was also surprised by the workmanship of the hinges, which are very ergonomic and slide very well. The inner bag is well padded and I can also fit an extra lens and with the top foldable I find it practical if you have to put something else! In short I will use it for outings or meetings where you need the camera behind without forgetting the 15-inch macbook
24/09/2021
Saved me during the nba playoff from rain
I am using this currently with my sl2, just picked up a Sony a6000 also. Absolutely no issues so far. I enjoy this design as it looks like a normal bag and I don't stand out like a sore thumb. I don't have any lens over 100mm but don't Beleive it will fit in such scenario. Fits my 55mm prime lens and the lens kit with no issues. Sufficient protection that I don't need to worry.

I used it last during the nba finals . It held up well, don't recommend soaking the bag but Will be able to hold itself.
28/06/2021
Easy to flip to my front to take the camera out.
Easy to flip to my front to take the camera out. good value.
03/11/2020
Perfect Travel Bag
It's great. The insert is removable and it has a large inner volume. I was able to bring a laptop (13") and 3 nights worth of clothes. Great for travel!
24/08/2020
Better than described
I just got my new bag filled with my gear and its honestly better than described. Very durable, the material is amazing and I love that its water proof. The bag is absolutely huge compared to what I was thinking. Its fits way more then I had thought and thats a bonus because now I can buy more things haha The case thats designed for the camera gear is on the smaller side but it fits my on camera flash, 70 - 200 and cannon 70D perfectly.
12/08/2020
Confused!
Everything is great!
07/08/2019
These images belong to KENTFAITH end users.
A
Yes, the bag can fit Canon t6i and a standard lens
Show more
A
This bag don't have Tripod Holders, it is for light travel. If you need camera bag which can hold a tripod, you can see other camera backpack,also with rain cover.
Show more
Bag Compartment
Carrying/Transport Options
Backpack/Sling Bag
Camera Support Strap
No
Camera Compartment
1
Lens Compartment
2
Laptop Compartment Screen Size
15.6 inch
Bag Exterior
Exterior Color
Black
Exterior Dimensions
42.5*12*58cm
Exterior Material
Nylon
Type of Closure
Buckle
Rain Cover
No
Bag Interior
Maximum Volume
30L
Weight
1.1kg