Camera Tripods Compact Travel Tripod with Monopod 68"/175cm 10kg/22lbs Load Capacity 360° Panorama Ball Head Compatible with DSLR Cameras K255A4+BH-28L (TM2515M1)
Terms
Coupon Terms
Terms and Conditions:
Coupons are valid for a limited time only. Kentfaith reserves the right to modify or cancel coupons at any time.
You must purchase the qualifying items added to your Cart when the coupon is in effect for the discount to apply.
If you later modify or cancel the subscription or delivery date for the qualifying item, the discount will not apply.
The coupon applies only to qualifying items displaying the coupon offer.
If you buy more than one item from the same coupon, the maximum discount amount of the coupon will be equal to either the percentage discount off or the face value of the coupon on one eligible item. The coupon may only be used on www.kentfaith.com.
The promotion is limited to one coupon per customer.
If you return any of the items purchased with a coupon, the coupon discount or value may be subtracted from the return credit.
To
United States
Expedited Shipping
3-5
business days
ONLY$86.99 for Heavy Duty Aluminum Tripod. Free Shipping Worldwide. 30 Day No Reason Return. K&F Concept TM2515M1 67" 10kg/22lbs Camera Tripod Compatible with DSLR Camera. easy setup and multi-angle

KF09.083

SKU:

KF09.083

87.99

https://www.kentfaith.com/KF09.083_Trépied compact léger en aluminium 50 pouces TM2515M1 pour Canon, appareil photo Nikon DSLR
Description
* 【K&F Concept Compact & Portable】 Quality military magnesium aluminum alloy, corrosion resistance; tripod with ball head weighs only 3.30 lbs, it can be 180°reflexed and folded to 16.5'', easy to put it in a backpack or suitcase when travel.
* 【360° PANORAMA】The weight of tripod is 1.5kg. The 28mm large metal ball head provide 10kg load capacity, it can be rotated 360 degrees, helping to expand dslr camera activity range when panoramic shooting.
* 【Detachable Monopod】 It can be turned into a lightweight monopod or walking stick alone to make your photography more diverse.
* 【EASY SET UP】 5 sections tube leg and the max diameter is 25mm; Spiral type locking knob allows you to adjust the working height in seconds; The height without column reaches 51'' and the height with 2 sections center column is 67'',making standing shooting easier.
* 【Multi-Angle Shooting】Spring self-locking foot tube angle adjustment button, just press and release to quickly adjust the opening and closing angle of the three legs; can help you achieve lowest angle shooting, macro shooting, and other special photography through inverted central axis.
Shipping
To
United States
Expedited Shipping
3-5
business days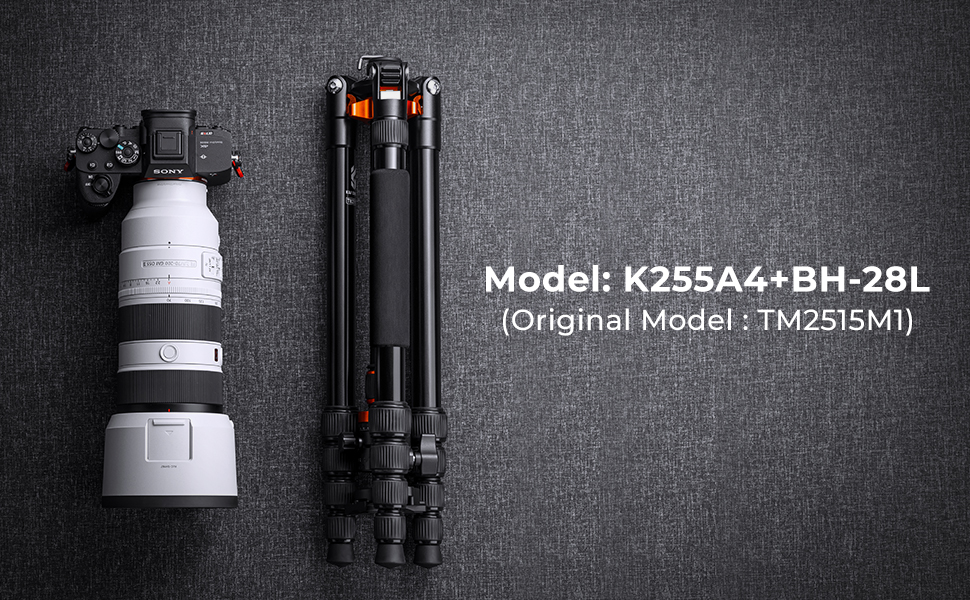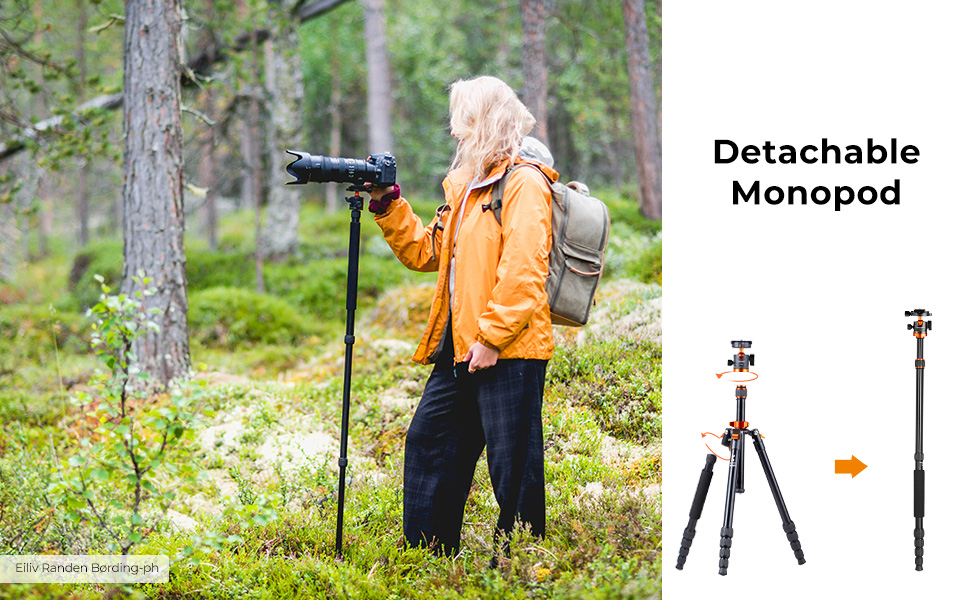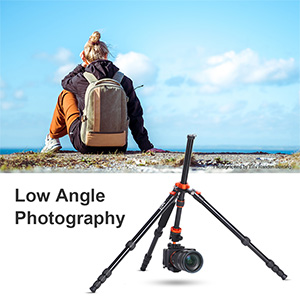 Lowest Angle Shooting
Lowest angle shooting, macro shooting, and special photography can be achieved through inverted central axis.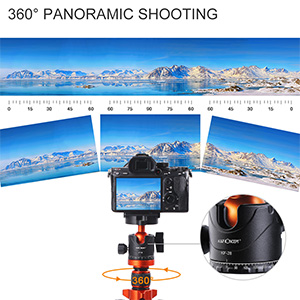 KF-28 Metal Ball Head
The low center of gravity ball head has strong strong locking force and can be rotated 360 degrees to improve camera activity range.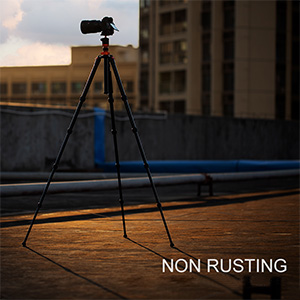 Take It Anywhere
Tube made of magnesium aluminum alloy, can be folded 180 degrees reversely.New angle locks rapidly select between 5 different angles for even more shooting possibilities.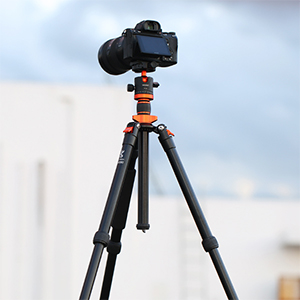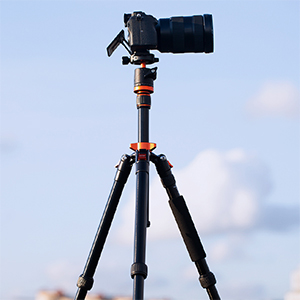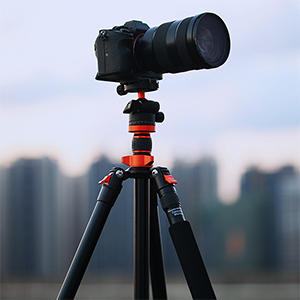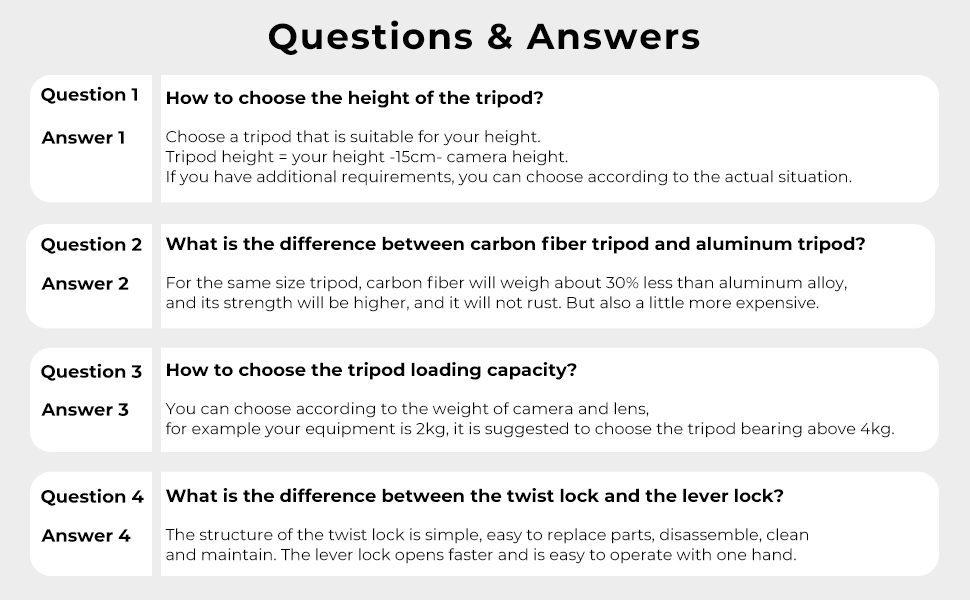 Rating

85 reviews.

102 reviews.

49 reviews.
Price

$189.99

$87.99

$182.99

$82.99

$119.99

$79.99

Model
KF09.083
KF09.087
KF09.084

Load Capacity

10kg/22.05lbs
10kg/22.05lbs
10kg/22.05lbs

Maximum Working Height

1710mm/67.32"
2000mm/78.7"
1580mm/62.20"

Minimum Working Height

520mm/20.5"
580mm/22.83"
510mm/20.08"

Folded Length

420mm/16.54"
480mm/18.90"
410mm/16.14"

Weight

1500g/3.3lbs
1440g/3.17lbs
1547g/3.41lbs

Materials

Magnesium aluminum alloy
Magnesium aluminum alloy
Magnesium aluminum alloy

Leg Lock Type

Twist Lock
Flip Lock
Flip Lock

Leg Diameter

13-25mm/0.51-0.98"
14-23mm/0.55-0.91"
16-25mm/0.63-0.98"
All Reviews
Image

All Star

5 Star

4 Star

3 Star

2 Star

1 Star
Trípode para cámara DSRL
El mejor producto que he adquirido, estoy muy contento y satisfecho por la compra, lo recomiendo ampliamente.
26/02/2023
Trípode TM2515M1
Excelente producto, supero mis expectativas, muchas gracias por el seguimiento oportuno desde el momento de mi compra y a lo largo de todo el proceso de envío, recomiendo completamente la marca y comprar en línea, recibí en perfecto estado en mi Ciudad de Residencia México CD.
20/02/2023
Very impressive for the money
K & F products first caught my eye at the Photography show back in 2019 but I didn't really have a close look at any of their tripods as I was fixated on getting a Three Legged Thing. As it turned out I didn't buy anything and didn't get a tripod for more than a year. With finances tight I decided to take a chance on a K & F tripod figuring at that price it wouldn't be too much of a wrench if it wasn't great. I was very pleasantly surprised when it arrived to find that it was more than I expected for the money - seemingly very well built and nice and light into the bargain with a quality carry bag. There are only two negatives in my mind - why use all that lovely magnesium alloy and then stick on plastic knobs for the ball clamp and adjustment? Surely it wouldn't have increased the cost too much to make these in the same alloy? The ball clamp did click ominously one time I tightened it so I'm hoping it isn't going to be a possible weak point. Also, the tripod leg that unscrews to make up the monopod - the female thread is metal but I believe the male thread is plastic, why? I doubt I'll use this feature much so not too much of a concern. I wouldn't hold out much hope with customer services - I did email them about something and had a very strange reply. I don't think I'd even bother trying to pursue a warranty claim. TLT on the other hand are great to deal with and solved a problem with my Ellie very quickly.
It would have been nice to have detachable feet but I guess you can't have everything at this price point? The tripod has a very large height extension so unless you're over 6' 5" you won't have any problems using it. Lastly I really like the orange colour of the alloy components - it matches my Three Legged Thing Ellie L bracket perfectly! I honestly don't think you can go wrong at this price - mine will certainly suit my needs until I can upgrade to a carbon TLT in the future.
16/05/2022
Superb piece of kit
Really sturdy and punches well above it's price point!
Performs just as well as my sons Manfrotto in every way.
Don't hesitate!
12/05/2022
Very sturdy- I love it !
Really pro and very light, easy to carry and sturdy enough
30/04/2022
Gifted
I bought this as a gift for a friend of mine who is very keen on photography.
I recently bought an overhead tripod from the same company and thought it was great.
This one is smaller and lighter.

My friend is really happy with the tripod. He said he loves how many different ways it can be used to support his camera and that he can't wait to try them all out soon. I will give an update once he as tried it more but so far he says he cannot find any issues with it whatsoever.

UPDATE: So he took it to the woods for a test run and absolutely enjoyed the experience. He raved about the foam support for easy carrying on the monopod leg. Never did it feel like he was lugging gear around.
The only tiny little niggle he had was with getting used to using screw turn release for the legs rather than latches.

Either way it's still 5 stars from a very appreciative gift recipient.
29/04/2022
Very impressed ❤️ Pro Quality at a Fair Price
I don't often do product reviews, But if i buy something that im impressed with i think its worth helping others to take a closer look
28/04/2022
Nice bit of kit
Held the camera perfectly
10/04/2022
Very adjustable
This is a very professional looking tripod with many setup options. I love that it breaks down into a monopod. But still left to lug a slightly bulky case with the rest of the tripod. I wish it had a pan arm on the ball mount. Came with a bonus aluminum cell phone adapter mount that I didn't notice in the description. Easy to adjust the legs pans the ball mount is solid
22/02/2022
Sturdy tripod with many options
Only received this today so haven't been in the field with it yet but gave it a thorough examination indoors with my heavy pro type equipment.
Appearance is very good and quality seems high at this price point. The ball head has a very fluid smooth movement and panning is very nicely dampened. When all tightened up in position it seems very sturdy with no hint of a wobble.
Many adjustments to suit all shooting situations and light enough to carry up to my local mountains for some landscape shots ! A fraction of the price of some branded models but not far behind in quality at all.
So far so good !
15/02/2022
These images belong to KENTFAITH end users.
K&F Lightweight compact aluminum tripod 67 inch TM2515M1 for Canon, Nikon DSLR camera
How to assemble center column
How to assemble tripod leg
Tripod General
Load Capacity
10kg/22.05lbs
Maximum Working Height
1710mm/67.32"
Max Height without Center Column
1300mm/51.18"
Minimum Working Height
520mm/20.5"
Folded Length
420mm/16.54"
Weight
1500g/3.3lbs
Materials
Magnesium aluminum alloy
Tripod Head
Ball Head
Color
Orange/Black
Bubble Level
Tripod Legs
Leg Lock Type
Twist Lock
Leg Positions
3
Independent Leg Spread
Leg Sections
5
Leg Diameter
13-25mm/0.51-0.98"
Feet Features
Can be reversed 180° and folded
Tripod Center Column
Center Column Features
Center Column Inversion
Center Column Sections
2