K&F TM2534T (Orange) Aluminium Camera Tripod Monopod Kit for Canon Nikon DSLR Photography For DSLR
Out Of Stock
Product Unavailable
No Cancellation Fee
Free shipping to eligible country
Brand:

K&F Concept

K&F TM2534T (Orange) Aluminium Camera Tripod Monopod Kit for Canon Nikon DSLR Photography For DSLR, 25mm 4 section aluminum alloy legs adjust to 25, 50, and 80-degree angles to enable extreme low angle photography

KF09.030

Availability:

Out Of Stock

142.99

https://www.kentfaith.com/KF09.030_tm2534t-orange-tripod-monopod-72-inch-aluminium-4-section-360-degree-ball-head-quick-release-plate-load-capacity-8kg
Buy 2+ items get
10% off
!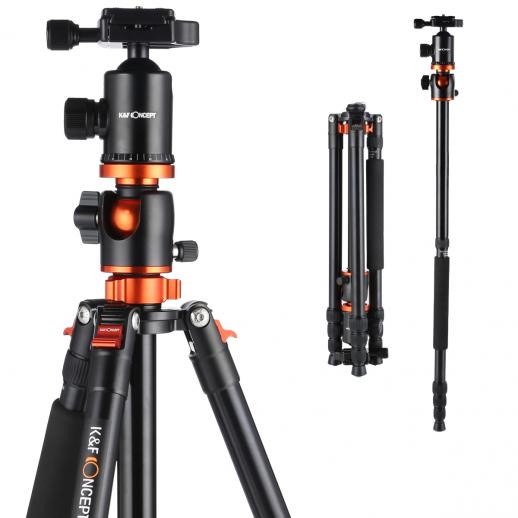 K&F TM2534T (Orange) Aluminium Camera Tripod Monopod Kit for Canon Nikon DSLR Photography For DSLR
Features
• 25mm 4 section aluminum alloy legs adjust to 25, 50, and 80-degree angles to enable extreme low angle photography
• Compact The tripod legs can be inverted and folded back 180 degrees making it small enough to carry just about anywhere.
• Smooth fluid-like ball head rotates 360 degrees and includes a quick release plate and bubble levels . Hexagon-shaped central column moves from 0 to 180 degrees
• FOUR Leg Sections: Get the height you need and ultimate versatility. Twist Lock Legs with Anti-Rotation System: innovative rubberized locking grips combined with anti-rotation legs enable fast and fumble free set up plus weather and dust resistance .This complete tripods comes with 2 Sections Center Column: Get the height you need and ultimate versatility.
• Folded height: 14.76", Extended height: 72.24", Weight :3.48lbs/1.58 kg
Frequently Bought Together
KF-TM2534T
Portable and Multi-Purpose Tripod
360°HORIZONTAL ROTATION
Mak it easier for photography enthusiasta to realize panorama shooting
STRONG BEARING CAPACITY
A more perfect picture and excellent bearing capacity
1.10" (36mm) BALL HEAD
Large spheres are more stable shooting
17.6lbs (8kg) LOAS CAPACITY
Rubber gasket & Back security plug capacity
360°PANORAMIC SHOOTING
More accurate panoramic synthesis.
Fix the tripod,and keep it in horizontal position,then make it rotate uniformly.
MACRO PHOTOGRAHY
The center axis can be inverted to give you the option for shooting angles
EASY TO SHOOT
The maximum height is 67.52"(171.5cm), the maximum height of the midaxis is 57.68"(146.5cm)
4.36lbs (1.98kg) /19.29" (49cm) FOLDED HEIGHT
Tube made of high quality magnesium aluminum alloy,can be 180°reflexed, better portability.
Foldable and portable to carry
Excellent
Even this not a named one,but the qualityof it still make you out of expectation,enough strong to support my 5D2,easy adjusting the headball,every angle you need,and very stable,three foot can flip to top,feel free to put in the pack.the weight is not bad,around 4-5 pounds.Recommend it to buy if you need a professional one and also want save money.
and after using it for almost two weeks I would recommend it to everyone
I bought this tripod for my DSLR camera, and after using it for almost two weeks I would recommend it to everyone.This tripod is not one of the lightest, but it is built with really sturdy aluminum material, and it can be used for years or decades.This is the type of tripod for professional use: the ball head with a quick release plate, ability to be turned into a monopod, etc.The center can be used vertically​ as well, very suitable for snapping features on the ground.Again, I would recommend it for any serious photographers who want to buy a tripod that can be used anywhere.
I'm in LOVE with this Tripod!
I have several tripods but this one is by far the BEST tripod I've ever owned! I needed to do some overhead shots for a client. I tried using a boom which was okay. Looked at boom arm attachments for a tripod but they are costly. Then I ran across this and it does not disappoint!Not only is it easy to set-up, it does SO much. Besides being simply a great tripod, an extension arm (see pic) is built-in and super-easy to use. The tripod can extend to over 6'. Plus the head is heavy-duty, leveling bubble, and can convert to a monopod if needed. Also comes with a heavy-duty carrying case.All of this for an extremely reasonable price. HIGHLY recommend!
Super Quality with Good Stability
I bought this product for my digital camera and I found this is a great product for the camera. I love this product. This is a quality product. This product is well made with the high standard premium materials. I am satisfied with the purchase and the product. This product is light weight and easy to lift and carry around any place you like to take the product. This product is very stable on the surface and do not need to worry about shaking. This product is compatible with many digital cameras, smartphones. I could connect my projector to this tripod and fitted very well to the projector. I love the color of the product and this product looks very beautiful and fulfill all your capturing dreams in your life. This is an amazing product to give gifts to your friends and family members who like to capture the photos and take the video's. This can be given on their birthdays and family functions.The price is great and affordable. Good value for the money. This product comes with a small bag and it is easy to carry around where ever you go especially when you travel internationally. This product is convenient for carrying in your car or in your back pack. This product is adjustable and flexible and you can turn on any side you wanted to take the picture. This product is very strong and comfortable to use. This product was easy to install. I love the design and style of the product. Worth buying the product and a must have product if you love capture the pictures and shoot the videos. This product is durable and good one for longer usage. This product has adjustable legs and this product helps you to capture the films or videos any ankle you like to capture. Highly recommend this product. Great buy.
Nice sturdy tripod for a great price.
A little heavier than I thought but overall a great product.
Tripod General
Load Capacity
10kg
Maximum Working Height
1690mm
Max Height without Center Column
1445mm
Minimum Working Height
480mm
Folded Length
490mm
Weight
2800g
Materials
Magnesium aluminum alloy
Ball Head
Ball Head
Color
Orange/Black
Bubble Level
Tripod Legs
Leg Lock Type
Twist Lock
Leg Positions
3
Independent Leg Spread
Leg Sections
4
Leg Diameter
25mm
Feet Features
Tripod Center Column
Center Column Features
Transverse Center Column
Center Column Sections
These images belong to K&F Concept end users.