K&F XV37 77mm Fader ND Filter Neutral Density Variable Filter ND2 to ND32
To

United States

Expedited Shipping

3-5

business days
Brand:

K&F Concept

K&F XV37 77mm Fader ND Filter Neutral Density Variable Filter ND2 to ND32 【Material】 ND Filter: Made by Completed Professional Optical Glasses instead of Optical Resin. filter reduces the intake of light without affecting the overall color balance.

KF01.1063

Availability:

In Stock

55.99

https://www.kentfaith.com/KF01.1063_77mm-nd2-nd32-variable-nd-filter-18-layer-multi-coated-glass
Features
• 【Material】 ND Filter: Made by Completed Professional Optical Glasses instead of Optical Resin. filter reduces the intake of light without affecting the overall color balance.
• 【No "X" cross on images】Say goodbye to the "X" cross on images, K&F utilize cutting edge technology you're going to say goodbye to this common issue with wide angle lenses and variable ND filters.
• 【NANOTEC】Our optical engineers developed new Nano coating layer technology, Waterproof, scratch-resistant, anti-reflective green coating, effectively prevent from oil, fingerprint, scratch, protect valued lens.
• 【Professional Design】Ultra slim rim design preventing wide angle vignetting. Extra tough aviation aluminum frame ensuring durability and jamming prevention.
• 【NOTE】This Filter kit is compatible with all 77mm lenses. Please verify your camera's lens thread size(usually marked somewhere on the lens barrel or printed underneath the lens cap) before ordering. The number is always preceded by a "ø" (diameter) symbol.
Frequently Bought Together
ND FILTER
Reduces the amount of light entering the lens, thus decreasing camera shutter speed. Useful for situations where motion blur needs to be created (rivers, waterfalls, moving people) or large apertures must be used with flash to avoid overexposure.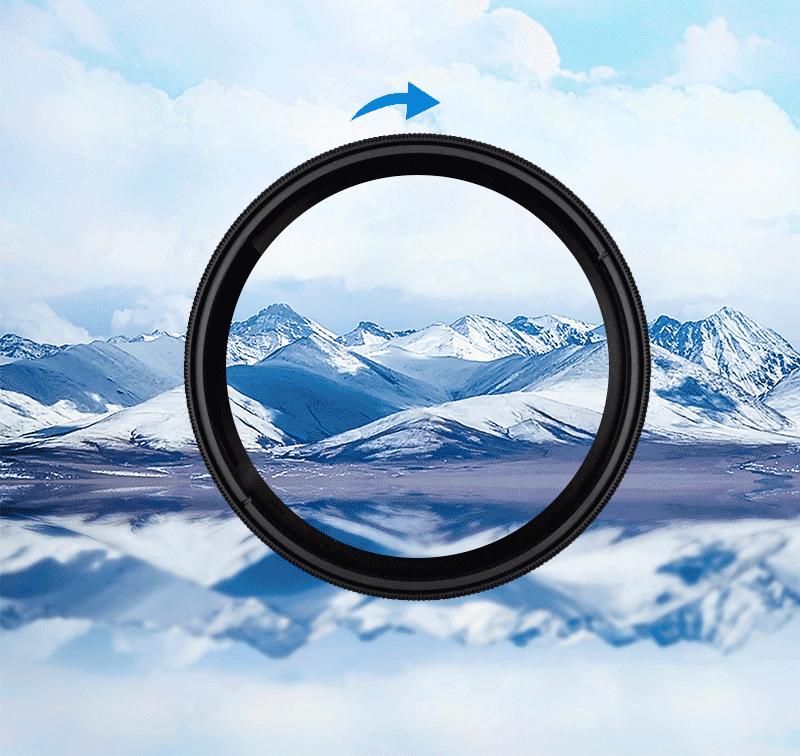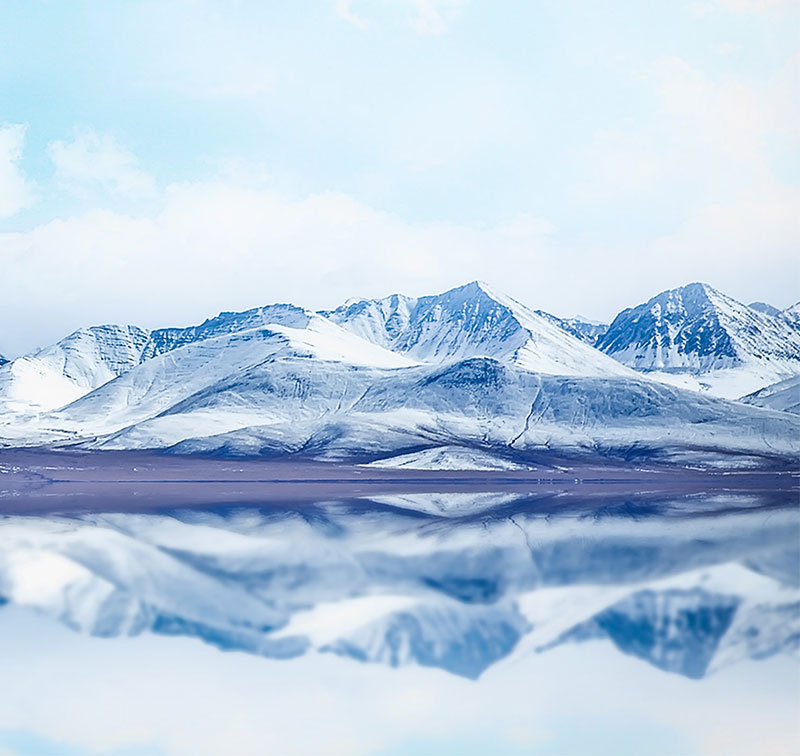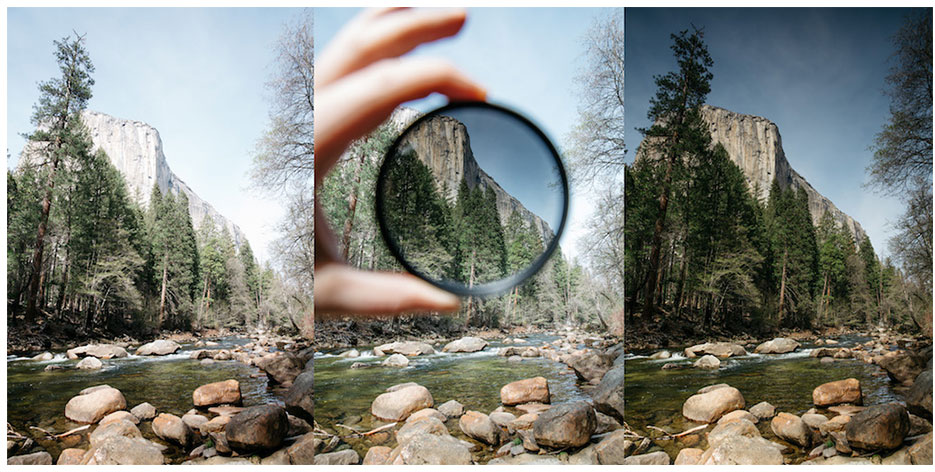 Without ND Filter
Use Contrast
With ND Filter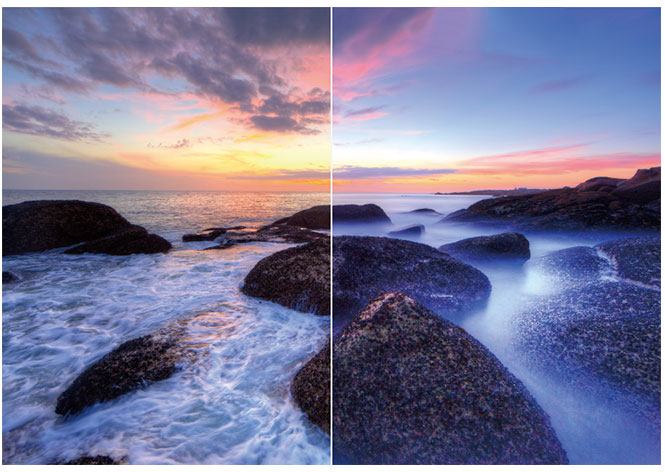 Without ND Filter
With ND Filter
Enables slow shutter speeds to be used to record movement in subjects such as waterfalls, providing a silky smooth affect to flowing water.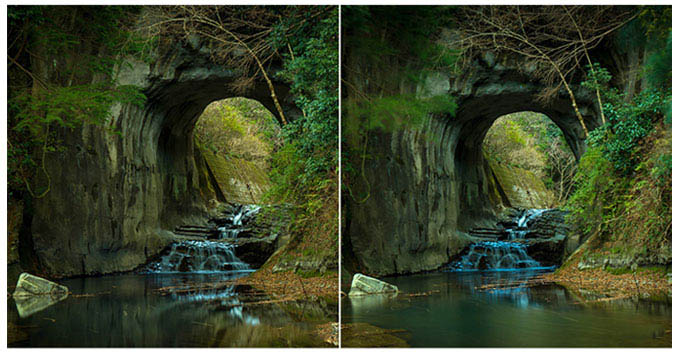 Without ND Filter
With ND Filter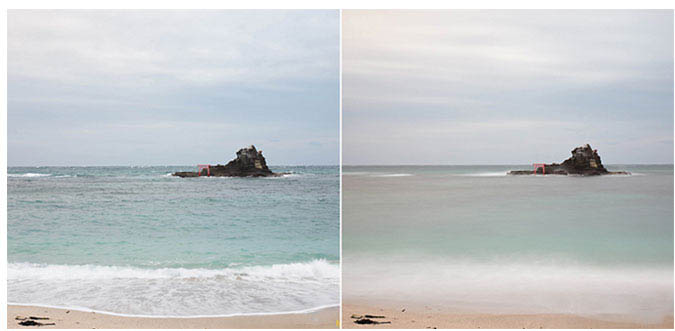 Without ND Filter
With ND Filter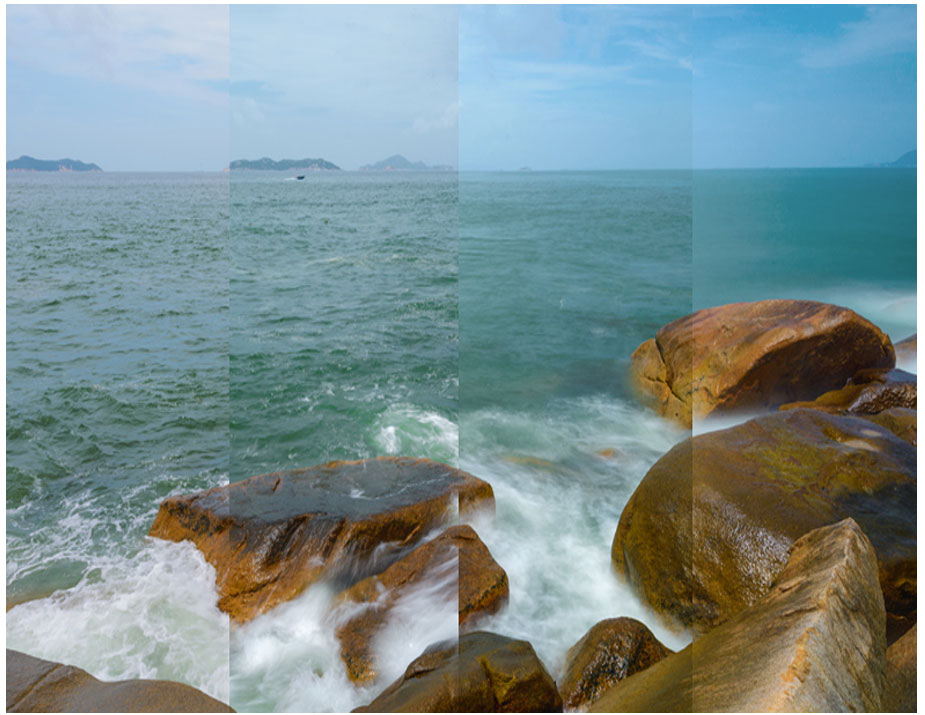 NO ND
ND8
ND64
ND1000

No Filter
ND2
ND4
ND8
ND16
ND32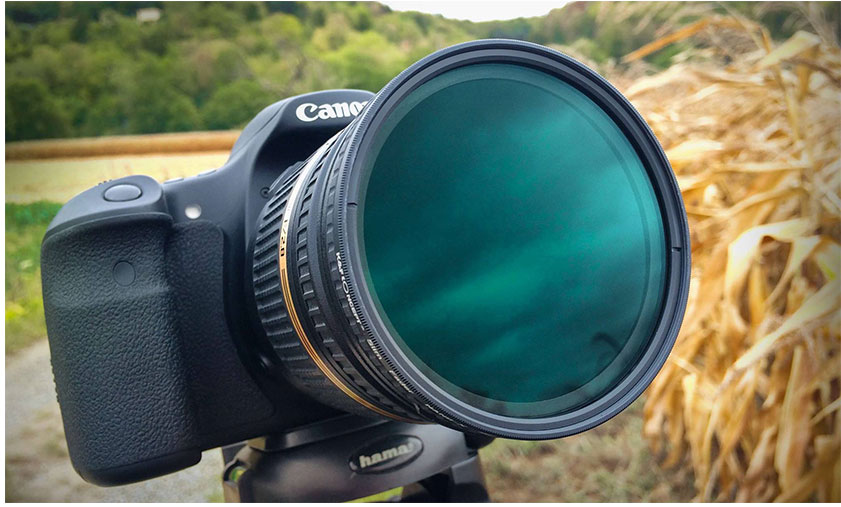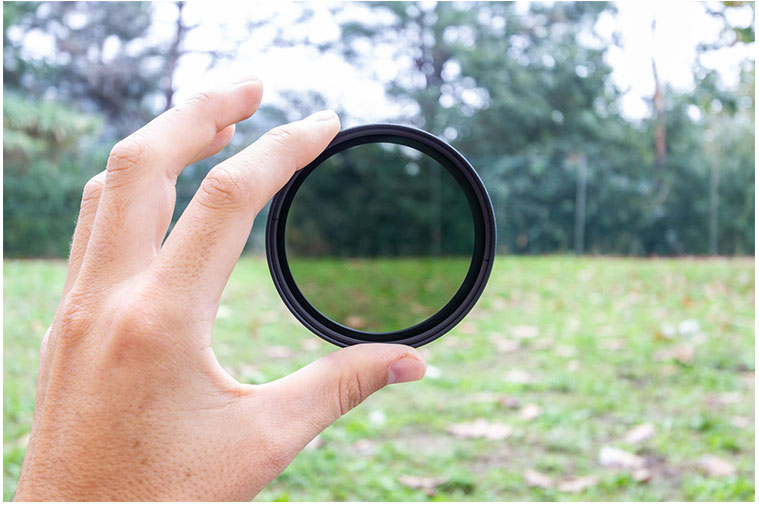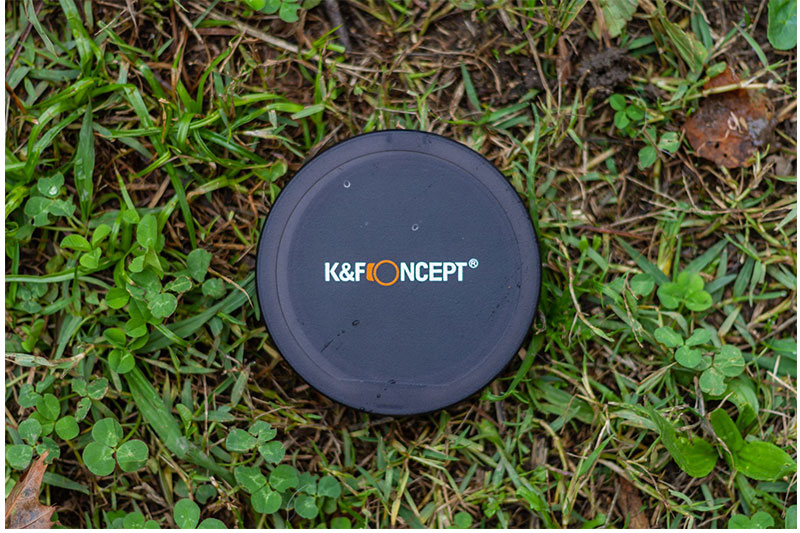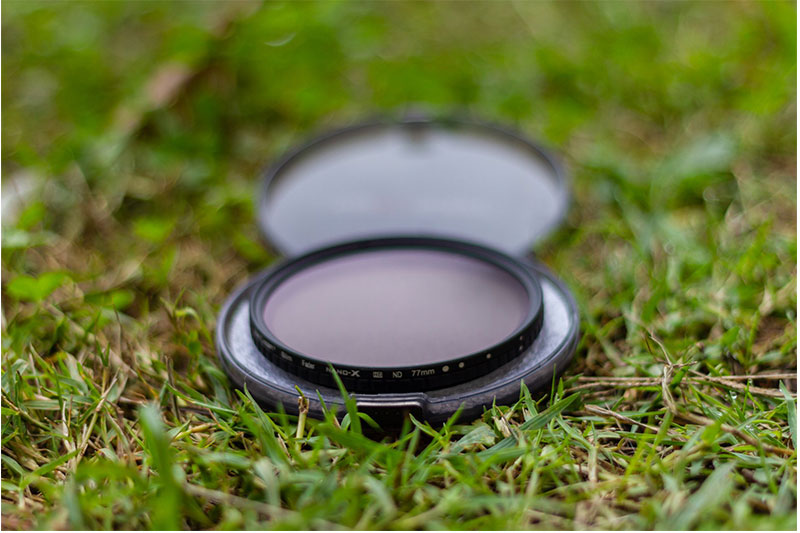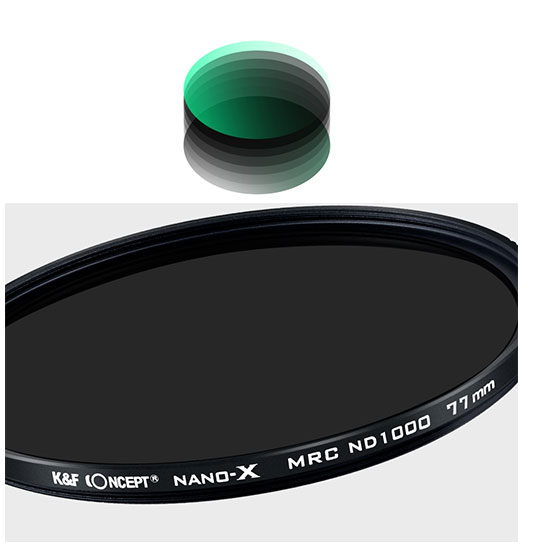 Multiple layer nanometer coating
Reduction of reflection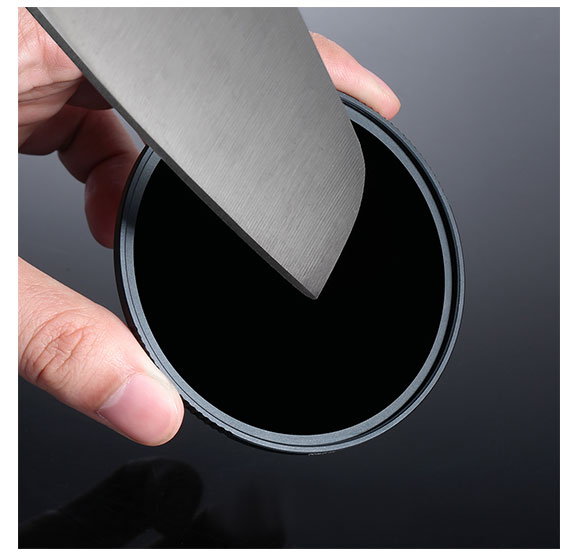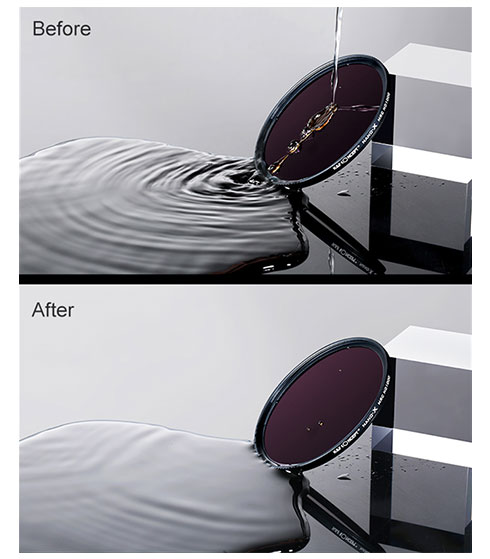 Nanometer Coating
Enables slow shutter speeds to be used to record movement in subjects such as waterfalls, providing a silky smooth affect to flowing water.
| | | | |
| --- | --- | --- | --- |
| NDnumber | Optical density | f-stop reduction | Fractional transmittance |
| | 0 | 0 | 100% |
| ND2 | 0.3 | 1 | 50% |
| ND4 | 0.6 | 2 | 25% |
| ND8 | 0.9 | 3 | 12.50% |
| ND16 | 1.2 | 4 | 6.25% |
| ND32 | 1.50 | 5 | 3.13% |
| ND64 | 1.8 | 6 | 1.56% |
| ND100 | 2 | 62⁄3 | 1% |
| ND128 | 2.1 | 7 | 0.78% |
| ND256 | 2.4 | 8 | 0.39% |
| ND400 | 2.6 | 82⁄3 | 0.25% |
| ND512 | 2.7 | 9 | 0.20% |
| ND1024/ND1000 | 3 | 10 | 0.10% |
| ND2000 | 3.3 | 11 | 0.05% |
| ND4000 | 3.6 | 12 | 0.025% |
| ND8000 | 3.9 | 13 | 0.0125% |
| ND32000 | 4.5 | 15 | 0.003% |
Use this
This is a must have item in your camera bag and for a fraction of the cost of other brands of Variable ND filters.So far I have tested it with several lenses and 3 different cameras using step down rings in low light and bright mid day light from the lowers ND2 all the way up to DN32 and so far have not seen any X pattern. A huge issue with many a variable ND filter, even with the really expensive ones.Color cast is insignificant too, but like ALL lower end ND filters there will be a color cast, hell even a $500 one will have some kind of color cast, again at a fraction of the cost to have a barely noticeable color cast, or at least one that can't be easily corrected in LRThe only real issue with this is if you are using the filter with the same thread size as your lens the vignetting is a little bad at both extremes, unless you zoom in with your lens. SO I bought the 77mm one for my old Canon 24-105 that has a 77mm thread on a full framed camera, and at the extremes of the ND filter and when my lens is at it's wider focal lengths the vignette is somewhat an issue, again a vignette is still easier to work with than the dreaded X pattern.Now adays I am shooting with Sony mirrorless and every lens I shoot with on my full framed camera is less than 77mm threading and the vignetting is no longer an issue at any range of the filter and at any focal length of the lens and I have been shooting the dang thing A LOT with my Sony.Crop sensor cameras should not have the vignetting issues with this filter.Above are some of the photos I have taken with the filter including my Canon 5D series and my Sony A7R series. The first 3 are of my Canon and the second 3 are my Sony
Works Great With iPhone, Moment Wide and case - no X - on Snoppa Atom.
I tried several of these type of variable filters. All exhibited horrible image artifacts, making the footage unusable on wider lenses. There are several VERY expensive ones promising no artifacts. They all have limited range, just like the K&F Concept Fader ND. This one really works. For the higher range, some make you buy another $300+ fader, which I believe consists of one ND polarizer and another clear one. I am cheap, so I put another MRC coated ND, to extend the range. It works great as far as I can tell. I don't have to drag (and field change) multiple ND filters.As far as the size goes, unfortunately, the iPhone image stabilization cause very bad vignetting with the wide lens, so I had to use large diameter fader. I could balance it all on the Snoppa Atom with minimum of counterweights.
No 'X' problem anymore
At time of this review I have had the filter for roughly 4 days.Easily my favorite attribute about this filter is the lack of 'X' problems with photos. With many variable neutral density filters you can spin the filter too far and create an 'X' unintentionally. K&F have solved this issue by only allowing the filter to twist to a certain spot so the use will not accidentally ruin any photos. The filter feels very rugged and sturdy. The portion of the filter that does not spin has grooves on it to easily hold on and twist the outer ring. Great product so far.
Very, very difficult to screw on, but great filter!
I find that the picture quality is awesome, but for some reason, this filter is SUPER DIFFICULT to screw onto any of my lenses or step-up rings. It's the right size and after struggling for up to a couple of minutes to line up the threads perfectly to screw the darned thing on. Once it starts going on (I've confirmed that I'm not cross-threading it) it's super tight. Idk if I got a dud, but it's crazy how difficult it is to screw on and that's incredibly frustrating in the moment! It'll never fall off from twisting the adjustment ring, on the bright side.
Great for the price
For a filter that is used rarely, I love the fact that it didn't break the bank. I use this for outdoor portraits with a strobe of course and this filter. Gives me many options to open up my aperture wide and keep my shutter speed below 1/250 sec. with a strobe. Nice warm and smooth images. Used on a NIKON D3S 77mm fit to my 70-200mm lens. Good purchase and very happy with it.
Filter
size
77mm
Transmittance
∕
Multi-Coating
Antireflection
√
waterproof
√
scratch-resistant
√
HD
√
Filter Material
Optical glass
Pattern
√
Filter Thickness
7.3mm
Shape
Circle
Ring Material
Aviation aluminum alloy
These images belong to K&F Concept end users.
| Image | Lens | Filter Size (mm) |
| --- | --- | --- |
| | 135mm F2.0 ED UMC | 77 |
| | 3M-5A-MC 500mm f/ 8 | 77 |
| | 3M-5A-MC 500mm f/ 8 | 77 |
| | Angenieux 28-70mm f/ 2.6 | 77 |
| | Bower 24mm f/ 1.4 | 77 |
| | Canon EF 100-400mm f/ 4.5-5.6 L IS II USM | 77 |
| | Canon EF 100-400mm f/ 4.5-5.6 L IS USM | 77 |
| | Canon EF 16-35mm f/ 2.8 L USM | 77 |
| | Canon EF 16-35mm f/ 4 L IS USM | 77 |
| | Canon EF 17-35mm f/ 2.8 L USM | 77 |