ID206 smart watch, built-in fitness tracker, with heart rate and blood oxygen monitor, sleep monitor, compatible with iPhone and Android, black
Free shipping to eligible country
Brand:

KENTFAITH

Buy KENTFAITH id206 smart watch, built-in fitness tracker, with heart rate and blood oxygen monitor, sleep monitor, compatible with iphone and android, black online, worldwide free shipping and 30 days return guarantee.

GW59.0137

SKU:

GW59.0137

51.99

https://www.kentfaith.com/GW59.0137_id206-smart-watch-built-in-fitness-tracker-with-heart-rate-and-blood-oxygen-monitor-sleep-monitor-compatible-with-iphone-and-android-black
Description
* [With Alexa]: Talk to Alexa on your ID206 watch. Just speak to the watch to ask questions, play music, check the weather, set alarms and timers, and more. In addition, you can talk to the smartwatch through the built-in microphone after connecting to the phone via Bluetooth.
* [1.69 inch large HD color touch screen] 1.69 large color screen and full screen touch, hand sliding. It ensures smooth operation and 240*280 resolution for you. Our screens do better in terms of color saturation and reproduction. Provide a variety of customized dials, personalize your men's and women's smart watches, and make your own stylish smart watches.
* [Heart rate, sleep tracking] It can accurately monitor your heart rate in real time. In addition, it conducts a detailed analysis of your sleep quality. During exercise, the smart watch automatically records daily steps, distance counter, calories burned, measures your blood oxygen saturation and understands your physical condition
* [Bluetooth connection and compatibility] The smart watch can be connected to the APP via Bluetooth to control the music player, check the local weather today, and support the mobile phone search function. The smart watch is compatible with most iOS, Android or Bluetooth smart phones. Go to the App Store or Google Play to download and install "Veryfit" for free, then connect our smart watch to your phone to start your smart life journey.
* [Long battery life & waterproof] Large battery capacity (300mAh) and low power consumption design provide longer battery life. The heart rate automatic monitoring mode can be used for about 10 days, and the instant detection mode can be used for about 7 days. The ID206 smart watch is designed with a 5ATM waterproof rating (50 meters waterproof), so there is no need to worry about swimming or wearing it.
Shipping
Free shipping to eligible country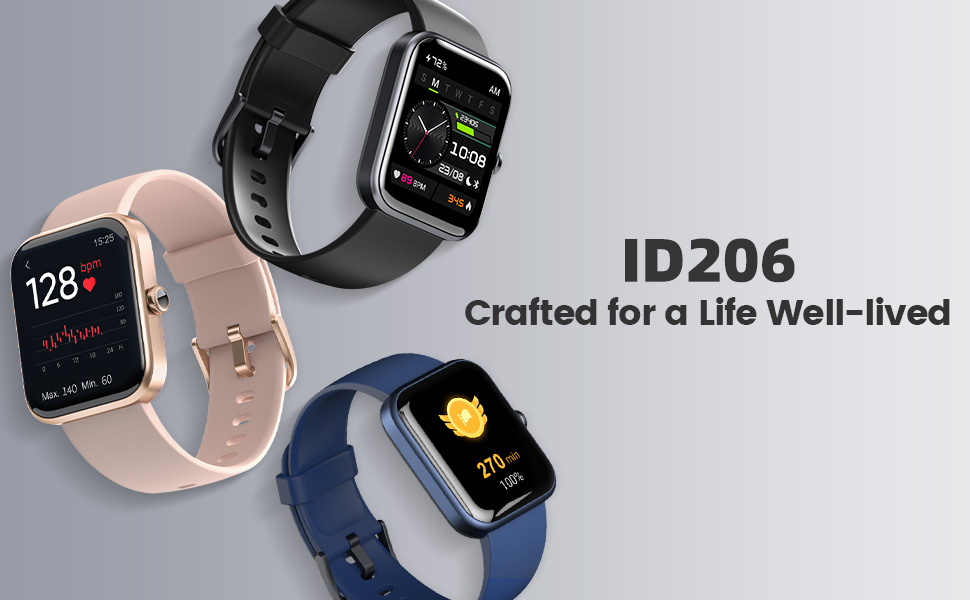 Crafted for a Life Well-lived
Meet now in 2021. We believe good health is the foundation of vibrant lives, thriving communities and forward progress!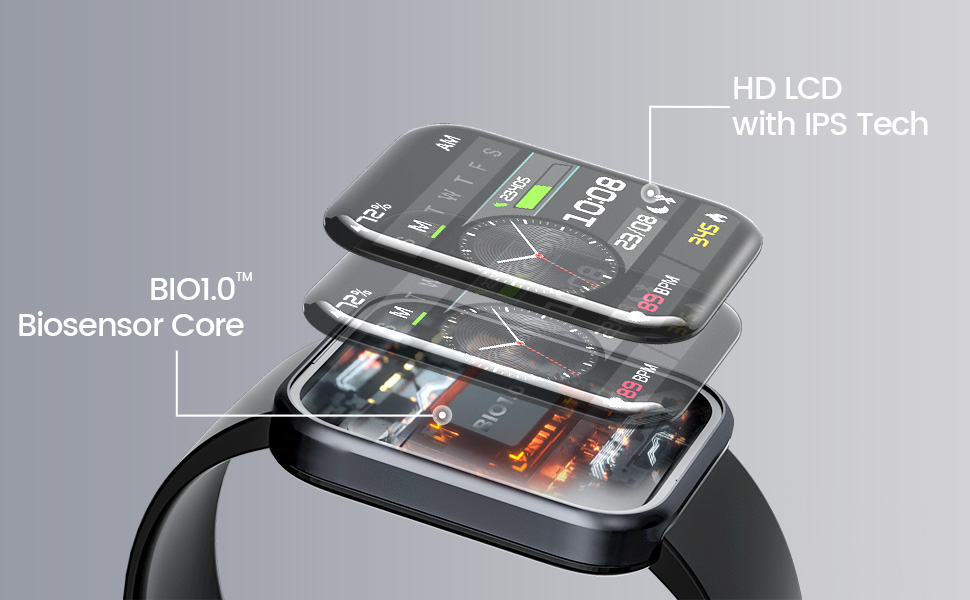 BIO1.0 biosensor core: This time AOKESI Real 1 is equipped with enhanced BIO1.0 biosensor core, which is unique on the market. The PPG optical sensor has multiple points to track data, and the built-in chip brings powerful algorithms to improve the monitoring accuracy by 30%. Supports industry-leading in-depth tracking of heart health, with warnings for abnormally elevated resting heart rate provided. HD LCD with IPS Technology: The screen with IPS technology is born with an expanding horizon, and you can clearly see the smart watch's screen even at a 180° viewing angle. Brings you the stable and much quicker response times, wide viewing angles, high transmittance and better colour reproduction and representation. The size of 1.69" is tailor-made for your wrist. Such a different visual enjoyment! (resolution is 240x280) First-class Design and Materials: The metal frame of the 2021 new aluminum alloy material, sturdy and anti-scratch. The skin-friendly strap made of silicone is so elegant and light to wear. (the content of silica gel is greater than 98.6%)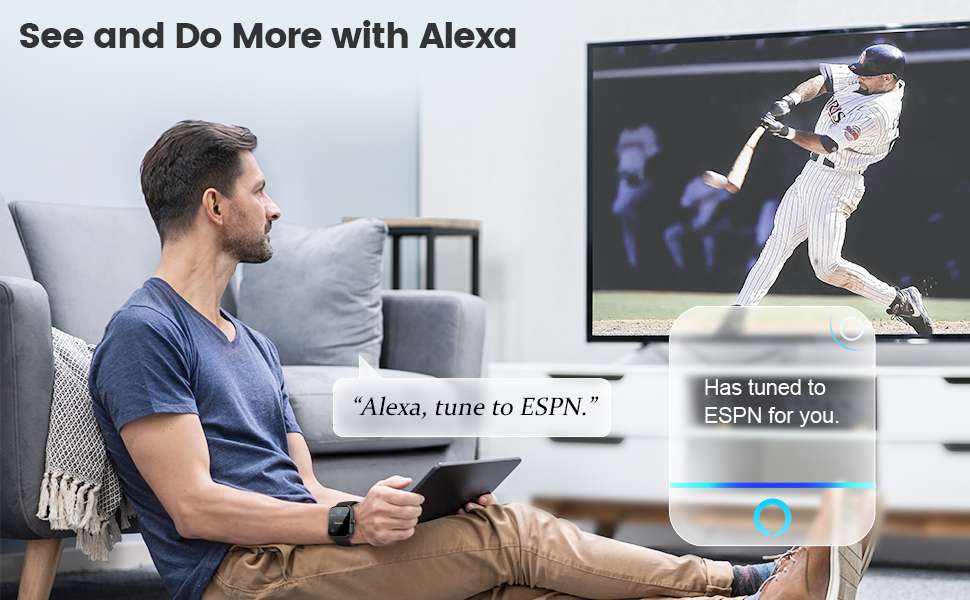 Amazon Alexa Built-in: Just long press the side button of the watch, speak and receive text replies on device. Use a voice assistant to check the weather and Amazon shopping list, set reminders, control your smart home devices, start exercise, view Wikipedia and more. Tips: You don't need an Amazon Echo or other Alexa devices to use the built-in Alexa on your smartwatch, connect your Amazon account with the AOKESI Real 1 through the free APP "VeryFit" to use the Amazon Alexa voice assistant.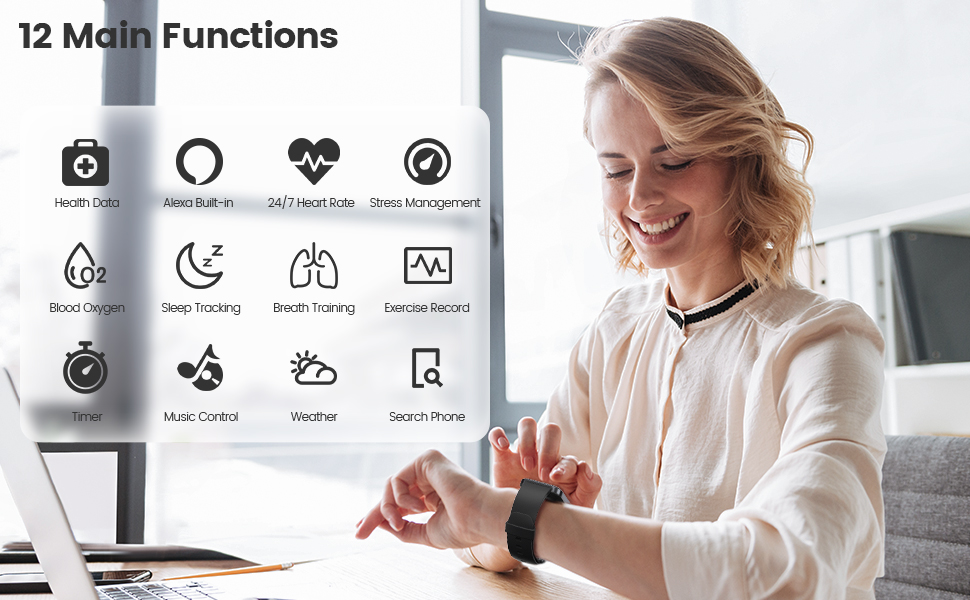 Analyze your stress state through heart rate and the quality of sleep throughout the night. The watch will show the weather for three days, yesterday, today and tomorrow. There are 100+ dials to choose from in the APP, and you can also upload your own photos for your own style. Real 1 smart watch has 5 levels of adjustable brightness. Take a break, Real 1 reminds you to drink more water and not to sit for a long time.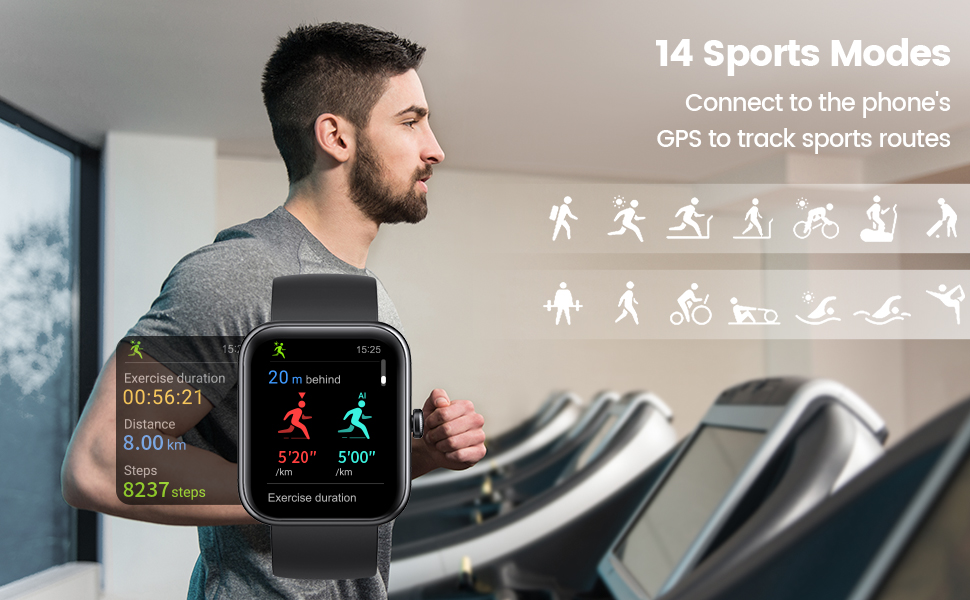 Proactive running or walking tracking. In outdoor running mode, you can set the pace for the smart AI within a certain distance and compete with it on the watch. Or you also can set goals in our free APP "VeryFit", such as calories burned, steps, distance, etc. In any sport mode, swipe the watch screen to the left to control your music.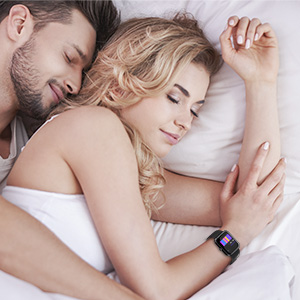 Sleep Soundly and Peacefully
Automatically track and analyze your sleep time and quality with sleep score, shows deep sleep, light sleep, REM, wakefulness and total sleep time with a better night. It also wakes you up with a vibration alarm clock and won't disturb your family members.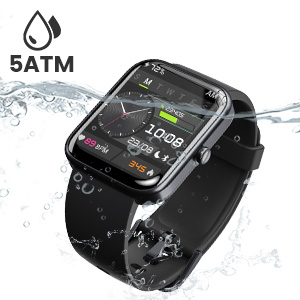 5ATM Water Resistance
5ATM means that Real 1 can be used up to 50m underwater. The Real 1 smart watch exclusively uses oleophpbic coating on the screen surface to eliminate fingerprints and water stains.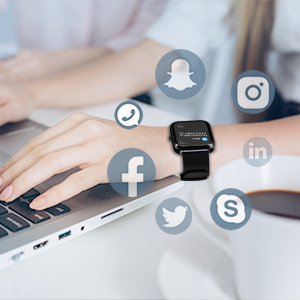 Don't Miss out Stay Updated
Connect AOKESI Real 1 and your mobile phone via Bluetooth to receive calls, SMS and SNS messages. Including Facebook, Twitter, WhatsApp, Linkedin, calendar reminders, etc. However, it is currently unable to receive/make calls or reply to text messages.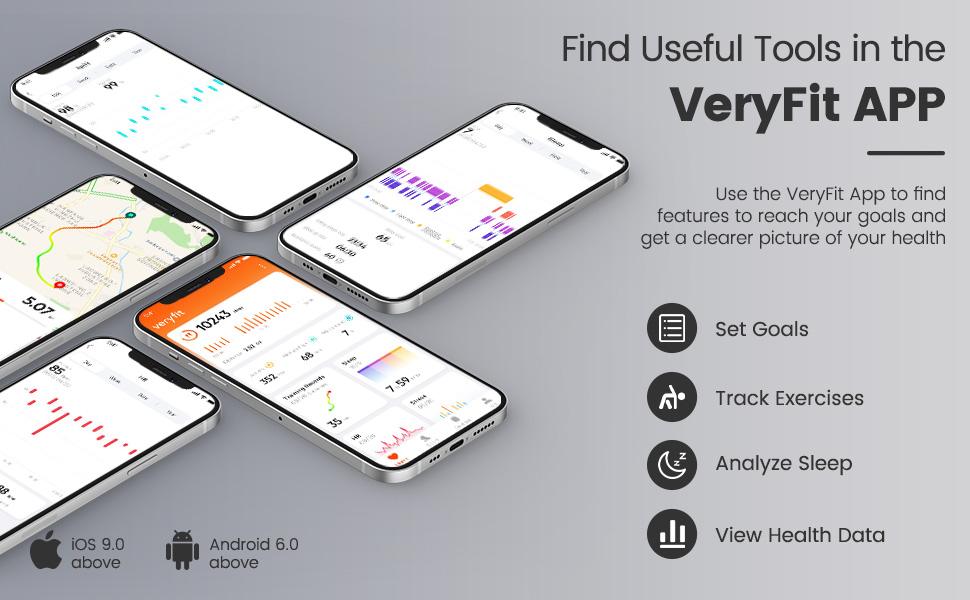 The MAX band size: 9.05" (230mm)

The MIN band size: 6.00" (152mm)

The band holes: 13 levels
> The width of the lugs of the band: 0.90'' (23mm)

Tips:
Please charge it first to activate the watch the first time you receive it.
Please remove the protective film on the screen and the back of the watch.
The smart watch is compatible with "Google Fit" and "HealthKit".
The smart watch is not compatible with PC or tablet.
The smart watch has no built-in GPS, connect it with your mobile phone to record sports routes.
Sleep monitoring only records more than 3 hours of sleep.
The operating temperature of the watch is 32°F-140°F.
We do not recommend that you wear this watch when diving, swimming in the sea, bathing or sauna.
If you want to get a more detailed manual and operation guide, please refer to the first page of the manual and scan the QR code to download. (Please note that we never ask you for any personal information)
The data of the smart watch cannot be used for medical purposes, it's for reference only.
There are no reviews for this product.
There are no faqs for this product.