Automatic face tracking tripod, rechargeable face tracking phone holder, no app required, hands-free, 360° rotating instant shot tracking holder tripod for vlogging, live streaming, video calling
3-5 Days
Refilling Supplies
Within About 3-5 Days
99$-15$ / 199$-30$ / 299$-55$ / 599$-120$
New customer gift package
Free shipping to eligible country
Brand:

KENTFAITH

Buy KENTFAITH automatic face tracking tripod, rechargeable face tracking phone holder, no app required, hands-free, 360° rotating instant shot tracking holder tripod for vlogging, live streaming, video calling online, worldwide free shipping and 30 days return guarantee.

GW57.0026

SKU:

GW57.0026

34.99

https://www.kentfaith.com/GW57.0026_automatic-face-tracking-tripod-rechargeable-face-tracking-phone-holder-no-app-required-hands-free-360-rotating-instant-shot-tracking-holder-tripod-for-vlogging-live-streaming-video-calling
99$-15$ / 199$-30$ / 299$-55$ / 599$-120$
Description
* 360-degree rotating automatic face tracking: The smart shooting bracket uses an artificial intelligence computing system that automatically identifies and quickly tracks your face or body with instant tracking shots. Warm tips: the tracking function of the product will be affected when multiple users are within the working recognition range of the camera at the same time.
* Gesture Control & Less Disturbance: When you need to be away for a short period of time, you don't have to walk to the device over and over again to start and pause. Simply hold one hand up to your face and the "OK" gesture starts tracking with the green light on and the "PALM" gesture stops tracking with the red light on.
* Easy to use, no APP required: Auto-tracking tripod is easy to use, just press the button and it will automatically rotate 360 degrees to track your movements. You do not need to download any APP or connect to Bluetooth, which can better protect your privacy.
* Digital power display and long battery life: The digital power display function allows you to easily observe the power consumption and avoid missing out on capturing beautiful moments by not charging in time. Meanwhile, the built-in 1800mah high-capacity battery can provide you with longer tracking time.
* Adaptability and flexibility: The stand is equipped with a screw connector at the bottom and supports a standard 1/4-inch tripod to meet a variety of scenarios. In addition, the holder's clip can be extended from 6.5cm/2.5"- 10cm/3.9", compatible with most smartphones, the clip is very strong and durable, and its contact area has soft rubber to better protect your phone.
Shipping
Free shipping to eligible country
Sale
99$-15$ / 199$-30$ / 299$-55$ / 599$-120$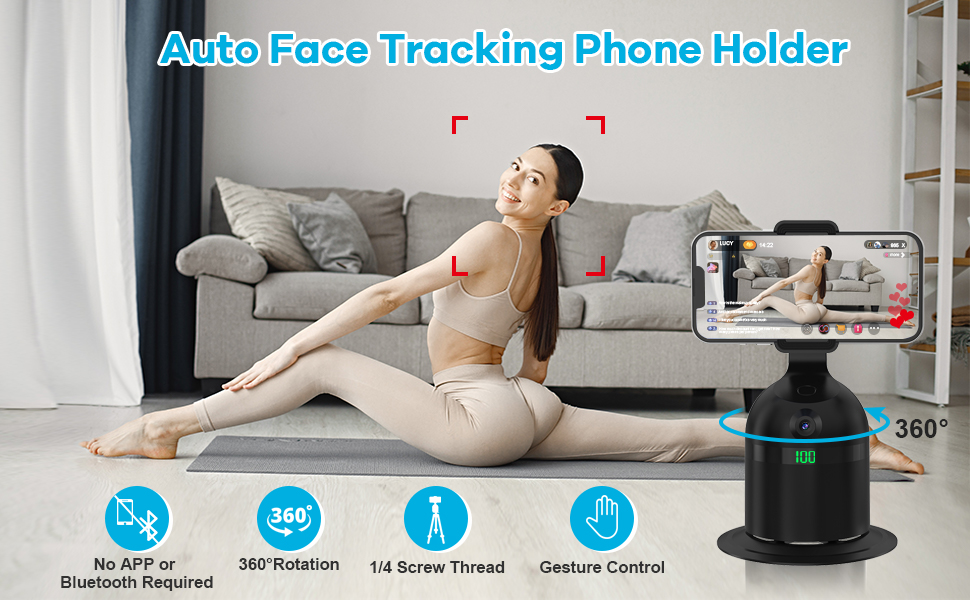 360 Degrees Rotation Smart Shooting Phone Tracking Holder for Live Vlog Streaming Video, No APP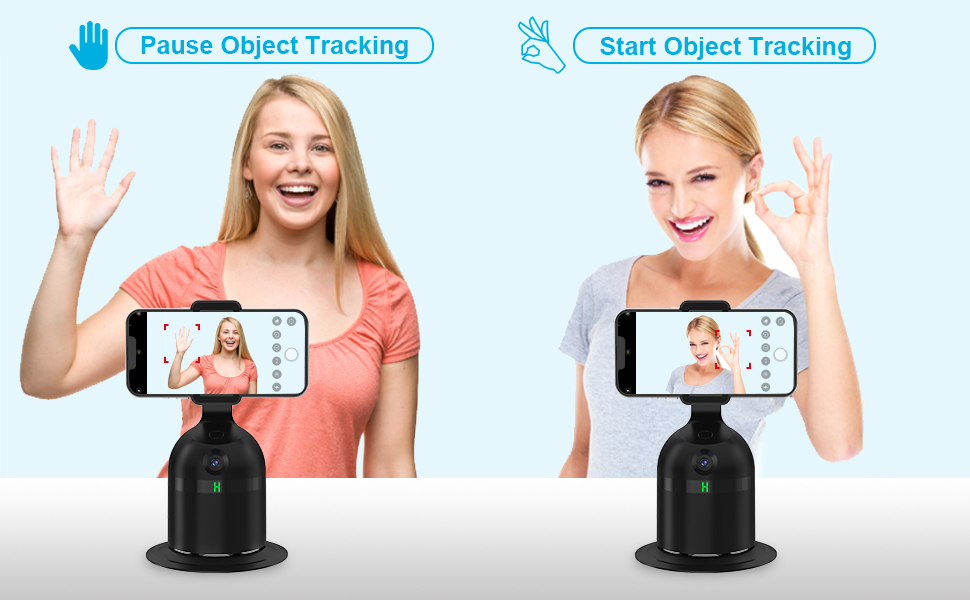 Auto Face Tracking Tripod, Desiged with Gesture Control, Free to Stop ot Start your Tracking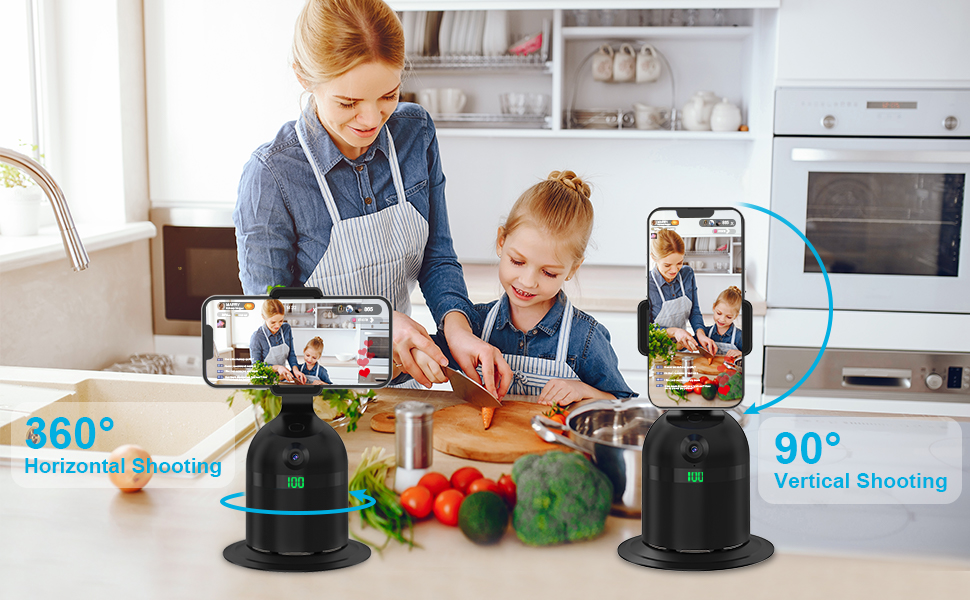 Adjustable Auto Face Tracking Phone Holder Camera Mount, It Is Easy to Get Your Shooting Angle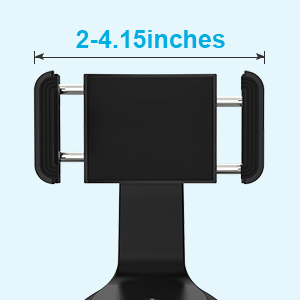 Compatible with Most of Cellphone
Our auto face tracking phone holder mount fits 2-4.15inch iPhone 13 12 11 10 X Xmas Pro. Desiged with a stable base, can load the cellphone weights not more than 1 kg.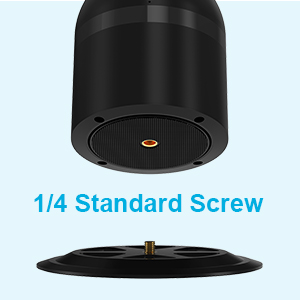 1/4 Screw suitable for Most Tripods
The auto face tracking tripod 360 has a stable base that attaches to the bottom and holds even the heaviest phones. 1/4 screw design allows you freely install it to the tripod.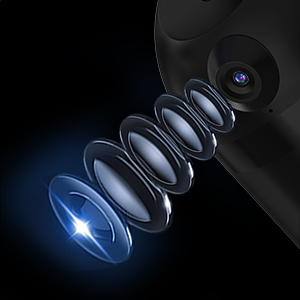 Built-in Camera
The auto face tracking tripod has a built-in 30W pixel and 1080P camera, Tilt up 16° camera angle, can fast auto tracking your face and body.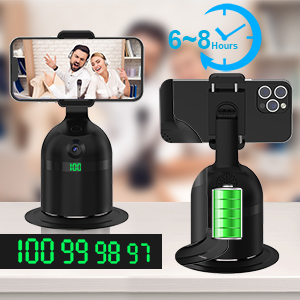 Rechargeable Smart Shooting Holder
Our auto face tracking tripod comes with a usb cable. It can rechargeable and work 6-8 hours when it full charge. The auto face tracking phone holder has a power screen, allows you to quickly identify when it needs to be charged. It will shows 100 when you charge full the tripod. And then from 100, gradually 99, 98, 97 to 0.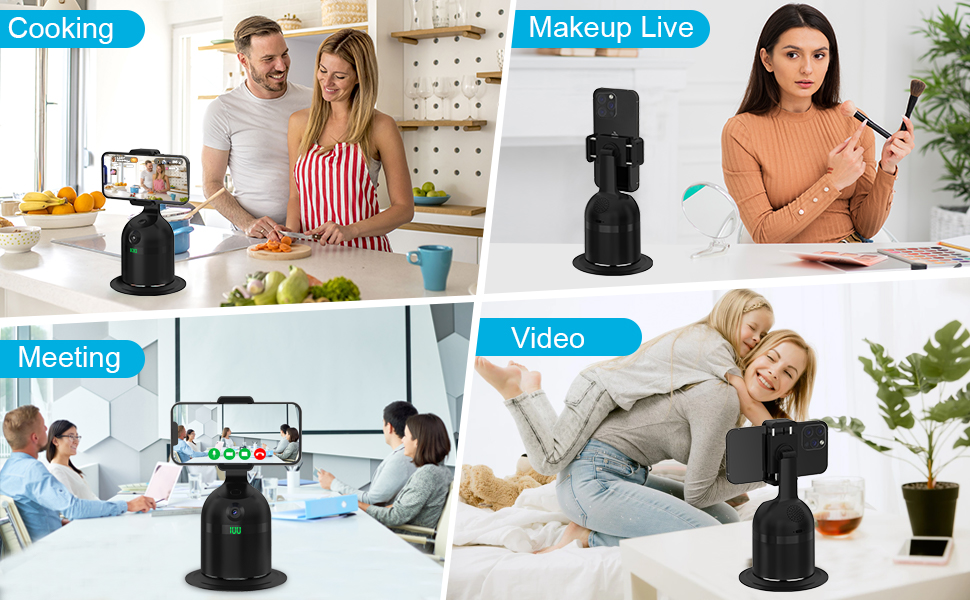 There are no reviews for this product.
There are no faqs for this product.